"BOKEH – subjective aesthetic quality of out-of-focus areas of an image projected by a camera lens"
Ok guys! I had a few e-mail requests to whip up  a test showing the bokeh from a lens on the Leica M9 and then the same lens on the Olympus E-P2 with adapter. This will not only show you how the E-P2 crop factor effects the lens but also will show you the bokeh (out of focus qualities) with each lens on each camera.
Bokeh and Depth of Field on m4/3
There is a bunch of info on the net about the m4/3 format and how it is tough to get shallow depth of field due to the small sensor. Well, this is somewhat true. For example, if you mount a 50mm F2 lens on a Leica M9, you are effectively shooting with a 50mm F2 so you will get the shallow depth of field associated with a 50mm f2. If you slap a 25mm F2 lens on a m4/3 camera it will be like shooting with a 50mm in regards to focal length, but your depth of field will be that of a 25mm lens at F2, not a 50mm lens at F2. This means that your out of focus backgrounds when shooting with a wide aperture, say F2, will be much less shallow (on the m4/3) due to the lens you are shooting with still being a 25mm lens. The wider the lens, the more depth of field you will have. Therefore, you will have the depth of field of a 25mm, not a 50mm. The sensor size turns the lens into a 50mm focal length but you are still shooting with a 25mm lens and therefore will have 25mm f2 depth of field, not 40 f2 depth of field. The other way some look at it, which is exactly the same, is that 25 F2 on an E-P2 would be acting more like that 50 on the M9 but at F4. Either way you look at it is fine.
To get the bokeh qualities (not depth of field) of a 50mm f2 lens on a m4/3 camera you need to use an actual 50mm lens on said camera. Only problem there is it will no longer behave like a 50mm because it becomes a 100mm focal length with 50mm quality bokeh. Confused yet? The bottom line is that it is not possible to get the bokeh qualities  of a 50 or 75mm lens on a m4/3 camera unless you shoot with a 50 or 75mm lens. A 25 or 35mm lens is not going to do it.
Bokeh on full frame
On a full frame camera the entire lens surface is being used so you will see more of the image. A 50mm image will utilize the full lens surface so you basically do not get a different quality of bokeh, just more of it because the edges your image are not cropped out. Below is an example on what you would see with a 35mm lens on a full frame camera vs that same 35mm lens on a m4/3 camera (approx). On both the "bokeh" will be the same as will the depth of field. The difference will be that the m4/3 version will basically be a cropped version of the full frame image.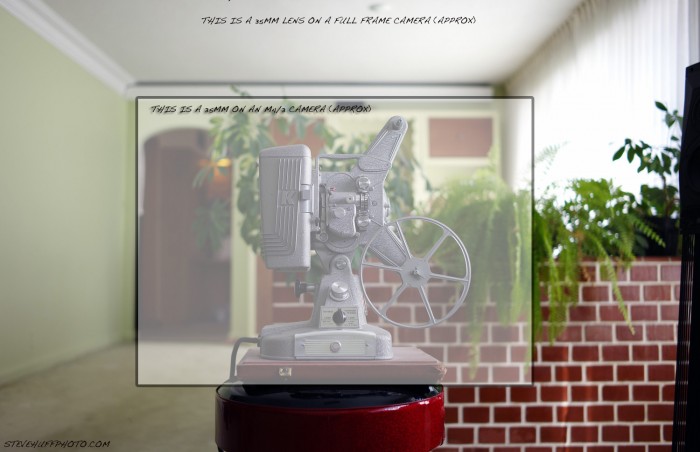 The tests…
I set up my tripod and locked it down. I shot each of the following lenses on the M9: The Leica 35 Summarit, 50 summicron, 75 summicron, 90 elmarit, Zeiss 35 Biogon, and 85 Sonnar F2. I then shot the same lenses on the E-P2 from the same tripod position. This way you can see how each lens reacts on each camera.
I also made all of these 1500 px wide images available in a zip file that you can download HERE. It's about 8MB and includes all of the images below.
You can click on any image below to open them up in a larger 1500 pixel wide window. I hope some of you find this useful!
The images…
First up, the Leica 35 Summarit F2.5 lens on each camera. As you can see, the 35 becomes a 70mm on the E-P2 but the Bokeh and Depth of Field remains the same. You just have a cropped version with the E-P2.
LEICA M9 – 35 SUMMARIT – F2.5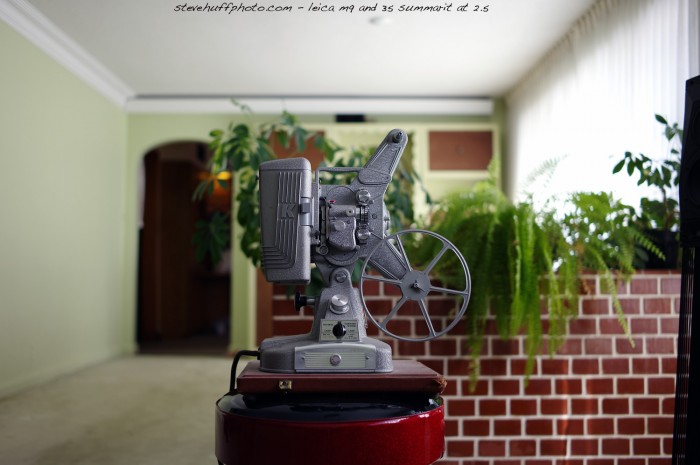 OLYMPUS E-P2 – 35 SUMMARIT – F2.5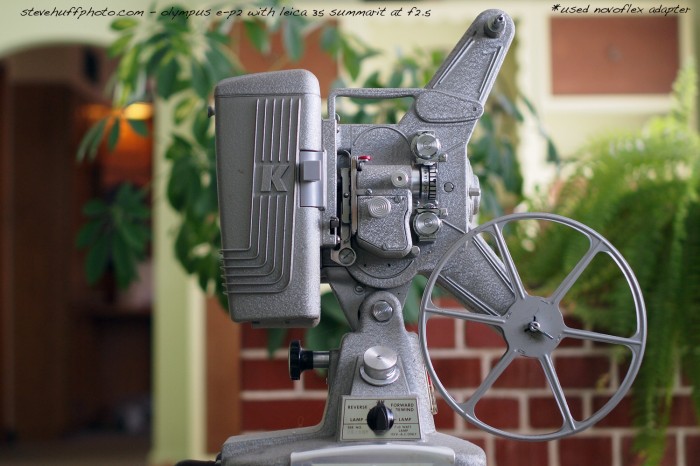 The Leica 50 summicron which will become a 100mm summicron on the E-P2 or any m4/3 camera and will give you the qualities of a 50 F2 in regards to bokeh and depth of field, not a 100. You still have a 100 F2 lens in regards to light gathering ability but you will be getting the depth of field of a 50.
LEICA M9 – 50 SUMMICRON – F2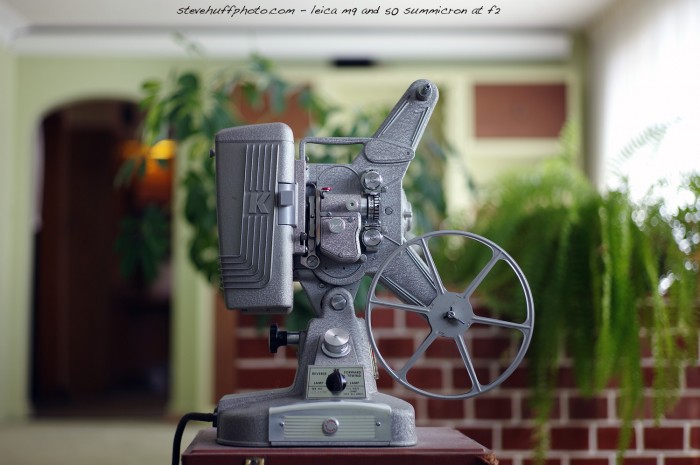 OLYMPUS E-P2 – 50 SUMMICRON – F2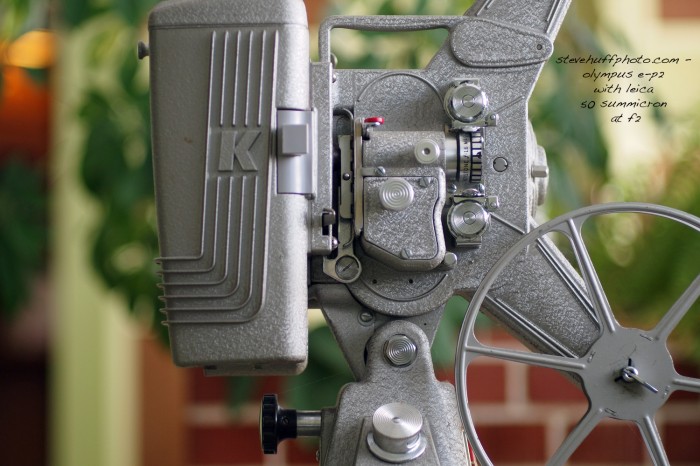 Let's jump to a 75mm lens. On full frame this 75 Summicron is absolutely gorgeous with silky bokeh and super color. On the m4/3 it is now the equivalent of a  150mm focal length at F2. A great low light portrait lens. Again though, you will not have the depth of field and bokeh qualities of a 150 F2 but rather of a 75 F2, or as some would say a 150 F4.
LEICA M9 – 75 SUMMICRON – F2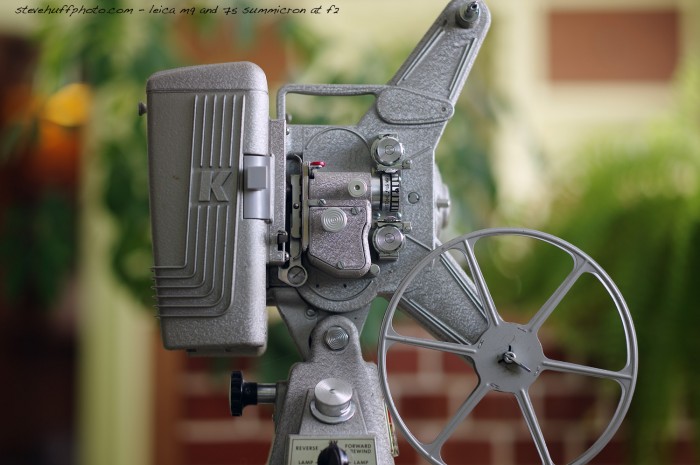 OLYMPUS E-P2 – 75 SUMMICRON – F2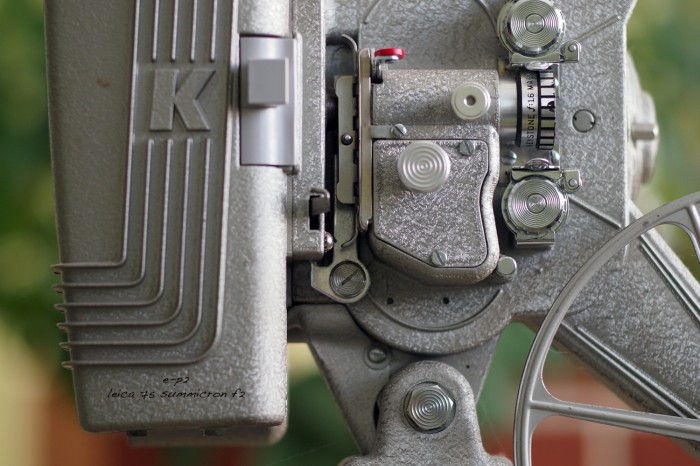 I hope this explained a few thing to those who were a little confused about the 2X crop of the m4/3 cameras and the effect it has on your images, the bokeh, and focal length equivalents! As stated earlier, I have a zip file here with these images and many more including the same test shots with a Zeiss 35 biogon and some M9 with the Zeiss 85 and Leica 90 Elmarit. I also have a couple of 100% crops in there so if you want to see them you can download the ZIP HERE! I will only leave this up for a few days due to bandwidth so if you want it, grab it now. Also, for the images in this comparison I used the Novoflex M to m4/3 adapter which can be found at B&H Photo HERE.
Thanks for looking!
Steve
UPDATE –
One final comparison to show the bokeh of a 75MM lens on a full frame M9 against a 35mm lens on the E-P2, using the above images. The E-P2 with a 35 will be a 70mm equivilant:
M9 with a 75mm at F2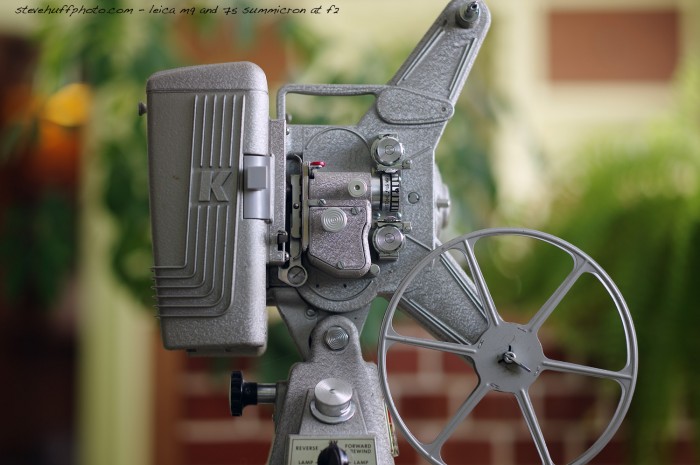 E-P2 with a 35 (70 Equiv) at F2.5 (yes, its 2.5 but close enough to get the idea)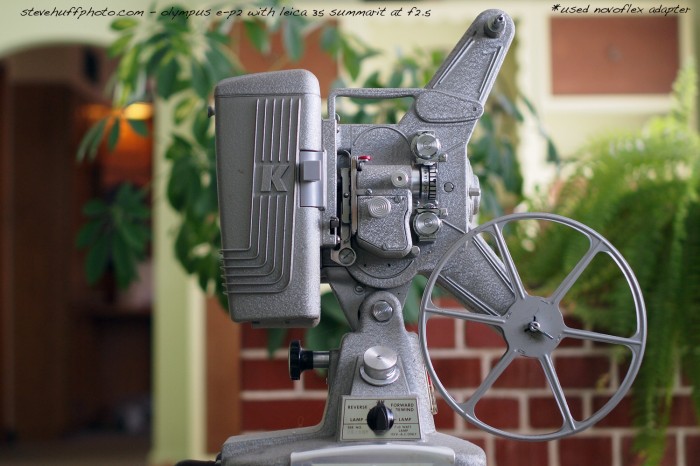 You can see the much more shallow depth of field with the 75 on the full frame M9 and shows what people mean when they complain about not getting enough shallow depth of field on a m4/3 camera.
UPDATE Feb 8th 2010 – Some of you wanted a comparison with something like a 35 F2 on the E-P2 and a 75 F4 on the M9. This is a quick shot I grabbed outside just now but  this kind of testing brings in all kinds of new problems. For example, the m4/3 lens is shot at F2 so its likely it will be softer than the M9 at F4 right? The 4/3 crowd says to "fairly" test these things I needed to do this to make everything even steven, so here you go. I also shot the M9 at F2 to keep it even as far as lens aperture.
These are straight out of camera untouched files. Converted from RAW with ACR and yes, the color sucks because the light today sucks. Its winter and the light is grey. Also, this post was originally to show the DOF and "Bokeh" from a ff camera compared to a m4/3 camera. These examples will show you that the 35 at F2 does pretty much equal the 75 at F4 as far as DOF is concerned. It will also show you the sensor of the M9 is a little better 🙂 Here you go…
First, the E-P2 with Zeiss 35 Biogon at F2 which everyone says will give you a 70mm with F4 DOF (not light gathering or lens sharpness which is still F2, but this post is about DOF, not detail) in 4/3 land. This was precisely manually focused with the E-P2…but looks soft to me. I do not see 75 F4 DOF, I see 35 F2 DOF as the lens is technically still a 35. 🙂
The focus was on the van door handles, not the house. I did this for DOF reasons.
CLICK HERE FOR FULL SIZE OOC IMAGE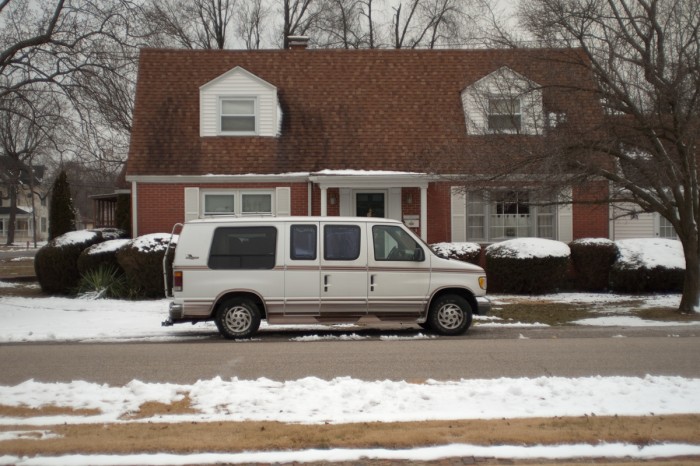 Now, the M9 with the 75 Summicron at F4 which is a "real" 75 F4, so pretty close to the above combo right? I admit the 75 cron is a much better lens than the 35 Biogon but you cannot dismiss the results. Again, focus was on van door handle.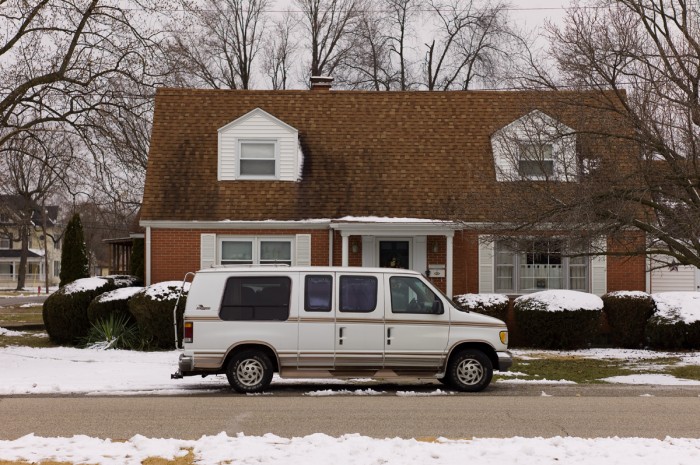 Here is the 75 cron/M9 shot but this time at F2 to see how the lens does wide open compared to the 35 at F2 for sharpness.
CLICK HERE FOR FULL SIZE OOC ORIGINAL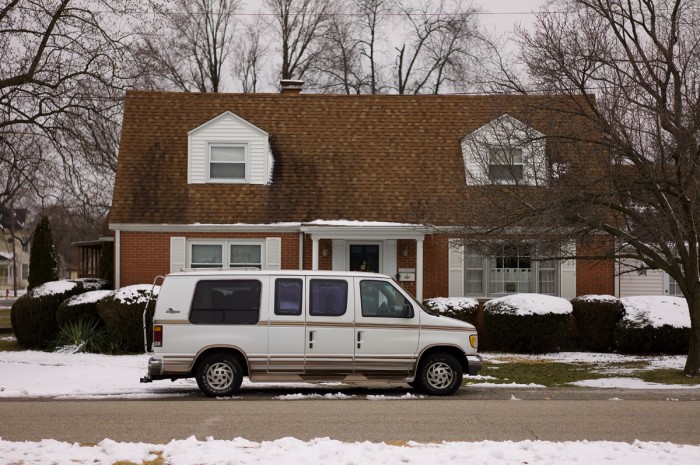 Enjoy!
---
HELP SUPPORT THIS SITE TO KEEP IT GOING AND GROWING!
Remember, anytime you follow my links here and buy from B&H or AMAZON,
this helps to keep my site going. If it was not for these links, there would be no way to fund this site, so I thank you in advance if you visit these links. I thank you more if you make a purchase! I have nifty search bars at the upper right of each page so you easily search for something at either store! I currently spend 14 hours a day working on this site and the only way that I can pay for it is with your help, so thank you!
If you enjoyed this article/review, feel free to leave a comment at the bottom of this page and also be sure to join me on twitteror facebook! Also, you can subscribe to my feed at my subscribe page HERE and read these posts in your browser or news reader!  Also, interested in becoming a guest writer? Contact me! Thanks so much for visiting my site!