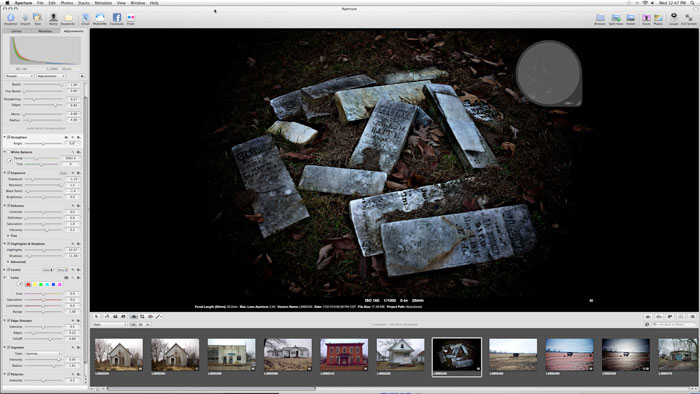 Hey guys, just wanted to let everyone know that if you use a Mac then I HIGHLY recommend downloading the Aperture 3 Demo from APPLE. I downloaded it yesterday and have used it for a few hours and MAN OH MAN! It is sweet. The best photo app I have ever used. I never got along well with the previous versions of Aperture but the third time is the charm I guess.
Apple hit it out of the park and in my opinion, again, I said in MY opinion, it kills Lightroom. I have Lightroom installed but honestly did not care for it, even after several tries and a few hours of turtling around with it. On my 27″ Quad Core IMac Aperture is fast, smooth, and the interface and simplicity is a welcome change in the photo app world. It also happens to convert M9 raw files very nicely and with much better color than I have been getting from Camera Raw.
I like the new "presets" which are there for "Quick Fixes" as well as some color filters. The new full screen workspace is great as are the new editing features. They are too numerous for me  to site here and rant off so be sure to check it all out at Apple HERE. You can view their video tutorials HERE. Download the demo and if you do not have a mac, go buy one 🙂 The 27″ Imac is HIGHLY recommended, but get the Quad core for fastest performance.
Here is a Zeiss 85/M9 shot I just converted in Aperture…it was fast, smooth, and easy. I have not even learned 1/8th of what the software can do so I look forward to using it more, and yes, I will be purchasing before my demo is up. After I get more time logged in to using it I will report back with an update but for now, I love it (in case you could not tell).
Leica M9 – Zeiss 85 F2 at F2 – DNG converted in Aperture 3