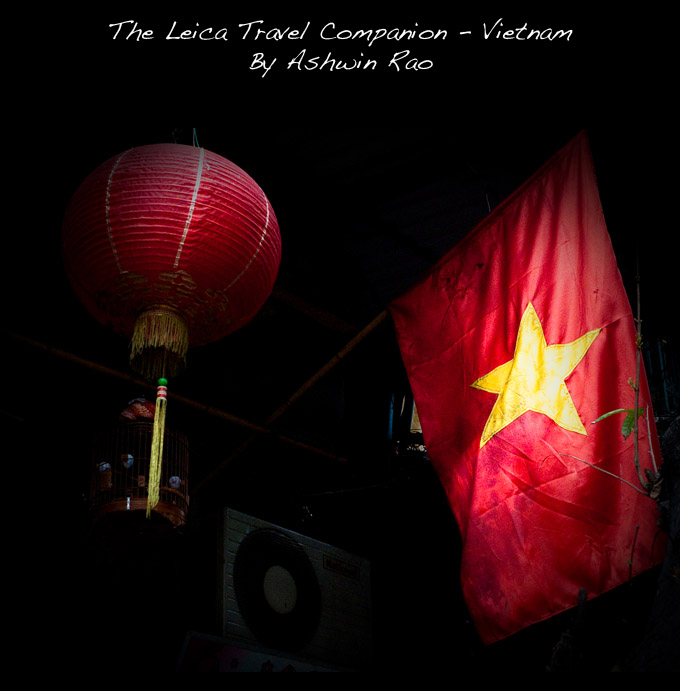 I am pleased to present another superb article written by Ashwin Rao! This one is loaded with some really inspiring photographs and great writing and is being presented in two parts.  Thanks Ashwin!
Part two is now up HERE.
Steve
---
The Leica Travel Companion – Vietnam by Ashwin Rao
Part 1 of 2
Destination: Vietnam
Date: Feburary, 2009
Tools: Leica M8 and Leica D-Lux 4
Itinerary:
Day 1-2: Saignon (Ho-Chi Minh City)
Day 3-4: The Mekong Delta
Day 5-7: Fly to Danang, travel by taxi to Hoi An and the clothier markets
Day 6: My Son Hindu Temple Ruins
Day 8: Coastal Drive along China Beach to Hue
Day 9: Hue Masoleums
Day 10: Hue Imperial City and Citadel – Walking Tour
Day 11-13: Amazing Hanoi
Day 14-16: Magestic Halong Bay
Day 17: Back to Saigon and Homeward Bound
Hello everyone, it's been a while since I have written for Steve's site, and I wanted to share another of my travel experiences with a Leica M set up. In February of 2009, a good friend and I met up for a 2 week trip to Vietnam. Our goal: to explore and see the country on our own, NOT through guides or week-long organized tours, but through measured planning and the use of the internet, the knowledge of locals and Lonely Planet. Truth be told, my friend Andrea is an amazing trip planner, and she organized much of the trip's itinerary. It's good to have friends with skills!
Separately, my goal for the trip was to capture Vietnam photographically in a way that I would always remember. In other words, I wanted my photographs to take me back there when I looked upon them again, years later. Well, it's been a year since that trip, and as I look upon the images here, I find myself smiling at my recollections of that wonderful trip. My hope was for my photography to reflect what I saw and how I felt when seeing it, and the Leica M system is an exceptionally adept tool to accomplish this goal. My goal for this article is to show you this.
For the trip, I used the following set-up
Leica M8 (chrome) with Tim Isaac's Thumb's-Up Grip
Leica Summilux 50 f/1.4 pre-asph
Leica 90 f/2.8 Elmarit
Leica D-Lux 4
Billingham Pola Bag to carry the Leica M8
Microfiber cloths: needed to wipe down equipment: It's humid in Vietnam
Leica M8: Burning the incense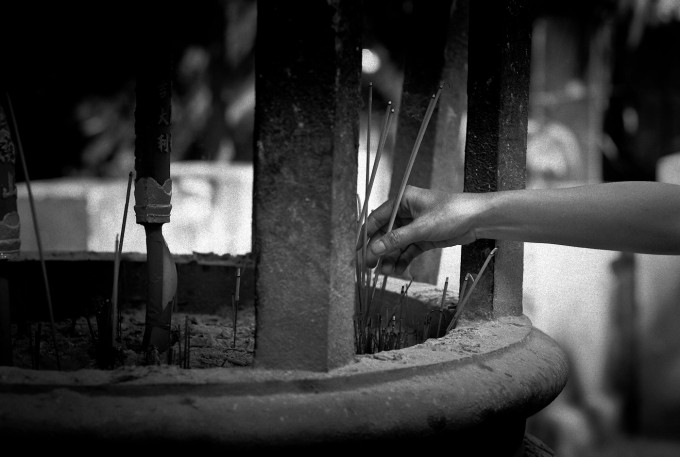 I brought along a Leica D-Lux 4, which was recently purchased at the time, anticipating that I may be using this camera as a back up. Truth be told, I shot essentially an equal number of shots with the M8 and the D-Lux 4, convincing me that having a compact camera for shooting discreetly can be equal parts rewarding and satisfying. If found that while I counted on my M8 to be the work horse for important pictures, there were times where even an M system could make my presence to conspicuous. In comparison, the D-Lux 4, an extraordinarily versatile and capable camera and was nearly invisible, even when I was shooting. I could approach subjects in a manner that allowed my photography to be invisible. I found the pairing of the M8 and D-Lux 4 to be quite natural. I also captured interestingly, equal numbers of "keeper" images from both cameras, and in fact, I have a show at a local international medical clinic comprised of images taken solely with the D-Lux 4!
Leica D-Lux 4: Vietnam's Ace Hardware?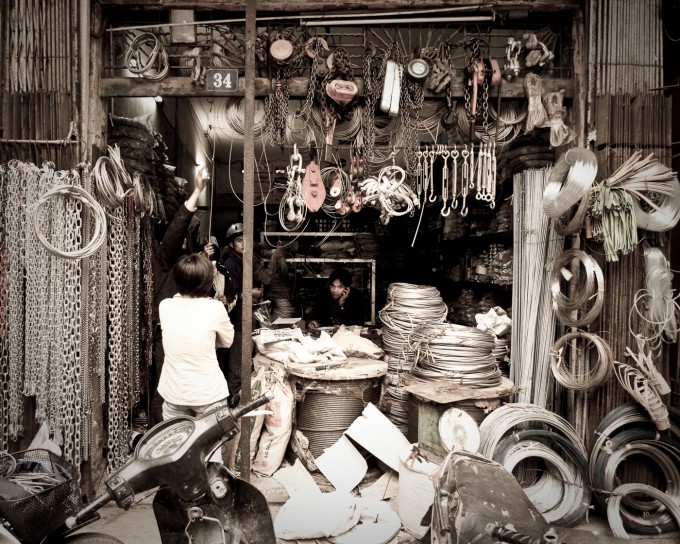 Most of my prior feelings on using the Leica M8 and M9 for travel have been documented in a prior article on Steve's site. However, it's important that you take the tools that you have and develop a style with which you are comfortable. This will allow you to capture images that are meaningful to you. My travel partner brought along one camera, the Canon G10, and composed beautiful images with a small, compact, powerful set up. It's all about using what you have and using it well. Obvious, as a rangefinder enthusiast, I found that using the Leica M8 while in Vietnam allowed me creative flexibility, and surprisingly, the D-Lux 4 added to this experience.
Vietnam is a fascinating country of great diversity, wonderful people, and great culture…oh, and the food, the food is amazing. If you are a "Foodie", this is THE country to visit. I believe Anthony Bourdain, of "No Reservations" and "Kitchen Confidential" fame, would count this as one of his favorite countries to visit from a culinary standpoint, and I for one completely agree. It doesn't get better than this. So, please, if you go, eat your way through the country. It's worth it!
Photographically speaking, Vietnam is a fascinating country to observe and capture through the lens of a camera. The country's cities, especially Ho Chi Minh City (Saigon) and Hanoi, are bustling, cosmopolitan hubs buzzing with activity. The traffic in these cities can be stifling and interesting photographically speaking. The cities reflect a merging of cultures, both Viet and French, as well as other Asian and American influences. What I found even more interesting was how the cities found a way to merge ancient traditions with modern trends and capitalism quite seamlessly. Everywhere in Vietnam, there is a crackling energy and a depth of beauty. There's also a lot of decay. The city seems endlessly burdened by humidity, pollution and change, and some of the ancient art that is spread throughout the cities and country side is decaying as we speak. I suspect that it you go, you'll very much enjoy this country as a photographic foray.
Leica M8: Sunrise in the rainforest
Photographically, these images make for compelling photographs, but truth be told, it is sad to see places such as Hue's imperial palace deteriorating, and it remains to be answered whether such sites will be present for future generations to enjoy.
In the following paragraphs, I'll detail my journeys through the country alongside my good friend Andrea. We explored great palaces, beaches, mausoleums, clothing districts, floating markets, ancient cities amongst the rubbles of war-era destruction, and the magesty of Halong Bay and other such natural wonders…all in 2 weeks. You can do it too….
So without further adieu, my travel journal, with images:
Days 1 & 2- Adjustment and Seeing Saigon
Suprisingly, adjustment to Vietnam was quite easy. Customs was no major hassle at all, and we were through them within 10 minutes. I make a point to carry all of my belongings onto the plane, and I do not check in any bags. I accomplish this by packing 1 week's worth of clothes. Most hotels in Vietnam have a laundry service, so doing laundry during the journey is not a problem. Once clearing customs, a driver from our hotel was waiting for us, placard in hand with our names, and swept us into his taxi and directly to our hotel, Madam Cuc's, located in the heart of Saigon, around 9 pm. IT was dark, but the city was hopping. Saigon seems endless active. People are milling in the streets at all times, and one may see anything from farm animals to elegantly dressed metrosexuals, traversing the same alleyway. It's a crazy place.
Our first 2 days in Saigon were spent adjusting and exploring the city. The Lonely Planet is a great way to plan your visit. It is full of useful tips and walking tour maps. One nice subtle travel benefit of Vietnam is that the national script is alphabetical. This means that you can read street signs, and even if you can't speak, you can navigate by reading signs or pointing to an address in your book, and the many denizens of the city will help you out. The Viet are an extraordinarily friendly people, both passionate and enterprising, and they'll help you out if you are in need.
Saigon is a bustling metropolis.The first thing that struck me about the city – TRAFFIC. It's nearing claustrophobic levels, but makes for fascinating photography. Once you learn how to negotiate traffic, hail a cab, and cross busy intersections (hint: follow the locals), the city shows many charms. Saigon has many temples and sites to explore in depth. The War Museum, in particular, is a poignant take on the Viet experience and vision of the "American War"…very powerful stuff.
While in Saigon, make sure to experience the food. Try out some street vendors. Make sure to have some Pho, Vietnamese soup (a breakfast food there), which is lovely. It's a yummie place to visit.
Leica D-Lux 4: Marriage day
Leica M8: Prayer in Saigon pagoda
Leica M8: Taking a nap
Days 3 & 4 – Mekong Delta and the Floating Markets
Day 3 was spent being Escorted by private vehicle to the Mekong Delta. Along the way, we stopped at a church that combined the religions of Islam, Chistianity, and Local Religions into one! Whoah! Apparently, the Vietnamese are an adaptive culture, and have assimilated many religions into an all-encompassing one…
Arriving at the Mekong Delta, we took a leisurely trip along the delta, and along the way, made our first foray into the fascinating Floating Markets, actual sites of commerce similar to Farmer's Markets in the US, where local producers and farmers would sell and exchange their products….the interesting thing is, all of this happens right on the water, from one boat to the next. The floating markets are an amazing place to be able
Our night was arranged at an overnight stay at our local guide's home, where we had the chance to eat a fine meal of freshly caught fish, rice, and soup. Food on the delta was simple, but delicious. Our night was spent in an enclosure, with cots for beds and mosquito netting to keep the bugs away. Overall, after the first few days, we slept quite well.
The following day was spent in further exploration of the delta and floating markets, a brick making mill, and afterwards, we were escorted back to Saigon, where we spent one more night before leaving for the city of Hoi An, via Danang's airport.
Leica M8- Along the Delta: Man on a Dirt Mountain, Floating
Leica M8: Pineapple vendors
Leica M8: Ad Hoc Repair along the Delta
Days 5 through 7 – Hoi An
Hoi An is Vietnam's clothier city. It's the place where much of Vietnam's fine silk garments are fashioned, and it's a very pretty city positioned on Vietnam's coast. Hoi An is also famous for its markets and its food, and from a photographic standpoint, opportunities abound. Due to the city's position as a centralized clothing marketplace, bright colors are everywhere, adorning silk scarves, near-designer ties, and endless counterfeit North Face bags….
While there, we had a chance to take a sunset cruise along the banks of the Thu Bon River. There's a lot of local fishing that comes up. I found the D-Lux 4 to be a very handy tool in this city, given that subjects were close, and it was difficult to take time to sit back and compose rangefinder-style. However, one should use their M8, M9, or SLR to capture some of the activity in the markets, as post-card images abound!
Leica M8: Flare!
Leica D-Lux 4: Fisherman's catch
Leica D-Lux 4: Blowing a bubble, Hoi An market
Dasy 6 – Trip to My Son
My Son is a fascinating set of ruins dating back to the 2nd through 15th centuries, when the Champa Kingdom ruled the country. In fact, the duration of its occupation makes it one of the longest continuously occupied sites in Southeast Asia. Those days have since passed, and My Son is now the abandoned site of Indiana Jones style temples, which are falling into decay. Some efforts are being undertaken to restore this site of famous Hindu ruins, which were largely destroyed by bombing raids during the Vietnam War, but much is sinking into the surrounding tropical forests.
My son was one of my favorite photographic forays. We left Hoi An by car at 5 am, and arrived by 6 am, in time to catch sunrise across the ruins. It was here that I really got to give my Leica M8 a serious work out. There are so many beautiful sites to see, so using both the wide-angle lenses to "take it all in" and telephotos to capture the details was worthwhile. The site probably requires a 2-3 hours to be fully enjoyed, so we requested our transportation for a half day and returned to Hoi An to relax by the beaches and river for the rest of the day.
Leica M8: My Son ruins sunrise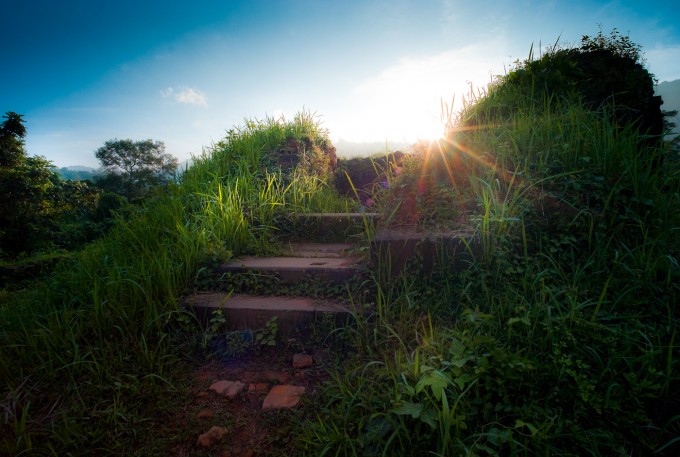 Leica M8: My Son sunrise # 2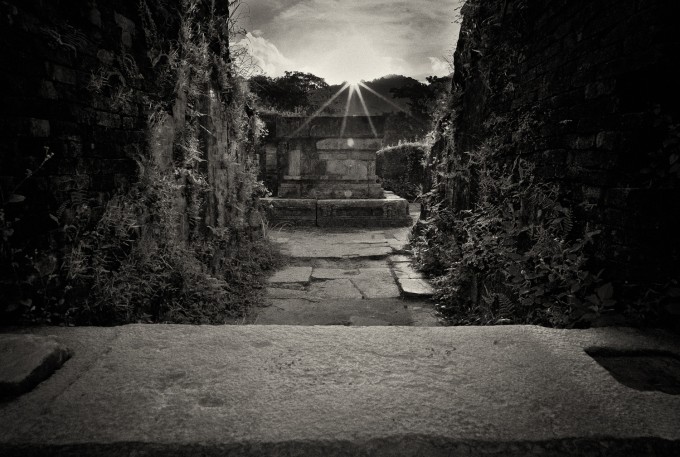 Leica M8: Headless relic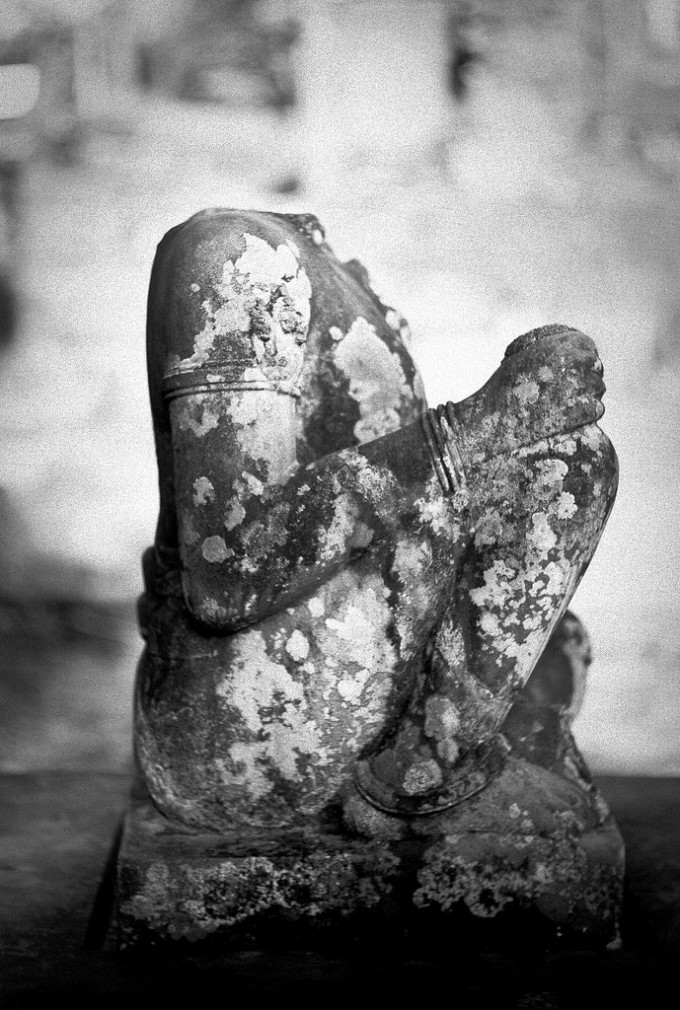 Day 8 – Beach Day Trip along the Vietnam Coast & China Beach
Next up on our foray was one of the favorite and most pleasant parts of our trip. We hired a driver who spoke some English to transport us north from Hoi An to Hue (a center of Vietnamese Imperial and Dynastic rule) over the course of a day. The trip was spent driving along coastal Vietnam, along China Beach. Many of these sites were areas of US Military Staging During the Vietnam War, and for some of you fan of 80's TV, a show named "China Beach", starring Dana Delaney, was shot to detail the stories that took place during that time.
Our experience traveling along Vietnam's coast was wonderful and soothing. Our driver really helped with the experience. We arranged for travel through a Hoi An Travel and Booking agent only after we had arrived in the city, and spent $70 organizing the day long, transport. The great thing was that our driver knew all of the cool local spots to visit along the way. Our Lonely Planet did help us pick a few notable beaches along the way, but our driver was able to fill in the gaps. Along the way, we stopped at Marble Mountain, a giant rocky outcropping overseeing the city of Danang, about which a giant Pagoda was positioned for us to see. Also, we were whisked, a bit predictably, through a Marble dispensary full of many "souvenirs" for potential purchase. While there was some attention given to us, it wasn't too bad, and we were able to take many pictures. I used the Leica M8 and D-Lux 4 in equal parts during this portion of the trip, capturing some of the beautiful details of this seaside region. We even visited some natural springs, only inhabited by locals who giggled at our Western Style Swimtrunks….we got along marvelously and they tolerated us and our Ugly American Tendencies.
Leica M8: Seaside fisherman, with storm arriving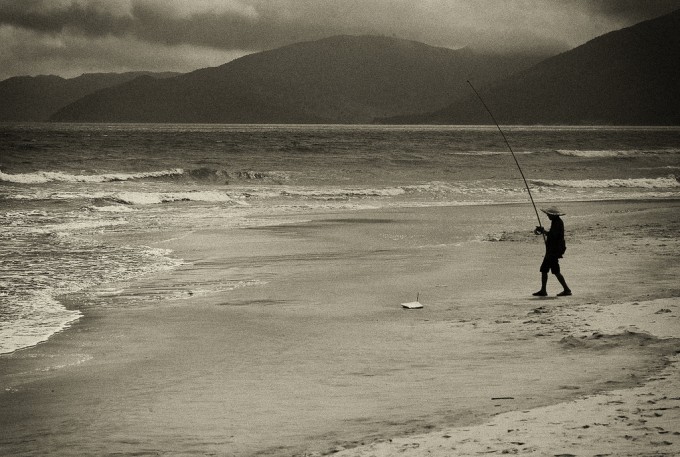 Leica M8: Military exercise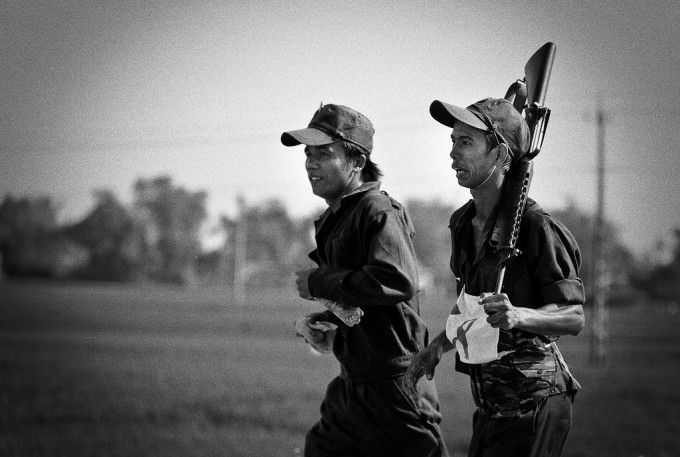 Day 8 – Hue Mausoleums
See Part 2 – click here for the conclusion!
Be sure to check out his flickr and blog!
Here's a link Ashwins Flickr:
http://www.flickr.com/photos/ashwinrao1/
And here's a link to his photo blog:
http://photos-ash.blogspot.com
[ad#Adsense Blog Sq Embed Image]