The Pentax Kx DSLR  – First thoughts…
Many of you have read my Pentax K7 review where I praised the camera for its build, its feel, and mainly for being a massive bang for the buck camera. I still say today that if I were in the market for a DSLR body under $1500 I would most likely buy the Pentax K7 with a couple of the Pentax prime "limited" lenses like this one, or even this one. I really enjoyed the camera and for the $1000 it costs (with the kit lens) it's one of those cameras that can be considered a deal, and even a future classic for Pentax shooters. Since reviewing the K7 many have asked me to check out the Pentax Kx, the smaller, cheaper, and not as well built little cousin the the K7.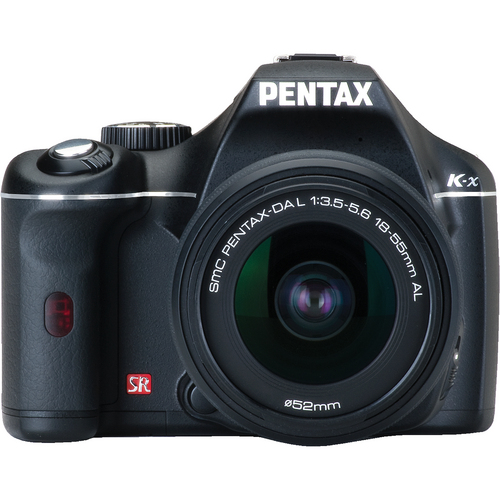 The Pentax Kx Features
12.4-megapixel APS-C Format CMOS Sensor
The K-x incorporates a newly developed CMOS image sensor to assure high-speed image data readout and more flexibility with varying ISO sensitivity levels. With approximately 12.4 effective megapixels, this image sensor accurately reproduces true-to-life images with fine detail and rich color depth. The K-x offers a wide sensitivity range between ISO 200 and ISO 6400 and allows users to expand the sensitivity range between ISO 100 and ISO 12800 via a custom function to offer greater creative freedom to photographers.
Wide Screen HD 1280x720p Video Recording @ 24 Frames-per-Second
The Pentax K-x movie recording function* captures true-to-life movie clips in 16:9 high-definition TV proportions (1280 x 720 pixels) at a frame rate of 24 frames per second. Compatible with every Pentax interchangeable lens ever made, the Video Capture mode opens a new world of creativity for Pentax K-x owners.
High-Speed Continuous Shooting at approximately 4.7 Images-per-Second
The K-x's high-speed continuous shooting mode records as many as 17 images (in JPEG recording format) at a maximum speed of approximately 4.7 images per second. This is the fastest of all entry-class models. The K-x also features a more reliable shutter unit, which passed a demanding action test of more than 100,000 shutter releases. The top shutter speed of 1/6000 second allows the photographer to preserve sharp, crisp images of fast-moving subjects.
High-Performance, High-Speed PRIME II Imaging Processor
The K-x features the newly developed PRIME (Pentax Real Image Engine) II, that is an upgrade of the original PRIME imaging engine. This new imaging engine offers greater data processing speed and enhanced capability to produce higher-quality images with richer, more accurate color rendition, as well as faster transmission speed of movie data.
Live View Function with Face Detection of up to 16 Faces
In addition to the camera's viewfinder, the K-x features a Live View function that allows users to view subjects on the LCD monitor during shooting. The K-x also offers a choice of three different focusing modes in Live View: Contrast Auto Focus, Face Detection Auto Focus, and Phase Difference Auto Focus.
Digital Filters
The K-x's digital filter function allows users to process recorded images in a variety of creative ways within the camera and produce highly creative visual expressions. With a choice of 16 different filters including Color Extract, Retro, Soft, Starburst, Toy Camera, and more (including a custom filter for building multiple effects), photographers may apply multiple filters to a single image for customized effects.
Cross Process Mode
The K-x features a new Cross Process mode that automatically and randomly adds finishing touches to exposures to create eye-catching images with unique, intriguing colors (just like images treated with Cross Process* in film photography). This mode adds a whimsical element to digital photography since photographers don't know the results until the captured image is actually displayed on the camera's LCD monitor.
High-Precision 11-Point AF Sensor
The high-precision, wide-frame SAFOX VIII autofocus system of the K-x features 11 sensor points (with nine cross-type sensors positioned in the middle) to automatically capture even off-centered subjects in sharp, crisp focus. Photographers also may select one of the sensors as a focusing point to accommodate specialized applications.
Additional Features Include:
Custom Image modes offer high quality processing for images, a 2.7″ (230,000-dot) high-resolution color LCD, Auto Picture mode for effortless, automatic selection of the most appropriate shooting mode, even during Live View shooting , a Status screen for easy, at-a-glance confirmation of various settings on the LCD, 10 scene modes, including Night Scene, Surf & Snow, Sunset, Kids, and Museum available via simple icon selection, and Pentax Digital Camera Utility 4 software package, with RAW-data processing and image browser functions.
My First Thoughts on the Kx
I finally was able to get a hold of one and I have shot with it for a few days now. My first impressions are that it's definitely not as nice as the K7 when it comes to build, feel, and overall use. I really enjoyed the brick-solid K7, the weather sealing and knowing that it could take some abuse if I had to dish some out. I also prefer camera bodies with as many external controls as possible as I hate menu digging.
The Kx is smaller, feels a little more plasticky, and takes AA batteries, which to some are a positive and after thinking about it, I sort of agree. The K7 does require some menu digging but it's not as bad as my sons Nikon D3000.
I will go over all of the details in my full review coming soon but even while my first impressions are not as enthusiastic as they were with the K7, I can not complain about the image quality of this little guy, or the price. With an 18-55 lens, this camera comes in at $529, which is another great deal for Pentax shooters. This is about the same price as the Olympus E-Pl1 but it has a larger sensor, which should mean better quality pictures. I do know that you have access to MUCH nicer lenses with Pentax, and that is VERY important when it comes to getting great IQ from ANY camera. The lenses are the heart of ANY camera system which is probably why I love Leica so much!
As for Pentax, I have their 200 f/2.8 here and it's damn good.
So look for my review soon! Until then, here are some shots I took of my Nephew while he was visiting from Chicago. These were converted to B&W and were shot with the kit zoom AND the 200.

In my review I will go over everything with the Kx including ISO testing, RAW vs JPEG, speed (operation and AF), color, and video. It's so cool that today we have so many options for enjoying photography, and even the lower priced cameras can do a great job it seems. The K7 is double the cost, and I have to admit, worth it but for $500, the Kx seems pretty damn good. I'll be shooting it for a few more weeks to see how it goes over the long run.
[ad#Adsense Blog Sq Embed Image]