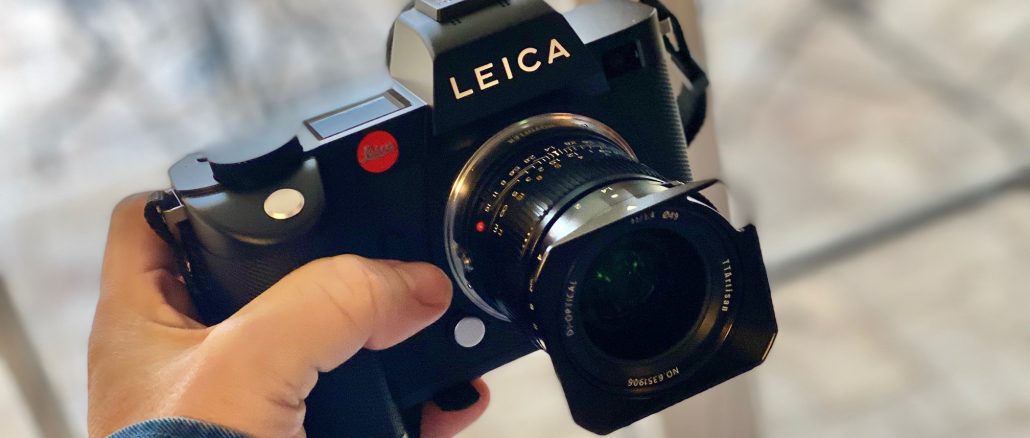 The Leica SL2 Arrives! Also, TT Artisans 21 and 35 M Mount Lenses 1st Look!
By Steve Huff
UPDATE: I updated parts of this article as others have shared how to get IBIS to work with non Leica M lenses. It does work!
My video first look!
So the
new Leica SL2
arrived to me this past Friday as did a couple of
not so expensive
M mount lenses from TTArtisans. A 35 f/1.4 and a 21 f/1.5. Both of these lenses look stunning, and seem to be built very well. Both come in under $450 which is a far cry from Leica prices but if you are in a pinch after spending thousands on a new Leica body, these lenses can be a cool solution to get you started. You can see these lenses at
Amazon HERE
if interested but I will share a few first test snaps with them below. Note they are not anything like Leica when it comes to quality and render in a more softer/lower contrast kind of way. Even so, they have some charm and are cheap (when compared to most M mount lenses)!
As for the SL2…I only have it for five days total so this will not be a review but rather a very first look with very first thoughts. If I buy one, I will do an extended length full review. Will I buy one? Probably not, but not because it's not a great and very capable camera. There are a couple of other reasons I will not make the leap to the SL2 but for man of you reading this, the SL2 may be just what you have been looking for.
Let's get started…
You guys know that I was and still am a HUGE fan of the original Leica SL when used with M mount lenses (of all brands and variety). The combo of the tough build, the big high res EVF, the fact that it never once gave me one issue and of course the gorgeous color and IQ had me go back to the SL again and again and again, above all other cameras in my arsenal. My SL review was long, detailed and showed off many images. If you somehow missed that one, you can see it here.  The Leica SL, original model, has been my most used and favorite 35mm full frame camera of all time. That's a fact.
Debby with the SL2 and TTArtisans 35 1.4 at f/1.4 – click for larger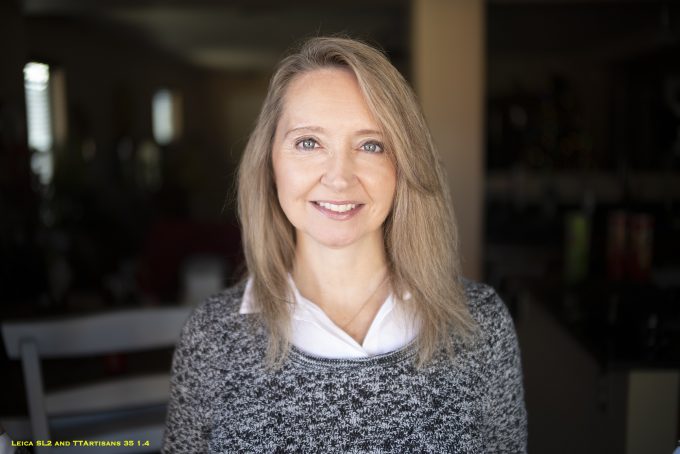 When the SL2 was announced I thought it looked nice with a slightly refined appearance and new menus, advanced video, 5 Axis IS, better weather sealing and improved handling, an even higher res EVF and more of what made the original so damn good. I was invited to Germany a few weeks back to see it in the flesh but sadly could not make it due to a previous commitment.
My only niggle (and this is just a ME thing) with the SL2 when I read the specs was the 47 MP sensor. For me, I do not need 47MP nor am I attracted to a 47MP (or higher) sensor when it comes to 35mm full frame cameras. Me, I enjoy and love a good 24 MP sensor like the ones in the original SL, the Panasonic S1 and even the Sigma FP. But I am not saying the old 24 MP sensor is better, just that I prefer 24 MP with full frame for a variety of reasons. For most of you, the higher MP sensor will be preferred and understandably so. Me, the low light suffers too much with these higher resolution bodies and I shoot an awful lot in low low light. 
When I judge a camera I speak of the entire package and what it brings as a complete package. From build quality, to design, to feel and usability, to menus (which are awesome here with the 2), to weather sealing, to lens compatibility (you can use almost any lens with the SL system and adapters) and of course to image quality, low light ability, color and value for the money. All of these things are considered and while other cameras deliver on speed, image quality and versatility…no other camera in 35mm full frame format offers the top tier build, design, menus, versatility, parts quality or the heritage of the Leica SL or SL2. I feel value for the money is good here, as it's a camera that is made to pro standards in build and will last a long long long time.
Quick SL2 Con: I was sad to see that one of the new features in the SL2, the in body image stabilization (the 5 Axis IS) does not work with my Voigtlander or non Leica branded M lenses. I am not sure if it works only with L mount lenses or if it will work with 6 Bit Coded Leica M glass using the Leica adapter. Either way, the SL2 is crippled in this way as it will not use IBIS with these M lenses I own. The Panasonic S1 did, the SL does not. 
UPDATE: I shot some video with the SL2 and the IBIS does seem to work with my non Leica M lenses for video. In photo node the "Image Stabilization" section is greyed out and can not be selected. So it may be that in video the IBIS will work, which is good as this is IMO where it is most valuable.
SL2 and 50 1.2 Voigtander M mount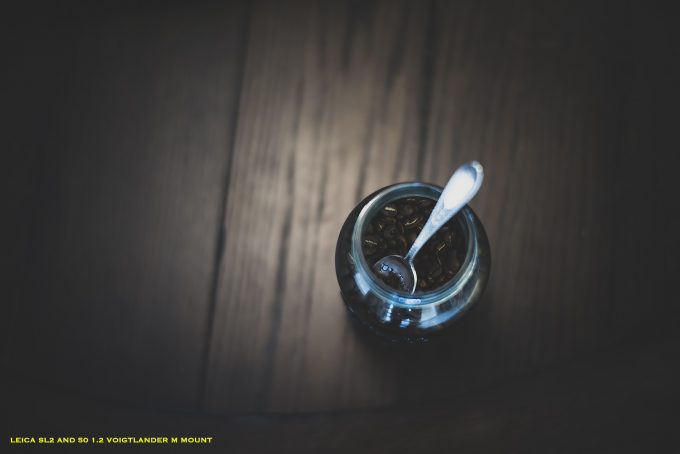 It's got the look
The SL2 is very similar in looks to the original. It is the same size, has the same controls, and is 100% a SL camera form Leica. When you attach an L mount AF lens, it will Auto Focus faster than the old SL, and it will offer things such as 5 AXIS IBIS (with L mount lenses) and improved video specs over the original. With that comes a slightly lower battery life as this uses the same battery as the SL yet with the beefed up performance, specs, larger files and IBIS, the SL2 will not give as long of a battery life as the original. The body is now covered in a Leatherette unlike the original which was bare metal and to be honest, I am not sure which I prefer just yet. Both look very nice. The new model also has an indented finger grip which I can say is indeed more comfy in the hand. The menus have been revamped and look pretty slick along with the even higher res EVF which is just as beautiful (a little more so) as the original SL's EVF, which is still better than 90% of cameras made today. The new SL2 is $5995, $1500 less than the original launched at so that is a GOOD thing, as $7500 would have been a huge stretch with the Panasonic S1R (nearly identical spec wise) also available for so much less.
One can also buy a new SL1 for $4k or so if you look around. So the question of the day is this…is the new SL2 worth $2k more than buying an original SL brand new? For me, no. For you I bet it is as you do get a few improvements across the board (though a con or two as well). It's an attractive camera in all ways but mainly for those SL users who use L mount lenses and want the upgrades, which are fantastic when using L mount lenses!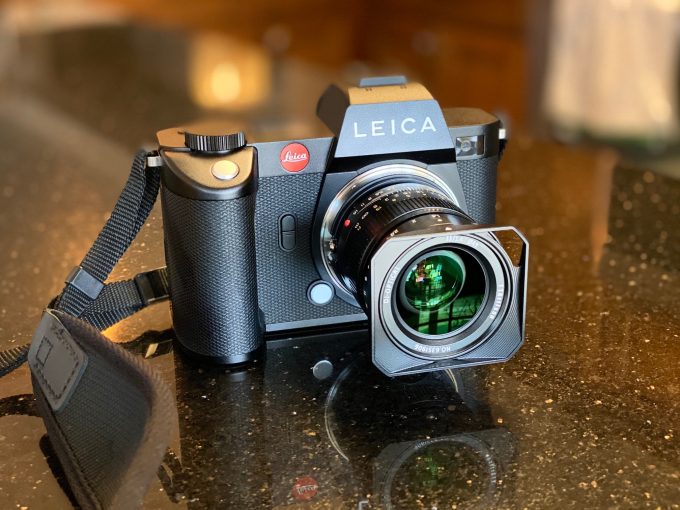 There are many reasons why some of you may want this camera and many reasons why it would be a smart move to invest in one. Here are some observations…
This one from the original SL. Click it for larger.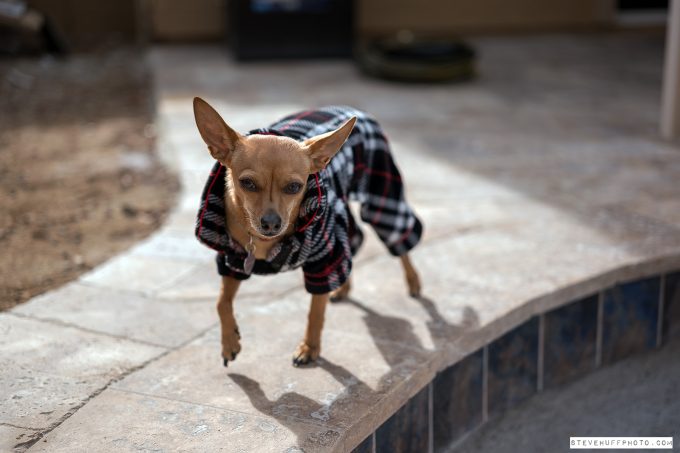 The original was released over 4 years ago and has stood the test of time. I could/would own and use the original SL today, and for the next 10 years if it still worked for me in 10 years. The original is still an amazing camera today, especially if using M mount lenses. ESPECIALLY if using 6 Bit coded Leica M lenses. IMO, the color from the original can not be beat for my personal tastes but it's very good here in the SL2, and some may prefer it to the original. Your taste may vary but for me the SL provided me with some precious memories and in an amazing quality. If one were to invest in an SL2, it would be a solid choice. These SL's are built to a High standard and in fact, if I look back I am not aware of any camera in 35mm full frame (or under it) that is built better than an original SL or the new SL2. In other words, these cameras will last you. I have shot with an SL for over 4 years and it has never once given me an issue. Compared to other mirrorless cameras the SL and SL2 just feel much more solid, clean (design), and they will last you many years.
Pride of ownership. The Leica brand is known for pride of ownership as they create cameras that offer an emotional type of bond. Wether that is their history, the red dot or the fact that no one on earth makes cameras quite like a Leica doesn't matter, the pride of ownership is high and a Leica will motivate you to get out and use it. When you own a camera such as a Leica M or SL you know you have something special and it feels good to use it.
With so many great cameras out there today, how does a camera stand out and above the competition? By making it attractive in ALL ways, not just speed and IQ. With the SL2, Leica has created a camera that no one else has even tried to make. Not Sony, not Nikon, not Canon. Panasonic is close as the SL2 is based off of the Panasonic S1R. Even so, hold each in your hand and it is easy to distinguish what makes the Leica so special. It's the details, the quality and the feel/usability that make Leica attractive to so many. A camera is much more than just its output and the SL2 makes many other cameras in the $2-$3k price point feel like toys in comparison. The SL2 also feels smaller in my hand and less bulky than the S1 and S1R. It's clean design is gorgeous.
The price. At $5995 this is one expensive camera but in all reality it is not priced in a way that makes it crazy. I feel at $6k this is priced PERFECTLY. The original was $7500 when it launched, so the new SL2 is $1500 less and you get all of the advancements.
The new SL2 menu is sweet and sleek. One for photo, one for video and this is an improvement over the original. A tad more complex so the whole "less is more" argument slips away a little here vs the original SL but Leica has improved things such as the menu, the speed (it's faster), and other areas of the SL that make the user experience quite nice. With an SL AF lens the difference will be quite nice. With an M lens, it's just like shooting the original. Which is fantastic.
The SL2 now has 5 Axis IS. Great for video or photo use and well worth it to have. While it is not needed, many enjoy having this feature.
The EVF is now even better with higher resolution (though in real use, between this and the old SL the difference is not huge) and weather sealing is a few notches up.
Controls are still basic and simple and easy to understand.
Has USB C charging capability (in camera) and this is so nice to have while out on the road
Rear LCD is touch screen and uses Gorilla Glass for durability
The SL2 and Voigtlander 50 1/2 at f/2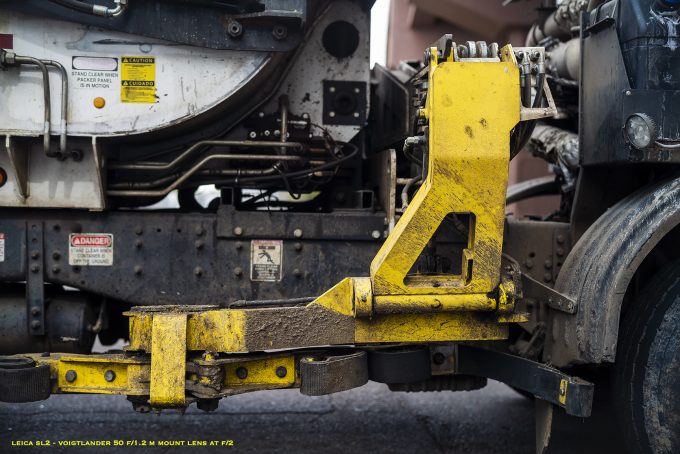 I can list more but at the end of the day a camera like the SL and SL2 will last you a long time. These are not disposable cameras, and are not refreshed every year. Rather, they are on a four year upgrade cycle and made for professionals and enthusiasts alike. So buy now, and you will not be tempted by an SL3 for quite a while ; )
The SL2 with some CHEAP (but nice) M glass. First shot with the TTArtisans 21mm f1.5, 2nd and 3rd with the TTArtisans 35 1.4. These are M mount lenses that are built and designed to look and feel like a real Leica lens. The packaging and presentation is amazing. The performance is NOT Leica like but for the money, right on target. The 2nd image was more or less a DR test and the Dynamic Range looks GREAT. I buy lenses today not for perfection or sharpness but for character and the way they render. These lenses here give another option for those looking for unique M lenses. 
So I have literally only snapped a few test shots with the SL2 so far (and with only Voigtlander and TTArtisans glass so far) and after only a day and a half with it, I can say it is a camera that is very beautiful to use. With that said, if I owned one I would use it with uncoded M mount lenses almost 100% of the time, and Canon glass every now and again. In this scenario, the original which can be had for $2000 less brand new is even more tempting to me even though it is 4+ years old and I have owned it on three occasions (always lured me back)! Yes, I sold my SL a while back as the little Sigma FP delivers just as good, if not better IQ and is smaller (though different experience). Even so, the SL has a charm, a pull, a magic to it that has always spoken to me. Kind of what I was talking about above…how a Leica feels like no other camera.
One may say "Buy an M10 if you want to use M lenses" and while that's a very valid argument I will say I truly have enjoyed using M lenses on the SL due to the hassle free way it all works. The EVF is simply brilliant in use with these small manual lenses and again, an SL can be had for $4k new. An M10 will be at least a couple grand more. I am one who does want to see an M camera made with a high res EVF. Until that day comes, for me, the SL and SL2 simply ROCK with M lenses. It's an amazing way to use them due to the EVF and always spot on focus. If you can swing Leica branded M lenses, even better as the 6 Bit coding on these lenses will truly bring out the IQ of the SL and M lenses combo.
SL2 and Voigtlander 50 f/1.2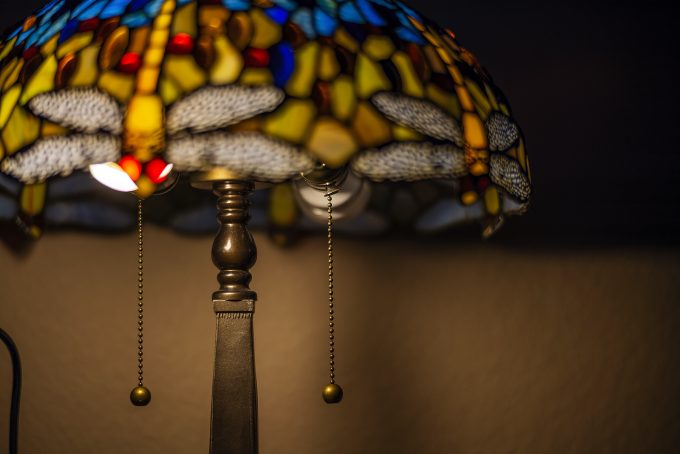 If I owned the SL native AF lenses, the SL2 would be a HUGE temptation as with these AF lenses the new 2 WILL BE better. I would 100% go with an SL2 if I were planning to shoot L mount lenses more so than M lenses. No question. 
But with M lenses, even non Leica M lenses I could take the $2000 I would save on the SL2, buy an SL1 and then this lens, which is a stunner and when I reviewed it here. It made lasting memories on me long after I had to send it back. Going this route, I would have a beautiful new lens and still have just as gorgeous IQ and better low light performance.
The TT Artisans 35 1.4 is a bit soft and has some glow. Both of these are shot at f/1.4 with the TT 35. Voigtlander will bring quite a bit better quality but this lens is $449. 
No, having 47MP does not mean better image quality. It simply means you have more to work with. If you like to crop, 47 MP is great to have. If you enjoy pixel peeping details, then the more MP the merrier. Landscape pros? The SL2 will be a better option over the old SL. As for dynamic range, they appear to be about the same though Leica says the SL2 has 14 stops of DR. In my limited use so far I am seeing it to be about the same as the original when I work with RAW files and highlights can still be blown. I also find the camera is tending to slightly overexpose with my Voigtlander lenses so I nudge the EV comp a bit when shooting them.
This is where the SL2 will suffer.
Low Light and High ISO. When you combine low light and High ISO, you will see grain with any camera. But today, cameras like the Panasonic S1, Sigma FP and Sony A7III offer astounding low light capabilities all the way up to ISO 51,000 and even at these crazy High ISO levels, in low light, the S1 and A7III are usable to some extent. Seeing ISO 2500 with so much noise coming from the SL2 was no surprise. One reason why I can not go to a 47MP sensor as I shoot A LOT in low light. This is about the same (OR WORSE) as Micro 4/3 levels and is because of the sensor used. So great for daytime landscape shooters, not so great for lower light or street shooters.
Also, when in very low light the EVF gets very choppy and almost unusable if using manual focus. Also keep in mind the SL2 auto adds noise reduction to RAW files. When turned off (as I do with every camera I have ever used) we see the real ISO performance. When I import a RAW file I turn off NR completely.
ISO 2500 indoor light. Lots of grain at 2500 with ALL noise reduction off. Looks about like the Panasonic S1 at ISO 51k
BELOW: Side by side with an EM5 MKIII at ISO 25k – 100% crops, and the SL was downsized to EM5 resolution. Noise reduction 100% off on both. What this shows me is that the SL2 is about on par at High ISO as a modern day Micro 4/3 sensor. This seals its fate for me and my use for low light shooting in clubs.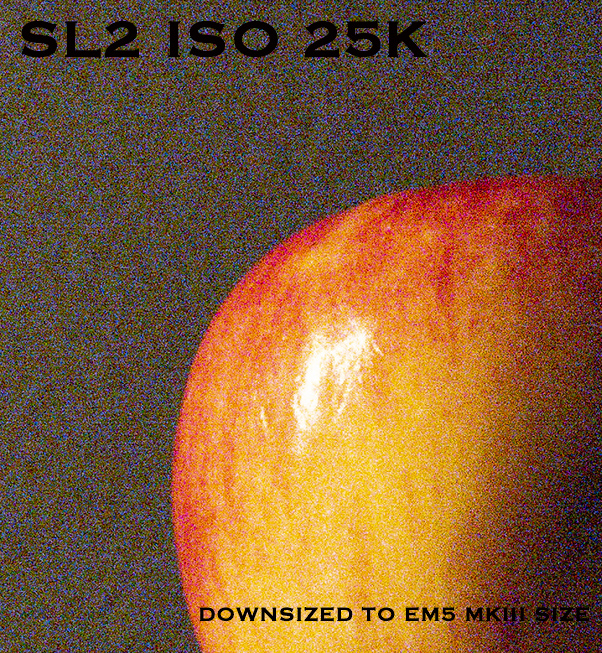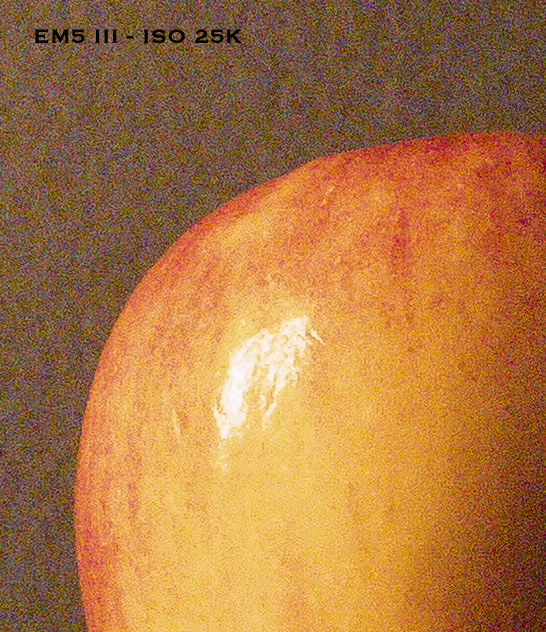 As it is and even so, the SL2 appears to be selling well for Leica. While they have only sent out a VERY limited number to dealers so far, to keep demand high I assume, there is a backlog of orders. My guess is that if you ordered an SL2 now, you would get one in 4-12 weeks (just a guess). A very long time Leica dealer told me just recently they are only getting sent TWO SL2's per month. The only explanation I see is that this give the impression that the camera is sold out due to demand (and it is), and while part of that is true there will be demand if you choke up the supply by limiting it as they are. With the new Leica factory in full swing, one would think they would have been able to have enough cameras ready at launch to fill ALL orders. Leica has used this method of camera launches many times but in 3-4 months I feel you will see the SL2 in stock at your fave Leica dealer so no worries! If you are waiting for the SL2, it will be in stock…eventually. Hang in there ; )
The TT Artisans 21 1.5 and 35 1.4
I am only 2 days in with the SL2 so this is not in ANY way a review. It's my very first, and I mean very 1st thoughts!  
What I can say NOW is that it feels perfect in the hand, better than the original (the new grip and indent for your fingers really helps). It feels solid as can be yet feels nice and balanced. It's a worthy upgrade in almost all (but not all) ways over the original, for 90% of you reading this.
If you plan on using it with L mount lenses like the amazing new Summicron line, the SL2 is well worth the upgrade from the SL. If you use mostly M mount lenses? I'd say the original is still a better buy as it still gives amazing Leica IQ and color and with M mount lenses we do not need the faster AF of the SL2.
If you are a very low light shooter, I'd avoid the SL2. Yes you can shoot in some low light scenarios (ISO 6400 is perfectly ok if you leave the noise reduction on)  but I could never use this camera as my main shooter for low light clubs. Also, keep in mind the battery life is less than the original. So while you gain the new slick menus (which are very nice) and an overall nicer grip feel, the new EVF and better video specs along with the 47MP sensor you do lose in some areas.
Even with the couple of cons, both the SL and SL2 are truly among the finest 35mm full frame cameras ever made if you look at it as a whole. Leica has now given us a choice as the original is still available new (and can be found for around $4k new if you look) but if you want the new specs and sensor, the new SL2 will be sure to please those who crave resolution.
Three from the original SL using all adapted glass. Click them for larger. The SL is a true workhorse and with M or adapted glass, a beautiful solution and choice. 
What about the S1R?
I can already tell you now, that if it was between the SL2 and a Panasonic S1R it would be the Leica simply due to the reasons I stated. Design, build, feel, heritage, pride of ownership, color differences and the fact they will last you a long long time. Well worth the extra outlay for the Leica IMO if you feel you will hold on to it for years to come. As I said, I never had one malfunction with an SL over 4 1/2 years. The IQ will probably be the same between these two as they share the same sensor and tech. But a Leica is a Leica and a Panasonic is a Panasonic. The new SL2 has a new rear button layout. Gone are the 4 non labeled buttons and they are replaced with small, Leica M10 like buttons that ARE labeled. Me, I prefer the old buttons and clean back but both are nice and do the job intended.
Either way, the SL2 is already a winner as you would expect it to be. It's beautiful, it's built to last through a war, works wonderfully with M lenses or Native L glass and has an amazing menu system, an even higher resolution EVF and can be used in any weather situation. What's not to like besides the $6k price? Even that is fair for what Leica has delivered here and down $1500 from the original! It's not a huge massive upgrade to the original but has enough new things to please those looking for something new ; )
UPDATE JAN 1st 2020 – My conclusion on the SL2
After more time with the SL2 I have now packed it up to ship it back tomorrow. I have shot more with it and feel that shooting M lenses with it will not yield as good of results as shooting these M lenses on the original SL or even the little Sigma FP. Images between the two are different with the SL2 rendering images a bit softer with M lenses. With 47MP I feel you will not get the most out of the SL2 unless you use Leica's very own SL glass which was designed for use with the camera.
I personally prefer the IQ (good or low light) from the original S1 when using M lenses no matter the brand, Zeiss, Leica, Voigtlander or cheap Chinese made glass. So if you are considering the SL2, do know you will want some of the fine lenses made for it rather than just using M lenses. If only shooting M mount, go with an original SL body.
I really liked the SL2 but not in the way I loved the SL1. But if I only shot with L mount lenses, and only shot in good light, the SL2 would be in my kit above any other camera in 35mm full frame, no matter the brand or cost.
As is, the little Sigma FP will keep me happy for M lens use as it outperforms the SL1 and SL2 with M glass from all I have seen over these past few days.
Also, I added a video at the top of the page! Enjoy!