The Sony NEX-3 and NEX-5 Digital Camera Review
By Steve Huff
My Fave Shot With The Nex System – My son Brandon with the Sony Nex 3 and 16 f/2.8. Some PP in CS4 but yea, this is good enough for me.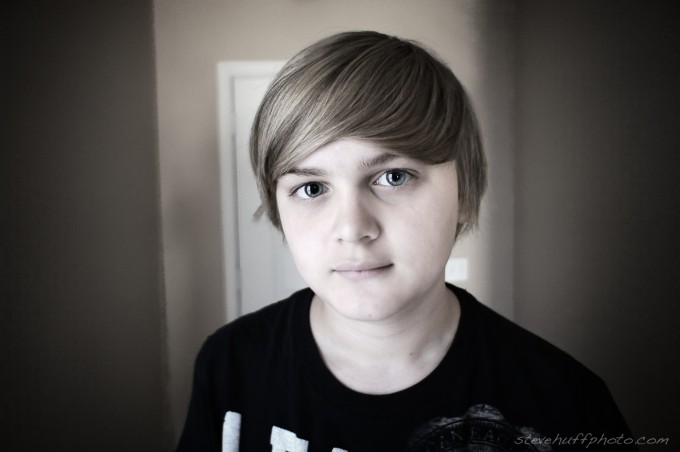 You know, I have taken a long time to evaluate these new Sony cameras, the Sony NEX-3 and NEX-5 and the main reason for that is that I have been unsure about them, even after shooting with them every day. One day I will love them, and on the next I will hate them but after some time with them, my overall felling on them is positive.
I have had the opportunity to shoot with the Nex-3 in silver and the Nex-5 in black, along with both lenses currently available for these cameras. The Sony 16 f/2.8 and the Sony 18-55 Kit Zoom. Sony has taken a chance with these, and by doing so they have created a really unique camera that goes head to head against the other smaller high quality cameras on the market today. I'd first like to say BRAVO to Sony for creating something "different".
The Sony NEX-3 with 16 f/2.8
and the NEX-5 with the 18-55…click for large version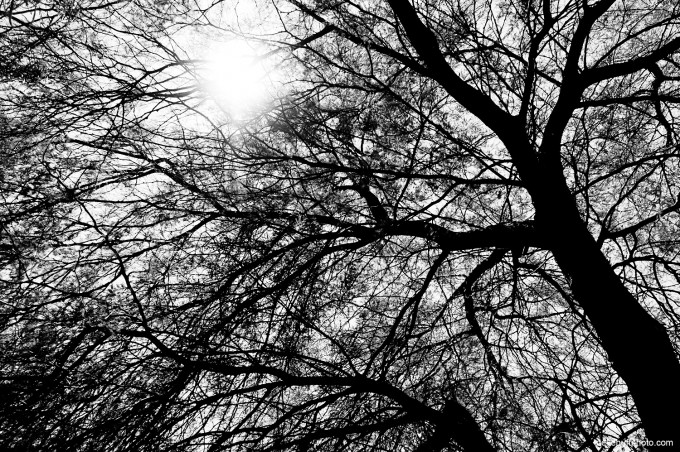 Sony Design
The first thing that struck me when I received them is the size of the bodies. THEY ARE TINY, especially the NEX-5. The design takes me back quite a few years to when Sony were one of the most innovative companies out there making digital cameras. Anyone remember the Sony F-505, the F-707 and F-717? At the time, those were some AMAZING digital cameras with their "shotgun" swivel lenses.
The legendary Sony F-505 – At the time, this was an amazing digital camera with its swivel front lens and small body. The sensor was tiny, but I see some of the same design elements in todays NEX series. NOt with the swivel lens, but the body style and overall breakthrough design.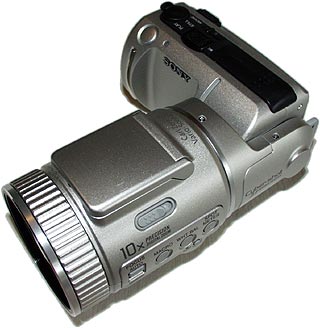 The New NEX Series Design and Concept
When the NEX-5 arrived, I was pleased with its metal build and size. It was slightly smaller than the NEX-3 and felt better in the hand. If I were to buy one, it would be the 5 just for its size, build and feel. The image quality between the two is exactly the same as they use the same "innards" and sensor.  Here are a couple of videos I made, one on the 3 and one on the 5.
This was my 1st look at the Sony NEX-3
and one for the NEX-5…
The concept of the Sony NEX series is to have ONE camera that will offer you quality, size, and features in one small, take anywhere sturdy body. The cool thing about the NEX cameras is that they have the larger APS-C sensor, which is bigger than the micro 4/3 sensor cameras. What does this mean? Well, the bigger the sensor, the better the image quality, ISO noise, and dynamic range!
The Sony, on paper at least, looks like an amazing camera and the ONE to beat in this small camera rat race. My question was, how does it really perform? Does it beat my Olympus PEN? The Leica X1?
Here are a few shots of the NEX 5 so you can get an idea of how big that kit zoom is!
The Sony NEX-5 with Silver Kit Zoom 18-55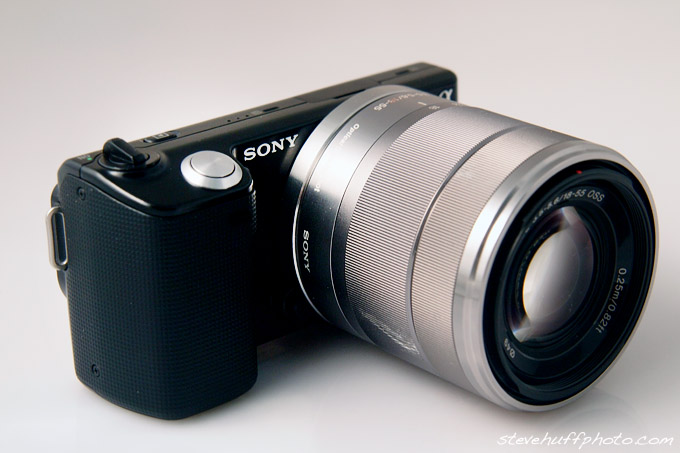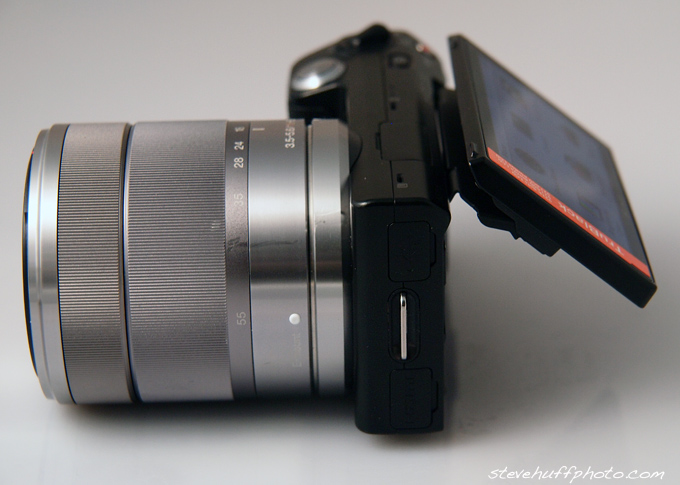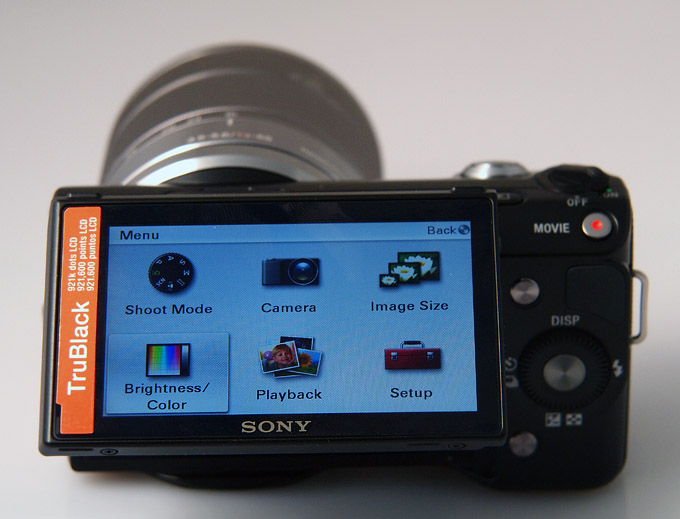 So while the Kit Zoom is rather large, in practice it is not so bad. It's light and make it easy to hold the camera. No issues with the weight, as this camera is small and light.
The NEX 3 in the car with the 16mm f/2.8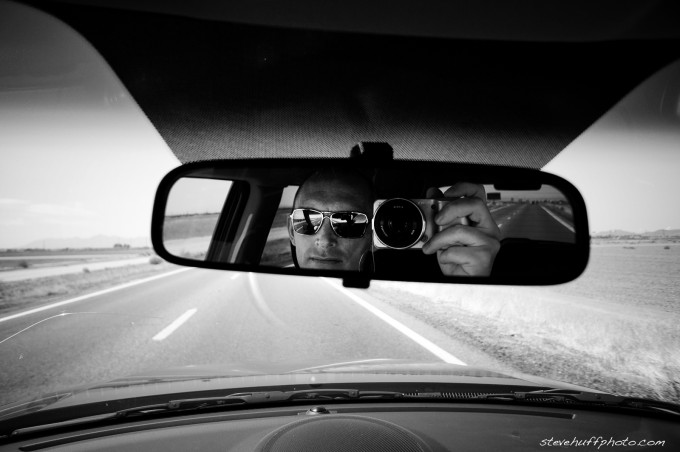 The Sony NEX -5 Features
The feature list is LOOOONG!
Smallest in Class
This is the world's smallest interchangeable lens digital still camera (as of April 2010). Removing the conventional mirror box, AF sensor and viewfinder, and reducing the "flange back" distance enables image quality of a DSLR in a camera that's 48% smaller and 49% lighter than Sony's compact DSLRs.
APS-C Size HD Image Sensor
The NEX-5 contains the same sensor format that Sony builds into the full-sized DSLRs. With 13 times the area of the typical image sensor, APS-C makes the difference between "snapshots" and "photographs," delivering an exceptional combination of high resolution, high sensitivity and gorgeous, blurred backgrounds.
Interchangeable Lenses
Compatible with Sony's E-mount series of smaller, lighter lenses designed specifically for α compact interchangeable lens cameras. Opens up a world of creative options.
First in Class with 1080/60i Video
This is the world's first interchangeable lens still camera with 1080/60i AVCHD Full HD, exactly the same resolution and frame rate as most broadcast and cable HDTV channels. Records in 1080/60i AVCHD format, 1080/30p high definition in PC-friendly MP4 format and standard definition 480/30p in MP4 format.
14.2 Megapixel Resolution
You get incredible detail and gorgeous enlargements. Thanks to the APS-C sensor size and Sony Exmor APS HD CMOS technology, the camera achieves high resolution with no penalty in low-light sensitivity or sensor noise.
Up to 7 Frames-per-Second
Capture the decisive moment in sports and get the ideal baby photo. Up to 7 fps continuous shooting at full 14.2 MP resolution with exposure and focus fixed at the first frame. Standard continuous shooting at up to 2.3 fps.
ISO 12800 Sensitivity
Incredibly clear low-light pictures without sacrificing detail. As of April 2010, this is best-in-class performance, made possible by low-noise Exmor APS HD CMOS image sensor and refined BIONZ image processor.
Ultra-light Magnesium Alloy Fascia
The camera combines high strength with low weight, thanks to the Magnesium alloy front fascia.
Sweep Panorama
Capture expansive landscapes automatically. Press the shutter, sweep vertically or horizontally. The camera does the rest, continuously shooting images and stitching them together. Up to 23 MP image size. Up to 226 degrees maximum sweep angle (16mm focal length).
AntiMotion Blur Mode
Corrects for subject movement to capture amazingly clean and sharp images in low-light. The camera leverages the large, APS-C image sensor and captures six images in a fraction of a second. Combining the data from all six creates a single image that minimizes subject blur.
Hand-held Twilight Mode
Get cleaner and sharper nighttime pictures-beyond the capability of traditional cameras-without using flash or a tripod. The camera leverages the large, APS-C image sensor and captures six images in a fraction of a second. Combining the data from all six creates a single image of extraordinary detail and low noise.
Auto HDR Built into Camera
High Dynamic Range (HDR) photography captures more scene contrast than a single exposure can handle by combining the best highlight detail from one shot and the best shadow detail from another for one incredible shot. Until recently, you needed a computer and editing software. Sony builds HDR in. Handles severe backlighting and other high-contrast scenes (Recommended for still subjects).
Live View LCD
The LCD monitor is active full-time for composing shots. Provides a what-you-see-is-what-you-get preview of white balance, focus, depth of field, exposure and 100% framing accuracy, plus informative on-screen displays.
Tiltable 3″ LCD Screen
Empowers your photography with a different point of view. Tilts down 45° and up 80° to frame high- and low-angle shots that would otherwise be hit-or-miss.
920K Pixel TruBlack LCD Screen
Sony's Xtra Fine LCD monitor has best-in-class resolution (as of April 2010). The TruBlack screen includes a special resin layer to suppress internal reflections, increase contrast compared to conventional LCDs. Sunny Weather mode boosts visibility even further in bright sunlight.
Fast Auto Focus
Some cameras in this class are slow to focus. That can make you miss the shot on fast-moving subjects like sports and unpredictable subjects like pets and babies. Sony's fast Contrast Auto Focus system typically takes just 0.3 seconds. Also offers continuous Auto Focus when shooting movies.
Intelligent Auto Focus
Pre-focuses as you compose the shot, further reducing focusing time to a bare minimum.
iAUTO (Intelligent Auto) Mode
Unifies and simplifies Sony intelligent technologies. Takes advantage of Intelligent Scene Recognition, Face Detection technology, and Optical SteadyShot image stabilization without leaving auto mode so you always get the best shot.
On-screen Help Guide
Provides ready reference, explains the camera's modes and settings. Walks you through camera operation so you get the best shot. Helps you advance from basic operation to greater sophistication.
Control Wheel + Soft Keys
Unlike cameras that bristle with knobs, buttons and dials, the NEX-5 features a simple turn-and-click Control Wheel and context-sensitive Soft Keys. It's elegant, uncluttered and intuitive.
BIONZ image processor
The brain of the camera is a refined version of Sony's BIONZ image processor. Its chroma noise reduction delivers high-resolution, low-noise photos even at ISO 12800 sensitivity. Also enables fast processing for up to 7 fps continuous shooting of data-intensive 14.2 megapixel images. Sweep Panorama and 6 image layering.
Accepts DSLR A-mount Lenses
Using the LA-EA1 adaptor (sold separately), you can attach the full selection of α A-mount system lenses, which includes 28 current models and an installed base of millions of lenses worldwide. Operational restrictions apply.
25-point Auto Focus
25 sensors cover a very wide area of the scene, for accurate focusing even when the subject is far from the center of the frame.
Multi-Segment Measuring
Optimizes exposure based on 49 segments. Choice of Multi, Center and Spot metering accommodates a full range of shooting situations.
Manual Focus Assist
Greatly magnifies the viewfinder image when you touch the focus ring, making it easy to get razor-sharp images. Works with E-mount lenses only.
RAW Image Capture
The NEX-5 saves your pictures as compact JPEG files or ultra-high quality RAW files. RAW files save images prior to de-mosaicing, white balance, sharpness and color enhancement. This retains maximum latitude for enhancing the image on your PC.
"Background Defocus" Control
Cameras with APS-C sensors take beautiful pictures because they can blur the background. That helps make your subject stand out as the center of attention in portrait photography. But you've had to know about aperture f-stops and shutter speeds. Now Sony makes it easy. Simply turn the Control Wheel one way for backgrounds in focus, the other for background defocus.
Accepts Image Stabilized lenses
Selected E-mount lenses incorporate Optical SteadyShot image stabilization to combat the effects of camera shake. Building stabilization into the lenses enables the camera body to be remarkably thin and light.
Powerful Supplied Software
To help you refine and manage your images, the camera is equipped with computer software including Image Data Converter SR, Image Data Lightbox SR and Picture Motion Browser (PMB).
Face Detection technology
The camera can automatically detect up to eight individual faces and adjust focus, exposure, white balance and flash to help deliver crisp, properly lit images of family and friends. Can prioritize children or adults.
HDMI Output for HD Viewing
Enjoy HD movies and stunning still images on a compatible HDTV. The camera includes an HDMI output. In addition, the BRAVIA Sync system works with compatible Sony BRAVIA HDTVs enabling you to control camera playback using the television's remote.
8 Scene Selection Modes
These help you get the shot by optimizing the camera for specific shooting situations. Select from Portrait, Sports, Macro, Landscape, Sunset, Night View, Night Portrait and Hand-held Night Shot modes.
6 Creative Style Settings
Control how the camera processes your images with six finishing styles: Standard, Vivid, Portrait, Landscape, Sunset and B&W. You can even fine-tune contrast, saturation, and sharpness to your personal taste.
P/A/S/M Operating Modes
The NEX-5 offers a full range of controls from the beginner's iAUTO mode to P/A/S/M: Program, Aperture Priority, Shutter Priority and Manual. On-screen prompts help you refine your skills, build your confidence and exercise greater creative control.
Anti-Dust Technology
Anti-Dust Technology helps keep the CMOS sensor clean, resulting in consistently clear pictures. First a static-free coating on the sensor's low-pass filter helps repel dust. Then vibration automatically dislodges dust from the sensor.
Up to 300 Shots of Battery Life
Take up to 300 shots on a single charge with Sony lithium ion Stamina battery power. Sony's InfoLITHIUM battery system enables you to see the percent of power remaining, so you can keep shooting in confidence.
Supplied Detachable Flash
To help you shoot more effectively in formal portraits, the supplied flash has a Guide Number of 7.
Dual Media Slots
For cost-effective, convenient storage and sharing of your images, the camera accepts Memory Stick PRO Duo/Memory Stick PRO-HG Duo and SD/SDHC media (Class 4 or higher recommended). (Memory card is required. All are sold separately.)
PhotoTV HD Compatibility
Optimizes compatible BRAVIA televisions for gorgeous display of digital pictures.
Index and Slide Show Display
Quickly review your photos using 6- or 12-frame index views, or as an automatic slide show with fade-in/fade-out effect.
Camera Tests and Full Size Images
Part 1 – Full size OOC JPEGS
I always have loads of real world images in my reviews but for the NEX series I wanted to also put up some full size downloads so you can see some straight from camera JPEGS. Due to limited RAW support, I only shot these cameras in JPEG mode so all tests and images you see here were shot as JPEGS!
Yes, a boring cat shot but you can click the image to see the FULL size, straight from camera JPEG of this shot. Taken with the NEX-3 and 16mm lens. f/2.8 1/30s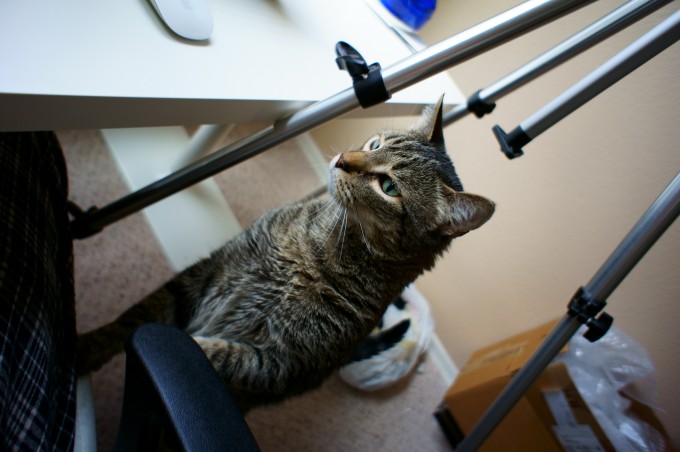 Another straight from camera JPEG – f/3.2 with the 16mm. When the focus is spot on (sometimes the camera misses) the image can be plenty sharp. Click image for full size JPEG file.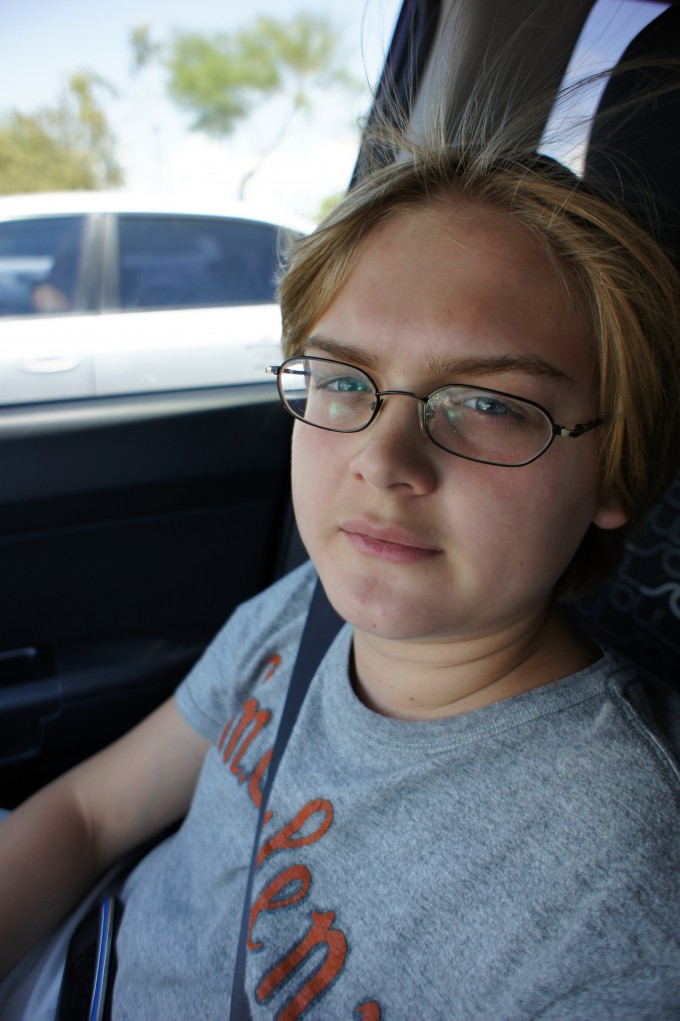 Part 2: High ISO Performance
These days, people like cameras that can shoot in low light at high ISO without too much image degradation. Cameras keep getting better and better in this regard and the Sony NEX cameras go up to a staggering ISO 12,800, which has been unheard of in ANY compact camera body. So, how does the high ISO hold up? Here are a few sample "real world" images at various ISO as well as a test image at the higher ISO's.
I was able to get a few shots when I was shooting SEAL and the NEX-5 was cranked up to 6400 and in camera B&W with contrast boosted as well as sharpness.
Shot this at ISO 6400 with in camera B&W mode. NEX-5 with kit zoom.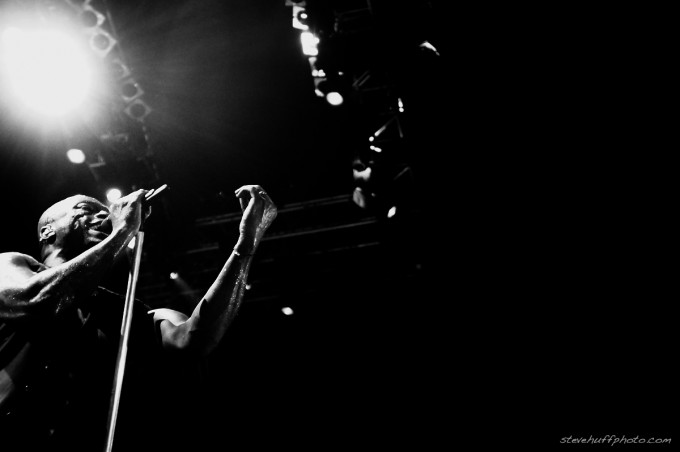 Another at ISO 6400, B&W in camera JPEG, straight from camera!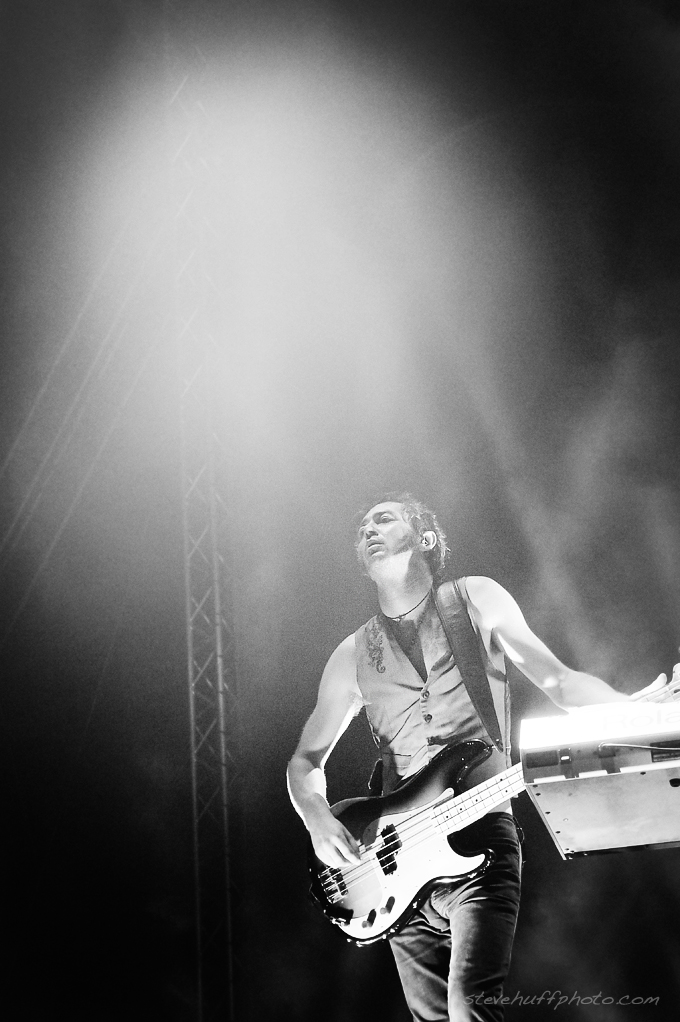 Click image below for larger version with a 100% crop at ISO 6400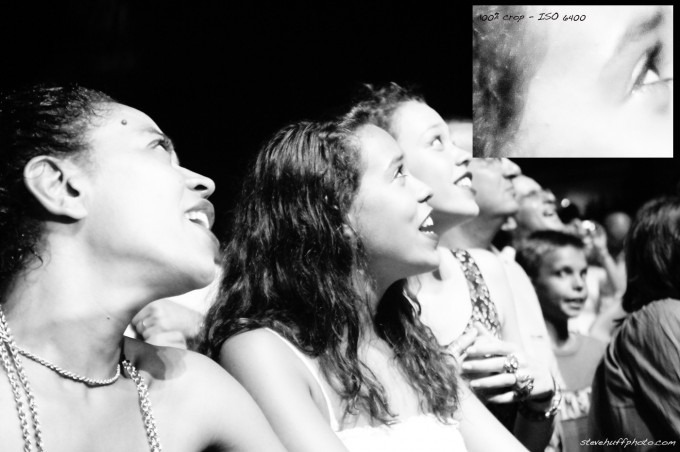 Another at 6400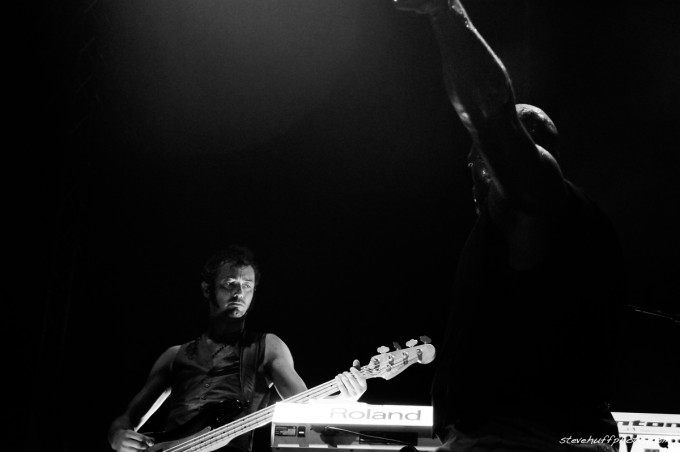 How about a full size, straight from camera ISO 12,800 JPEG?
High ISO is damn good and better than on my E-P2 and yes, dare I say, the Leica X1?
How about a comparison…The Leica X1 at its max ISO of 3200 vs the NEX-5 at ISO 3200. What do you think? Click each image below to download the full size OOC JPEG of each.
First, the Leica X1 – Just judging ISO noise out of camera with JPEGS here. ISO 3200 – Click image for full size OOC file.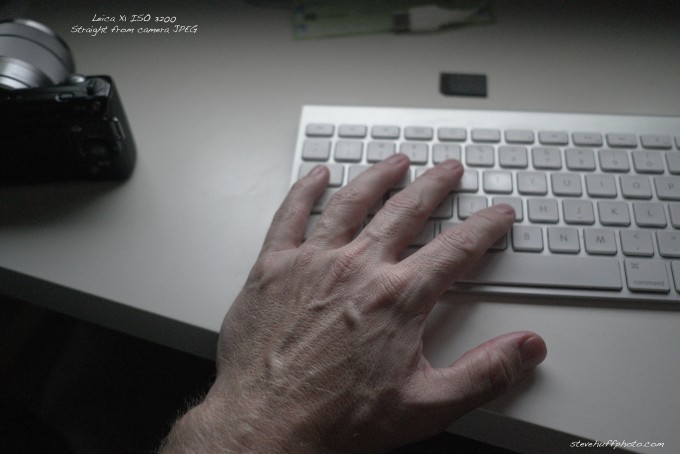 Now the Sony NEX-5 at ISO 3200 – click image for full size OOC file.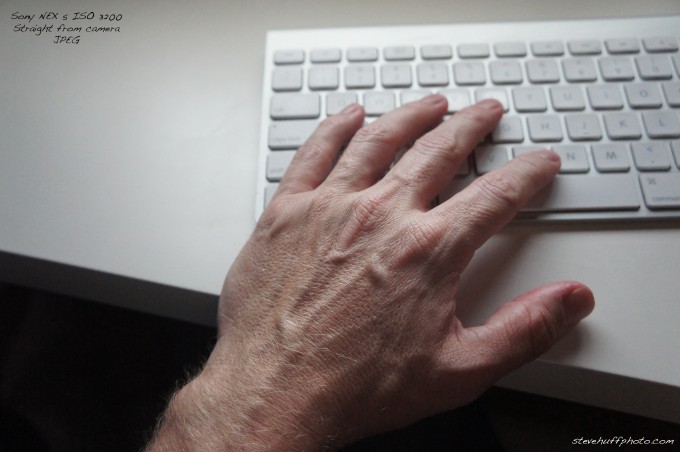 Part 3: Handheld Twilight Mode
Sony has a feature with the NEX cameras called "Handheld Twilight Mode" which allows you to shoot in low light, handheld while getting a sharp colorful image. How do they do this? Well, when you set the camera up to Twilight Mode, the camera take a succession of 6 shots and "stacks" them together to reduce noise. All automatic in the camera, and it works great in every situation I have tried it in!
This was shot in very low light at ISO 5000 with Handheld Twilight Mode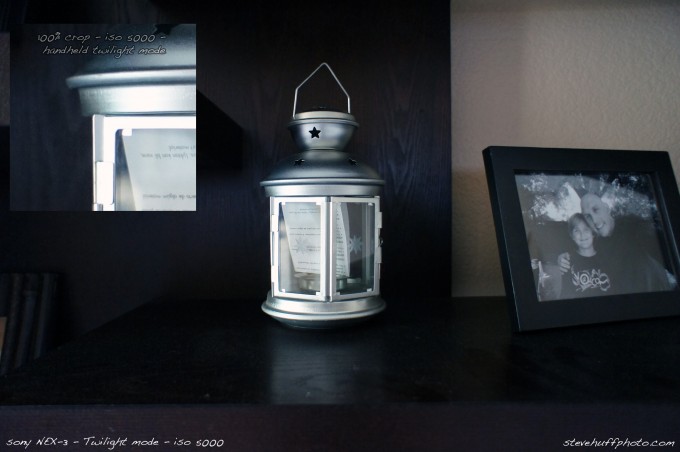 ISO 3200 – Shot in handheld Twilight – click image for FULL size out of camera JPEG. IMPRESSIVE!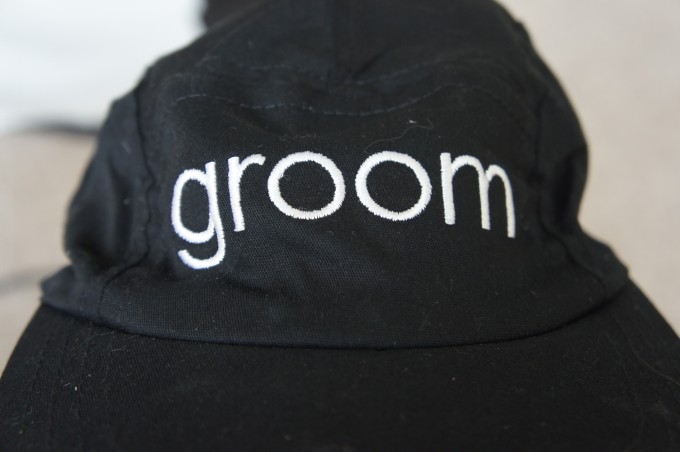 ISO 400 – Handheld Twilight Mode – Click image for full size OOC image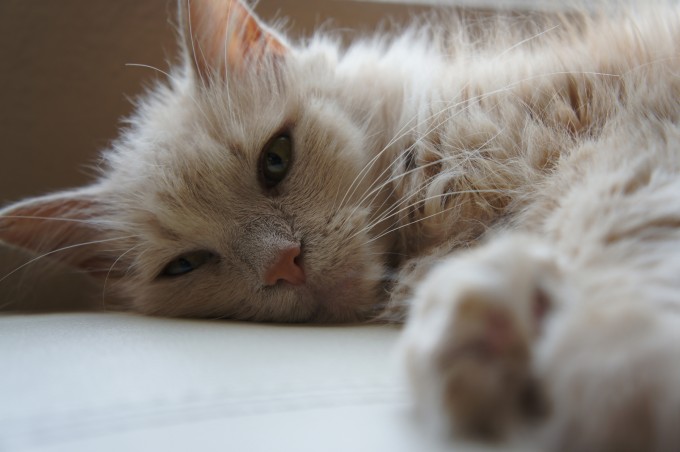 Part 4: Sweep Panoramic Mode
The Nex-3 and Nex-5 have Sony's cool "Sweep Panoramic Mode". It's simple to create pano's automatically. Just set the camera to pano mode and press the shutter while "sweeping" the camera from left to right. An on screen guide will show you how far to "sweep' and when it is done the camera automatically stitches the Pano together. Sometimes it doesn't work to well, but sometimes it works well.
Part 5: HD Video
My Final Word On The Sony NEX 3 and 5
The Sony NEX series cameras, at first, were not my cup of tea. I liked the build, looks and features but hated that there were no dials or buttons on the camera anywhere. In order to make changes, one had to dig in to the menu system and dig deep at times. BUT, after using these cameras for three weeks, I learned that once I had the camera set, I never really needed to get into the menu system anyway, and if I did, I learned where everything was in the first day or two.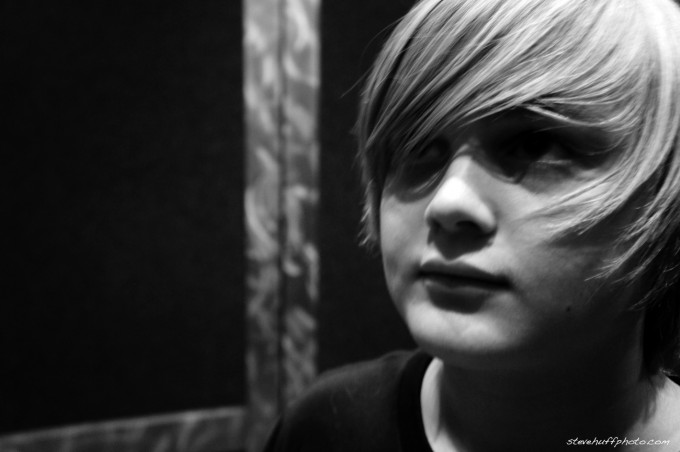 The NEX-3 and NEX-5 will give you the SAME exact image quality as they share the same sensor, software and processing. The only area where they differ is with the body build and video. The NEX 3 comes in at $549 with a 16mm kit lens and the NEX-5 comes in at $699 with the 18-55 Kit Zoom. If you want a little smaller of a camera with a little bit better build, and 1080i HD video capability, you may want to spring the extra $149 for the 5. If you do not need, nor care about these features, the 3 at $549 is a great price for what you get.
The NEX-3 comes in three different colors. Black, Silver or Red.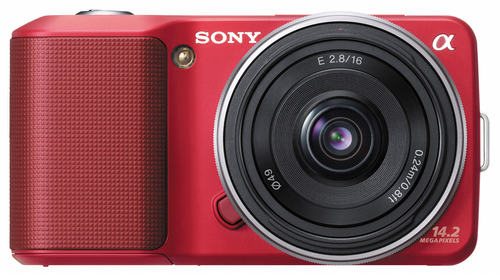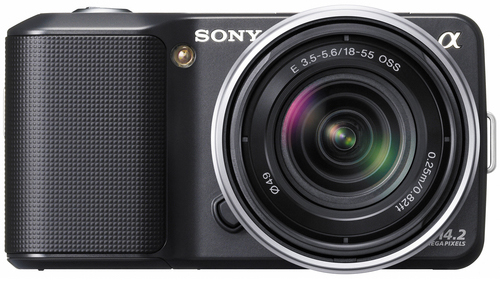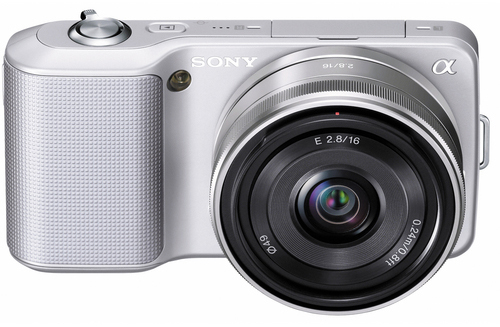 The NEX-5 only comes in Silver or Black.
The NEX 3 and 5 are actually really good cameras for ANYONE. If you are an amateur but want great pictures, the NEX will be a tool that you can grow with. It's super easy to pick up and start shooting and it's super cool features like sweep panorama, twilight and iAuto make the NEX camera great for mom, or even Grandmom!
For those who like the manual control of a good mechanical camera, the NEX series may leave you a little cold, but maybe not. It's just one of those cameras you have to try yourself. Some will love it, some will hate it but the reality is that at the end of the day, it provided some fantastic photos for me, and I only shot JPEG! Can't wait to see what the RAWs will be like when we get some full blown support for them. Also, its AF is fast, and it shoots 7 Frames Per Second which is pretty impressive for this class of camera.
The Pano feature is cool, the HD video is great, and the LCD's swivel feature is fantastic.
So I can recommend the NEX 3 and NEX 5 as it's a pretty fun camera, but it is NOT perfect!
The lenses are a little soft, have plenty of distortion, and are not the most resolving things in the world but if you keep the price in mind, you are indeed getting quite a bit for your money with these. Plus, the video is fantastic! I am sure there will be better lenses coming. There are already adapters to use other lenses on this camera..Leica lenses anyone?
You can see the distortion easily at 18mm with the 18-55 Kit Zoom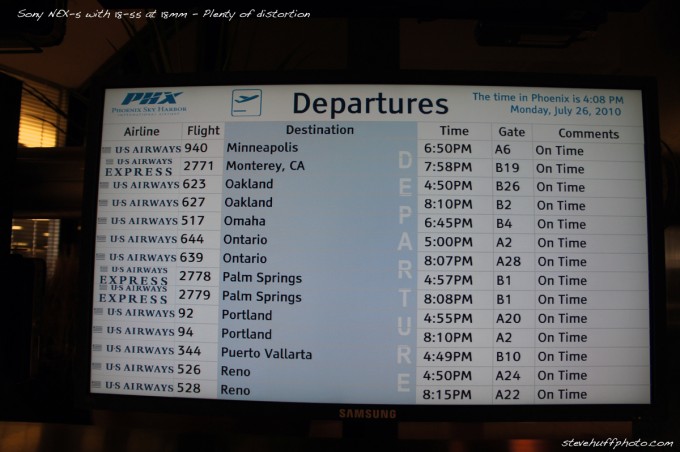 Sony is even releasing a full blown camcorder that will take the NEX mount lenses.
The Sony NEX-VG10 Interchangeable Lens Camcorder – Will mount all of the NEX lenses! – $1999 (pre-order at B&H here)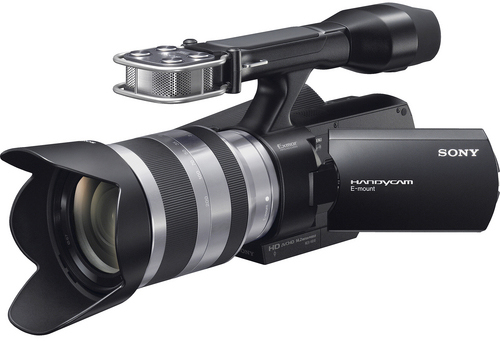 There is also a fisheye adapter and microphone attachment for the NEX cameras. I have tried out the fisheye and it seems like a great little attachment that gave great results.
So yea, if you like the look of these little guys you should hop down to your local shop to hold one. You can buy the NEX 3 and NEX 5 at B&H Photo or Amazon, but they have been out of stock lately and have proven to be very popular little cameras. Im just waiting for some better lenses with less distortion, and then I may jump. At the price, you can buy yourself a Nikon D3000 or D5000 if you want a DSLR, but for those who want quite a but of power in a small package, the NEX series cameras are something to consider. It does give better high ISO performance than the M4/3 cams, better video and its smaller. IQ would be better if there were better lenses available.
If anyone has a Leica adapter with some images, send them my way!
UPDATE 07/31/10 – Sold off my last m4/3 camera to buy the review sample NEX-5 I have here with the 18-55 and 16. Just love the versatility and future possibilities and the video is fantastic.
PROS & CONS
PROS:
Size, size, size!
HD Video is superb with 18-55 lens
Swivel LCD screen works out well for creative angles
High ISO up to 12,800
7 Frames Per Second shooting
Nice build on both, with the NEX 5 being slightly better
Sweep Panoramic mode works well
Handheld Twilight Mode also works well
FAST Auto Focus
CONS:
AF sometimes misses, though says its confirmed
Lenses have distortion and are a bit "lackluster" in detail and oomph
Only 300 shots per battery charge
Menu system is sort of deep and required for some settings
Built in mic for video does not handle loud music well
Buy the Black Sony NEX-5 at B&H Photo – Kit Zoom or Kit with 16MM
Buy the Silver Sony NEX-5 at B&H Photo – Kit Zoom or Kit with 16mm
Buy the Sony Black NEX-3 at B&H Photo – Kit Zoom or Kit with 16mm
Buy the Sony Silver NEX-3 at B&H Photo – Kit Zoom or Kit with 16mm
Buy the Sony Red NEX-3 at B&H Photo – Kit Zoom or Kit with 16mm
Also, Amazon sell the NEX series
as well.
NEX-3 and 16mm at 2.8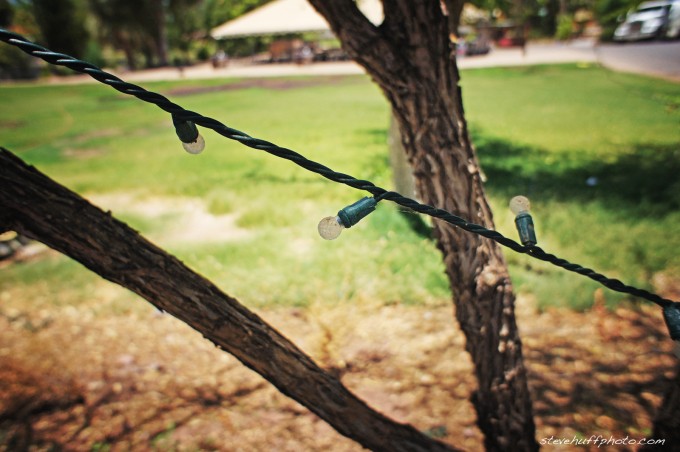 NEX-3 and 16,, at 2.8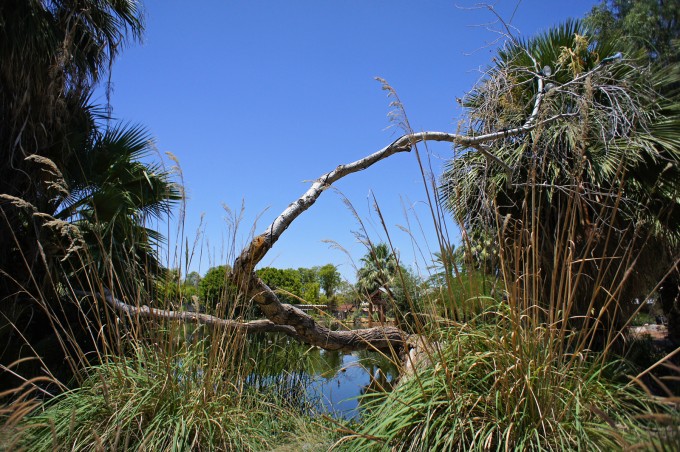 NEX-3 and 16 at 2.8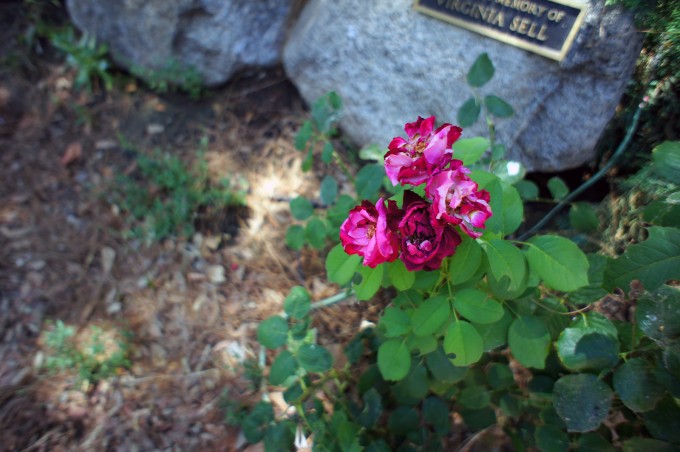 Nex-3 with 16 at 2.8 – B&W using Silver Efex Pro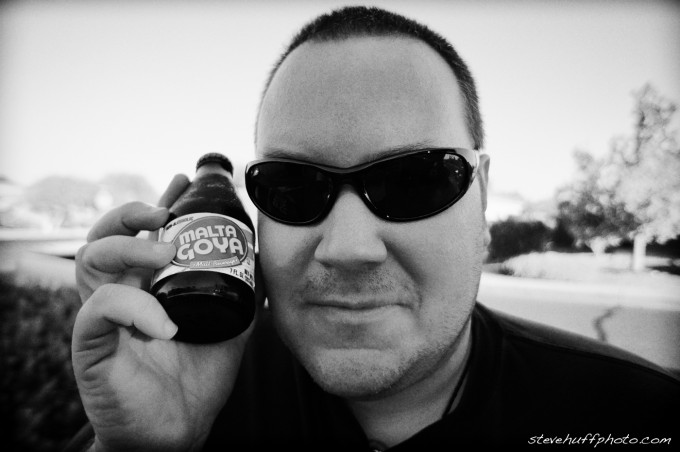 Sony NEX-5 and 18-55 Kit Zoom – F8 at 18mm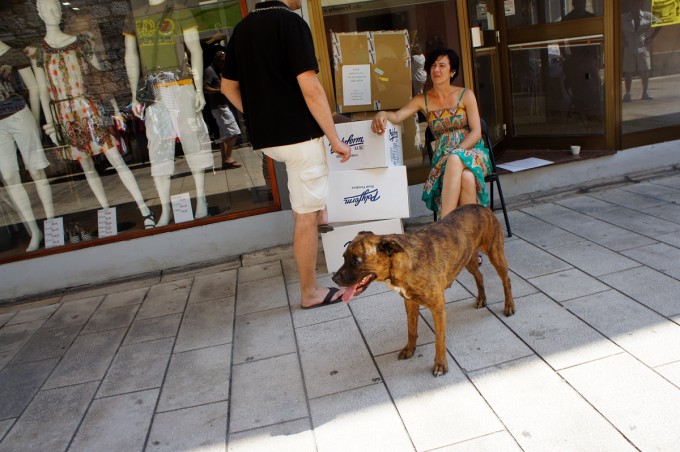 Sony NEX-5 and 18-55 – F5 at 18mm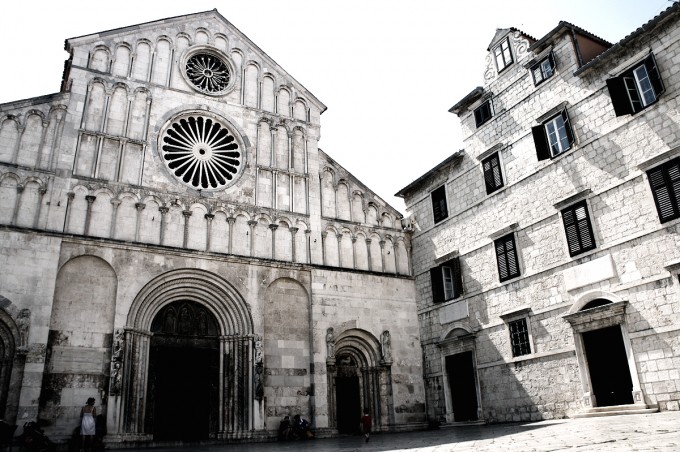 18mm, wide open at f/3.5 – distortion is clearly evident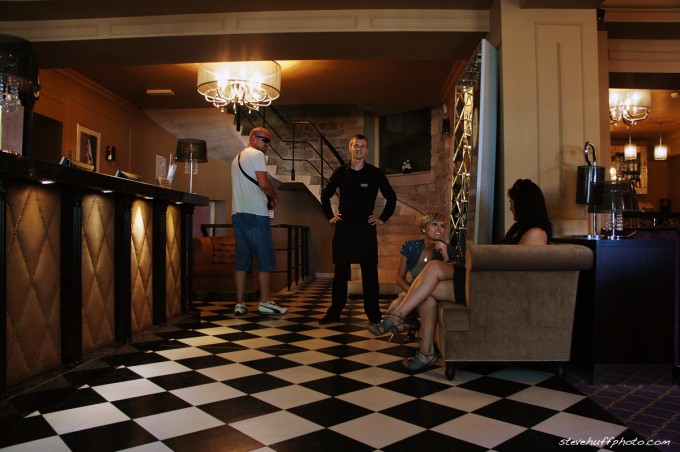 Love the color here…taken with the NEX-5 and Kit Zoom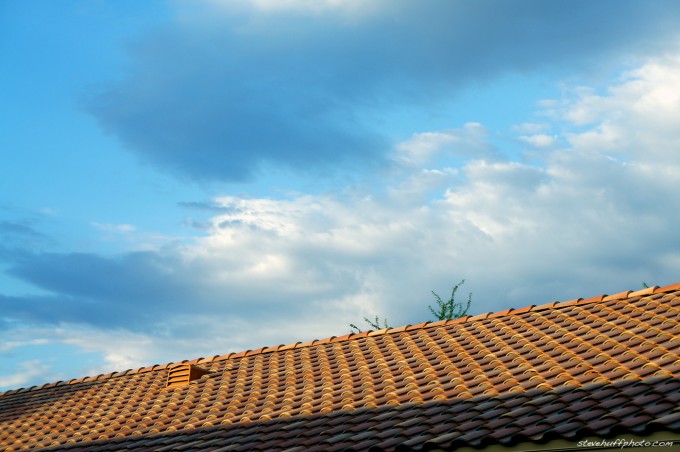 NEX-5 with kit zoom at 18mm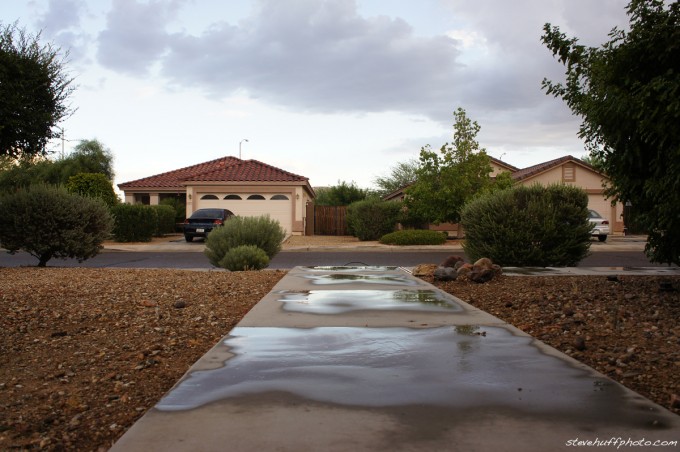 NEX-5 with 16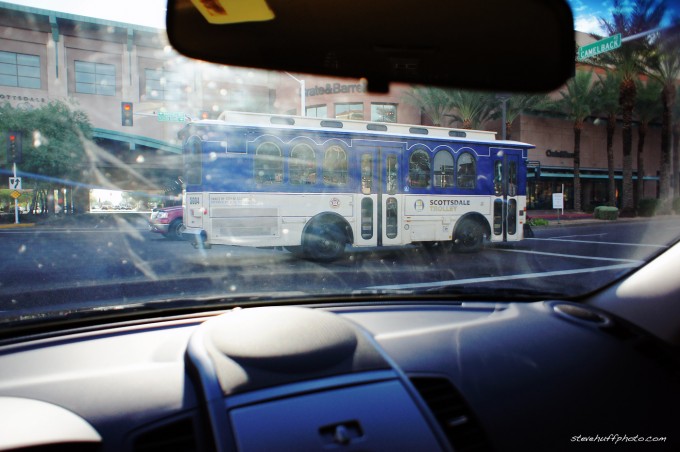 NEX-3 with 16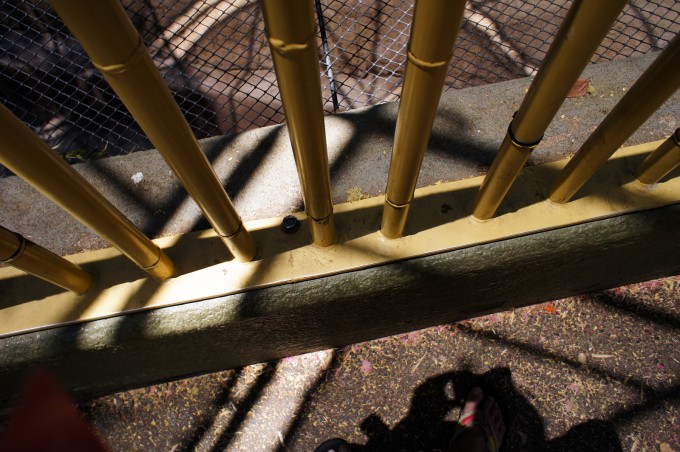 NEX-5 with 18-55 – Shot RAW, processed in Aperture 3.03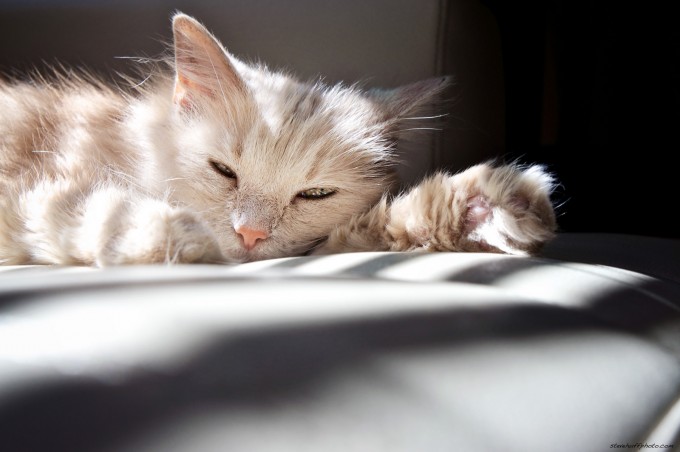 UPDATE – August 11th 2010
As many of you know, the Sony NEX- 3 and NEX-5 cameras are now fully supported by Aperture 3.03 as well as Lightroom 3. I have been using Aperture 3 lately but may switch to Lightroom as the demo seems pretty fast on my Imac, faster than Aperture. In any case, I ran out back this morning to take a couple of quick test shots to see how the RAW files stack up against the JPEG files of the NEX-5. The JPEGs from this camera have been known to be somewhat soft, so I was hoping the RAW conversion would have a bit more "POP". At first glance, there did not seem to be much difference but upon closer inspection, with the 100% crop, the RAW is better, no question! So, now I cant wait to get out and shoot some real photos with the NEX-5, shooting RAW only and then see the results. Here are my quick test results from this afternoon…
Here is an image I took in my yard, using the spot metering of the NEX-5 so I exposed for the leaf. I shot this in RAW and JPEG and  processing the RAW in aperture gave me plenty of detail with the 18-55 kit lens. Shot at f/5.6. You can click the image for a large 1800 pixel wide version.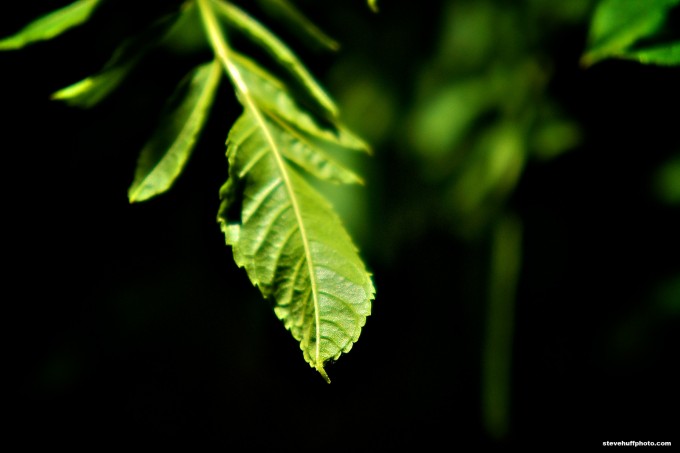 and a 100% crop…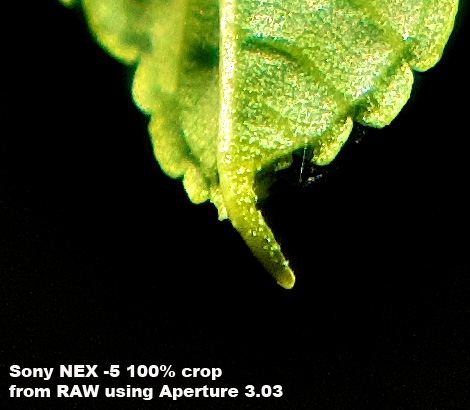 and one more. This one was shot with the 18-55 as well at f/4.5 at 4omm
and the crops!
So, like I said, I cant wait to get some real photos with this combo! I think I need a 1-2 day photo trip soon 🙂 BTW, Sony still tells me that the NEX-5 is sold out WORLDWIDE and it has been one of their most popular cameras. Ever! Demand is high for the 5 but for some reason no one seems to want the NEX-3? Same image quality, slightly larger body and 720 video instead of 1080, but its cheaper so also a good buy if you are someone looking into the Sony NEX system.
The images below were all taken with the NEX-5 and 18-55 Kit Zoom!

HELP SUPPORT THIS SITE TO KEEP IT GOING AND GROWING!
Remember, anytime you follow my links here and buy from B&H or AMAZON,
this helps to keep my site going. If it was not for these links, there would be no way to fund this site, so I thank you in advance if you visit these links. I thank you more if you make a purchase! I have nifty search bars at the upper right of each page so you easily search for something at either store! I currently spend 10-14 hours a day working on this site and the only way that I can pay for it is with your help, so thank you! Currently my traffic has been increasing but my funds to pay for the site has been decreasing, so any help would be GREATLY appreciated!
You can also chip in with a donation via google checkout. Any donations will go towards funding this site and building it bigger and better for the future. This is now my full time gig, so any help would be appreciated! Donations can be made at the top right of any page. Just enter the amount you wish to contribute and ANY amount helps, even $1. Thank you!
If you enjoyed this article/review, feel free to leave a comment at the bottom of this page and also be sure to join me on twitter or facebook! Also, you can subscribe to my feed at my subscribe page HERE and read these posts in your browser or news reader!  Thanks so much for visiting my site!
[ad#Adsense Blog Sq Embed Image]