I have been watching evey few hours to see what is being announced PRE Photokina and most if it gives me a bIg fat yawn. Here is a page listing what I have seen SO FAR that I like. Leica has yet to "officially" announce so that will come in a later post. I did not put the cool Fuji X100 here as it has its own dedicated post HERE.
What I know so far: I have heard from a very reliable source that there will be NO Nikon D700X or D700s released right now. From what I understand, the D700 will remain in the lineup so for those waiting for the D700 replacement, it may be a while. I could be wrong of course, but my source is usually spot on. Never been wrong. The big thing for Leica will be the Titanium M9 and the D-Lux 5. Of course the Fuji I already spoke of yesterday (which is on my MUST try list) is the #1 hot item for me so far.
But so far, here is a listing of what is coming soon to the camera world that looks interesting, and most of it I will review as soon as I can get my hands on it all…more to come in the following days…
The Pentax K5
Yep, Pentax is replacing the K7 with the K5 which promises lower noice and a better sensor. I loved t he K7 so if this is better than it will be a fantastic camera. I was hoping for full frame though. Here is the press release
September 21, 2010: PENTAX Imaging Systems is pleased to announce the launch of the PENTAX K-5 interchangeable lens digital SLR camera.
Encased in a compact but solid, functional body, this new model comes equipped with a host of advanced photographic tools for the easy creation of great pictures, while delivering high standards of image quality, data processing speed and operability.
Developed using the highly acclaimed PENTAX K-7 (introduced to the market in June 2009) as its base, the K-5 inherits the exceptional reliability, user-friendly operation, array of advanced features and compact, lightweight body of its predecessor.
However, it is more resourceful and flexible in photographic expression. Combining a new high-speed, low-noise CMOS image sensor with the high-performance PRIME II imaging engine, it produces super-high-resolution, rich-gradation digital images with approximately 16.28 effective megapixels, even when shooting in the continuous shooting mode at a maximum speed of approximately seven images per second.
It also offers an extra-wide sensitivity range between ISO 80 and ISO 51200 (when expanded via a custom function) and full HD-proportion movie recording at 1920 x 1080 pixels to expand the boundaries of high-quality visual presentation.
Adding other improvements and refinements — such as a faster autofocusing speed, an upgraded HDR (High Dynamic Range) function now usable in handheld shooting, and better operability through an overall review of the design and shape of all components — the K-5 is designed to be more functional and manoeuverable in every detail, and in its response to the demands of the photographer.
What are its key features?
High-resolution, low-noise, true-to-life image reproduction
The K-5 incorporates a newly designed CMOS image sensor with a wide image-sensitive area measuring 23.7mm by 15.7mm. It assures high-speed image data readout much faster than that of previous sensors. By coupling this image sensor — equivalent in performance and data processing speed to the image sensor incorporated in the PENTAX 645D medium-format digital camera — with the reliable PRIME (PENTAX Real Image Engine) II imaging engine, the K-5 produces super-high-resolution, rich-gradation digital images with 16.28 effective megapixels, while suppressing annoying digital noise to a minimum.
High-speed continuous shooting at approximately seven images per second
The K-5's high-speed continuous shooting mode records as many as 22 images in a single sequence at a maximum speed of seven images per second.
Responsive, high-precision AF system
The K-5 features a new-generation, wide-frame SAFOX IX+ autofocus system with 11 sensor points (with nine cross-type sensors positioned in the middle). This sophisticated AF system has completely redesigned optics, and factors the light source at the time of shooting into its calculations to improve the accuracy of autofocus operation. It also offers a choice of shutter-release options — between focus priority and release priority in the AF.S (single) advance mode, or between focus priority and speed priority in the AF.C (continuous) advance mode. The K-5 is also equipped with a spotbeam projector to assist the AF system in poorly lit locations.
Compact, solid, functional camera body
Despite its compact dimensions, the K-5 is built to be exceptionally solid and durable, with a body of sturdy yet lightweight magnesium alloy, and a chassis of high-rigid stainless steel. Thanks to the inclusion of 77 special seals in the body, it also boasts a dustproof, weather-resistant and cold-resistant construction, assuring reliable operation even under harsh environment and at temperatures as low as -10°C. It also features a reliable shutter unit that provides a top shutter speed of 1/8000 second and tested to 100,000 shutter releases.
Bright, clear optical viewfinder with 100% field of view
The K-5 features a pentaprism finder with a nearly 100% field of view and at 0.92-times magnification (with a 50mm F1.4 lens at infinity) to provide a better view of the image field and improve the accuracy and speed of focusing and image composition. It also comes with the renowned Natural-Bright-Matte focusing screen to assist the photographer with manual-focus operation.
Effortless Live View shooting
Thanks to a new image sensor and a more sophisticated algorithm, the K-5's Contrast AF mode assures better performance and greater focusing speed than before during Live View shooting. With the addition of a Golden Section display, the K-5 offers a choice of three different grid patterns to facilitate image composition.
PENTAX-original SR mechanism with user-assisting options
The K-5 features the PENTAX-developed SR (Shake Reduction) mechanism, which effectively compensates the adverse effect of camera shake by 2.5 to 4 shutter steps, to produce sharp, blur-free images.
Recording of Full HD-proportion movies (1920 x 1080 pixels, 25 frames per second)
The K-5 captures beautiful, true-to-life movie clips in 16:9 full HD proportions (1920 x 1080 pixels) at a frame rate of 25 frames per second. The K-5 also provides greater possibilities in visual presentation in movies, especially through the application of custom images and digital filters.
Innovative image-processing functions to produce distinctive photographic expressions
Custom image function for distinctive finishing touches: letting users easily select the desired finishing touch for a particular image.
Versatile digital filter function: The K-5's digital filter function allows the user to process recorded images in a variety of creative ways and produce highly individualized visual expressions without requiring a computer.
Cross process mode with three options: The K-5 features the unique cross process mode, in which the camera automatically shifts photographic parameters for each exposure to create eye-catching images with unique, dramatic colours.
HDR (High Dynamic Range) function: The K-5 features the HDR (high dynamic range) function to create one composite image with an extra-wide gradation range from three images with different exposures, without requiring a computer.
In addition it has…
Electronic level function, with a newly added tilt confirmation tool
Extended-exposure NR (Noise Reduction) function, with a choice of Auto, On and Off modes
High-sensitivity NR (Noise Reduction) function, with a camera-dependent Auto mode and a user-adjustable reduction level control for different sensitivity settings
RAW/Fx button, for single-action switching of image file format
Large, easy-to-view 3.0-inch wide-view colour LCD monitor with 921,000 dots
77-segment multi-pattern metering system for extra-accurate light measurement
DR II (Dust Removal II) mechanism
Long battery life, for recording of 1,100 images with full recharge
User-friendly Hyper control system, to flexibly and accurately respond to the photographer's creative intentions
Dynamic-range expansion function, to compensate for both whitewashed (overexposed) and black-out (underexposed) areas
Automatic compensation of distortion and lateral chromatic aberration (available only with DA-,DFA- and FA Limited-series lenses)
CTE mode, to automatically adjust the white-balance level to emphasize primary colours of sunset scenes
Attachment of copyright credits on recorded images
D-BG4 Battery Grip (optional) for extra power supply with an exclusive rechargeable lithium-ion battery or six AA-size batteries
Colour-specific control buttons/dials for easy recognition and quick access, based on the universal colour design
PENTAX Digital Camera Utility 4 software package
The K-5 will be available from mid-late October 2010.
---
The Nikon D7000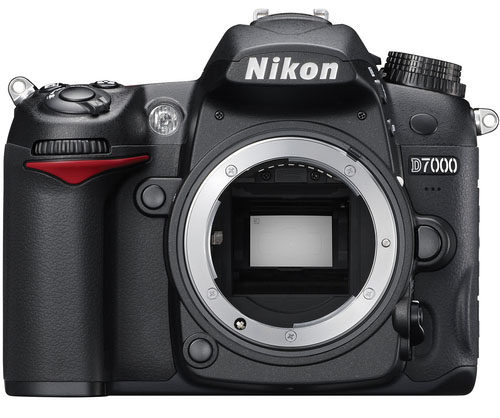 The replacement to the Nikon D90 is here and looks good, I must say! This will be a popular camera just as the D90 was though I still feel there is a shift going on here where the smaller cameras with larger sensors may start to become more popular for everyday non pros. You can already PRE-ORDER this camera at B&H Photo. Here is the press release on the Nikon D7000:
Nikon launches the D7000, a D-SLR that offers exceptional image quality, reliability and performance packed into a durable and portable body.
Exceptional image quality
The D7000 includes a range of new features to ensure superior image quality including 16.2 effective megapixels with the newly developed Nikon DX format CMOS image sensor. The camera boasts a new image-processing engine, EXPEED 2, which delivers higher image quality, higher speed processing and multiple functions with more power. And the D7000's increased ISO sensitivity (100-6400, extendable up to 25600) ensures exceptional detail with minimal noise when capturing fast moving subjects or in poor light situations, even without the flash.
Outstanding reliability
The D7000's bright Glass Pentaprism Viewfinder with approximate 100% frame coverage and 0.94x magnification gives you the most precise view and focus of any scene, and it is always ready when you are with a shutter speed of 1/8000s, tested to 150,000 cycles. What is more, the camera is protected by magnesium alloy top and rear covers and has durable sealing against dust and moisture so it is prepared for even the most testing of situations.
When it comes to storage, the D7000 again provides you with maximum reliability. The twin SD memory card slots allow for added storage capacity and give you the freedom to manage your images and video in the way you want to either by saving more of them, keeping different formats separate or always having backup space when you need it.
Enhanced performance
The D7000's newly developed AF system featuring 39 focus points, including 9 cross-type sensors in the centre, gives you the sharpest focus, no matter where your subject is in the frame. And with Nikon's new 2,016 pixel RGB metering sensor to enhance the effectiveness of the Scene Recognition System, plus High Speed Continuous shooting capability at 6FPS, you can be sure to capture incredibly accurate, high-quality images every time.
Full-HD D-Movie with AF-F mode
The D7000 has direct access to a movie record button so you can capture footage in full HD (1080p) with greater ease. The AF-F gives continuous focus during movie recording, which is captured using MPEG4 AVC/H.264 compression, and has a stereo microphone jack for quality sound recording. This means superior image quality and operability when using the D-Movie function.
The D7000s built-in movie editing functions also give you the freedom to chose the start and end points of your footage and switch to selected frames for capturing still images without relying on a computer – letting you edit and share your films quickly and easily.
Optional accessories
Nikon is also launching the new Speedlight SB-700, a feature-packed yet easy-to-use flash unit. The SB-700 offers lighting benefits that greatly surpass the camera onboard flash, allowing total control over scene or subject lighting to create beautiful, professional looking results.
To guarantee great performance for longer, the D7000 also has a dedicated Multi-Power Battery Pack MB-D11 (optional) that enables seamless switching of power supply with the in-camera battery, vertical shooting and further stabilizes the body when using a long telephoto lens.
The D7000 is compatible with the GP-1 GPS (Global Positioning System) unit which records location information in the image file and of course, the camera supports a wide variety of NIKKOR lenses.
---
The Sony NEX 10 Video Camera – IN STOCK AT B&H PHOTO NOW!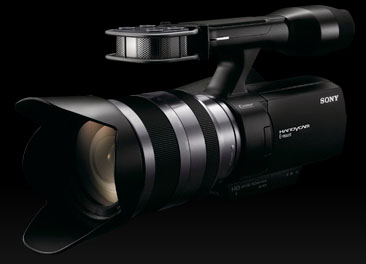 FINALLY! A camcorder made with a larger sensor APS sensor! Sony has taken their NEX series to the next level in the form of a video camera which can take all of the NEX lenses. Specs look sweet and a buddy of mine has one already so cant wait to get his feedback. I would love to review this as well so maybe soon. Only concern is the price on this one. $1999 seems a little steep but we will have to wait and see how it does in the real world compared to say, a NEX 5.  There is one review already over at Luminous Landscape.
From Sonys Site:
Presenting a creative breakthrough: the first Handycam® camcorder to accept interchangeable lenses. The ergonomically designed NEX-VG10 camcorder has a large Sony Exmor™ APS HD CMOS sensor that boasts 19.5 times the surface area of conventional8 camcorders resulting in gorgeous, cinematic, depth of field. Shoot AVCHD™ video at up to 24Mbps at full 1920×1080/60i HD resolution and still photography up to 14 megapixels. Pursue your creative vision with the supplied 11x zoom 18-200mm Optical SteadyShot™ image-stabilized lens. You can also add your favorite A-mount lenses5 including award-winning G lens and Carl Zeiss® lenses, via an adaptor (sold separately). A Quad Capsule Spatial Array stereo microphone records spectacular audio to complete your creative vision.