October 26th 2010 – A few days ago I recieved a Nikon D3100 and the Nikon 28-300 lens and have been messing with it and shooting with it for a few days. This review will  will include my 1st impressions, video of the camera, video taken with the camera, plenty of images, 100% crops, comparisons with the D3000 and Panasonic G2 and my overall feelings on the camera. As always,  this will be a "real world review" which will allow me to write what I feel about the camera as well as show real world results in the images. TheNikon D3100 is the new replacement for the Nikon D3000 and just after a day with it I can already tell it's an improvement. Not a huge one, but it's there. From the slightly better feel to the more pleasing sounding shutter the D3100 manages to give us all a bit more for our cash. It's Nikons least expensive DSLR and a camera for beginners, students, or those wanting to get into DSLR shooting.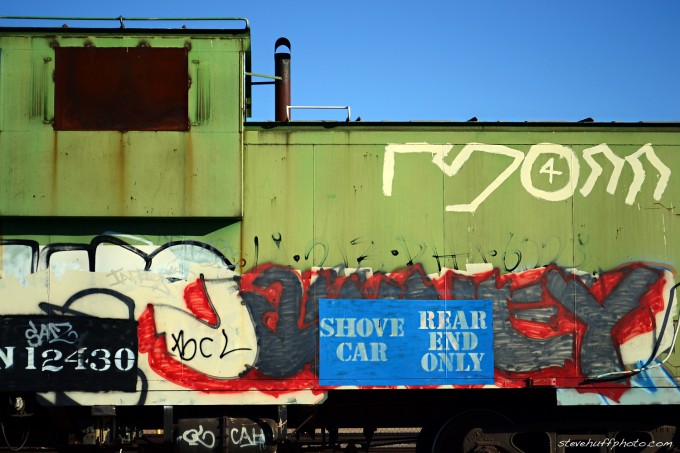 ABOVE: Nikon D3100 with the 18-55 Kit Zoom – VIBRANT color mode – JPEG – Click for larger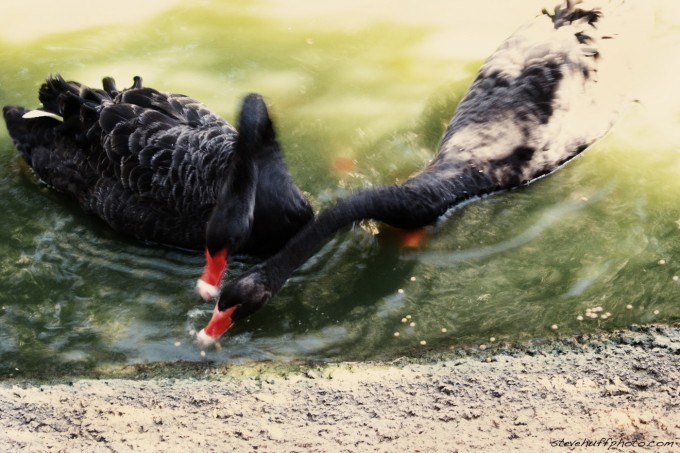 Nikon D3100 with 28-300 at f22 and ISO 1600 (accident, but liked the result)
The original Nikon D3000 was a camera that I bought for my son over a year ago and it has been a camera that he has shot with on many occasions. It is small, it is light, and the results, while not as good as the ones you get from a camera like the D300s or D90 were pretty good for the cost of the camera. It was and is a capable little DSLR but it is a "starter" DSLR without the bells and whistles of the more expensive big boys. Lots of shooters hated the D3000 as it was the most dumbed down camera in the Nikon line up of DSLR's. But some loved it for this as it made it easy to pick up and shoot and get great results. ME? I was a bit let down by the D3000 (why I never reviewed it) but still, it made for a great camera for my son who still loves it today.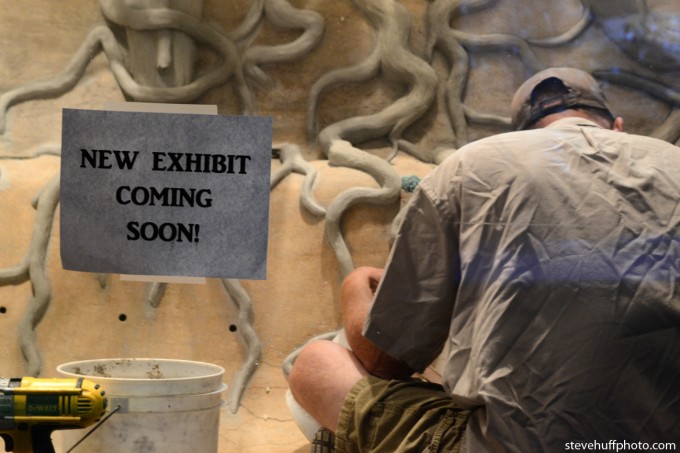 Nikon has now replaced their entry level D3000 with the new predictably named D3100. So how has the D3100 improved over the D3000 if at all? I wanted to test it out as I am very familiar with the 3000 and I wanted to see if Nikon improved the image quality, high ISO, and overall shooting experience. I also wanted to test the HD 1080P video which was missing on the D3000. B&H Photo was kind enough to send me a D3100 to see what I thought about it. They also sent along the very nice Nikon 28-300 lens which I tested on this camera and I know this lens is a very "in demand" lens so I was excited to try it out, even if I was using this "FX" full frame lens on a "DX" crop sensor body.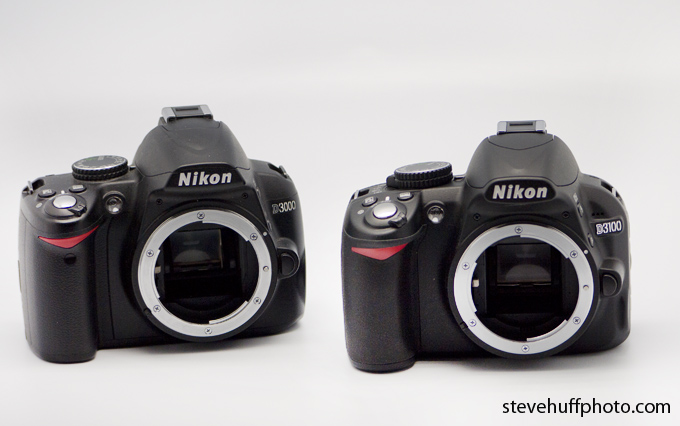 Side by Side – The Nikon D3000 and D3100
The Lowdown on the D3100
14.2 Megapixel DX-format CMOS Image Sensor
Delivers beautiful photographs and prints well larger than 20 x 30″
3x 18-55mm /3.5-5.6G Zoom-NIKKOR VR Lens
With legendary NIKKOR optical quality and fast, accurate autofocus for vivid color, striking contrast and crisp detail and VR image stabilization to ensure the sharpest hand-held pictures and movies.
D-Movie – Breathtaking full HD 1080p movies with Sound and Full-time Autofocus
Discover the difference a digital SLR makes when shooting movies. A wide selection of NIKKOR lenses gives you freedom to explore different angles and obtain lovely defocused backgrounds while D3100's advanced imaging system assures outstanding quality. And for action sequences, new Subject-tracking AF keeps subjects properly focused. After the shoot, view movies on the large 3″ LCD monitor and perform simple editing tasks like trimming scenes before or after a designated point and extracting still images. Via the HDMI mini-pin connector, connect D3100 to an HDTV with playback managed by the TV's remote control.
Compact and Lightweight Design
Beautifully styled-Ready to go wherever life takes you.
Help Function – One-touch Access to In-camera Assistance
When viewing menu items and you don't understand a function, just press the help button. A description of the currently selected item will be displayed while the button is pressed. Release the button and the previous screen appears. A truly handy function that makes it easy for even first-time D-SLR users to operate D3100.
Easy-To-Use Guide Mode
An enchanting portrait against a softly defocused background, or a radiant couple surrounded by sparkling lights. Taking photos like these is easy with D3100's Guide Mode – in-camera guidance that shows you step-by-step how to change camera settings. Just select a Guide Mode setting that matches the scene then let Guide Mode assist. Not only will you obtain the desired results, you'll understand how you achieved them. Guide Mode even displays sample photos so you'll know what to expect from each setting.
18 Guide Mode Shooting Options
Easy Operation: Auto, Close-ups, Landscapes, No flash, Sleeping faces, Portraits, Distant subjects, Moving subjects, Night portrait
Advanced operation: Soften backgrounds, Freeze motion (people), Show water flowing, Bring more into focus, Freeze motion (vehicles)
Use a timer/ quiet shutter: Single frame, Continuous, 10-second self-timer, Quiet shutter release
Split-second Shutter Response
Eliminates the frustration of shutter delay, capturing moments that other cameras miss.
Fast 11-point Autofocus System
D3100's precision high-speed autofocus responds immediately to changes in scene or composition, maintaining tack-sharp focus to capture fleeting expressions and fast-moving sports. The all-important central focus point features a cross-type sensor while the new superimposed display achieves a clear, uncluttered viewfinder. Various autofocus modes cover nearly any situation, including auto-area AF that automatically selects the subject on which to focus, and 3D-tracking (11 points) that maintains focus on a subject regardless of changes in composition as long as the shutter-release button is pressed halfway.
Advanced White Balance Control
The Improved Scene Recognition system offers outstanding auto white balance performance that nearly rivals the precision of the D3s, Nikon's flagship camera. White is reproduced more faithfully while maintaining stable color balance regardless of light source.
ISO Sensitivity 100-3200, Expandable to ISO 12800
Equivalent delivers exceptional results, even in the most challenging low-light situations.
Large 3″ Monitor: Live View with AF Modes
Live View gives you an intuitive, familiar way to photograph playful pets or children on the move. Just flip a switch and you're ready to go. When Live View is activated and new full-time-servo AF (AF-F) is selected, the camera keeps subjects in focus without having to press the shutter-release button – convenient for photos and movies. There is also new face-priority AF that locks focus on faces, even on people not directly facing the camera. Live View makes D3100 as easy to use as a compact camera.
Easy-to-view Finder – New Superimposed Indicators for a Better View
During autofocus, D3100's superimposed indicators and BriteView Clear Matte Mark Ⅶ screen provide a cleaner, less cluttered view from corner to corner.
Rangefinder – Quick and Easy Focusing
When focusing manually, the electronic rangefinder helps you quickly achieve proper focus. It is especially useful when shooting in dimly lit settings.
AF Mode for Live View and Movie Shooting
Full-time-servo AF (AF-F): Autofocus automatically begins after Live View is activated, tracking the subject continuously without having to press the shutter-release button.
Single-servo AF (AF-S): Great for stationary subjects. Focus locks when the shutter-release button is pressed halfway.
Manual focus (MF): Focus manually.
AF-area Modes for Live View and Movies
Normal-area AF: Offers pinpoint precision when focusing on a small area – ideal when using a tripod.
Wide-area AF: A good all-round choice for a variety of subjects, both moving and stationary. It is especially well-suited for handheld shooting.
Face-priority AF: The camera can recognize up to 35 faces at a time then focus on the face that is determined to be nearest. Even if people in the frame move, the camera continues tracking and focusing.
Subject-tracking AF: D3100 'memorizes' a subject then automatically tracks it even if it moves. Should the subject momentarily leave the frame, the camera starts tracking again once it re-enters. By using this with AF-F (full-time-servo AF) you can also maintain focus on the subject while tracking. This is a great way to photograph active children and pets.
Info Display Format – Choose the View That's Right for You
D3100 gives you a choice of two formats – classic and graphic – for the info display. Graphic format includes both a numerical and descriptive illustration of shutter speed and aperture settings, making these concepts easier to grasp. Both formats display the current Scene Mode using easy-to-understand icons that change as the mode dial is rotated, letting you concentrate on the composition. Three background color variations are available for each format. In addition, the orientation of the info display automatically changes horizontally or vertically to match that of the camera.
Scene Auto Selector
Lets the D3100 decide the best mode to match the shooting situation when using Live View.
EXPEED 2
Nikon's new image processing engine assures breathtakingly rich image quality, managing color, contrast, exposure, noise and speed.
Scene Recognition System
Nikon's Scene Recognition System utilizes a 420-pixel RGB sensor to analyze a composition immediately before you take the shot. It then automatically optimizes exposure, autofocus, and white balance, allowing you to obtain beautiful photos without the hassle of making complicated camera adjustments yourself. Face detection also benefits from Scene Recognition System, exhibiting improved recognition accuracy and definition as well as enabling instant zoom-to-face in playback mode.
6 Automatic Exposure Scene Modes
Just set the Mode dial to Portrait, Landscape, Child, Sports, Close-up or Night Portrait for stunning results in otherwise challenging conditions.
Scene Auto Selector
D3100 automatically selects the Scene Mode that matches the shooting situation and subject. During Live View shooting with the Mode dial on Auto or Auto (flash off), Scene Auto Selector automatically activates Portrait, Landscape, Close up or Night portrait modes depending on the scene. For added convenience, an icon appears in the top-left corner of the LCD monitor that shows the selected mode.
Active D-Lighting
Restores picture-enhancing detail in shadows and highlights.
Picture Control
Lets you choose from Standard, Neutral, Vivid, Monochrome, Portrait, or Landscape to apply a personal look and feel to your pictures.
Automatic Image Sensor Cleaning
D3100 is equipped with Nikon's Integrated Dust Reduction System. This solution includes a special Airflow Control System that redirects dust away from the low-pass filter located in front of the image sensor. Additionally, when powering the camera on or off, the filter automatically vibrates at precise frequencies to release image-degrading dust that may adhere to it.
Built-in Pop-up Flash
When the light gets low or you find yourself shooting in tricky backlit lighting, use the built-in pop-up flash to brighten the scene. It activates automatically when needed depending on exposure mode, or can be enabled manually. In addition, support for i-TTL flash control increases exposure accuracy.
Continuous 3fps Shooting
D3100 can shoot approximately 3 frames per second – great for capturing dynamic motion and elusive facial expressions that are a challenge for any photographer. Simply rotate the release-mode selector and shoot away.
Eye-Fi Support – Transfer Photos and Movies Wirelessly
Support for optional Eye-Fi SD cards lets you transfer photos and movies from the camera to a PC via wireless LAN. This eliminates the need for removing the memory card or USB connections to transfer data. The camera can be used to turn Eye-Fi cards on and off, but may not support other Eye-Fi functions. As of June 2010, the following cards can be used: 2GB SD Eye-Fi cards in the Share, Home, and Explore product categories, 4GB SDHC Eye-Fi cards in the Anniversary, Share Video, Explore Video, and Connect x2 product categories, and 8GB SDHC cards in the Pro x2 and Explore x2 product categories. Eye-Fi cards are for use only in the country of purchase. Be sure the Eye-Fi card firmware has been updated to the latest version.
Date Imprint – Stamp Photos with Shooting Date
Know the exact date you took a photo. The position of the date changes automatically depending on camera orientation.
In-camera Image Editing
Allows creative freedom, without the need for a computer, offering easy editing functions. Including:
Miniature effect: Makes pictures appear as if they are photos of miniature scale models; especially effective when shooting landscapes from above.
Color outline: Converts a photo into an outline image, which can be printed then hand-colored.
Perspective control: Corrects the perspective of shapes (like buildings) for a more natural look.
Color balance: Adjust color balance over the entire image with the multi selector.
Monochrome (Sepia): Create monochrome photos with a classic feel.
Fisheye: Create surreal photos that look as if shot with a fisheye lens.
Filter effects (Cross screen): Add starburst effects to light sources.
Soft filter: Produces images similar to ones shot with a soft filter.
NEF (RAW) Processing: Now, convert images saved as RAW data to JPEG images in-camera. Change image quality, image size, exposure compensation and other settings while retaining the original RAW data
Long-lasting Lithium-ion Battery – Plenty of Stamina for Plenty of Photos
The Rechargeable Li-ion battery EN-EL14 delivers up to approximately 550 frames on a single charge. Now you can focus on getting the shot rather than worrying about battery power.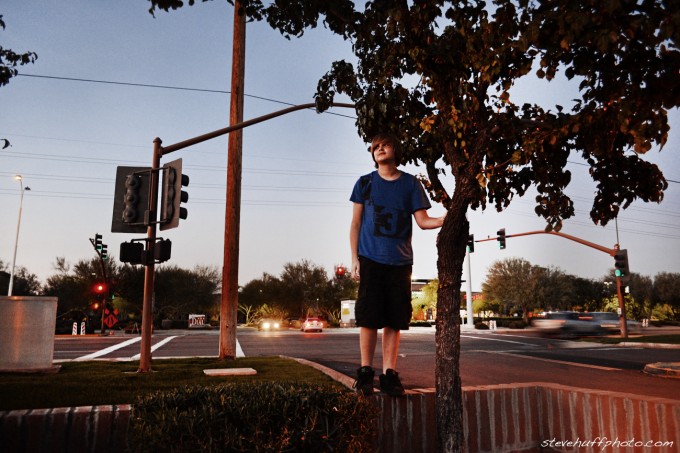 Nikon D3100 and 18-55 Kit Zoom Lens – click image for larger version – ISO 800
My Initial Thoughts On The Nikon D3100
After opening the box and handling the camera, my very 1st thought was "It FEELS the same as the D3000". The D3100 keeps the same small form factor and it seems to have a better grip feel but overall it is the same in build and size. The dial on the top of the camera is now angled down for easier turning and there is also a switch that allows you to change from single shot to self timer to multiple shots, etc. This is a nice addition as the D3000 did not have this and you had to dig in to the menus to change these settings. There is also a nifty little switch on the back that turns the live view on very easily and quickly. Then the movie record button is right in the middle of this lever. Works out good for shooting video.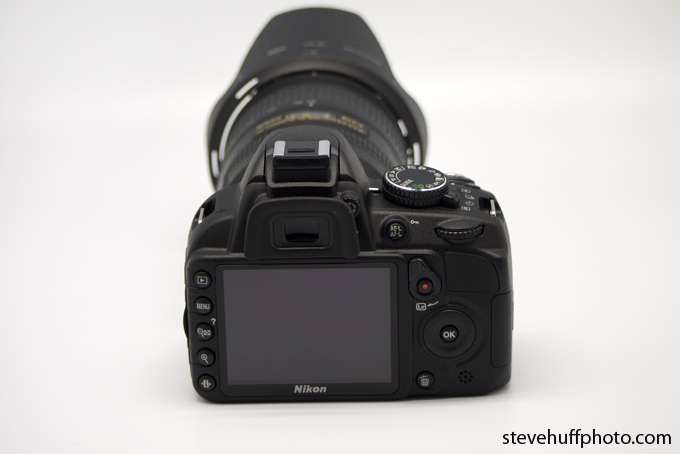 When I added the 28-300 lens on to the camera it looked like a MONSTER! The small size immediately turned into a huge and cumbersome AND slightly front heavy combo. The 28-300 is a pretty large lens (as you can see in the photo below of it attached to the camera) but it also seems like a pretty amazingly versatile lens. A 28-300 that focuses FAST and gives good (decent) sharpness and detail. I know many photographers who have bought this lens and use it as their one and only, and they love it. Me? I like it but found it a little soft, and its bokeh average at best. It is an FX or DX lens, made for full frame or a crop sensor. Overall the lens performed good with fast AF, and even at 200-300mm it gave some great results but again, I am not crazy about it like another web site guy I know. At over $1000 it makes for a very well built, very versatile lens for ANY Nikon camera so I guess that right there says something. PLUS, it is much nicer than the old 18-200 that was so popular a few years ago. So for the money, you get a pro built lens that gives you 28-300mm. Very cool.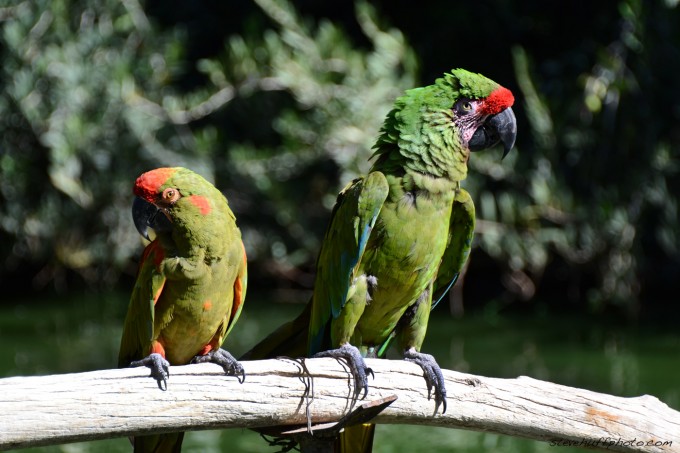 ABOVE: D3100 with 28-300 zoomed out to 200mm. Click image for larger view.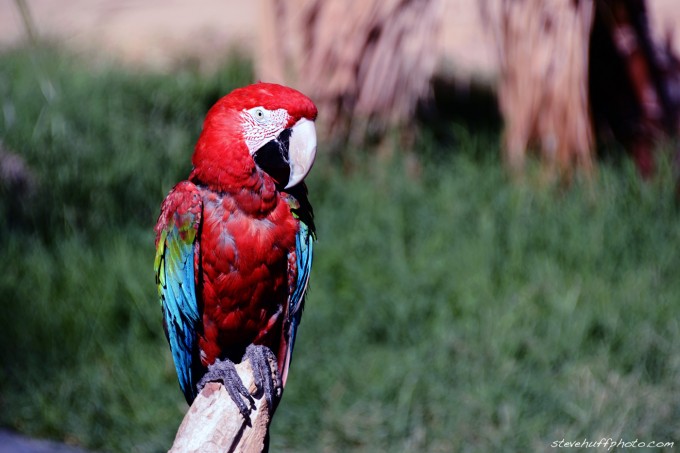 ABOVE: At 300mm the 28-300 has some irritating Bokeh. Not the most pleasant I have seen but then again, I shoot lots of Leica 🙂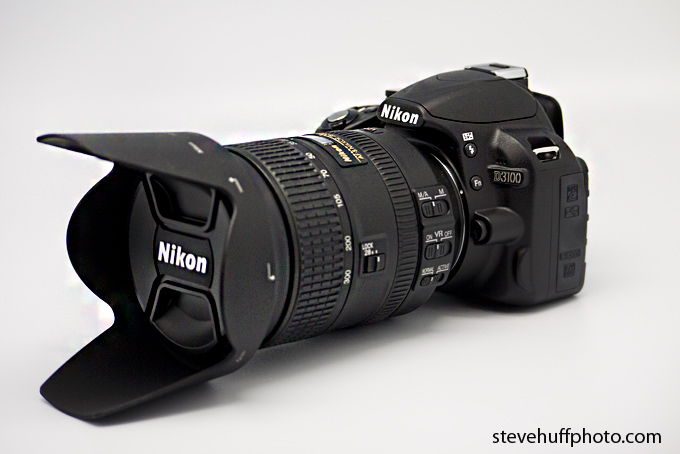 ABOVE: The D3100 with the Nikon 28-300 Lens Attached – The Ultimate in Vesatility
So far the D3100 seemed very much like the D3000 but there are some changes that make the D3100 a bit better. First of all, the new sensor coming in at 14.2 Megapixels vs the old D3000 10 megapixels. High ISO noise has also been improved simply due to the fact that you can go up to 12,800. Also, from what I have seen and ISO 3200 in low light doesn't seem bad at all, though many will stop at 1600. This is something that has been improving slowly but surely over the past 2-3 years. The new D3100 is pretty good at high ISO but it is NOT better than the new Sony A55 which I am also testing. The new Sony A55 seems to be a SUPERB bang for the buck DSLR. More on that one soon.
The D3100 also gives us a massive improvement in the fact that it shoots HD video in 1080P at 24 fps. You can also shoot 720P at 24, 25 or 30 fps or a low res 640X424 at 24 fps. Nikon bodies have not been known for their video implementation so I was curious to see how the D3100 handled shooting video in comparison to the Panasonic G2, which I found excellent. So first impressions were that this was indeed a better camera than the D3000 in image quality, resolution. high ISO and with the addition of video.
BUT, Nikon has always seemed to struggle with video. I am thrilled that they included it on the D3100 but to me it just still seems "sloppy". The Panasonic G2 implements its video MUCH better and EASIER than the D3100. (Just my opinion here folks).
Real World High ISO Shooting
One area where we all want our camera to be able to give good results is in the higher ISO range. Honestly, I have been spoiled by the Leica M9 with fast glass and that combo gives me superb low light capabilities. I can shoot in almost any light with an M9 and 35 Summilux and get awesome results. With the D3000 these results get a little fuzzy and with the D3100, it seemed better but not really by a huge margin.
Here are a few shots taken indoors at an awful restaurant called "The Heart Attack Grille".  I have been here before when my Nephew wanted to try and eat an 8000 Calorie Quadruple bypass burger (and he did). We were back there this week when my friend Ed wanted to give it a shot and he ate it down in 7 minutes. When you eat the Quad you get a wheelchair ride back to your car by one of the "nurses" 🙂 Ed looked like he enjoyed his ride. The camera did decent. A little grainy for being lower ISO and IMO the images look a bit "flat". These were with the kit lens.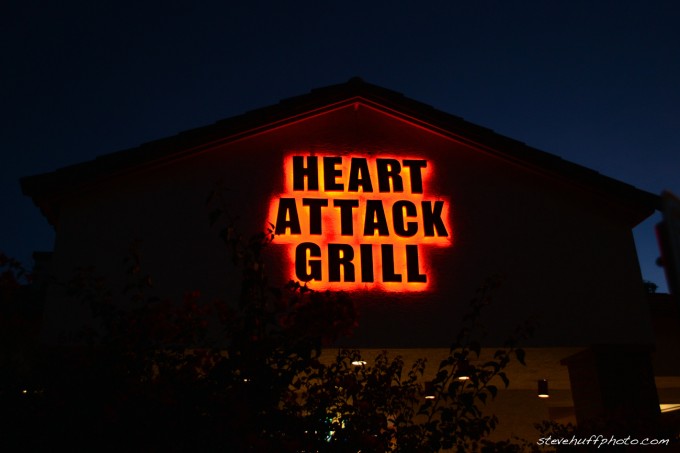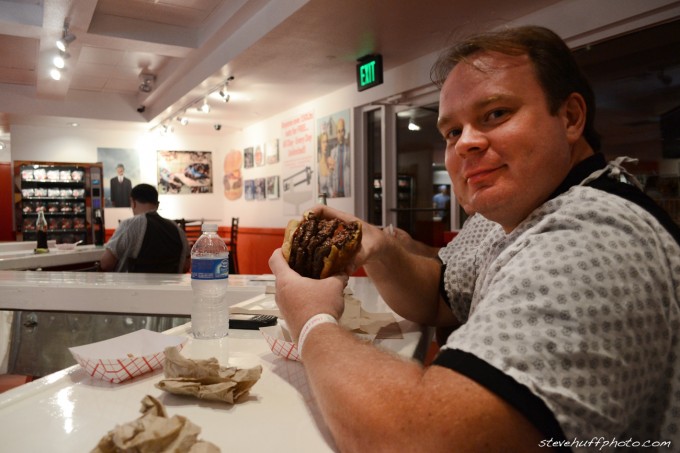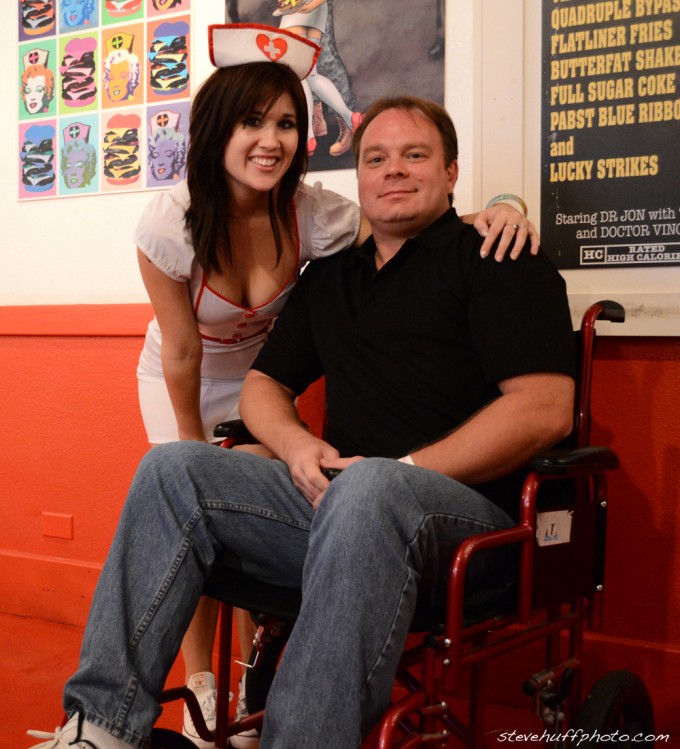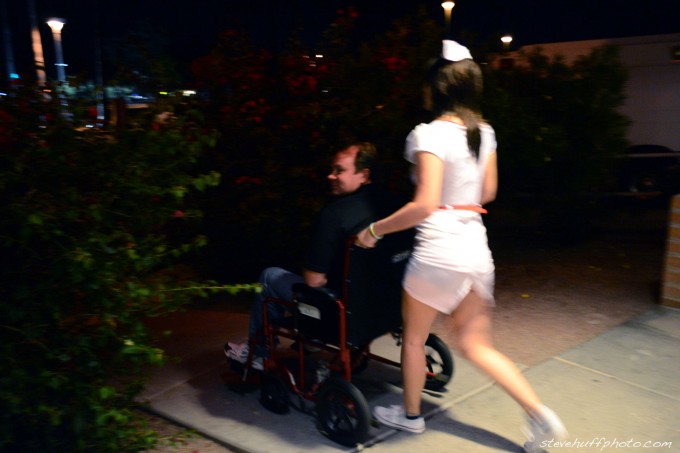 ---
HIGH ISO CROPS
I know many of you like to see the crops at ALL ISO's so here you go. First up is a strip from the D3100 at every available ISO.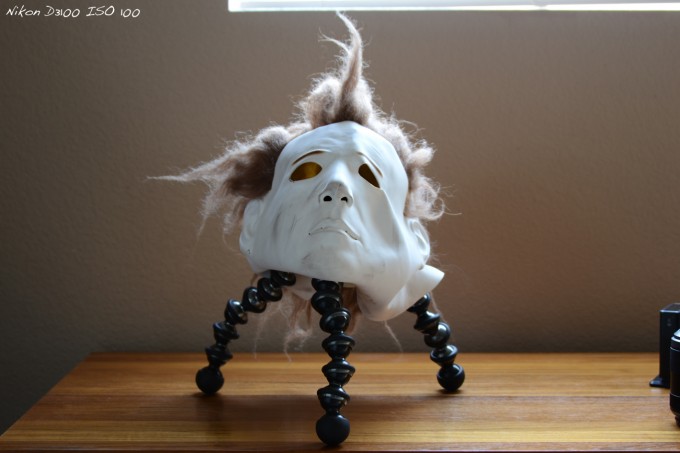 and now it gets interesting… a comparison between the D3000, the D3100 and the Panasonic G2 at ISO 1600. Notice the D3000 and D3100…In this test, the older D3000 looks better IMO. The same lens, the same settings. The G2 has more noise but is sharper. These are straight from camera results and 100% crops. NR was turned OFF in all cameras.

So the high ISO performance is not bad but there are other cameras that beat it. Nikons higher up cameras like the D7000, D300s and D700 beat this. The smaller sensor Panasonic G2 looks pretty sharp here in comparison, but noisier. Overall, not bad. I had to keep telling myself that this was the entry level Nikon, and when you look at it like that then it looks damn good.
---
BELOW: Click the image below for a D3100 LOW ISO image with 100% crop – This is an Out of camera JPEG.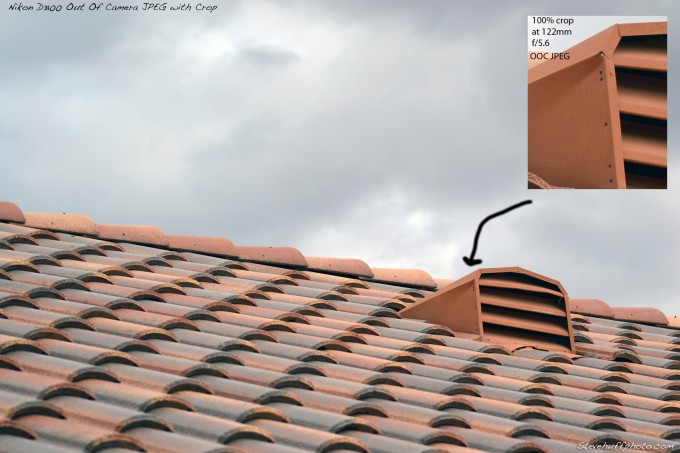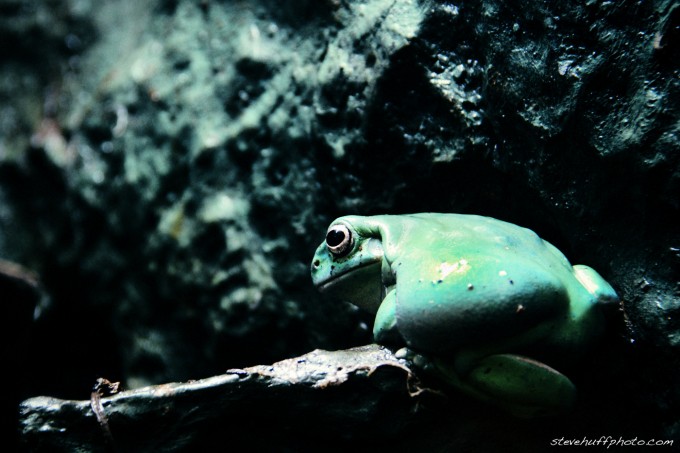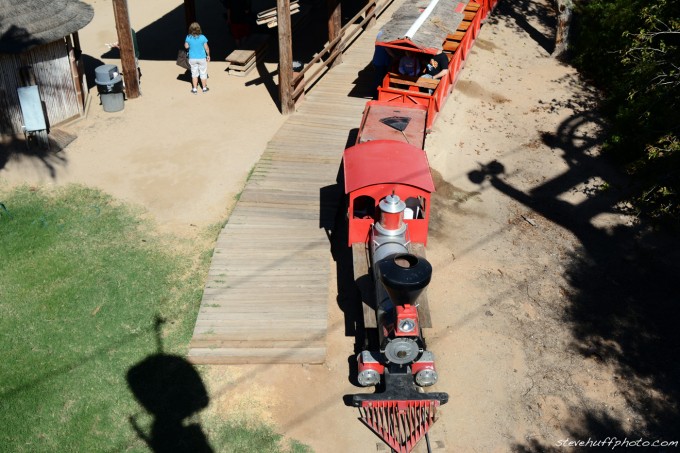 ---
The HD Video
The Nikon D3100 now has 1080P HD video capabilities, something that was lacking in the D3000. I feel that in todays world, HD video is a must for almost any DSLR as they all seem to have it and the average hobbyist or beginner, who this camera is aimed for, would see this as a huge plus. Nikon cameras have never had the best video but they are getting there, slowly but surely. The D3100? It was "OK" video wise. It did not excite me but I was happy to see it included this time around. Below is a brief sample though there is some XXX rated material so be warned! Ha ha…
---
Pros & Cons
PROS
It's small! Nikons smallest DSLR!
You get what you pay for. This is the cheapest Nikon DSLR!
It's a Nikon, and Nikon knows cameras.
Decent high ISO (though not beating the new Sony A33 and A55)
Improved controls over the D3000 as well as improved ISO capabilities
Fast AF, better VF display over D3000
Nikon added 1080P video with a dedicated button, but implementation is a bit clunky.
Good battery life
CONS
There are better cameras in this class that will give you better image quality.
The color seems a bit wonky to me (off)
Body feels plasticky, and hollow.
Still seems like it has a lack of control with many settings in the menu.
Images lose some color quality at higher ISO
ISO does not really beat the older D3000 from what I have seen but you can go up to 12,800
---
Final Thoughts on the Nikon D3100
The good, the bad and the ugly.
The good:
The Nikon is a nice little DLR that is small in size and can give you very good image quality. It has 1080P HD video capabilities, as well as a high resolution sensor that can give you enough power for big prints. It's an improvement over the D3000 without question and it has the Nikon look, feel and spirit. If you have some Nikon glass and want a starter DSLR or a backup, the D3100 will fill those needs perfectly.
The bad:
Even with the good, the Nikon D3100 is in a weird place. It's a starter DSLR and in the starter DSLR lineup there are MANY great contenders from the likes of Canon, Pentax, and Sony. If I were in the market for a starter DSLR I would probably go with something like a Sony A33 which will give you a great sensor, very good high ISO, a fantastic EVF and blazing AF speed with photo or video. The Nikon D3100 still leaves me a bit cold and if I were in the market for a Nikon body, I would have to jump up to the D90 (WHILE YOU STILL CAN) or better yet, the new D7000 (which is fantastic). THE D3100 is a beginner DSLR and you know this when shooting with it.
The ugly:
I experienced no negative issues with the D3100 while I had it. It powered up every time and was speedy 🙂 While I was not blown away by the camera, I did appreciate the improvements over the D3000 and feel this is the camera the D3000 should have been in the first place BUT…its files at times seemed flat or "dirty". Not in the same league as the more expensive D300s, D7000, D700 or of course the D3 series. BUT that is to be expected. At $649 other cameras may be a better bet if you are not invested in Nikon glass. Then again, I am sure if I attached the new 85 1.4 to this little guy it would give me better IQ. It's not bad with the 28-300, but it just did not blow me away. I prefer the Sony A33 and A55.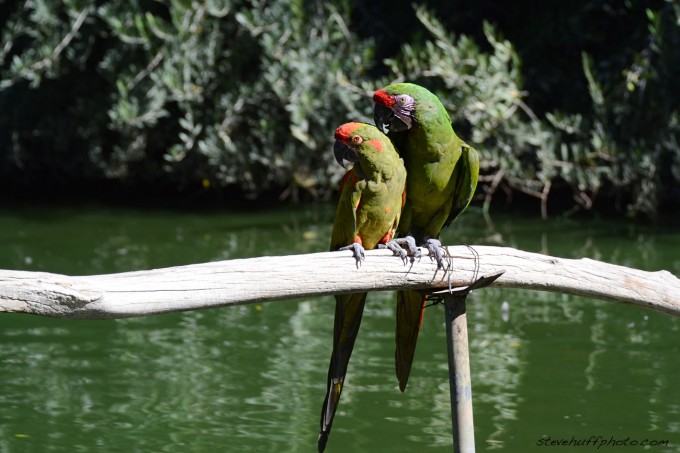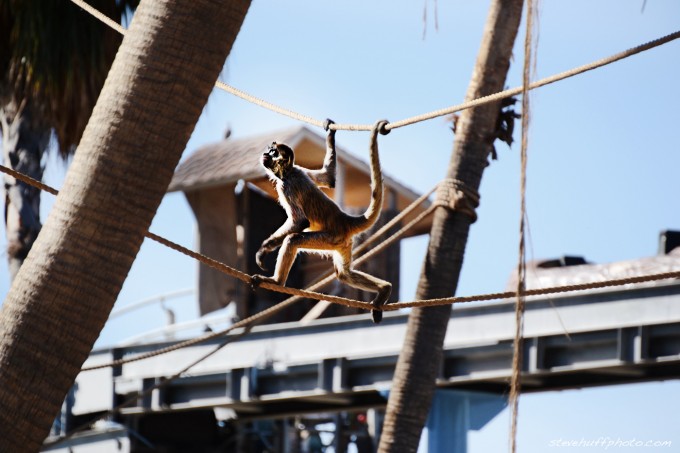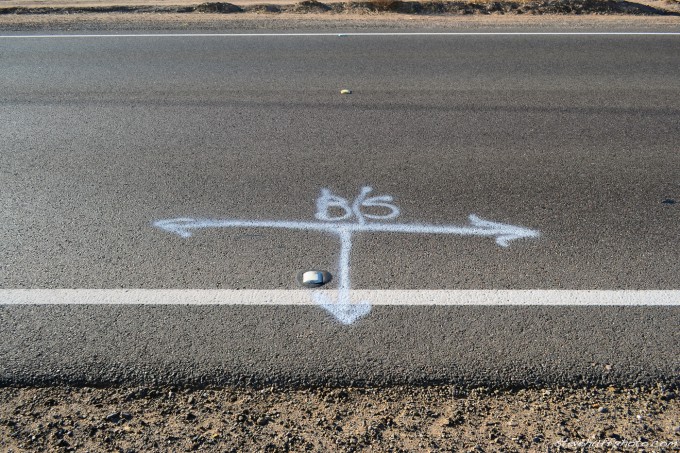 ABOVE: Nikon D3100 and Kit Zoom
HELP SUPPORT THIS SITE TO KEEP IT GOING AND GROWING!
Remember, anytime you follow my links here and buy from B&H or AMAZON,
this helps to keep my site going. If it was not for these links, there would be no way to fund this site, so I thank you in advance if you visit these links. I thank you more if you make a purchase! I have nifty search bars at the upper right of each page so you easily search for something at either store! I currently spend 10-14 hours a day working on this site and the only way that I can pay for it is with your help, so thank you! Currently my traffic has been increasing but my funds to pay for the site has been decreasing, so any help would be GREATLY appreciated!If you enjoyed this article/review, feel free to leave a comment at the bottom of this page and also be sure to join me on twitter or facebook! Also, you can subscribe to my feed at my subscribe page HEREand read these posts in your browser or news reader!  Thanks so much for visiting my site!
[ad#Adsense Blog Sq Embed Image]