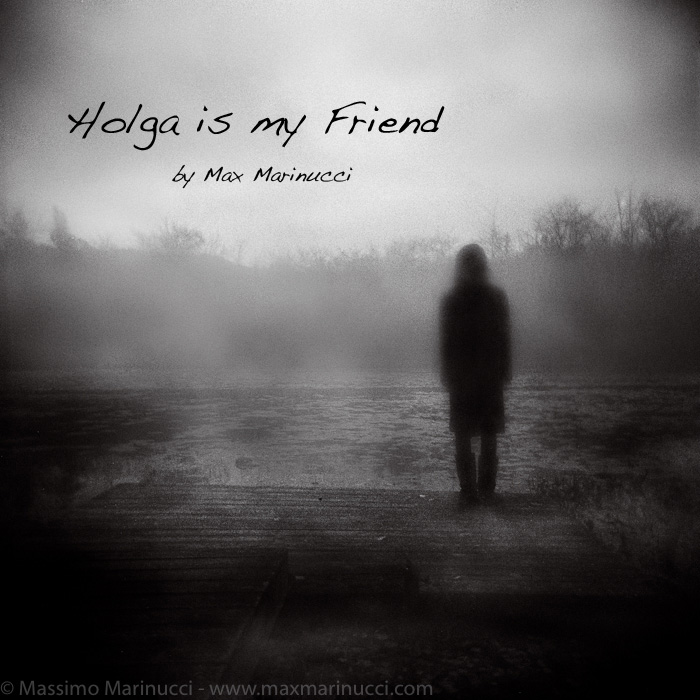 Holga is My Friend! By Max Marinucci
I always get a chuckle when I play with digital filters looking to emulate images taken with this iconic, inexpensive, plastic camera: add some vignette, bump up the blacks and…voila. Wrong!! No digital filter comes close to replicating images taken with a real Holga, for a variety of reasons. You may be able to get some approximations by doing extensive post processing but, I can assure you that, by the time you're finished, you'd have realized that you might as well shoot the real thing with real film. After all, you have no excuse whatsoever…and no place to hide when you shoot with Holga and a roll of film. I mean we're talking about $25 to $50 for this camera for goodness sake. After spending another $1000 on the latest, and soon to be obsolete digital toy, you can afford to spend $50 to learn, -experience, re-discover, something about basic photography. What you do get for $25-50 is an invaluable brain exercise in composition, exposure, light, pre-visualization, and most of all creativity. There is nothing there to bug you down or to distract. No menus, or a multitude of shutter speeds, apertures, dials, frame lines, beeps, flashing lights, batteries, NOTHING. It's you, and that wondrous piece of plastic, all alone. If the resulting image sucks, it's because YOU screwed up. It is as simple as that. You can't hide behind Photoshop layers and all sorts of digital gimmicks. This is photography in its simplest form and your eyes/vision is what truly matters most. And yes, there are things you can screw up with Holga, but she won't hold them against you.
First of all, well, it's a cheap piece of plastic, made in China, with a simple meniscus lens. It is amazing that there is even a shutter and that it actually works (who knows for how long but who cares). Shutter speed is up for debate and may be off slightly from one example to the other so you will need to experiment a bit.
It is (supposedly) around 1/100, but it could be 1/60 or 1/125. It is just another one of those mysteries that keep Holga fanatics up at night, dreaming of their next shot. Aperture: sunny and not so sunny. Essentially, f11 and f8. Don't know what the heck that means? Well, get off your lazy digital butt and figure it out. You will need a cheap (or expensive) incident light meter and work backwards after deciding which film you will use, to determine how you are exposing. There is a way to be a little lazier with Holga but I will touch on that later. If you want more control over your results (although that is a relative terms with Holga, since surprises are to be expected) then you will have to work a little harder for your prized images. Light leaks: if you are lucky, you get one that doesn't have any (mine is okay, almost) but you will likely need some black electrical tape to minimize potential surprises (which could also be interesting, and that's the beauty of this camera).
Film: let's take the classic black & white emulsion, Kodak Tri-X. First of all, you're working medium format here, so grain is not much of an issue, unless you're pushing hard and printing very large. You are out on a beautiful sunny day, with a few clouds and you do want to bring those out a bit (if you wish). Slap one of those wonderful plastic yellow or orange filters on the lens and you're ready. Tri-X @ box speed is 400ISO but you will lose one stop with a yellow filter (two with orange) so set your meter @200ISO and take a reading. Look at f11 and see what you got. Chances are that you will see a corresponding speed of 1/125. Magic! Sun behind the clouds a bit? No problem. Flip the little switch to the left on the camera and you have f8 at the same speed. When you develop your film based on 200ISO, and assuming your technique is correct, your negatives should be lovely. You have 12 frames to shoot so it's easy to commit those to some sort of consistency over an outing, in terms of exposure. If they are all over the place (light-wise), well, obviously your negatives will reflect that. If you shoot part of the roll when light calls for 800ISO, some of your negatives will look underexposed. Again, don't fret. Two stops of underexposure, in certain situations, may make those Holga shots still very moody and usable so don't be overly concerned. I personally try to plan ahead and shoot a roll or two based on the weather and fairly consistent light. On a very cloudy day, with no shadows and shooting Tri-X, I will make believe I'm working @ 1250 ISO and develop accordingly. At that level, and with most developers, shadows will be blocked a bit but again that's part of the Holga look so don't worry about that, as a 1 1/2 stop push for Tri-X is nothing. I will also use Delta 3200 rated @ 1600 and pull development a bit, to get a different, Delta look, with rich blacks and bright highlights. A little more grain will be present but it all adds to the magic and beauty.
What Holga does: An Holga image doesn't just add dark corners (vignette) and in fact, depending on lighting and exposure, those corners may not be very dark at all. It is also something you can burn a bit if you don't love the look. The circle of sharpness from the lens is maybe one inch so you will see that everything in the center is pretty sharp and it gets softer as you go outward. This is what makes Holga images special and unique, along with a few other factors. You will be surprised that the lens will actually render quite a good amount of detail in the center and images will have a very 3D feel to it and this not something that a simple digital plug-in usually delivers.
Some people say that Holga images are "like a box of chocolates: you never know what you're going to get." It is true to some extent but it depends on how methodical you are. You can also put her on a tripod, with a $15 cable release (on Amazon), and slow film, set it to "bulb" and do long exposures with a timer, 1 Mississippi, whatever. Nothing is automatic or high tech here so it all does take a bit of brain effort. With 12 shots per roll (square 6×6), and a couple of rolls in your bag, you will also learn an exercise in restraint, as you want every one of those shots to count. Get in the mood, think atmosphere, mystery, pre-visualize, and be creative, because Holga can turn the mundane into art if you put some effort into it.
What Holga doesn't do: make your coffee, laundry, cook meals, tethered shooting, clean 64000ISO, image stabilization, AWB, histograms nobody can read, give you files that you can turn into ten million images after spending days in Photoshop, etc.
Common mistakes: Double exposures! Ha, one of those mistakes that at times can turn another boring image into something special. Easy to forget to manually crank that high tech wheel counter-clockwise to advance to the next frame and…Superimpose another image to the one you took previously. Oops!
I try to use that to in a creative way and plan it (most of the time anyway), although images can turn out funky at times. Grain is usually more evident and there is a drop in contrast. After all you are exposing twice so, in theory, if one has a roll with all 12 frames of double exposures, development should be changed accordingly.
I don't worry about it and adjust curves, dodge/burn in Lightroom if needed to bring the image where I want it to be (if possible). In a darkroom, the process would obviously be different, as you would have to play with exposure, different contrast paper and selective dodging/burning as well.
Development of your film: here we keep it simple as well. The classic combination of Tri-X and HC110 never fails to deliver and it is fast and easy. When developing for 200ISO, in a 500ml tank, I use a 1:50 dilution (that is 10ml of gooey syrup and 490ml of water) @ 68 degrees for 6 minutes flat. Five/six inversions upon closing the tank and then 3 gentle inversions over 10 seconds, every 30 seconds, for the remainder of the time. Stop, fix, wash, and hang to dry as usual. Great shadow detail and your highlights are sparkly but in check.
Shooting at an equivalent of 1250ISO? I have used XTOL, as it works well and it keeps grain manageable: 13.5 minutes @ 1:1 dilution. HC110 would also work well with the same 1:50 dilution, likely around 10-12 minutes…or stand develop in Rodinal 1:100 dilution for one hour. The possibilities are endless.
The less guesswork method: shoot Tri-X and develop in Diafine. Not much else to say, really. It's a two-step/two bath process with no temperature concerns, for six minutes, and it works wonders with your friend Holga and Tri-X. The tonalities are different but the results are fairly predictable. The negatives scan and print wonderfully well.
Images:
Here is a double exposure shot. What I did here is base Tri-X @ 1250, use the f8 setting, composed and shot the main image, then flip the switch to f11 and shot the open sky/clouds. Result: instant fog. The image required some curves adjustments, a little boost in contrast, slight dodge/burn and it was ready to print within five minutes. A lot of mood, mystery here and I'm very happy at how this image turned out. It made a gorgeous print.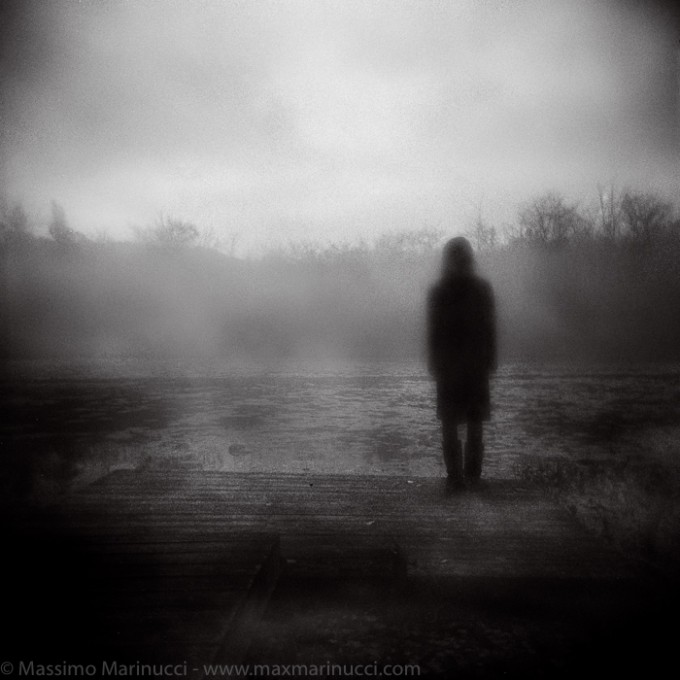 This is a similar shot but without a second exposure. No major adjustments here, as the film was slightly overdeveloped and the underexposure based on the 400ISO gave nice rich blacks naturally.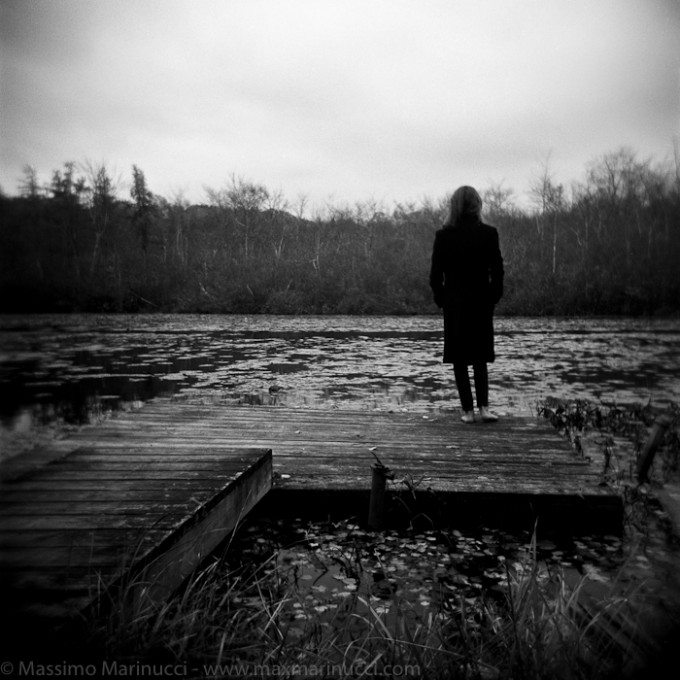 Here, my beautiful, and not so ever willing model (my daughter), for another pretty image at sunset by the lake. Taken with a Leica, it wouldn't look this good!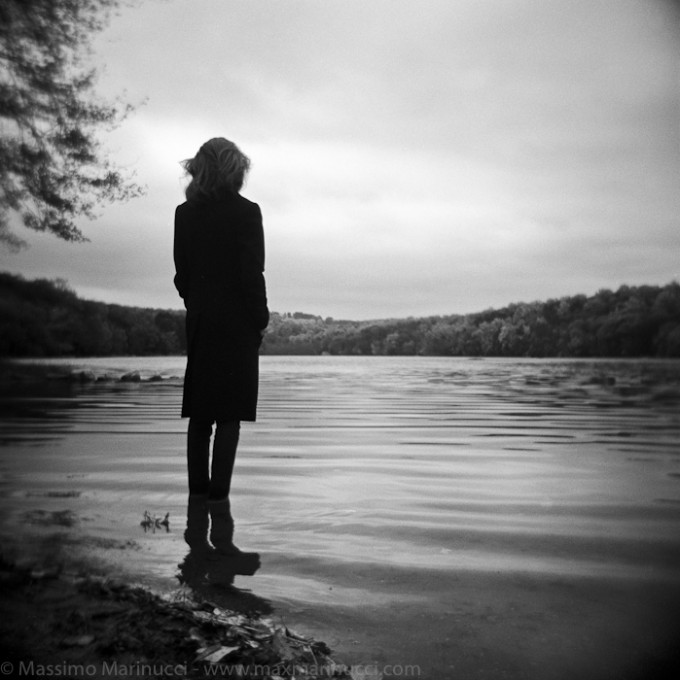 Holga can make your landscapes beautiful as well. Here is a very close to sunset image, with fairly strong contrast. I have kept my agitation VERY gentle here, as I wanted to retain those highlights in the clouds. Again, with Tri-X and HC110 it is easy to do. It was very windy and the soft corners accentuated the movement in the grass to resolve in a very pleasing image.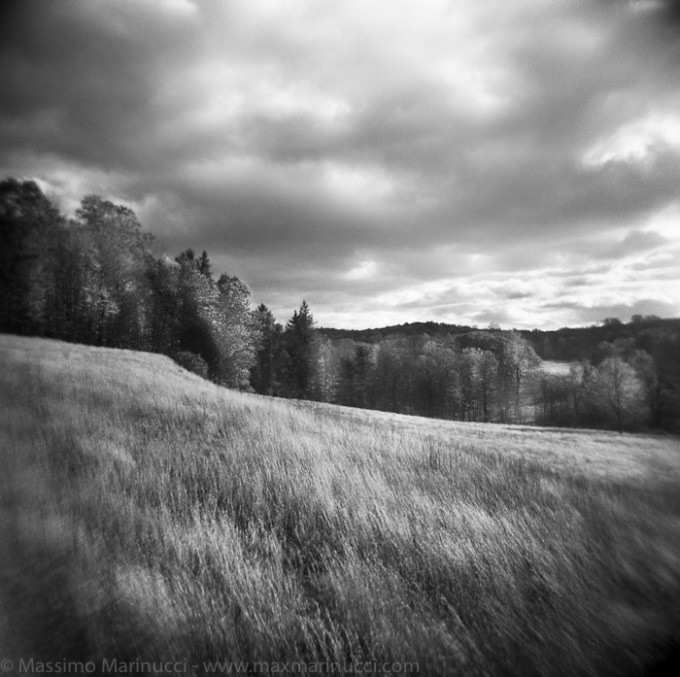 Another landscape: taken also at the end of the day, I loved the way this tree extended its branch towards the path between the fences and framed the stone wall to end in the left corner. The blurry corners and at the edge of the left frame give the image a nice 3D peaceful, flowing look.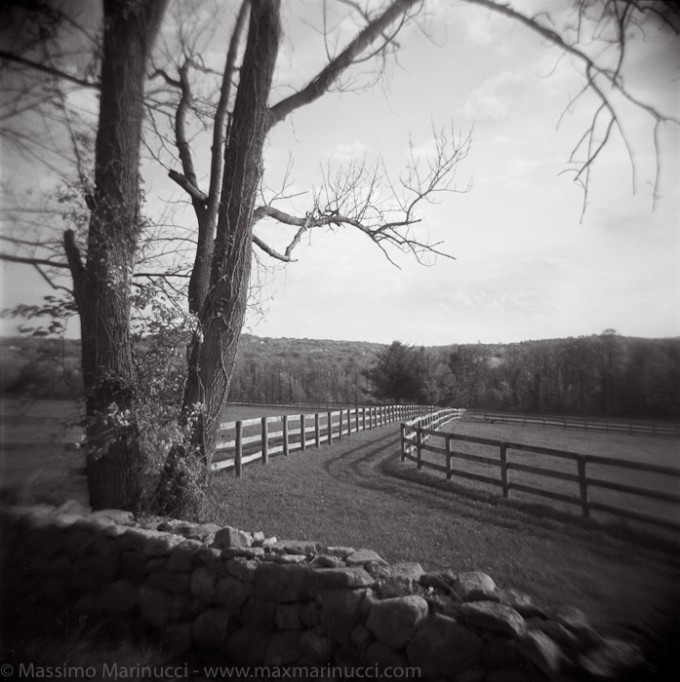 And one of my favorite images from this fall season: this gave me very much the feeling of a drawing/painting. Coming from an art background, I always frame my landscapes as I have a piece of canvas in front of me and this has a lovely chiaroscuro drawing feel. Those trees in the foreground seem to pop out and give a real sense of depth. This is a scan from a selenium/sepia toned print.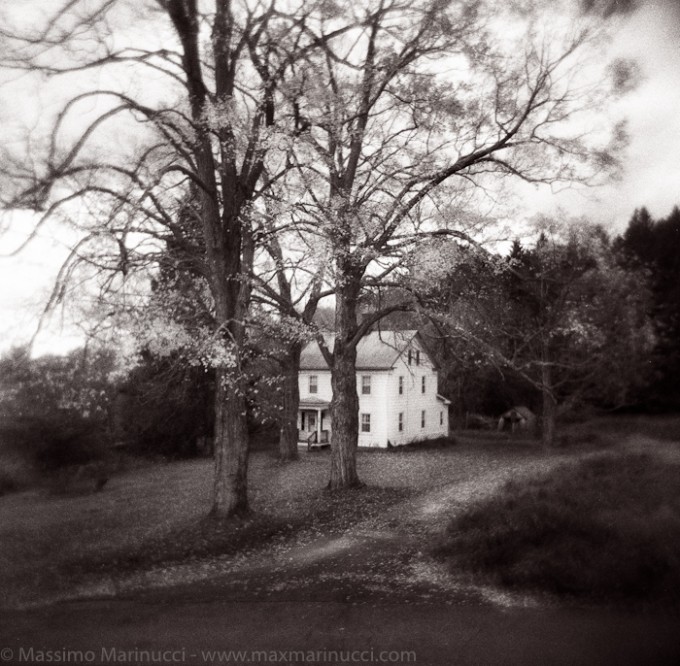 Now for REAL darkroom prints…HOLGA has no rivals when it comes to warm, moody, artistic interpretations! Don't believe me? Check out my good friend and fellow photographer, the very talented Victor Milin and his wonderful lith prints here: www.vmilin.com. NYC and Venice never looked better!
I hope all of this inspires you to pick one up, with a few rolls of film..and make Holga your friend as well!
If you would like to browse more of my work, please check my website @ www.maxmarinucci.com, and also my Flickr page @ www.flickr.com/photos/leicaman/
[ad#Adsense Blog Sq Embed Image]