–
From Steve: Starting off this Monday morning with a cool little guest post by Mikael Tornwall. Coming this week…The M9 Contest Details, Pentax K5 review, some film stuff, and a look at the Panasonic LX-5. Enjoy!
–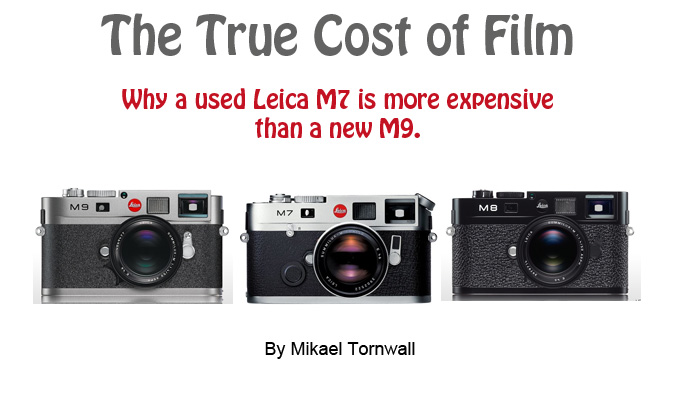 Why a used M7 is more expensive than a new M9
The true cost of film by Mikael Tornwall
You have probably all heard the argument that you can buy an awful lot of film for the price difference between a new Leica M9 and a used M7. After all, the M9 is 7000 dollar, while you can get a used M7 in good condition for little more than two grand.
Besides, it's fun to shoot film, so what is there to argue about? Well, it turns out that the M7 will probably cost you more to own than the digital M9.
Don't get me wrong, I´m a big film enthusiast and I regularly shoot with both my antique M4-2 and M3 and my Hasselblad 201f. I love the results, but I can do without the waiting, and I can definitely do without the cost for processing and scanning.
Photography is my first and foremost my passion, even if I do take pictures from time to time for the newspaper that pays my salary. My profession is a business journalist, and as such it's my job to calculate the true cost of things. So when I decided to get a new Leica, naturally I sat down with an Excel-sheet on my PC and figured out how much a M7 would really cost to own, including film, developing and scanning.
Top my surprise I found out that a 2500 dollar film M-camera quickly becomes more expensive than a used M8 or even a new M9.
If you are a casual photographer that maybe shoots one roll per week, the figures would suggest that you get an M7 over an M9. But even at that low rate, the M8 is less expensive to own.
–
I come back to all the details later in this post. For now you just have to accept these figures:
Camera Yearly cost
Used M7 $ 880
Used M8.2 $ 650
New M9 $ 1350
–
Basically the cost for the M8 and M9 is only how much it loses in value every year + interest for the money it costs to buy. (Never mind if you have the money in your wallet, capital is still a cost. If you did not buy the camera, you would have a few grand to invest at let's say 5 percent capital gain. Not taking that into account feels better, but it's still fooling yourself!)
For the M7 the capital cost is a total of 275 dollar, while film will cost you 605 per year. I have calculated a total cost of 12 dollar per film, including processing and scanning.
Now let's see what happens if you are a bit more ambitious and process and scan your own film. You can probably get the film cost down to about 6 or 7 dollar. Bear in mind that you will have to buy a pretty good scanner to really get full use of your expensive Leica lenses. That's going to cost you a dollar or two per roll.
Camera Yearly cost
Used M7 $ 577
Used M8.2 $ 650
New M9 $ 1350
–
Finally, the M7 is the least expensive alternative. But honestly, if you spend 2500 on a used camera and maybe as much money on lenses, you will probably shoot more than one roll per week.
So let's try doubling that to two rolls per week, and then test one roll per day. The latter is probably more that most enthusiasts will shoot, but a low figure for a professional.
2 rolls per week (pay for scan and processing)
Camera Yearly cost
Used M7 $ 1485
Used M8.2 $ 650
New M9 $ 1350
–
One roll per day/20 rolls per month
Camera Yearly cost
Used M7 $ 3155
Used M8.2 $ 650
New M9 $ 1350
–
Wow, 3155 dollar per year to operate that M7, if you shoot one roll per weekday as a professional! That's almost three times as expensive as owning the new m9.
Now, you might ask how come the M9 only costs 1350 per year, when the price tag is 7000. Here is how I have calculated.
For all three cameras I have assumed a price that you will eventually sell them for. Old film Leicas lasts forever, so I have assumed that you will keep it for 10 years and then sell it for 1000 dollar. (That is more or less what you pay for a M6 today.) The M8.2 and M9 you keep for three years. I assumed you get the M8.2 for 3000 and that you can sell it for 1500 in three years. That´s a loss of 500 per year. The M9 is new, so that's going to lose more in value. I have assumed that it will lose as much as the M8.2 have so far, or about 3000 in three years. That's a cost of 1000 per year. To that you have to add interest of 5 percent of whatever you buy it for.
You can argue that the film cost can be 10 instead of 12 dollar, even if you don't process yourself. Or you can go for an even cheaper camera, lets say a M6 TTL for 1500. And yes, that will change the figures, but not dramatically. Even now the M8.2 comes out as the cheapest alternative, if you shoot 2 rolls per week.
–
Camera Yearly cost
Used M6 TTL $ 1133
Used M8.2 $ 650
New M9 $ 1350
–
Bottom line, the M7 or the M6 might be absolutely right for you. Film after all still has a unique look that I have not been able to fully emulate with my digital cameras. But don't fool yourself into thinking that you will save any money by getting that M7.
Myself? I had an M8.2, which still might be the second best digital camera in the world. But this little exercise made me even more convinced that upgrading to the M9 was the right choice.
BTW, here is a quick comparison shot between an M7 and M9 by Steve from last year. Fun!
Mikael
[ad#Adsense Blog Sq Embed Image]