–
–
The M9 Contest Top 15 Update…
Wow!! I have gone through all of the M9 contest entries as they came in and again over the past 24 hours. I have been looking for the strongest set of images, those that tell a story with BOTH of the photos. There were some that I thought were very powerful, some that were very personal, and quite a few that told the same story. (lots of you had the same ideas) It has been very rewarding to see so many amazing photographs. A true inspiration. As of today I have narrowed my choices down to a top 25 and now have to attempt to get that down to a top 15. In all honesty I found about 60 sets that I thought stood out from the 1300+ entries but there can only be two winners. One first place for the M9 and one second place for the V-Lux 2. The photos that have been submitted (and the top picks) have come from every corner of the world…the power of the internet is magical sometimes 🙂
So instead of waiting until the 15th I will be posting the top 15 THIS week. I will post 3 of them later today and then 3 a day for the rest of the week. By Friday, the top 15 will be up all on one single page! I had to figure out a way to make it exciting, so I thought that revealing three every day would be pretty fun and exciting for all who entered.
So later today look for the 1st posting that will feature three of the top 15. Keep in mind that the top 15 will not be in any order. In other words, the first three I post will not be my favorites but rather just three random choices out of my favorite 15. After the top 15 are all posted Heidi Klum and Rankin will look them over and choose the winners! Woo hoo!
–
Accessories for the GRDIII!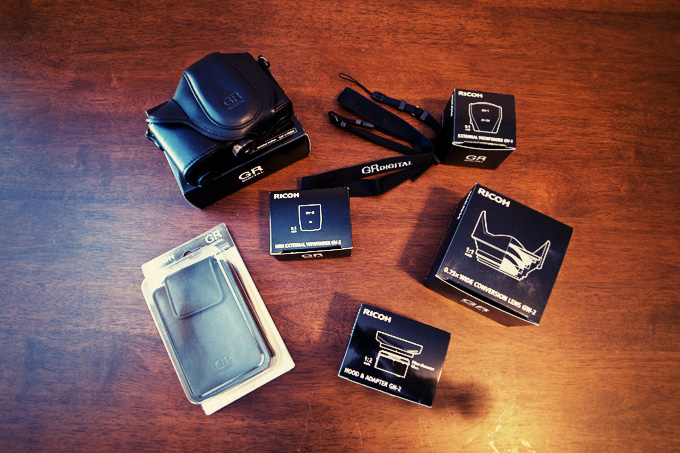 New reviews on the way!
More Ricoh! Just today Fed Ex delivered a box of accessories to me for the Ricoh GRD III
. I received a great leather ever-ready case, a smaller soft case, the wide angle 21mm adapter and lens, a nice strap and both of the viewfinders that are available for this camera! I will be testing them out this week and writing up a post about them along with some photos of all of the accessories on the camera. Probably a video as well. I'll also show some new shots with the 21mm attachment. I'm really enjoying the GRDIII as it seems like a very mature and well rounded compact that is capable of taking superb photos. Look for that this week!
Also, I have some new stuff on the way to review. The Panasonic wide angle 14mm lens for Micro 4/3 will be arriving to me Thursday and shortly after I should be getting the Panasonic GF2 and GH2 to review. I'm also hoping that I will be one of the first with the Fuji X100 and I believe I will be, so that will be coming next month.
My Leica 90 Summarit lens review is a little delayed, mostly because I have not had time to get out and shoot due to the contest! But, that is also a review that will be coming very soon!
[ad#Adsense Blog Sq Embed Image]