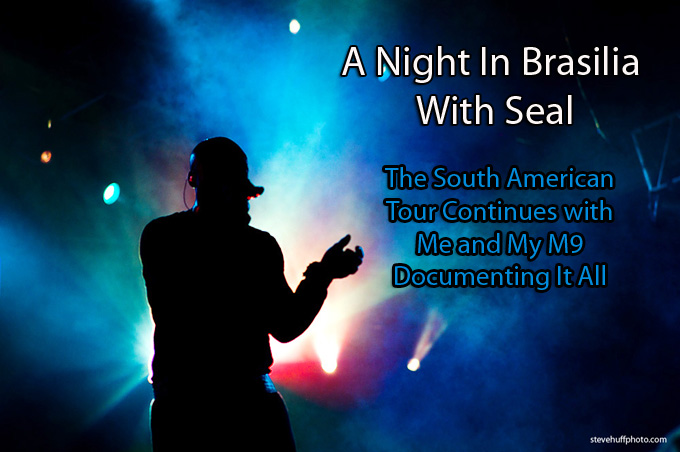 I'm still recovering from Brasilia and right now as I write this I am back at the Hotel Unique in Sao Paulo where we flew back today for another show. Last night Brasilia was GREAT! The crowds just seem to be getting better and better and last night was insane and just flew by for me. When I arrived at the venue with the band I noticed the stage was VERY high..taller than me. Looked like trouble for Leica M photography but I had a plan…more on that later.
I will rewind a but to when we were in the airport flying to Brasilia from Rio. It was like Deja Vu as we were just in that same airport a couple days prior and was the one where I shot the image of Seal and the one of the little girl. I had the little 28 Elmarit on the M9 and just snapped a couple of shots.
Marcus and the girls…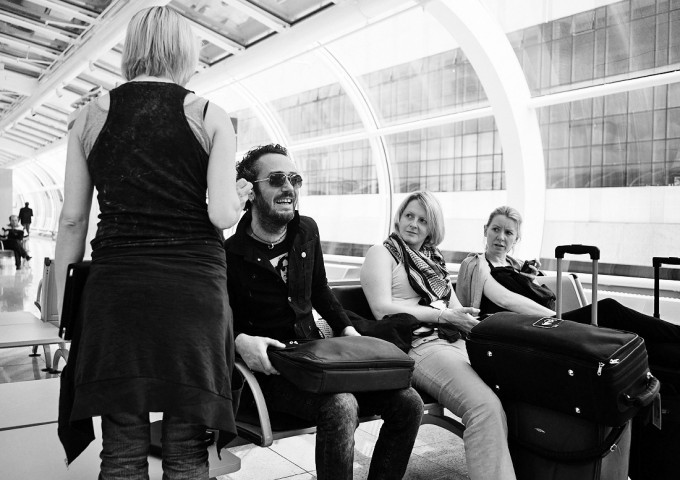 –
I was sitting across from this man on his Ipad and it just seems like a great photo opp. Any excuse I get to take a picture I do it!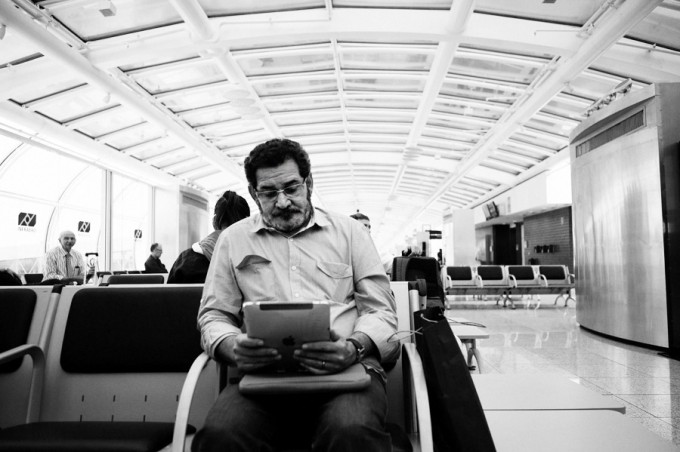 –
We arrived at our Hotel in Brasilia and I snapped one of the Tour Manager Steve with the Nocti.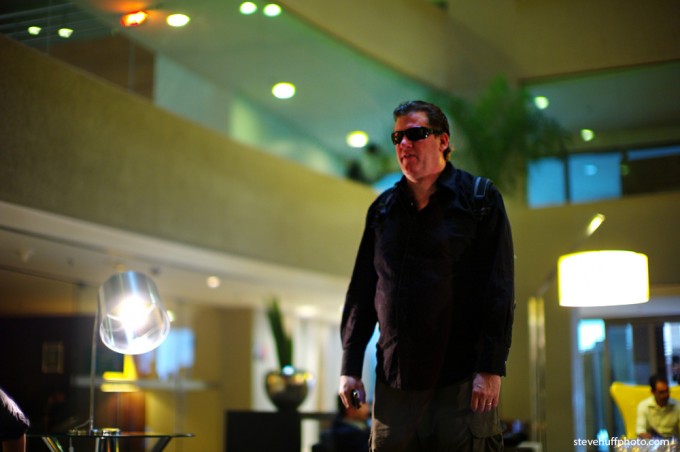 Arriving at the Venue – Soundcheck
We arrived to the venue early and the band immediately started their soundcheck while I scoped out the venue  top to bottom. After I found my way around and the "under the stage" shortcuts I went up on stage to get a few shots of the band playing..all with the M9 and Noctilux…and yes, ALL wide open at 0.95.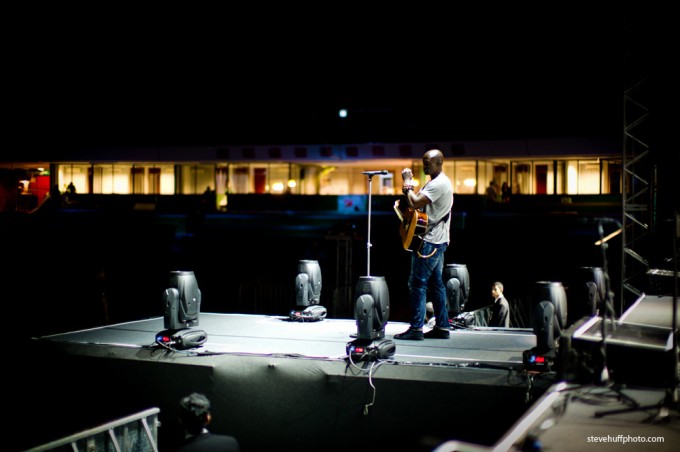 –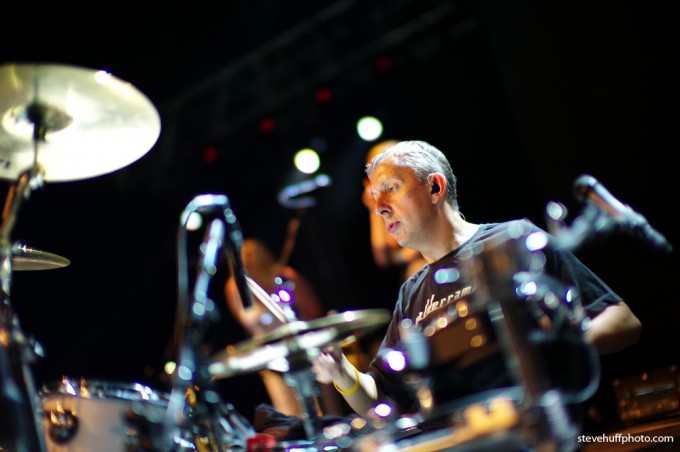 –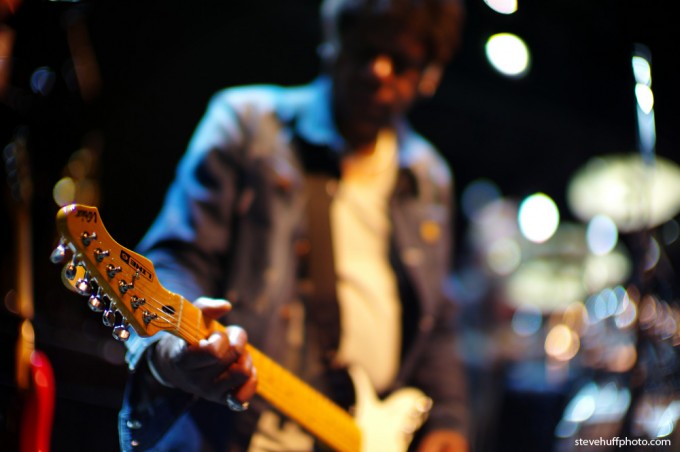 –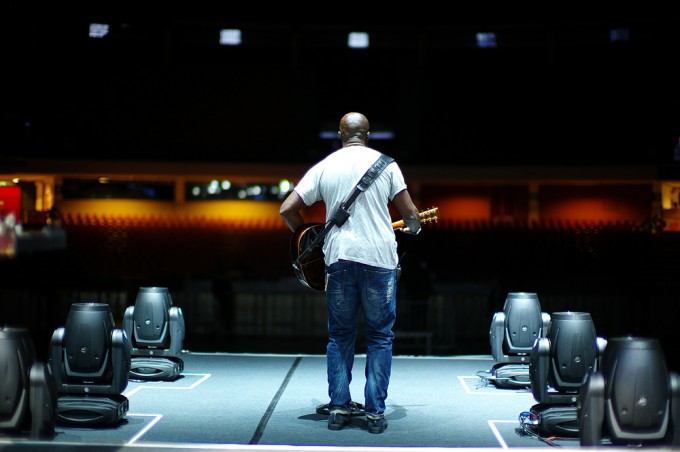 –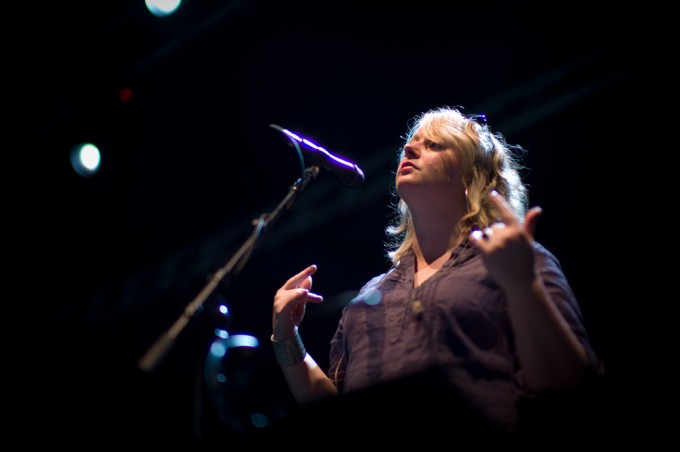 –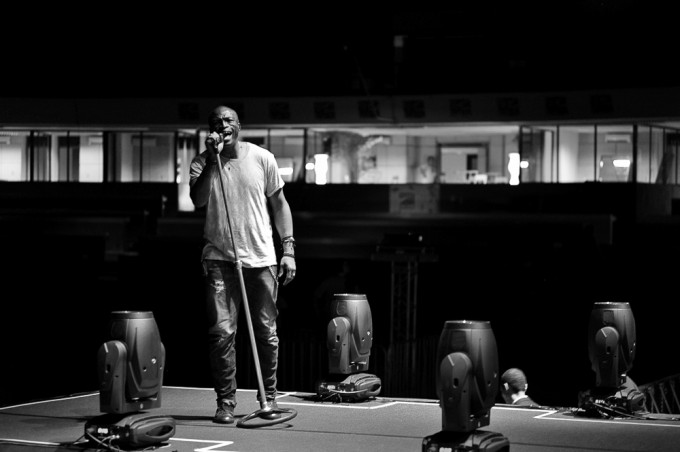 –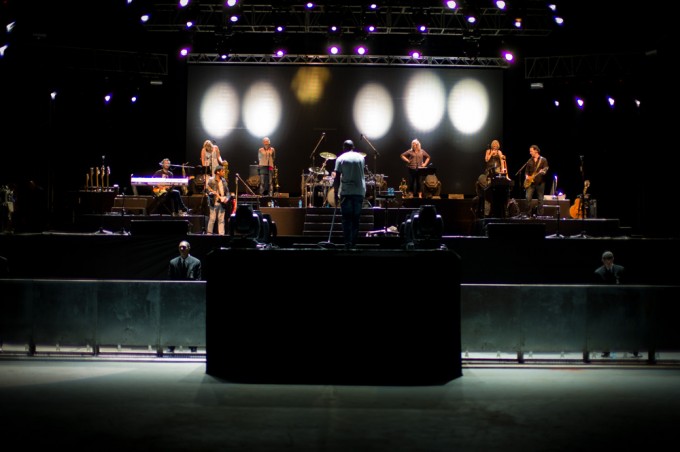 So here I was…in a venue hours before the show with an Artist I have respected and enjoyed since the early 1990's AND doing what I have ALWAYS wanted to do…shoot musicians and live performances. Back when I was in my early 20's I would often try to get into shows to photograph them but never had any idea how to get into it. I was always a fan of Jim Marshall who used a Leica M4 to shoot concerts, sadly he passed away recently but he has made some iconic images over the years.
It's not something one can do and get rich from but for me it's about the satisfaction and excitement I get from creating images that I can look back on with great memories of my time "with the band". I'm having a blast though I am tired and averaging 4-5 hours a night of sleep, mainly due to editing images after shows and waking up early to get packed back up for the airport travel. Still, it's an adventure and for someone like me who has limited world travel experience it has been a learning experience. Plus, it's also cool to not only hang with my friend Seal, but everyone else from the band to the road crew are SO NICE…it really is like one big family here and I respect this whole operation. It's awesome!
Showtime
30 minutes before showtime I devised a plan to plant myself out front in with the crowd and so I followed through with that plan. But within 15 minutes there were thousands of people behind me. I felt like I was crammed in like a sardine in one of those roll back tins but hey, it's all for the photos right? I couldn't risk getting bad shots due to me not being out front so away I went! While in the crowd I was approached by a few people who must have seen my "All Access" badge as they were asking me  to let them meet Seal, which of course is out of my hands, but everyone was great in the crowd. One thing I have noticed is that Brazilian people are warm, friendly and seem very happy which is quite the opposite of many of those you meet in America. Pretty cool.
The Show kicked off and me and the trusty M9 started clicking away. I did not want to repeat all of the other shots from previous shows on this tour so I decided to tackle this night with a different style if at all possible.
Enjoy the shots. Lenses used were the 50 Noct, 28 Elmarit, and 35 Summicron.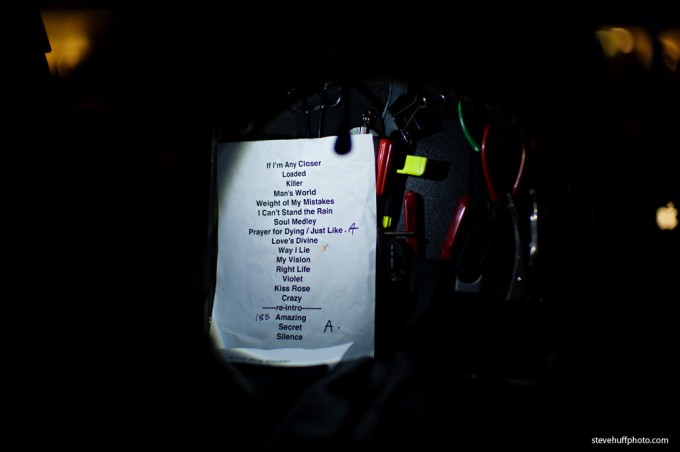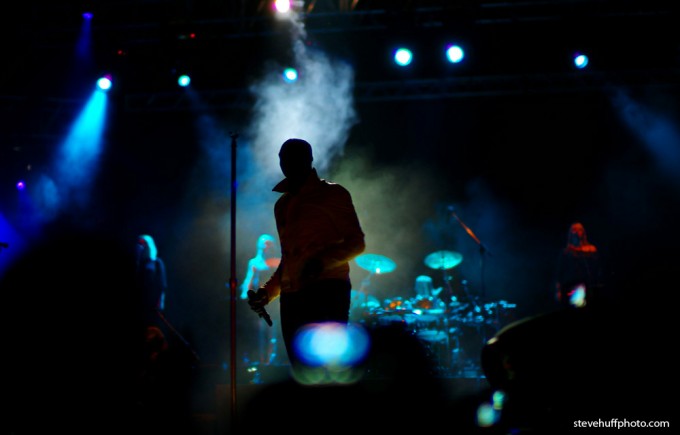 –
–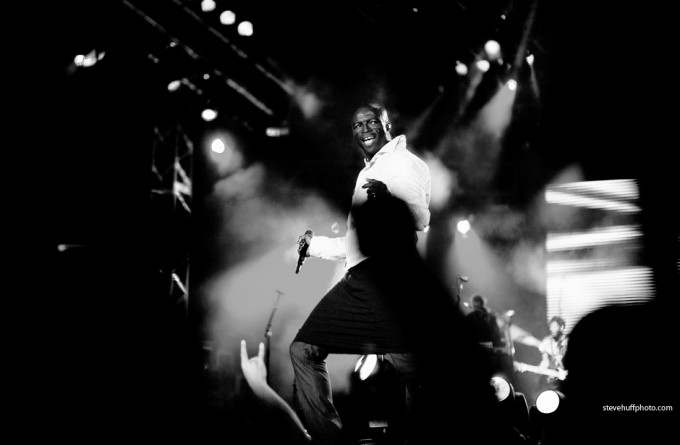 –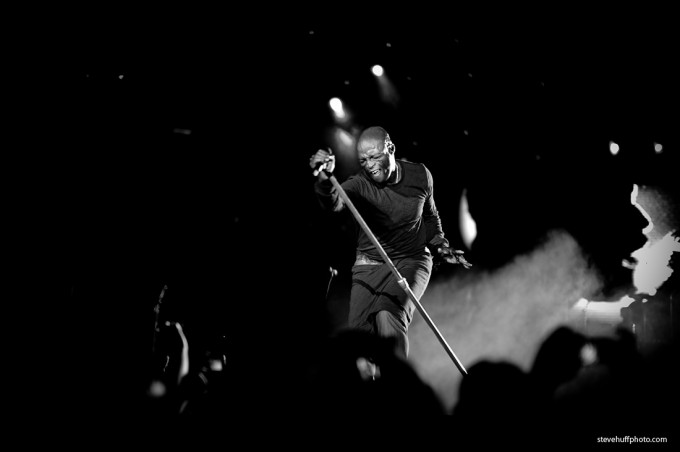 –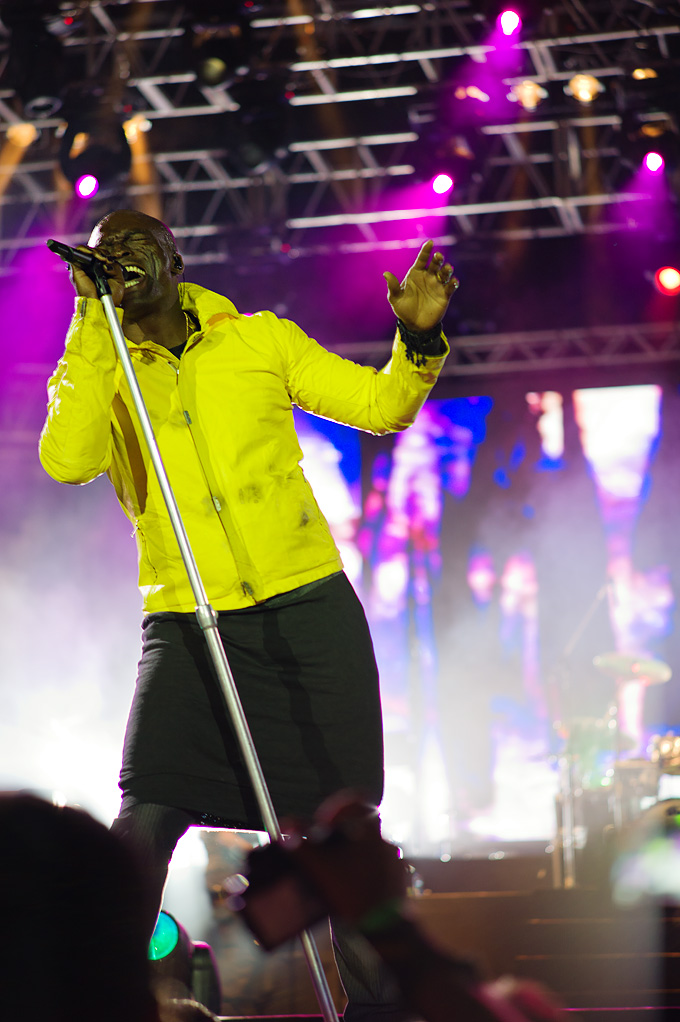 –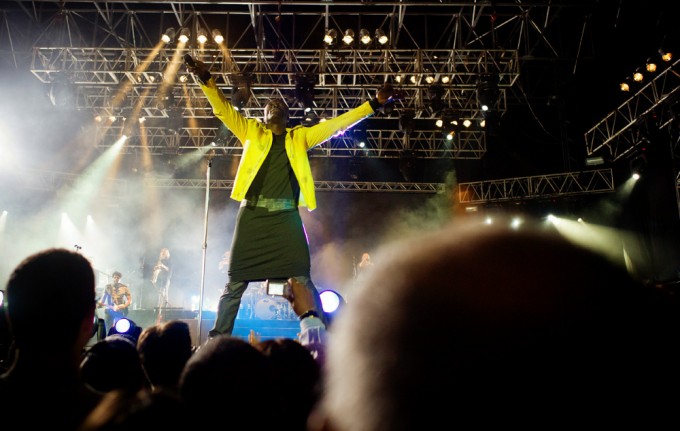 –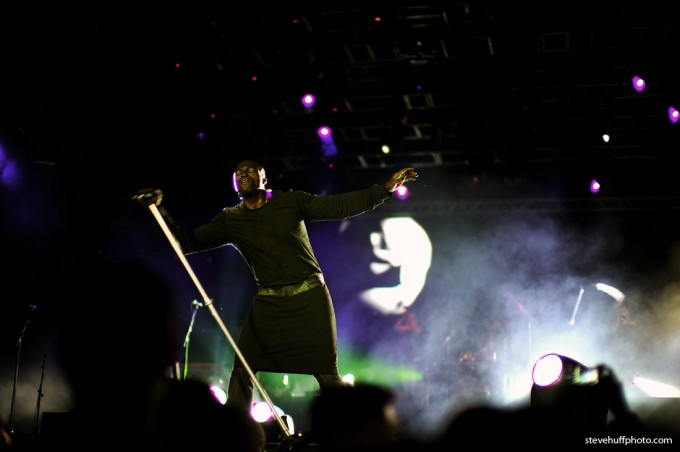 –
–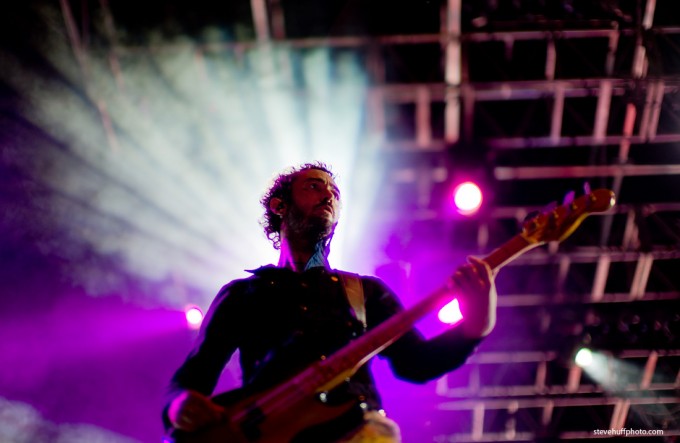 –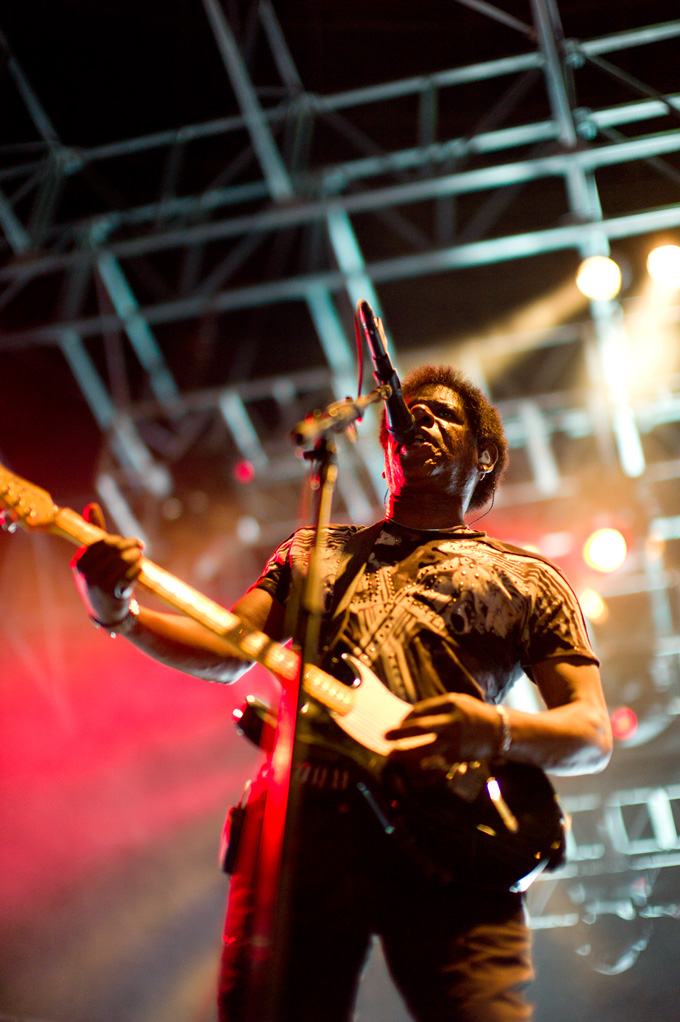 –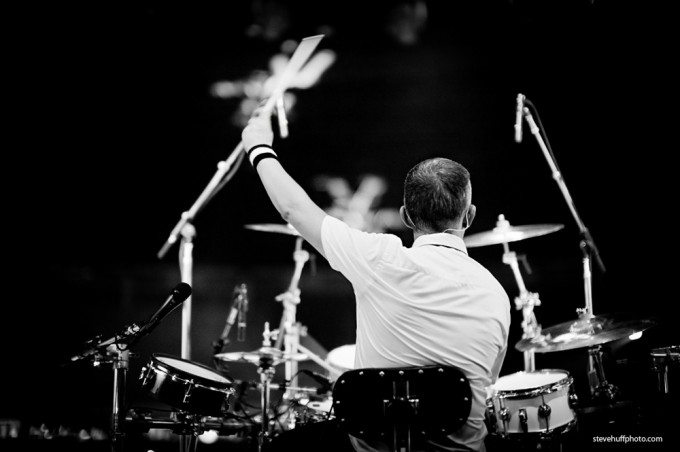 –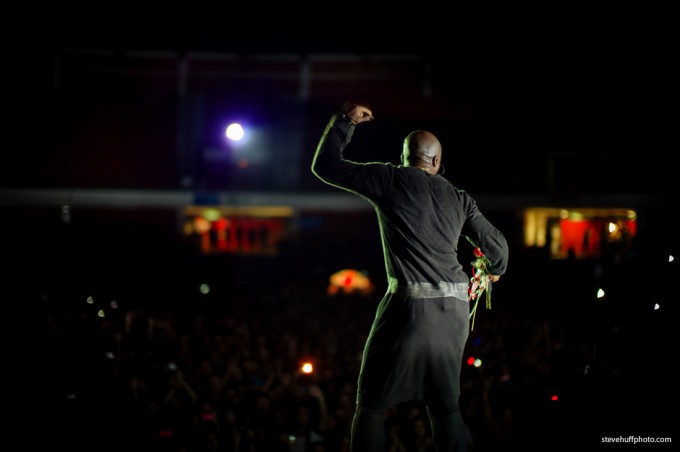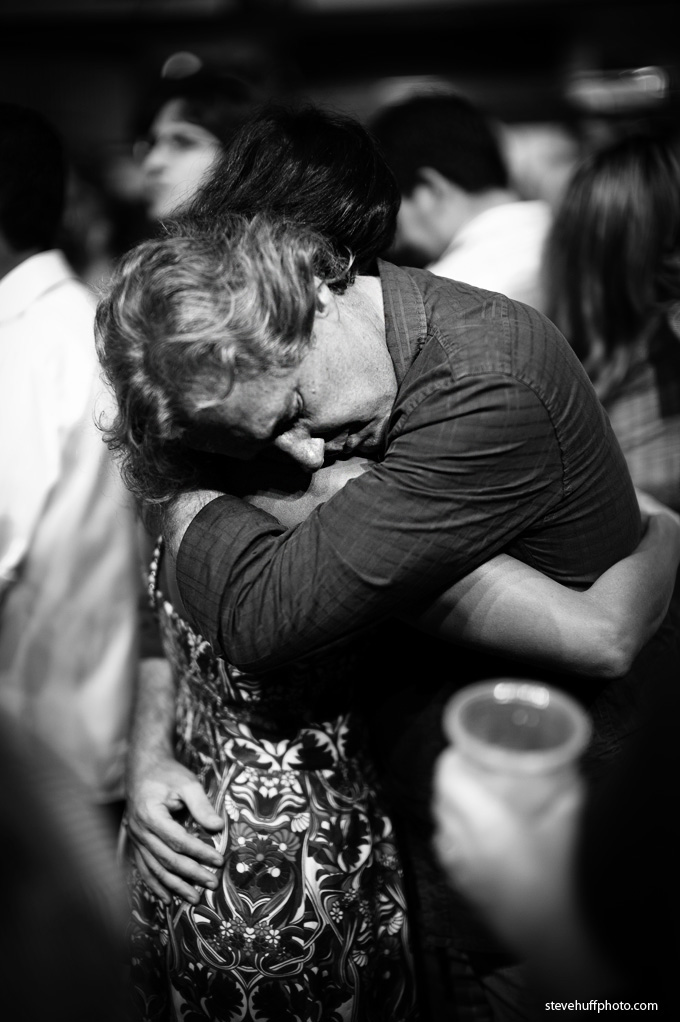 –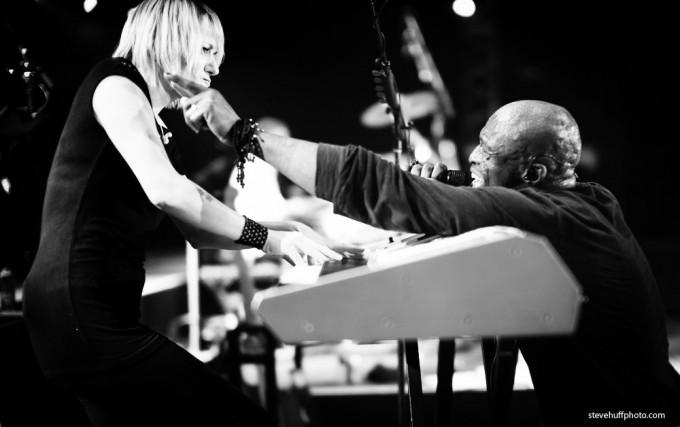 –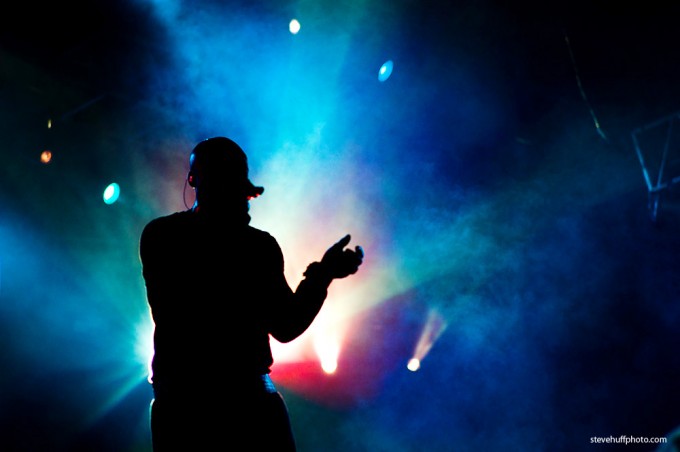 –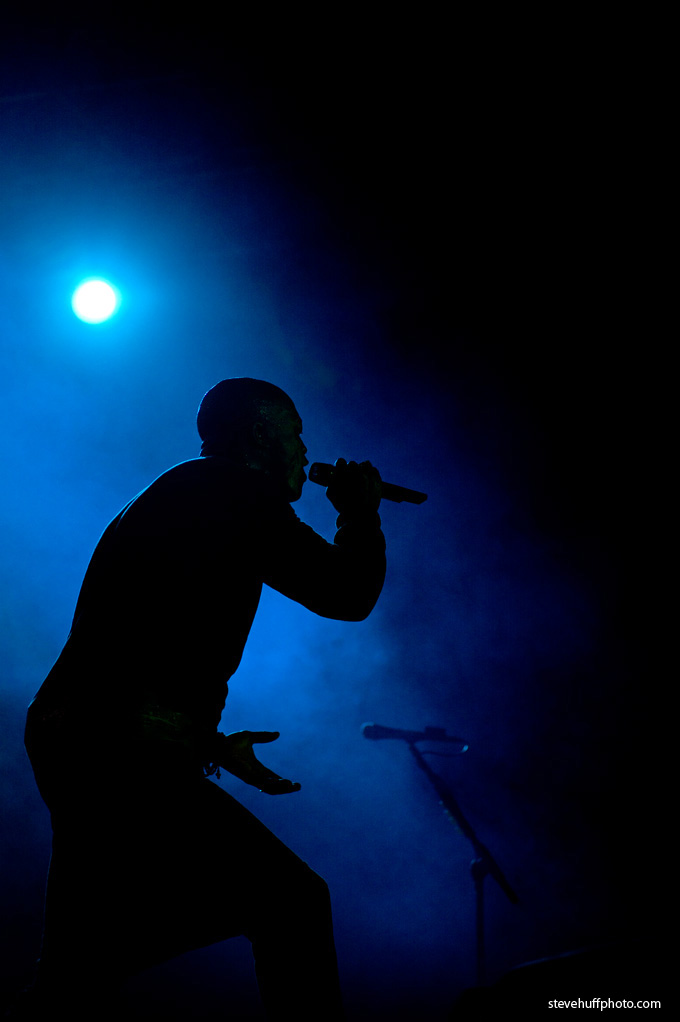 MEET & GREET!
After each show Seal meet's some of his fans in a meet and greet session. This is always cool for any artist to do as it gives the hardcore fans a chance to meet their idol. I walked around with the Noctilux and the M9 set at ISO 2500 and took some snapshots. Seal always has a great time during these sessions and one night I saw him spend about 25 minutes with one fan. The Brasilia fans loved every minute of it 🙂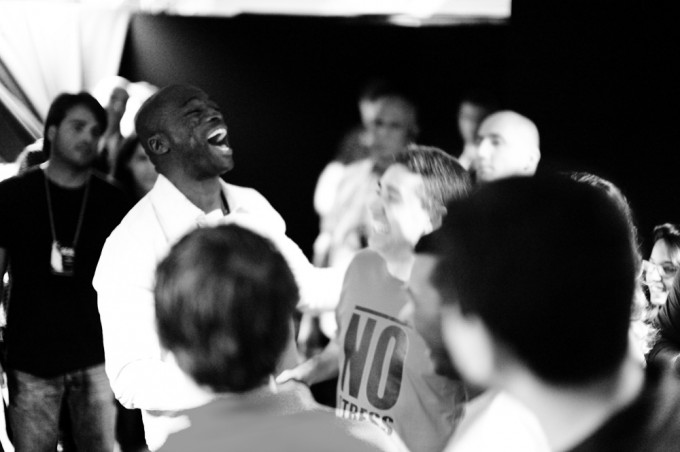 –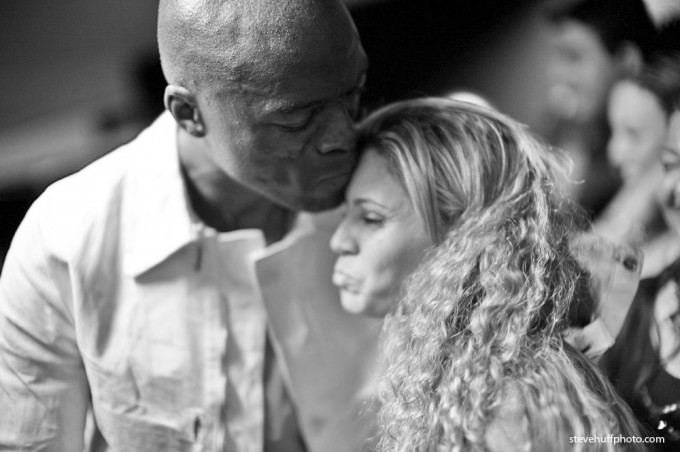 –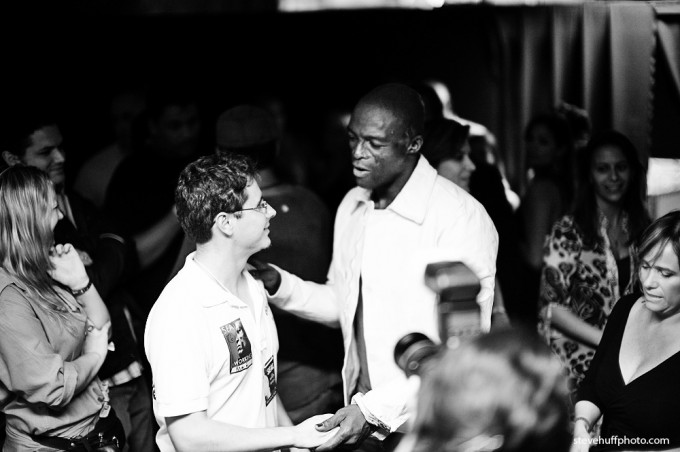 –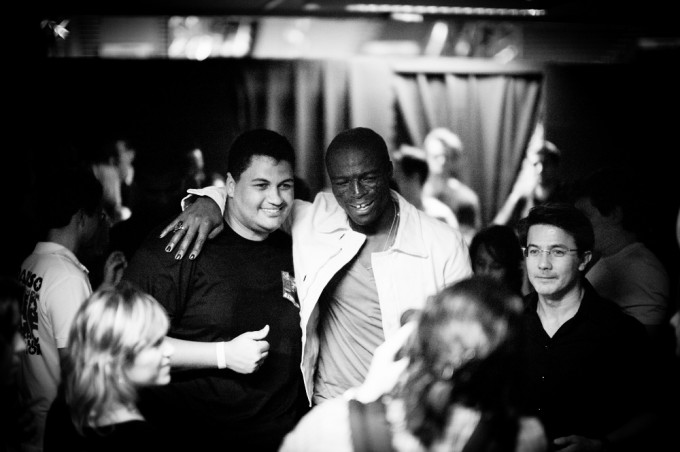 –
On to the next…Sao Paulo Brazil – Show #2
As I type this I am in Sao Paulo…just arrived back here an hour or so ago and have another hour before we head to the venue for sound check. I'll shoot this show tonight and then we have a couple of days off in Recife Brazil where we will spend almost 4 days before heading to Mexico City for two shows. Fun fun fun!
A shot of our cool hotel as we drove up from the van window…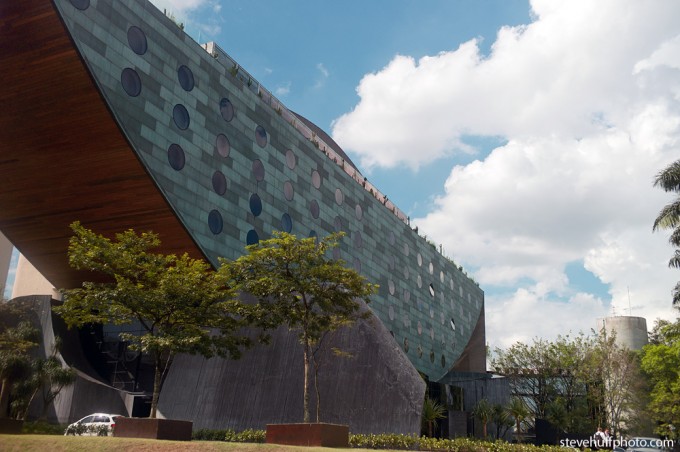 If any of you are going to be at the show tonight feel free to say "Hey" if you see me walking around 🙂 Until next time!
Steve
[ad#Adsense Blog Sq Embed Image]
I NEED YOUR HELP! YOU CAN HELP SUPPORT THIS SITE TO KEEP IT GOING AND GROWING! Seriously!
Remember, anytime you follow my links here and buy from B&H or AMAZON,
this helps to keep my site going. If it was not for these links, there would be no way to fund this site, so I thank you in advance if you visit these links. I thank you more if you make a purchase! I have nifty search bars at the upper right of each page so you easily search for something at either store! I currently spend 10-14 hours a day working on this site and the only way that I can pay for it is with your help, so thank you! Currently my traffic has been increasing but my funds to pay for the site has been decreasing, so any help would be GREATLY appreciated!
Even if  you buy baby food, napkins or toothpicks at amazon it helps this site, and you do not pay anything extra by using the links here. Again, you pay nothing extra by using my links, it is just a way to help support this site, so again, I thank you in advance 

If you enjoyed this article/review, feel free to leave a comment at the bottom of this page and also be sure to join me on twitter or my new facebook fan page! Also, you can subscribe to my feed at my subscribe page HERE and read these posts in your browser or news reader! Also, the new forums are NOW OPEN on this site so get involved if you like! Thanks so much for visiting my site!