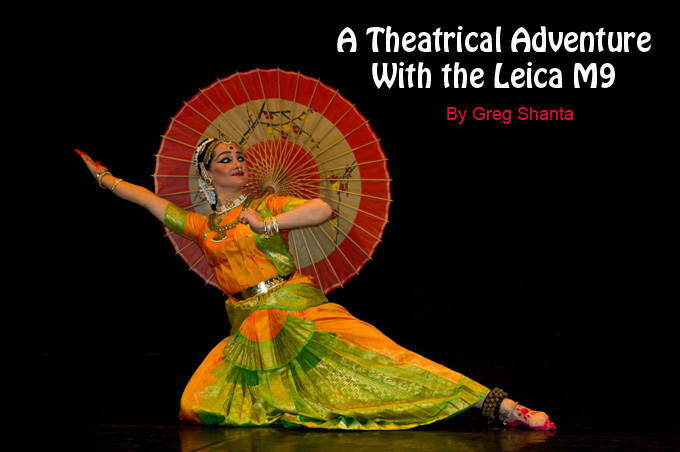 My Theatrical Adventure with Leica M9
By Greg Shanta
I live in Moscow, Russia and I am an amateur photographer. After reading all those fantastic reportages by Steve from his coverage of Seal's South American Tour and enjoying his great images from those events, I decided to challenge myself and try and shoot a concert with my Leica M9.
My brother's wife is a choreographer and she had recently invited me to see their new dance drama performance based on an ancient Indian legend called 'Dasa-avatara' (no relation to the movie). It's a great tale of God Vishnu descending on Earth in ten 'incarnations' at different times in history.
They put together a colorful show that was showing last Monday at one of Moscow's most prestigious theatre halls, The International House of Music. It's a huge modern round-shaped structure appearing to be made entirely of glass. The main hall inside has excellent acoustics and often hosts various great performers from all over the world.
Unfortunately, I don't own the legendary Noctilux 50mm f/0.95 lens. So, I couldn't duplicate Steve's setup in my challenge shoot. Instead, I took three lenses with me: my favourite Zeiss Sonnar 50mm f/1.5, Zeiss Biogon 28mm f/2.8 and, just in case I would need an occasional close up shot, I also packed a Voigtlander APO Lanthar 90mm f/3.5 lens. In addition, I had in my bag a tiny Nikon SB-30 Flash with a spare battery.
Just prior to attending the concert I met with a friend of mine who wanted me to help her with a portfolio. I took some shots of her near the Theatre with my 50mm Sonnar at f/5.6. Here is one of those shots, just to open my presentation with a beautiful young face.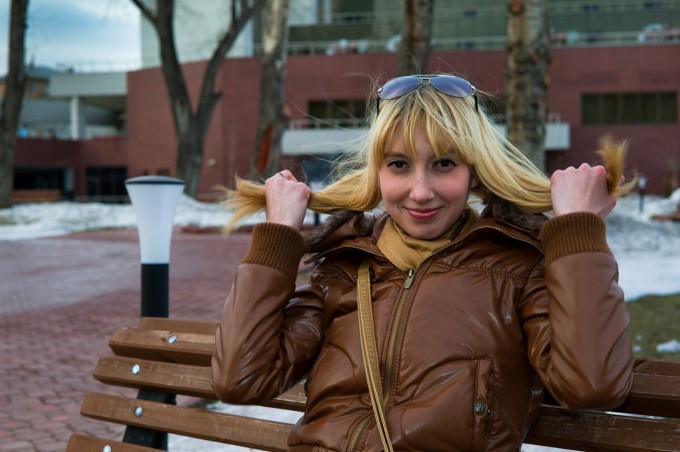 I just love the way my Sonnar draws portraits, so I couldn't resist showing it to you. The girl's name is Irina and she is a very nice and friendly person, as you can see.
After my little photo-shoot with Irina, which was just a part of our ongoing portfolio project, I went straight to the Theatre. My brother's wife had secured for me a nice second raw seat right in the centre. So I was in a very good position for shooting and close enough to the stage.
As I had my Sonnar on camera already, I took some initial shots with it but somehow I wasn't very happy with the perspective. So I decided to do some close ups and swapped the lens for the 90mm Lanthar. I liked it immediately! That particular performance, I reasoned, was ought to be shot with a short telephoto lens, due to the specifics of the setup on stage and my own position. So, I just left the 90mm on for the entire show.
My Lanthar, mind you, is not a very fast lens. The hall was quite dark and the lights on stage very dim. That was done on purpose, considering the nature of the drama. So, I just had to use my Flash (fortunately, as it turned) in order to keep ISO at 160, which was my initial intention. It wasn't a native Leica flash and TTL was not an option, so I used it in Manual mode. The Nikon SB-30 has only three manual positions: 1/32, 1/8 and full power, plus a 1/2-stop compensation both ways. Not much to play with but it's so tiny and its output is so strong for its size that I just love it and carry with me almost everywhere, just in case. It proved to be very handy at the Theatre that night.
Well, enough of my talking and let me show you some pictures.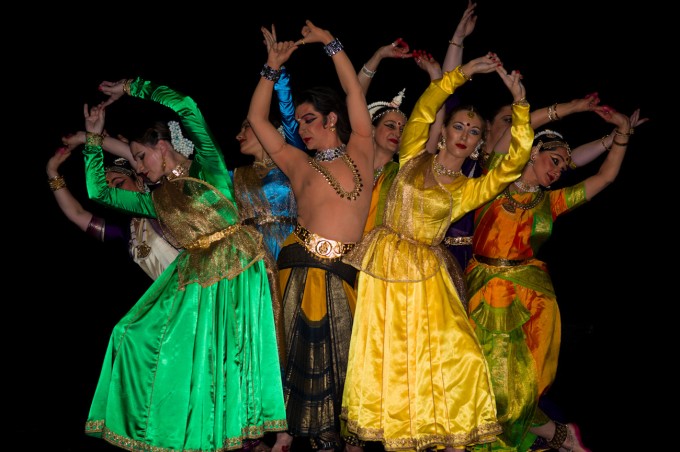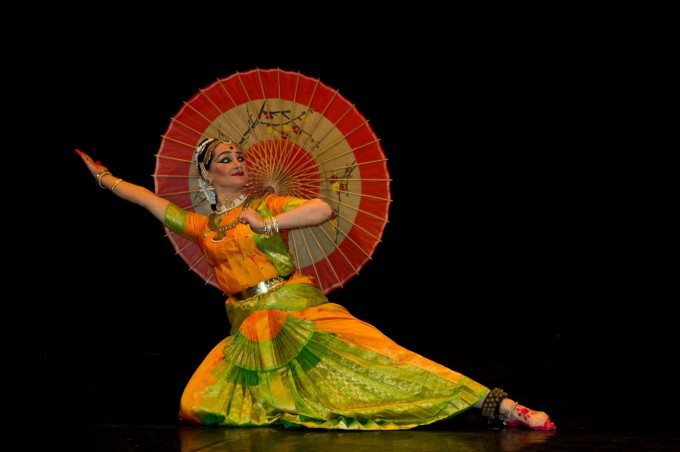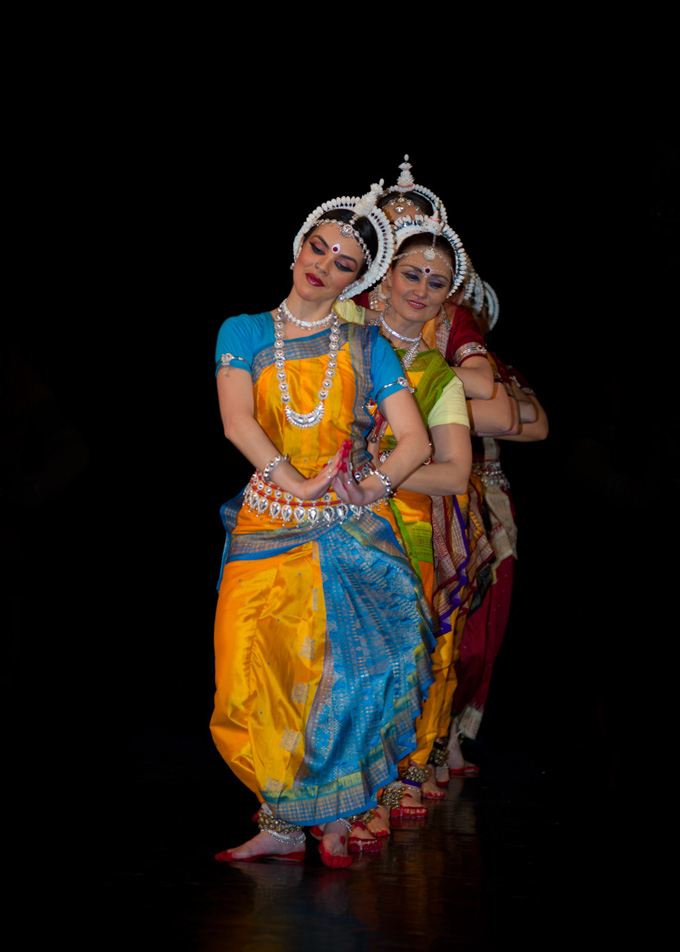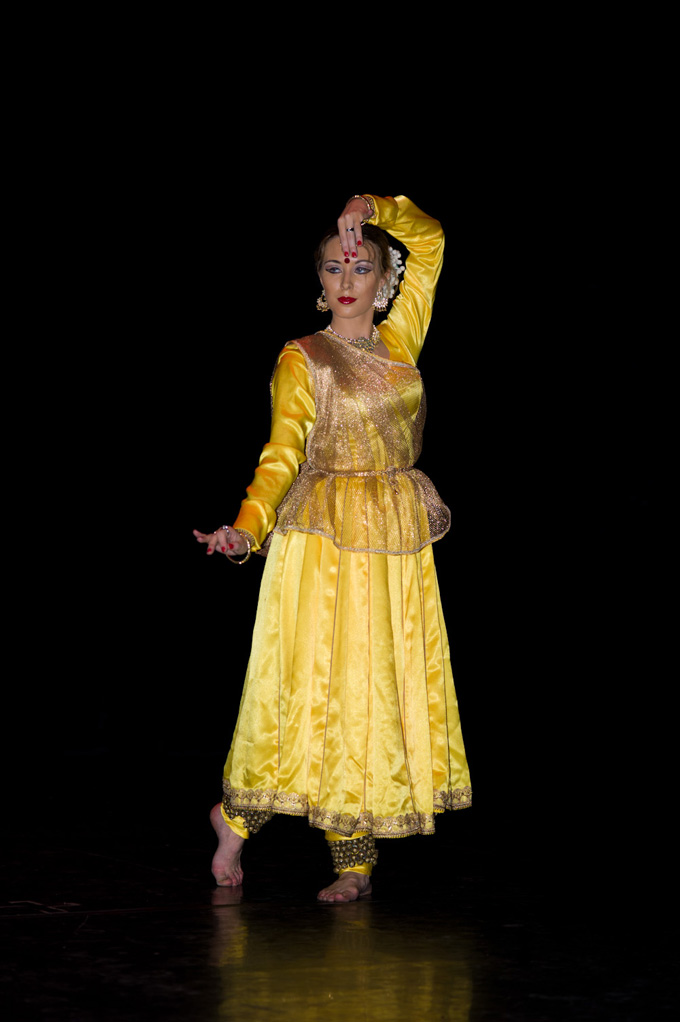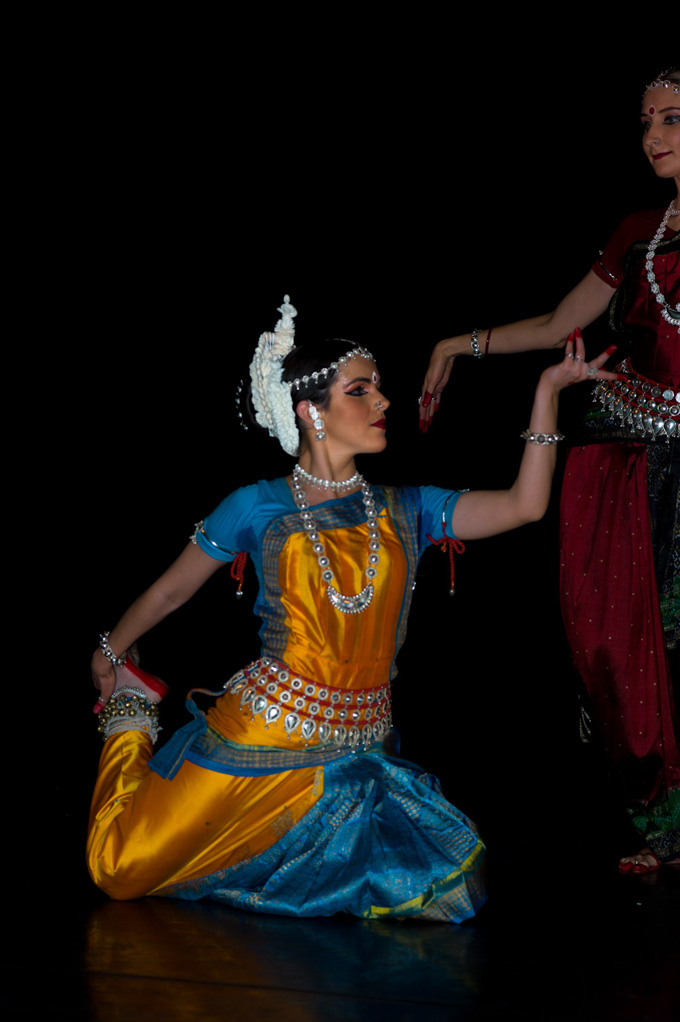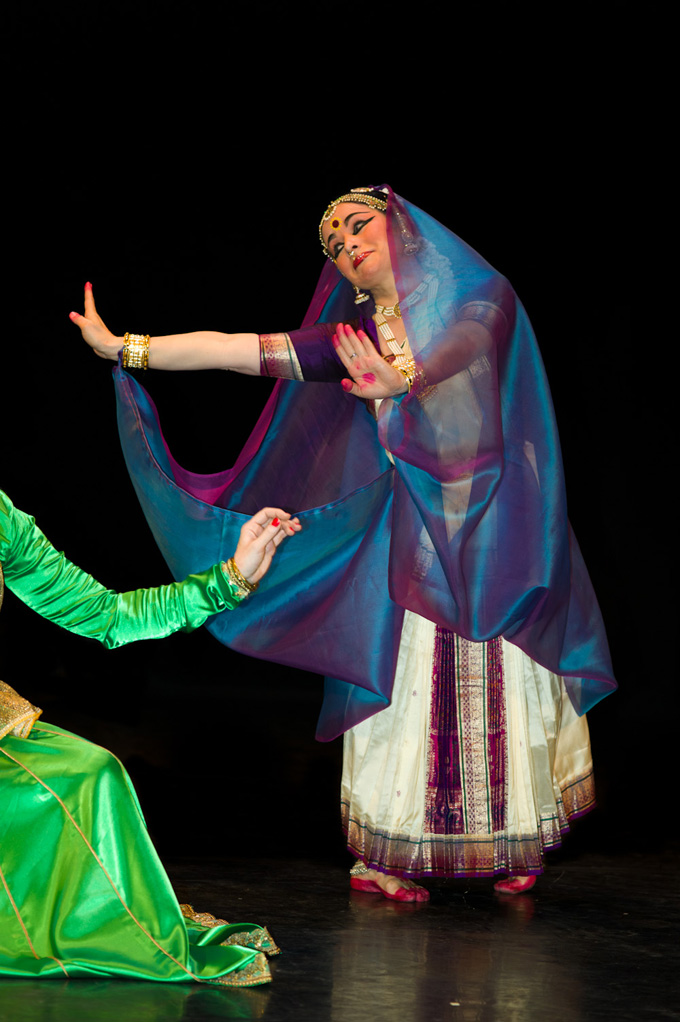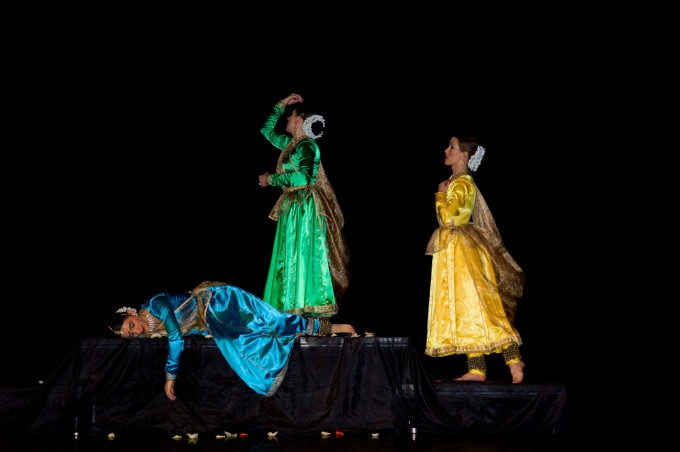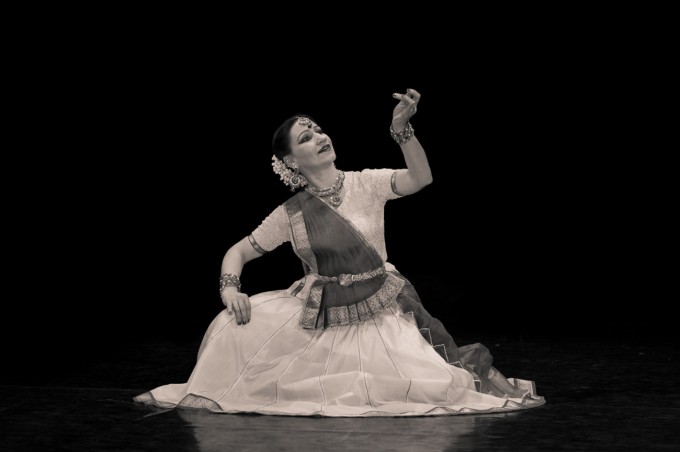 As you can see, the pictures came out quite nice! Out of about 300 shots I had more than 50 definite keepers and about 10 to 15 frames that I was very satisfied with. Not bad!
Now, that you've seen the pictures, let me talk about my experience. There were a few things I wasn't happy with and I want to get them out of the way before I move on to the 'happy' part.
First, I didn't like the fact that I couldn't move around. I had to shoot the entire show from the same position from my seat. It was, as I said, very well situated, but you want to move around to shoot from different angles. I didn't have that option. That event was very high-profile and I had Indian Ambassador sitting just a couple of seats from me and all kinds of important people around, too. So, alas, I was sort of chained to my seat.
Next problem was my Nikon Flash. It's a marvelous little beast but the recharge time in full-power mode is slower than I am comfortable with. Besides, when the battery is not fresh the recharge time is getting really painfully slow. I missed many good shots due to this problem alone. Luckily, I had a spare battery, as I always do. Anyway, considering its tiny size, I think it performed beautifully. I shouldn't be complaining, really.
That's about it, folks. Another thing that could be classified as a negative experience, actually turned out to be one of the most positive ones. I am talking about manual focusing in difficult conditions. You see, the 90mm frame in a Leica is very small. It takes tremendous amount of concentration to nail focus consistently. Especially if you are shooting rapidly moving people in low light and you are 48 and slowly losing your once perfect eyesight.
Mind you, this was a dance performance. The dancers moved around all the time. It's worse than shooting sports because sports activities are usually performed in good light and the main problem is to have a long enough lens to reach your subject. By the way, I have another exciting challenge up my sleeve, involving sports and a Leica M9. It may turn into a total disaster or a good article on Steve's site. We'll see.
So, shooting moving subjects manually with a slow 90mm lens in low light with a rangefinder camera is a major pain… Or, is it? Miraculously, it turned for me into a major gain, instead. Yes, it is difficult; yes, you get tired in the end; your face may stay deformed for hours afterwards; and yes, you will miss some shots. But the very fact that I had to concentrate so hard on my subject had allowed me to magically connect with the subject and become a part of the action. I totally forgot that I was sitting in a chair with a camera to my eye. I was on stage, dancing with all those beautiful people the whole time! My mind flew out of my body through my eye and then through the barrel of my lens right on to the stage. That feeling was unforgettable! I really enjoyed it. When I made those close ups of individual dancers it felt like an embrace (I seriously hope, my wife isn't reading this!) And when I shot dancers in a group I felt like I was right in the midst of them, swirling away in an exuberant pirouette. And no, I wasn't drinking that night… Amazing experience! All thanks to manual focusing and the resulting concentrated effort!
I am a lazy dude. I don't usually enjoy hard work (sorry, Mom). But in this case I found it crucial to success. It had helped me to get into a state that was very important for the final outcome.
The only thing that is valid in photography is the feeling, both on the creator's end and on the viewer's end. I see the photographic phenomenon as a bridge between those two ends: a delivery system that brings human feelings across time. All great photographs ever made by anybody were born out of deep, intense feelings. There is some unexplainable magic to it and you can't make it work if you are detached from your subject. You have to be there, right in the middle of the action. And that's where Leica comes in very handy. There is something special about rangefinder photography. It's hard to explain to the uninitiated but the evidence has been in abundance for decades.
I was so fired up at the Theatre that night that I felt like allowing myself a little experiment with dragging the shutter (inspired partly by Seal in a recent conversation here on this site). I made a few shots using that technique and eventually came up with a triptych that I happened to like a lot afterwards. I called it 'The Fallen Angel'. The angelic theme is indistinctly evident in some other shots in this series; so to me the 'Fallen Angel' was a culmination of the theme. Besides, the 'Avatara' concept that was dominant in that performance was of God's descending onto the Earth to bring justice and peace. I like juxtapositions in Art, so I had my renegade angel falling from the sky in order to screw things up. Don't take it seriously, though. It was just a mischievous artistic expression.I want to conclude my article with that triptych.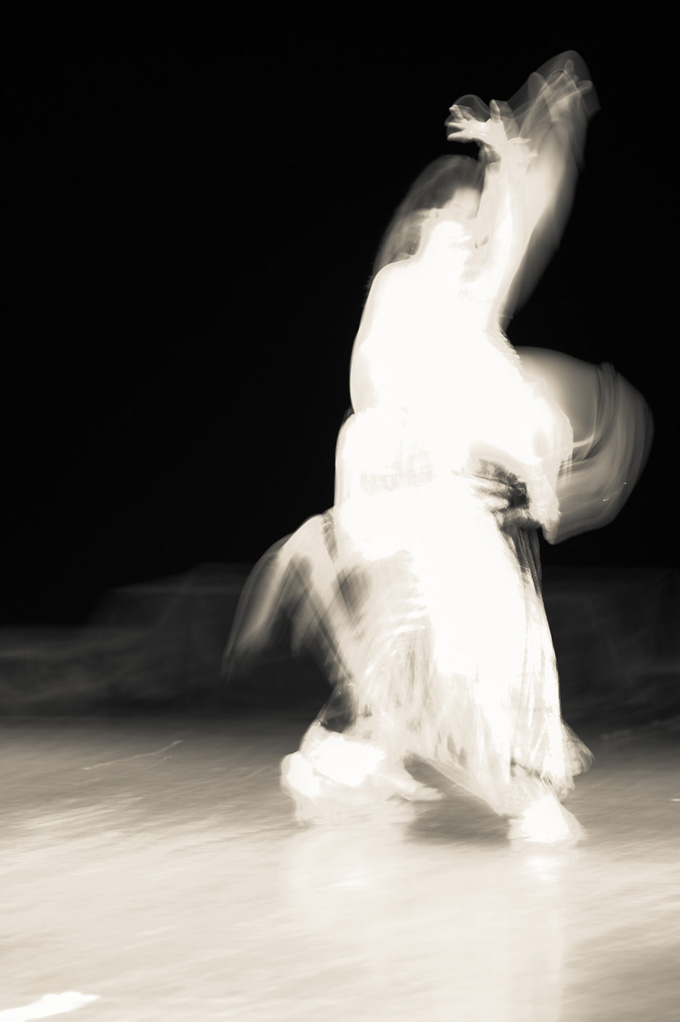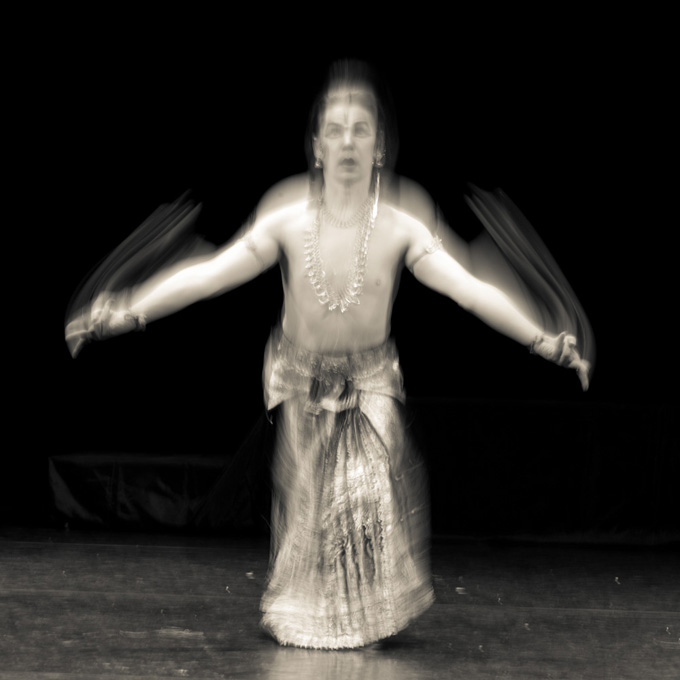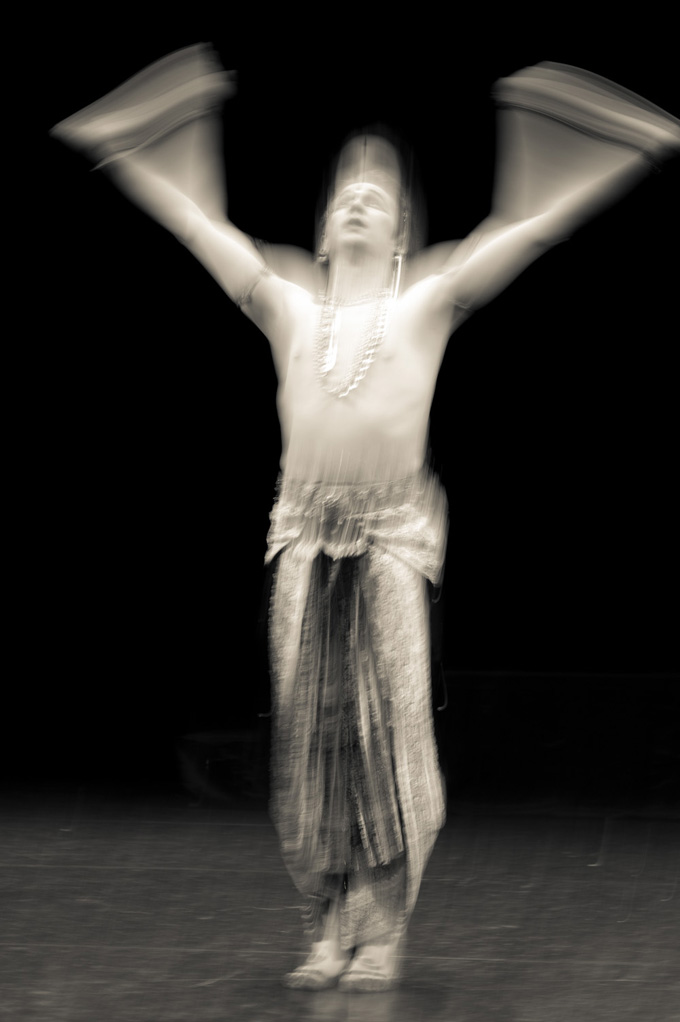 If you would be interested to see more pictures from that night, please visit my Flickr page. I must warn you, though: it's a big mess and in serious need of some housekeeping. I am in the process of setting up my own web site now , so in the near future I'll have my portfolio displayed there.
Thank you all very much for your time!
Greg Shanta
[ad#Adsense Blog Sq Embed Image]
HELP ME TO KEEP THIS SITE GOING AND GROWING!! IT"S EASY TO HELP OUT!
Remember, anytime you follow my links here and buy from B&H or AMAZON,
this helps to keep my site going. If it was not for these links, there would be no way to fund this site, so I thank you in advance if you visit these links. I thank you more if you make a purchase! I have nifty search bars at the upper right of each page so you easily search for something at either store! I currently spend 10-14 hours a day working on this site and the only way that I can pay for it is with your help, so thank you! Currently my traffic has been increasing but my funds to pay for the site has been decreasing, so any help would be GREATLY appreciated!
Even if  you buy baby food, napkins or toothpicks at amazon it helps this site, and you do not pay anything extra by using the links here. Again, you pay nothing extra by using my links, it is just a way to help support this site, so again, I thank you in advance 

If you enjoyed this article/review, feel free to leave a comment at the bottom of this page and also be sure to join me on twitter or my new facebook fan page! Also, you can subscribe to my feed at my subscribe page HERE and read these posts in your browser or news reader! Also, the new forums are NOW OPEN on this site so get involved if you like! Thanks so much for visiting my site!