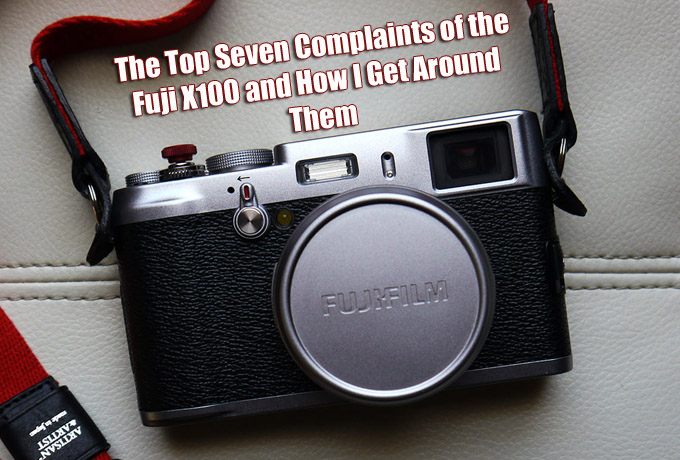 OK guys, here you go! Decided that since the Fuji X100 has been so popular, and because I get so many e-mails on it asking me about the "quirks" that I would write up a list of the top 7 complaints on the camera (from users and reviews, not necessarily ME), and what I do to get around them (well, they are not really issues for me in the first place as you will soon see).
So in this brief article I will list out the quirks and imperfections of the X100, and then tell you how I overcome and work with each issue. This is spurred from seeing a reviewer today who said to forget about buying the Fuji, mainly because of the menu button. Odd. This camera has so much going for it with so much potential that anyone who skips out on it due to the small (or is it?) menu button will be missing out on a fantastic photographic tool that not only looks cool, but takes some amazing quality images.
Am I saying that the Fuji is for everyone? NO way! Many will want to skip it just due to the fact that it is not really their style of camera. It doesn't have blazing fast DSLR AF, it doesn't "Zoom" and no, it does not have the ability to change lenses. These are the reasons I LOVE IT, but some of you will hate it for these same reasons. Anyway, enjoy this rundown of the X100 Quirks 🙂
Ok…first things first – The small menu button
USER Complaint #1: The Menu Button is TOO small. I agree with what everyone here has said about the menu button, it sure does appear to be too small. It seems when you press the menu button that you are also pressing the jog wheel as well. The menu button itself is not  raised out enough from the jog wheel so it just feels like you are pushing the whole wheel in with the menu button. This is what most of the reviewers are saying about the button.
In USE/Solution: The Menu Button Is Not Really An Issue. In actual USE of the Fuji X100, when the camera is on and you are taking photos, the menu button works just fine! Try it! Turn it on, press the menu button and you will see the menu screen pop on. I looked at the menu buttons, side by side next to the X100 from the Olympus XZ-1, the Panasonic GH2 and also the GF2 and guess what? The X100 menu button is LARGER than the GH2 and XZ-1 and just about the same size as the one on the GF2. Again, it's not that the button is too small, it is that it does not stick out enough from the wheel so it "feels" small. In real use, the button works perfectly fine. For me it does anyway. Never caused an issue which is why it wasn't brought up in my review. It worked and continues to work. For me anyway. SO once again, the button and the jog wheel work fine and dandy for me and my hands.
–
How about the slow start up time?
USER Complaint #2: Startup time is insanely slow. When I received my X100 and powered it on I was freaking out a bit I think it took like 10 seconds to start up! I immediately regretted the purchase. There were times when I though the camera had froze up when I started it but in reality, it was just taking forever to start. It was unacceptable.
The SOLUTION: Startup time can be almost instant! I decided to buy a super fast SD card for the X100, hell, I bought two, one for my M9 and one for the X100. I bought these Sandisk Extreme Pro cards, the 16GB version. THEY ALSO COME IN 32GB.  Sandisk says that they are waterproof, shockproof, and X-Ray proof. They also write data at up to 45MBPS so they are pretty speedy. Once put in the camera I was still seeing slow startup times, UNTIL I formatted the card in the camera. I then turned ON "Quick Start Mode' in the settings menu. Now it takes less than 1 second to turn on. Its actually just about instant. So if you have an X100 and are suffering from slow start up times, buy one and format it in the camera. Not only will your start up times be quick, your write times will improve as well.
You may have to format each time though, which is odd and quirky.
–
OK…what else? Hmmmm. Inaccurate Auto Focus.
USER Complaint #3: The AF is not accurate most of the time. This CAN be correct, if you are using the Optical View Finder. After using both the EVF and OVF I would not go back to the OVF full time as it is just not accurate with the AF of  the camera in MANY situation. If you are shooting anything up close, forget it. Your shot will be out of focus when using the OVF. I am talking 1-3 feet distances, and in many cases, the AF confirm will pop up and the camera will focus way behind the subject (when using OVF and shooting CLOSE). The OVF is nice and bright and I have used it for landscape shots and it did great, but anything at close distance, forget it! It took me a few days to figure this one out.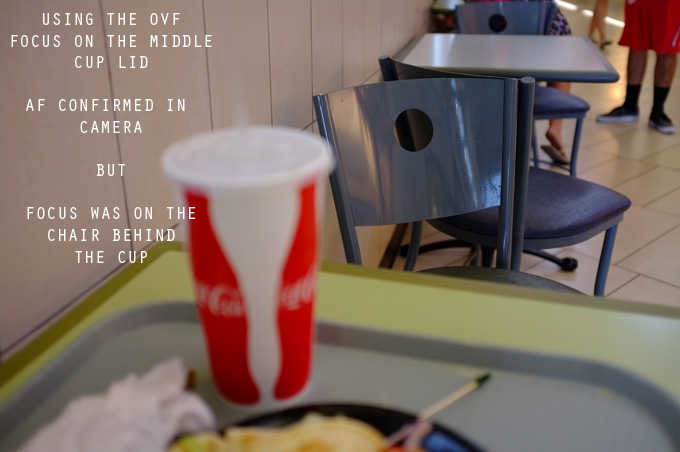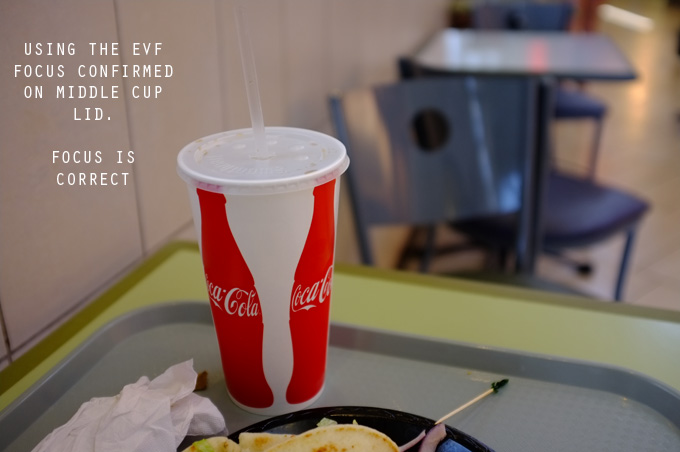 The SOLUTION: Use the EVF for close subjects. I use the EVF 90% of the time, and believe it or not, it uses LESS battery than the OVF. The EVF is plenty good, so I would recommend using it unless you are taking shots of something at a distance, which is where the OVF will be OK. Just remember that when using the OVF, you must frame within the frame lines, and they are not 100% accurate! BTW, my camera is NOT defective. Had TWO of them here, both USA production cameras – both gave me the same results.
–
Macro? What macro?
USER Complaint #4. Macro – I have seen at least one review complain that there is no macro on the X100. Well, no, you are not going to get the macro performance of a specialized Macro DSLR Lens but you can get much closer to your subject than you may think. There IS a macro mode accessible with a left click of the jog wheel.
The SOLUTION: Use the EVF, in MF mode and use  the AFL button to focus. I found that when using manual focus mode, combined with the EVF you can get pretty close to your subjects. Closer than using the OVF (forget about close ups with the OVF, remember) and you do not even need to switch on the macro mode to do so. It's really easy to do and you can get semi close. Still, this is no real "Macro", just a way to get closer than you normally can.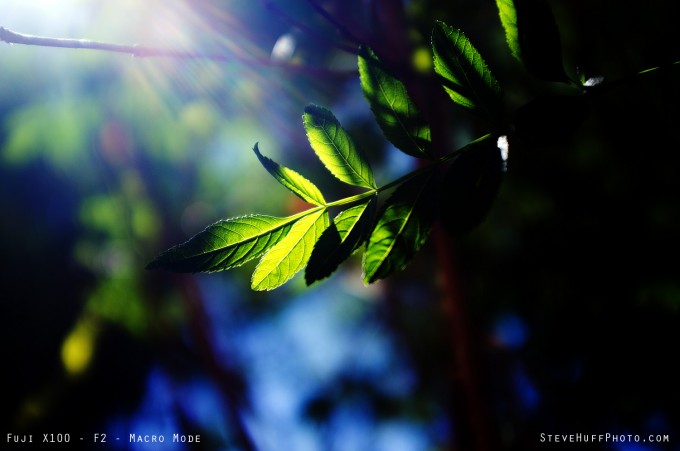 –
Low Light AF. Daytime AF. No good?
USER Complaint #5 – Low light Auto Focus Performance is not so hot and day time AF is slow. The low light comment is somewhat true, but in my experience, the light has to be pretty damn low for this to happen. I was sitting on my couch the other night, in the dark, with the only light source coming from my TV. I had the GF2, GH2, and the X100 on the table. I picked up each one and tried to AF on my foot. None could do it. I turned on a small 40 watt lamp and ALL could do it. I found that the low light AF, in reality, is no worse than the GF2, GH2, or Leica X1. Plus, I was not even using the AF assist light as I have my X100 in silent mode. Turn this off and you will have access to the AF assist light. As for daytime AF, its pretty speedy. DO NOT compare it to a DSLR and you will be just fine. Compare it to cameras like the Oly E-P2, Leica X1, GF1, etc. I have no complaints about daytime AF. This is not a sports camera, an action camera or a let's chase my kids around camera. For those activities, buy a DSLR.
The SOLUITION for low light AF: Turn of Silent mode and use the AF assist light if you are shooting in near blackness. AF is plenty fast in good light.
–
Limited Shutter Speeds when wide open?
USER Complaint #6 – The X100 shutter speed is limited to 1/1000s when shooting at F2. This is 100% true! When shooting at f2, your max shutter speed is 1/1000s. What does this mean? It means if you want to shoot in full sun at f/2 to get the soft bokeh and creamy look, you can't! (But you still can) – The Ricoh GXR had this same limitation at f/2 and it is due  to the lenses using Leaf Shutters, which is why they are so silent. Luckily, Fuji added a feature to the X100 that allows you to shoot in full sun, at 1/1000s.
The SOLUTION – Turn on the built in ND filter. Then you can shoot all day long in full bright mid day sun at f/2 is you so desire. Indoors, 1/1000s is plenty fast if you want to shoot wide open. Me, I set my Fn button that sits on top of the camera to control the ND filter on/off toggle. This way, when I am out in the blazing sun, I just switch on the ND filter and I can shoot at any aperture I want to!
–
Manual Focus SUCKS with the X100
USER Complaint #7 – The Fuji X100's Manual Focus is unusable. All I can say about this is YES IT IS. I hate it, but luckily, this could be fixed via a firmware update. Will they fix it? Only time will tell but I am fine using a camera like this in AF mode. It is NOT a rangefinder camera and if I want to shoot manual, I will shoot with my M. But yes, the MF implementation is horrible with the X100 but there is a solution if you still want to shoot in this way.
The Solution: Use the AFL button when you can not seem to dial in the focus manually. When in MF mode, you can turn the lens barrel to focus but it will take about 20 turns of the ring to get you there sometimes. Painfully slow, and it is even hard to see when your subject is in focus. BUT if you must shoot this way, and if you are having problems finding focus, a quick press of the AFL button will whip it right into focus. Easy!
–
So there you go. The 7 main complaints that reviewers and shooters have worried about…explained. Will Fuji release a firmware update to fix the manual focus/ I have no idea but my gut tells me that they are working on one right now to fix a few things like speed, manual focus, etc. I did not mention the video and the fact that you can not change the aperture or use manual focus while recording but you can set the aperture before you press record and manual focus beforehand as well to avoid the camera hunting for focus when your subject moves. That can also be changed with a FW update. If any of the quirks above bother you, then you should probably skip the camera. If you can live with them, like the thousands of others who are already shooting this camera, then go for it! The image quality is fantastic and the Fuji colors really can't be found anywhere else. Amazon is the only one I know who is taking pre-orders and shipping every few days. You can pre-order HERE.

[ad#Adsense Blog Sq Embed Image]