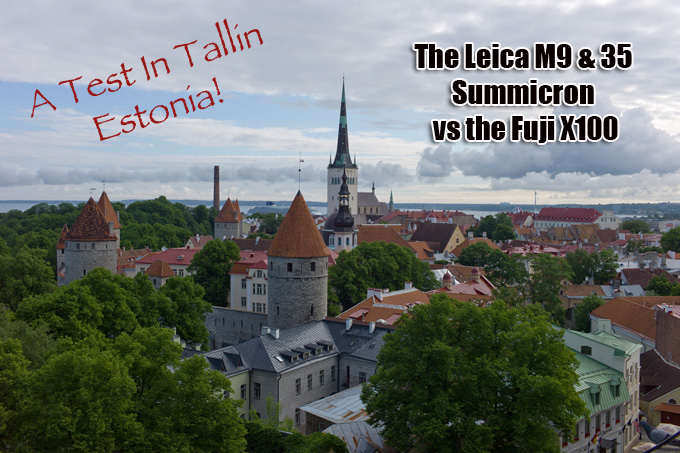 Crazy Comparison! The Leica M9 with 35 Summicron vs the Fuji X100
By Steve Huff
I have been getting emails for a few weeks now asking me to post some full size images from the Leica M9/35 Summicron vs the Fuji X100…side by side shots, same settings, etc. What some of you want to see is just how the little X100 stacks up against the Leica $10,000 combo in the image quality department. This comparison will ONLY be on image quality as the usability of each camera is WAY different.
The M9 is a manual rangefinder camera and the Fuji is pretty much a point & shoot, though a very nice point & shoot. I have been shooting both while here in Tallinn, Estonia and I have to say that the little X100 has been a joy to use. Quick, easy, and reliable. I can't help but imagine what would happen if Fuji released this in all black WITH the capability of interchangeable lenses. Something like an X200 with a 24, 35, 50 and 90 f2 set of lenses. Wow.
On the other hand, the Leica M9 still shoots and feels like a "real" camera. I have  that "bond" with it that is hard to beat. When you have this bond, and the took becomes a part of your eyes and brain, then it is  tough to beat in actual use. BUT, if the Fuji can come close to the M9 and 35 cron, it would be cheaper to buy an X100 instead of a 35 and take the savings for another lens! Then again, if you own and love your M9 and have no need for a 2nd camera, then the 35 cron would be the best bet as it is a superb lens as is every Leica 35mm.
Also, let me note that my M9 and lenses just came back from Leica last week where they calibrated the camera and lenses, so the focus is dead on.
Lets see how it goes…
Before I get to the pictures I have to say that Tallinn has been AMAZING! Such an awesome place to just walk and roam. I walked 8 miles yesterday, and a few hours today and enjoyed every second of it. From the cobblestone streets of Old Town to the even more scenic things we saw off the beaten path. Tallinn Estonia is full of life, great people and GREAT light!
The images below were converted from RAW using Adobe Camera Raw. You can see the full size file by clicking on the images (for those that have a full size file).
Ok, first up..FULL SIZE FILE COMPARISONS with CROPS
Leica M9 – f/2 – click image for full size RAW conversion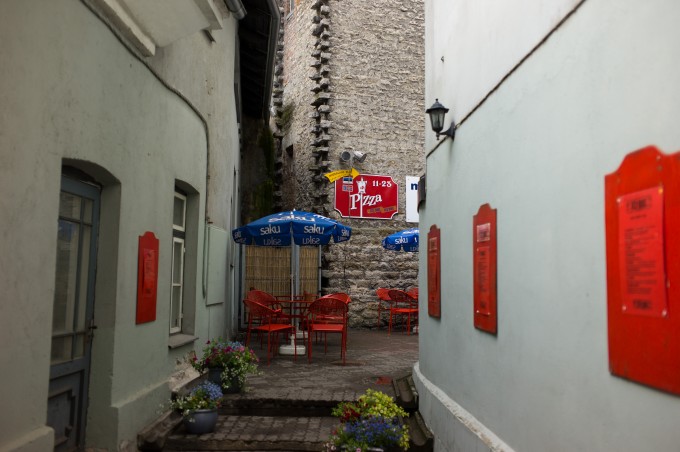 –
Fuji X100 – f/2 – click image for full size RAW conversion
Leica M9 – f/4 – click for full size image
Fuji X100 – f/4  – click for full size
Leica M9 – Click for FULL size image! I have to admit, I prefer the X100 version!
Fuji X100 – f2.8 – click image for full size
and the crops if you cant download the full file..
Leica M9 – f/2 – click image for full size
Fuji X100 – f/2 – Click image for full size (see the slight distortion)?
Lets stop it down….Leica M9 – f8 – click image for full size!
Fuji X100 – f/8
–
and some crops. You can see the M9 gets the prize for detail but at $1200 for the X100 and $10k for the M9, in the IQ department, the Fuji does quite well.
So what are your thoughts?
My thoughts are that the X100 is quite the little camera if shooting 35mm is your thing! Sure, the M9 is better but is it $8800 better in regards to Image Quality alone? NO it is not. Add to this that the high ISO is better on the X100 and this makes the X100 the buy of the freaking year in digital camera land.
My M9 is not going anywhere though 🙂
A Fun Test – Can you tell which image came from which camera?
The EXIF info is intact so you can cheat, and I am not doing this as any sort of contest but look over the following images and see if you can tell which came from which camera. When sized down (you can click them for a larger 1400 pixel wide version) it gets tougher to  see the differences.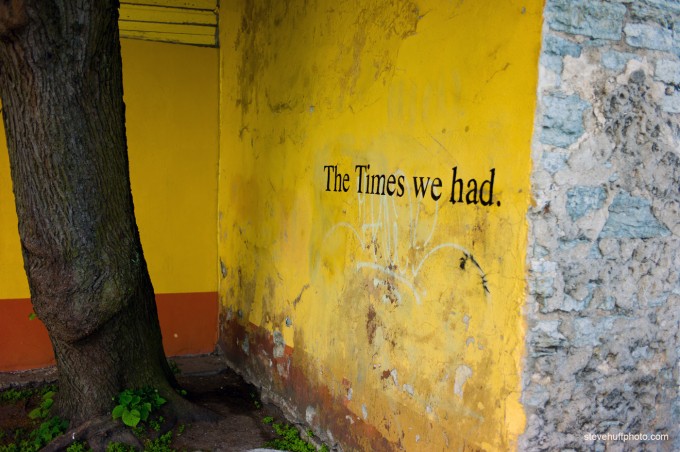 –
–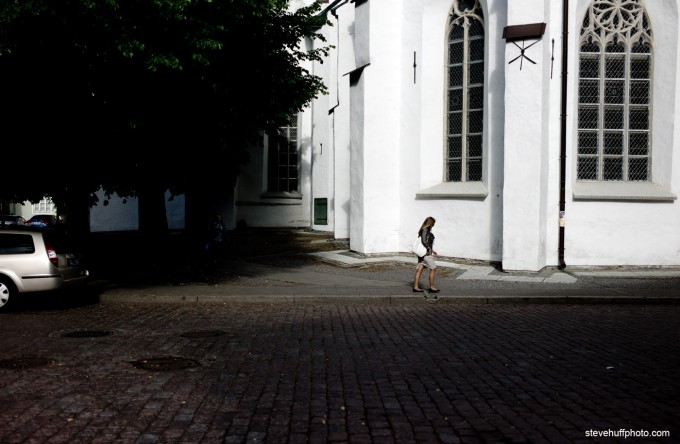 –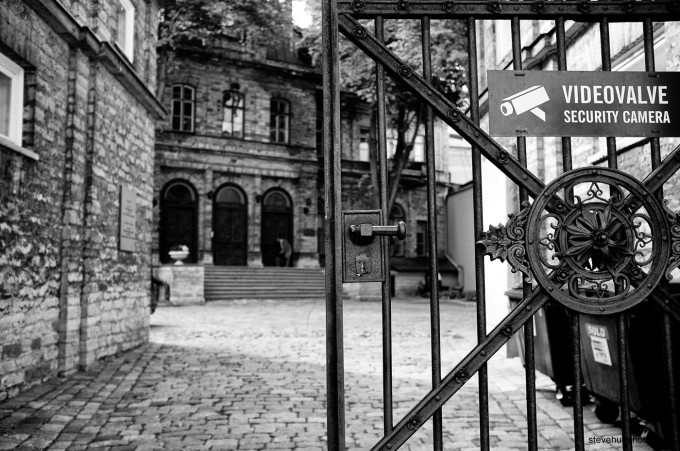 –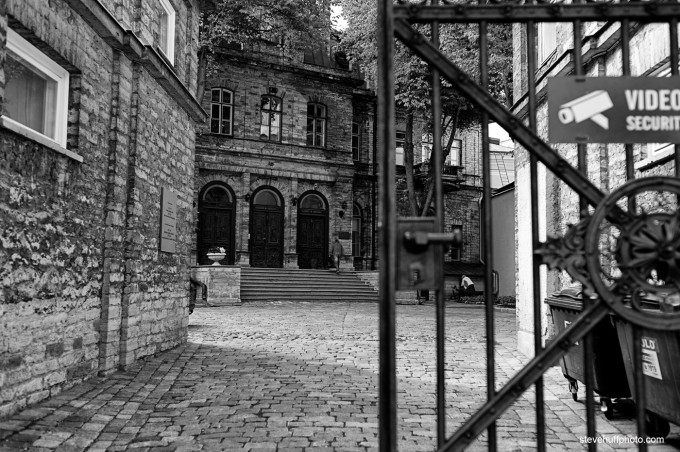 –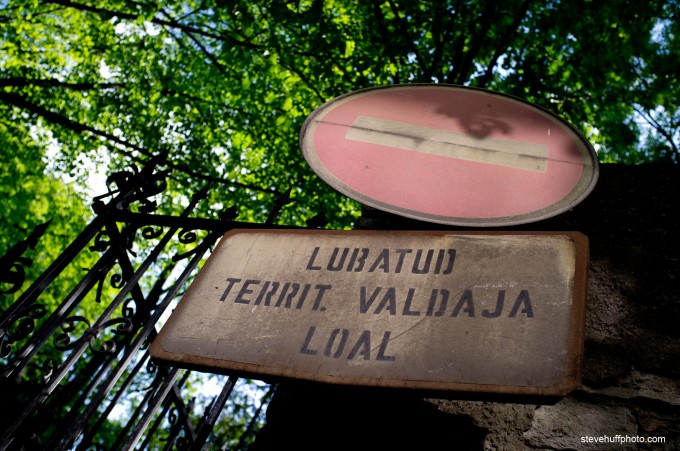 –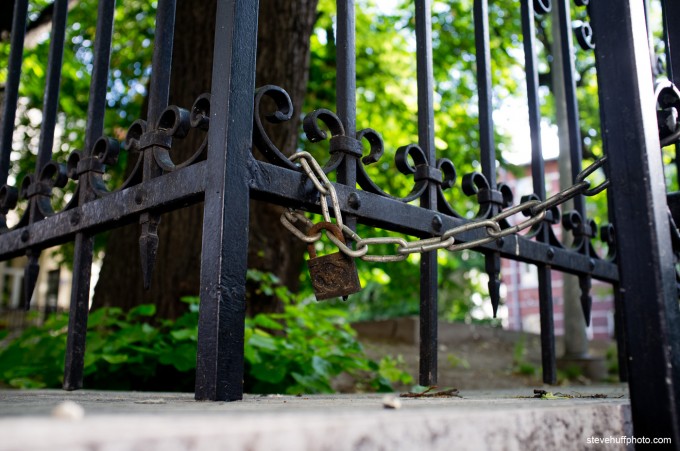 –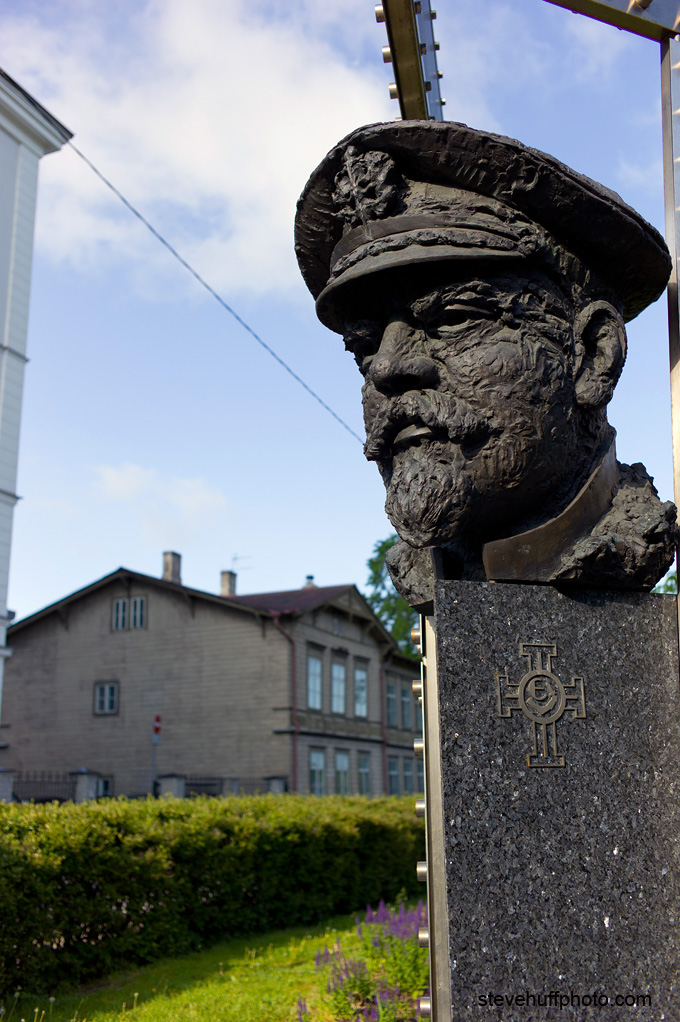 My quick thoughts on the IMAGE QUALITY ONLY of the M9/35 and X100..
M9 files are bigger, more megapixels at 18 vs 12
M9 files will be somewhat smoother and noise free at full 100% view
Metering seems spot on with the X100 due to its three metering modes
White Balance is better on the X100, no question
M9 files can be sharper if focus is nailed
X100 has some distortion, 35 cron doesn't really have any!
Feel free to post your thoughts in the comments below! If you are looking to buy an X100, you can try HERE or HERE
. The M9 can be found HERE, HERE or through Ken Hansen at khpny19@aol.com!
[ad#Adsense Blog Sq Embed Image]
HELP ME TO KEEP THIS SITE GOING AND GROWING!! IT"S EASY TO HELP OUT!
Remember, anytime you follow my links here and buy from B&H or AMAZON,
this helps to keep my site going. If it was not for these links, there would be no way to fund this site, so I thank you in advance if you visit these links. I thank you more if you make a purchase! I have nifty search bars at the upper right of each page so you easily search for something at either store! I currently spend 10-14 hours a day working on this site and the only way that I can pay for it is with your help, so thank you! Currently my traffic has been increasing but my funds to pay for the site has been decreasing, so any help would be GREATLY appreciated!
Even if  you buy baby food, napkins or toothpicks at amazon it helps this site, and you do not pay anything extra by using the links here. Again, you pay nothing extra by using my links, it is just a way to help support this site, so again, I thank you in advance 

If you enjoyed this article/review, feel free to leave a comment at the bottom of this page and also be sure to join me on twitter or my new facebook fan page!
Also, you can subscribe to my feed at my subscribe page HERE and read these posts in your browser or news reader! Be sure and visit the all new forums on the site HERE! THANK YOU ALL!