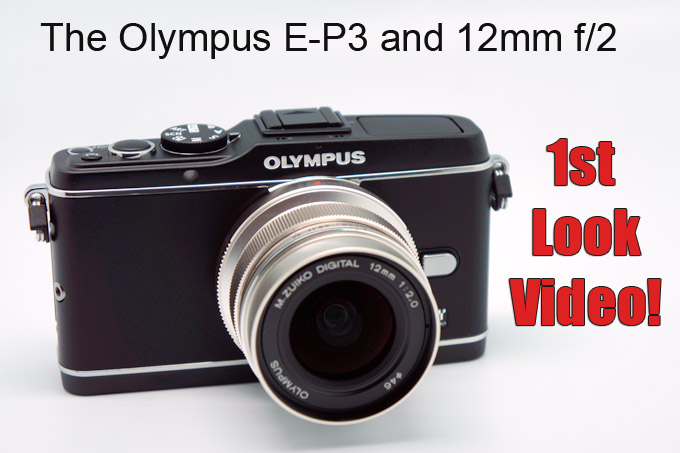 The Olympus E-P3 and 12mm f/2 Very 1st Look Video!
This morning I slept in late due to being up half the night tossing and turning and not long after I stumbled out of bed my doorbell rang. It was my buddy, the FED EX MAN! In his hands he had a box with the Olympus E-P3 and 12mm f/2 lens inside. An expensive combo for Micro 4/3 with the body and kit zoom coming in at $899 and the 12mm lens coming it at $799. I opened the box, threw in the battery (which was 1/2 charged) and shot off a few frames in my backyard to see how this 12mm looks. I am not posting any images YET as they all sucked but I can tell you guys right now that this is probably the FINEST Micro 4/3 lens made to date. If only Oly had put in a built in EVF…THAT would have been amazing. I suspect they will do so soon though to go against the rumored Sony NEX-7. We shall see!
THE VIDEO 1st LOOK!
Below is my 1st look video. It is NOT a review but just my 1st look, showing you the lens, the camera, the LCD, etc. My full review of this combo will be coming within 2 weeks so keep an eye out for it! Until then, enjoy the video!

–
B&H currently has this listed as IN STOCK with the 14-42 kit zoom in black. Also, the 12mm f/2 is also in stock at B&H HERE!
Here is some info on the E-P3:
Blending the classic feel of an all metal body with the highly popular Micro Four Thirds trend in photography,Olympus presents their E-P3 PEN Digital Camera. This version of the E-P3 includes an ED m14-42mm II R f/3.5-5.6 zoom lens as well, to get you out shooting from day one. Highly desired for many reasons, Micro Four Thirds cameras provide an easily transportable body (this one with the look and feel that only a metal body can bring to hand) along with numerous lens options and the features and functions of a full-sized DSLR camera.
The E-P3 has a 12.3Mp Live MOS Sensor and the TruePic VI Image Processor which work together to produce stunningly detailed images at fast speeds. In addition, the camera also has Olympus' FAST AF Tracking System. FAST AF provides 35 focus points along with Tracking AF for fast and accurate focusing on each shot. Other performance considerations include the 12,800 ISO capabilities, an AF Illuminator, and a built-in flash, not to mention blazing shutter speeds with a response time of less than 60 milliseconds.
Still images can be taken using RAW, JPEG, or a combination of the two. And, 3D still images can even be captured as well in the MPO format. Of course, more than a still camera, the E-P3 also captures HD video. You can take up to 29 minutes of 1080/60i video in either AVCHD or AVI formats. No matter, video or still, all files can be stored to external flash memory, including SD, SDHC, SDXC, and UHS-1 cards. Olympus recommends Eye-Fi Class 6 cards for video recording.
The E-P3 has a bountiful set of on-camera controls and menu options, all of which are displayed on the beautiful 3.0″ touch screen OLED display. As is one of the hallmarks of the Micro Four Thirds genre, small in size though it may be, the E-P3 is not short on options. Aside from a bevy of metering and exposures modes, the camera also hosts numerous picture modes, art filters, Live Guides, and white balance modes, among others. Your pictures will be truly your own, utilizing the full range of choices presented by the E-P3; you can even choose to shoot in panorama mode. Other highlights worth mentioning include 3 modes of image stabilization, noise reduction, and basic in-camera image editing.
12.3Mp Live MOS Sensor

Utilizing Fine Detail Processing Technology for greater detail in the photograph, the sensor is optimized to maximize the performance of all M. Zuiko digital lenses in all shooting conditions
TruePic VI Image Processor

The TruePic VI Image processor delivers excellent dynamic range, expanded color accuracy and fidelity, plus reduced noise, all the way up to 12,800 ISO."Fine Detail Processing" technology captures more details in every nuance
Lenses for Every Shooting Challenge

The Olympus PEN MICRO Four Thirds family features eight fully-compatible MICRO Four Thirds lenses. The legendary Olympus Zuiko Digital Four Thirds range of 27 high-quality lenses, OM-series and other manufacturers' lenses can be attached to Olympus PEN cameras with optional adapters. The Olympus PEN E-P3 comes packaged with the movie and still compatible (MSC) ED m14-42mm II R f3.5/5.6 zoom lens (28mm-84mm equivalent)
Fast AF

To meet the demand for focusing speed, Olympus has introduced the FAST AF Tracking System. The FAST AF Tracking System features 35 focus points as well as Tracking AF to ensure fast and accurate focus each and every time
Low Light Performance

The E-P3 provides stellar low light performance with a combination of the AF illuminator, a built-in flash, and ISO up to 12,800
Fast Shutter Response

Never miss a shot again with fast shutter response time of less than 60 milliseconds
HD Movie Capture

A simple, one-touch button allows you to record movies with ease and simplicity, for up to 29 minutes of 1080i HD video. Choose between AVCHD or AVI for amazing clarity right from your camera
3.0″ Touch Screen OLED (614K dots)

The 3.0″ display is a touch interface that gives you the ability to choose AF points, release the shutter, and navigate menus. The VGA equivalent display lets you see richer detail and smoother images with higher contrast and richer blacks
Classic. Compact. All Metal.

A classic, compact, all metal body offers maximum portability for capturing stunning photos and videos anywhere you care to take it
Superior Image Quality

A large 12.3Mp Live MOS Image Sensor delivers the highest quality images. Take great photos in low-light environments thanks to the camera's built-in flash, AF illuminator and ISO up to 12,800. To improve color and speed, the Olympus PEN E-P3 features the TruePic VI Image Processing Engine. Photos and HD videos taken with the PEN E-P3 will be crisp and clear thanks to three modes of in-body image stabilization. Image stabilization built into the camera's body enables photographers to take advantage of this feature with every lens. The camera's award-winning Supersonic Wave Filter patented Dust Reduction System vibrates to remove dust and other particles from the front of the image sensor, capturing it on an adhesive membrane every time the camera is turned on
Blazing Speed

The Olympus PEN E-P3 uses a variety of features to achieve speed rivaling that of the professional Olympus E-5 DSLR. Focus and shoot faster with the camera's 12.3Mp Live MOS Image Sensor, TruePic VI Image Processor and FAST AF Tracking System. The Olympus PEN E-P3 offers 35 separate focus points spread over nearly the entire sensor, enabling the camera to pin-point focus accuracy on small subjects wherever they appear in the frame. Selectable 3×3 groups within the 35-point area are especially effective when shooting active subjects. The camera's fast shutter response time ensures that you will never miss the shot, even in the toughest shooting environments
Creative Freedom

Olympus PEN series cameras put you in the director's chair, offering even more freedom to the creative shooting experience and enabling instant experimentation, feedback and gratification. For the first time, the Olympus PEN E-P3 features full 1080 60i HD Video. Push the direct HD video button to instantly start filming your HD video with a choice between ACVHD and AVI formats with uncompressed CD-quality 16 bit/44.1KHz Linear PCM stereo recording or AC3 Dolby Digital AudioIn-camera features such as Art Filters, Multiple Exposure and In-Camera Editing enable photographers to capture the world as they see it. The Olympus PEN E-P3 features 10 Art Filters: Diorama, Pop Art, Soft Focus, Pale & Light Color, Light Tone, Grainy Film, Pin Hole, Cross Process, Gentle Sepia and Dramatic Tone. The camera also features nine Art Filter variations and enhancements, including Pale and Light Color II, and five Art Filter Effects, including new Star Light and White Edge. The Art Filter Bracketing function helps you develop multiple pictures utilizing different Art Filters with a single shot, making it possible to experiment with several different photographic effects at the same time. Photographers can use Art Filters in all shooting modes: shutter priority, aperture priority, manual and program auto modes for expanded control. All Art Filters can be applied to both still shots and Standard Definition or HD movies. Art Filters set the Olympus PEN E-P3's images and videos apart from the pack. Since they're built into the camera, Art Filters can help you achieve dramatic results on the go without the need for a computer or editing softwareThe Olympus PEN E-P3 shoots dynamic 3D photos in any situation from macro to landscape. Recreate a sense of depth like that of the original scene. Simply select the 3D Photo Mode, release the shutter, and slowly pan until the camera automatically takes a second image from a slightly different perspective. The 3D data is processed in-camera resulting in an .MPO file, the universal industry 3D format for easy display on 3D televisions or laptops
Expanded Control Combined with Ease of Use

Controlling the Olympus PEN E-P3 is simple with its next-generation, three-inch, touch-sensitive 614,000 pixel OLED display. Consuming much less energy than the traditional LCD, this display has a wide 176 degree angle of view and is bright enough to compose images even in harsh midday light. With the camera's intuitive graphic user interface and touch screen, it is easy to capture a picture, change camera settings or navigate the Live Guide controls by simply touching the screen. Going through a day's photos is easy by scrolling through and enlarging photos with the tap of a fingerThe Olympus PEN E-P3's built-in, pop-up flash makes it easy to illuminate low-light subjects, reduce red-eye and fill in dark areas. The camera is compatible with SDHC, SDXC and UHS-1 memory cards for greater speed and capacity and can be utilized with the Olympus PENPAL or various Eye-Fi cards for instant wireless uploads to your favorite social or photo sharing websitesOlympus has added a rotational dial, sub-dial and two function buttons to the back of the PEN E-P3 so photographers can make rapid changes to menu settings and maximize the camera's performance. With a thumb, photographers can adjust aperture and exposure time in an instant without switching between menu selections. Hands-on shooters will appreciate the two customizable buttons they can assign to favorite functions. Photographers will appreciate how the camera's mode dial enables access to basic settingsThe Level Gauge in the Olympus PEN E-P3 is a tremendous benefit for architectural photographers who must ensure that images of buildings are as centered and true as the walls of the buildings themselves. This feature detects the camera's pitch and roll during Live View operation so photographers can make sure subjects appear where they should in the frame
[ad#Adsense Blog Sq Embed Image]