Out on the street with the Olympus E-P3 and 12mm f/2 lens
Yep! I'm still using this little Olympus E-P3 and 12mm lens and am letting my Leica M9-P get some rest. On my recent 24 hour Vegas trip I left the M9-P at home as my mission was to shoot the Sony NEX-C3 and Noktor 50 Hyperprime as well as the SLR Magic 28 2.8. I did bring along the E-P3 and 12mm in case I wanted to shoot any side by side stuff. What ended up happening though was I started shooting the E-P3 more than the NEX! Even my buddy kept reminding me that I was shooting with the wrong camera, haha. Well, this is the thing I am talking about with the E-P series. They are so damn fun to shoot. They feel great in the hand. The controls are just right there where you want them and with the new E-P3 being so fast, it's almost foolproof.
I shot the camera in the full Nevada sun (which can at times be a little more intense than the Phoenix sun), and also at night time at ISO 3200 using the grainy black and white setting which adds MORE grain to the images. I have tested small AF cameras on the street like this before. Cameras like the Ricoh GXR which gave me good output but was very slow to focus in the low light. The NEX-5 which did great when I shot it at ISO 6400 on the light rail. The Leica X1, which would not even be usable in low light like I shot the E-P3 below,  just due to it's very slow AF. It could be used in manual though, but not with 100% accuracy when moving quick.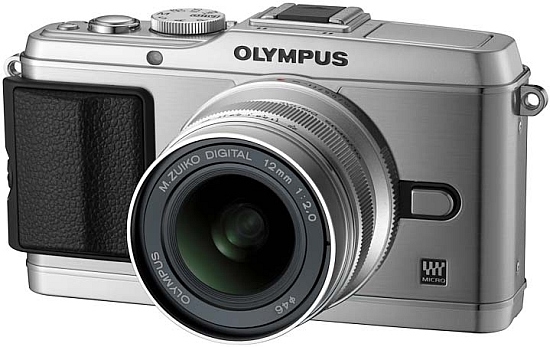 Then we have the Fuji X100, which I adore. BUT if I tried using it in the late night darkness the AF would fail. Too slow. When shooting the E-P3 with the 12mm, even wide open and in dark areas the AF is just about instant, even in lower light. The KIT ZOOM is also lightning fast which tells me that cameras like this, with their contrast detect AF, CAN BE SUPER FAST. It just makes for fun, stress free, and exciting shooting. Then, with a lens like the 12mm, if I want to go manual I just slip the focus ring back and set my distance in feet for some zone focusing fun. I have been reading complaints online where people who do not own the E-P3 are moaning and groaning saying the sensor tech is lagging. Even DPreview posted their full E-P3 review only to conclude that it would have gotten their highest recommendation if the sensor was more megapixels and newer. So what they are saying is that the sensor in the E-P3 (which apparantly is the old E-P2 sensor, but has been tweaked) is too old. Does this mean that you can not take quality photos with it? The answer to that is NO. Of course you can. As a matter of fact, the only one s I have seen complaining about the E-P3 are the people who do not own one. Those who do seem to LOVE the camera, which is my experience as well.
I mean, how long has Tri-X been around in the film world? It still works and I am here to say that the sensor in the E-P3 does indeed still work 🙂 Could it be better? Not really much better as this is micro 4/3 and there are limitations but the quality as it stands now is good enough for 98% of shooters.
The fact of the matter is, even in the new Panasonic G3, which to me, does not feel as nice in my hand, nor to control as the E-P3, has more megapixels and about a half stop improvement in high ISO. It may be a tiny but sharper but I mean, really? The 12MP of the E-P3 is wonderful. Much like another camera that I used to own and LOVE. It was a favorite of mine back in the day and I got slammed when I would post how great it was on forums. I remember taking side by side shots with it and the Canon 5D and I would get better results with the 4MP camera in many situations! I was SLAMMED for saying  this but I did show examples. That camera was the Nikon D2Hs. It was 4MP but man, the quality of the pixels was amazing. Those who owned one (or still do) know what I am talking about. That camera now has sort of a little cult following, even today.
But I am not here today to talk about the D2Hs. Instead, I am here to show some recent examples of out of camera JPEGS shot with the E-P3. Some street shots at night with high ISO and the grainy B&W art filter and a few things in between. Enjoy, and if you have been on the fence about the E-P3 and are invested in the M 4/3 system, I'd say GO FOR IT. It is wonderful and a big improvement in just about every area over the E-P1 and E-P2. The new Panasonic 25 1.4 lens and the new Olympus 45 1.8 (both of which I will review here) will give us a GREAT set of fast primes..12, 25 and 45 which will equal 24, 50 and 90. I'm so happy that the M 4/3 format is starting to mature. The camera is slick, it's fast, it's comfortable, it's built well and like I said in my review, it is THE BEST PEN to date!
OK, ON TO THE IMAGES!
UPDATE – A couple of grumpy people seem to be confused and think my review shots are meant to be works of art to be hung on walls. No, they are not 🙂 – My review shots are just that, shots to review the camera. Snapshots like most people will shoot. Just showing what to expect out of cameras and lenses. My Photo work and print sales are not the photos you find in my reviews 🙂 So keep this in mind. As with ANY camera review site, judge the camera output, not the photo itself. Thank you!
All images are JPEGS from the camera. In some images, contrast, saturation have been adjusted. CLICK ANY IMAGE FOR LARGER VERSION.
Walking the street in downtown Las Vegas (Fremont Street) is an explosion of light and color. This was shot with the 12mm at what appears to be f/3.2 (exif says so). Love the color.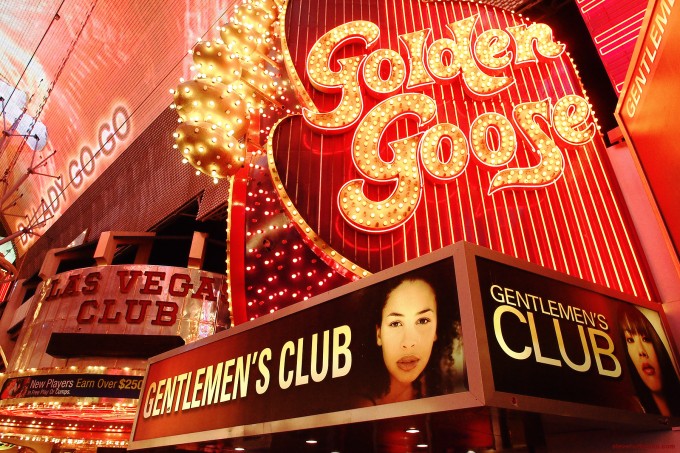 –
and more from Fremont street
–
–
Inside Caesars Palace I shot this at f/2. Out of camera JPEG here. Click for larger.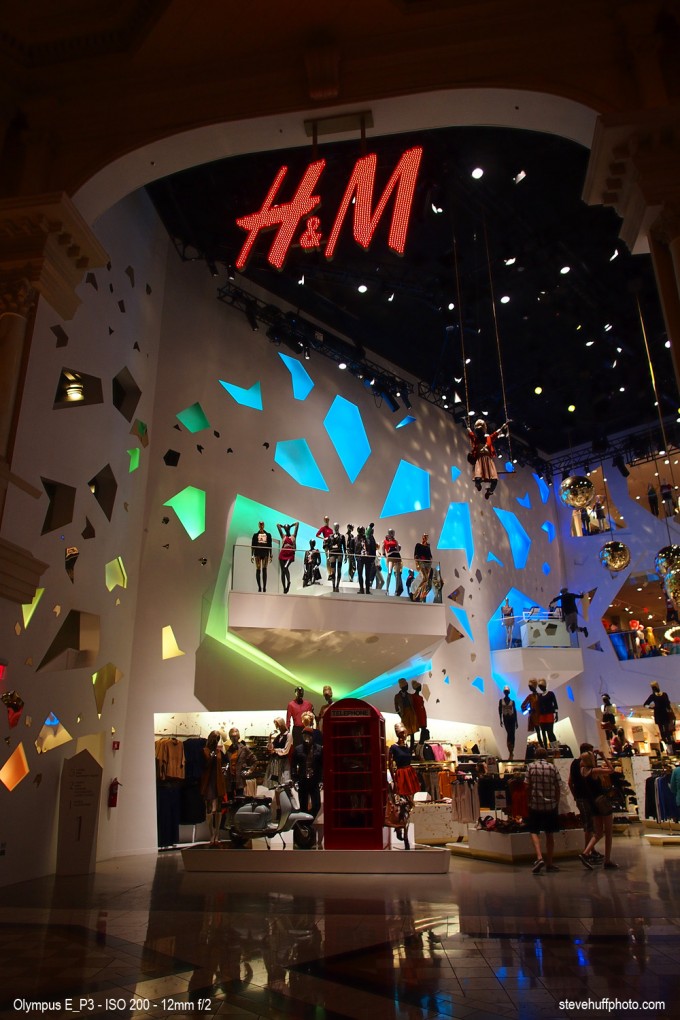 –
Olympus E-P3 – ISO 1000 – Inside Ceasars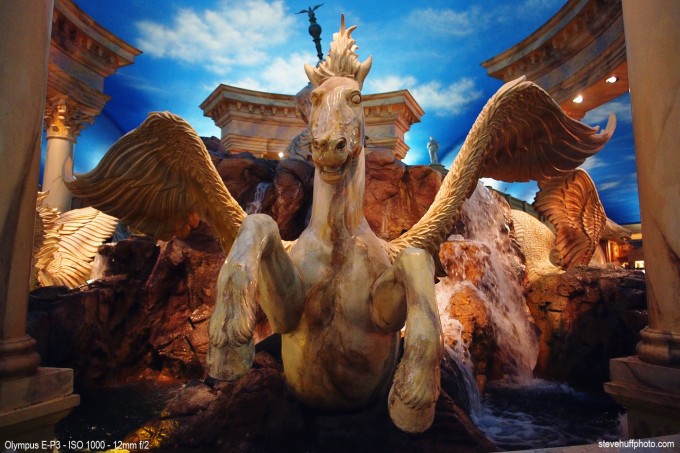 –
Fremont Street with 12mm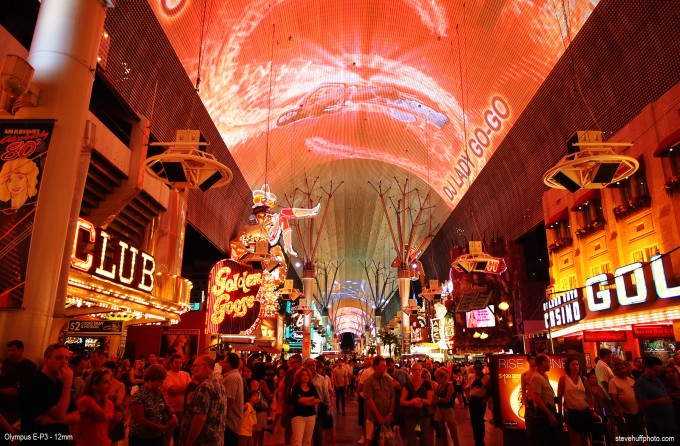 –
Street performers are everywhere it seems…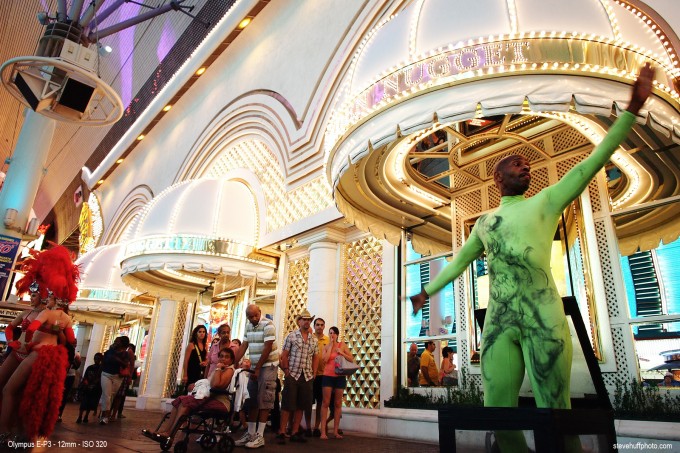 –
Switching over to grainy B&W mode and higher ISO – These were all shot late night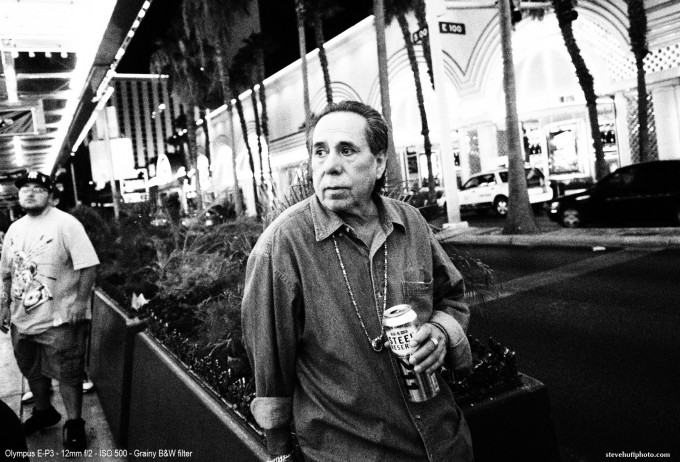 –
About to get a new tattoo.
Remember, grain is ADDED to these by using the grainy art filter – gives it some grit and grime – ISO 2000, 12mm.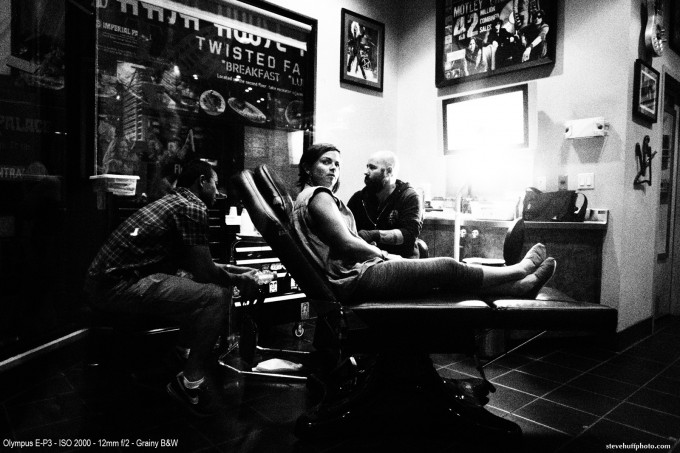 –
woody just chilling on the strip…ISO 2000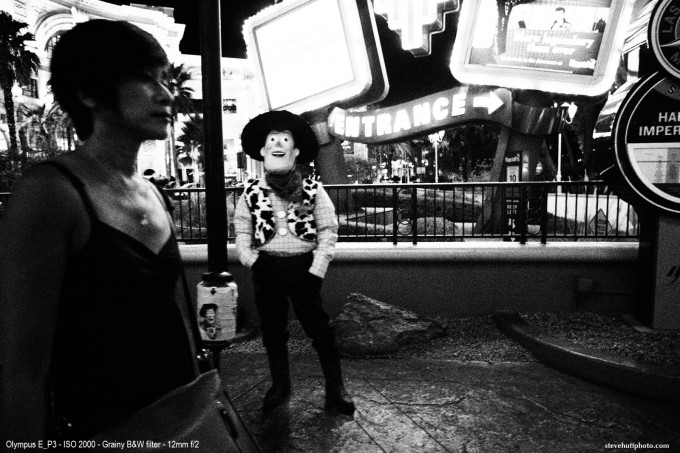 –
Minnie Mouse taking a break – ISO 3200 – Grainy mode – 12mm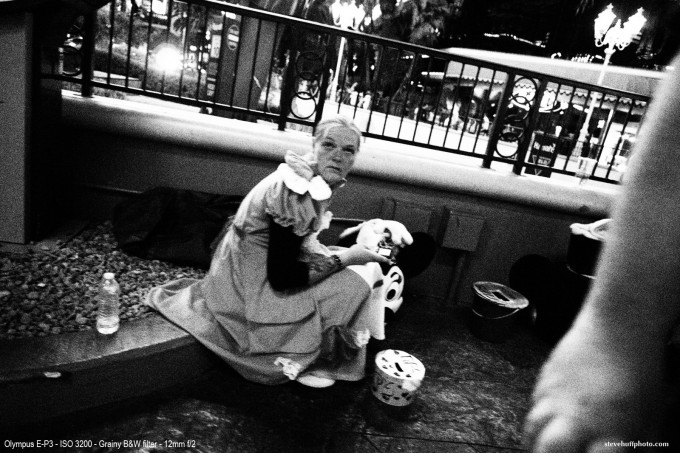 –
This was shot in a dark casino, ISO 3200, grainy mode AS I WALKED by. I lifted, the camera focused and I snapped. All took place in a fraction of a second. Yes, it is blurred because I was walking but shows how fast the AF is in low light.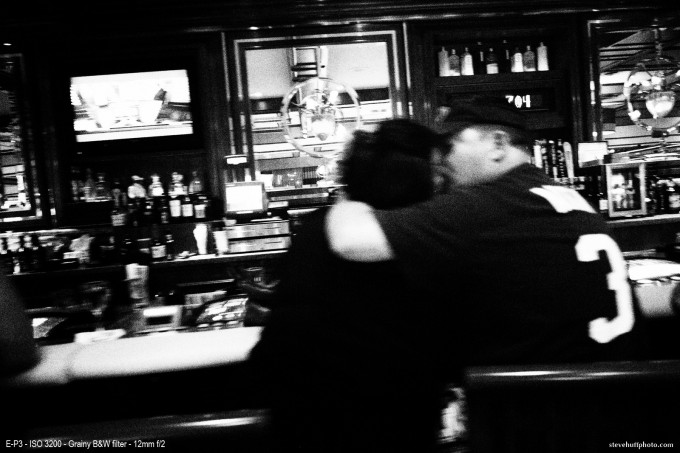 –
My buddy Mike  – ISO 2500 – grainy B&W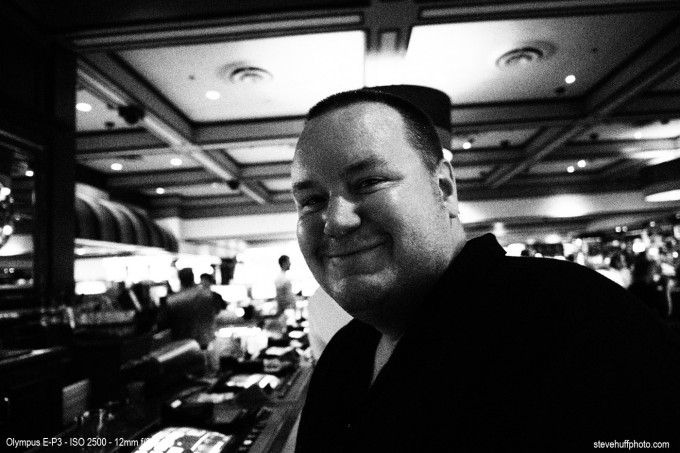 –
and again a few minutes later – ISO 1250 – f/2 – Grainy B&W mode.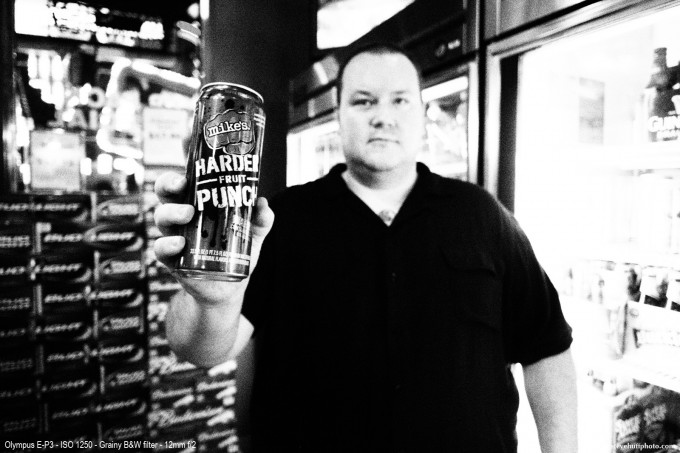 –
[ad#Adsense Blog Sq Embed Image]