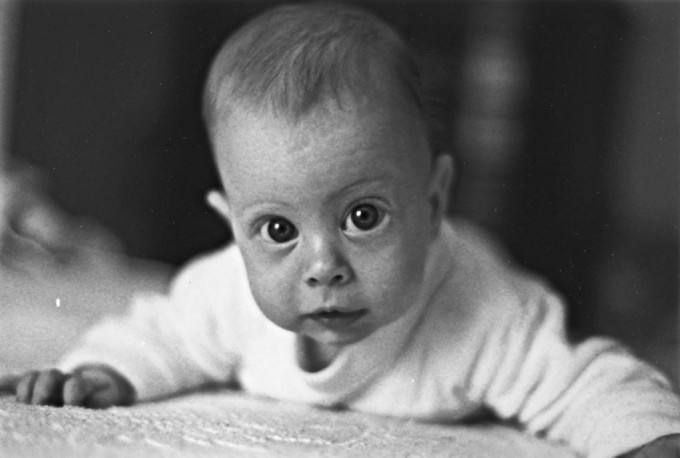 GUEST POST: The lesson of my photographic lament by Rey Spadoni
I have fallen in love with photography.  Twice.
First, though, I must forewarn those among you with the stamina to trudge toward the conclusion of this brief photo essay – this is a tale of regret… a confession of sorts.  But, as with most proper confessions, there's a consolation and freedom in naming the offense.  In this context, my admission is that I fell out of love with photography.  At the worst possible time….
The photo at the top of this post is of my oldest daughter.  As she was learning to lift her head and discover her surroundings, for maybe the first time, my brother Rob grabbed this image with a film era Minolta SLR.  He was shooting Tri-X or equivalent black and white emulsion and I barely noticed that he was photographing her.  Now, twenty plus years later, it remains one of my favorite photos.
As a young teen, my fortunate acquisition of a Petri rangefinder camera (a gift of co-Guy, brother Ed) started a love affair with photography.  This phase included setting up a darkroom in my parents' basement, moving up to a fully manual Pentax K1000, transforming into "that guy with a camera" during high school and college years, always gaining admission to sidelines and court sides at the sporting events of the era, and achieving a level of sophistication and success that even prompted me to consider a career in photography for but a fleeting moment.
The arrival of serious adult life, with careers and mortgages, left me with little time or interest in photography.  I sold off all of my equipment and considered it all to be merely a step along the path… one I had moved on from.
Step forward approximately 18 years and I came upon a once in a lifetime opportunity to toss my family into a Honda Odyssey minivan and to drive from the Atlantic to the Pacific and back again; it was truly a life changing event for all of us – hey, that might be the subject of another post someday.  To prepare, I picked up a Canon G2 digital camera.  I had even contemplated getting a film SLR as digital was the new, new thing… but it hadn't conquered all just yet.  Thus began my second photographic fling.
In those intervening years, some terrific things happened: I became married, traveled to an amazing tropical paradise on my honeymoon and visited some wonderful locations around the globe with my wife.  We bought and fixed up our first home, transforming it from worst house on the block to not-so-worst house on the block.  And we started a family.  But… the only photos of all of those events are from my wife's simple and frequently overwhelmed point and shoot camera.  Otherwise, all of those moments would be contained merely in my fading memory.  But I do have those occasional photographic gems captured by true photographers, such as the one by Rob above.
For a time, I stewed over these opportunities lost.  As someone who now seeks the beauty hidden in everyday life, I wonder what I would have found had I been so inclined during those dark years.  I envision a home full of striking photos of my children as they progressed through the earliest stages of life, from infant to toddler… learning to crawl, hanging onto the edge of a playpen and then walking.  I can see our trips apple picking, with each of them successively filling in the baby blue backpack carrier I wore to endless adventures.  I can see them dancing to the music we blared from pre-iPod era speakers in our living room.  I can see.  Disney World.  Mountain hikes.  Christmas mornings.  All now mostly strands of recollection… fading like old photographs from ancient albums.  Almost gone.
But, I am a photographer now. These are not dark years.  They are filled with light and I am walking through time carrying a recorder so that my future will be filled with more than the fading strands of recollection.  The beauty around me, including of my family… older now, but still experiencing milestones for the very first time… abounds.
This very morning, I walked along a Cape Cod beach at sunrise.  The forecast was for rain, but the unsettled front moving up the coastline allowed for the bright and dark patches soaring above my head and a sense that there is still time left.
I'm walking a bit more slowly now.  I don't fix up houses any more.  I favor smaller and lighter cameras…
… but the dark years have ended.  There is light left to see.  And capture.
by Rey Spadoni
Interested in writing a guest post or user report? If so, e-mail me with your idea/article

HERE

. Posting an article here will be seen by tens of thousands people daily.