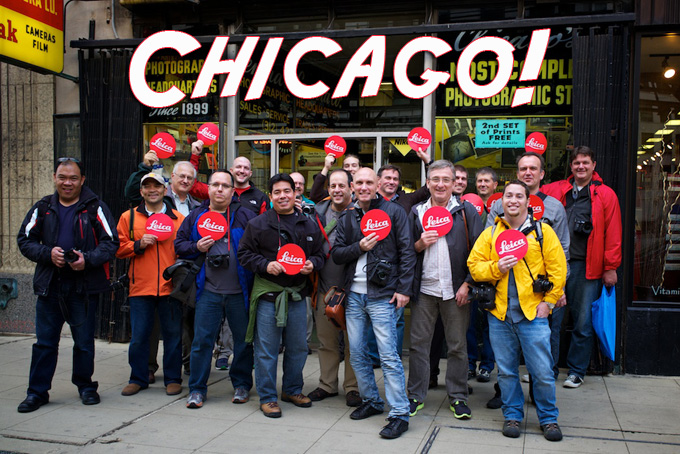 The Chicago Workshop was Awesome! 
Many of you may have noticed that I did not update my site this weekend. Well, that was because I was in Chicago since Thursday for the workshop you have been reading about here on the site. I was a bit worried when flying in because the weather forecast called for rain on Saturday and street shooting with digital cameras in the rain can be dangerous but at the same time, shooting in the rain can provide for some cool photo opportunities as well.
This post will feature my thoughts on the day as well as the photos I shot. But this day was NOT about me, it was about all who attended so I will have another post in a few days with everyones photos from the day.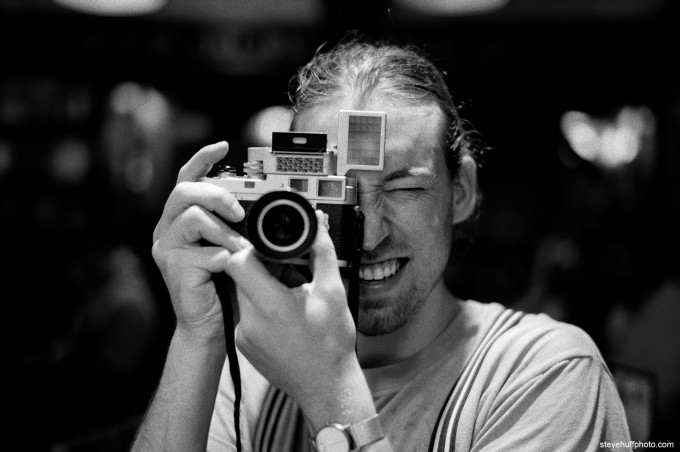 –
8AM, we all meet for coffee at Intelligentsia!
Seventeen of us gathered downtown for a day of new friends, learning, and on the street shooting. The goal of the day was to take everyone out of their comfort zone and to not only shoot discreetly on the street, but also to approach people for street portraits. There were two guest speakers and I had a keynote presentation on two ways to shoot on the street. Before all of this though we all met bright and early at 8am at Intelligentsia which has the most amazing coffee/espresso/latte I have ever had. We all did our introductions while we enjoyed coffee and muffins and then we headed towards base camp…in the rain.
Don't let rain stop yo from shooting as reflections can make for some interesting photos…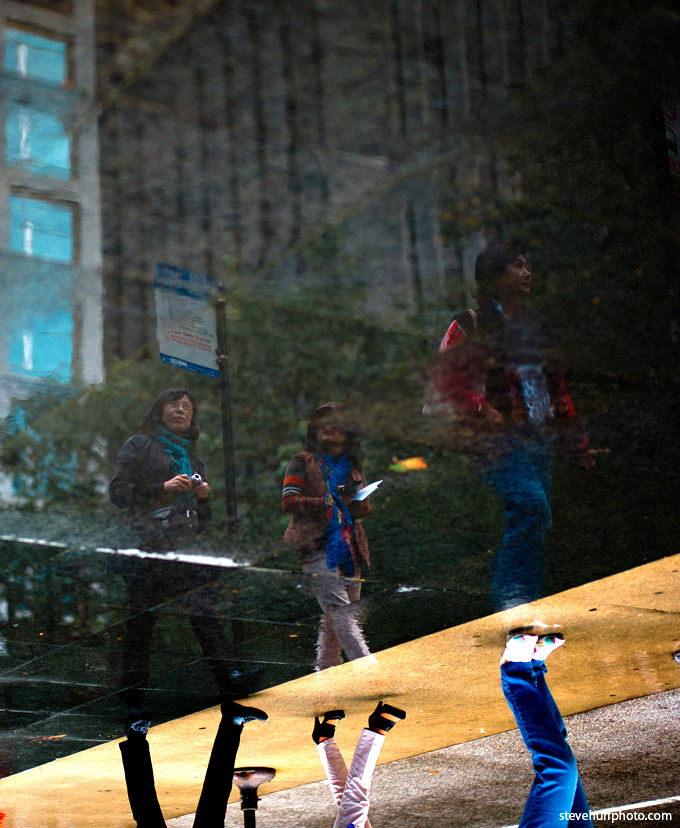 –
Presentations, Discussions & Street Shooting!
We spent about 90 minutes on the three presentations and some discussion on street photography and then we headed out to shoot as everyone had their assignment to bring back one street portrait that was to be taken with permission and three street candid shots in the traditional street style. There was a mix of cameras there ranging from a Panasonic GF-1, Olympus E-P3, Nikon D90, Olympus E-1 and a few Leica M9's and a couple of film M's as well. Bradley even had a darkroom set up for film processing! How cool is that? There were also complete newbies, amateurs, and those who were more advanced in the group. It was a great mix of great guys.
I want to thank the Guest Speakers, Steven Blewett and Stuart Sipahigil who gave an awesome presentation on finding photos close to home. Stuart also does his own workshops with details HERE.
So after the presentations everyone headed out. The weather, while still rainy, started to clear up. At one point it was coming down hard and we sort of took cover near some wall/street art/
Gotta love B&W – Click for larger and better version!
–
This guy was not part of our group but he was also out doing some street shooting…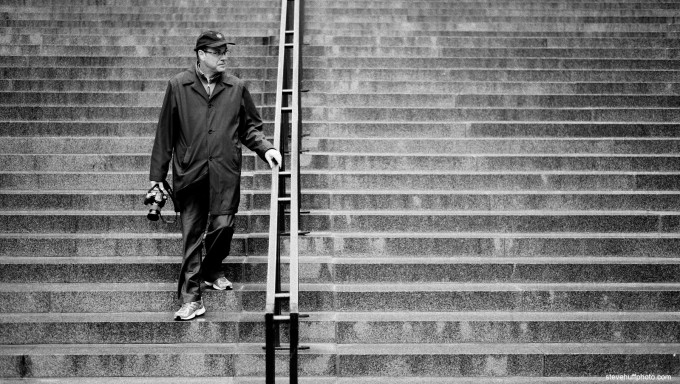 –
As we walked the streets on our way to lunch we must have seen 4 or 5 weddings (well, I did). Right as some of us walked by this one we were able to snap a kiss right behind the official photographer.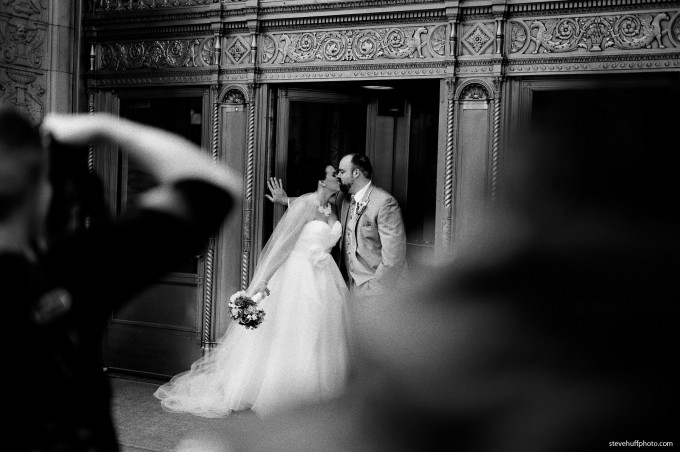 –
Lunch At Pizzeria Due
We made it to Pizzeria Due at 1pm for lunch and they had our table all ready and the pizzas took only 10 minutes. The waitress took a group shot of us inside…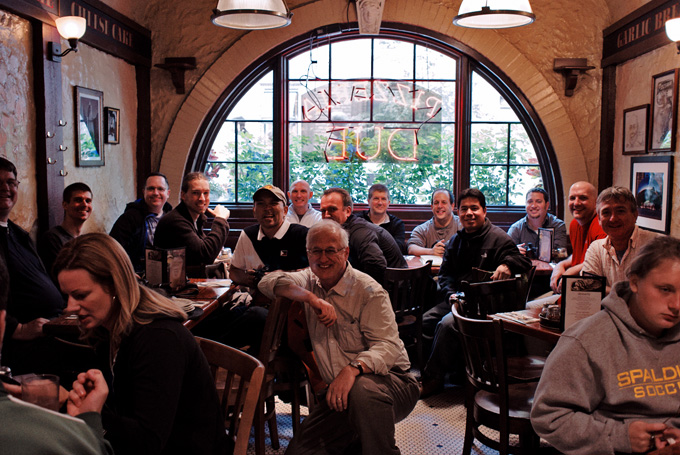 –
A Visit To Central Camera, Chicagos oldest Camera Shop
After lunch we all  shot more and everyone finished up getting shots for their assignments and then we walked over to Central Camera, Chicago's oldest camera shop. While there we were given some history of the shop, we browsed some used Leica gear and then we were given free Leica mouse pads courtesy of Central Camera. I was shooting the Pentax Q a little during the workshop and shot one of one of the employees with the kit 1.9 lens. The sensor is tiny but it's a REALLy cool and fun camera, I have to admit.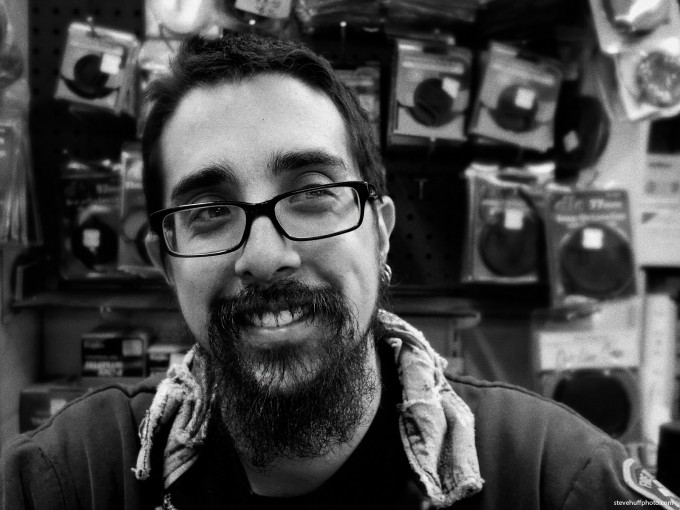 –
We then had a group shot of everyone taken in front of Central Camera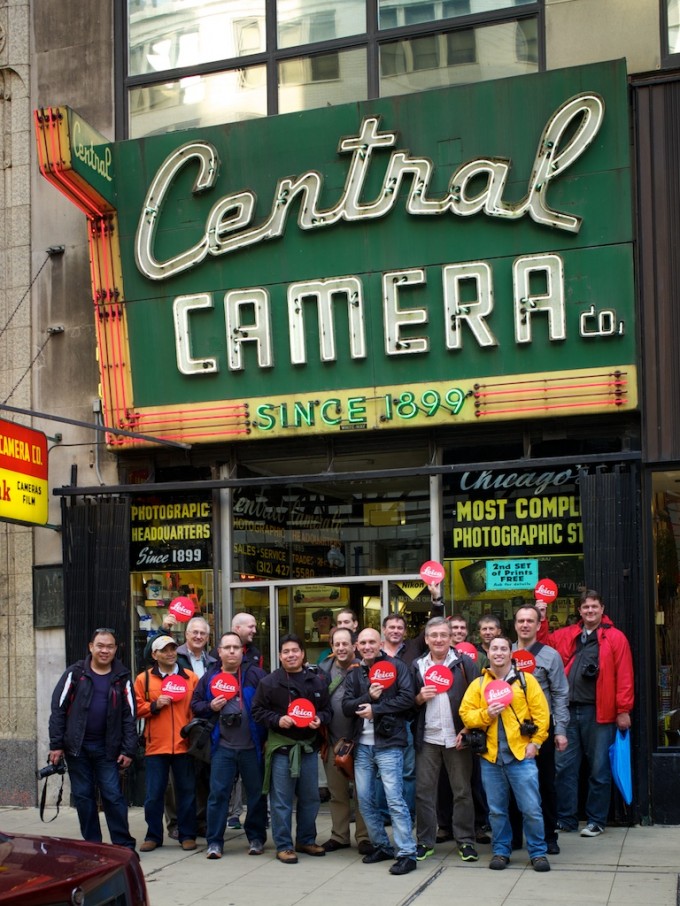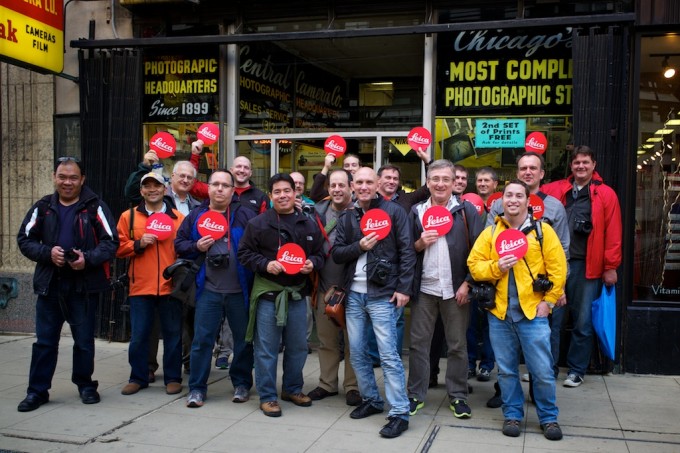 The Rain cleared and we finished up the photo walk
The sun was shining and the weather warmed up for the 2nd half of the day so we took a pretty long route to get the most out of it. As we headed back through Millennium Park the sun was shining and it was gorgeous outside. We enjoyed the walk back to base camp for the final editing. We decided to show the images on the HDTV and have Bradley's girlfriend Carola (who is a photographer and artist) pick her favorite street shot from the day, and the winner would win a classic and mint Leica Digilux 1 & Leica leather case. The winning shot will be posted this week with everyone else's photos from the day.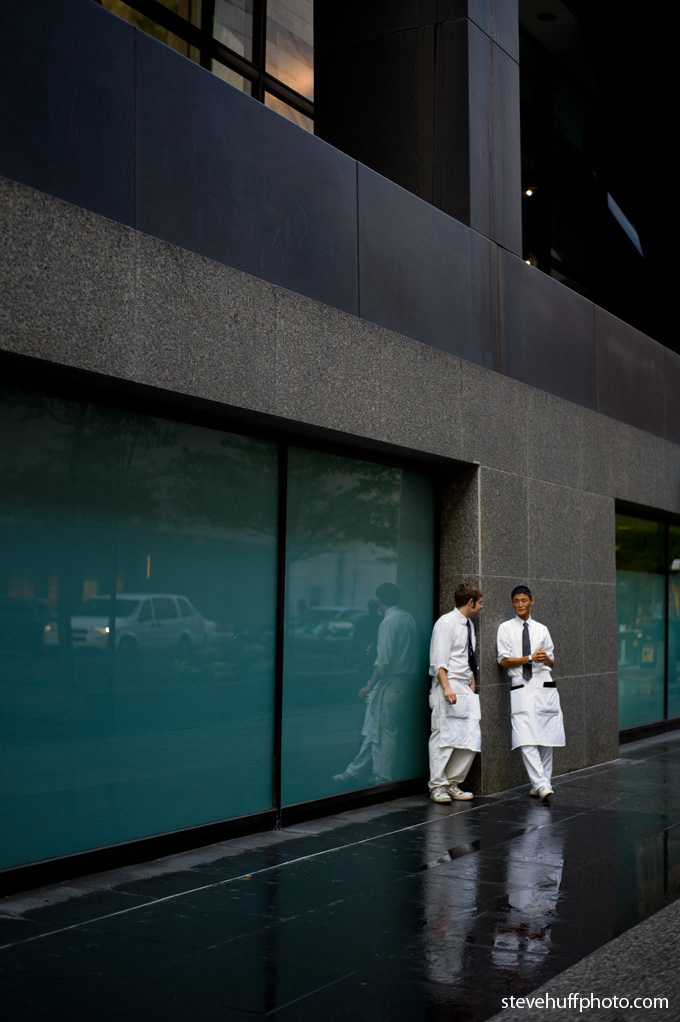 –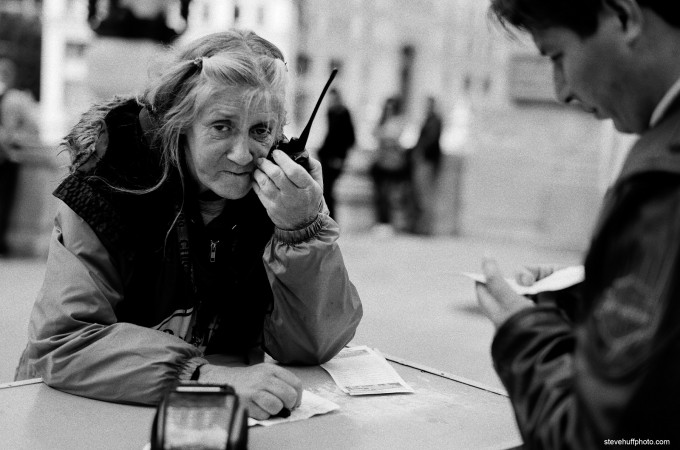 –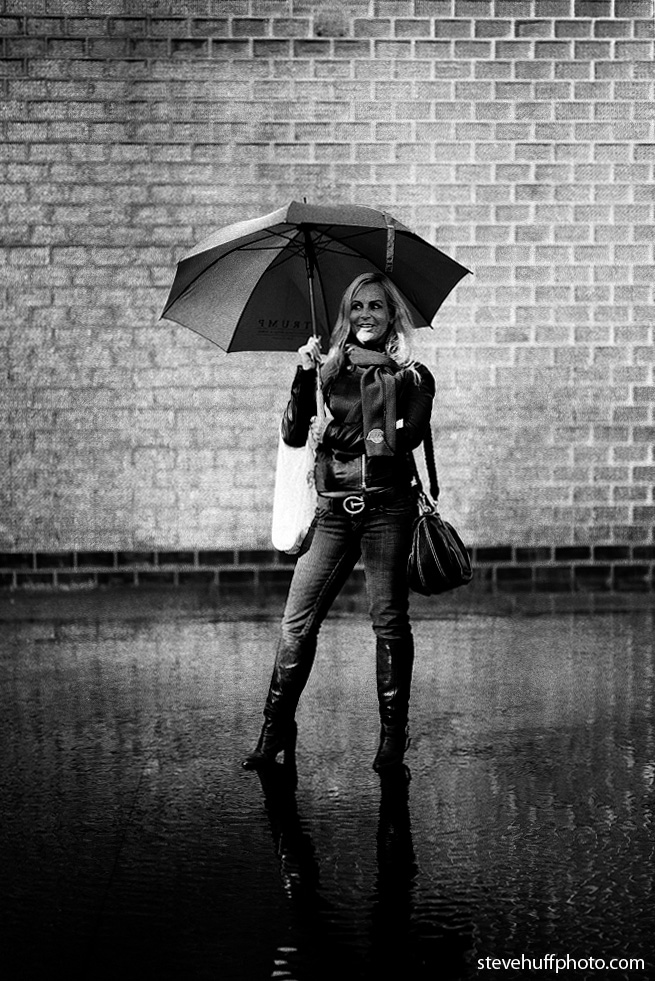 –
–
The day ended and everyone said their goodbyes. It was a great day and I will return to Chicago in the future for another workshop! It was great to meet all of you and it was clear that by the end of the day everyone had a great time. Thanks to all who attended and I hope to see you again soon! Next up on the workshop agenda? Maybe a two day event in San Francisco with something REALLY cool to be included as part of the event. Can't wait!
This week I will have my Pentax Q review up, the photos from all of the attendees at Chicago, and I also will have in hand TOMORROW (monday) the Ricoh GXR M Module so I can start reviewing that as well. ALSO, the Olympus 45 1.8 lens arrives to me Tuesday so look for that review soon as well!
Oh, and if any of those who attended has shots of us shooting or cool scenes from the day, post them in the comments!
[ad#Adsense Blog Sq Embed Image]