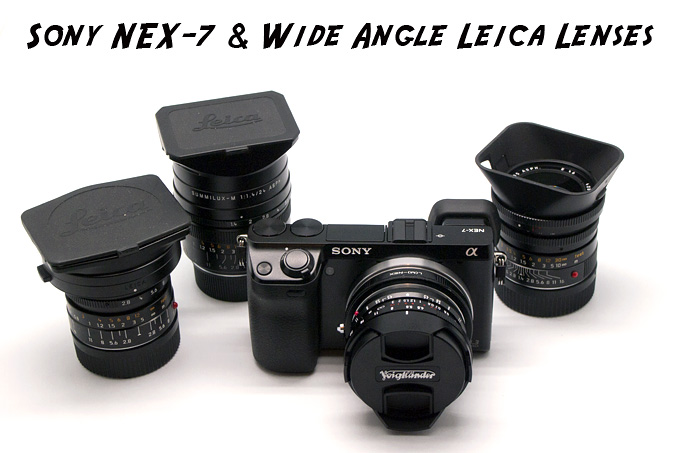 The Sony NEX-7 with wide angle Leica lenses – A quick test and GXR comparison!
UPDATED WITH A SONY NEX-5n vs NEX-7 COMPARISON for COLOR SHIFT
It's FRIDAY and I am in the best mood ever today. Why? Well, It's gonna be a killer Halloween weekend. I love Halloween, and this year I am going to a couple of parties and am planning on bringing my camera along with me. Which one? Probably the E-P3 and Panasonic 20 1.7 due  to it's fast AF. I will not be bringing the NEX-7 because A: It is not mine and B: I have to send it back on Monday to Sony. I have enjoyed my time with the camera and shot with it daily for the last 3 weeks or so and it seems my last ISO comparison between the 7 and 5n stirred up some controversy (and traffic..and some commenters that wouldn't stop)! Bottom line is that I shot each camera in that test how they were meant to be shot. I was showing what you can expect from each camera when using it and letting the camera choose the exposure. It is what you will get in real life, not scientific testing. Besides, the NEX-7 was NOT underexposed. But anyway….enough of that. The bottom line is that the 5n is a little better at high ISO than the 7, but we all knew this already didn't we? Besides, who here shoots at 3200 and up on a regular or non regular basis? Not many. I am sure other sites will be doing all of the scientific testing soon so for those who crave that…patience!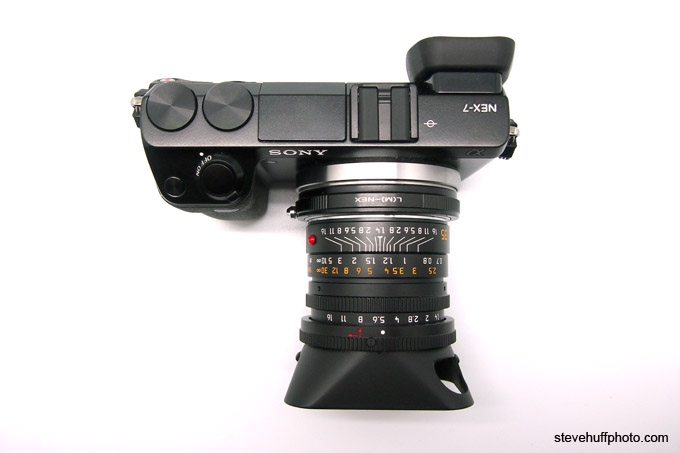 LensRentals.com Sponsored this test!
Thanks to LenRentals.com I was able to do some quick tests on the NEX-7 with some wide angle Leica lenses!  – Visit LENRENTALS.COM  as they rent more than just Leica. They rent Sony, Olympus, Leica, Canon and Nikon – bodies, lenses and accessories! 
So seeing that I wear able to get a hold of some lenses for a couple of days today I wanted to post some QUICK shots I snapped with the NEX-7 and these wide angles. I only had these lenses for three days so did not get to shoot much with them at all. I have been extremely busy with this site, e-mail, and personal things as well so I was just able to get out yesterday to shoot and I also brought along the Ricoh GXR M mount module (which I also have to return on Monday to Ricoh..contrary to popular belief, I do not get to keep anything).
But again let me thank LenRentals.com as they were kind enough to send me these lenses at no charge so I could do this test and add to my NEX-7 review. Without their help I could not have done this. So thank you LENSRENTALS!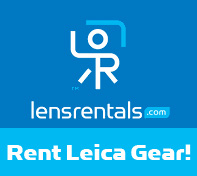 –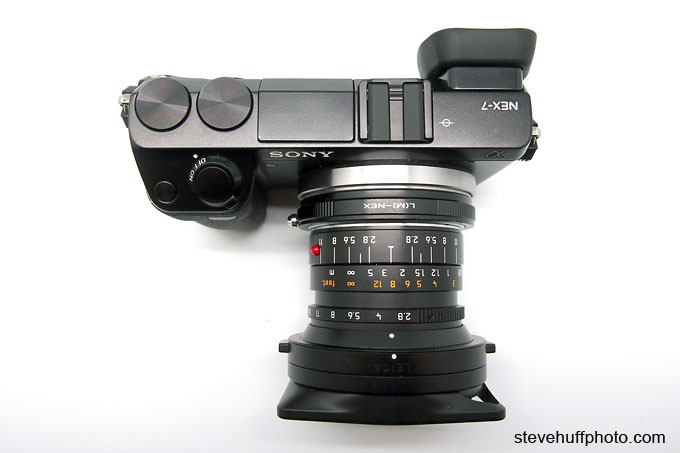 Onto the Images!
So the images you see below are all quick and dirty test shots out of the camera. They are not meant to be good photos, just test shots that should give you an idea on how these lenses can perform on the NEX-7. Let's face it. There is no way I can shoot winning photos 7 days a week in Phx AZ 🙂
One thing to notice in some of the images below and that is that the Leica 21 Elmarit and the Voigtlander 15mm have the bad magenta color shifts on the NEX-7 with the magenta edges/corners. The GXR does NOT do this so this shows how Ricoh got it right when designing their dedicated module, as they should have. It is a dedicated one trick pony module designed to do one thing and one thing right, and they succeeded. The 15 may not be perfect on the GXR but it is miles better than it is on the NEX-7. UPDATE! Just tested the 15mm on the NEX-5n and it is perfect! No color shift. This is disappointing to me and now I am am going to have to slightly alter my "conclusion" in my NEX-7 review. You can see the samples below…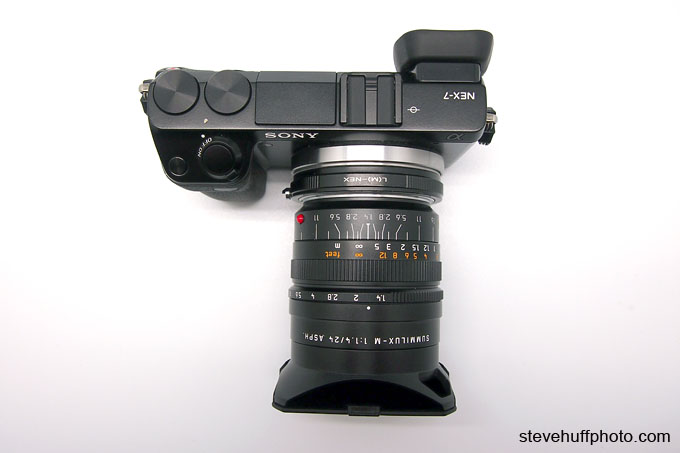 The NEX-7 was obviously NOT designed for Leica glass. You can see that using lenses 24 and wider can get you some nasty color shifts, just like the M9 used to do (and still does with the Voigtlander). But the GXR and 5n are clean. Why the 5n works well and not the 7 is beyond me.
One other thing I noticed is that the Sony can put out a very sharp image when using 35mm and longer Leica lenses. The GXR is a tad sharper though. The 35 Lux performed wonderfully on the NEX even with the CHEAP adapter I used today that was a bit loose and wobbly. I accidentally left my good one on the 5n at home but it still worked out even though I had a few out of focus shots from the NEX, and IMO, this is due  to the wobbly adapter.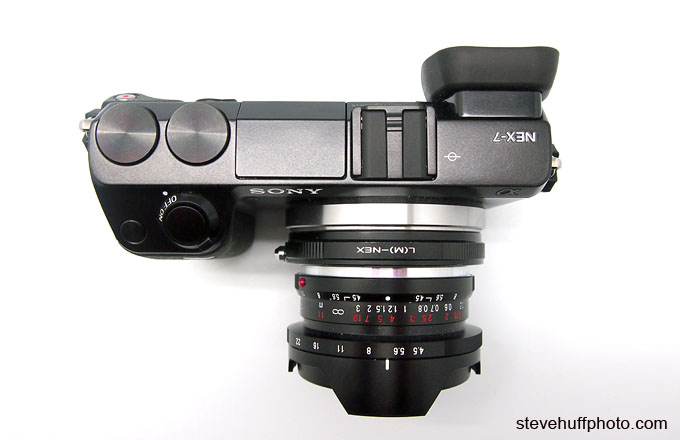 –
OK, NOW the images!
CLICK EACH IMAGE FOR LARGER 1800 PIXEL WIDE VERSION
The NEX-7 and 35 Summilux ASPH at 1.4 – This one was from RAW (Capture One)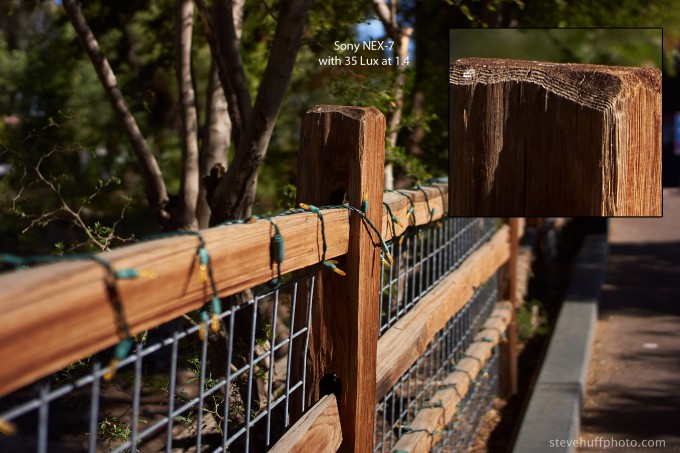 –
Again, the 35 Summilux wide open at 1.4 – focus peaking made this easy along with the tilting LCD (From RAW)
–
The 21 Elmarit at 2.8 (From RAW)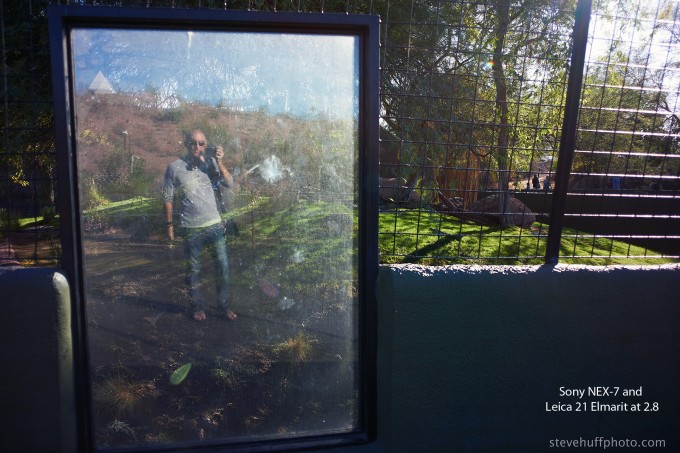 –
The 24 Summilux on the NEX-7  (JPEG)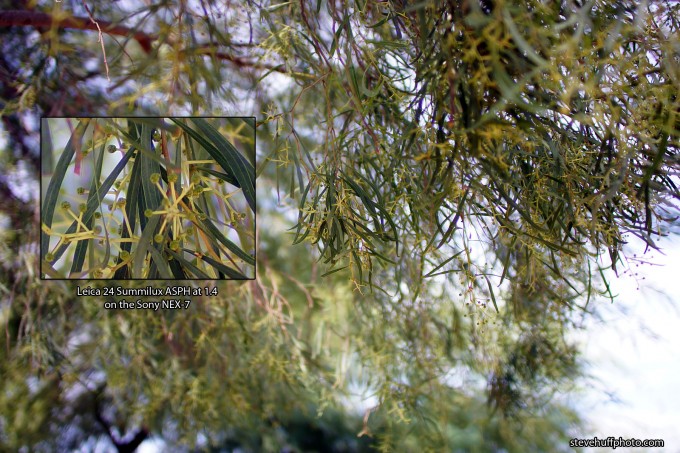 –
Next three shots…35 Lux once again at 1.4 – (JPEG) – Notice the 3D effect in the Life Cereal shot – The word Cinnamon sort of jumps out when you view the full size image.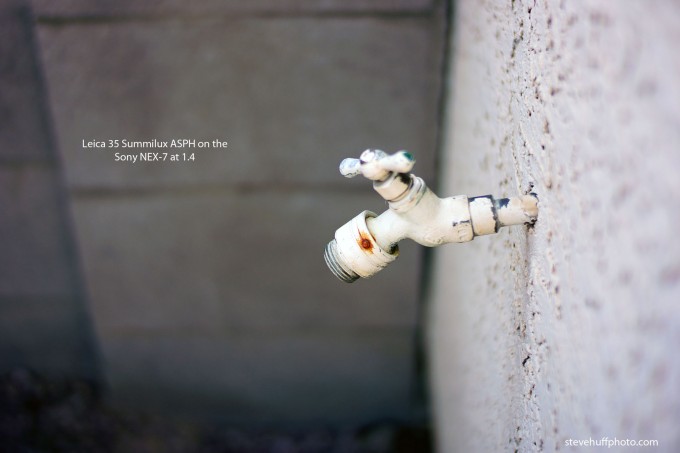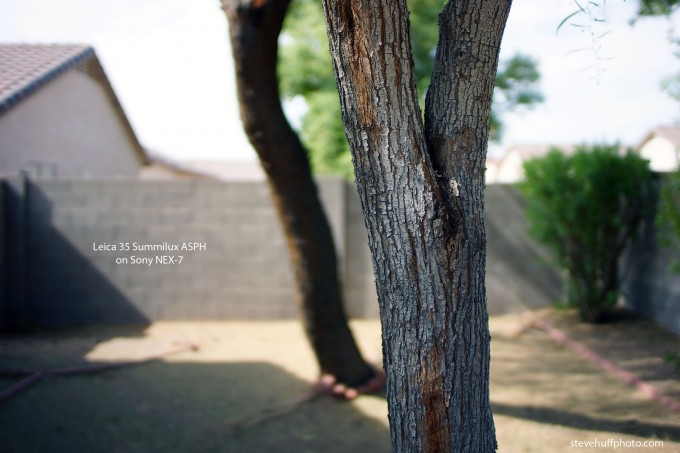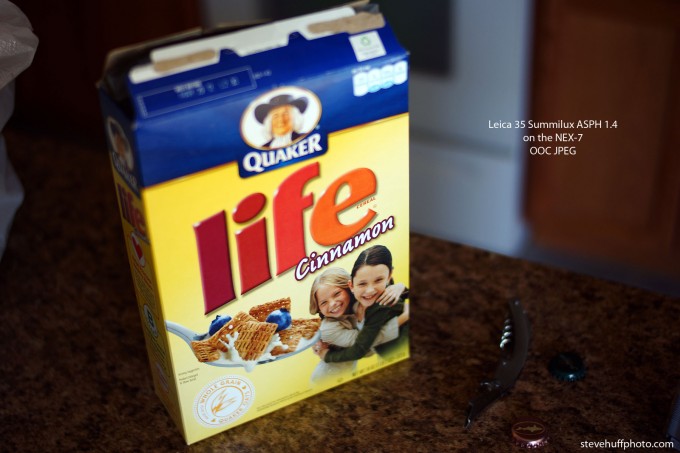 [ad#Adsense Blog Sq Embed Image]
Some quick comparisons with the Ricoh GXR
These were all converted from RAW. The GXR has a totally different color signature than the NEX.
This 1st shot was with the Leica 35 Summilux at f/4 – click image to see 100% crop – SHARP!!! (from RAW)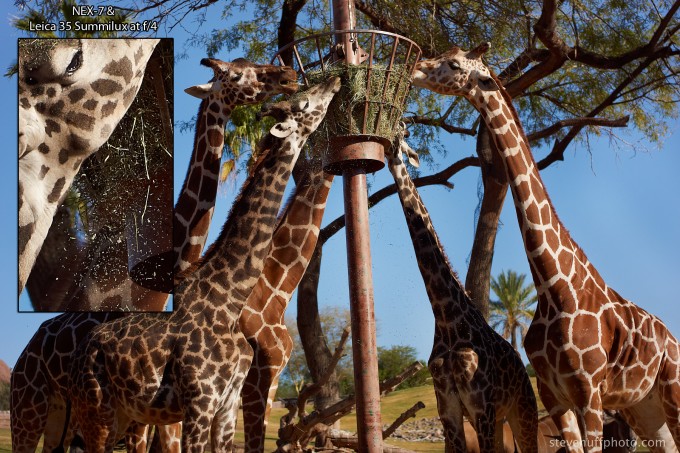 –
Here is the same scene but shot with the Ricoh GXR and 21 Elmarit at f/4 (from RAW)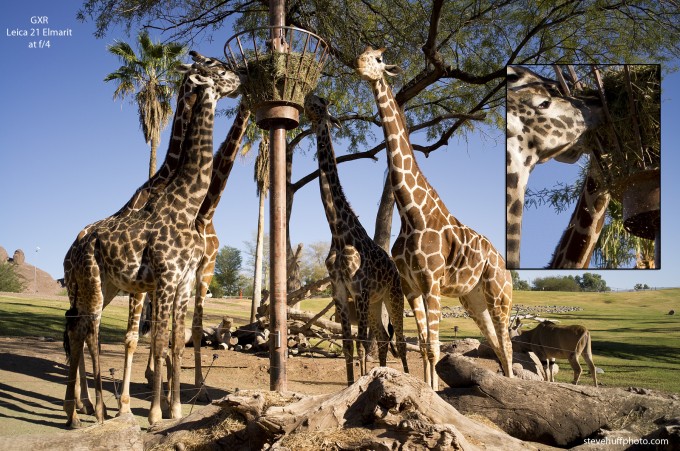 –
Sony NEX-7 with the 21 Elmarit at f/5.6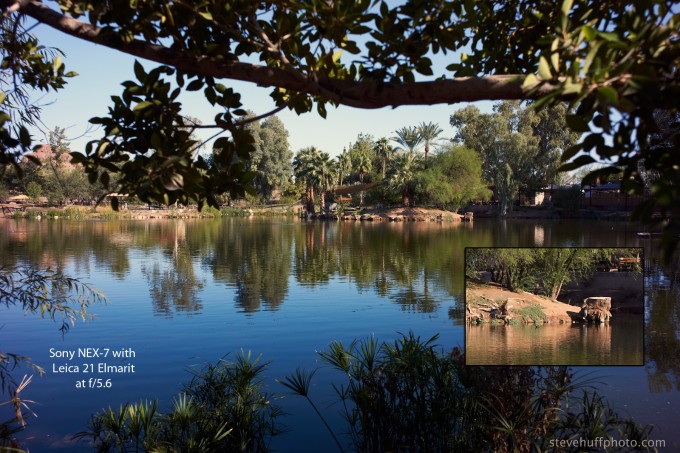 –
GXR with 21 Elmarit at f/5.6 (again, from RAW and letting each camera choose the exposure to see how each camera will expose the same scene)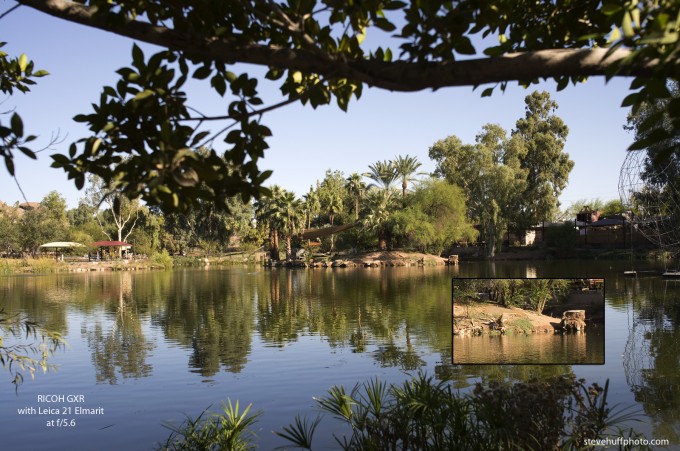 –
Here is a shot from inside a restaurant/bar with the NEX-7 and 24 Summilux at 1.4 (click image for larger)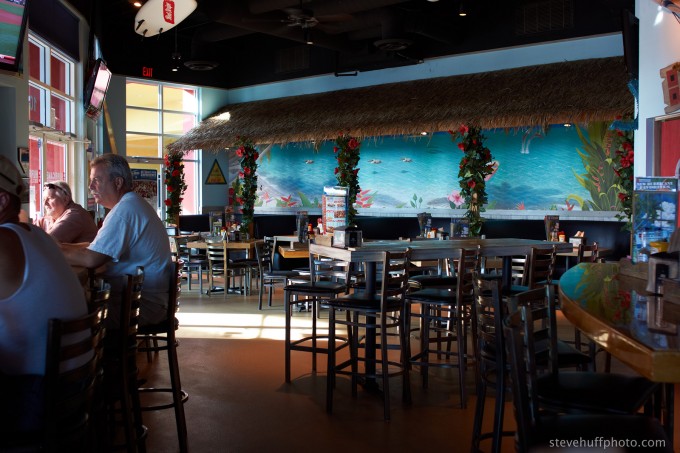 –
Now the GXR, same lens, same aperture – totally different color signature (click image for larger)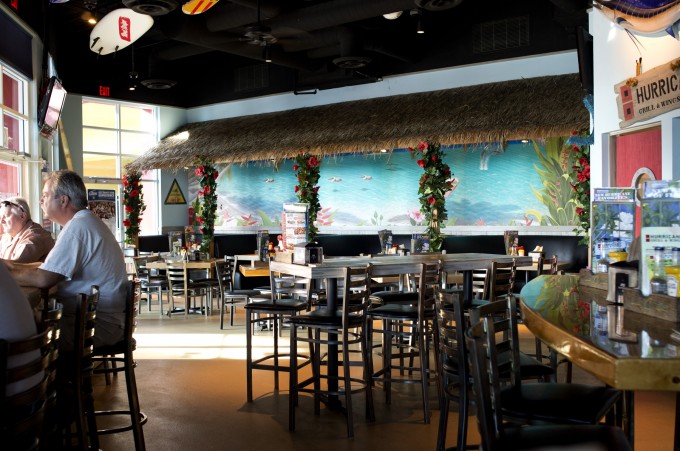 –
Magenta Color shifts – The NEX-7 has them – GXR does not! NEX-5n DOES NOT!
1st shot – NEX-7 with the Voigtlander 15 at 5.6. Out of camera JPEG. This is the color that came out of the camera. Not good.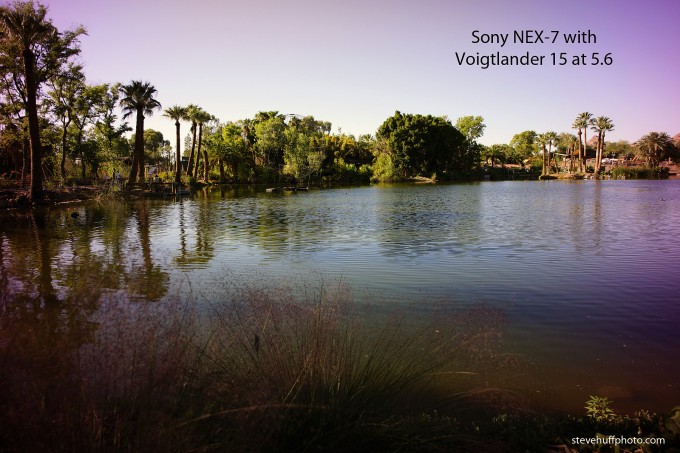 –
Now the same lens, same aperture, same OOC JPEG but from the Ricoh GXR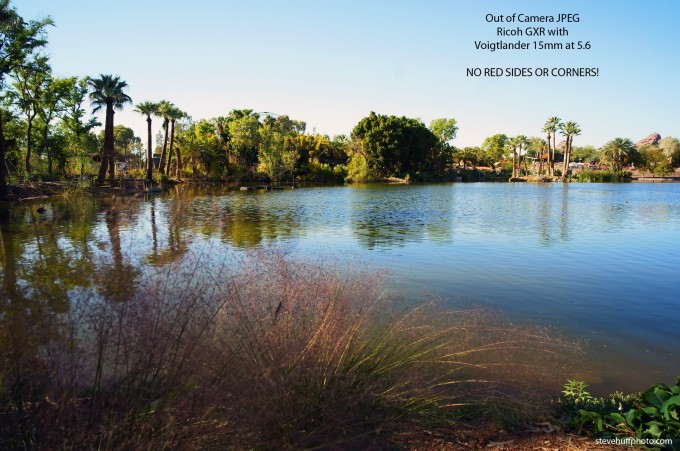 –
and the NEX-7 with the 21 Elmarit, same scene – still there but not as bad – more evident due to the light sky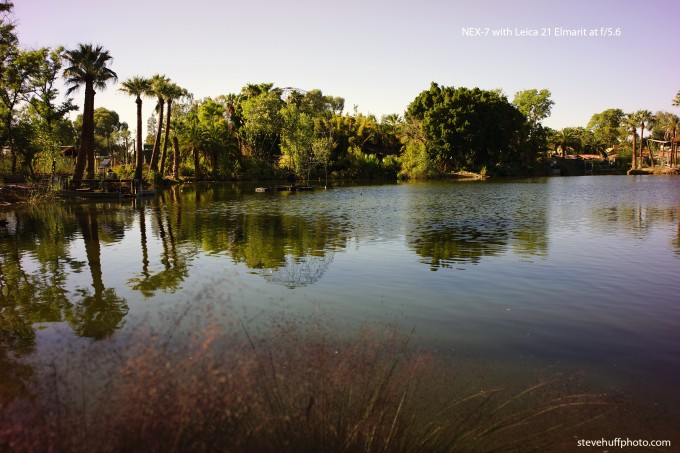 –
and the NEX-7 with the 24 Summilux – still some magenta color shift in the corners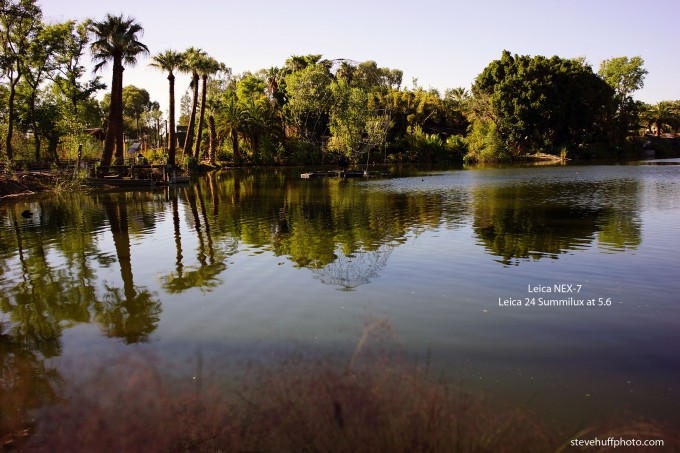 –
AND ONE MORE COMPARISON BETWEEN THE 5n and 7
First the 5n with the Voigtlander 15 at f/8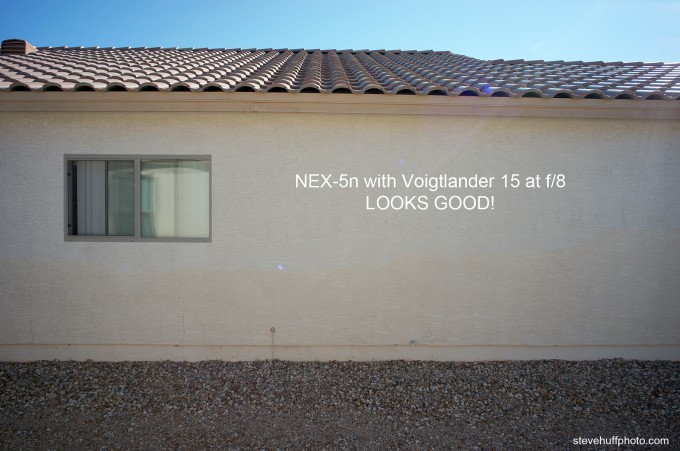 –
and now the 7…disappointing .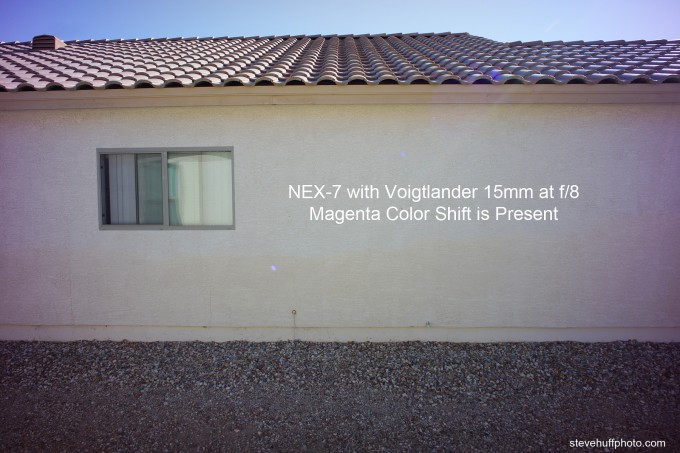 –
Who Wins?
So there you go. Some quick shots to show how these wider angle lenses work on the NEX-7. You do get the magenta color shift with the 15, 21 and even slightly with the 24. The GXR does much better here and did not show any shifting with the 21 or 24. The 5n also does wonderfully with no color shift. Hmmmm.
As for shooting these bodies, I did in fact enjoy using the Sony NEX-7 more as I stated before due to its EVF, superb peaking, and body feel/grip, which is just about perfect for my hand. The GXR, in use, was a little awkward in comparison but if you never see the Sony EVF or Peaking I can see someone being thrilled with the GXR in use. But all of the control and ease of use in the world means JACK if the IQ doesn't stack up. If you are looking for a back up to your M and have been considering the GXR or NEX-7 AND have wider Leica glass, then the GXR would be your best bet. It does indeed work best with Leica lenses in regards to color shifting, and color in general. At the same time, if you just want to shoot an occasional 35 or 50 Leica lens and want to take advantage of everything the NEX-7 has to offer, then the 7 could be your solution. Overall, it is a powerhouse.
Then again, there is the Sony NEX-5n which just may be the one to go for as it has great high ISO performance (best of the three) and has no color shifting issues. Decisions decisions…
If the NEX-7 had the microlenses like the 5n obviously does, then I would call it a slam sunk between the three cameras. One of the reasons I wanted an NEX-7 was to shoot Leica lenses and now it appears the NEX-5n and GXR do a better job in this area. Arg! You can pre-order the GXR M mount A12 Module HERE, or the NEX-5n HERE.
Anyway, here are a few shots with some Post Processing just for fun, something I did not do to the images in my NEX-7 review, which I just updated. PP can add some excitement to any image and the Sony files seem to very robust, especially since all of the images below were taken from the OOC JPEG and then enhanced.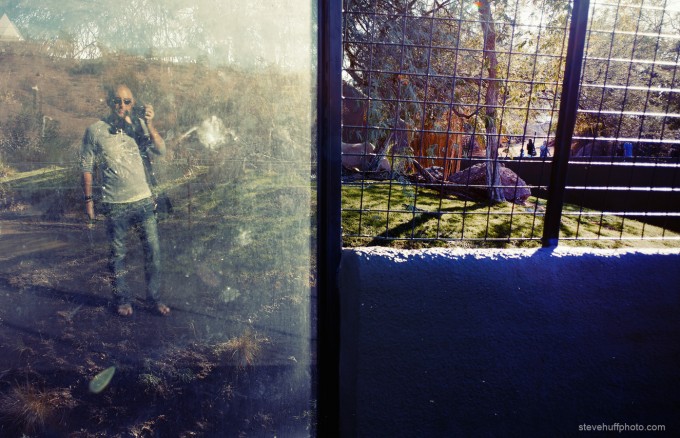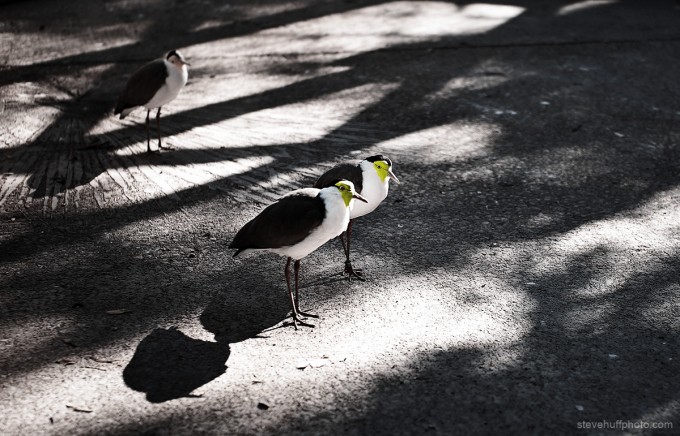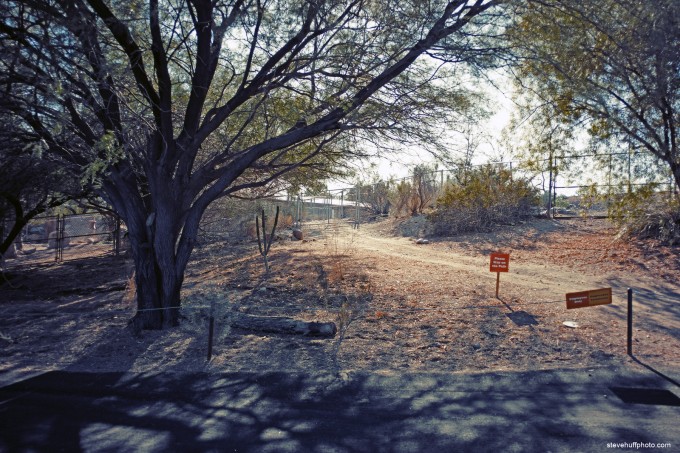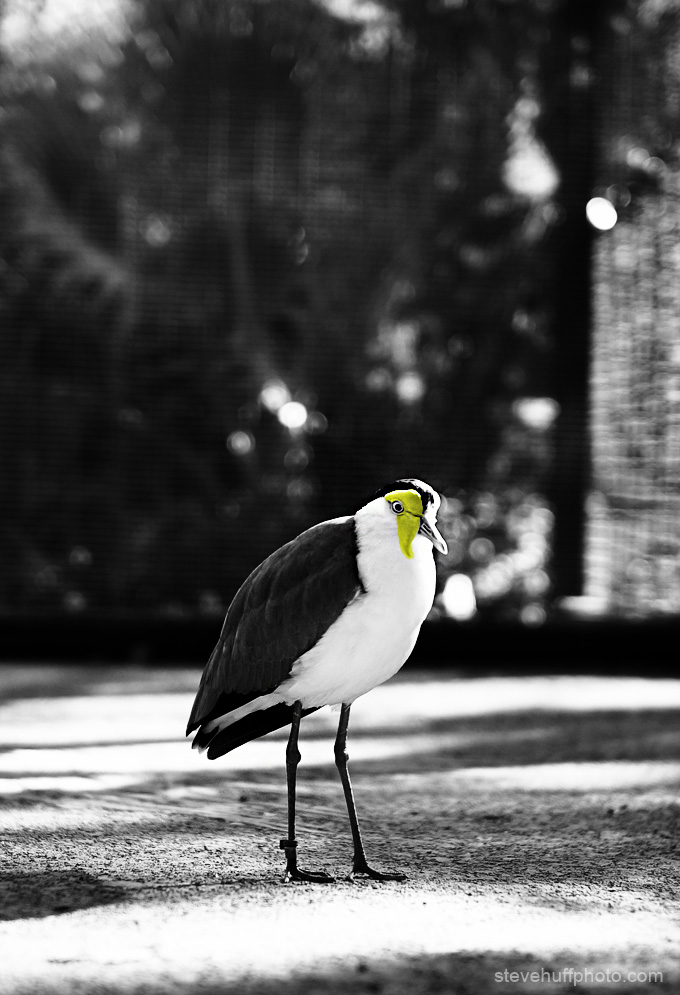 –
Thanks for reading, coming soon my Ricoh GRD IV review and my Nikon V1 review. Coming down the road, a review of the Panasonic/Leica 25 1.4 Summilux for Micro 4/3 and yes, the Fuji X10. 
Steve