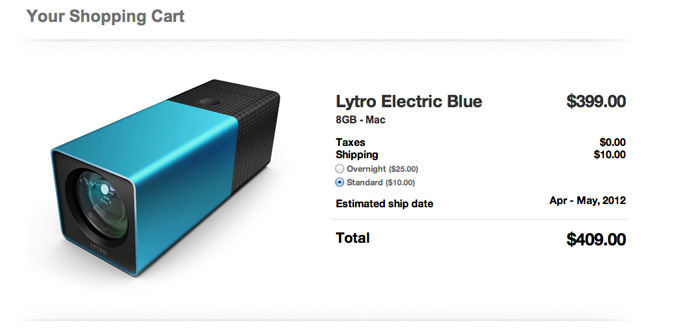 The LYTRO Camera, 11 megarays of fun – What are YOUR thoughts?
So this little Lytro camera is now available to pre-order on Lytro.com. This square tube like device made big news a few months back mainly for its ability to take a picture and give you the ability to focus your shot AFTER you take it. It was getting all kinds of press..big press. It was hailed as the next big thing and the future of photography, and it very well may be… one day. This little device can be taken with you everywhere. Aim and shoot. No shutter, no lag, no AF to wait for. Just aim it like a gun and fire away. Sounds like the perfect snapshot camera doesn't it?
After you shoot and when you get home to check out your images you download what you shot to your mac (not available for windows at this time) and using the software provided you can change your focus point and even create shallow depth of field. It's a crazy concept but one that has been around for a long time. It's just that now it is available in your pocket.
The cameras are not cheap so to those who were complaining that the Nikon V1 was expensive at $850 better steer clear, lol. The little Lytro 8GB (hold 350 images) will run you $399 plus shipping. So $409 for a little cylinder that will give you square format low res images. If it was not for its ability to refocus your shot, this thing would be dead in the water. The main draw is this feature but is it something that is merely a gimmick? I think it kind of is, FOR NOW. BUT one day down the road if this technology makes it in to a more serious camera then maybe we will have something.
I am toying with the idea of ordering one in Electric Blue so I can review it. Lytro says it is shipping in April-May of 2012 so it will be a while it seems. From what I have seen so far, and the sample images it is sort of like a high tech toy but at the same time it is pretty hip and cool. A real camera? Naaa, but something for the select crowd who are obsessed with cool factor. I can see this thing being a huge hit at the Apple store.
When searching for details  all I can see is that it has 11 megarays of "light field resolution", internal storage, and 8X optical zoom and a constant f/2 lens. All they say is that it produces "HD Living Pictures".  When I browse their samples I see low res square images that you can refocus anywhere in the frame. Nothing blowing me away and it makes me as why I would pay $400 for this when I can slip a real camera in my pocket when I go out. When I take a shot with a real camera I CHOOSE the focus at the moment of the capture. Do I really need a device that lets me change that? One that gives me low res images? No, I do not but I admit it is pretty cool.
After thinking more about it just sitting here at my desk I do not think I will be ordering a Lytro as it is just not something I can see myself seriously using. Like I said though, this will be a hit with the hip crowd, the tech crowd who will soon get bored with it and yes, even the social networking crowd. I can see it now…It will be great for all of those teen girls taking 10 self portraits a day for their Facebook profile. They can focus on their face OR their cleavage, how convenient. 🙂
[ad#Adsense Blog Sq Embed Image]