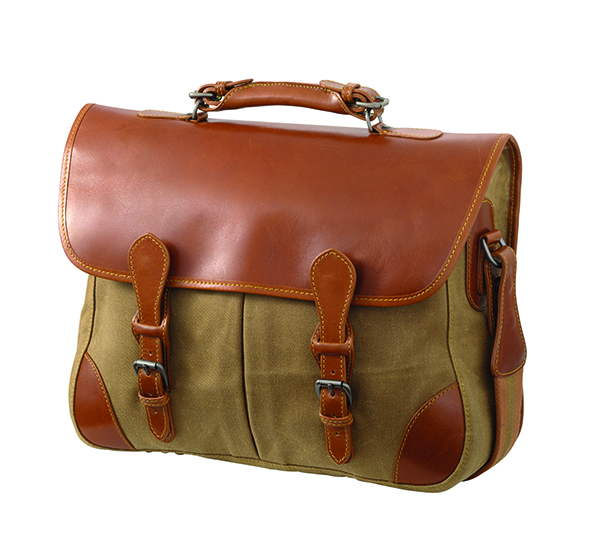 A Businessman's Bag by Dave Murphy
Dave's website is at MurphyMurphy.com
So, you are a businessman and also a photographer?  Or you are a photographer who also runs a business?  Or maybe you are just a guy who wants a bag that doesn't look like a camera bag.  Either way, you need a bag that is smart, savvy, looks crisp and is equally at home in the office, at a commercial client meeting, or on the street shooting.
You looked at a bunch of bags.  You looked at the Billingham Hadley line.  Lovely bags, true, but only the Hadley Pro actually has a handle and, as a businessman, you know that there are times (especially when greeting people) when it's helpful to be able to get the bag off your shoulder and simply hold it.  As a photographer you know that having weight on one shoulder all day can also be an issue.  As a traveler you know that having a bag on your shoulder as you walk down the plane isle is guaranteed to bang into everyone already seated. Yes, a handle is a nice feature to have.  But, if you are like me, maybe the Hadley Pro is just a tad small for you?
Maybe you looked at some terrific all leather briefcases like Jack Georges.   Solid, rugged, and utterly business.  But, oh my, at about 6 pounds empty it is very heavy.  I carried one for 15 years and it is only now showing its age — and so am I.  As a businessman and a photographer, I simply don't want something that heavy anymore.  That is one reason why I shoot with a Leica M9 whenever I can.  Why carry a small, light camera if your bag is going to weigh in at 6 pounds empty?
Because of the weight of leather, you, like me, may also be thinking that you need canvas.  But you also know that you need a design that will look a little dressed-up too.  Enter the Mulholland Brothers Waxed Canvas Anglers Bag in tan or olive (also available in all leather if you still wish to go that route).
[ad#Adsense Blog Sq Embed Image]
The Bag
I just bought this bag in tan a couple of months ago (note: the current bag has been changed a little – the buckles are silver tone and mine are gold… there may be other changes that I am unaware of…. write Mulholland if you have questions).  And, yes, I know that at $345 it is quite pricey for a camera bag but not out of line for a briefcase.  You may also want to add an insert like the  Domke or Billingham and that will add even more to the cost (I use the Domke).  But, once that is done, you can easily carry your photographer stuff and your business stuff in one terrific, light, convenient package.   Oh, and while we are talking about cost, do keep in mind that at $345 this bag is about $100 more expensive than the Hadley Pro but actually about $200 cheaper than a similarly sized Fogg bag.
The bag itself is light and well-made (as you should expect for a bag of this price).  Since it is a briefcase, there is no padding (hence the need for an insert, just like the Hadley line).  The shoulder strap is comfortable and adjustable but mine does not have a shoulder pad (the Mulholland site mentions a "padded" strap now but I am uncertain what that means).   Without a pad, the strap does have a tendency to slip a little while on the shoulder – a definite downside.
Turning to the front of the bag, the front straps secure with snaps.  The handle on the top is comfortable and will begin to conform to the hand after some break-in.   There are two large front pockets (secure with a snap) and a large interior main compartment.  Inside, there is also a place to put business cards and pens and a hook for your keys.  On the back there is a terrific metal zippered compartment that easily holds an iPad or some paper files.  What's more, where as the Billingham Hadley Pro has a top flap that covers the sides (to help keep rain out), the Mulholland has cut the sides of the bag at the top to actually fold into the interior a bit (and this too will help keep rain out – although the Billingham does seem a more surefire bet in this regard).
How big is this Bag?
I currently own the Jack George briefcase linked above and the Mulholland's exterior size is MUCH smaller that that bag.   For those of you that own the Domke F-803, it the Mulholland is a little bit longer, a little bit taller and significantly thicker (by several inches).  That extra thickness is the key to this bag – the Length and height are not really that big (so the bag looks and feels "small") but since it is a lot thicker than something like the F-803, it can hold a LOT more.
So, what fits in the bag?  
As mentioned, this is a small bag on the outside but it is huge on the inside.  What fits, you ask?
How about a 15" Macbook Pro (and charger), an M9 (and battery charger) with a 50mm Summicron lens attached and a 35mm Summicron in a case, a spare Leica battery, a small paper notebook, AND an iPad in a thin back/front case (and charger), cell phone (and charger), keys, spare pair of glasses or sunglasses, SD cards, USB sticks, business cards, pens, a couple of snack bars, a "frequent traveler medicine kit" (aspirin, decongestant, Band-Aids and ear plugs for noisy hotel neighbors) passport, airline boarding passes, receipts, and some miscellaneous office papers that every businessman has.  Oh, if you really want to tilt the bag towards photography, toss in an Olympus EP-2 body with a 20mm f/1.7 Panny attached and spare battery — it will hold that too!
While I haven't tried it, my guess is that you might be able cram a small travel umbrella in there too or maybe a pair of gloves or a winter scarf.  Get the picture?  It holds a LOT of stuff – just about everything you need as a businessman and Leica photographer – or as a Leica photographer and businessman. 
Now lets be clear:  you are not going to be able to take your M9, a 15" laptop, an iPad, all the chargers and two 4" wide 3-ring binders of full of paper.  Folks, if you still need all those hundreds of pages of paper files, this bag won't be happening for you.
Is this bag for you?
Well, there is no perfect bag for everyone.  But, if the price is right for you, you should consider the Mulholland if you want a light-weight bag that is as much a briefcase as a photo bag and is equally at home in a business meeting, a photographer meet-and-greet, or being stealthy on the street.  The bag is new to me and only time will tell if this is the workhorse I hope it to be.  Bottom line: If you are looking to be a businessman and a photographer at the same time, this just might be your bag.