USER REPORT: A stitch in time … with an M9
by Kefyn Moss
One thing I don't see very often are stitched images using a Leica camera. Maybe this is anathema to many Leica users or maybe it's just that the camera is so often used for a different subject matter that doesn't suit them. I used to own the brilliant Nikon D700 but for travel purposes, which forms a large portion of my photography, I was wanting something more portable. I travel light. Even with a D700, three lenses and a tripod I can go with only carry-on luggage for months at a time. I'm definitely a minimalist, so reducing the size and weight of my photographic equipment while retaining full frame is a high priority. I had considered the M9 before but couldn't afford it and keep my Nikon at the same time, but I finally took the plunge, sold all my Nikon gear to pay for it, and bought the Leica.
Monastic Outlook #2, Zeiss 35mm, 10,814 x 4897 px (53MP)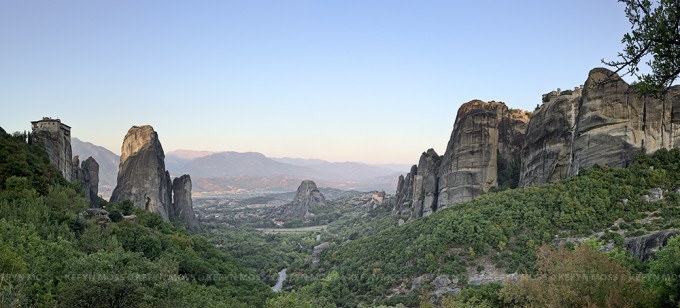 Leica glass (new) was almost impossible to find at the time I was looking, and out of my price range or not what I wanted with the few models that were available. I opted for mostly Zeiss optics (I had to literally scour the world for these too, in the time I had before leaving on a trip to Greece) deciding on the 25/2.8 Biogon, 35/2.8 Biogon and 50/2 Planar.
[ad#Adsense Blog Sq Embed Image]
I also got a 90/4 macro Elmar second hand but used it far less than I thought I would. I have a variety of tripods and ball heads and normally use a Really Right Stuff head with the pano clamp and nodal slide, but this time, due to the small size of the lenses the accuracy of finding the exit pupil was not such a concern for me and I just took a lever release head and leveled the tripod. This still necessitated an Arca-style QR plate on the camera so I also shelled out for the RRS set which includes a replacement base (fits perfectly), L bracket and hand grip, which I found brilliant for hand held use (more ergonomic than the Thumbs Up IMO).
Monastic Outlook #4, Zeiss 25mm, 7039 x 4443 px (31MP)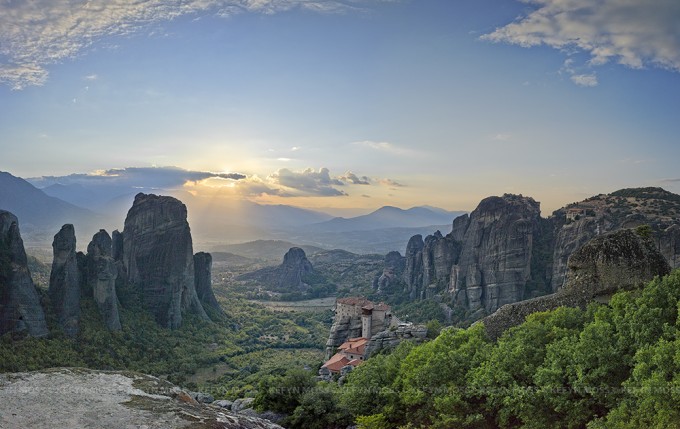 I didn't have a lot of time to familiarize myself with the camera before heading off for six weeks, but I was confident that it's the photographer that takes the photos, not the camera, and I wasn't going to blame the camera for my shortcomings. Some things I expected to be limiting, such as the high ISO performance and slow processor but high ISO isn't a concern for tripod mounted shots, and the buffer/write speed? Frustratingly slow, which occasionally led to missed, or at least crippled, opportunities (waiting for the buffer when bracketing and watching the light starting to change … c'mon, c'mon) even though I tried to plan for it.
The metering was better than I expected (I didn't expect too much having been used to Nikon's accurate multi-pattern metering and having owned the lovely Olympus OM-4 with multi spot metering I find CW average to be a bit primitive on its own) but I bracketed a lot to make sure and I love how the camera automatically shoots the number of shots chosen when bracketing – this should be standard on all cameras! Manual controls were a joy to use in general and specifically I use the DOF scale on manual focus lenses for "f8 to infinity" which became my mantra for this type of photo. I haven't had any issues with rangefinder calibration so selective focus using the viewfinder was a non-issue and focus lock is built in!
Calm Fortitude (this is actually an HDR pano for those that think HDR has to look over-the-top rather than to render highlight/shadow detail realistically), Zeiss 25mm, 7080 x 4499 px (31MP)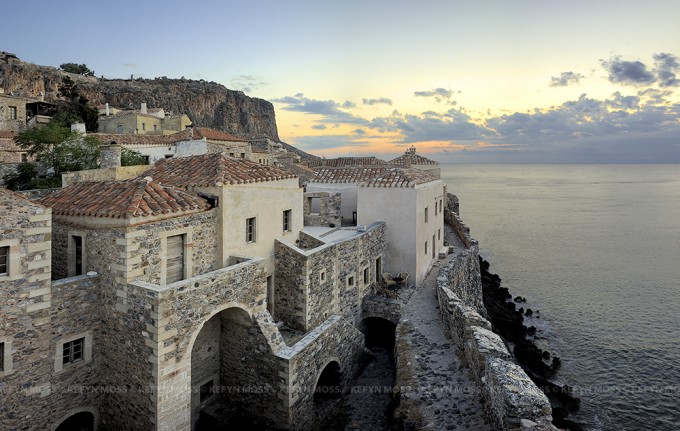 I don't travel with a laptop, just a HyperDrive (although a MacBook Air would be OK), so I had to wait until I returned home before assessing the results. I wasn't expecting the lack of an AA filter to be an issue, after all I wasn't shooting fashion, but in a few cases moiré reared its head (the fences in the fish farms in "Klisova Lagoon" for example) and marred a potentially good image (desaturating the offending area didn't often help and created more post-processing work).
The biggest annoyance however, and Matt Draper in his recent article seemed to have a similar experience, was DUST. The camera came with a dusty sensor and it just got worse with each lens change. Keeping one lens on the camera in street photography or portraits would reduce the problem significantly, but it is after all an interchangeable lens camera and the omission of some sort of sensor cleaning is, in my opinion, very remiss of Leica. For me this created a huge amount of work in landscape and architectural images during post processing. In (single) images taken in the latter half of the trip I have counted literally hundreds of dust spots that would show up on a large print – thank Adobe for the spot healing brush tool (and sync settings in Lightroom for multi-image stitches) is all I can say. And to answer the question "why not take sensor cleaning gear?" I would reply that: a) as I said I travel light so with the insane carry-on restrictions I can't take cleaning fluid, and b) I have traveled with a D700 in a similar fashion with no dust problem (the mirror probably helps a bit too) so wasn't expecting or prepared for the severity of it – when I did clean the sensor at home it took 3 or 4 "wet" cleans to remove some of the more stubborn crud!
Klisova Lagoon (the camera wasn't vertical for this one), Zeiss 50mm, 10,765 x 3264 px (35MP)

There is inevitably some pixel loss with final image cropping, but to demonstrate finished file dimensions, I have included them with the relative image. Luckily I have an 8 core Mac Pro with 12Gb of RAM and a 30" NEC MultiSync monitor, so processing these huge files wasn't too time consuming and the merge to pano in PS CS5 does a great job 95% of the time – no specialized software required anymore as far as I'm concerned.
Klisova Lagoon detail. Moiré does show up in some landscapes…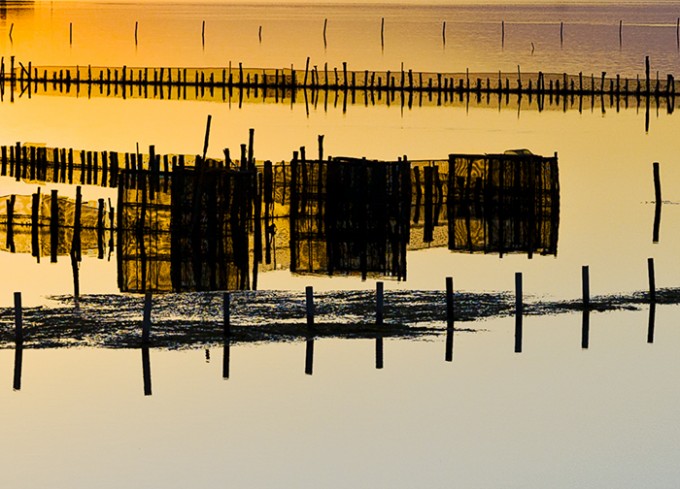 So is the M9 the best tool for stitched panoramas? Definitely not, as the frame-lines are not accurate enough for me to take sequences without building in more overlap error protection than I would normally use, increasing the time to take them, which is critical when the light is changing rapidly and already a limitation with that pitiful RAW buffer and slow write speed. But the low distortion lenses of small physical size and relatively simple design, the portability of the camera and system and the designers of stitching software all contribute to making it a usable tool for stitched panoramas and, as they are not the only photos I take, I am more than satisfied with the results. I hope you are too, but constructive criticism is welcome.
Thank you,
Kefyn Moss (and thanks Steve for providing the opportunities that you do).
Lasithi Plateau, Zeiss 50mm, 11,786 x 5161 px (60MP)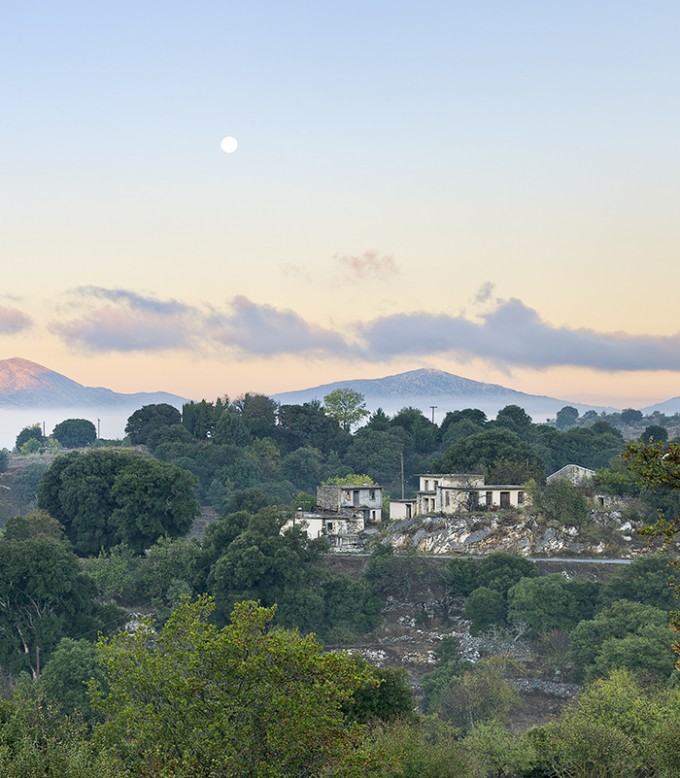 –
Lasithi Plateau crop. A nice rendering for this landscape to my eye…