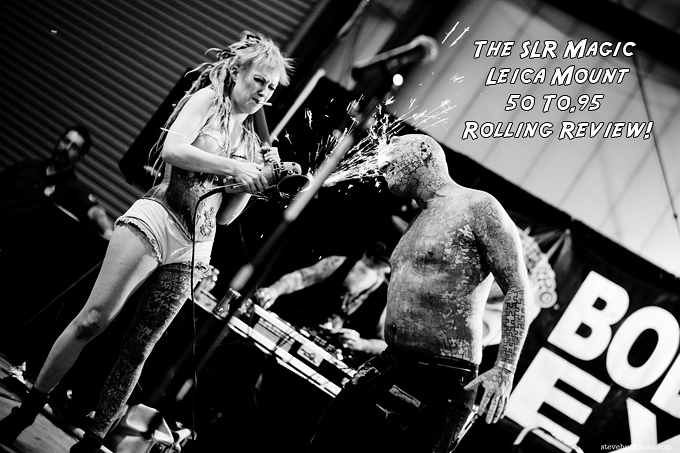 UPDATE: Lots of nonsense has been spread about this lens on the internet due to one person's comments and one persons lens. I have never had ONE issues with this lens and I found it to be solid, well made, beautiful and to render even better than the $11k Leica Noctilux (for my tastes) all for less than half the cost. The claims that were made were uncalled for as Andrew from SLR Magic is one of the nicest guys I have met in recent years as well as one of the most helpful and generous. The SLR Magic Hyperprime is now shipping with full production versions of the lens in full production packaging. It comes with a great warranty and is a solid great performing lens. Again, my experience with it has been nothing but positive and in some cases amazing. I am not the type of guy who says "It's only Leica for my M"  as there is tons of GREAT glass out there besides Leica. Whatever works I always say and this lens just "works". 
Thanks again to Andrew for all he has done for everyone AND even releasing this lens which no one else had the balls to do.
The SLR Magic Hyperprime 50 LM T0.95 Lens Rolling Review…let's get it started
With all of the hype and craziness this lens has been causing since the Los Angeles workshop I decided to start writing a rolling review for the SLR Magic Hyperprime 50 T0.95 LM lens. Basically this means I will be adding to this review, right here on this page instead of making posts every day about it. As I get new images and new thoughts I will add them here. Almost like a diary of my use with the lens over the next few months as I put it through its paces before its official release.
I am lucky to have one with me for the next few months (a black stealth edition no less) so I can test it, use it, abuse it and put it through its paces. One thing to note..this is a taste of what is to come of this lens. SLR Magic is still tweaking and improving on the lens and if I run into any issues they will fix them before going into production. They are already making a couple of improvements before shipping lenses out to the workshop attendees who agreed to be volunteers for lens testing as well. Yes, the lucky ones who were at the workshop had 1st crack 🙂
I already know that the image quality holds up extremely well to the $11,000 Leica Noctilux ASPH. In fact, I may prefer the rendering from this lens over the Leica, and that right there is saying a lot. Actually, now that I read that back, that is HUGE. My curiosities with the Hyperprime is to see if the build quality holds up. By the look and feel, it feels like a solid tank but you never know. Not everyone associates SLR Magic with high quality but it appears with this and their 12mm Hyperprime they have decided to go with quality, and I welcome it.
BTW, for reference you can see my Leica Noctilux ASPH review HERE that was done when the lens was first released.
If you did not see the posts I have already made about this SLR Magic lens you can see those HERE, HERE, HERE,  HERE and finally HERE.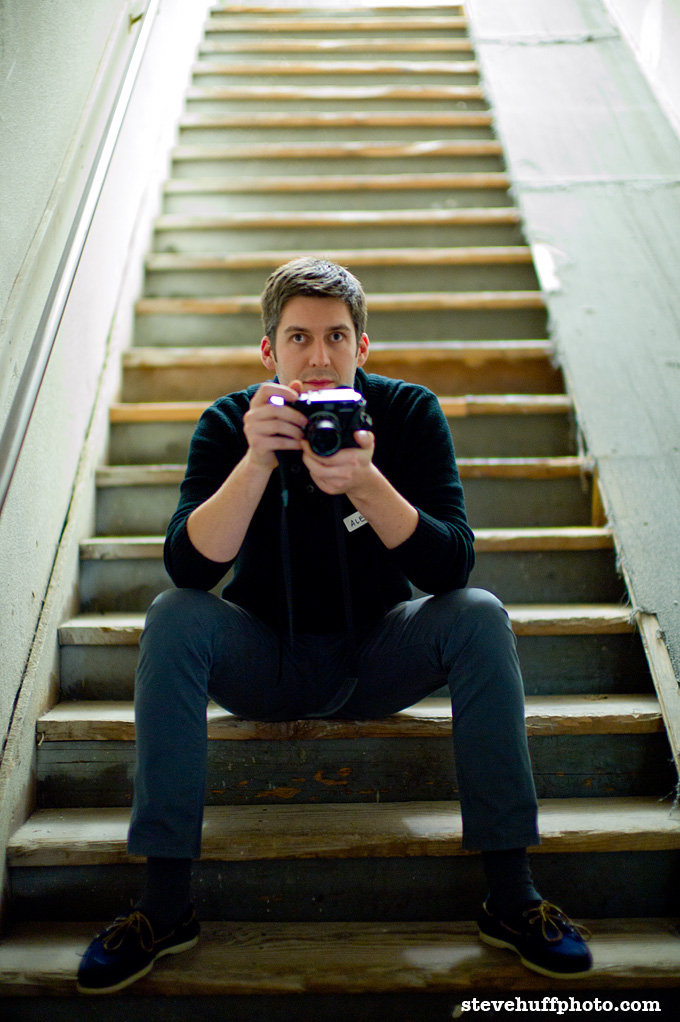 A Brief History Of This Lens
Probably close to a year ago I heard from SLR Magic and they told me they were designing a new Leica M mount lens from the ground up. A 50mm f/0.95 lens for the Leica M mount. This was not going to be a copy of their old Hyperprime that they sell for the M4/3 mount and NEX mount. Those lenses are nice, but not "amazing" because they are soft and glowy when wide open. They are also smallish but at the same time very well built and made. Still, SLR Magic wanted to create something special that more Leica M shooters could afford. A lens much like the Leica Noctilux but at a more reasonable price.
[ad#Adsense Blog Sq Embed Image]
After they mentioned their ideas they started sending me pictures of prototypes that looked great. The lens started out semi small (smaller than a Leica Noctilux ASPH) and beefy. But the images that they were happy with that they snapped with the M9 and their lens, I was not so happy with. I told them if they were going to do a lens like this, they needed to do it right. I mean, Leica users shoot with Leica for quality. We do not want to spend money on crappy or overly soft lenses. If a lens has a .95 aperture, then we want to be able to use it at that aperture! As it was at that time, the lens they were creating was really good, but it did not have any magic to it in the image quality dept. They built the lens and it was built like a tank. Solid, smooth and heavy. BUT the lens vignetted strongly and wide open it lacked sharpness and contrast. The color was a bit dull as well and I told them that I would not buy that lens for what they would have to charge for it.
They decided to go back to the drawing board, keeping me in the loop with samples, prototype images, etc. Then one day I received a couple of shots, that to me, looked pretty damn close to the $11,000 Leica. I asked them to send me a lens as soon as they could and a month or two later they did just that. When it arrived I immediately made a quick post on it as I found it very impressive. The build, the feel, the heft… it was all LEICA LIKE. It was performing scary close to the $11,000 Noctilux ASPH. Yes, the lens that has up to a year waiting list and is almost impossible to find used. If you do find one used the prices are usually jacked up to $13k. Crazy. $13,000 for a lens.
Once I saw the quality I immediately sent SLR Magic an e-mail telling them that this is a lens they should be extremely proud of. The only negatives I found with the lens was that it had some evident barrel distortion and that damn green ring on the front. I mean, the green ring looks pretty cool on my SLR Magic 12mm 1.6 for Micro 4/3 mount but on a lens of this caliber…well, it deserved a black ring! Other than that I found the lens to be pretty damn amazing even though it was one of only 6 in existence and basically still a prototype. The lens ring is even stamped with the word "concept". With the LA Workshop approaching, Andrew from SLR Magic decided to join us and fly down with all 6 lenses. This way, you guys wouldn't have to take my word for it but you could see what other shooters came away with who were able to shoot with the lens. If it was a bad lens, they would say so as most of these guys love their Leica lenses. I even told Andrew we could do a Noctilux/Hyperprime shootout and he welcomed it. Shows he has confidence in their design. I will in fact be doing that shootout soon so we can see just how much difference there is with sharpness, flare, bokeh, and build.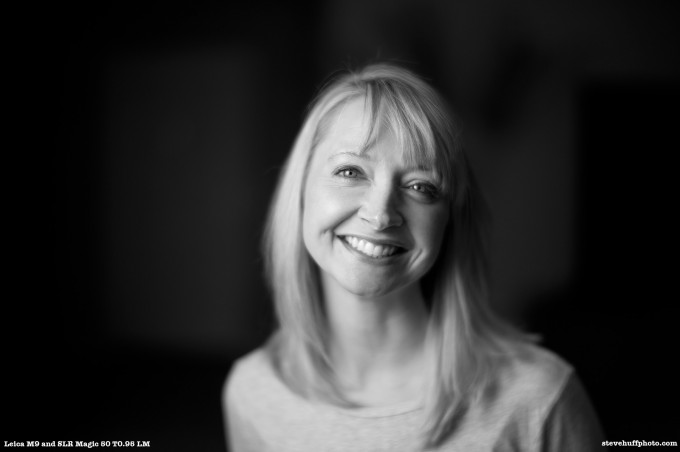 The Lens In Use  – from me and others
If you have been reading my blog posts on this lens then you know that the lens was a huge hit in Los Angeles. There were quite a few guys trying to give Andrew the cash for the lens because we all saw it the same way. The SLR Magic Hyperprime is a well built, well made, nicely engineered hunk of glass. It is not cheap and it is not a toy. In fact, it is quite the opposite of what most people thought it would be. The lens is not perfect due to the barrel distortion but it is pretty close to the Leica $11k monster. In some ways it is BETTER than the Leica, and in others it is a bit weaker.
The ways this lens is better is that it will be coming in at many thousands of dollars less than the Leica. I do not know a price but if I had to guess I would say it will run about $3500-$4000 (The price has now been announced at $4288.00 US). Others at the workshop were thinking it would be $5500. No one knows yet but if you are someone who is into the whole Noctilux ASPH lens look, then saving $7000 or so and picking this lens up would be a pretty sweet option because the Hyperprime can focus closer, is actually faster at f/0.92 and has the same great color and sharpness as the Noctilux. The areas that are weaker is that this lens has distortion (barrel) so shooting straight lines up close will reveal this. Then again, we do not buy a lens like this for architecture. It is also longer and a little but heavier though when holding both in each hand, they feel about the same. No dount about it, this is a specialty lens, and for speed and special effect freaks. Not everyone's cup of tea. BUT for Bokeh lovers, this lens is the creamiest 50mm lens ever made for 35mm. Click the images below for larger and sharper views…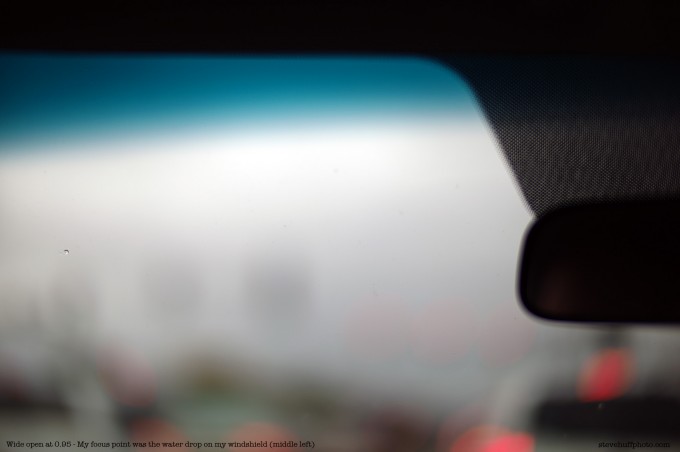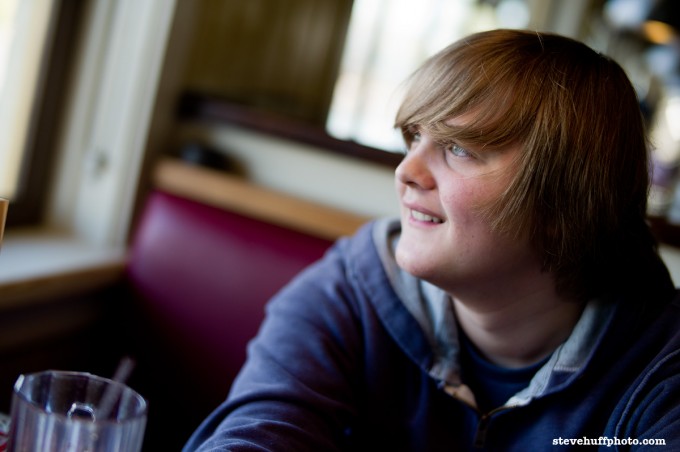 As I sat there last weekend at the workshop looking over shots with this lens as well as the Leica Noctilux I was thinking "WOW…pretty amazing that a small company such as SLR Magic were the ones to create something like this". This lens is serious competition to the Leica, and I am not exaggerating. Here is a comment from Bill Fulcher who shot with the Hyperprime at my LA Workshop:
" Shot both and saw many images with both last weekend. The Hyper is at least as sharp at all apertures as the 0.95 Noct. The Noct has slightly better ergonomics for still shooters and is more compact. It is also backed by Leica. The Hyper has slightly better IQ, focuses closer, is much better for video and is a skosh faster. It will also be a lot less expensive. All around the pre-production Hyper impresses me as the superior lens. But I wouldn't really argue the point if someone heavily values the areas where the Noct has the edge. Best, Bill"
So if you do not care about the name, and the slightly larger build you could save thousands of dollars by going with the HyperPrime. If the Leica name, backing and reputation is worth up to $7k then go for it. It's all personal pref but as for performance, this lens is just about equal to the mighty Leica in regards to sharpness, and as for Bokeh it is even more creamy. Color is about the same as is the contrast.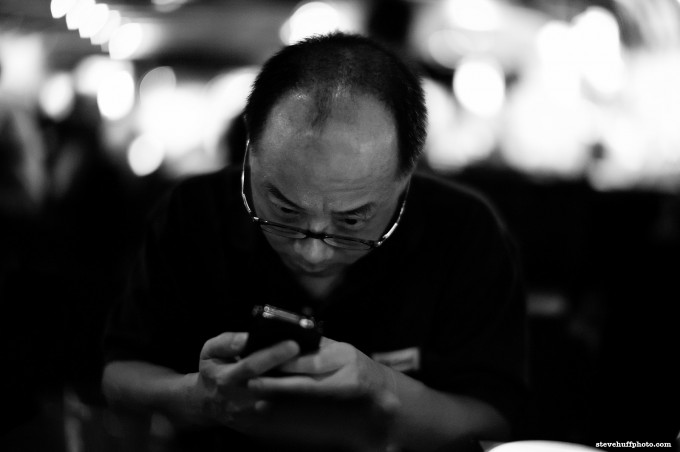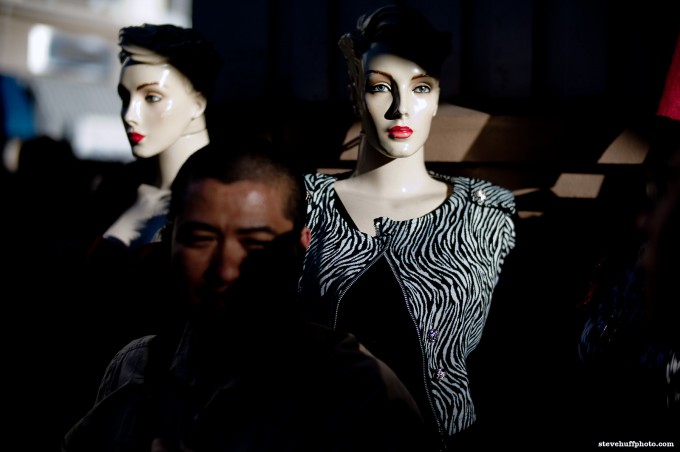 Andrew told us that some of the lens elements come from Germany and other China. The lens is assembled in Hong Kong by hand and will NOT be able to be mass-produced due to the tight tolerances and calibration required. The 6 samples at the workshop had no issues focusing, which I found to be pretty amazing as I have had Noctilux's that were all over the place. Not sure how they managed to pull off what Leica can never seem to do reliably. Then again, there were actually only 4 RF coupled versions there and they were each the 1st lenses made so I am sure special care went into them. I was told that each lens made will have that same special care in regards to build and calibration. I can say that Andrew was a fascinating and very passionate guy and he was truly excited about this product.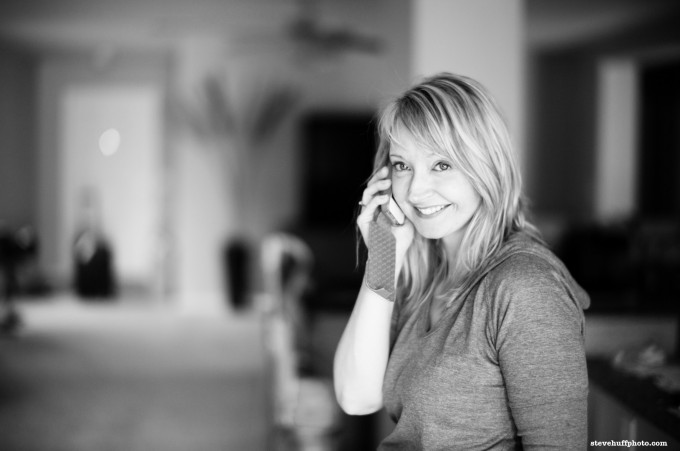 SLR Magic? Green Rings?
So who the hell is SLR Magic and why the hell are they called SLR Magic when they do not make ANY SLR products? I wondered the same thing so I asked Andrew when they started and how. SLR Magic are based in Hong Kong and started up 6 years ago making adapters for cameras and SLR lenses. They also started selling hand-made leather straps and other fun products. Soon they started the toy lenses that came in for great prices and provided fun results. They decided to start building lenses from the ground up and released a couple of NEX lenses and the fantastic 12mm 1.6 for Micro 4/3 that I LOVED. When they started telling me about this lens and showing me versions with green rings I asked for a black ring and suggested that for a Leica mount lens they may want to sell it with black instead of neon green. At the workshop mostly wanted black, but a couple liked  the green. After much thought Andrew decided on selling a "stealth" edition with some other goodies possibly to be included. Ahhhhh…much better 🙂
–
Who needs a lens Like this?
The easy answer? No one really NEEDS a lens like this. Just like no one NEEDS a Leica Noctilux ASPH. Lenses like this are purchased with the heart because they are special..they are unique..they can give a look like no other lens and it's also super fast for this nights you want to shoot in the dark. I used the Leica Noctilux last year on tour with Seal and came away with some great stuff. I made his new album cover as well. All with the Noctilux. Lenses like this are very useful and can provide results that help separate you from the crowd but it is also very easy to get carried away with the shallow depth of field. Use it wisely and lenses like this can deliver magical results. Overuse it and it gets gimmicky. It is also NOT an everyday lens due to the weight and size, but for those times you want some magic injected into your photos a lens like this or the Leica will give it to you in mass quantities.
Some readers were commenting how this lens has no real use, but I disagree. It was a lens just like this Hyperprime (The Leica Noctilux ASPH) that gave me this shot and made me some much-needed money in 2011. These lenses do have their place and I enjoy having a super fast special effect lens on hand and in my stable.
QUICK comparison with the Leica 50 Summilux ASPH at 1.4
Below are two straight from camera shots. The 1st from the SLR Magic at T1.4 and the 2nd from the Leica 50 Lux ASPH at f/1.4 – Click each image for the full size 18PMP file. What do you think?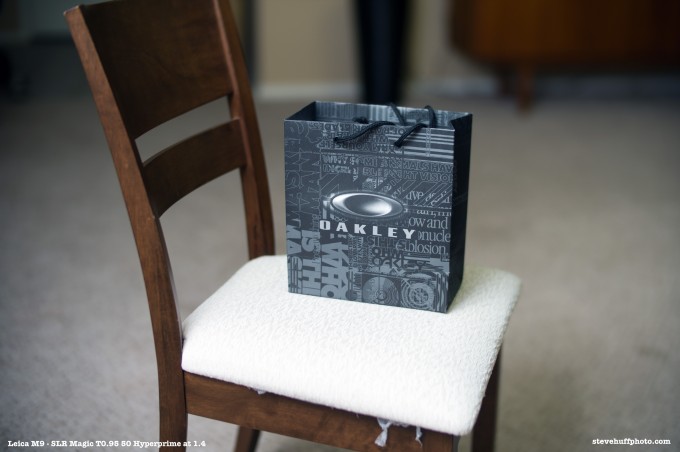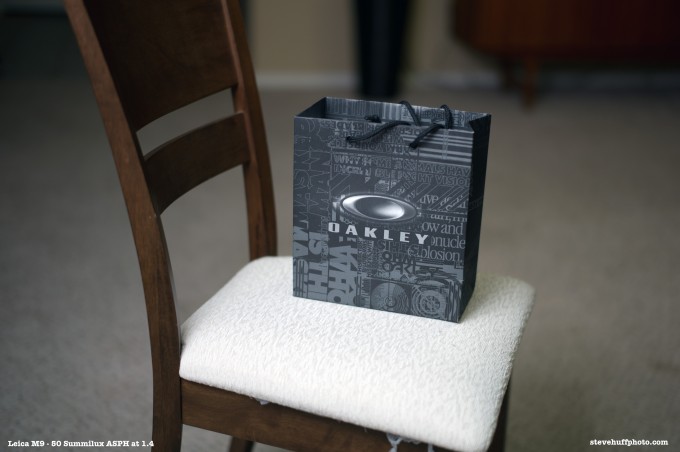 New Sample Images – Full size and crops – and shooting stopped down…
More updates! The images below are all out of camera (from RAW) images using the SLR Magic lens. The T stop is written on the image and you must click each image to see the full size file. Check out how sharp it is when stopped down! This lens is simply amazing and I am loving shooting with it. I took some personal shots and it was  the only lens I shot with while in Sedona AZ for the weekend.
The 1st shot is at T/2 which is more like f/1.8. Click image for the full size and check out the blue duster, which is where I focused. Wow.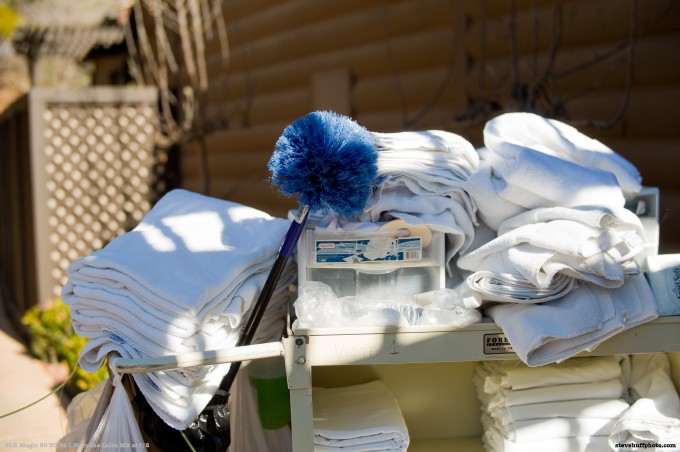 –
Below is a full size out of cam shot at T/4…click image to see the full size!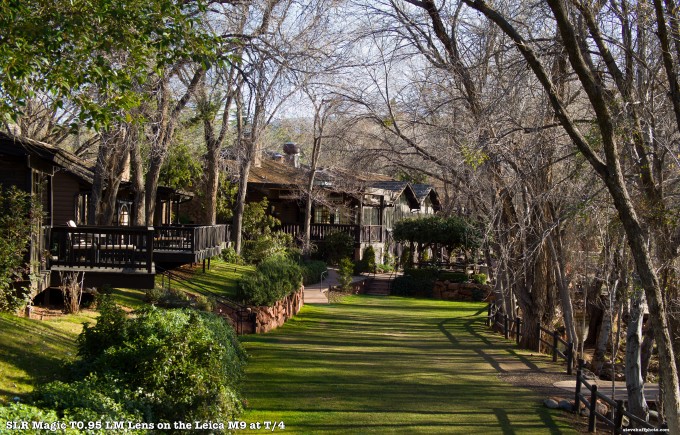 –
Another at T/4  – not full size but you can click for larger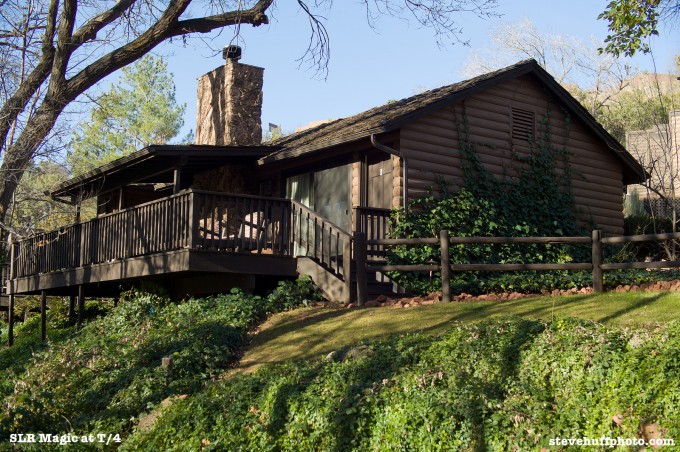 –
Wide open at .7 meters…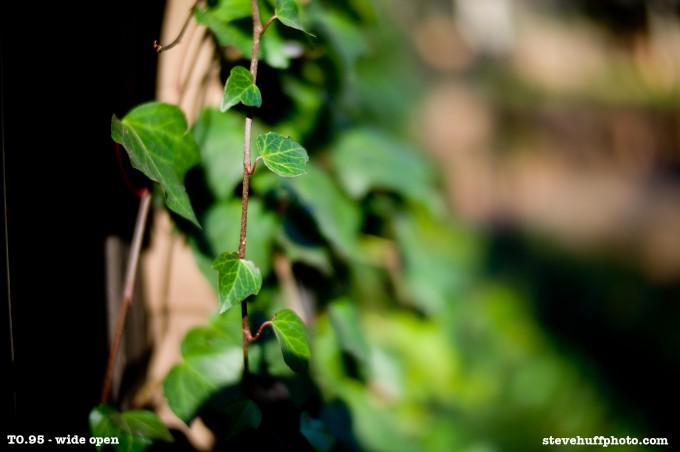 –
At f/5.6 this lens is just as razor sharp as it is at any aperture – click image for large size with 100% crop embedded
–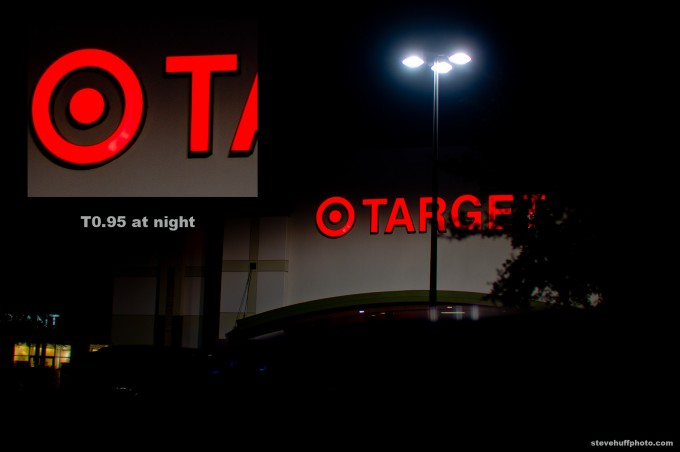 –
Love the rendering wide open…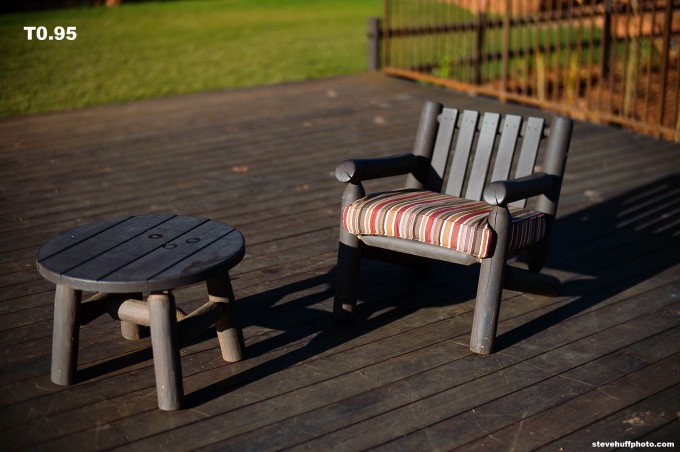 The price of this lens… $4,288.00 – It is NOT cheap!
SLR Magic has announced that this lens will come in at $4,288.00 US. Quite a hefty amount of cash outlay for a lens made by SLR Magic. But, they are not mass producing this lens, and each one will be hand assembled and calibrated for rangefinder use. For a Leica M mount that has the build, feel and IQ of the $11k Leica, the price of this lens is fair. BUT at this price point you have to start to think a little. Would you prefer a Leica 50 Summilux ASPH at $4k? It's smaller..and a Leica. But, it is not f/0.92. Speed is expensive, just take a look at the Noctilux. IMO, this lens is better than the Noctilux F1, better than the Voigtlander 50 1.1 and just about equal to the Leica $11k Nocti. Just about but not quite. So at $4288 vs $11,000, one can now have an alternative to spending that huge sum of cash for a lens like this. Since this lens is hand made and assembled, SLR Magic can only produce 10 of these per month. So, I expect they will sell them all. I also expect they will fetch a good price used as well.
SLR Magic is giving a 3 year warranty with this lens and it will be available in September 2012, after Photokina.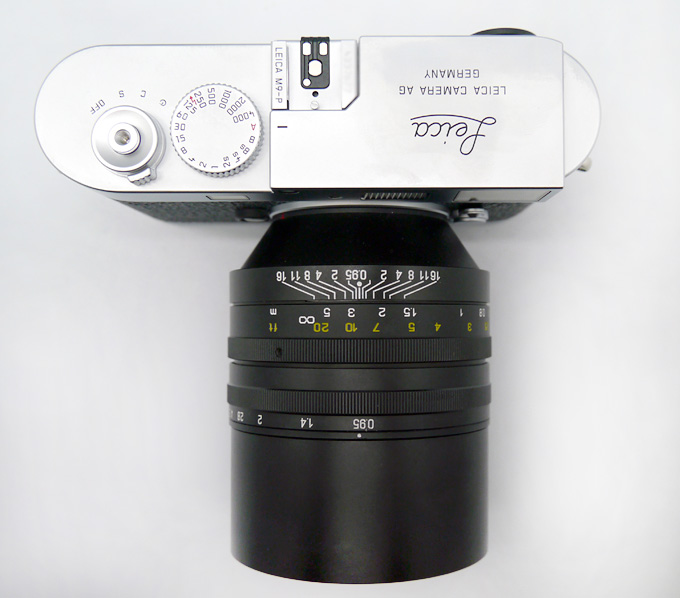 More samples…all wide open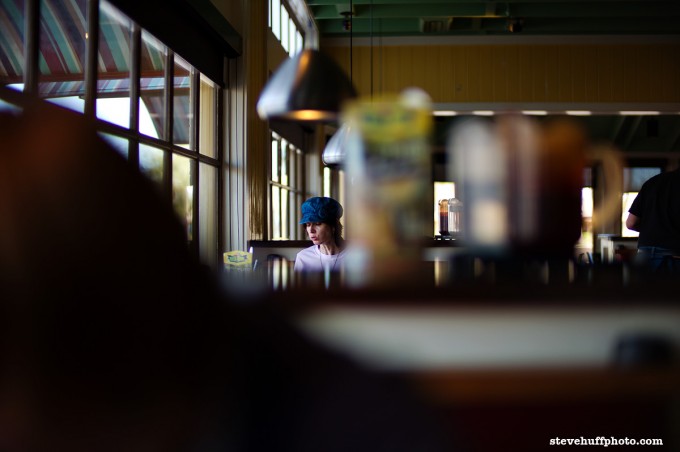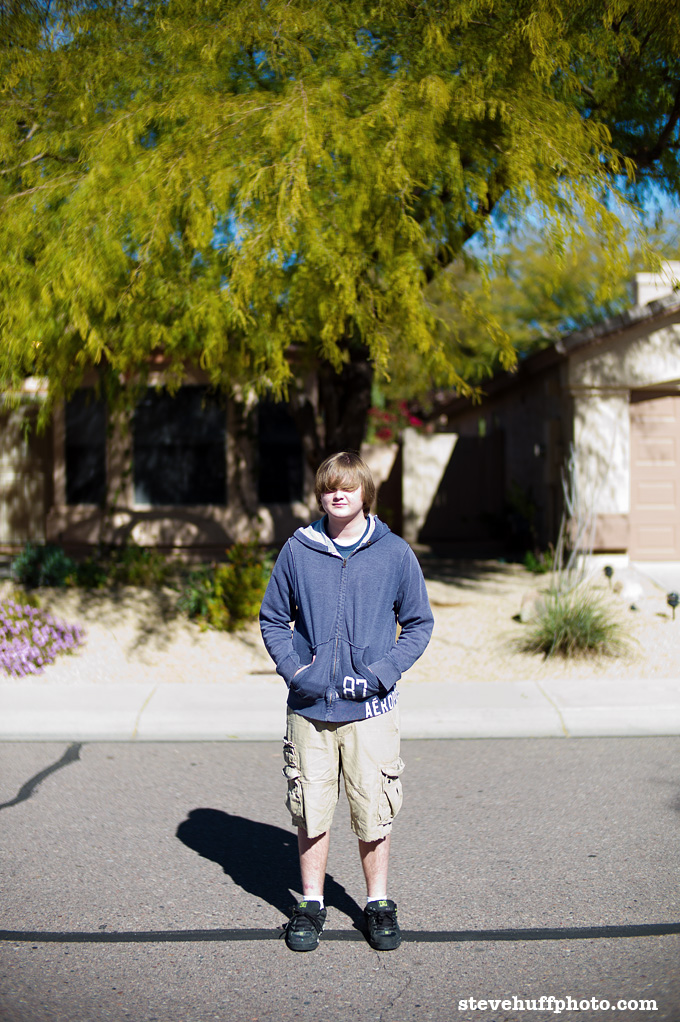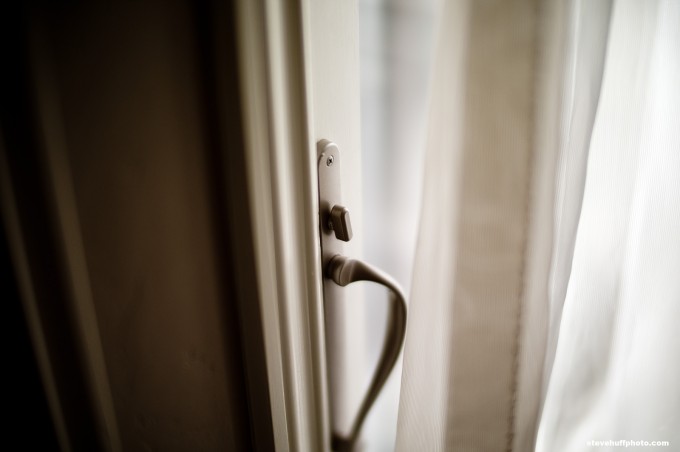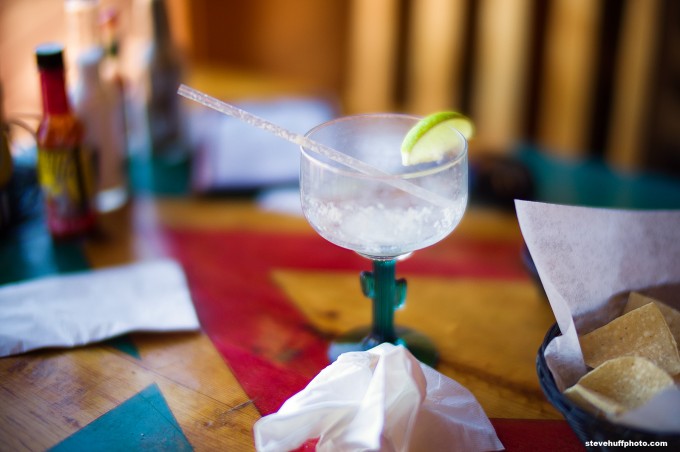 Shooting this lens on a Sony NEX-5n – IN THE DARK!
When I held my Los Angeles workshop in January, Andrew from SLR Magic brought along 6 copies of this lens for all to try. We had 30+ attendees in all shooting and trying out the lens, well, most of them did. One guy, Judd Weiss had a Sony NEX-5n and was a newbie to photography. He told me the week before he learned what "Aperture" meant, lol. Great great guy though and he was able to take the SLR Magic lens, attached to his NEX-5n to a party on Saturday night to test it out. He told me that all of the photos below were shot in "near dark" conditions but the lens sucked in the light and made them appear brighter than it was. IN fact, I remember him being pretty excited by the fact that even though the room was dark, the images make it look like there was light.
He shot all of the images below wide open at T0.95 and still appears he needed faster shutter speeds, but here are a few examples from Judd in a situation where the large aperture made a difference.  When shooting in dark conditions such as this, no lens will give you razor sharp details because you are shooting in the dark at low shutter speeds and high ISO. But using a slow lens and no flash is impossible so sometimes you need the speed if this is the style you want to go after. You can visit Judd's blog HERE.
ALL shots below were taken by Judd Weiss with his Sony NEX-5n and the SLR Magic Hyperprime WIDE OPEN, IN NEAR dark conditions!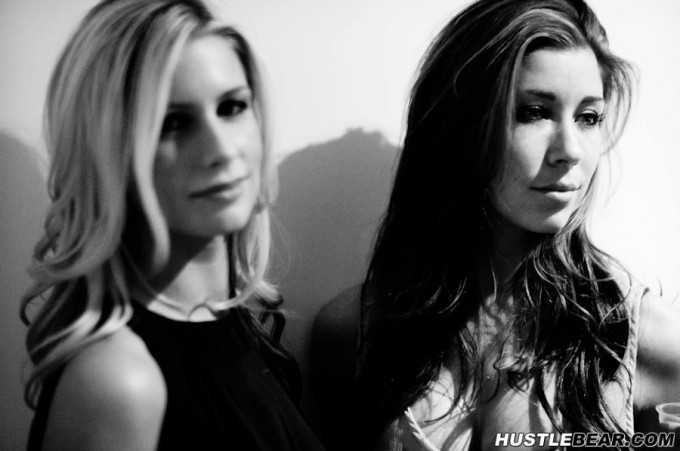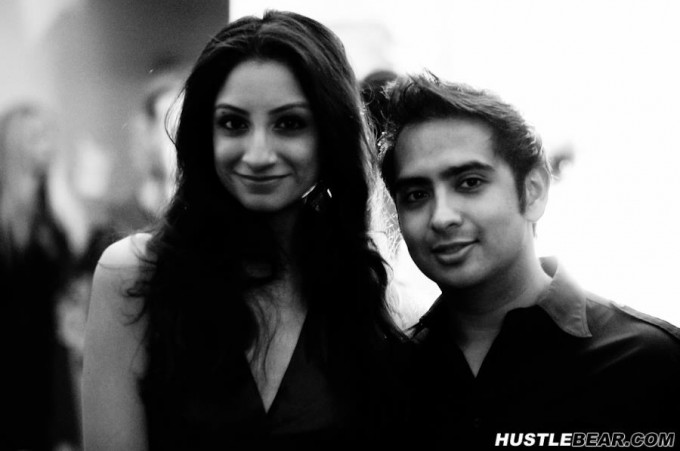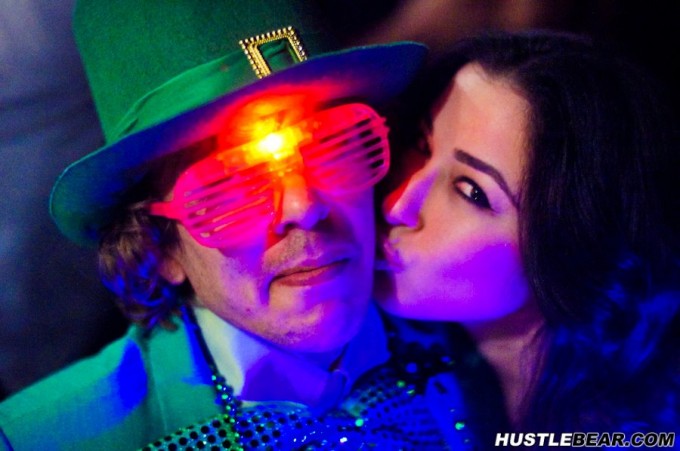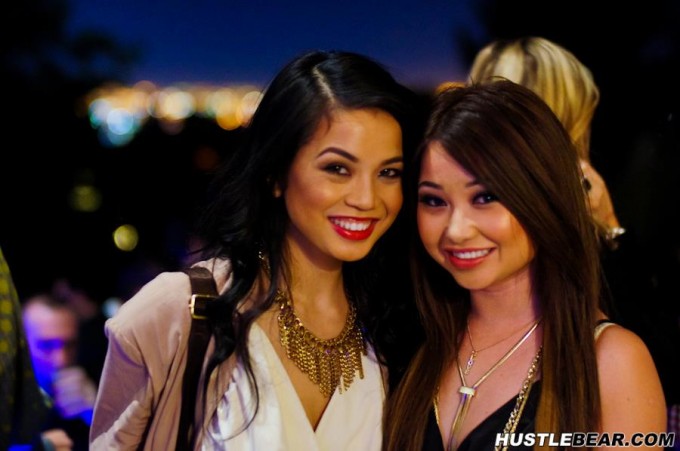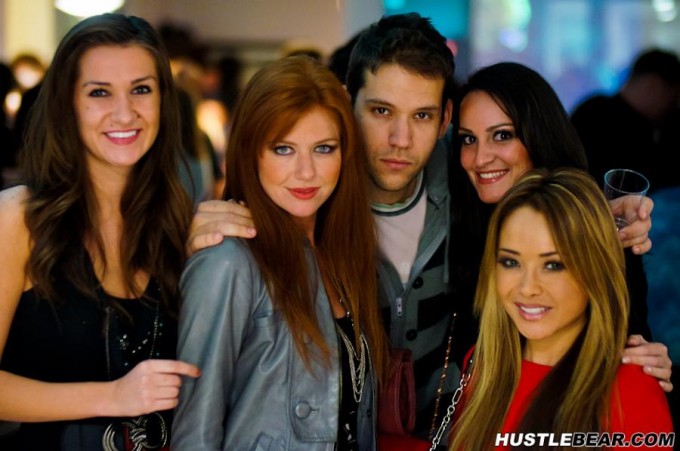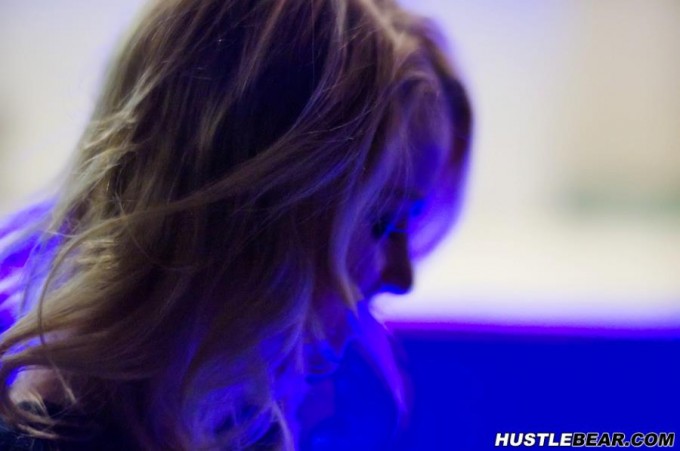 The Barrel Distortion – How bad is it?
Many of you guys have been asking me to update this with some examples showing the barrel distortion I have been talking about. It has not really been noticeable in the images posted so far but it is there and it is EASILY seen when you shoot up close to straight lines. The closer you get to straight lines, the more pronounced the "barrel" effect will be. This is about the only area where the Leica Noctilux ASPH beats out the SLR Magic. The distortion is disapointing but out of 500 shots or so with this lens, I have noticed it maybe 6 times. It is fixable in Photoshop but even then it is not perfect. I never noticed ANY barrel distortion with the Leica Noctilux ASPH but the question is…can you deal with this fault if you are saving $7000?
This lens has a fantastic 3D effect and is sharp as a tac wide open but get up close to straight lines and you will see distortion. The middle of the image pops out while the sides get sucked in. If you do note shoot any lines, you will most likely never notice it. But it IS there.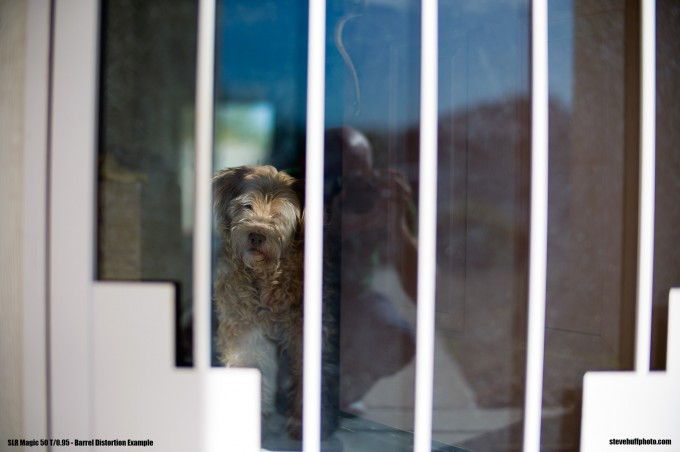 –
A quick and dirty attempt to fix using photoshop during the RAW conversion – took about 2 seconds.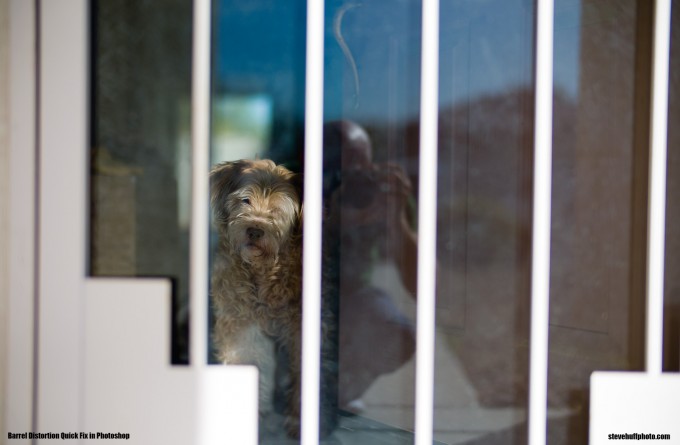 So seeing that is is pretty much fixable, we have to ask ourselves what we shoot and what we would shoot with this lens. IT IS NOT a lens for architecture that is for sure. So far, this is the only negative I have found in comparison with the Leica 0.95.
UPDATE – February 19th 2012 – More images
Took this lens with me to a tattoo convention today but I was mainly shooting the Leica 75 Summilux. I did snap off a couple shots wide open though and MAN OH MAN, this lens performed flawlessly. I am convinced it is SHARPER wide open that the Noctilux ASPH! Again, no focus issues, no focus shift, it perfumes up close, mid distance and far distance. I continue to be more and more impressed with this lens. It seems to have the sharpness (or more of it) than the $11k Noctilux ASPH but with a bit more 3D pop and even better bokeh..oh and less CA. See the lamp below? The Nocti would have had purple fringing there 🙂
The 1st image below is wide open – focus on tattoo artist – THIS is one hell of a lens!  – Click the pic for larger – all other images below the 1st were also at T0.95!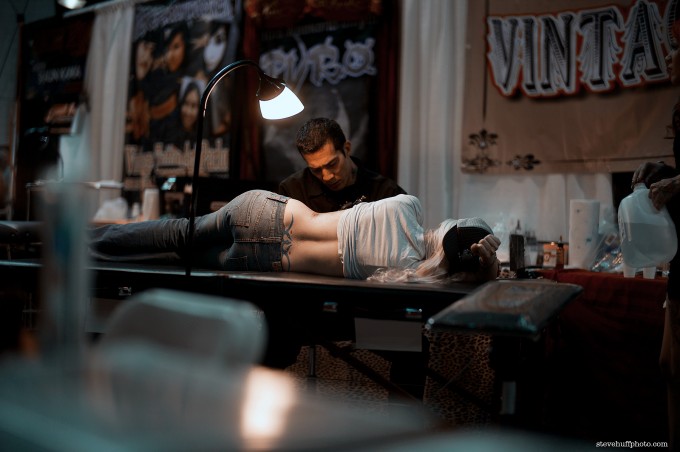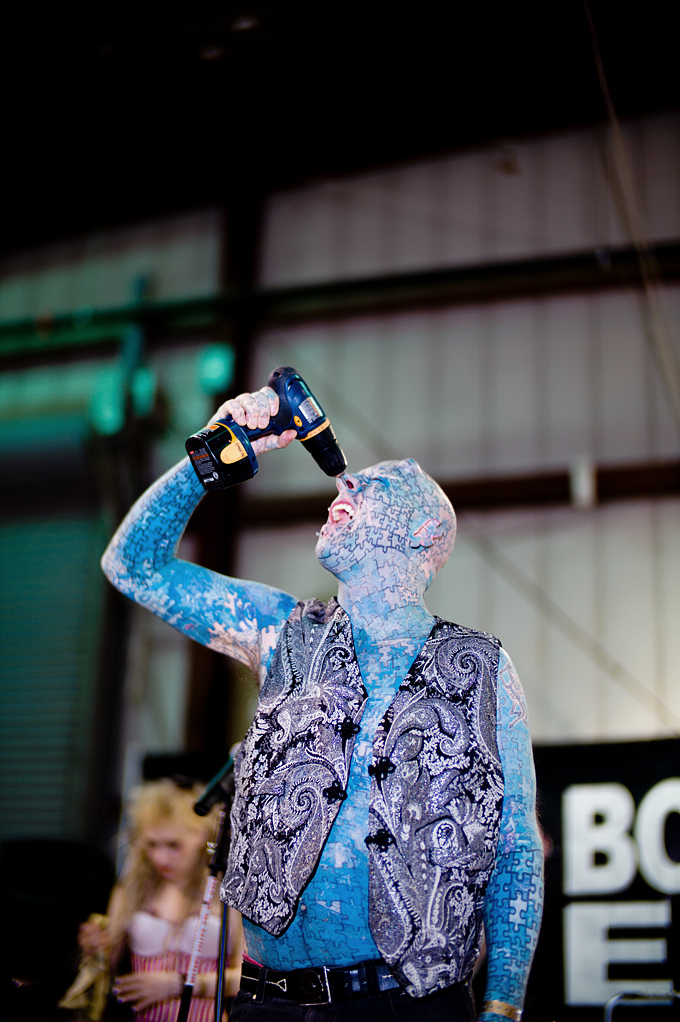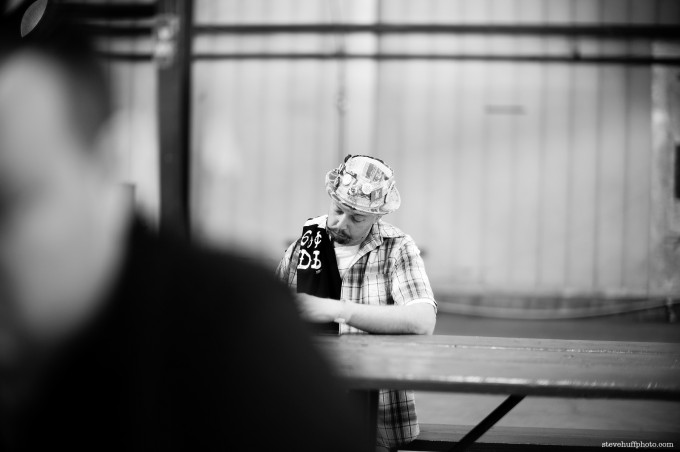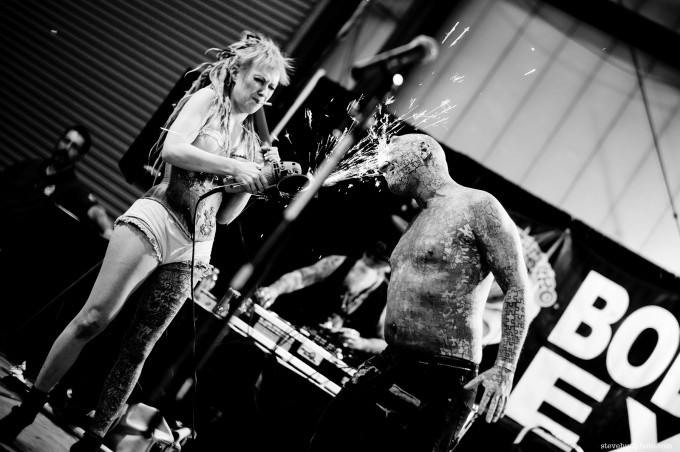 UPDATE Feb 22nd 2012 – Some notes from SLR Magic on this lens to clear up some confusion
I heard from Andrew at SLR Magic today and he mentioned a few things about this lens that he wanted me to pass along. Here is what he said:
1) The CINE and LM version are different mechanically. The LM version is a mechanically different version in both mechanical design and materials for RF coupling compatibility. The only thing that is the same about the two is the optical design. Differences in materials, mechanical parts, and labor involved to calibrate the lens is the cause of the price difference. If used on a mirrorless camera with an adapter the two versions will look the same optically.
2) The lens is designed to be a professional cinema lens. What this means is that the lens does not have breathing, no focus shift, and calibrated in T stops. Breathing is when focusing will cause the angle of view to change while focusing. This is common for many lenses. Focus shift is when focal point is shifted as a lens is stopped down. This is very obvious when seen through video with the lens. T stop is the true stop of the lens so that when filmmakers switch between lenses there will be no jump in brightness. With a regular lens F stop is calculated and not measured so it will be different across lenses even from the same brand. Lastly is the stepless round aperture blades. This means you get to have everything else in between. Could help when using A mode and looking at the desired shutter speed. A bless for some and a nightmare for some.
The fact that it is a cinema lens does NOT mean it is a cheap video lens as many think. There are a lot of requirements to a good cinema lens. Lenses designed to Cinema specs can easily sell for 30-40K a piece!
What he said about focus shift and lens production…
3) Focus shift is not killing our production rate. Focus shift depends on optical design and we do not have issues with focus shift. The part where I mentioned we switch out for elements by dissembling and assembling the lens all over again is to make sure ALL copies of the T0.95 lens performs with superior optical quality (sharpness and centering). This limits our production rate for all lenses. We do not ship sub par T0.95 lenses so the answer is YES. The prototypes are hand picked. This hand picking process will also apply to every T0.95 lens that ships.
UPDATE: Feb 27th 2012 – The Leica Noctilux ASPH vs the SLR Magic LM on a Sony NEX-7
Ok guys, this was an image that someone took in SLR Magics shop in Hong Kong. A Sony NEX-7 was used and each lens was wide open – below are the full size images, out of camera, no PP, no tweaks, etc. Click the images for the full size 24MP files! What do YOU see? Notice one seems more zoomed in that the other? That is because the Noctilux is in reality a 52mm lens and the SLR Magic is a true 50.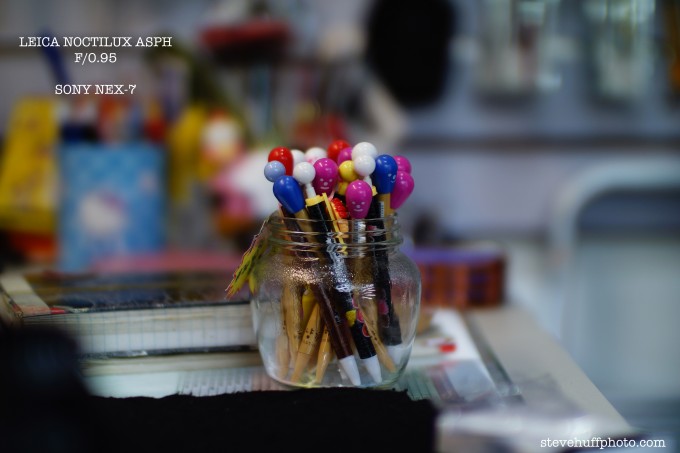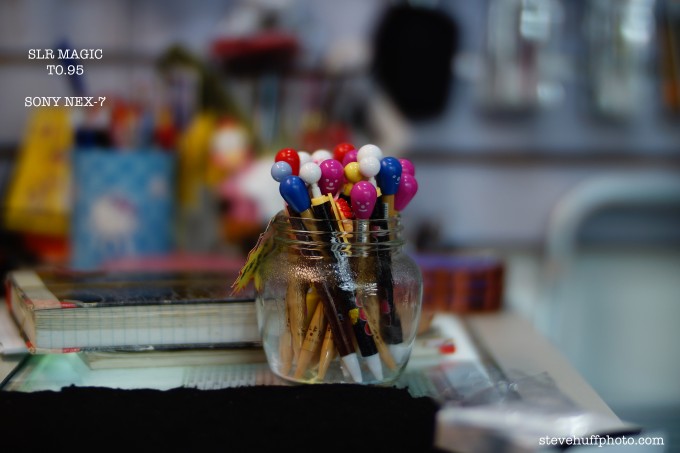 UPDATE: The Sony NEX-7 with the Hyperprime 50 T0.95
I was out and about shooting the NEX-7 with an ALL NEW Leica to NEX adapter made by SLR Magic and was very happy with the results. Also, keep an eye here for news on this adapter because it is very unique. It is an adapter that you can twist and make the minimum focus distance of the M lenses disappear. You can focus super close now with your M lenses on the NEX system, so this is really cool. The adapter is not ready for sale just yet but seems to work very well. Check out the images below of the lens on the Sony NEX.
On the NEX-7 and super close focusing using this all new adapter.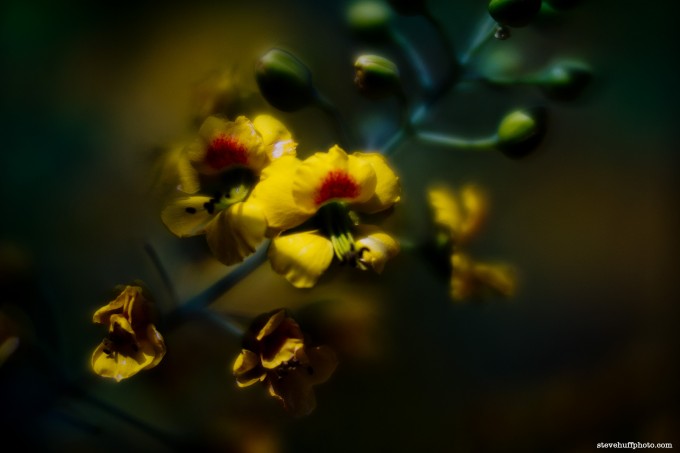 –
Look at the rich colors and depth…this is wide open with an ND filter. T0.95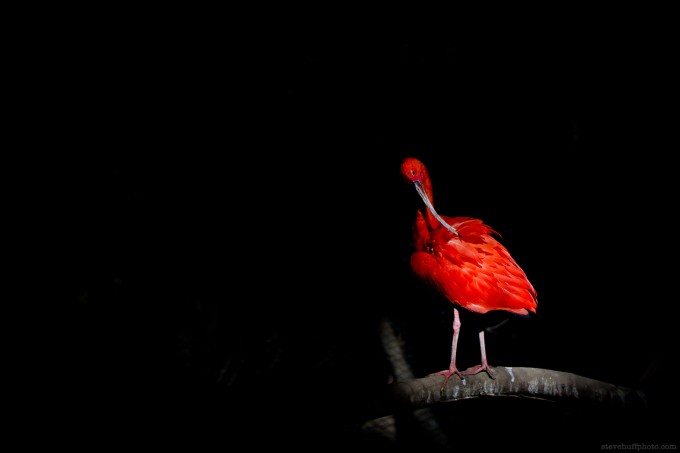 –
Again, wide open…click any of these images for larger versions! – ISO 640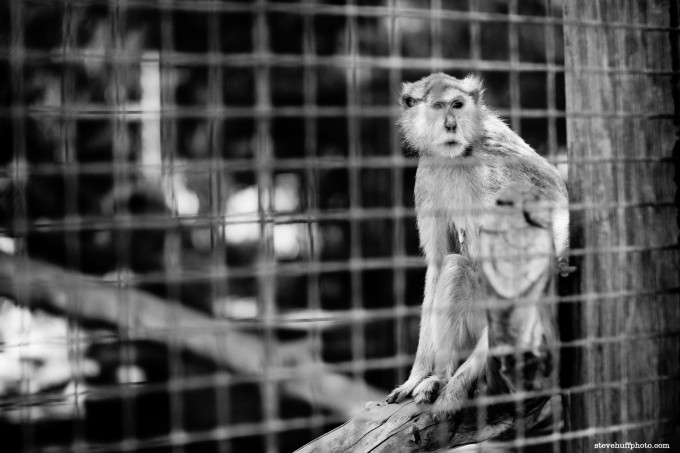 –
T0.95 at ISO 1600 on the nEX-7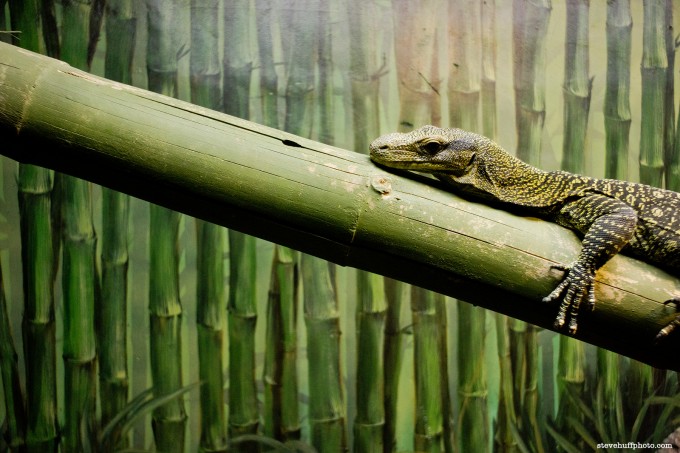 Shooting this lens on the NEX-7 was super easy. The focus peaking allowed me to focus quickly and accurately, even when wide open. The one negative about this setup though is that the lens is so front heavy on the NEX body. It is almost borderline ridiculous but with this lens on the camera be sure and hold it by the lens, not the camera body. I plan on shooting this bad boy much more on the NEX-7 as I am really liking what I see. I mean, it's almost up there with the M9 files except they are not full frame so we get a bit of a different look. If you missed my NEX-7 review, be sure and take a look here.
ALL I ASK! HELP ME TO KEEP THIS SITE GOING AND GROWING!! IT'S EASY TO HELP OUT & I CAN USE ALL THE HELP I CAN GET!
Remember, anytime you follow my links here and buy from B&H or AMAZON,
 this helps to keep my site going. If it was not for these links, there would be no way to fund this site, so I thank you in advance if you visit these links. I thank you more if you make a purchase! I have nifty search bars at the upper right of each page so you easily search for something at either store! I currently spend 10-14 hours a day working on this site and the only way that I can pay for it is with your help, so thank you! Currently my traffic has been increasing but my funds to pay for the site has been decreasing, so any help would be GREATLY appreciated!
Even if  you buy baby food, napkins or toothpicks at amazon it helps this site, and you do not pay anything extra by using the links here. Again, you pay nothing extra by using my links, it is just a way to help support this site, so again, I thank you in advance 

If you enjoyed this article/review, feel free to leave a comment at the bottom of this page and also be sure to join me on twitter or my new facebook fan page and Google +  page! Also, you can subscribe to my feed at my subscribe page HERE and read these posts in your browser or news reader!