OM-D E-M5 greater Dynamic Range than the X-Pro 1? Plus 1st quick snaps…
You guys know I do not do "technical" tests with charts but some enjoy this scientific look into cameras and sensors. I have been shooting with the OM-D E-M5 for a few days now and absolutely love it. Without a doubt it is my top mirrorless choice right now. Above the Fuji, Sony and others. Why is this? Well, not only for its design, build, size, color, sharpness, high ISO performance and speed and responsiveness but also due to the lenses available. It also doesn't hurt that tech radar.com just tested it and showed that using RAW, it outclasses the NEX-7 and Fuji X-Pro in Dynamic Range. IN fact, they say it measures better than any compact to date.
This test is from techrader.com and their OM-D review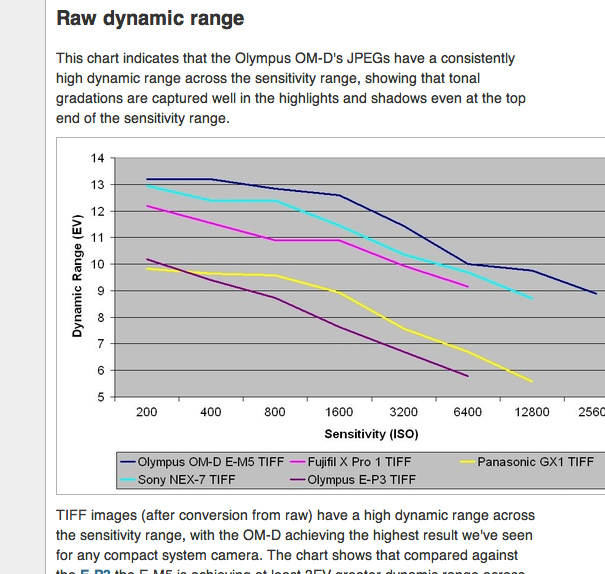 Yes, Micro 4/3 has matured. I have been seeing great results in every area just shooting JPEG with the E-M5 and even the video is spectacular. So with the E-M5 I have been able to shoot JPEG in good light, low light, high ISO, bright light and low ISO and get superb results, great detail and sharpness and that Olympus color signature. Love it.
My early thoughts? It is fast, accurate, highly capable, and doesn't really give up much of anything to the NEX or Fuji besides if you shoot at super high ISO's like 6400 or 12,800 (then the Fuji beats it no question). Shallow DOF is attainable with the 45 1.8 and the soon to come 75 1.8 should be even better but you will still get a more creamy shallow look from cameras with larger sensors. So far the low light performance has exceeded my expectations as has the 5 Axis IS (which is sooo good for video..and no more "jello" effect). I would use this in pro situations due to the speed, accuracy, IQ and ISO performance. DR seems great as well, and is confirmed by the techradar report. More to come.
My review will be here soon, but do take a look at the results from tech radar.com   on this little jewel of a camera. Below are just a few fun snaps that I took this weekend while around town, nothing special but it does show that this camera is a big step up from previous PEN cameras in regards to low light and IQ. Clicking an image will make it larger and the EXIF is embedded in each photo. Again, this is NOT my review – I will be posting that soon-ish and it will be very detailed. I have a couple of trips planned where I will be taking the E-M5 with  me so I plan on giving it a real workout.
remember to click the images for larger view!
12mm at f/2 – OOC JPEG
12mm at f.2 – ISO 1600 – OOC JPEG – sharp, detailed and noise is NOT offensive at all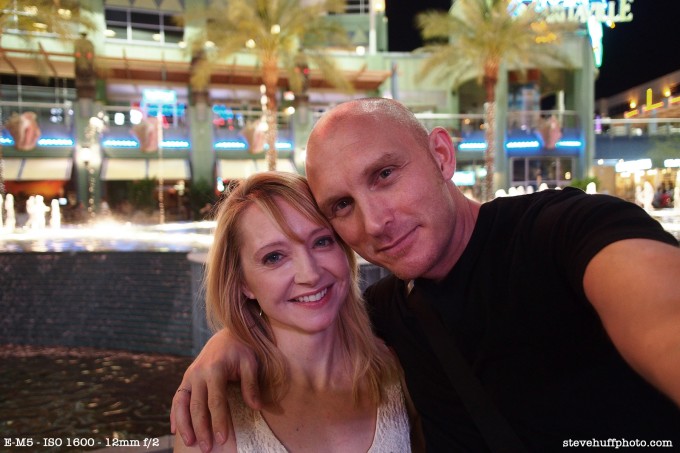 –
45 1.8 at 1.8 – ISO 400 – OOC JPEG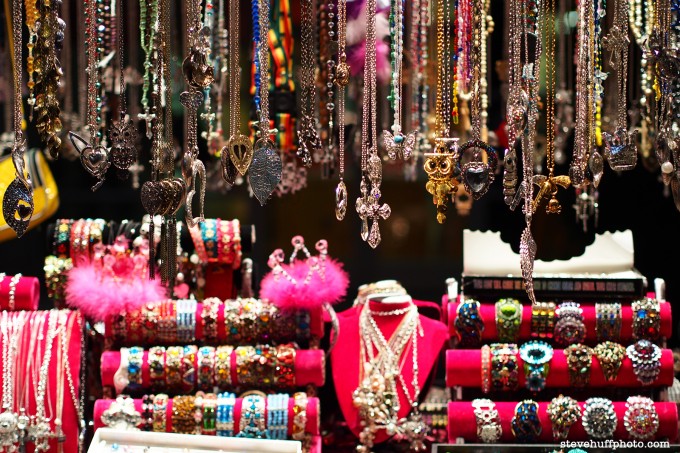 –
45 1.8 at 1.8 – ISO 1000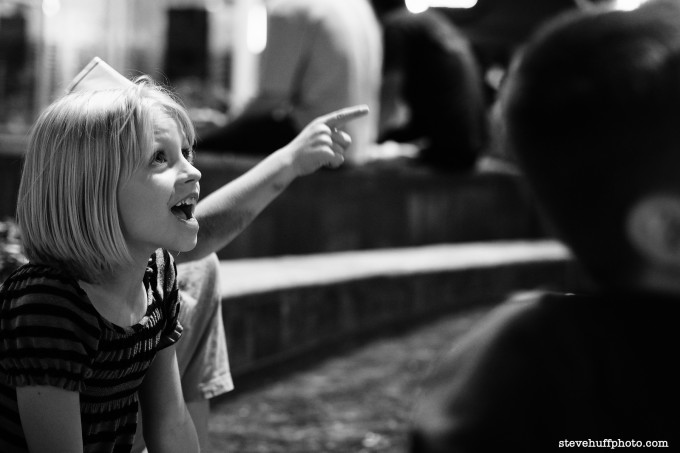 –
45 1.8 at ISO 1600 – OOC JPEG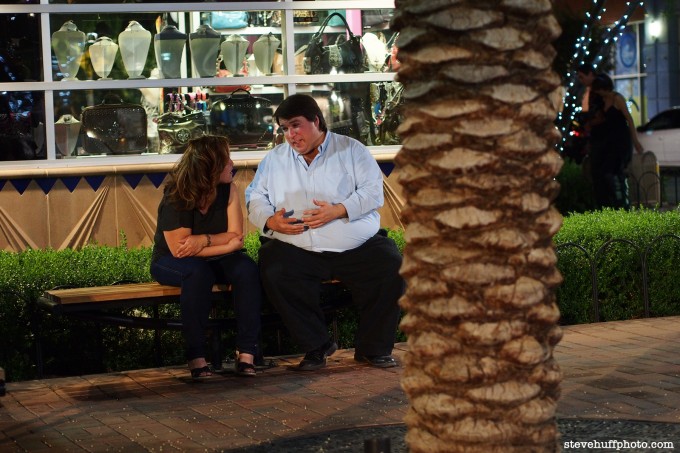 –
My beautiful fiancé with the 12 at f/2 – ISO 1600 – Was walking with low shutter speed so there is motion blur, this is not mis-focus (which has yet to happen with this camera)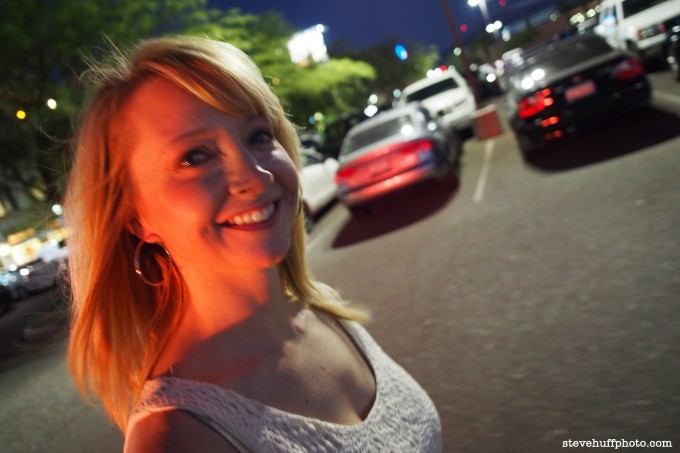 –
12mm f/2 – iso 200 – the color and detail of OOC JPEGS is great. Can't wait for RAW support from Adobe.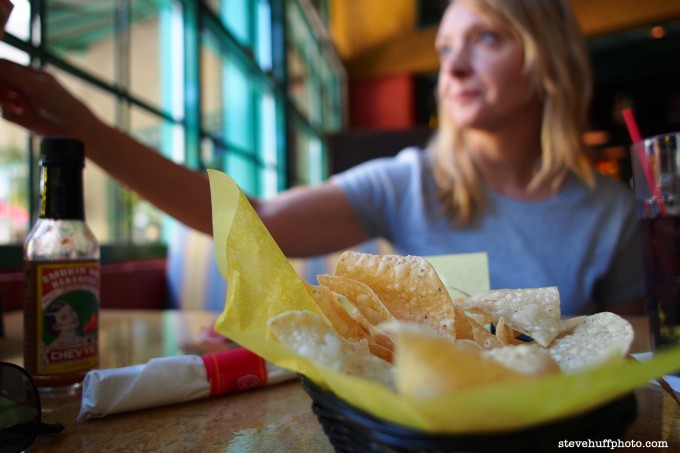 –
and something that was not attainable before…usable ISO 6400 – The X-Pro 1 does even better at 6400 but the OM-D is not too far behind.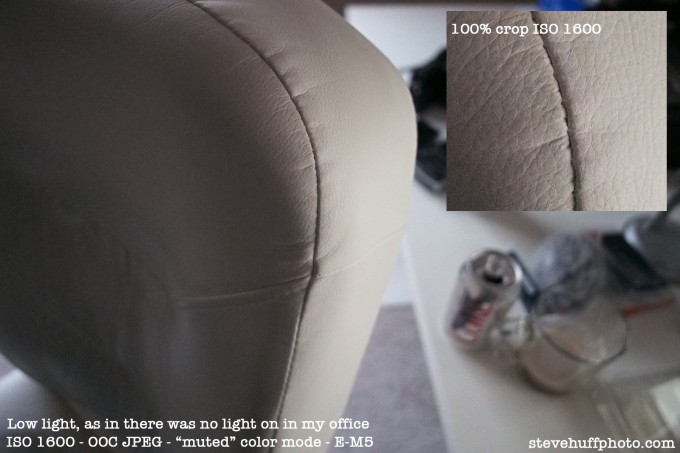 Remember, these were just quick snaps and all are JPEGS from the camera. I have yet to prices any RAW files.