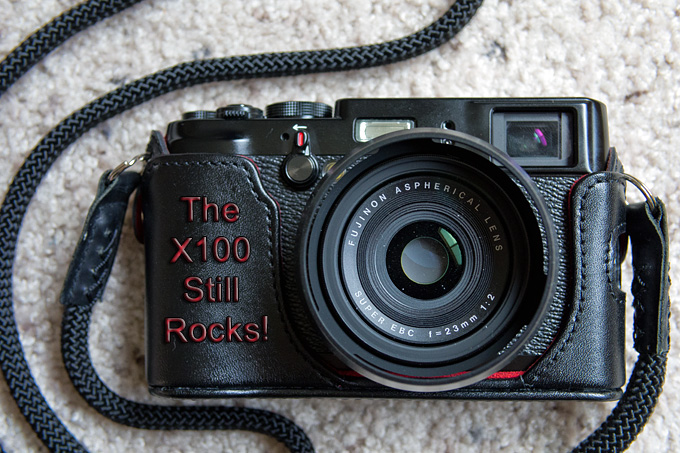 UPDATE: That X100 still rocks!
NOTE: I have had no less than 30 emails this morning asking what strap I had on the X100. Well, here it is on Amazon!
 It's called a "street strap" and it is comfortable, soft and looks amazingly like the A&A silk strap at a much lower cost. It is also longer than the A&A so easily worn around your body. 
Wow. After many months of NOT owning or shooting with a Fuji X100 and then picking one back up again I remember why I fell in love with it in the 1st place. I am now the proud owner of a Black Fuji X100
 and after just a couple of days of shooting with it, and the latest firmware, I enjoy it much more than I did back when it was released, and I loved it then too! Now, many of you know I love Leica. I have been labeled a Leica "fanboy" by many and I always said that if really loving a camera system makes me a fanboy then so be it! I simply love the Leica M9 and consider it one of those rare digital cameras that will go down in history as a classic. The words "Digital" and "Classic" are indeed rare and a couple of other cameras I can think of that are now digital classics in my book are the Leica Digilux 2 and even the old original Olympus E1.
The Fuji X100 at f/2 – With some basic adjustments in the RAW processing. This little camera is impressive. Click it for larger.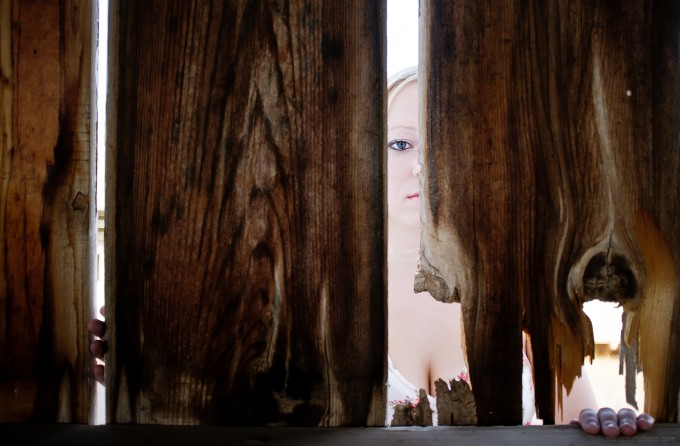 So while I love and adore Leica cameras, what they stand for (or maybe what they used to stand for) and their quality, the fact is that I am also open to other camera systems. Always have been. The only problem is that there has not been much that could sway me from Leica until just recently. When I say "sway me from Leica" I do not mean I would stop shooting Leica, I just mean that there has not been any other camera that would make me set the Leica down more often than not. While there are cameras that out spec Leica cameras by far, say what you will, Leica does indeed have a quality and charm that is unique to them. Some see it clearly and some do not but when you work with digital files daily from almost every digital camera your eyes sort of become "trained" to spot the differences. With Leica there is a smooth sharpness and color that other cameras haven't really matched. But I feel it is in the lenses they make much more so than the bodies.
[ad#Adsense Blog Sq Embed Image]
For example, the Leica X2 is really good in the IQ department but I think it is mainly due to the 24 Elmarit lens Leica have created for it. So yes, the X2 is fantastic in the IQ department, especially when it comes to shooting PEOPLE. But the X2 is lacking in other areas like overall speed, crappy LCD, no built-in EVF, etc. The fact that it is $2000 in todays competitive market means it may be a tough sell for Leica, especially when the X100 is still $1199 and in some cases, a bit less. But one thing to remember and ask yourself is that would you expect Leica to sell the X2, a made in Germany REAL Leica for less than that? No, not really. That would not be so "Leica Like" of them now would it?
So with the cost of the X1 and X2, many have went to the X100 from Fuji, which when launched promised to be "the professionals choice'. It was hyped and hyped and hyped even more and when it was shipped many were frustrated with the laggy menu system, the slow AF and buggy performance. I still really loved the X100 because the output was beautiful, though different than the X1 I had at the time. Eventually I sold the X100 and X1 because they were just too slow for real use. I became frustrated with missing shots, much like I did with the new X-Pro 1 and when that happens, it is time to say goodbye.
So fast forward to  now, June 2012. Fuji have been releasing firmware updates to the X100 to improve its speed, functionality and overall snappiness. Everyone was telling me how great it was so I caved and as I stated at the beginning of this article, I now own one in black. Bottom Line? With the new firmware it is like a new camera, and the black? Gorgeous. So after a day of shooting at the park with the X100, X2 and OM-D I can safely say that the X100 still rocks 🙂
X100 – f/2.8  – this is one of those cameras that give out a really nice vibe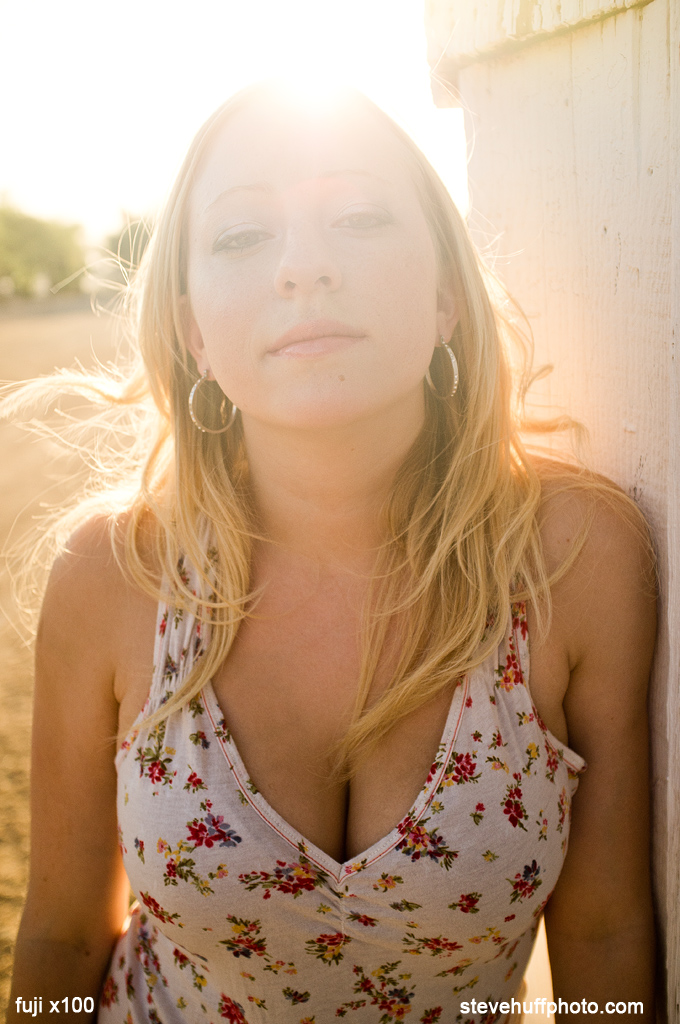 –
Decisions Decisions…
Over the past few days I have had many emailing me and asking what camera is better…The Fuji X100 or the Leica X2. Well, there really is no clear answer as BOTH are really good in regards to output and quality. Which camera someone buys for their use all depends on personal preference. Which camera speaks to you the most? When you look at them, hold them or try them...which one talks to your heart? That is how you have to look at it and in the end, no matter what you choose, these days ALL cameras are really good. A new camera will not improve your skills of course but one that you can bond with and feel good about shooting will help MOTIVATE you and unlock that passion you have for it. That may be the Leica, that may be the Fuji. It may be a Canon or Nikon or Sony. Only YOU can figure it out as everyone is different.
I have to say that I have enjoyed shooting the Leica X2 but The X100 is really fantastic.
This one does have some PP – I did add some grain as well as crop – again, that Fuji flare is there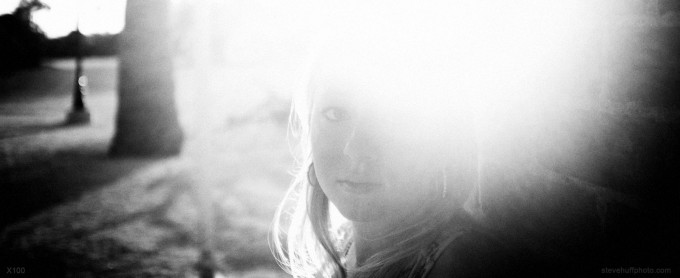 The shots you have seen here so far have all been taken with the Fuji X100 in RAW, and converted using ACR. I often get asked what PP I do to photos like these and I always say NONE..sometimes. All I do is adjust sliders in the raw processing to add contrast or lower contrast. To saturate or desaturate. To add black level or take it out. I then add some sharpening and the image that pops out is what you see here. I found the X100 files to be pretty robust and with good color, sharpness and decent DR.
But… I found the OM-D to have even better Dynamic Range than the Fuji in real world use. Take a look at the two images below:
The X100 file..this one I did do some PP on as I used the burn tool to try to calm down the blown highlight on her foot as I couldn't get the detail back in the RAW file. Still, looks good.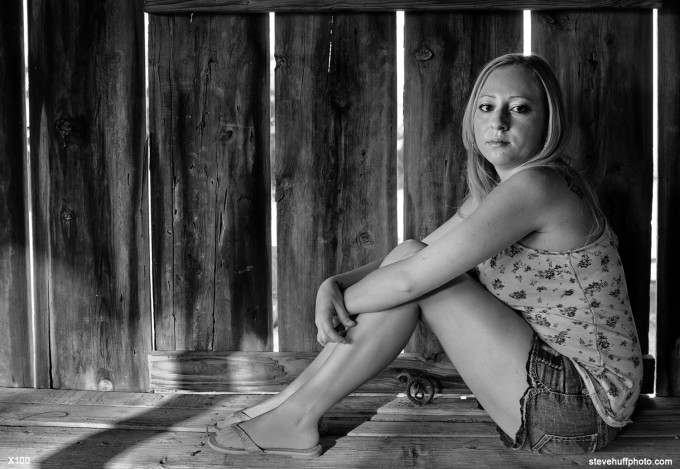 –
and now the OM-D file. Seems to have better DR as I had no issue with blown highlights with ANY shots I took with the Olympus yet the X100 had some and the X2 had the most.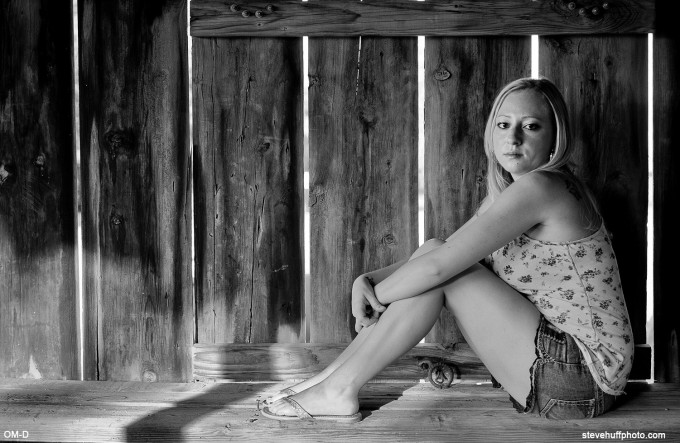 That damn OM-D is quickly becoming "the" camera of 2012. Pair it with one of the great lenses available (12, 25, or 45 but my fave is now the 25 1.4) and you will have a really great powerhouse DSLR quality camera, even for low light/high ISO. Even so, the Fuji and even Leica do offer a more "analogue" look.
Thank you Fuji, for the continued support and updating of the X100.
Instead of rushing out a new X200 already or even an X100.2 Fuji released firmware updates to this camera that improved on it each time, which shows me  they are great at listening to their customers. I wanted to thank Fuji for this as it has brought this camera back to my bag after giving up on it for being a bit clunky and frustrating. The X100 is still not a perfect camera but none really are (though I have yet to find a negative with the OM-D). It is a much different camera than the Olympus OM-D and for me, I am glad to own both. The Fuji for the times I want that Fuji look and a nice fast 35mm lens and the Oly for when I want speed, responsiveness, video or versatility in focal length.
Of course there is still the Leica M9 that comes out when I get serious 🙂
But the X100 is good for color, B&W conversions and every day photography. It is sharp as I will ever need an image to be.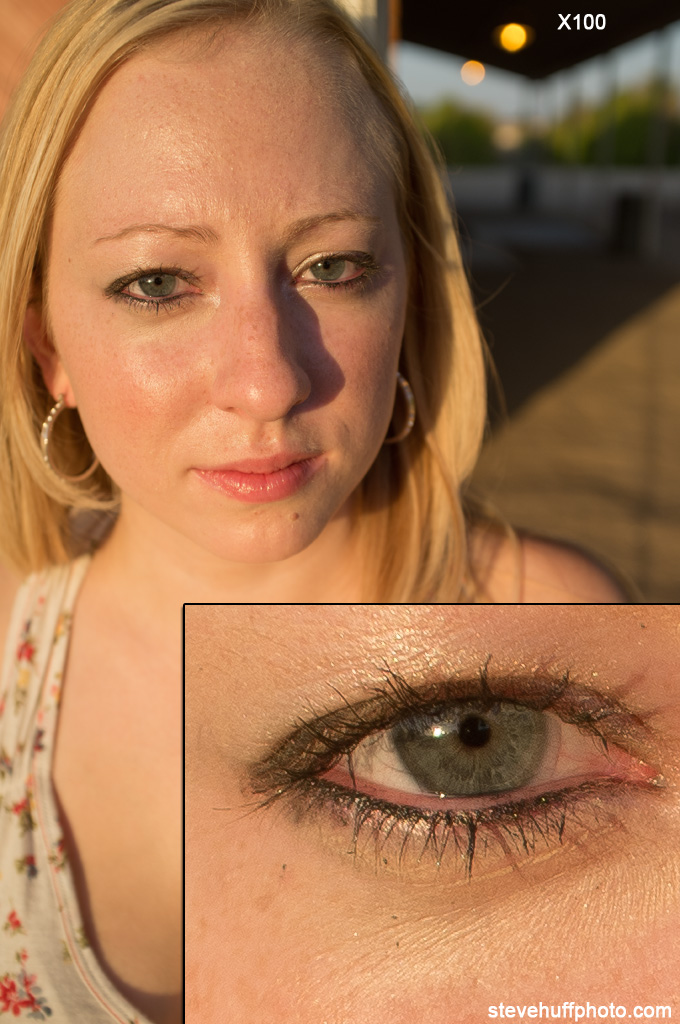 The big question. The X100 or the new X2?
Again, as I have stated above this is all about personal preference. Is the X2 just as capable as the X100? Yes, of course BUT it is different. Different color signature, different in handling and use and well, no video and no hard to see in the sun LCD. It doesn't have a VF built in and the one you can buy make the camera bulky and odd-looking. It also seems to be prone to the teeniest but of hand shake as many of the shots I snapped with the X2 of Shea (the girl in these photos) had some sort of blur or they were not sharp if the shutter speed was lower than 1/100th. I was able to get sharp images with the X100 and OM-D in the same light where the X2 was giving me unsharp images in some situations. For me, it was a joy to shoot the X100 and OM-D and the X2 was a tad slower and odd without using the EVF. It was also tough to frame in the sunlight without a VF. Other than that the IQ is stunning when you nail it and colors may be the best from the X2 which is no surprise as I preferred the X1 colors to the X100 as well. 
Overall The X100 has a more "smooth" laid back kind of feel and the X2 has a more crisp brilliant feel but with that said, I managed more keepers with the X100 this weekend.
If you are into the whole Zen like X2 vibe, it would be the one for you. I like the X2 and wish I could afford to have one around in addition to the X100 but sadly this is not the case. For me, I found the X100 to be the better buy due to the cost and capabilities but I do really see a different look with the Leica in the X2 files. Like I said in my X2 review, as long as you know what you are getting when you buy it and do not mind the cost then the X2 is great. You can clearly see the difference in the X2 look below and the flare in the X100 🙂
One from theX100 and the  X2 – each looks different and the X100 flare is actually beautiful in some situations. Both at f/2.8.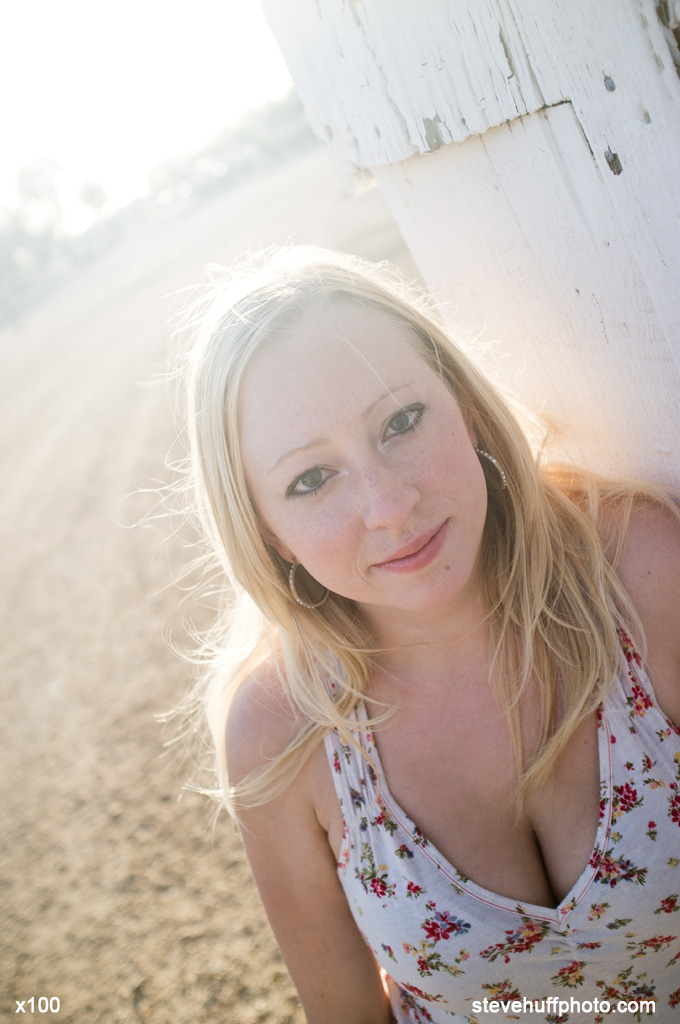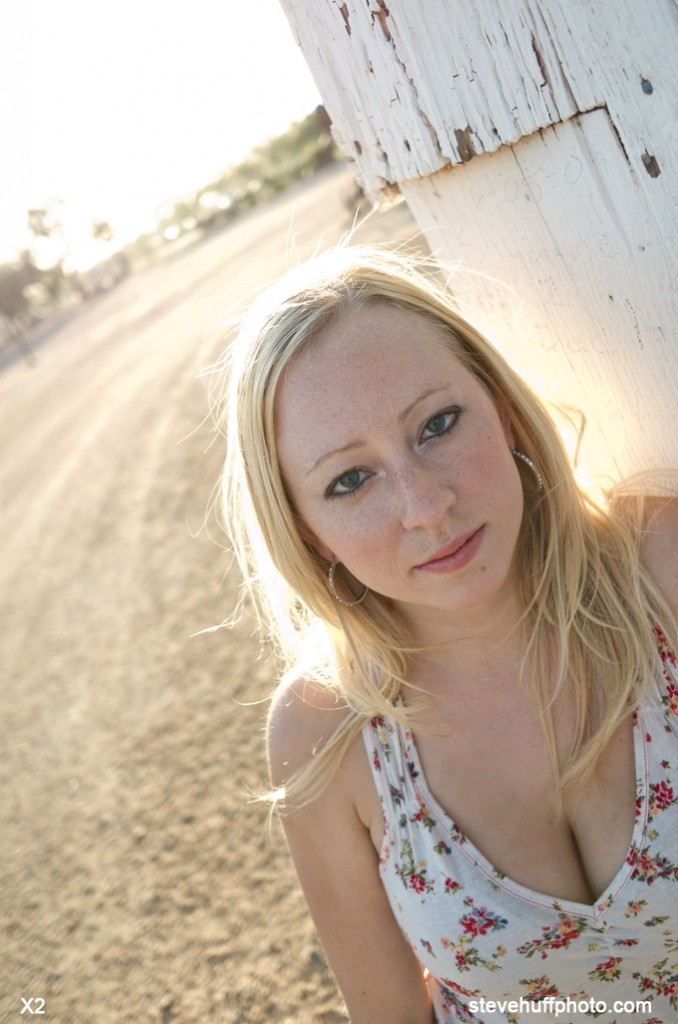 So yes, even today, a year after it was released..I can recommend the X100. 
The X100 is better today than it was a year ago when Fuji released it. That 1st version of the firmware at release was AWFUL. The menus were choppy, the AF slow and the AF missed quite a bit as well, especially with the OVF. Today 95% of the X100's quirks have been solved with easy to implement firmware updates. So if you still have an X100 go out and shoot it. If you have been deciding on a small camera/large sensor camera to buy and have been waiting for these new released like the OM-D and X2 then I can say ANY of them are more than capable of delivering results that are better than mostly all of us can achieve.
The Leica, The Fuji and the Olympus are all image quality monsters. Go with your heart 🙂
A few more random shots with the X100…
ISO 3200 – X100 – f/2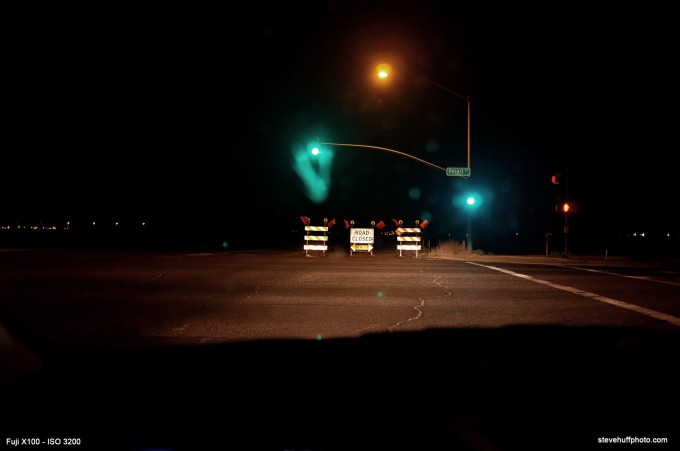 –
and yours truly at iso 200 in the mirror 🙂