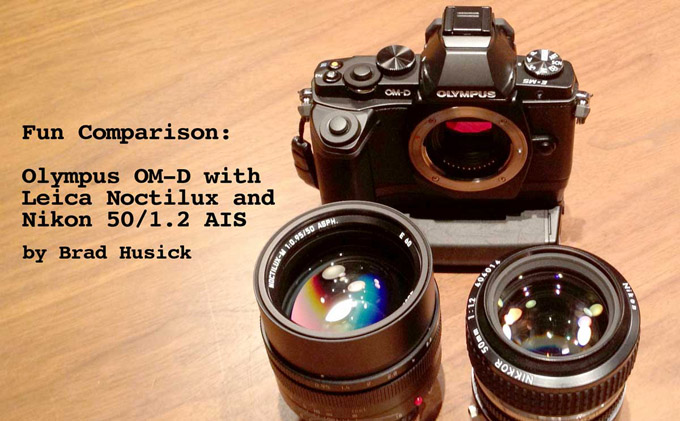 Fun Comparison: Olympus OM-D with Leica Noctilux and Nikon 50/1.2 AIS
by Brad Husick
Now that I am learning to use my new OM-D and enjoying the process, I thought it would be fun to mount some super-fast 50mm lenses and see the results. The two lenses I own in this category are the legendary Leica 50mm f/0.95 ASPH Noctilux ($12,500) and the Nikon 50mm f/1.2 AIS ($695). Both are manual focus lenses. The Nikon has been produced for decades and uses no aspheric glass elements so Nikon has been able to keep the price low for this amazing lens. The Leica 0.95 may represent the state of the art in fast lens design and costs more than most used cars, and about the same number of (nominal) dollars that my parents' first home cost in the 1950's.
I think both lenses are capable of some amazing photos. The Noctilux is magical at the widest aperture and quickly sharpens as you stop down. I think its performance is equal to the Leica 50mm f/1.4 ASPH Summilux from f/1.4 to f/16. The Noctilux weighs in at 28 ounces while the Nikon weighs half that amount.
Both lenses were shot at their widest aperture, so this is intended to show what each is capable of producing, rather than a direct comparison of their performance at a given f-stop. I like to shoot these lenses wide open, so that's the test I performed. I have no doubt that the Noctilux will outperform the Nikon at any given aperture, but you don't need an advanced degree to guess that. You can buy the Nikon and give one to each of your seventeen best friends for the cost of the Leica.
All the photos were shot in RAW then opened and saved in Lightroom. No adjustments were made except for resizing.
Enjoy the images, and thank you to Starbucks for allowing me to shoot when Seattle is giving us typical June weather (rain!)
click these for the full size crops at 800 pixels wide (shown here at 680)