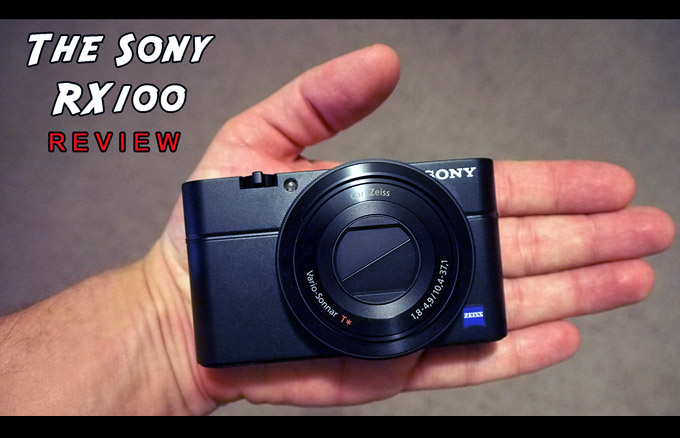 The Sony RX100 Digital Camera Review – The best pocket digital compact of the year…actually…EVER!
Holy Pocket Rocket! That is what I said when I shot this camera and brought it back home to take a look at the files. The Sony RX100 is a SMALL pocketable camera, as in front pocket camera, and it packs a mean punch though I guess it should for its $650 price tag. I was a little underwhelmed with the latest NEX-F3 basically because it is more of the same old same old. Don't get me wrong,  it's a great camera but to me just a slight upgrade to the NEX-3 and C3. But what I never expected was for Sony to release this RX100 and have it be as good as it is for being so small. Yes my fellow photo enthusiasts, it really is that good and after this and the Nikon V1 I will never again doubt a small sensor camera, ever.
Before I get to the nitty gritty and let you know about my time with the RX100 here is the first look video I made as soon as the RX100 arrived to me:
–
You know me..I am not a fan of cameras without an EVF or some type of built in VF. I just feel a VF makes a camera more "complete" and more usable and sometimes, even more fun. I hate holding cameras out at arms length for various reasons but mainly it just seems "anti" photographer not to mention that the LCD screens are usually washed out by the daylight sun.
[ad#Adsense Blog Sq Embed Image]
I had this washed out issue with the Pentax K-01 rendering the camera useless to me in the bright AZ sunlight. I loved the IQ from that Pentax and applaud them for being different with the design but if it had a built in EVF I may have bought one for myself. I am also not a fan of zoom lenses (due to them usually being so slow) and this RX100 seemed (at first) like a dumbed down Nikon V1 without the EVF. Why? Well, because it houses the same size sensor as the Nikon 1 series sensor, which is a 1″ sensor (don't get me started on sensor "actual" sizes, this is what Sony and Nikon call it, so this is how I am referring to it). This sensor is larger than point and shoot sensors but smaller than even Micro 4/3 or APS-C sensors. The good news is that the sensor in this camera ROCKS and ROCKS hard and I have never seen a small camera such as this deliver this quality in not only photo but video as well.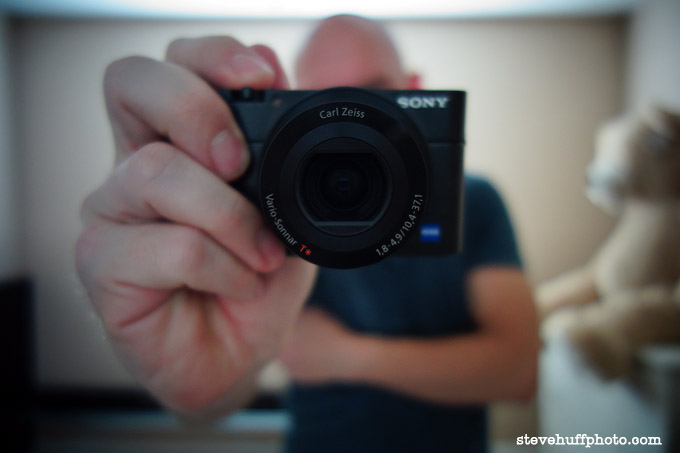 The good news is that the RX100 doesn't have an issue with using the LCD in bright light as Sony uses their new "White Magic" technology that keeps the LCD viewable in even this harsh AZ sunlight I live with every day 🙂
IMPORTANT! WITH all of my reviews and this one as well you must CLICK THE IMAGES to see them larger and in the quality they are meant to be seen in. If you do not do this they will not look as good as they could.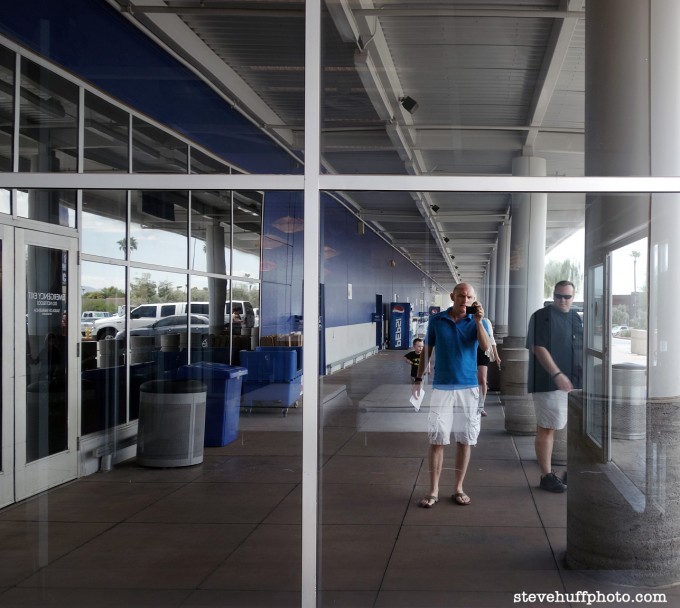 –
The Zoom lens in the Rx100 – Zeiss quality and rendering is here!
I stated that I was not a fan of zoom lenses in most compact or P&S (point and shoot) cameras but the lens in the RX100 is different. It starts out with a fast f/1.8 aperture and offers a 28-100mm zoom range. While the lens doesn't stay at f/1.8 for long (as soon as you zoom from 28mm it goes to f/2 and then slows down from there) it offers really good quality in "real world" situations. You know, what a camera is built to be used for…photos. I have shot the RX100 in all kinds of situations. Low light, good light, harsh light and at all focal lengths and apertures. Never once did it disappoint me. Shooting at 28 at 1.8 is nice as you get that fast aperture so you can keep ISO's lower (as low as ISO 80) or jack it up if you need to to shoot in low light.
RX100 – f/2.2 – 30mm – ISO 1000 – JPEG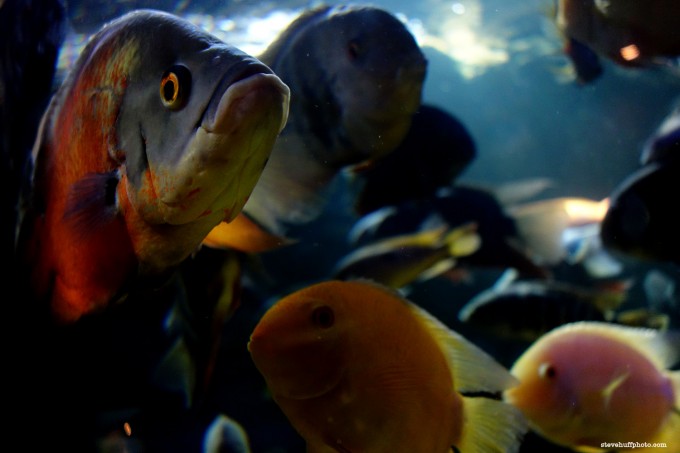 –
The RX100 at 28mm wide open at 1.8. You can get shallow Depth Of Field if you stay close to your subject.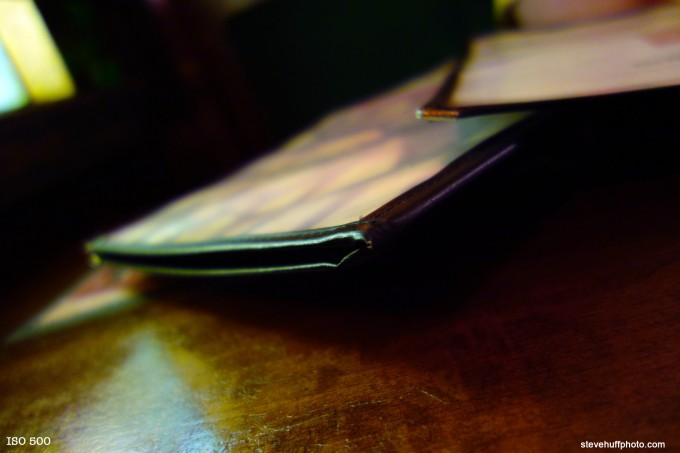 –
Another wide open at 1.8 and 28mm – this camera also happens to be SILENT in addition to crazy small. It's the same shutter sound as the uber quiet Leica X2 and Nikon V1 when using the electronic shutter.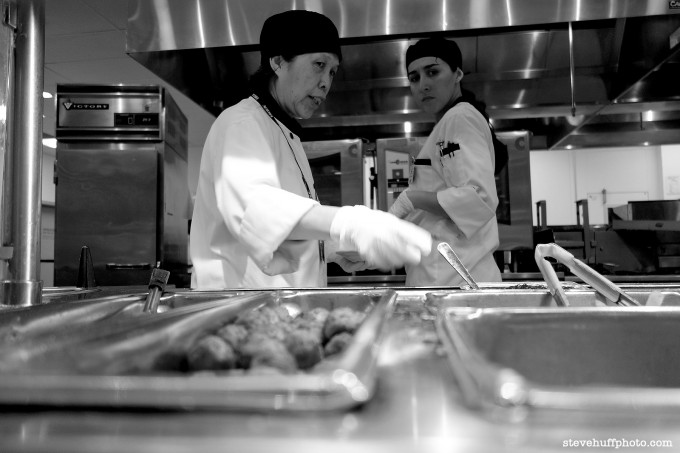 –
So I was not disappointed with the lens at all. I found it sharp even wide open. I found the color to be some of the richest I have seen from Sony without the usual color wonkiness the NEX series gives you at times. It's got a Zeiss feel about it and is smooth with great color pop and contrast. Me like.
Click images below to see full 100% crops embedded in the larger versions!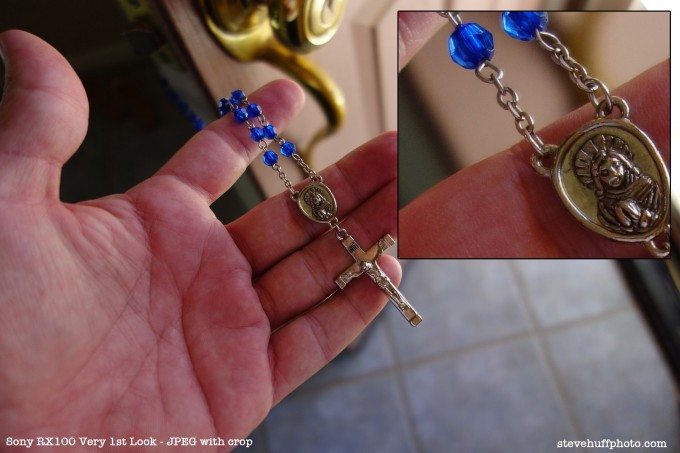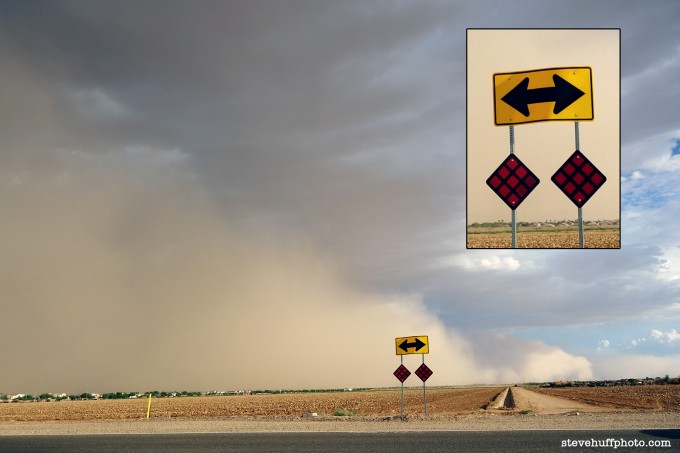 –
The Features of the Sony RX100 – Lots of tech here
This little guy may appear to be just a compact P&S but it is much more than that. I am not going to bullshit here or beat around the bush. THIS my friends is the compact you have been wanting since digital photography started. If the RX100 launched in 1998 people would have been dumbfounded and shocked beyond belief. There are loads of things here that the Sony gives us..
Focus Peaking for Manual Focus and using MF with the ring dial is easy.
Live out HDMI. You can connect a mini HDMI display if you like and shoot with it in this way.
Control Dial on the lens barrel. Not a 1st but it is well implemented as you can program its function quickly.
Large sensor quality in a jeans front pocket camera. Wow!
"White Magic" LCD screen so you can view and compose in bright light. Works great in sunny harsh AZ so will work wherever you are!
Silent as can be shutter. This is a leaf shutter much like what is in the Leica X2. No one would ever know you snapped a shot off.
The lens extracts quickly upon power up and closes in at shutdown in a fast motion. When sucked in the body the lens has a built in cap that closes to protect your lens. No more lost lens caps. Also, the camera is very slim with lens retracted.
Much improved menus and control over the NEX series.
Full manual video! You can set the aperture, shutter speed, etc. No more dumbed down video.
Beautiful metal build in an all stealthy and gorgeous BLACK.
SteadyShot works great, as always.
Close focus abilities when at 28mm, something the Leica X2 can only dream about.
Has all of the usual Sony features like Sweep Pano, Color filters, Night modes, and even the new "Superior Auto" mode  that helps you take great pics even if you have no idea what you are doing.
AF is fast, almost instant. I have shot in low light, no light and good light. The camera had a hard time in NO light of course but I had no issues in low light, AT ALL. Focus always locked and never gave me a false lock (like the NEX does at times).
Built in flash is tillable for bounce.
Unique self portrait mode where the camera waits until it sees your face in the frame before it fires. It then takes a shot every three seconds until you move out of  the frame!
Zoom is slow and steady for video use.
Fast burst mode with 10 frames per second capability.
ALL of this in a tiny shirt pocket design. Oh, and it is made in Japan. It reeks of quality inside and out.
RX100 – f/4 – ISO 100 – 28mm
–
RX100 – f/1.8 – 1/30 – -0.7 – ISO 125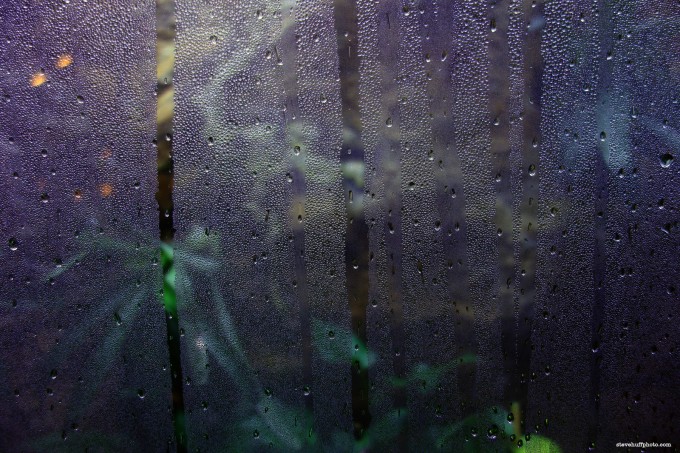 –
After shooting this cam for a few days I found I preferred it to something like a NEX-5 just due to the IQ, size, design and speed. The 1″ sensor must have some kind of special properties as the Nikon V1 also had these qualities but this RX100 is much smaller than even the Nikon V1 and IMO gives a little but better quality and much better high ISO quality. The RX100 literally squashes any previous P&S or pocket camera. The new upcoming Leica D-Lux 6 better have something special inside because it may be tough to beat the RX100. Seriously.
RX100 and Nikon V1 – The V1 is much thicker and larger but is also an interchangeable lens camera, which ultimately will give more versatility. The RX100 is a "super" compact meant to fit in a shirt pocket or pants pocket or purse. Literally TAKE ANYWHERE. Now there are no excuses.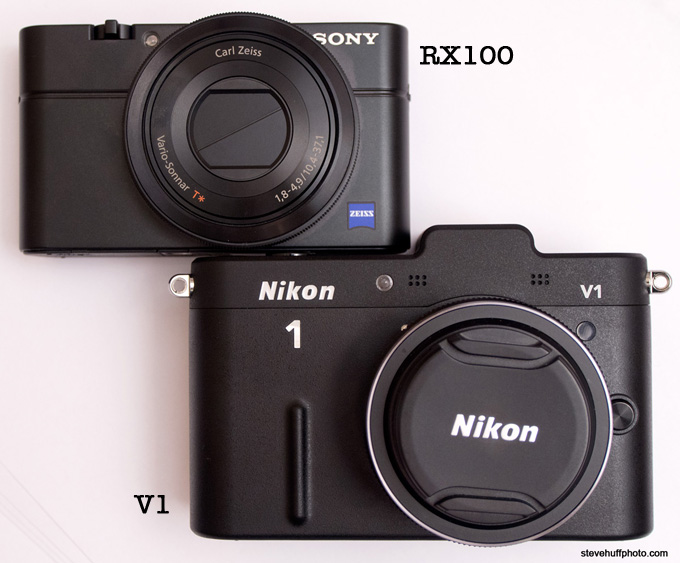 Low Light and High ISO
One issue with most compacts is that they may give you nice output most of the time but to me they have always appeared digital and hard in the way they rendered the photos coming out of them. The old Canon S100, IMO, was a prime example of this. It was very digital, kind of "hard", built a bit flimsy and had horrible low light performance with awful grain at ISO 800 even. Oh how times have changed..you have no idea!
Shooting the RX100 up to ISO 1600 is not a problem. Keep in mind that EVERY IMAGE in this review was shot as JPEG as at this time there is no Adobe support for the RX100 RAW files. So what you see in this review is the WORST this camera will deliver as it only gets better when shooting RAW. With RAW you can control the amount of Noise Reduction and therefore avoid smearing. You can control color, white balance, exposure AFTER the fact. I always shoot RAW but I have been very impressed with JPEGS coming from the Sony as is. This RX100 has better Auto White Balance and color than my NEX-7.
As for low light and high ISO I have been amazed at what I have seen. I turned the Noise Reduction to "LOW" and I shot a few images at various higher ISO's in various light conditions:
RX100 – JPEG  – ISO 3200 – f/4.9 – 95mm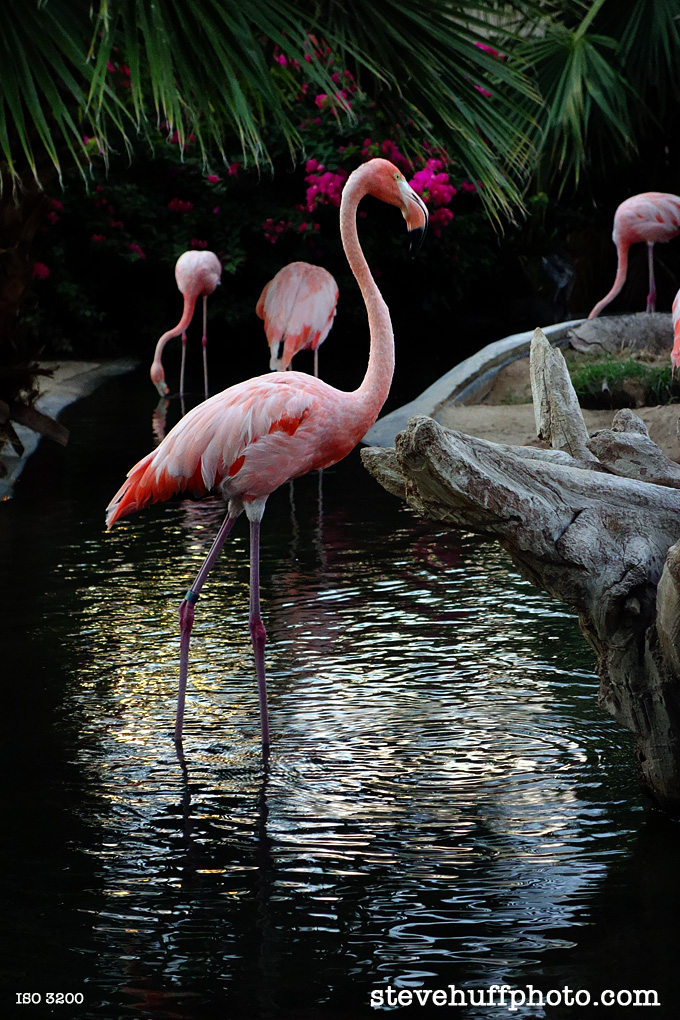 I shot the above image as a JPEG, Vivid mode I believe. It was around 8PM and I was at the Wildlife World Zoo here in Phx, AZ. The camera was on Auto ISO and it picked 3200 for this exposure. I zoomed in and fired. This is what came out. I have not added any Noise Reduction, I have not added any filters or effects. I simply resized this image to include in the review and adjusted contrast and levels. For a shirt pocket camera I have never seen anything close to this performance at ISO 3200, and this was at night!
I also did a long exposure around 8:45 PM in the same spot:
This is a 5 second exposure, ISO 80 at f/1.8. I set the camera on a ledge as i did not have a tripod with me.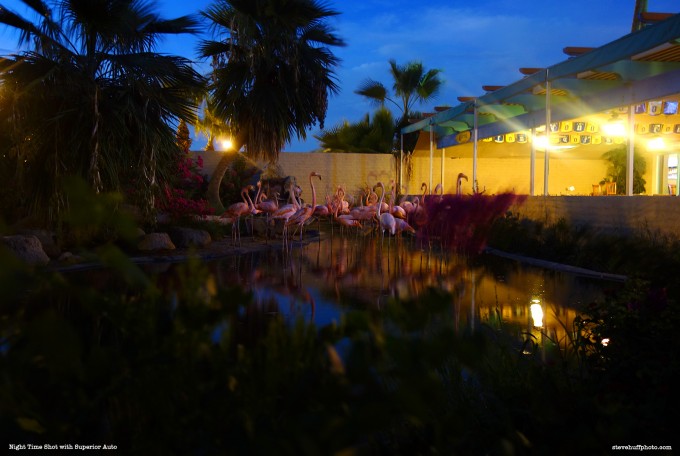 A few more high ISO examples including 6400 ISO:
RX100 – ISO 1250 with 100% crop embedded when you click the image!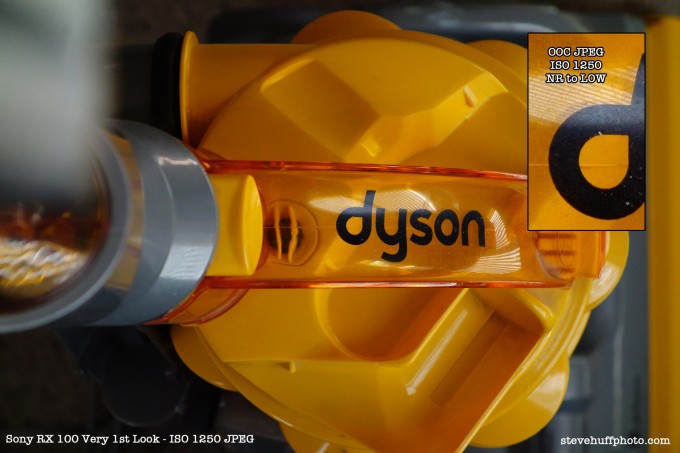 –
How about another ISO 3200?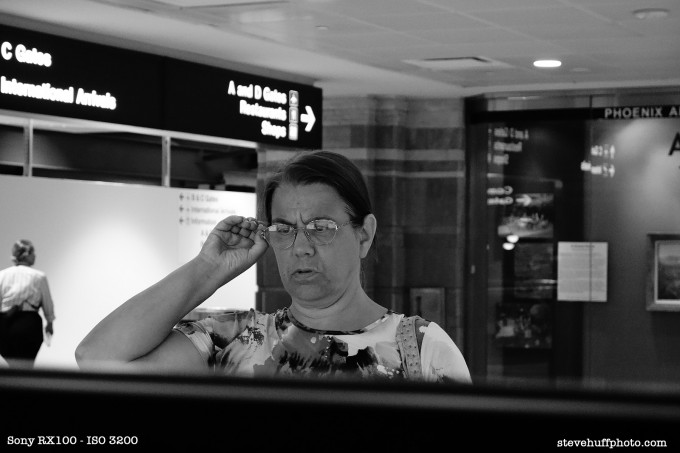 –
or ISO 6400?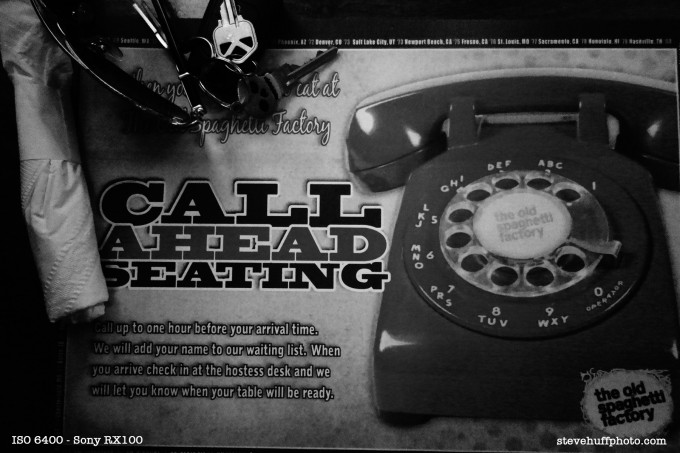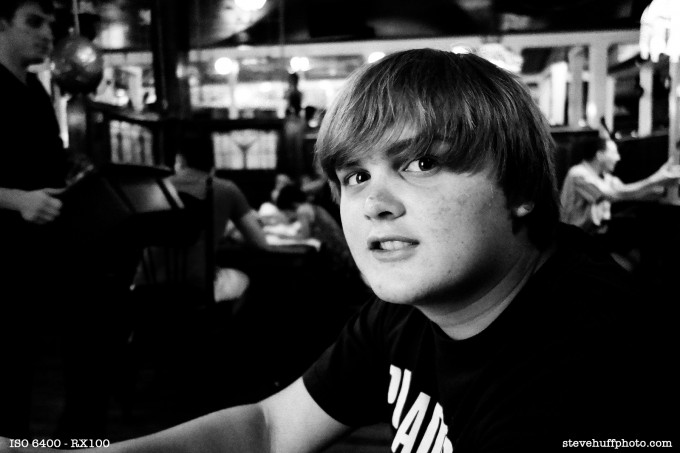 So why did I shoot the 6400 examples in B&W? I do not know really but if I were to shoot at this ISO it probably would be in B&W. I can not wait to see RAW results without the NR and noise smearing. I have a feeling ISO 6400 and B&W will be reminiscent of film with a tight grain, much like the Nikon V1 does at 1600 and 3200 with B&W. I have no complaints with the RX100 high ISO capabilities.
Why would I spend $650 on this over a DSLR? 
Man, you can go buy a full blown Sony A57 for about the cost of this little teeny pocket rocket. Why on earth would someone buy THIS RX100 over a DSLR? Some of you have already asked me this. I am one of those in the camp that feels the cost of the RX100 is NOT overpriced. For me, an RX100 brings me much more joy than lugging a DSLR anywhere. A DSLR and huge lenses have their place but they are not small or pocketable and I never would bring one everywhere with me.
This Sony RX100 has all of the features, and even more, than a huge DSLR. The image quality makes no apologies to it's bigger DSLR brothers. Sure, you can go buy a DSLR and pro lens and get sharper images and make huge ass prints but you can also do this with the RX100. You lose some versatility as you are stuck with the zoom lens but man I would personally spend my hard earned cash on this over any DSLR in this price range any day. If it came down to a RX100 or Nikon starter DSLR it would be this one because it fits in my pocket and gives me 85-90% of the larger cameras quality. It's nice to have this in addition to your workhorse or something like an M9, D800, 5D, etc.
Add to all of this the  panorama capabilities, HDR capabilities, color filters, a Zeiss lens, zoom versatility, great HD video, and some unique Sony only modes that you won't find on other brands. Built in steady shot, made in Japan heritage. I mean, this little guy means business and I am not hyping here. Just writing what I feel, as I have done for years.
When I write reviews I may be enthusiastic but one thing I am not is dry and dull. When my excitement is there it shines through these pages and extrudes out to you. That is when you know I feel a camera is REALLY exceptional. The RX100 is exceptional for what it is. It is not an M9, it is not a OM-D, it is not a DSLR. It is a camera that many will buy in addition to their DSLR or larger kit. $650 is a bargain for what you get here as this is a camera  that will get massive amounts of use, at least for me it will. I bought my copy. 🙂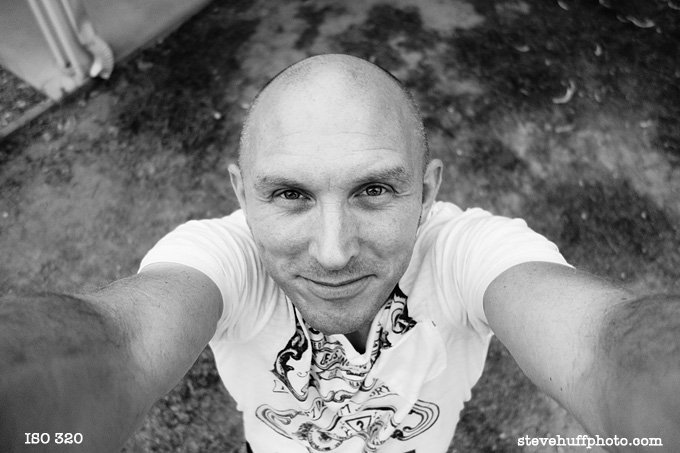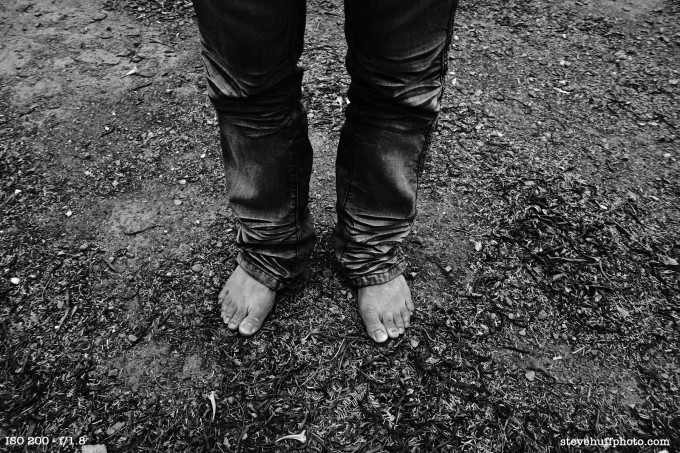 Motivation. I love being motivated to shoot and even though it's the middle of summer here in AZ, a time when I am NOT motivated to go out and shoot..the RX100 did in fact get me out to shoot. I had no massive projects underway but I shoot just like most of you. My everyday life. My son, my friends, my girlfriend, my dog and things I see and do. It's real world as it gets and the RX100 is a camera made for ANYONE and EVERYONE. That is what is so cool about it. It does what it does and does it well with little in the way of compromise.
–
Speaking of compromise, what is wrong with the RX100?
With all of this gushing over the RX100 there has to be something wrong with it, right? Well if I could redesign a thing or two I would try to add a swivel LCD as I think this would be really useful and add versatility allowing you to shoot in creative angles. I would try to add a VF of some kind, inside. Even an optical to keep size down if need be. The camera is so small and slick, there really is not much of a grip so a grip could be nice. A constant 2.8 aperture would also be amazing. BUT if you add all of the things I am suggesting it would make the camera quite a bit larger, taking away from what it is meant to be, which is a high quality take anywhere pocket camera.
This means that maybe Sony can work on a RX10 or RX1000 – a bit larger, 2.8 aperture throughout, grip, swivel LCD and EVF. Then again, this sounds like a NEX-7. Now that I think about it Sony nailed it with this. It falls in between their DSLR and NEX series and provides one more way for us photo nuts to get our fix.
Now that I think a bit more I would also like to see the shutter speed increased to 1/4000s as 1/2000ths is what it tops out at now and shooting in sunlight is tough at 1.8 if you want a creamier looking background. Also after some use by me I noticed the finish on one side scratched a little so there is already black finish that has come off on my body. It may have scraped up against another camera so my fault, but it will scratch if you are not careful! The battery door and USB door could also be a little more sturdy.
Where f/1.8 can come in handy! Low light, 1/30s, f/1.8, ISO 160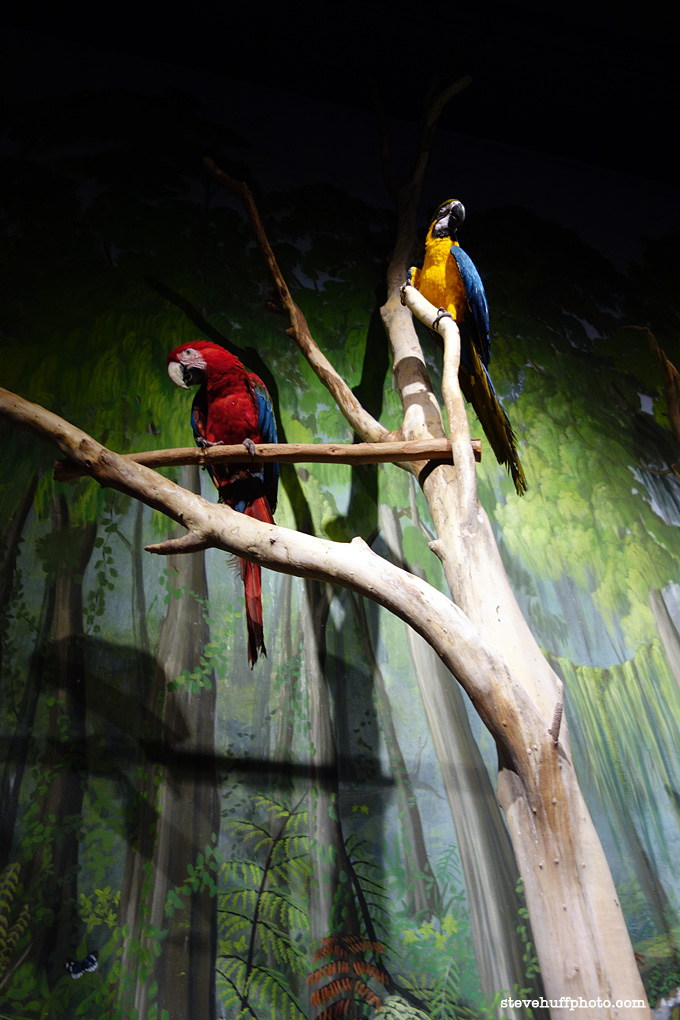 –
ISO 1600, B&W, 1/40s, f/2.2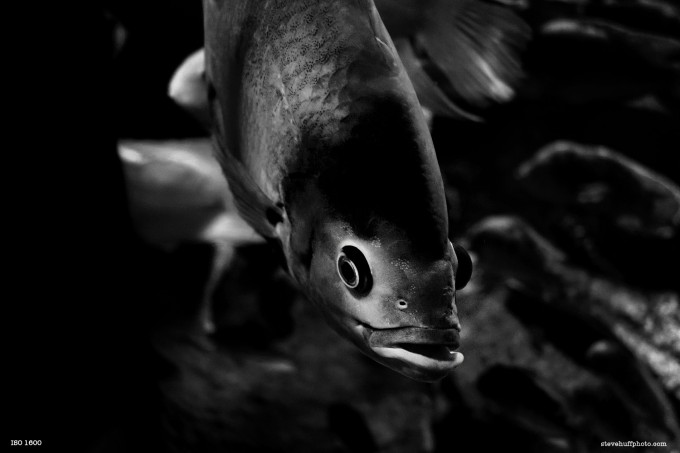 –
ISO 640 – f/1.8 – 1/30s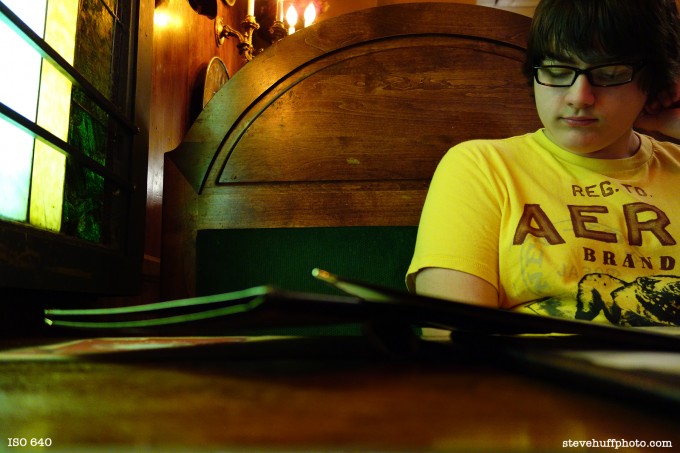 –
Concerts? No problem. The RX100 Shoots Seal!
This little dynamo can also shoot grain free concert performances it seems. Check out these shots of Seal taken with the RX100 but know that these were not shot by me, but reader Barry Burris in Tulsa OK! Thanks Barry! I love the way the RX100 rendered these challenging shots as no other pocketable compact made to date could tackle this and give such great performance. Amazing. For comparison, you can see my live shots of Seal all shot with Leica gear HERE.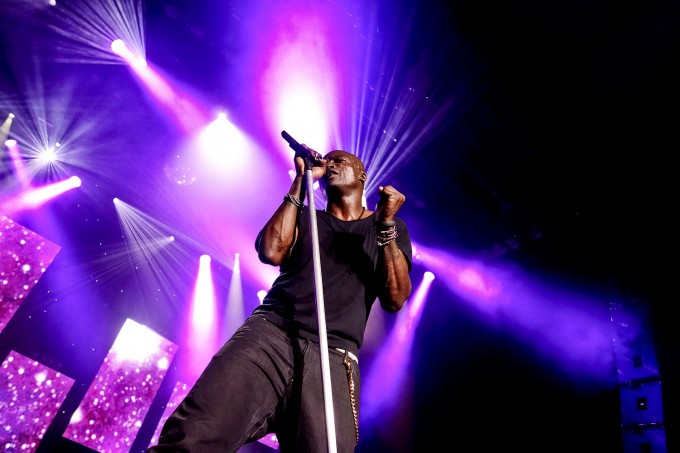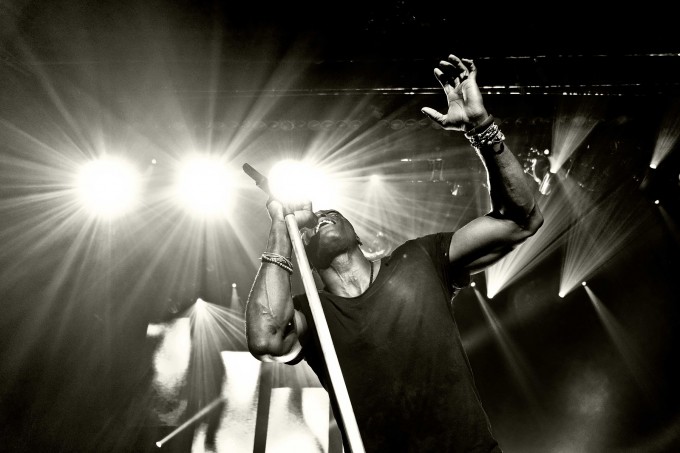 –
So this camera even does HD video? YES it does! 1080P
The RX100 also shoot HD video and you have options here. You can shoot in AVCHD or MP4. Tou can choose your recording settings such as 60i or 60p and the cool thing is you have full manual control if you desire when shooting video. You can also let the camera take over and choose settings. I like shooting in Aperture priority mode so I can choose the Aperture. There is also a wind noise reduction setting because this camera will pick up wind noise, no doubt. The RX100 will not give you video as rich as the NEX-5n or NEX-7 or even Olympus OM-D with a nice lens BUT it will give you perfectly acceptable video that is rich and with great IS. Below is a video sample I made with the camera. BTW, you can NOT add an external mic to the camera, which would have been cool so you are stuck with the internal microphone.
—
RX100 Sony Features – Panorama, Picture Effects, etc
For JPEG shooters who want simplicity and some cool out of camera effects Sony has included their Picture Effects and Sweep Panorama modes just as they do in all of their cameras. You get Toy Camera, POP Color, Posterization Effect, Retro, Soft High Key, Partial Color, High Contrast Monochrome, Soft Focus, HDR Painting, Rich Tone B&W, Miniature, Watercolor Effect and the Illustration effect which makes your subject look like it was drawn.
Most of these are garbage, I admit that. I do like the High Contrast Monochrome though as it gives a nice contrasty B&W result. I would throw away most of the others 🙂
High Contrast B&W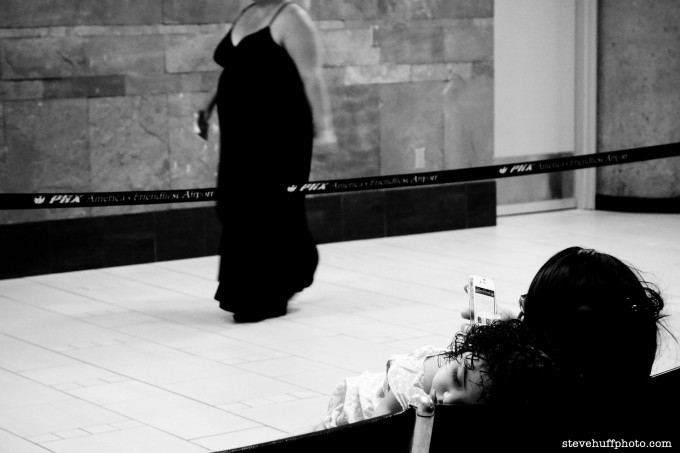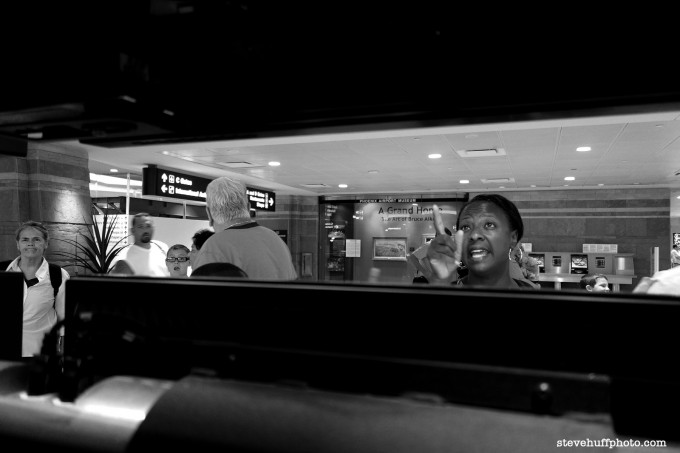 –
Illustration Mode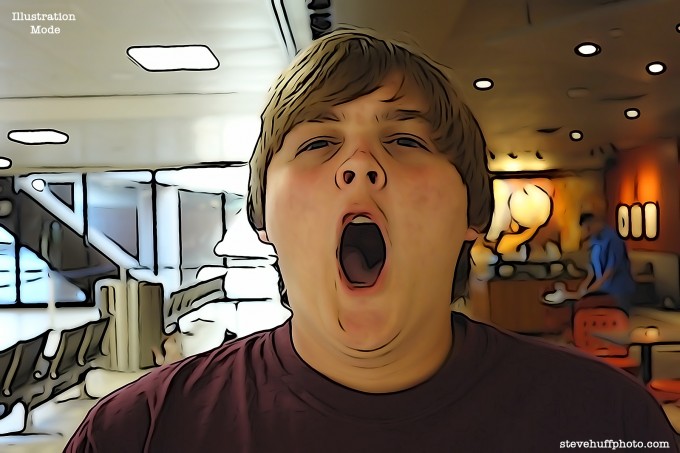 –
Watercolor Effect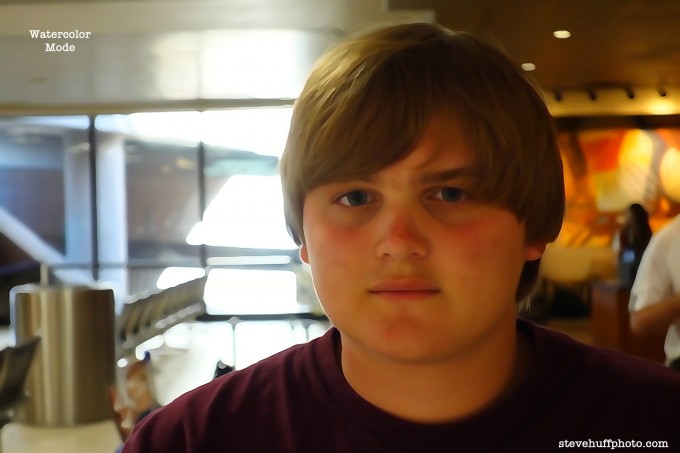 –
Sweep Panorama Mode

So the RX100 keeps the effects we know from previous Sony digital cameras. They are there if you want them, and if you do not then you can ignore them. The camera also focuses very close at 28mm. While not a true macro performance the camera can get VERY close at 1.97″ away from your subject. In comparison, the $2000 Leica X2 will get you 11.81 inches away at its closest focus. One weakness of the X2 I would love to see improved in an X3.
–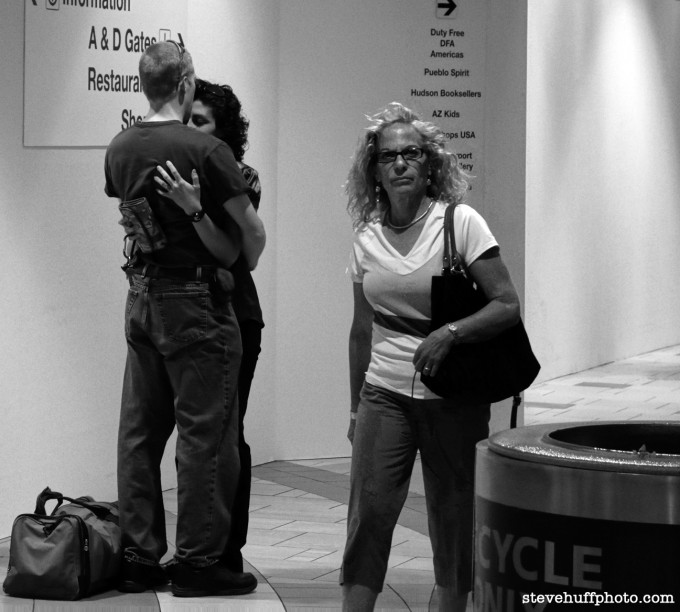 Compared to the Nikon V1, Olympus OM-D and Leica X2
So how would this little Sony RX100 Dynamo do against the Nikon V1? The V1 has the same sensor size but is 10Mp where the Sony is 20MP, twice the megapixel count of the Nikon V1. This should spell disaster for Sony but the results may surprise you. I am a Nikon V1 fan but have to give credit where credit is due. Take a look for yourself and be sure to click on the images for the full size files to see them in better quality! I also added comparison with the Olympus OM-D and 12-50 Zoom and the Leica X2!
You can see how much smaller the RX100 is to the fatter Leica X2. The RX100 is truly a pocket camera.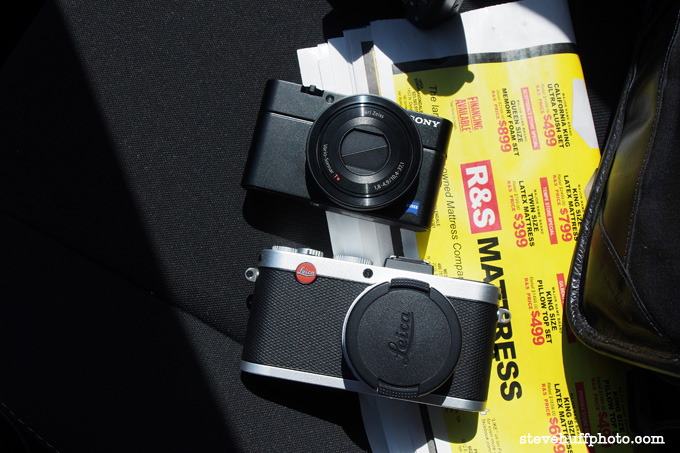 These are all OOC JPEGS using the same aperture. I let camera choose exposure. To me, it appears that the X100 and X2 gave me the best exposure. Click the images to see larger size and 100% crops to see how each camera delivered. Keep in mind the Olympus had the 12-50 kit zoom and the V1 used the 10-30 Kit zoom. I have to say the most accurate color wise, and I looked at this dumpster for a few minutes to embed it in my memory…comes from the Sony RX100.
Sony RX100 with Crop: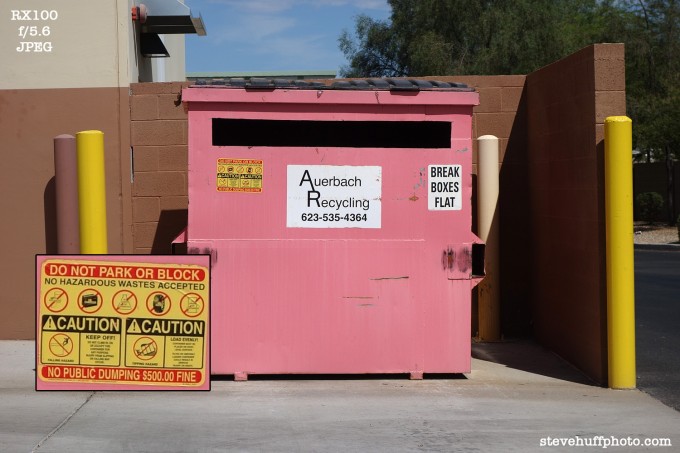 Nikon V1 with crop: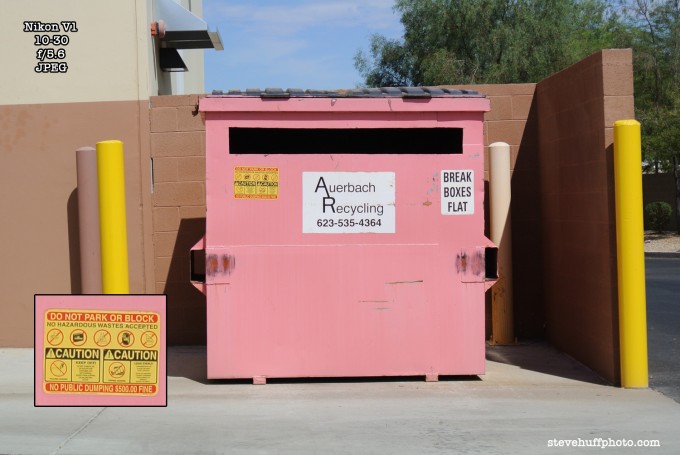 Olympus OM-D with crop: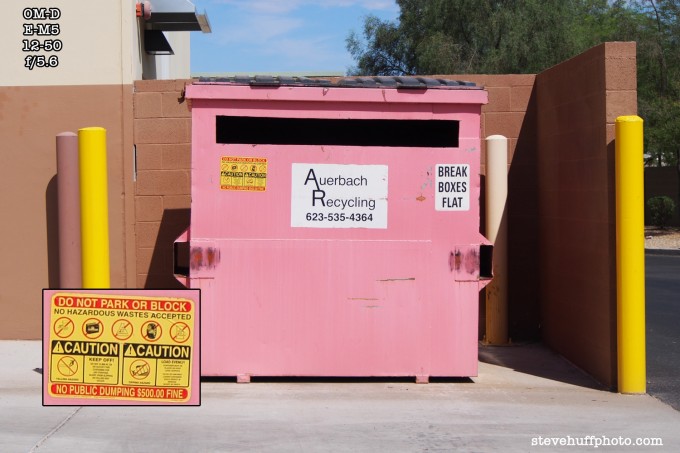 Leica X2 with crop: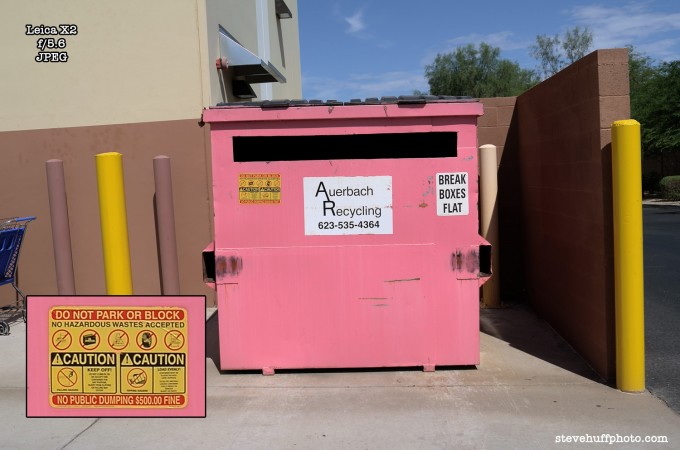 So as you can see there are differences in exposure and how each camera exposes the scene. This was full sun at 2pm and the sun was BRIGHT. The X2 pumped up the contrast and color a tad and the RX100 exposed it pretty spot on. The Sony has a smooth character with pleasing colors that are quite a bit different than the NEX series look and color. I
– 
Pros and Cons of the Sony RX100
Pros
Small size, HIGH quality
Superb and shockingly good high ISO performance
JPEG or RAW or BOTH
HD 1080 Video in 60i or 60p
Zeiss Zoom lens is fantastic. Rich, smooth, great color and pop
Camera is fast to AF, and locks on quickly and accurately
Control dial can be customized to your preferences
Much better menu system than the NEX series
WhiteMagic technology  LCD allows use in bright light. LCD is 3″ and very good quality.
The image quality is the best I have seen of any pocket compact made to date, ever (not counting Leica X2, which isn't a "pocket camera"
Blows away cameras like S100, G12, and even the D-Lux and Lumix compacts
Made in Japan and quality is high – build and feel is very nice
All of the filters and gimmicks of the NEX and Alpha series is here
Fits in my shirt or pants pocket and beats phone images, even the Nokia 808
Great for any photo situation
All in one piece of camera dynamite!
Cons
It may be TOO small for many
No swivel LCD
No EVF or VF at all!
1/2000th second top shutter speed
Lens slows down as soon as you start to zoom so 1.8 is only good at 28mm, the widest setting
Can scratch easily
No real super shallow DOF but it is possible with 1.8 aperture at wide setting up close
Doesn't come with a proper battery charger which seems to be the new thing with Sony. You get an AC wall wart with a USB cable and must charge the battery while it is in the camera.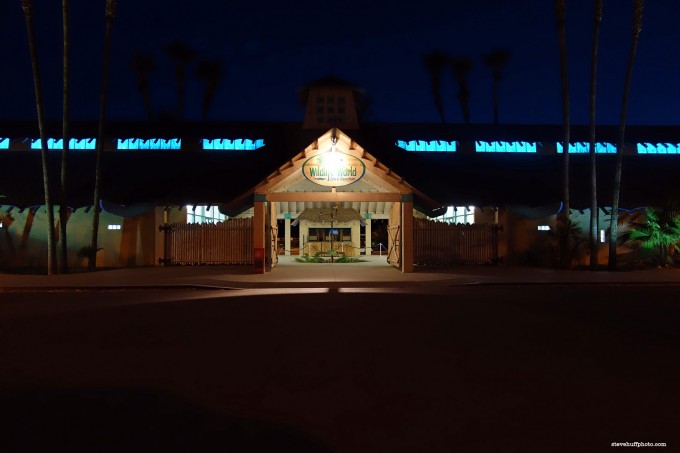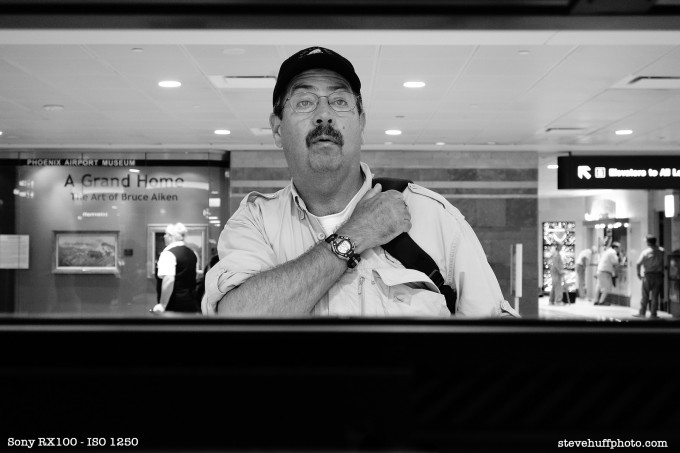 –
My bottom line final word conclusion on the Sony RX100
As you can tell, I really fell for the RX100. I did not think I would as I saw it as just another average quality Sony compact. The RX100 is a different breed of Sony compact though and it's quite remarkable in its capabilities for its size and sensor size. If a 1″ sensor can do this good imagine what is to come with APS-C or full frame sensors in the near future. The RX100 must have other manufacturers freaking out a bit. Here we have a small P&S size compact, Zeiss lens, superb ISO performance, Fast AF, 1080 HD video, quiet leaf shutter, discreet and beautiful design, made in Japan quality and IQ that sets it apart from any other compact to date.
I will keep this simple. The Sony RX100 is the best compact camera to ever be released in the digital world. Ever. Period. End of story. Will to be the best for long? Who knows but I do know it is not a camera that will hold you back from taking any kind of photos you want. If you have the passion, the creativity and drive you can make amazing photos with the RX100. I highly recommend it. I bought it :)-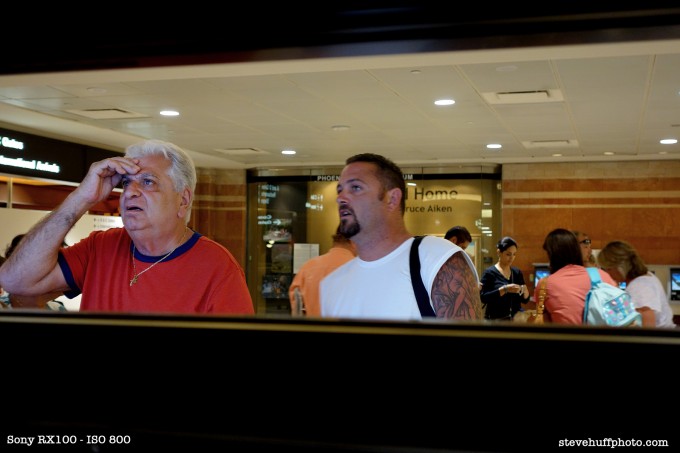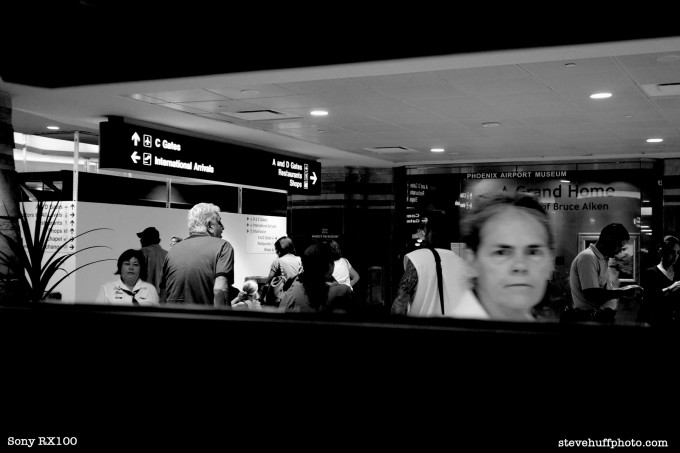 Where to buy the RX100
You can buy the X100 at two of my most shopped stores. B&H Photo should have it in stock at all times. Amazon also sells the RX100 and we all know Amazon. I highly recommend both of these dealers for your photo nee
Buy the Sony RX100 at B&H Photo HERE
Buy the Sony RX100 at Amazon HERE
–
ALL I ASK! HELP ME TO KEEP THIS SITE GOING AND GROWING!! IT'S EASY TO HELP OUT & I CAN USE ALL THE HELP I CAN GET!
Remember, anytime you follow my links here and buy from B&H or AMAZON,
 this helps to keep my site going. If it was not for these links, there would be no way to fund this site, so I thank you in advance if you visit these links. I thank you more if you make a purchase! I have nifty search bars at the upper right of each page so you easily search for something at either store! I currently spend 10-14 hours a day working on this site and the only way that I can pay for it is with your help, so thank you! Currently my traffic has been increasing but my funds to pay for the site has been decreasing, so any help would be GREATLY appreciated!
Even if  you buy baby food, napkins or toothpicks at amazon it helps this site, and you do not pay anything extra by using the links here. Again, you pay nothing extra by using my links, it is just a way to help support this site, so again, I thank you in advance 

If you enjoyed this article/review, feel free to leave a comment at the bottom of this page and also be sure to join me on twitter or my new facebook fan page and Google +  page! Also, you can subscribe to my feed at my subscribe page HERE and read these posts in your browser or news reader!