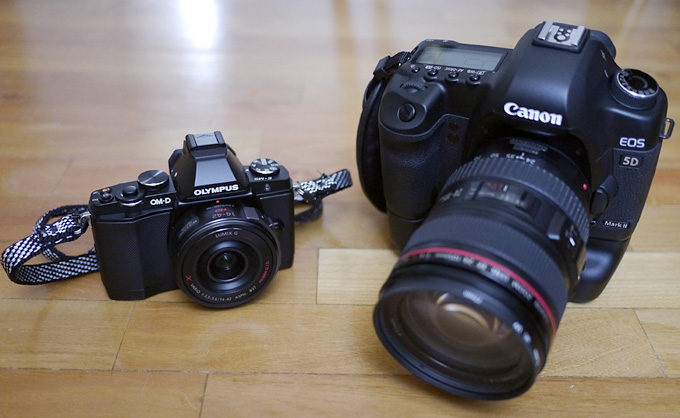 David VS Goliath
Hi Steve,
In my long search for a compact high quality alternative to the bulky 5DmkII, I have passed through Sony Nex5, Ricoh GXR-M+35mm zeiss (published by you), Panasonic GX1 and now I'm landed on a Olympus E-M5 + Pana 14-42X + Pana 20mm. I've been in holiday on the mountains near were I live, the Dolomites, and I had with me just the Oly in a small bag hanged on the backpack. If you see in the picture the dimension difference between my 2 cameras, is easy to understand the advantage. I took the Panasonic X zoom because I need a zoom on the mountain (your Leica People's motto "my zoom are my legs" can be very dangerous up there…). It's an honest kit lens, but has the advantage to be so thin, much more than Sony, Nikon, Canon, Samsung and original Olympus one. But is with the razor-sharp 20mm that the OM-D really shines.
After these 2 weeks, what I can say is that I have completely fallen in love with this camera! It's so nice to touch, to handle, to shot with. It's a bulky, small, quick, solid jewel. I've never been excited by a camera as with this one (OK Ok, Steve I've just tried M9 but I don't own one… I know, I know it is the most sexy camera ect… 😉 If you look to the picture of the cat, took at 2000 ISO (the max I set for auto-iso), also the low-light performance is enough for me. The other images are shot at 200 iso. All images shot with low noise reduction and as shot in raw, converted with no adjustment in PS.
Yes DOF is wider than 5D with fast primes, and I'll keep my DSLR for some exit dedicated to photography, where I don't care if I have to transport an "iron boiler" with me… But for sure, my travel companion will be the OM-D (+ in future 45mm 1.8 and 14mm 2.5)
Bye Steve, and thank you for your helpful reviews!