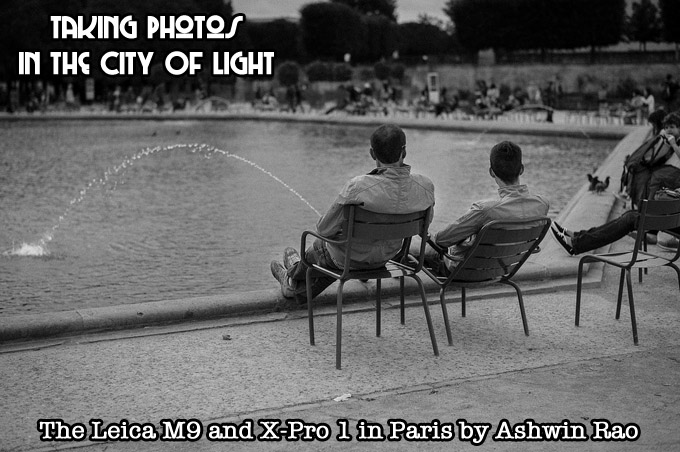 Taking Photos in "The City of Light" – The Leica M9 and Fuji XPro-1 in Paris
By Ashwin Rao
Hello, everyone. It's been a few months since my last post, though I have been quite busy, photographically speaking, trying to travel as my job and personal life allow and take photographs along the way. One observation that I have made, and this may be purely my perspective, is that people tend to take more photos with their newly purchased gear, and recently, the release of new gear has slowed down, as companies ready for big camera announcements at Photokina. The past year has seen the release many wonderful cameras have been introduced this year, many of which Steve has covered, including the fantastic Olympus OM-D, Fuji XPro-1, Sony RX100, Panasonic GX-1, Nikon D800, and Canon 5D Mark III. With Leica, there was this May's announcement of the Leica M Monochrom, which has yet to see the hands of paying customers but a represents a camera full of promise. While new gear is always fun to try out and test, we shouldn't discount tried and true gear as tools to channel our collective photographic muses. The release of newer products does in no way invalidate yesterday's cameras of choice. Thus, while Photokina may see the release of a Fuji X200, Olympus EP-4, Leica M10, a professional Olympus OM-D, and many other tasty tidbits, the Fuji X100, Olympus EP-3, Leica M8 and M9, and OM-D will remain as amazing tools for capturing photos.
M9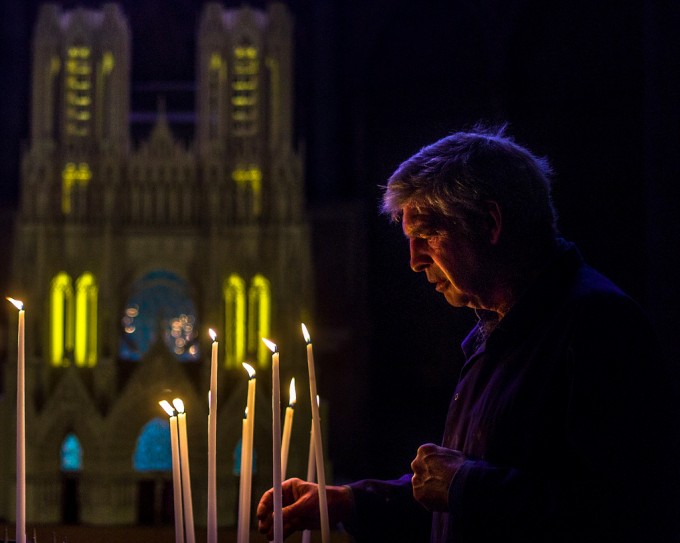 XP-1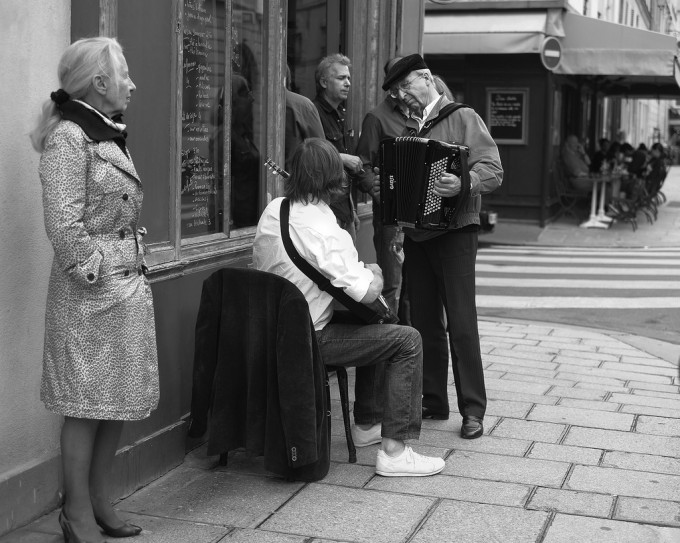 M9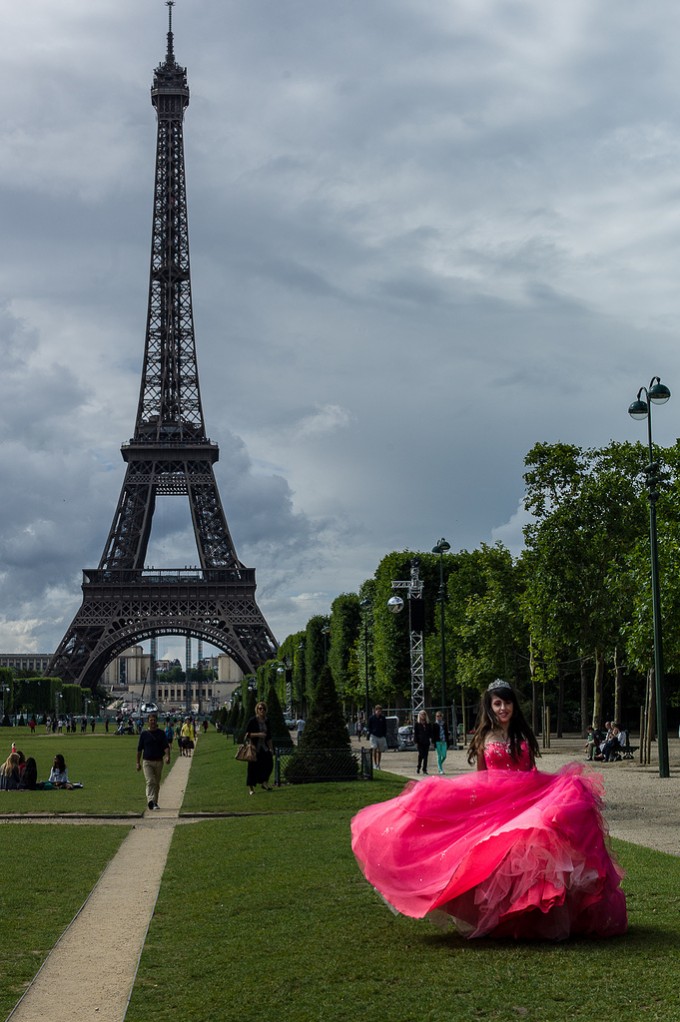 I wanted to take the time to celebrate my longstanding favorite camera, the Leica M9, and one of my new favorites, the Fuji XPro-1, as amazing photographic tools by which to grow my photographic skills. I used both cameras extensively during my recent visit to Paris this past July, and the exercise of photographing this city for a week validated my vision for the city by capturing it in the way that I saw it. We currently live in a golden age of photography, where cameras are truly fantastic tools for creative expressionism. Every camera will have strengths and weaknesses, and one should choose a camera that suits their needs and style, and go out and make images. For some, it's the iPhone that suits their needs the best. For others, tech cameras with medium format backs are necessary to capture the required image. For me, over the past 6 years, the digital rangefinder has been the camera that suited my needs, and in particular, the Leica M9 was an digital realization of the ideal rangefinder camera. Remember that while the M10 may soon replace the M9 at the top of Leica's supply and production food chain, the Leica M9 remains and will continue to be a fantastic tool for those who love rangefinder photography. Similarly, the Fuji XPro-1 is a fantastic option for people liking cameras in a smaller form factor, with rangefinder styling. It is far from perfect, with quirky autofocus being its primary issue, but the images acquired from its innovative sensor have the potential to wow both the photographer and his or her audience. Let me talk about my experience using these cameras, while walking the streets of Paris….
M9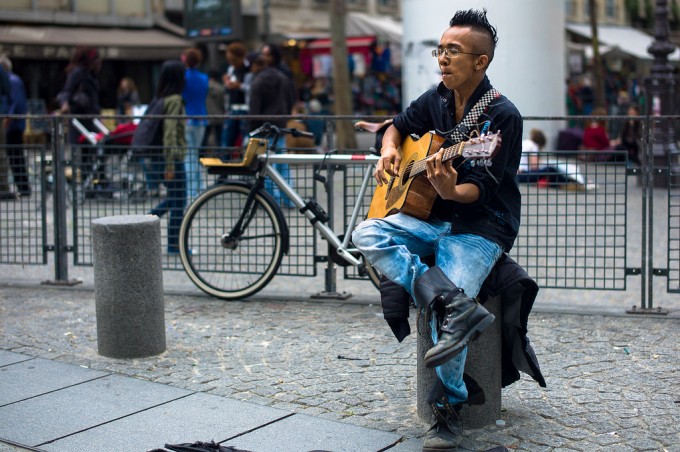 M9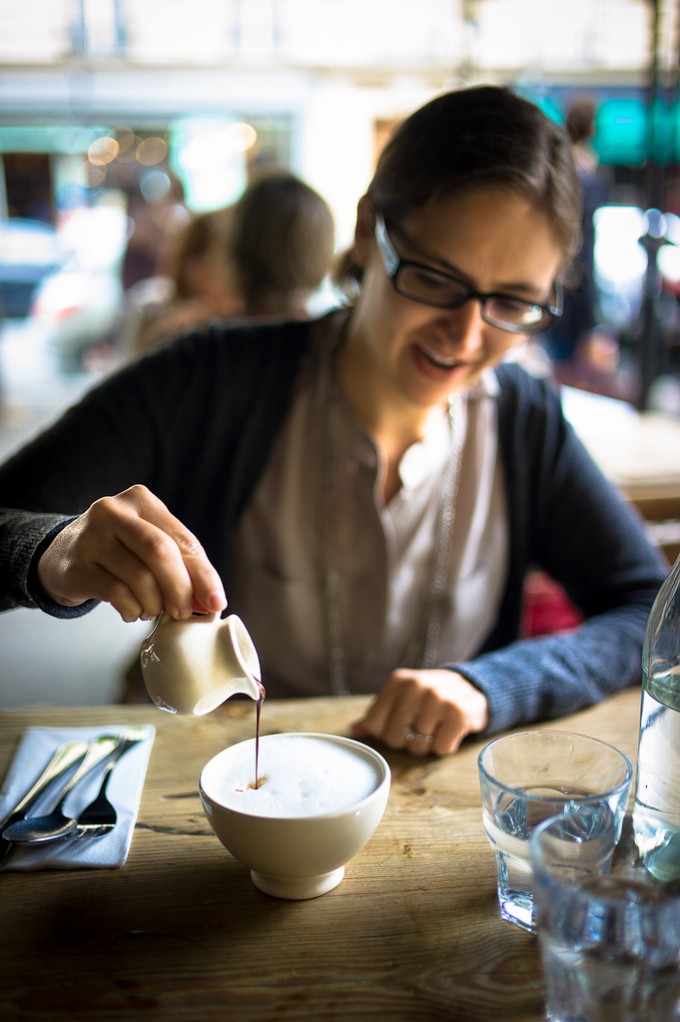 M9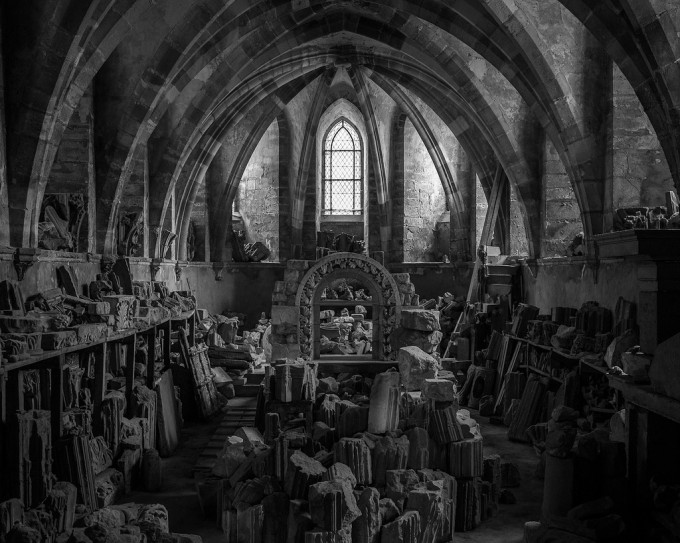 During my visit, I used the M9 about 75% of the time, preferring its responsiveness and build, and I used the Fuji XPro-1 about 25% of the time, particularly when the lights dimmed in the city. I found the XPro-1 to be wonderful for the street, but a bit challenging with faster moving subjects (even in street life with the motion of peole). The M9 in contrast, rarely, in the way… I have become so accustomed to the rangefinder way, that this, in large part, was why I used the M9 more. It's a camera that I have grown intimately comfortable with, through travels in Egypt, Venice, India, and other far away places. It's through the M9 that I have grown to be comfortable with the 35/50/90 mm way of seeing the world. That being said, once one learns its quirky and at times exasperating focus system, the Fuji XPro-1 will reward you duly with wonderful images. I have provided you with my perspective of this camera as well, in a separate article. In practice, the XPro-1 takes a bit more planning to use as a street camera. With both the M9 and the XPro-1, one must practice seeing the image before it actually happens. That being said, the autofocus of the XPro-1 can hold one back when capturing the decisive moment, in certain times when acquiring quick focus is necessary, but if you get the hang of pre-focusing with the camera, that is locking in on a field of focus by holding half way on the shutter release to capture the point of intended focus, you can then find your moment and capture it. Just pointing and shooting with the XPro-1 can be dicey as a way of shooting, so it forces a new way of setting up and capturing your shot. The M9, for me, was an easier tool to use, partly due to my familiarity, probably because I didn't have to rely on autofocus to nail my intended plane of focus and quickly snap my image. I found that using both cameras at the same time was disconcerting, and I decided that a better way to use these cameras was to choose one to take out and use it for both its strengths and its limitations. Thus, on my trip, the M9 became my daytime camera, while the XPro-1 was often used later in the evening and night or when AF would be helpful. Ultimately, I feel that one should travel using a camera that they are comfortable with. In this way, the camera will not get in the way. For me, the M9 never got in the way, and when grabbing the camera out of the bag, the M9 came out ¾ of the time, compared to the XPro-1, which I had slightly less comfort with.
M9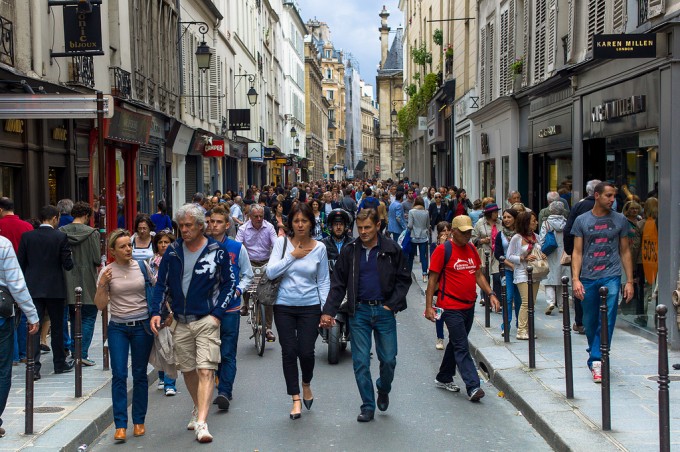 M9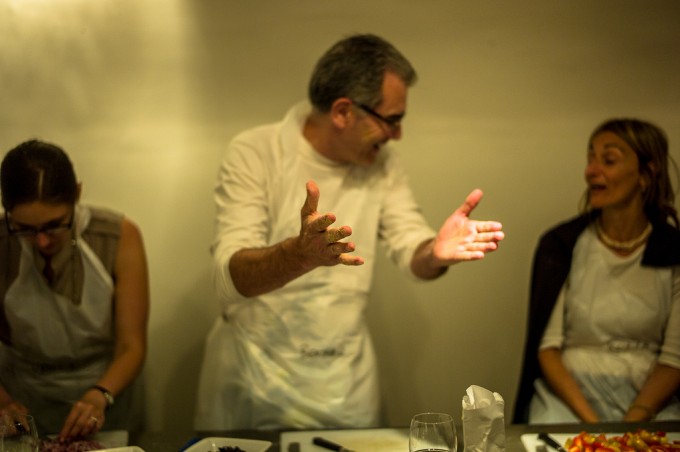 And yes, Paris, J'taime (I love you!)….what a great city it is….For any of you whom haven't had the privilege of visiting Paris, please do. Paris is a city of great history, cultural diversity, and a vibrancy in its people and visitors that breaths a literal life into the paved and picturesque cobblestone streets . Many writers, photographers, philosophers and poets and travelers have romanced about the city for years. I myself visited the city as a youth, now nearly 2 decades ago, and have carried with me many fond memories that have added to my own romance with the city. It's a city of its people, its coffee shops, its wonderful croissants and wines, its young couples in love, its museums and art, its glorious architecture, and endless activity. It's a city of quiet alleyways, ageless cemeteries tucked in the midst of a bustling modern city, and grand churches full of gothic splendor. It's the Eiffel Tower, Arc de Triumph, and Sacre Coeur. And through the sum of its parts, it is much more. Go yourself, and you enjoy discovering this for yourself. To describe Paris doesn't do it justice.
M9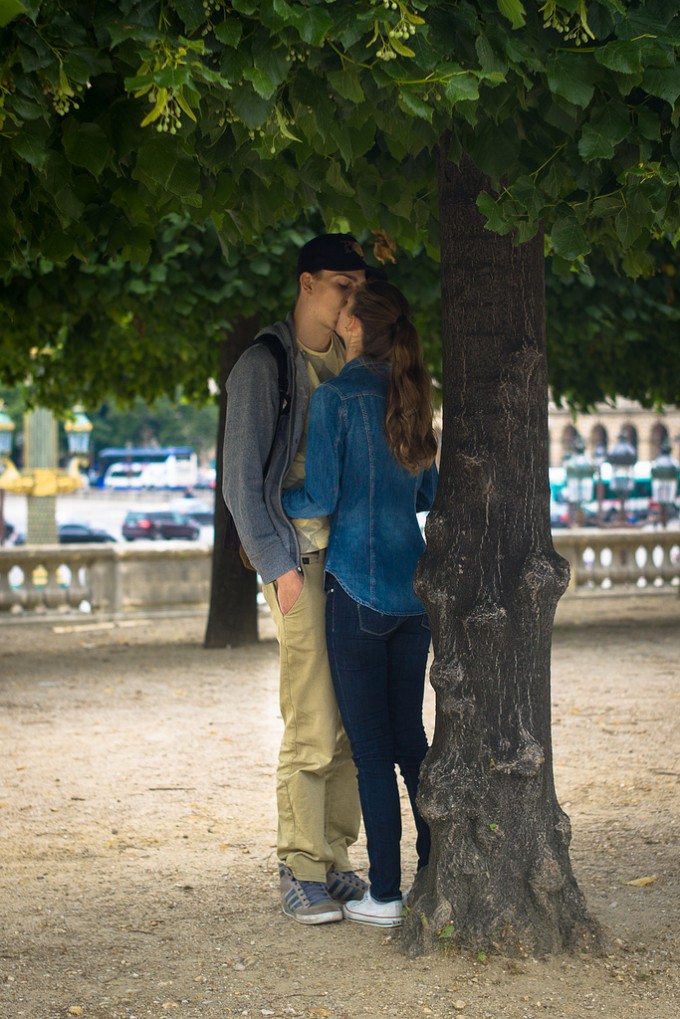 M9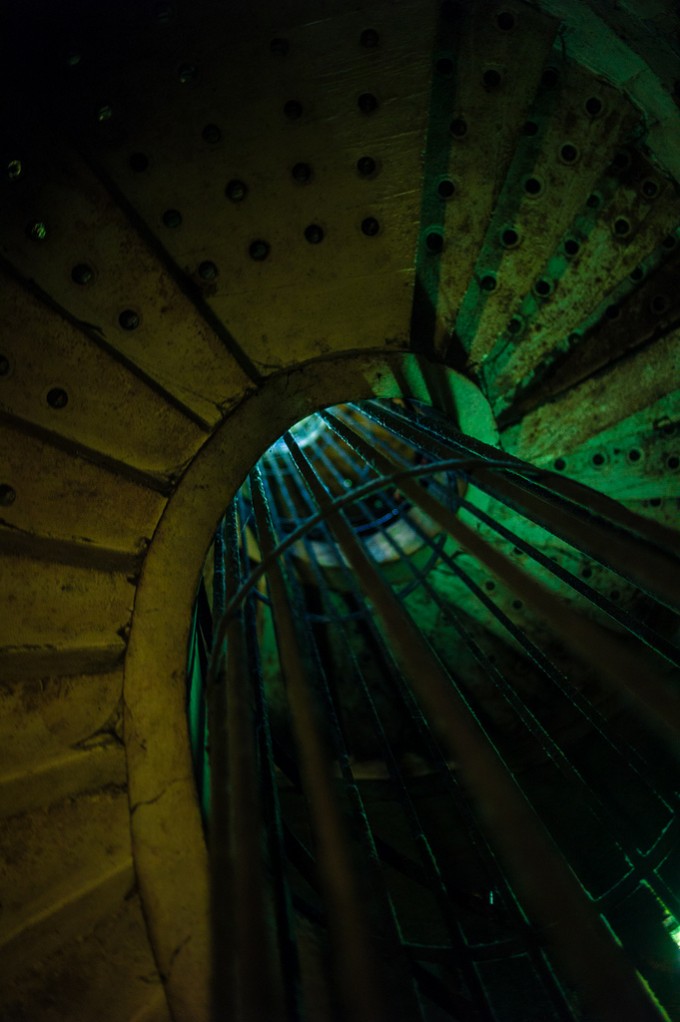 M9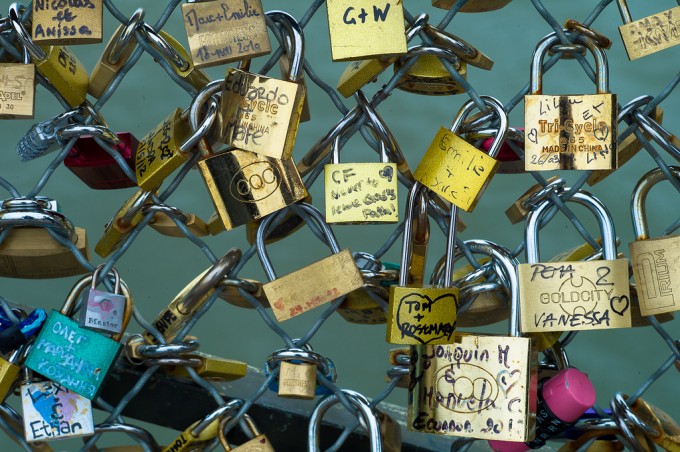 I had a wonderful opportunity to visit Paris this past July, as I have family members who live and work in the heart of the city. What an opportunity to travel and have a local guide (family, again) to show me the inner workings of the city. I'd almost always recommend this. If you know someone locally, see if they'd be willing to show you around. You'll see so much more and get a feel for much more than if you stick to tourist routes. It's been a longstanding desire to shoot the city using a rangefinder, which for me is a perfect "street" camera. I mean, if Henri CB earned his chops here, what better photographic playground could there be for a rangefinder nut like me. So off I set to "the City of Light", M9 in hand. Along with the M9, I decided to pack my Fuji XPro-1, a relatively new addition, in order to test it out as a "street" camera. The XP-1 also offers the photographer amazing low light capacities, far superior to the M9 sensor's ability in this venue, so I thought that the XPro-1 would be a nice tool for lower light work.
M9
XP-1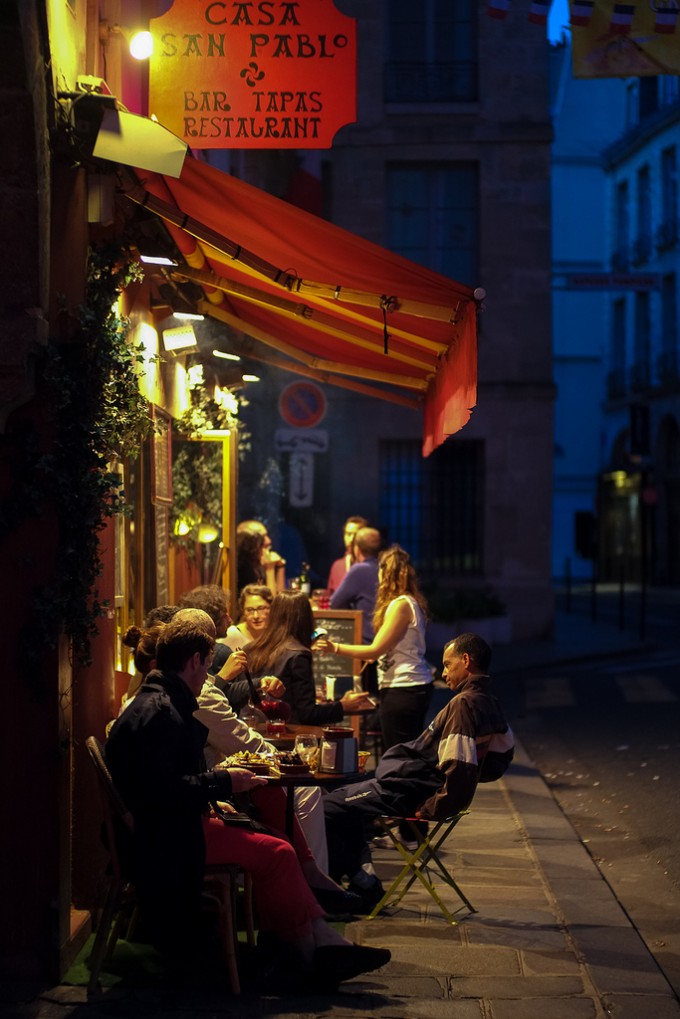 Lenses, you may ask? What did I bring? Well, along came a 21 mm Super-Elmar, 35 mm Summilux FLE, 50 mm Summilux asph, and 90 mm APO-Summicron. All of this fit comfortably in my Fogg-B-Laika bag, which is an AMAZING bag for all you small camera nuts. It is discrete and has the capacity to carry a lot of gear. This was the bag that ended my "bag acquisition syndrome" a couple of years back…I wish it cured my "gear acquisition syndrome (GAS)", but I haven't been quite so lucky on that front.
Once I arrived, it was immediately off to walk the streets. I had the great privilege of having family members, including my brother Pree and his fiancé Hadley (who writes a fantastic blog regarding life in Paris, http://laviemaraisienne.com; go check it out!), escort me around town so that I could gather the lay of the land.
M9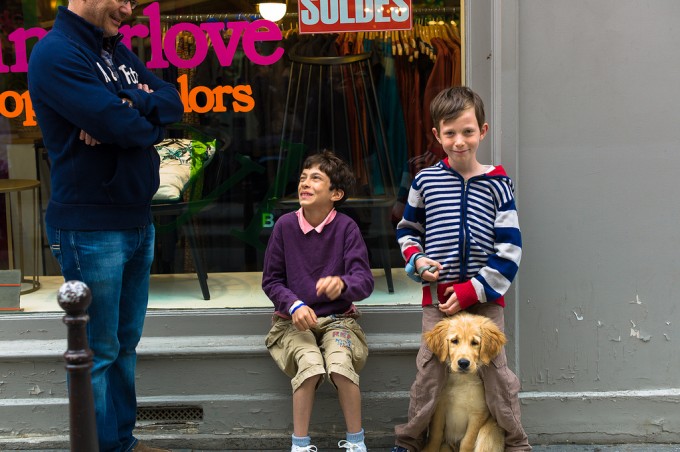 XP-1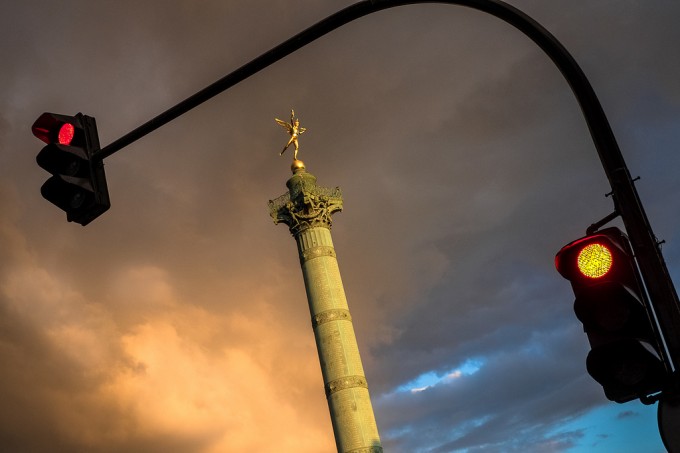 M9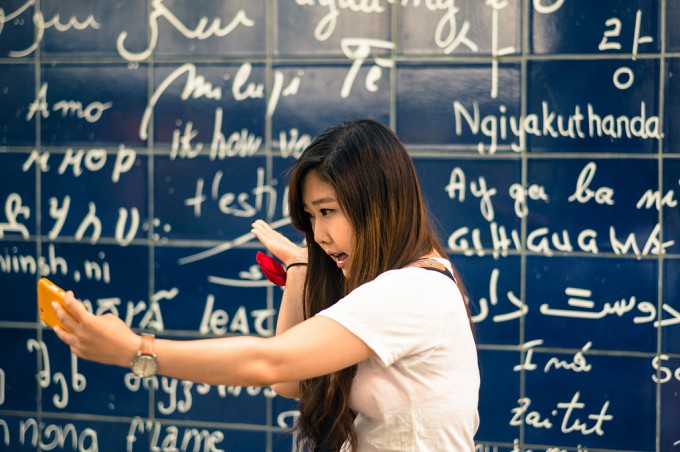 XP-1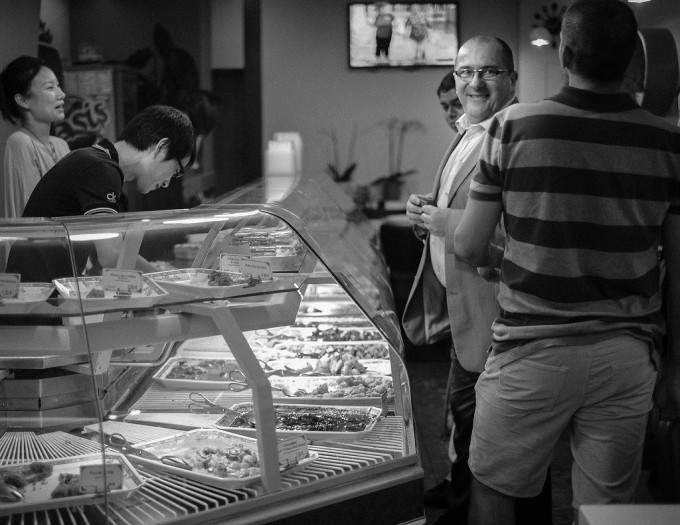 M9
XP-1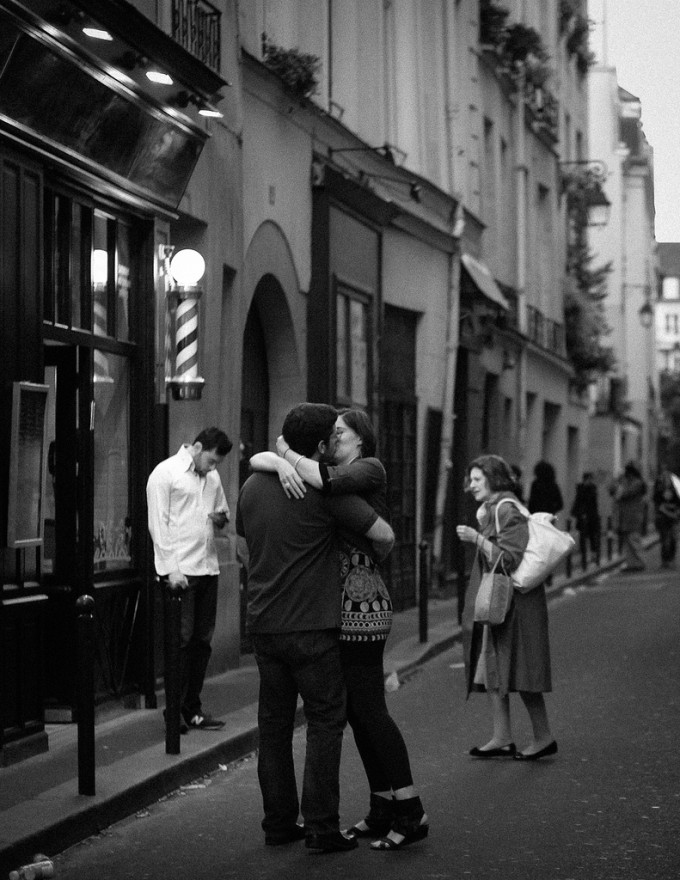 Our journey began in the Marais district, where family lives. Le Marais has historically been a center for Jewish culture in the city, and has gone through many phases of evolution. In its present incarnation, it is a beautiful district of fantastic squares (le Place de Vosges), streets bustling with commerce and cuisine, and sleepy nooks where Parisian life really takes place. Le Marais was my home during this drip, and it served as an incredibly convenient starting place from which to see many of Paris' sites. While thoroughly travelling through this district, I was able to visit many more places, primarily by foot. Paris is well known for its metro and bus routes, but it is a city best experienced by foot. For those who enjoy cycling, Paris has one of the most unique and well developed public cycling commuter establishments, with citywide access to drop off and pick up points for these bikes. One can easily rent these bikes by hour and experience the city by wheel (much less frustrating than Paris' infamous traffic).
M9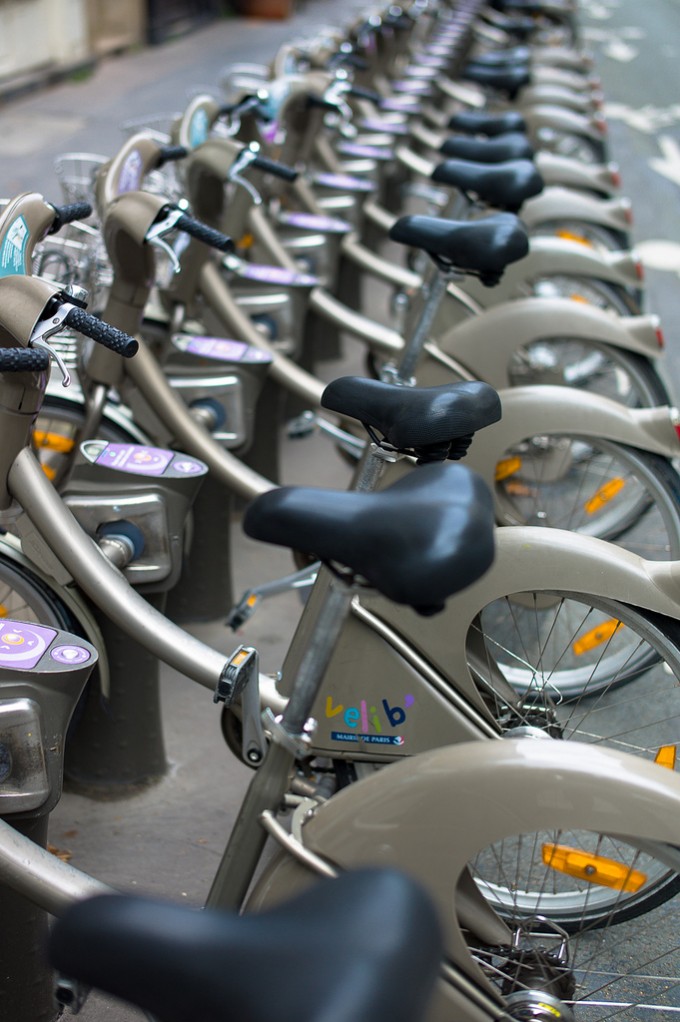 XP-1
My journeys by foot, bus, and metro landed me all over the city. I visited all of the typical sites (Eiffel Tour, Monmartre, Notre Dame, les Invalides, the Latin Quarter, le boulevard Saint Germain. Along the way, I frequented many patisseries and boulangeries, visited expansive cemetaries, and saw the city from its alleys and from great heights and elevation. I sampled many baguettes and croissants, a crepe here or there, wonderful local and ethnic cuisine, and even 2 orders of escargot! So tasty! All of this, I saw in many instances, through the viewfinder of the M9 and XPro-1.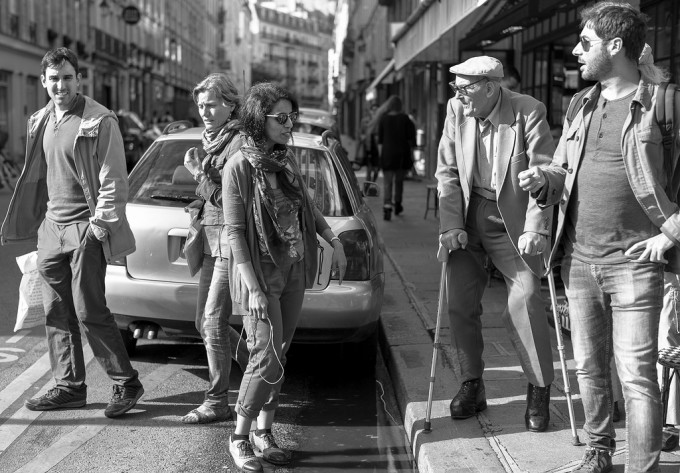 Here, I have posted a summary of my pictures taken and edited for you all, from the trip. I hope that you enjoy them:
SET: http://www.flickr.com/photos/ashwinrao1/sets/72157630481465554/with/7558740324/
SLIDESHOW: http://www.flickr.com/photos/ashwinrao1/sets/72157630481465554/show/
What I present to you beyond my words are my images. I hope that they motivate you to take your own photos, visit places both near and far, and enjoy the process of making your own images. Sith whatever gear you own and use. New cameras will come and go, but what remains are memories and the images by which you captured them. For me, the visit was a reminder of what wonderful cameras we already have, and what great tools they are to use to capture and preserve these memories right here, and right now!
Until next time, my fellow Huffites, farewell, and I hope that this post sees you well!
All the best,
Ashwin
P.S. A few more pics for your viewing….