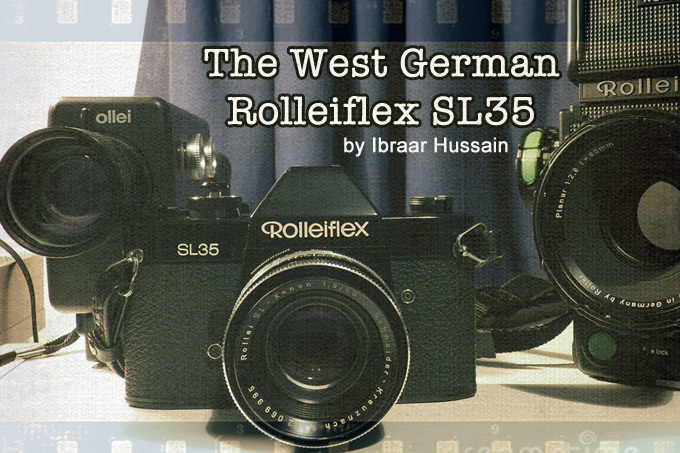 The West German Rolleiflex SL35
by Ibraar Hussain
In the history of photography there are a few legendary marques which have achieved Grail like status, and will always have a place high up in the pantheon of the Photographic Gods, far above Oriental pretenders. Marques which are coveted by collectors, professionals and those wishing to own a piece of History and precision, beautifully crafted engineering. Carl Zeiss of Jena (Est. 1846), Leica of Wetzlar (Est. 1913), Victor Hasselblad of Gothenburg (Est. 1841) and Franke & Heidecke of Braunschweig (Est. 1920) also known as 'Rollei'.
[ad#Adsense Blog Sq Embed Image]
Hasselblad and Rollei have been famous for their Medium Format cameras, Leica the M series, and Zeiss everything from 35mm to Medium Format Pentacon's. Back in the day, the industry was smaller and more 'in house', and Rollei were the first to move production outside Germany when they acquired factories in Singapore, but their TLR's were always German built.
Young Cadet 50mm SL-Xenon B+W Yellow Filter Agfa APX 100 Rodinal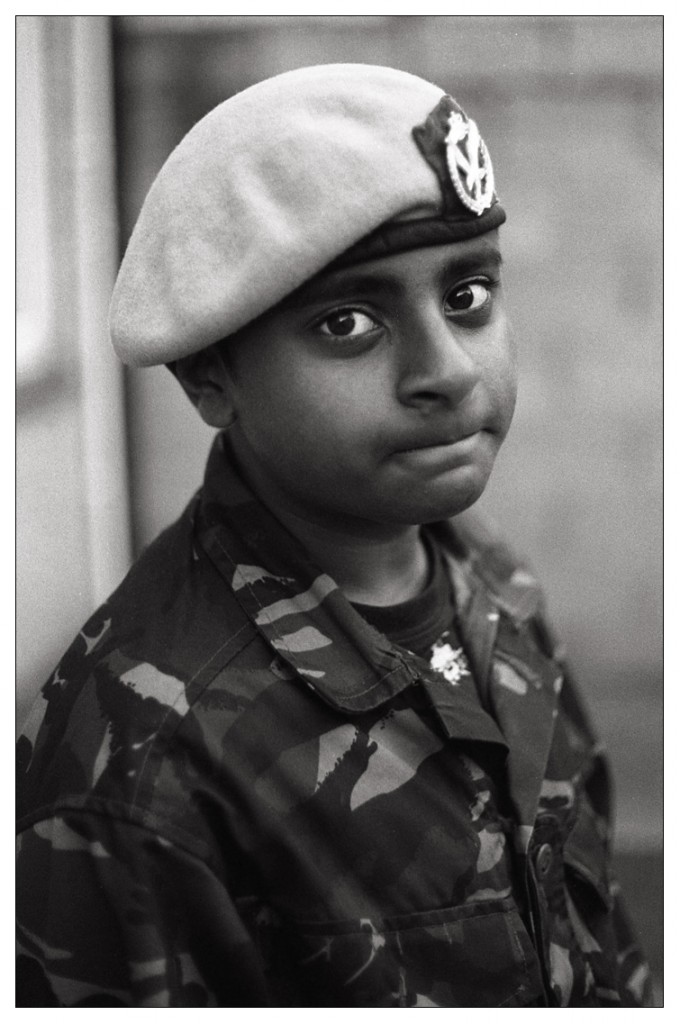 The sands of time flow and times change, nowadays some of the original companies are great behemoth like Multinationals with factories and offices throughout the World. Carl Zeiss has been splintered into many factions, or spun off to form other companies such as Jenoptik, Docter Optic and Praktica (a shadow and mockery of its former glory) with other great associated names such as Exakta Ihagee and Pentacon having bitten the dust.
These days it's 35mm Range Finder, the Zeiss Ikon is manufactured by Cosina in Japan, Zeiss manufactures Optics in Germany.
Modern Hasselblads are manufactured (bar the V Series) in Japan by Fujifilm and Leica make their M series in Portugal (complete with Chinese made components) (and are then 'finished' in Germany to warrant the 'Made in Germany' inscription).
Rollei has been split into three companies, the brand name 'Rollei' has ended up like Praktica has, owned by RCP-Technik GmbH & Co makers of budget Digital Cameras and accessories. The other branch specialises in producing old Agfa Film stock under the brand Rollei Film, but the real Rollei still survives as a small German based camera manufacturer spun off by Rollei engineers and employees with a direct connection to the original founders. DHW Fototechnik manufactures extremely expensive high-end and collectable Medium Format Cameras such as the Rolleiflex Hy6, the Rolleiflex 6008i and new versions of the Classic Rolleiflex TLR. These cameras are very expensive, but oh so beautiful and exquisite – especially the new TLR's.
Schneider Kreuznach 50mm f1.8. Agfa APX 100, Rodinal. Silver reflector.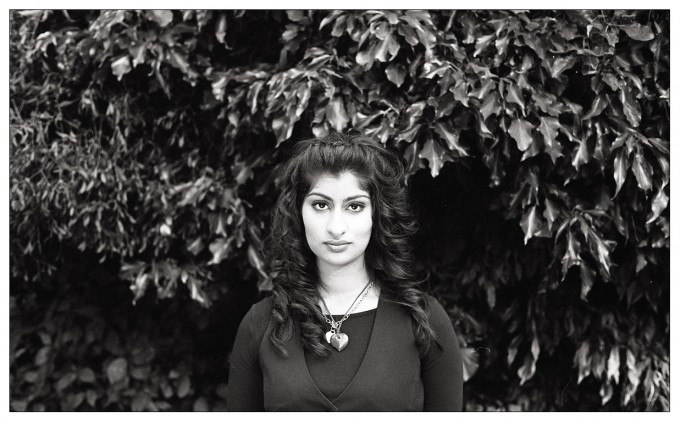 –
My Niece Rolleigon 135mm f2.8 Agfa APX 100 Rodinal
Anyway, enough of the history, I seem to be going on and on a bit too much!
Most people covet a Leica M, and for good reason, they're beautifully built and in the right hands make beautiful photographs, and they're wonderfully built, solid, heavy and with a feel of precision, damped metal perfection – they look, feel and manifest sheer quality that just to handle one and own one is a joy – think Patek Phillipe or A Lange Sohne.
There are other camera's out there which are just as beautiful to behold, and just as well-built and exude just the same feeling of quality, worth and treasure, and the Rolleiflex TLR is one such, others are hidden gems, overlooked, under rated such as the Exakta series and Pentacon Six, and can be bought relatively cheaply – if a Mint example can be found, in the 35mm sized world one such example is the Rolleiflex SL35.
The SL35 was Franke & Heidecke first 35mm SLR, and the original SL35 (and the far more rare and expensive SL350) is Rollei's best.
A snap in Medieval City of Nottingham SL Xenon 50mm f1.8 Agfa APX 100 Rodinal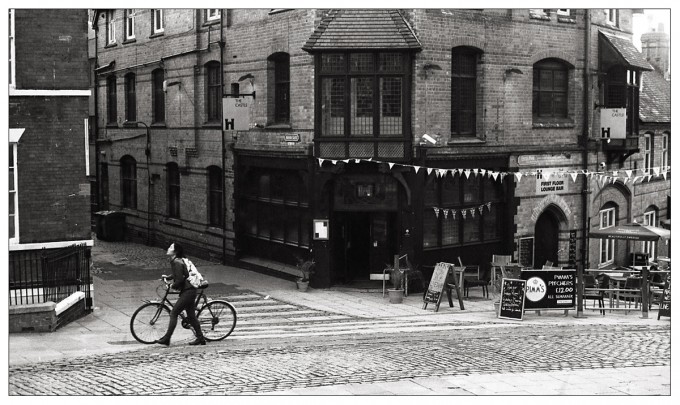 There are three versions of the SL35, the German-made SL35 of 1970 – 1972 and the later Made in Singapore version 1972- 1976 – both identical on the surface, but not the same underneath. Sure they are made using the same looking parts, but the Singapore versions aren't built with the same love, care and precision as the German-made ones. I have both examples and you can feel the difference.
The German-made SL35 and SL350 are collectors items, a Mint example is a camera to keep – forever.
Later SL35E and SL35M aren't in the same class as even the Singapore built SL35 and to be honest, aren't worth bothering with as collectors items (though they are worth it if you want to use the exquisite optics and the more advanced features they have).
The SL35 is beautiful to behold, it has a simple, totally spartan but elegant bauhaus like design, devoid of superfluous switches and dials, even the hotshot is an after market accessory. The simple lines are difficult to date, 50ies? 60ies? 70ies? the design is timeless and in my view is as glorious as any classic Range Finder.
The German SL35 I have is the stealthy SL35 black, and the attention to detail on it just makes one smile and it begs to be used. It is crafted of solid metal, and feels dense, weighty. Ken Rockbuster describes a Leica as feeling like a well oiled revolver, and I can tell you that this Rolleiflex feels much the same. I also have a Mint German-made SL35 Silver body which is also a beautiful piece of work.
Pembrokeshire Wales. SL-Xenon 50mm f1.8 Kodak Portra 400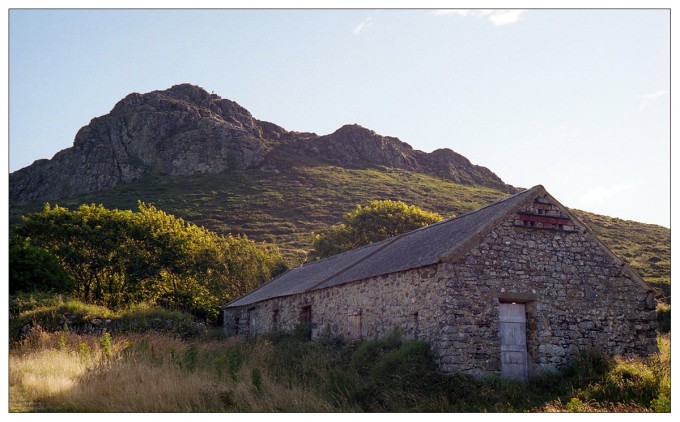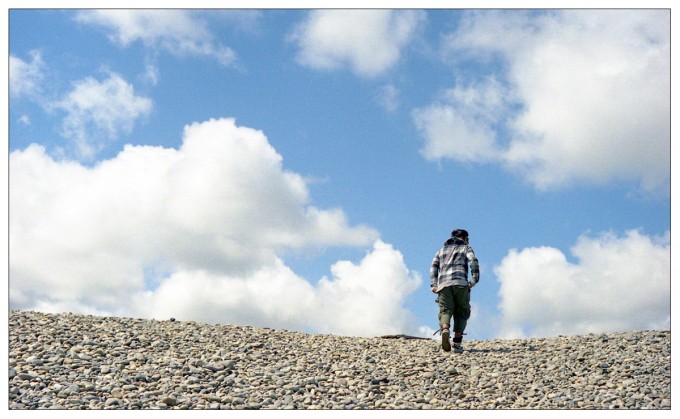 Comparing it to the redoubtable Olympus OM2n, the Olympus looks and feels sort of cheap in comparison! Sure the Olympus is a better camera, by better I mean it has Aperture priority and a user-friendly light meter, but then again a Seiko is probably more reliable and accurate than a Patek, and a Casio even more so. The Rolleiflex doesn't need any gimmicks, it's simplicity is its strength and any photographer who's worth his or her salt should thrive with it.
The Film wind crank winds forward with a precision mechanical zip and it's released to be eased back with a nicely damped slide. The shutter emits a satisfying thunk as it trips.
Looking at top of the camera, the only controls we have are the Film wind crank, shutter release with the stylised "R" situated on top of the shutter speed dial, the button near the shutter release is the stop down/ depth of field preview button. On the other side we have a solitary film rewind knob/ dial.
At the front we have the self timer lever and that's about it! Basic as it gets!
Olympic Stadium Stratford, London. SL-Xenon 50mm f1.8 B+W Yellow Filter Agfa APX 100 Rodinal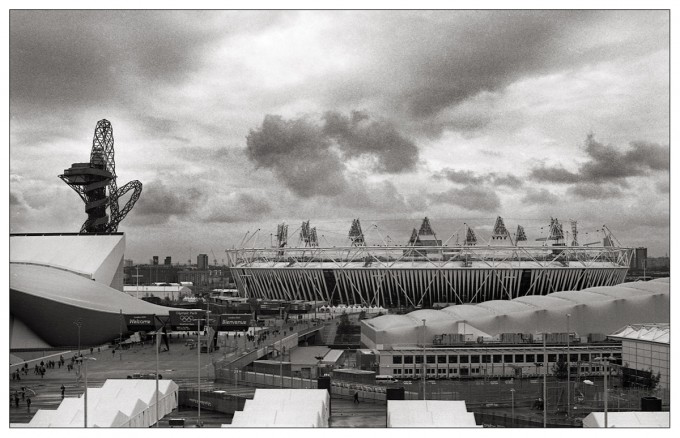 The Camera has a built-in light meter, powered by a small watch size battery and this is activated by pressing the Stop Down Button, it manifests itself in the form of a needle, visible through the big bright viewfinder (about as big and bright as the VF on an Olympus OM2n)
The meter isn't the highlight of this camera, as it's annoying pressing the stop down button, then having to control aperture and shutter speed to get a correct exposure. I have used it, and it's fairly accurate but only to test it out – I find it easier and thus tend to use a hand-held incident Minolta Autometer III which is pretty good, but the internal meter is there if ever required.
The lenses, well, there are some gorgeous lenses available for this camera, lenses made by Zeiss with the HFT coating (HFT is Rollei trademarked T*) Schneider Krueznach, Voighlander and Rollei Rolleinar lenses. They render beautifully, they probably aren't as sharp as more modern equivalents but that doesn't matter, as they manifest a lovely feel in the photographs.
By Lord Byron's House, Nottingham. SL-Xenon 50mm f1.8 B+W Yellow Filter Agfa APX 100 Rodinal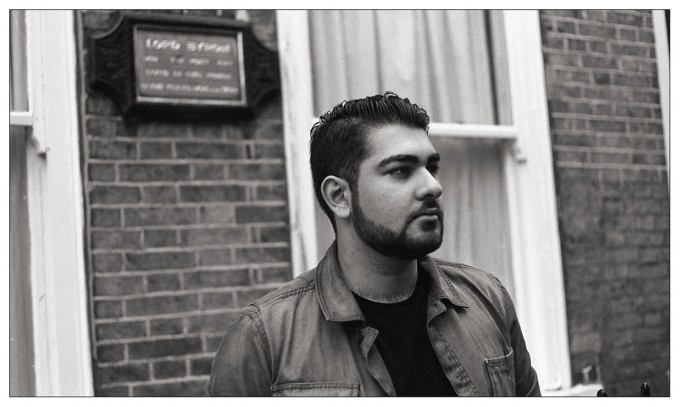 The Zeiss and Schneider lenses are expensive, some more than others, the Voightlanders are rebranded Zeiss and Rolleinars, the Rolleinars can be bought for peanuts, but that doesn't mean the Rolleinars are crap – on the contrary they're superb lenses, made by Mamiya in Japan, well built and of very high quality, in fact tests show they're to a hairs breadth of the Zeiss and Schneider in terms of quality.
I have the Schneider 50mm f1.8 and the Rolleigon 135mm f2.8 portrait lens., My next lens is going to be a 28mm Rolleinar, though I am watching a 25mm Distagon on eBay.
To sum it all up, the Rolleiflex SL35 is a stunning piece, and to demonstrate how much I value mine I wouldn't swap it for any other camera bar a new Rolleiflex 4.0 FW – even if offered an Leica M3, M6 or an M9 I wouldn't swap it – it is my favourite camera and even though I've not owned it long, and have only shot a couple of rolls with it, I prize it above all my others. the Rolleiflex SL35 just oozes class, a camera which you can keep and use FOREVER – it's a joy to own and to handle, turns heads and in my opinion is just as classy as any Leica and it has those magical legend "Rolleiflex" inscribed on it!
Bird over Bedfont Lake. Middlesex. SL-Xenon 50mm f1.8 B+W Yellow Filter Agfa APX 100 Rodinal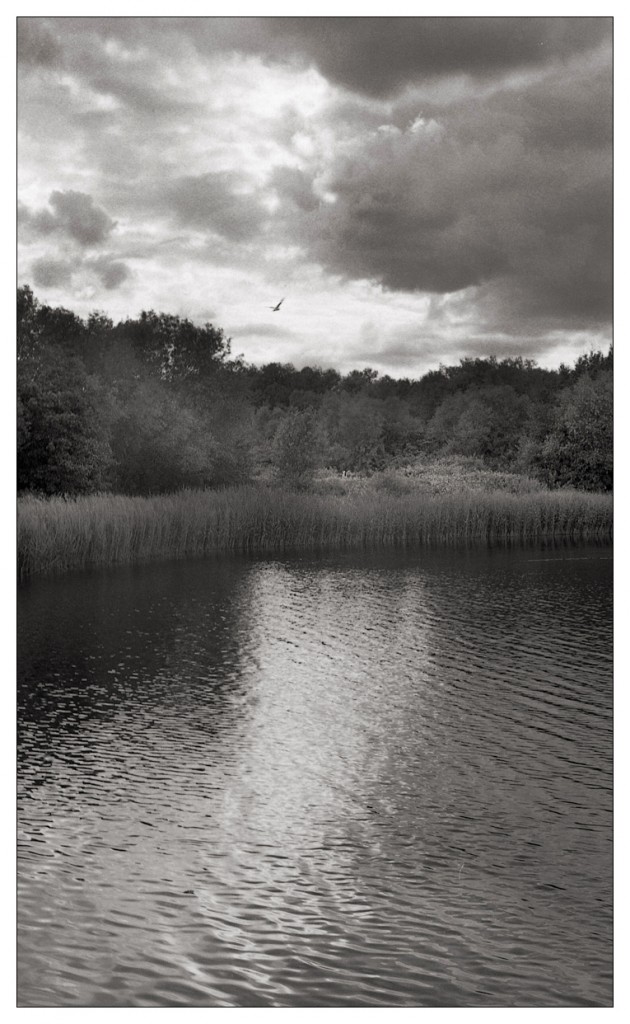 my rudimentary 'blog'; http://rolleiflexed.wordpress.com and Flickr; http://www.flickr.com/photos/71817058@N08/
I've only shot three rolls of Film with this Rolleiflex SL35, two shot on Agfa APX 100 and developed in Rodinal, the other roll is Kodak Portra 400. It currently has half a roll of Agfa APX 100 left in it. The shots were basic family snaps and stuff, and I've included a few examples here – I've yet to shoot the camera in anger! Rudimentary scans with Epson Scan Epson 4990.
I tried to take some pictures of the Rolleiflex with my Kodak Easyshare Z990 – but pictures cannot do it a justice.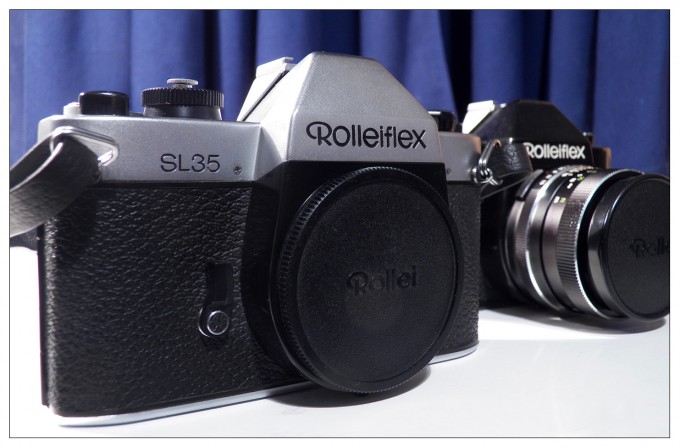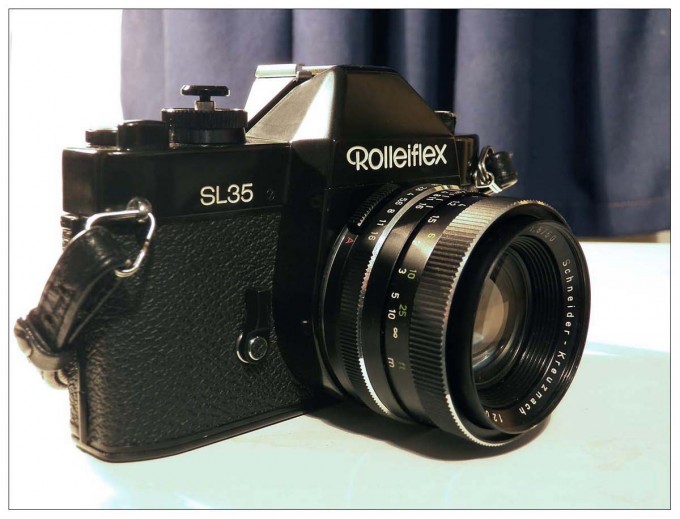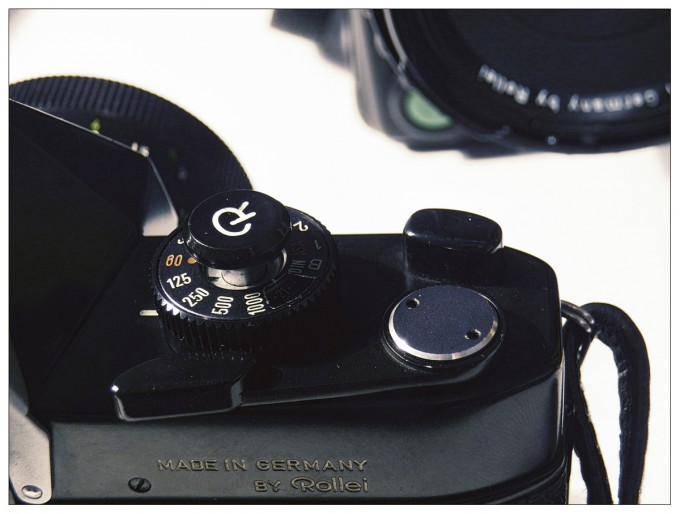 For more information check out this excellent site:
http://captjack.exaktaphile.com/rollei/dugrew.html
I bought my Black with SL-Xenon for £175 (around $280) and the SL35 Silver body for a meagre £20! That's $30 !!