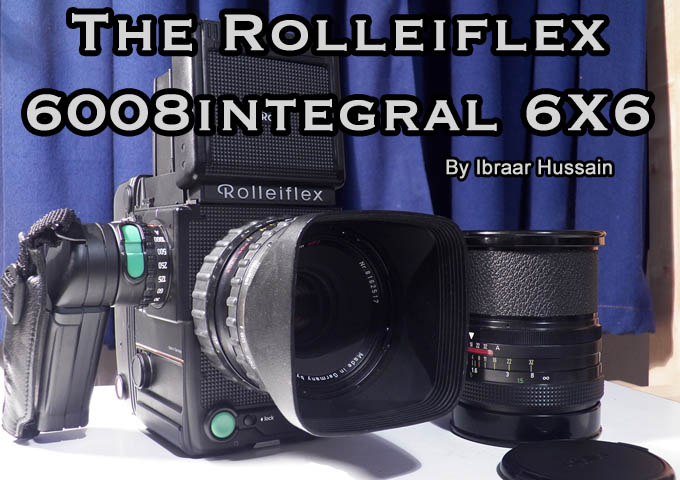 The Rolleiflex 6008 integral 6X6 camera review by Ibraar Hussain
It's difficult to review such a camera as the Rolleiflex 6008 integral, as it is very advanced, yet needs to be made the most out of by able hands, who can get the most out of the handling and astounding lens line up. I wanted a 6×6 camera and I ended up buying this instead of a Hasselblad 500CM.
The Rolleiflex 6008i is part of the 6000 series of Medium Format 6×6 SLR which Rollei released as competition to the Hasselblad 6×6 Cameras, which was a mistake, I was told by a friend to look out for a Rolleiflex instead of a Hasselblad, but I didn't know he meant the TLR – and instead I end up with this!
Rollei had traditionally been famous for their TLR's such as the Rolleiflex and Rolleicord series of Cameras.
[ad#Adsense Blog Sq Embed Image]
But with Hasselblad striking new ground with their SLR's and the gradual disinterest in TLR's Rollei engineers set to work on a 6×6 SLR system which would leave Hasselblad years behind technologically.
The SL66 was released which was purely mechanical, though it is a beautifully crafted piece, it's main downfall is its size, weight and the V series like structure meant ergonomics were not up to modern standards.
This was followed by the SLX, and it is a futuristic camera compared to the SL66. It lacks the traditional look of the Hasselblad V series, and instead is very modern in design and electronics.
The shutter and everything is electronically controlled, so without a battery it will not function – this could be a disadvantage to those used to mechanical cameras.
From Carn Llidi, Pembrokeshire Coast. Wales. 50mm Distagon HFT f4. Fuji Provia 100F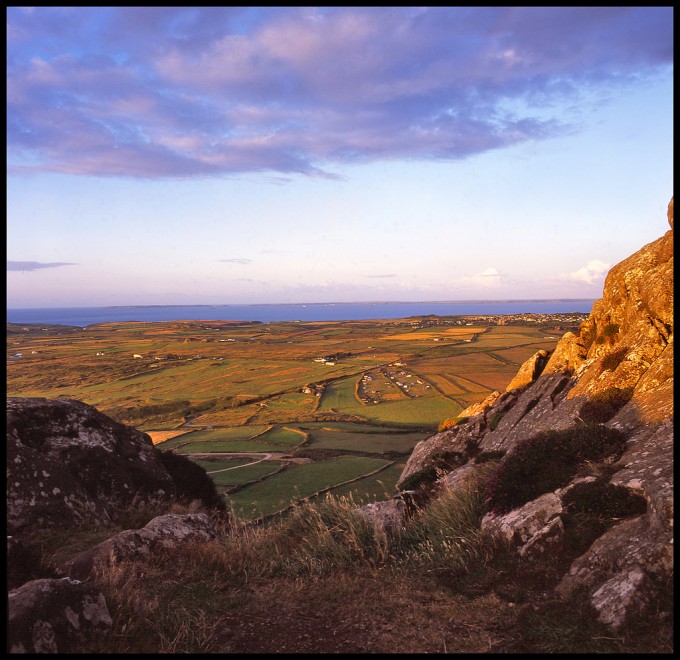 The SLX was followed by a series of 6×6 Camera's which follow the same design ethic. Easy to use 6×6 Medium Format SLR's with advanced features, superb build quality and stellar lenses.
There are many available, and some more advanced than others. They are BIG, boxy creatures, heavy, yet fairly compact (not behemoths like the SL66) with perfect ergonomics and very versatile – incorporating a 'grip' with features such as shutter speed control and shutter release on them. So these could be used in a Studio, and also on the move.
The SLX mk 1 has solid German engineered build BUT has quirky electronics, and collectors/dealers suggest looking out for Mk 2 version which is far more reliable.
The crowning glory of this series are the lenses; superb glass from Schneider, Zeiss and Rollei (Mamiya) are all beautiful and pin sharp.
The most advanced Manual Focus version is the Rolleiflex 6008 integral II, and this was followed by (I believe) the worlds first 6×6 Auto Focus SLR; the Rolleiflex 6008 AF.
Light, shadow and clouds over the Beacons. Wales. 80mm Planar HFT f2.8. Fuji Provia 100F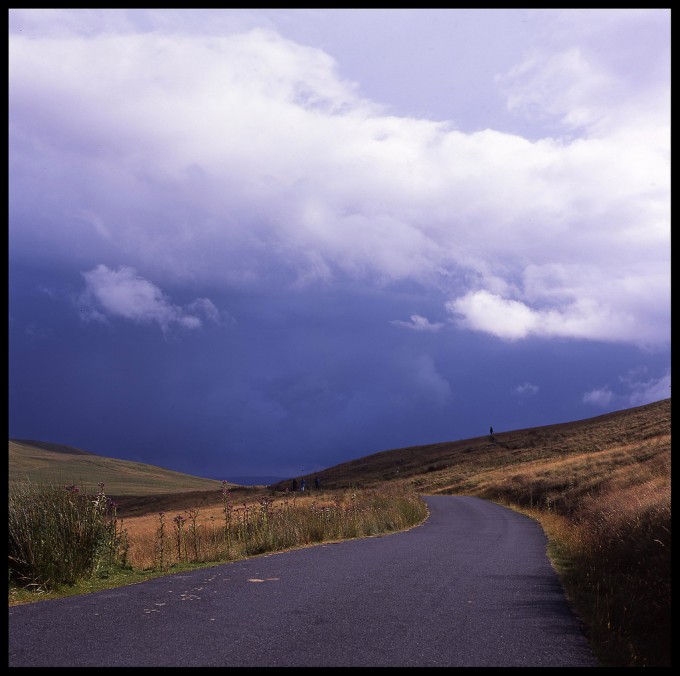 This I believe was a competitor for the Contax 645, as both had Auto Focus, yet the Rolleiflex had the better build, larger negative size and a much wider array of Lenses (the downside being that many were MF rather than AF), plus a more illustrious lineage (as Contax 645 was Japanese built and a Kyocera camera rather than a purely German made SLR). I've spoken to photographers who have had both, and by and large they all prefer the look and feel of the Rolleflex images rather than the Contax.
The 6008i and AF can take Digital backs, so are more than geared towards the Digital age (though I have never used, nor can I afford a Digital back)
Rollei's last foray into the market was the Rollei F&H designed and built Rolleiflex Hy6 6×6 SLR, which was also funded by Jenoptik (spun of company from Zeiss Jena which, I suppose, makes this possibly the last purely German Zeiss camera)
This magnificent camera takes Film along with Digital backs.
Though you can find Leaf and Sinar badged versions of the Hy6 – it is a purely German built beast and is STILL manufactured in Germany by F&H under their new guise
Sunset over the irish Sea. Pembrokeshire. Wales. 50mm Distagon HFT f4. @ f16 Hitech 3 stop ND Hard Grad. B+W Polarizer. Fuji Provia 100F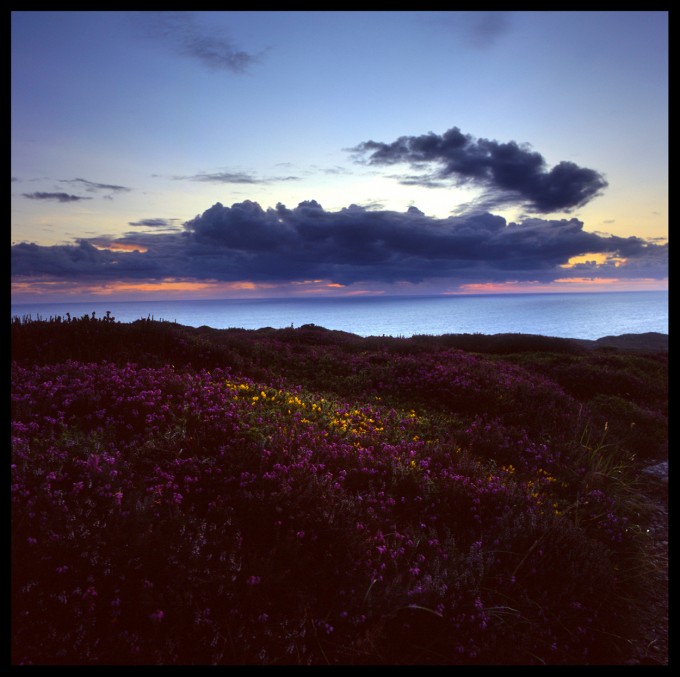 DHW Fototechnik interesting article 
Anyway, I have the Rolleiflex 6008i. I bought it a few months back and my kit consists of the standard camera, 120 Film back, a Polaroid back, Grip, battery and 2 lenses; The 80mm HFT Planar PQ f2.8 and the 50mm HFT Distagon f4. I'm looking to purchase a 150mm f4 Sonnar portrait lens. I'm also on the lookout for any Schneider lenses, which can be very expensive.
The PQ lenses are geared towards the more advanced features of the 6008i, AF and Hy6, the non-PQ lenses are compatible with every Rolleiflex 6000 and Hy6 series camera, but they can only be metered using the 'stopped down' method on the 6008i and AF and Hy6, on other 6000 series and SLX they are perfectly normal.
Saying that, the non-PQ lenses are identical to the PQ optically and are Bargains, costing less than half that of the PQ.
I bought the 6008i for travelling! Yes, a big heavy beast to take around the Mountains of The Hindu Kush and Karakoram when I go to visit again next time (with my Missus this time, I know you're reading this, I won't leave you behind again!)
But this beast, it's easy to carry, the Action Grip is a revelation, it has a camcorder like strap, and can be adjusted to suit, it has a shutter lock, exposure lock and power/motor drive switch – it means I can trek, climb even, and won't be resorting to clunky holding and fiddling as on a Hasselblad and can hold and shoot with one hand!
Marching Sheep being herded. brecon Beacons. 80mm Planar HFT f2.8 Fuji Provia 100F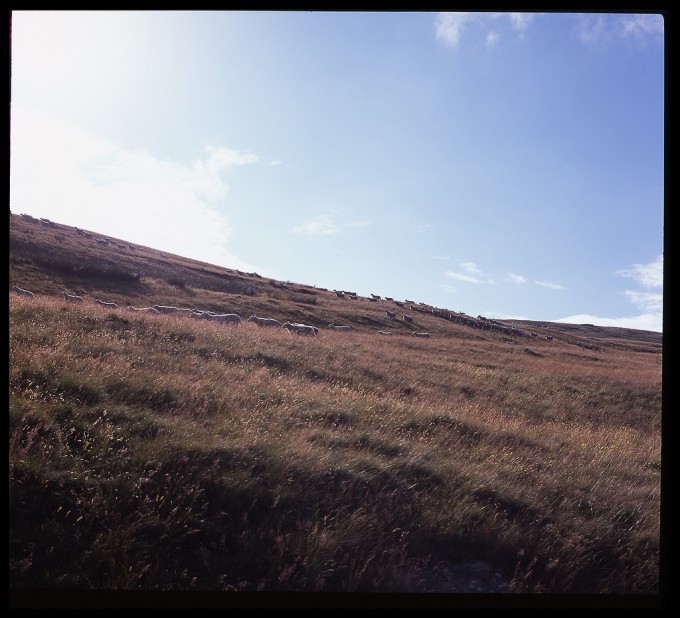 Focussing the waist level View Finder gives you a massive bright image, it's quick to shoot, and can shoot at 3fps.
The ergonomics are second to none in a camera this size, and I can shoot on FULL AUTO with ease! yes, a MF camera with full A mode, that even a compact digital camera snap shooter can use as long as they can focus manually!
the 6008i features centre weighted metering, spot metering along with multi-spot (a la the OM4Ti)
The other superb feature, which tends to put people off from MF camera's is the Magazine dark slide, a simple slider! And one can chop and change magazines with ease!
I have only shot two rolls with this camera, as I'm 'saving it' for holidays and treks – I can only imagine the portraits I'll get with Ektachrome e100vs of exotic looking peoples in the Hindu Kush and Karakoram.
Until then, I'm including a few photo's I've taken on a Roll during my recent trip to Pembrokeshire in Wales, where I thoroughly enjoyed using it, but felt like a bit of a twat walking around with it as I got so many stares!
So all in all, an electronic, versatile, very easy to handle and use, wonderfully built 6×6 SLR with stellar lenses in the right hands (not mine) whose quality will most likely blow any 35mm sized SLR, DSLR or RF from here to Timbuktu! With the legend "Rolleflex" boldly inscribed on it! Pure class!
Drystone wall across the moors. Brecon. 80mm Planar HFT. Fuji Provia 100F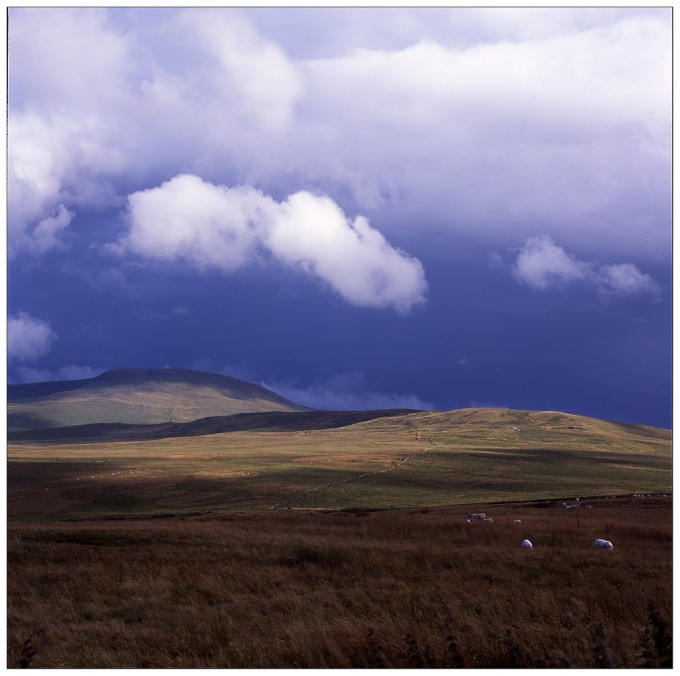 The SLX mk 2 can be bought for as little as $400 more or less with WLF and 80mm Planar, other's can be bought for even less or for very expensive prices. If you want AF (the AF is obviously not to modern standards) you can check out the 6008 AF but these demand high prices.
The SLX mk 2 can be bought for as little as $400 more or less with WLF and 80mm Planar, other's can be bought for even less or for very expensive prices – much less than a Hasselblad 500C/M.
QUIRKS
I need to mention these, in case people start lambasting me for failing to mention these.
1) Electronics, as mentioned earlier, the SLX mk 1 suffers from Electronic issues. And earlier versions of other models (correct me if I'm wrong) are said to have issues too. Though later ones do not, well, they'll have as many issues as any other electronic camera I suppose
2) Battery. The Battery pack is an old fashioned one, and over time holds less and less charge – BUT these days that doesn't mean much any more as alternative battery packs compatible with the charger are offered by some camera show and Dealers, and you can get a car charger accessory plus spares.
3) Ultimately the SLX/6000 series is an Electronic camera, so don't expect eternal ownership, one day electronics MUST fail on every sort of electronic camera, whether a DSLR, Leica M Digital or Contax SLR/645/G series and the Rolleiflex.
4) In heavy rain, I have heard that if the rain seeps in it MAY affect the electronics UNTIL the camera has dried.
Sunset. Pembrokeshire. 80mm Planar HFT Fuji Provia 100F