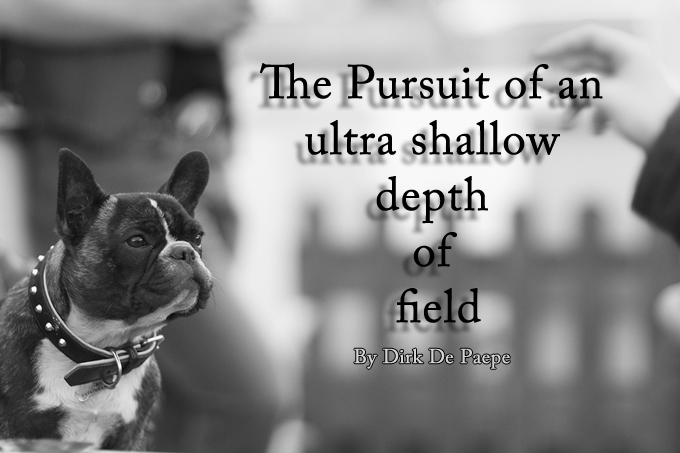 The pursuit of an ultra shallow depth of field
with the Sony NEX-7 and the Canon FD 85mm 1:1.2 S.S.C. Aspherical.
by Dirk De Paepe
Well, I never owned a Leica and I probably never will. Nevertheless I've admired those camera's for as long as I can remember and I can't stop dreaming about them. I love their concept. I love their looks. I love their feel. And above all, I adore their image quality. But I'm one of those guys (and I guess there's a lot like me) that say: no, this is way over the top too expensive. I can't justify to spend that kind of crazy money for a camera, so I won't buy it. OK, if it was half the price (that would still be a lot of money), I would go for it. But I like to spend my money on other things too, so I'll pass. That's why I have settled for a Sony NEX-7, with some nice Zeiss ZM glass, Instead of an M9 with Leica lenses.
You can't always get what you want. That's a fact of life. Until pretty recently, taking pictures just for fun was one of those items for me (besides owning a Leica). I've always taken a lot of pictures for my job (product shooting and reportage work within our branch), but that's different. There's not too much creative freedom involved in that. Admiring good pictures, and thinking about what I could do, if ever…, was the farthest I got. Pretty recently though, when I got more time in my business, I could really bit by bit realize what I've always dreamed about: spending more "quality time" with my camera and reading more about photography. I already renounced the big and heavy DSLR a long time ago, so Steve's site drew my special attention. Visiting it on a daily basis really broadened my way of thinking about photography, and consequently it changed my way of shooting. Where at first, I disagreed with Steve on a regular basis (this doesn't mean that I didn't appreciate his opinion – on the contrary, I always valued it very highly), I found it remarkable that more and more I began to think in the same direction. I always considered reshaping once opinion as one of the most valuable abilities, so this process was a very positive experience for me, since it led me towards new and interesting paths. Reading about those special lenses, like the Noctilux or the SLR Magic 50mm T0.95 and looking at pictures taken with them, made me dream about owning some glass that really could produce this fabulous shallow DOF and the 3D separation that goes along with it. But again, those lenses were out of my league, regarding their prices and the fact that I would only buy one "just for fun".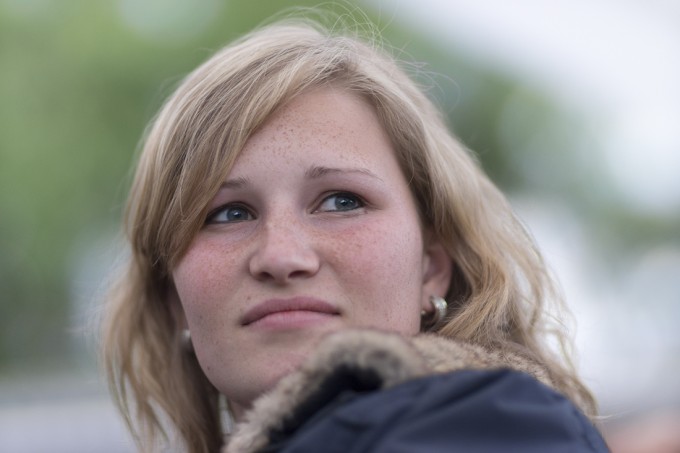 One of the nice things about Steve's site is that it also publishes guest contributions – which I often find very inspiring. Anyway, it was thanks to one of those that I thought of giving my old Canon FD lenses a second life with my NEX-7. And then I discovered the FD 85mm 1:1.2 S.S.C. Aspherical, a lens that I have never before given any attention, because I was shooting in a different way. But now I thought: this will probably offer me an amazingly shallow DOF, close to that of those two great examples, that I mentioned above. Of course, I wouldn't compare this FD to those famous lenses, but still, whenever I read about this 85mm, it receives the highest appreciation and is by many authors considered as one of the best lenses ever made. I already had the Novoflex NEX/CAN adapter, and knew that the FDs work terrificly well on the NEX. So I went bidding on ebay on a very nice example and all of a sudden got myself a beautiful "ultra shallow DOF" lens for about 1/4 of the price of the above mentioned SLR Magic, or less than 1/10 of the Noctilux! And, as I mentioned, concerning shallow DOF, it probably comes very close to those two great examples, although not being a 50 mm. But still… So I consider this as one of the best buys I did in years! In the meanwhile, I got so enthusiastic about shooting with it, and it works so well together with my NEX-7, that I'd like to share some pictures, made with this camera/lens combination.
Of course, being an 85 mm and the NEX using an APS-C sensor, this makes for a very important crop factor and a compressed perspective, compared to a 50 mm on the M9. When, for instance, I focus on a person that I wanna picture from the waste up, I will have to shoot from a larger distance, thus focussing further away and loosing some of the shallowness in DOF. But on the other hand, the shallowness increases again with the tele factor, so that compensates. Over all I believe the DOF is pretty comparable. It's mainly the compressed perspective that bothers me sometimes. That's why I continue dreaming about shooting a 50mm with a full frame camera. But like I said, you can't always get what you want, still this lens/camera combination can give very nice results. Often I can even benefit from the crop/tele factor, like in portraits or in the shooting of people in general. Being able to stay at a larger distance leaves the person more easily in his comfort zone, which typically results in a more spontaneous facial expression. It's important to always look on the bright side of life, isn't it…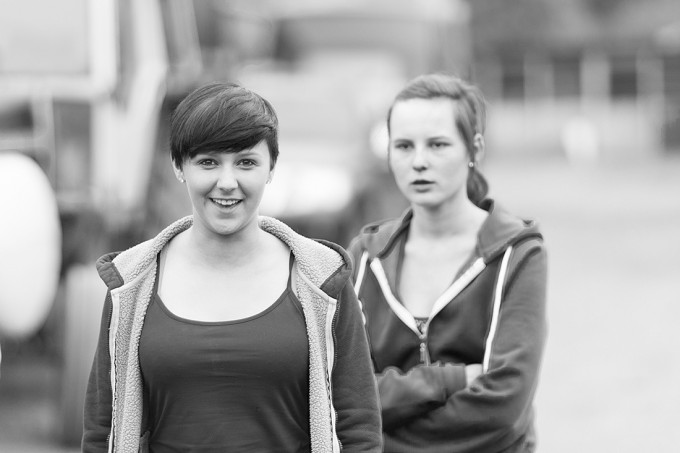 My first picture is a good example of this: a non-posed portrait that brings the girl's face very close, thus creating a great intimacy. Her facial expression stays very natural and makes you wonder about here thoughts. This picture is an out of camera RAW conversion, no cropping nor any other processing was done. It's absolutely razor-sharp up till 100% enlargement, and introduces the haze already at the cheek. I believe the shallowness is pretty amazing. The background, which has no function at all in this case, is completely blurry beyond recognition, thanks to the wide open shooting. IMO this lens is a dream for portraits. And the focus peaking of the NEX made it possible to focus very fast and accurate, which is an absolute necessity when portraying in that kind of "instant" circumstances. IMO, both lens and camera are perfect for this kind of work.
Despite this, I love those "ultra shallow DOF" lenses the most, when they're focussed at a medium distance, because then the background, although still blurred, remains recognizable. But at the same time, the object in focus benefits of a very clear separation, not possible to achieve with a less fast lens. With this wonderful 3D effect, you can evoke extra expression. Thanks to the information in the background and the great separation, you can bring a completer story. And again, the combination of the NEX-7 (with its focus peaking and brilliant viewfinder) and this Canon FD 85mm offers total control and very fast action. The "Kissing in the Park" picture is a good example hereof, where one really needs to act fast, to be able to freeze the action in the split second that it has its greatest expression. This picture was taken from a distance of about 10 meters and was cropped to 87,5%, since there was a bit too much grass in the foreground.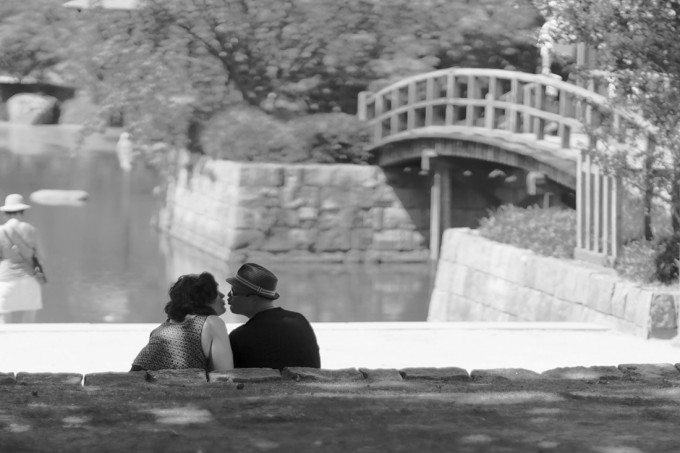 I really love this Canon FD 85mm lens in combination with the NEX-7. It's really razor-sharp when shooting wide open. I find the colors to be rich, well-balanced and very natural and I like its bookeh. Of course it's a somewhat heavy lens, weighing 737 grams, but it's a lot of glass and, as far as I can tell, all ultra shallow DOF lenses are pretty heavy. As a matter of fact I always shoot it wide open, because I only use it, when I'm pursuing this ultra shallowness. I also own a Zeiss ZM Tele-Tessar 4/85mm for "normal" work, which comes in much more handy, due to its much lighter weight and compact format. I believe a lens like this Canon is made to shoot wide open, otherwise one wouldn't wanna carry that weight… By the way, this Canon lens is available on ebay on a regular basis. I read it's very familiar in terms of construction to the currently available EF 85mm f/1.2 USM that sells for over 2000 Euro in Europe.
I hope you can enjoy some of my pics, and share with me the satisfaction that for about 2000 Euro's I have bought myself a camera/lens combination, that can bring an atmosphere and an expression to my pictures, for which, until recently, I thought I'd need to spend at least three times more money. Yes, I'm a happy man…