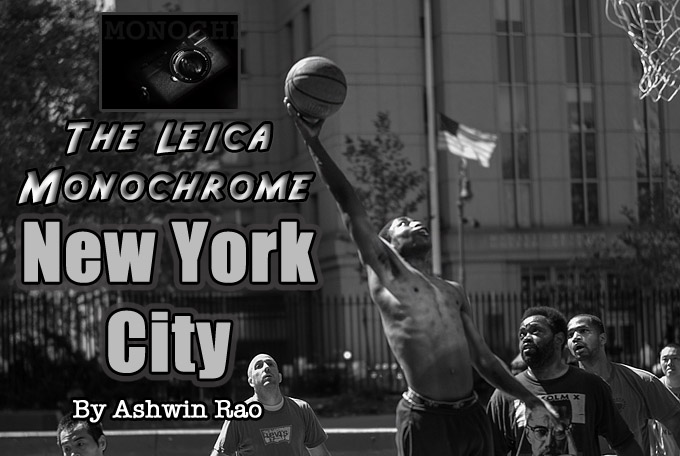 New York City seen through the Leica M Monochrom
By Ashwin Rao – See his blog HERE
Hello, all of my photo friends. Photokina 2012 has come and gone, and it's been a whirlwind of news from a gear front. Huge announcements have come from Sony (RX-1, A99), Canon and Nikon (with full frame entry level cameras), Fuji (XE-1), and of course Leica (with the M and M-E). In this day and age, gear gets discussed as much as the photos that it takes, and today's glorious gear rapidly becomes yesterday's news. So here I am, hoping that you'll pay attention to an article about a piece of gear AND the photos that it took in my hands.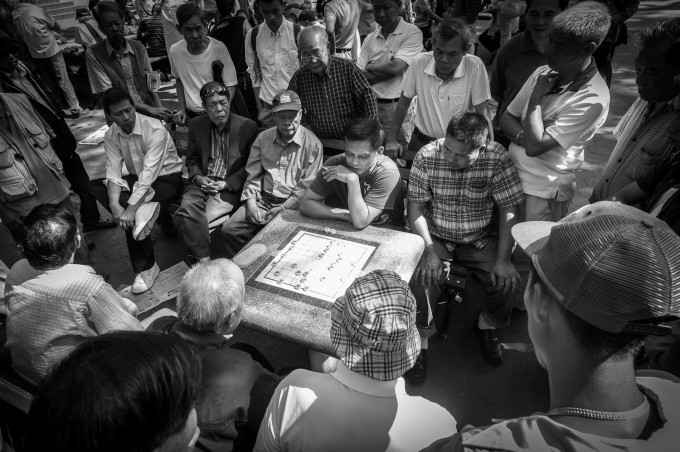 It's easy to forget that just a short few months ago, Leica announced the much ballyhooed M Monochrom to the public, a camera of many firsts for Leica: It was the first digital black and white-only rangefinder camera. It was the first Leica digital RF camera with impressive ISO capacity expending well beyond previous ISO tolerances of digital M bodies. And with the release of this camera, public debate opened up and opinions were volleyed back and forth regarding the merits and necessities of such a device…a black and white only digital monstrosity…Why create such a camera when the Leica M9 and M8 before it are capable of wonderful B&W, further augmented by the fact that one can selectively adjust color channels to get a plentitude of B&W looks. Why lock oneself into one way of seeing? I too had many such questions as I hesitantly put in a pre-order of my MM.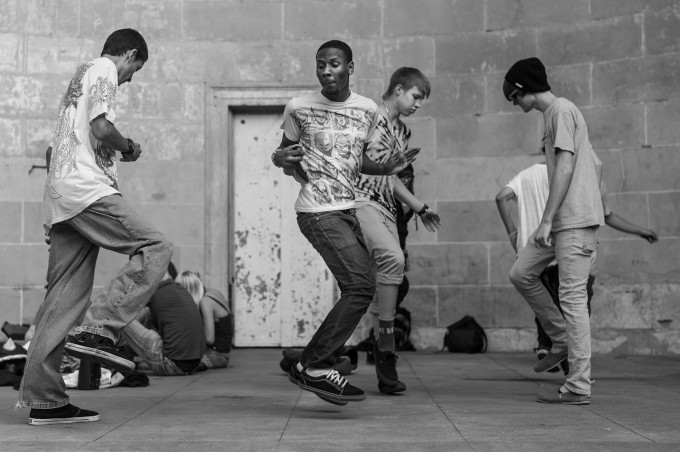 Sadly, Leica has been slow to release the camera to the public. I have yet to get my own MM, due to shortages of supply here in the U.S. Thankfully, a very good friend here in Seattle was one of the first to receive a copy of this camera, and he was generous enough to lend it to me for a trip to NYC. Wow, what a friend, huh?
[ad#Adsense Blog Sq Embed Image]
As a quick aside, I wanted to thank the community here of enthusiasts for truly brightening my world with their knowledge, expertise, skills as photographers, and generosities. As I have mentioned before, one of my favorite parts of the enthusiast community is meeting so many wonderful people in the real world, and making virtual relationships on Facebook and various forums into lasting friendships in the real world. I can count so many good people as just such friends, including Steve Huff himself and so many others. It was just such a friend, whom I once knew only virtually on the forums, who has become a great friend and photo buddy in the real world, who was gracious enough to insist on lending me his $8K MM to take and shoot. So thank you, Matt D, for your generosity. You rock, my friend!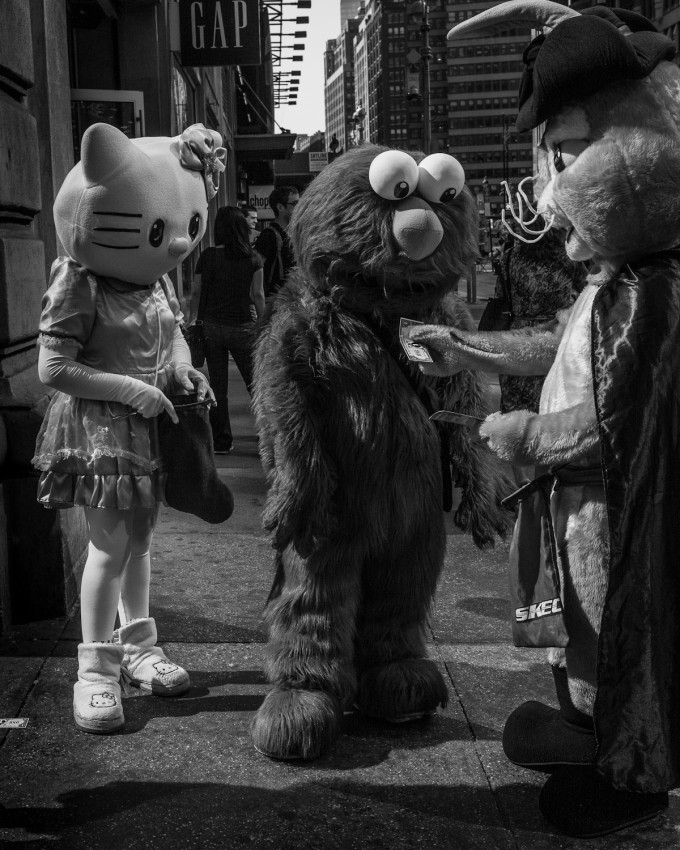 Okay, back to the essay at hand…that is, how did I find the MM in practice? In a word, "fascinating". Exhilarating may be another word. "Challenging" may be a third…ultimately, I would suggested that the camera was thoroughly satisfying.
The MM, for those of you who don't know, possesses a black-and-white only sensor with substantial dynamic range, particularly in the mid-tones….It forgoes the Bayer color filter array and receives its inputs directly onto it's sensor without ever "seeing color". In doing so, the sensor becomes more sensitive to light, and the MM has a minimum native ISO of 320 and a maximum ISO of 10,000 (higher than even the maximum ISO of 6400 with the coming Leica M)…One issue that was reported widely is that it's quite easy for the MM to blow out highlights, which then cannot be rescued, due to lack of color channels to do so. Areas of pure highlight that show up as clipped on the MM's histogram are truly lost, so one must care to exposure (or should I say, underexpose) to save those highlights. Beyond these subtleties, the MM's imaging sensor is essentially the same 18 MP CCD sensor that can be found in the M9, without an AA filter. Body, build, and finish echo the M9-P, though the matte black paint job and blackened lettering lend an aura of stealth to the camera. The MM is a niche camera within a niche rangefinder market, but this niche is capable of amazing results…but if you guys are reading this, you know all of that. So how did I find the MM in practice? Much like the M9, I found it to be a thoroughly enjoyable camera to use in the real world.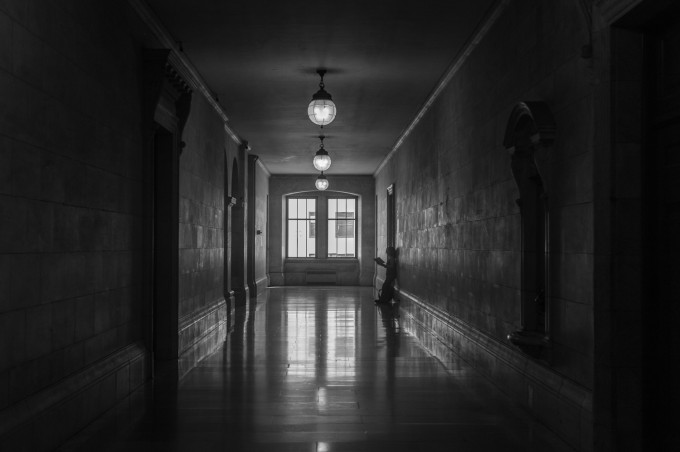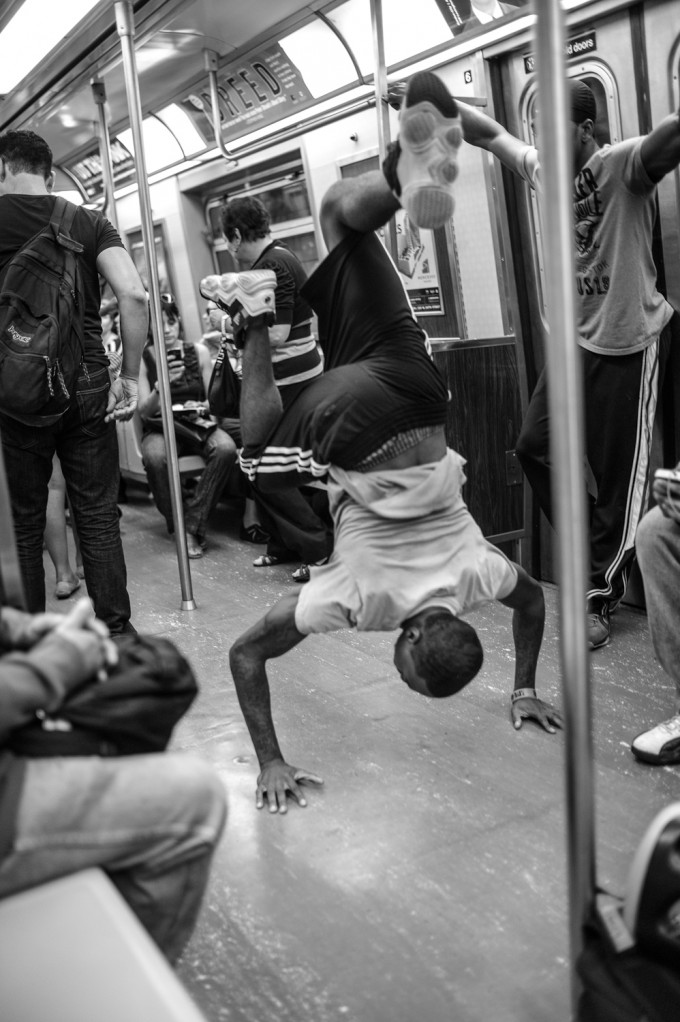 First up, the challenges? Given that the MM produces a B&W representation of the captured image, it can be said to be comparable to film in the way one may consider conceiving the image or subject matter prior to even taking the image. In a sense, with the MM, color filters, famous and long used in B&W photography for the looks that they generate by selectively filtering out certain parts of the visible spectrum, become instantly relevant on the MM. This was a challenge to me, as someone who's done most of my photography in the digital age. With the MM, I had to familiarize myself with filter choice and appropriateness. For example, Red filters often add drama to an image by darkening a blue sky and enhancing contrast, but don't necessarily make for the best people photography. On the other hand, green and yellow filters are very nice for capturing people, but their effects on the MM's image is much more subtle.
The second challenge to the MM comes in its sensitivity to light. The MM's base ISO is 320, though images can be pulled digitally to ISO 160 in camera (this is a software fix, from what I have heard, similar to the ISO 80 on the M9). In broad daylight, shooting lenses such as the 35 mm or 50 mm f/1.4 Summilux Asph becomes challenging, and one must stop down. Thankfully, using color filters lessens the transmission of light through the lens, and shooting wide open may be enabled in some circumstances. Ultimately, if one chooses to work wide open with their lenses in broad daylight with the MM, a neutral density (ND) filter would be a reasonable investment. I didn't have a ND filter for my trip, so I simply stopped down a bit when shooting…in a sense, yet another challenge, in seeing the world a different way and focusing and learning about the elements of each composition rather than simply blurring them away by shooting wide open.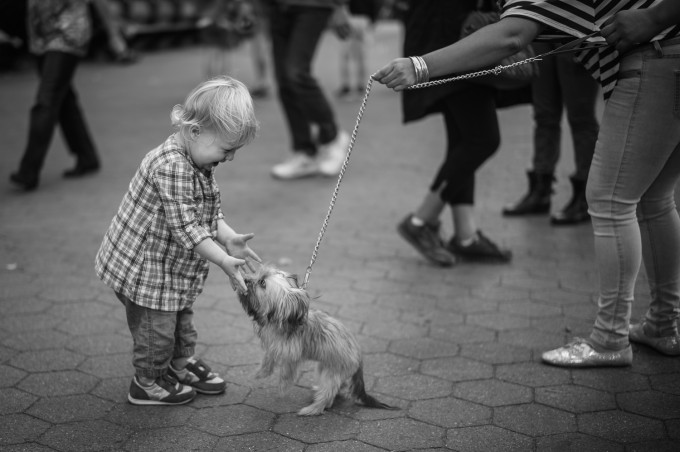 The third challenge with MM comes in achieving appropriate exposure. The MM's image carries a dramatic amount of information in the mid tones and shadows, seemingly at the sacrifice of details in the highlights. Thus, in using the camera, I tended to underexpose by 1/3 to 2/3 of a stop to attempt to save highlights. Thankfully, given the detail present in mid-tones and shadows, such adjustments come fairly easy to the MM's files, and I was satisfied to adjust myself in this manner.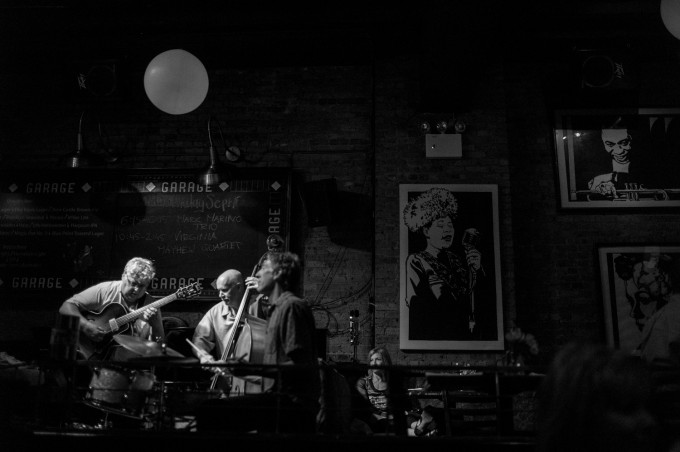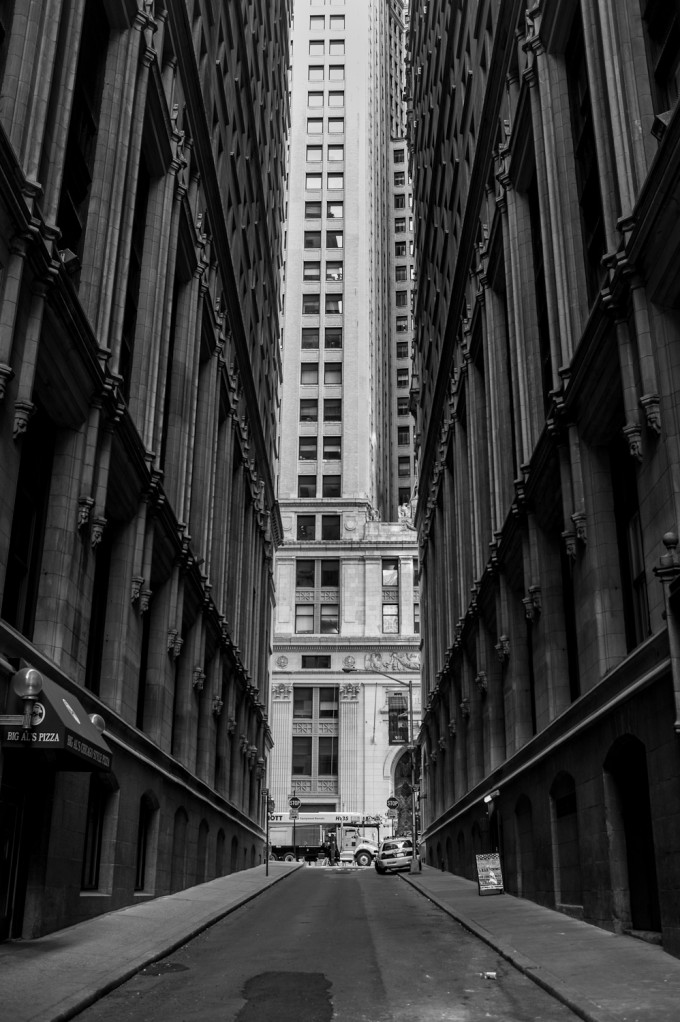 The final substantial challenge to using the M, in my eyes, was the post processing workflow. I had a preview of this challenge by editing the photos made available a few months ago by Jono Slack (for those of you who don't know Jono or his work, you owe yourself a favor to go to his site, http://www.slack.co.uk/ , or strike up a conversation with him …he is a true gentleman-scholar in the Rangefinder community). Jono's files showed me the tremendous detail capable of being captured by the MM. His images showed the depth of dynamic range present in the mid-tones, which provide a unique challenge on deciding how to use this information in the post processing workflow to achieve the image that you want. In a sense, the detail and dynamic range in the mid tones made available by the MM's sensor provides the photographer with far more choice and flexibility on how to render skin tones and mid tone detail in the post-processing process. While this grayscale information yields a base MM file that can be described as flat, I found that the files are quite flexible and don't break apart (i.e. banding, radically increased noise) that I have seen with color files from various cameras, including the M9. This process of playing with, and push/pulling mid tone details is in reality quite fun, and allows the MM shooter to envision his or her images in novel ways….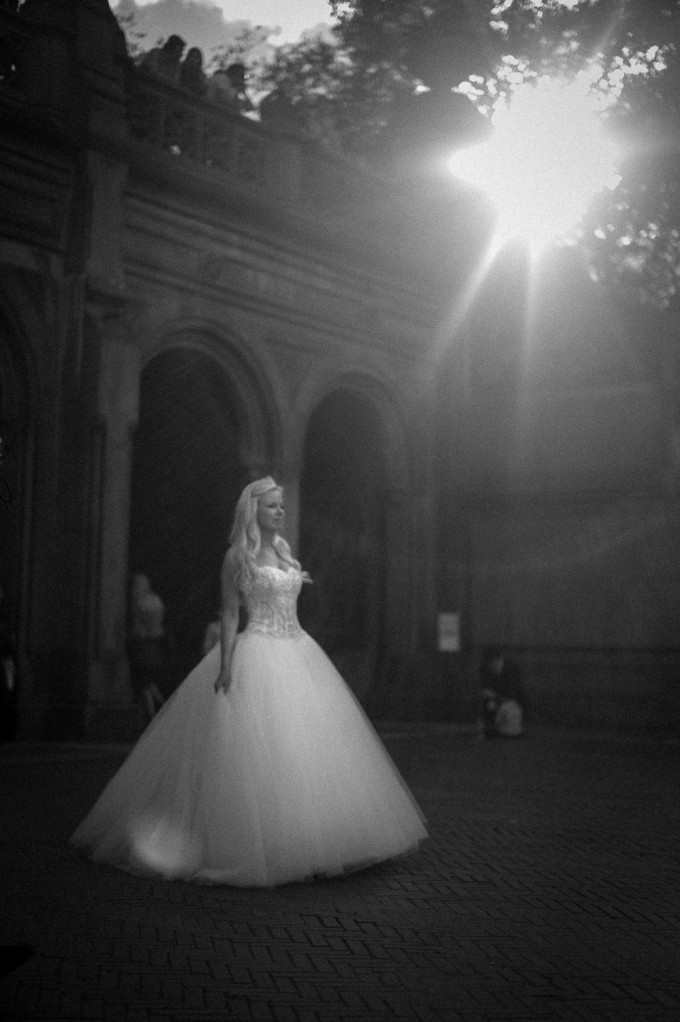 So off I was, to the streets of Manhattan, equipped with my friend's MM. What could I achieve, using my own style of shooting and my own processing? I found, in practice, that the MM was quite fun to use. I'd typically use a yellow or green filter (green seemed to transmit less light and was preferred for broad daylight) to render people, and I'd occasionally grab a red filter to add drama to a scene. To me, it was the use of these color filters that made the biggest difference to using the MM on the streets. I could presumably use the MM without color filters, but part of the fun, for me, was to see the effects of such filters on the rendered image. Otherwise, shooting the MM encouraged me to see the street in new and exciting ways. Instead of trying to see and highlight color, I focused more on light and shadow play as well as composition. I thought more about scenes and depth of field, since the MM's light sensitivity often necessitated stopping down (and as you all know, I enjoy shooting wide open). I thought quite a bit about preserving highlights and how to properly expose a scene in a meaningful way, so as to focus and preserve details in the areas of my particular interest. All in all, I feel that the MM provided a new challenge, one that I hadn't experienced in many years, really since the purchase of my first rangefinder, the Leica M8.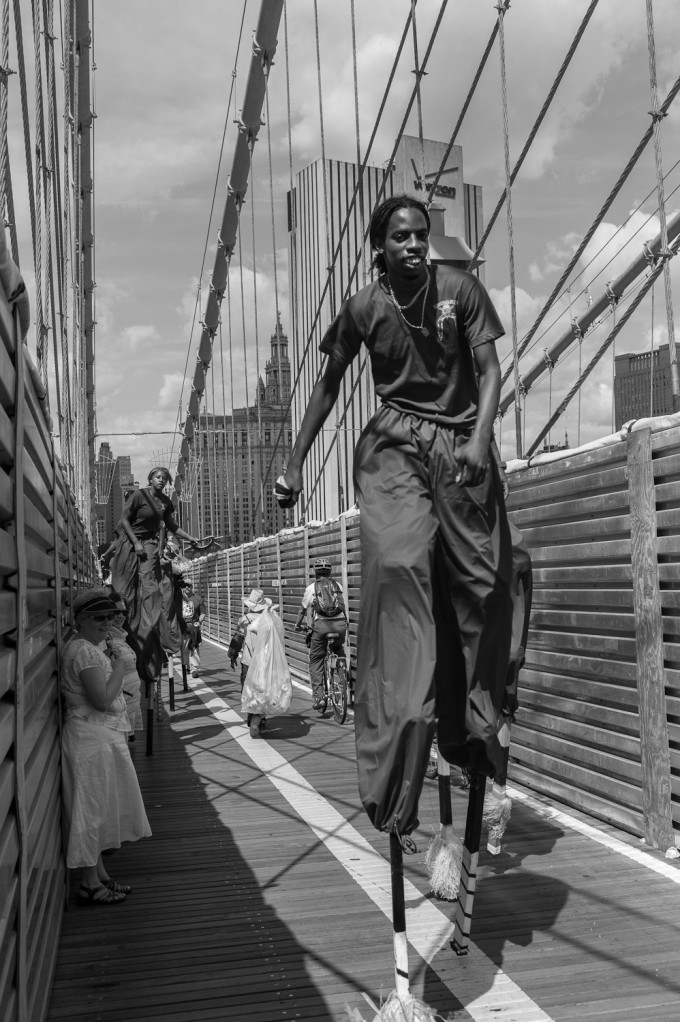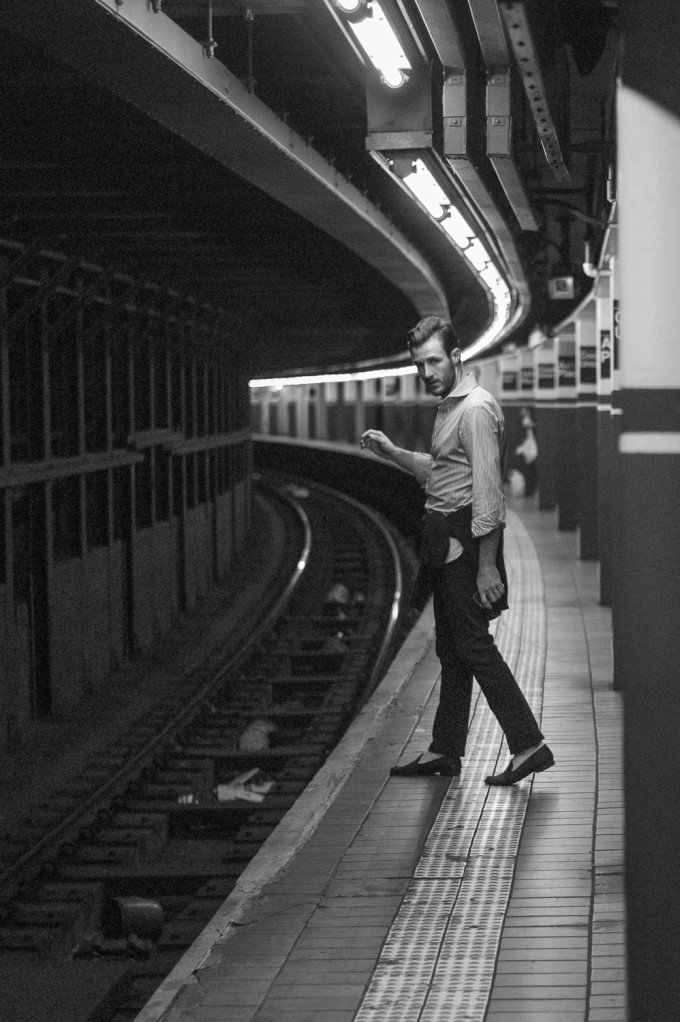 To me, the challenges of the Leica M Monochrom represent its strengths. It forced me, in my brief 5 days with it, to see in new and creative ways. It forced more attention to detail in how I chose to compose or perceive a particular shot. In post processing, I learned much about the camera, its flexibilities, and its eccentricities, and I have found the images produced by the camera to be full of hidden treasures.
To boot, the Leica MM is a remarkable image-making machine. It captures detail in a way that I could only have dreamed previously. The detail is preserved through much of its ISO range, though personally, I'd avoid ISO's about 6400 unless you wish a very grainy look. At base ISO through ISO 1600, the images render very cleanly and are quite flexible to post-processing and extensive pushing and pulling. At ISO 3200, the details of the images remain preserved, though noise becomes a factor, particularly if the image isn't perfectly exposed and requires a bit of processing. At IS0 6400, the images remain useable, but noise starts to overwhelm detail. Beyond ISO 6400, I generally found the camera's results to be unacceptable…. still, to have a camera capable of producing sharp, detailed images at up to ISO 6400, has to this point, been a dream for Leica shooters…. Kudos to Leica for making this dream a reality.
So if you wish to check out the entire set of images, including those shown here, just link over to my  flickr site.
All in all, I found the Leica M Monochrom to be a fascinating experience. Will I still be getting one? You bet. I found that the camera has much to teach me yet, about how to visualize an image and focus on the core elements of the image without necessarily getting "distracted" by color. I once thought that converting a file to Black and White was an easy cheat to making an unremarkable image suddenly pleasing. This is no longer the case, as the MM is a far more challenging camera to use for the average RF shooter compared to the M9. I accept that challenge and hope to learn more….Now, if Leica could just deliver one to my dealer soon ;)….