Traveling through Europe for 8 Months with an Olympus OM-D by James Cox
Hi Steve,
Thanks for the best photography site on the net. Like many others I have been enjoying your no-nonsense real world reviews of gear for some time now. A little about me: I'm 28, married and currently traveling Europe for 8 months with me lovely wife.
At home (Australia) I work as a photographer. Splitting my year between school/graduation photography for a company and my own freelance wedding and commercial work.
Until we left on our trip I had been taking almost no images for myself. I have spent the last 5 years roughly, shooting almost exclusively for clients. When we were getting set to head off I knew I didn't want to lug around a Full size SLR and a few lenses for that long. I had a full wedding and commercial kit setup but hated the idea of lugging around the bag I use for work, on a holiday.
So, thanks to your site in particular, I landed on an Olympus OM-D. I took a punt and bought some lenses before it actually came out and thankfully it (OM-D) landed at my doorstep 2 days before we left. Prior to reading your thoughts I had always dismissed small sensor cameras as merely point and shoots with a few bells and whistles added.
I bought it initially for its size and weight and have since been blown away with the image quality. It's not quite at a DSLR level (I had been using a D3S for most of work) but for what it is, it's amazing.
So we took off. At the time I had the OM-D plus a 7-14mm Panasonic, 25mm Panasonic and the Olympus 45mm. I was set. Since then, on my travels having been so impressed with the whole system I added the Olympus 12mm whilst in Basel, Switzerland. Then a couple of months later whilst in York, UK I grabbed the Panasonic 100-300mm. Then a couple of weeks ago in Amsterdam I managed to find the Olympus 75 1.8
.
My travel kit has now grown pretty full, but I still manage to carry it all, everywhere without a care in the world thanks to lightweight nature of the whole system.
That was a long pre-amble…
Having not taken a whole lot of photos for myself over the last few years I had kind of lost the enjoyment of finding images I liked for no other reason than… I like them. This trip and this camera system has brought that back in a big way. I have loved the chance to spend as much or as little time as I want putting the camera to my eye.
I think sometimes as photographers, either professionally or as enthusiasts you can almost feel the need to always be photographing and that all the shots you take, need to be great.
The chance to not photograph all the time has made me all the more inspired when I do life the camera to my eye.
Having said that, in the past 5 months of travel I've chalked up over 20,000 photos on my little OM-D. So maybe I've been lifting to the camera to my eye more than I realise but it hasn't felt like effort one little bit.
Here are a few random photos from the trip so far, they are by no means amazing photos but they are simply the photos that I enjoy looking at and remembering the places we've had the privilege of visiting. Each of these shots somehow, in my mind, sums up our own personal experience that these places provided us.
They've all been edited to my liking, which I have found changes all time.
1.Barcelona, Spain – Olympus OM-D – 7-14mm @ 7mm – f4.0 – 1/30 – iso 2500 This was taken in Barcelona, after visiting too many churches over the past few months this one took the cake. It's in the Roman quarter of the city and actually had coin slots in which you pop .50euro cents if you want the lights to come on so you can see who you are praying to.
–
2. Brugge, Belgium – Olympus OM-D – 45mm – f4.5 – 1/160 – iso 200
 Following a good walk in and around this beautiful city we were wandering down on the canals and this cute pooch was hanging out the window. We went back the next day and he was in the exact same position. It's things like this that give places feeling. Plus I love dogs.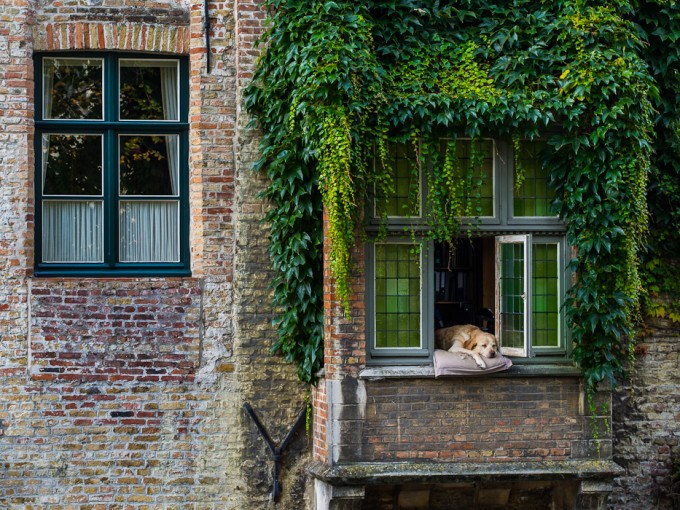 –
3. Amsterdam, The Netherlands – Olympus OM-D – 45mm – f1.8 – 1/100 – iso 200
 A striking orange bike caught my eye whilst wandering the canals. After having just visited a WW2 Resistance Museum in which it was detailed how the colour has been so important to the country over so many years, this somehow resonated with me at the time.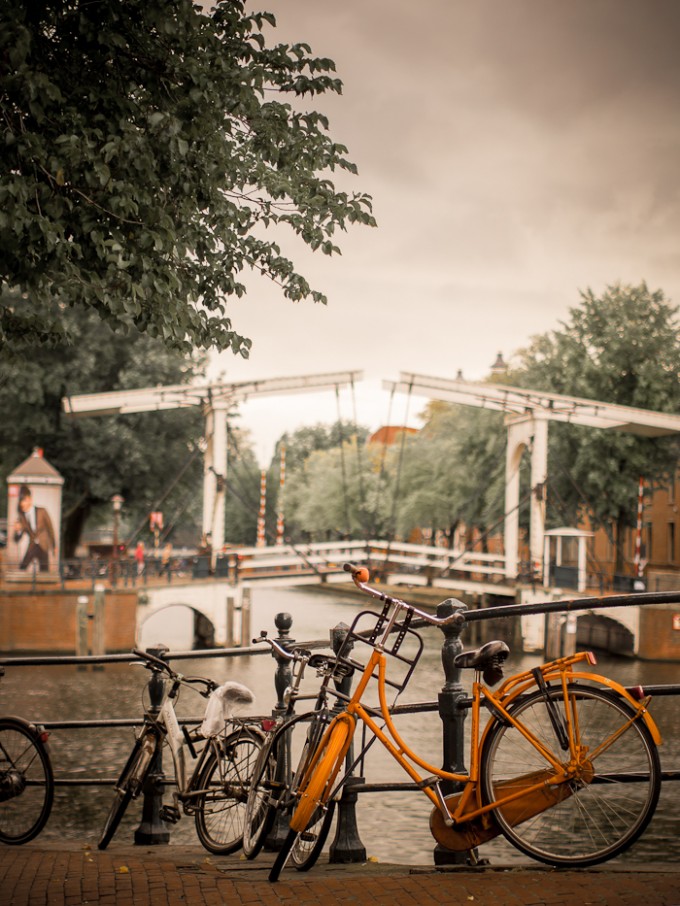 –
4. Isle of Skye, Scotland United Kingdom – Olympus OM-D – 12mm – f2 1/50 – iso 2500
After a wonderful day of driving around the beautiful Isle of Skye in Scotland with some french backpackers we picked up, the majestic highland cows were feeding by a fence and having a farming pedigree I took this one for my mother.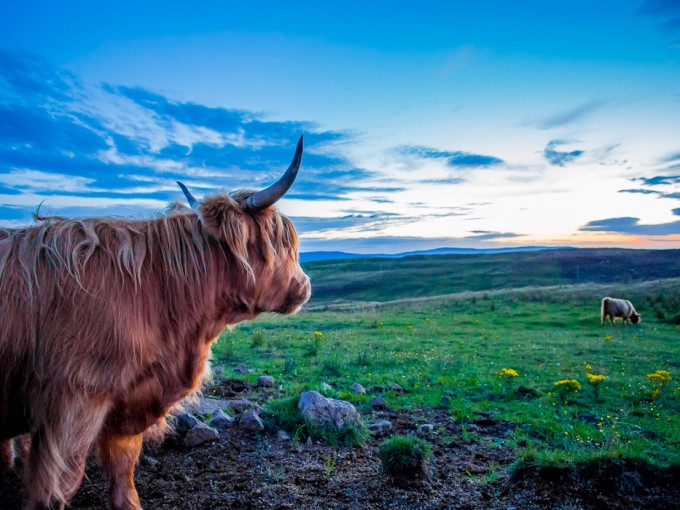 –
5. Porto, Portugal – Olympus OM-D – 25mm – f2 – 1/30 – iso200
 Porto in Portugal amazed and humbled us. It's beautiful whilst falling into a state of disrepair at the same time. Waiting for our tram I caught this girl sitting so peacefully in the corner of my eye just moments before the tram pulled up.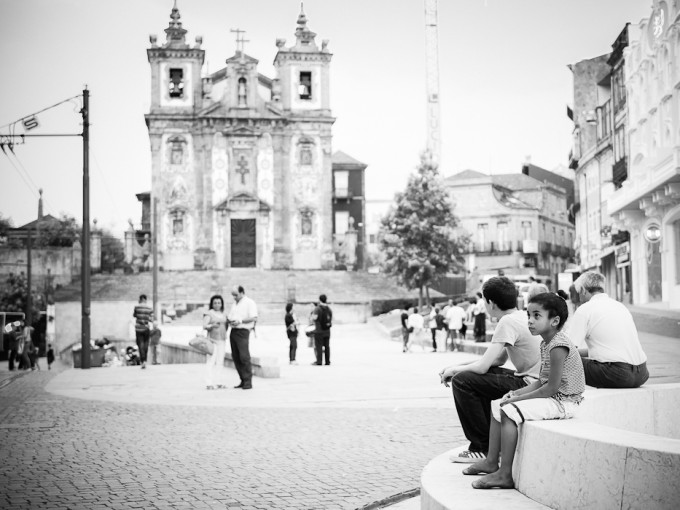 –
6. Avignon, France – Olympus OM-D – 45mm – f1.8 – 1/40 – iso 640
 Whilst enjoying the Avignon Festival we caught this amusing show. It was in french and we didn't understand a word of it. Judging from the hushed and shocked reactions it was filthy and quite wrong I'm sure. We sat there happily all the same.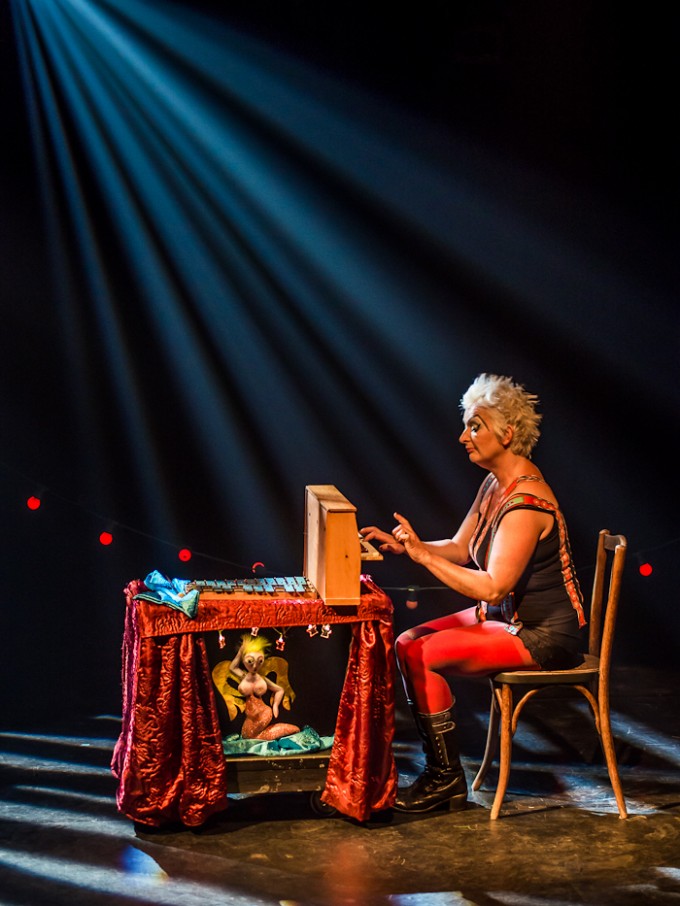 –
7. Ruffigan P. Fritz – Olympus OM-D – 25mm – f1.8 – 1/400 – iso 200
 Taken 2 days before we left – The first photo from the OM-D. After reading your post a couple of weeks ago my wife actually got quite emotional. The hardest thing about going away for such a long time is leaving our beloved little guy behind. He's a mini Schnauzer and I'm not too embarrassed to say has more than one song written about him. He's staying on my parents farm for the duration of our trip and has brought such joy to us since we picked him up 18 months ago.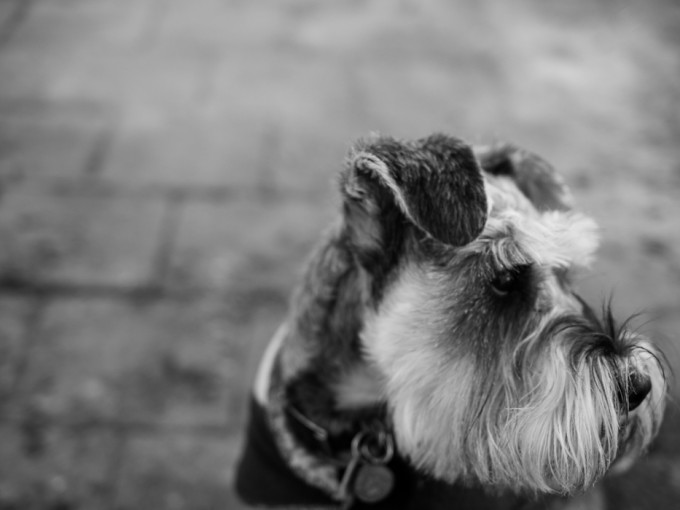 –
I would love to finish by saying that without photography, big parts of our lives can be lost or merely diluted in our minds over time. Photo's can have the ability to bring back memories beyond themselves. Looking at photos takes us back to the places, sights, sounds, smells and most importantly, emotions that this wide and varied world has to offer.
If any of the readers of the site would like to follow the travels they can subscribe to my Facebook page. I've been photos up for my family mainly but I'm more than happy for anyone to see them.
Thanks Steve and once again I can genuinely say that you have been a huge influence in not only my photographing life but also many others I assure you.
James
From Steve: Thank you so much James. The photos are beautiful and I appreciate the kind words as well as this fabulous article!