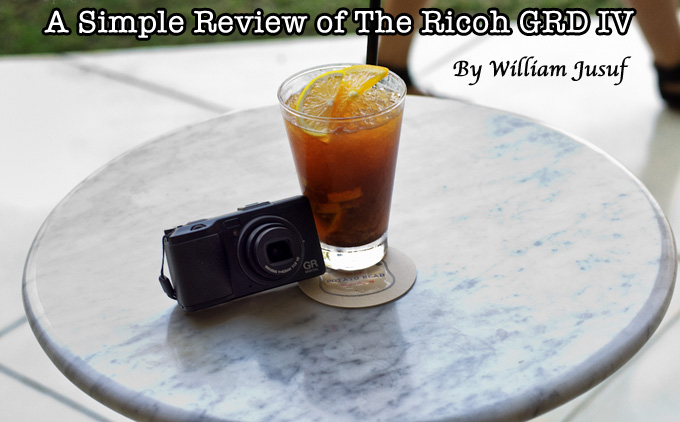 Simple Review of the Ricoh GRDIV for Travel Photography by William Jusuf
Since January, Me and wife already planned to have a vacation.. we can't go for too long.. so we plan 4 days getaway only 3 of us: Myself, wife and baby Daini (she's now 8 months old).. If you remember , my first post in Steve website is about celebrating Daini's birth.
The Mission is to enjoy the 4 days and bring baby Daini to meet her Great Grandmother in Bali.. The surprise is.. at my 34th birthday (August 12th), my wife gave me a surprise by giving me a pleasant birthday gift. Ricoh GR Digital IV… on August 14th.
Its a camera that I've been thinking (and hesitating) to buy for quite a long time..She knew since I keep looking at it on many site and blog, reasoning myself , yet I don't have the nerve to pull the trigger. I know I will love it… Since I am more a street people candid shooter (definitely I am not in league of photographer) but since I had GF2 + the 25 and 45 also Nex5 + CZ35mm and Leitz R Summicron 50… I hesitate to add a street pocket cam in a fixed wide focal length.
[ad#Adsense Blog Sq Embed Image]
So.. we left to vacation from 16-20 August.. only 3 of us.. me , wife and 8 months baby Daini… So I must choose wisely, which gear to bring.. Then I decide to pack Sony Nex5N + CZ 35mm and Leitz R50mm (stuffed on the baby stroller, for my baby portrait ).
I decided to force myself to use the Ricoh GRD IV most of the time for its size and simplicity. Imagine I must keep carrying baby Daini in front of my chest… 80 % of my time , I simply use Ricoh GRD IV with 1 hand only..
So here are my Traveling with Simple Pocket Camera…. The story begin. We had a 2 hours delayed airplane… while waiting at the Airport.. I shoot some pictures , all using Snap Focusing. It's a training for me to measure distance  1 / 1,5/ 2.5/ 5 meter or infinity.
Soekarno Hatta Airport .. using infinity snap in high ISO 640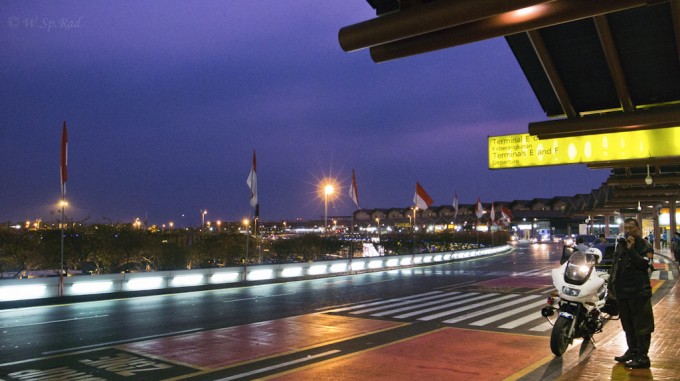 –
Noodle lover .. I snap 2.5 meter of this old man really enjoying his noodle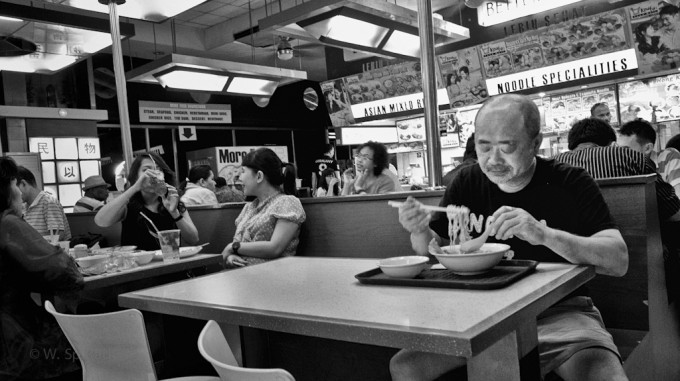 –
Buddies Chatting.. Snap 1,5 meter of this two old buddies enjoy waiting for the airplane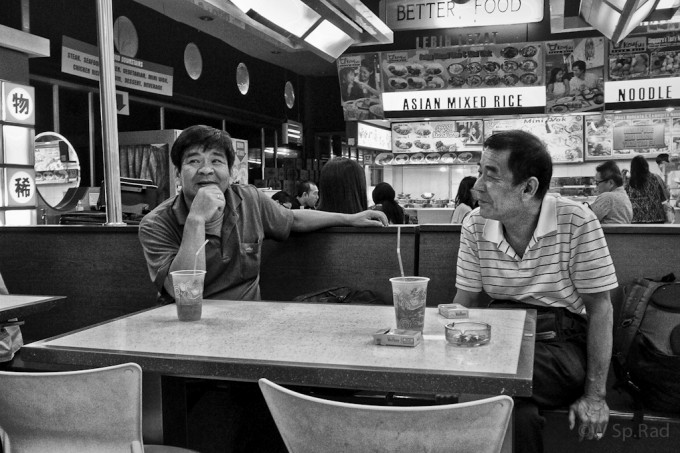 Then 3 of us waiting in the terminal gate.. for almost 1.5 hours delayed.. Baby Daini get restless , I took her for a walk arround while shoot some photos
Busy with themselves… Snap 2.5 meter of people bored waiting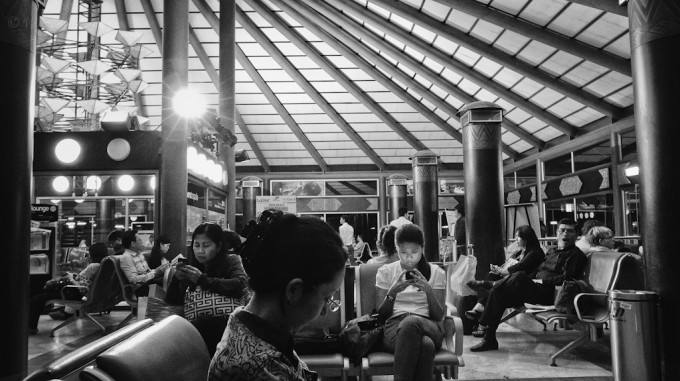 –
Up the terminal Gates.. Snap infinity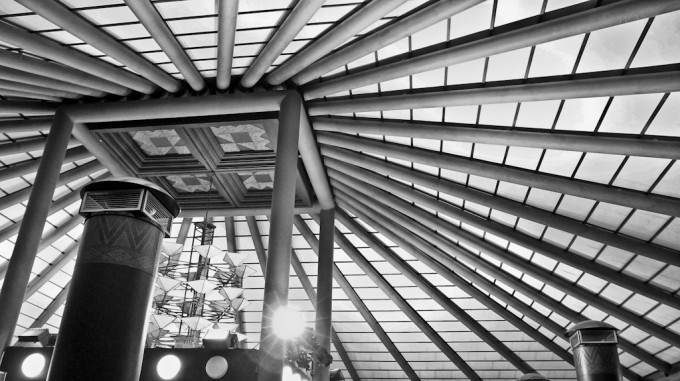 –
Tired and Bored.. Snap 5 Meter.. of a man tired and leaning on his wife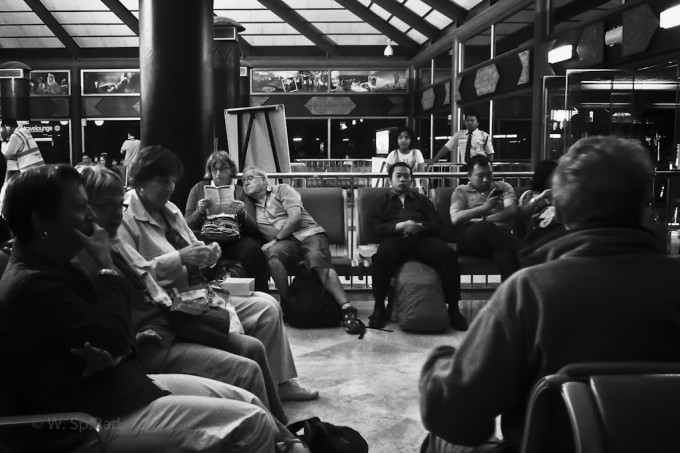 Finally .. we take off to Bali. We stay in Pan Pacific Nirvana Tanah Lot and my Auntie Home (alternately). The hotel is one great place ! It is cozy.. very beautiful .. facing the Tanah Lot Beach and Pura Tanah Lot… and great 18 holes Golf. Unfortunately I never shoot any landscape before so I must admit this is my first time using wide-angle to cover landscape.
silhouette of the Lobby… facing the Ocean.. Snap Infinty at Sunset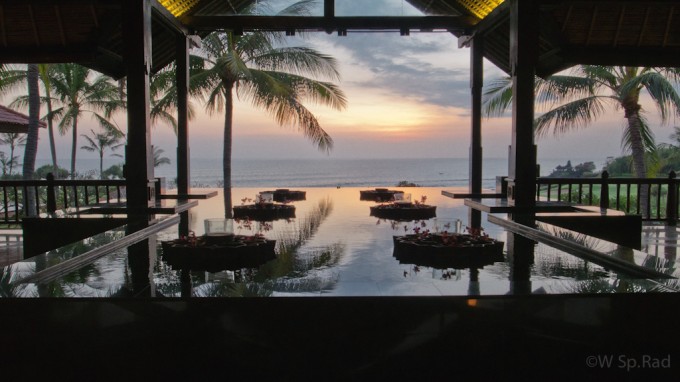 –
View from the Sunset Lounge.. Snap infinty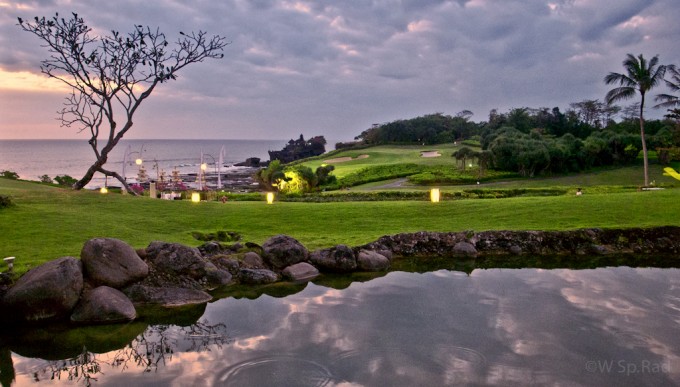 –
Merica Restaurant .. Snap Infinity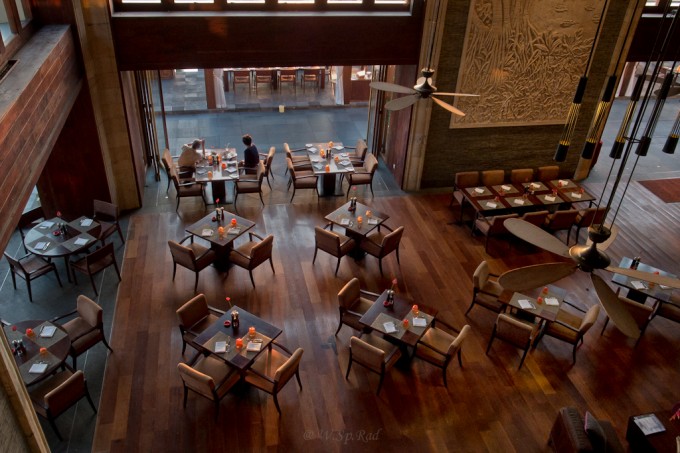 –
Dinner with sunset.. Snap infinity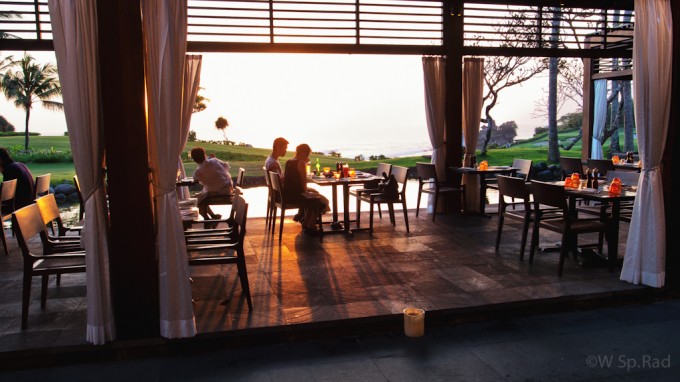 Ok enough with the Hotel. We had a tight Schedule and my wife wants to take us and baby Daini to visit the Bali Safari Marine Park. It definitely a great place to takes kids.. takes photos .. with many animals. I keep snapping very fast with the GRD. Learning many ways to hold camera in conventional and unconventional ways. The camera works flawlessly. Just keep it on and sleep after 3 min non use and alway set it on snap mode. Spot focusing. Auto white balance.. Auto High ISO up to ISO 800. Easy.
The cons are the GRD will not wake up several times after going to sleep.  I cant figure out how to wake it  so I unplugged the battery and it backs online.
Roar.. Dine with me.. Snap 1.5 meter with the camera hold under my waist facing back.. So this shot taken without looking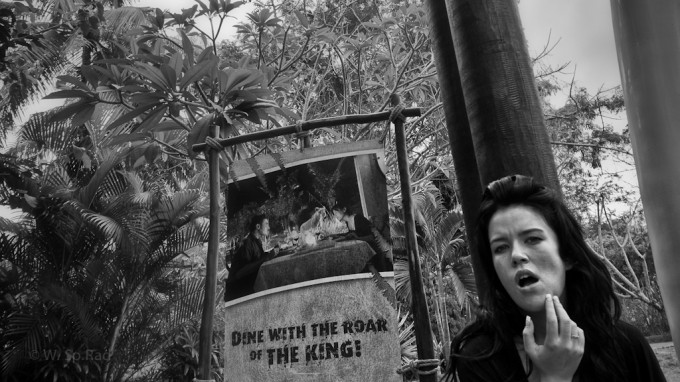 –
Watching Cenderawasih bird.. Snap 1.5 meter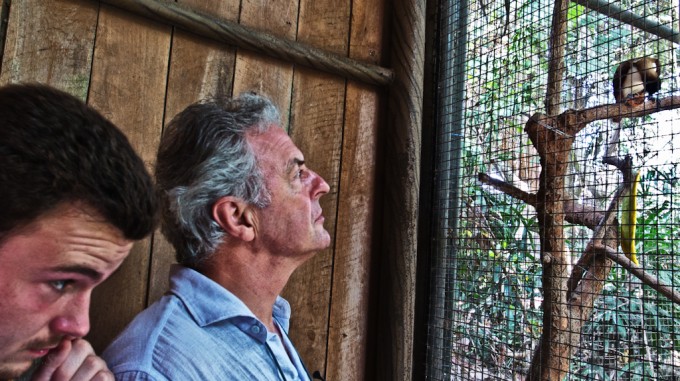 –
Look. White Tiger.. Snap from waist goes up of a kid surprise look at the white tiger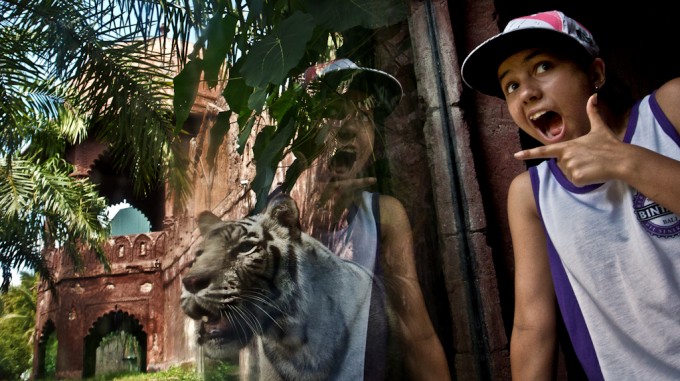 –
Evi, the Orang Utan.. Snap 1.5 meter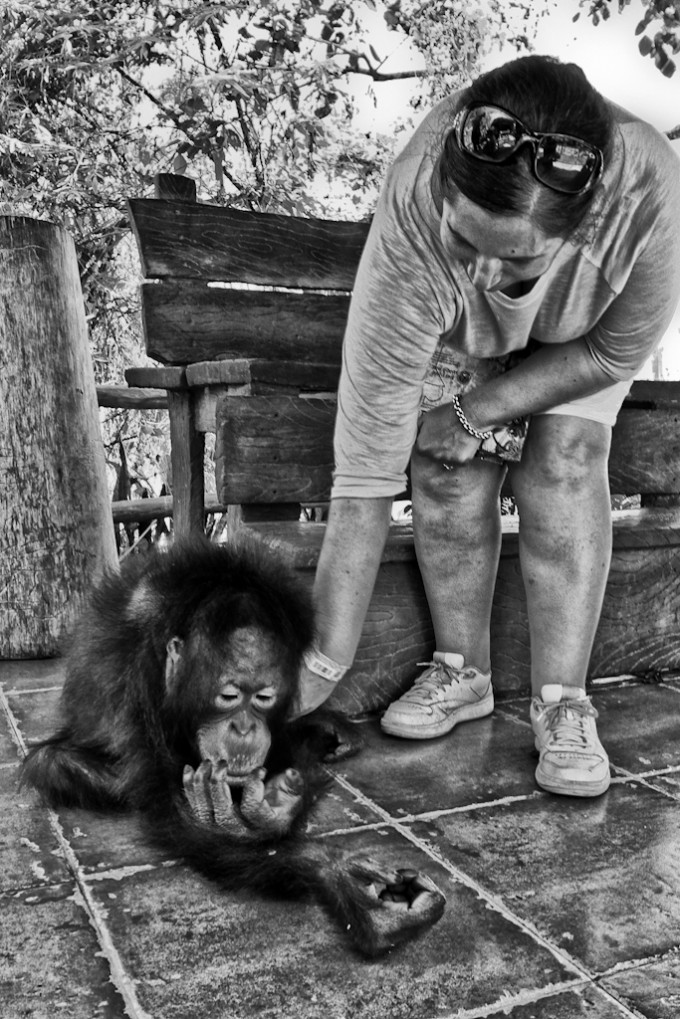 –
Eat and Eat.. Snap 1.5 meter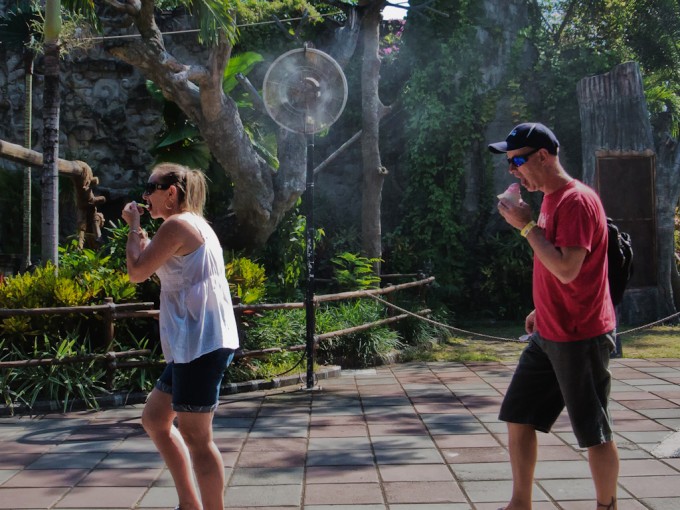 How about the high ISO ? It's a pocket camera with small Sony Sensor (that also used in Canon S, G etc). I usually will limit my self to ISO 400.. but for fun.. I pump to auto high iso 800 with max 1/30 sec shutter time I dine in a Pool Grill. quite dark.. not total dark.. So I can try snap some high ISO shots.
in front of sushi bar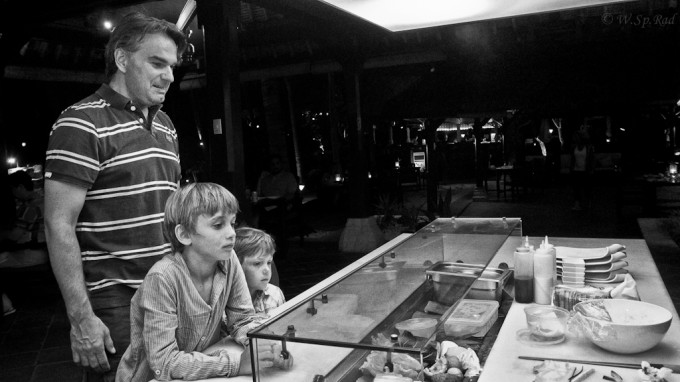 –
watching the chef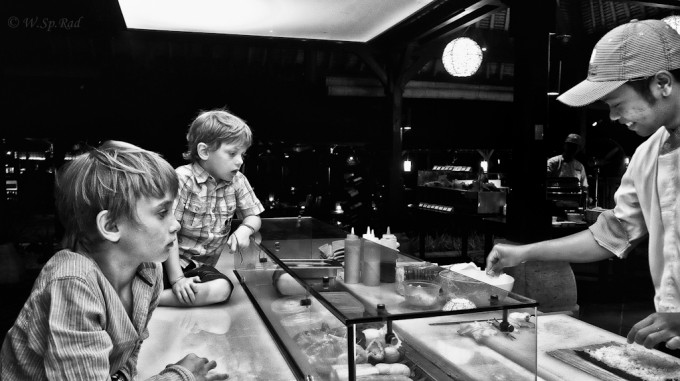 Well. I can see noise at ISO > 400 and it get quite noisy at 800. I always turn of the noise reduction as well as the Dynamic Range turn off also.  Everything is simply RAW the way it is.  Like the old tricks.. For the high iso shot, I convert it to Black and white :p
The next day while having great lunch at Bebek Tepi Sawah (duck restaurant)… great food and affordable price. Glowing.. somehow the roof shine the sunlight to this 1 cashier.. I simply snap it. We had Sunset dinner at this incredible place called Kama Kandara… watching great sunset … you could swim if you like great food and perfect places to stay also at their private villa.
Pool… Snap at infinity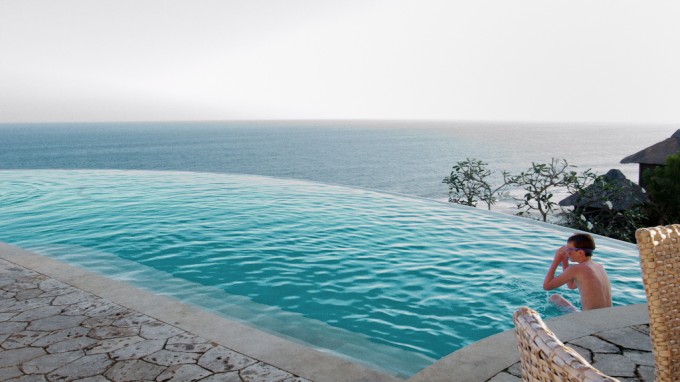 –
Sunset at Kama .. Snap at Infinity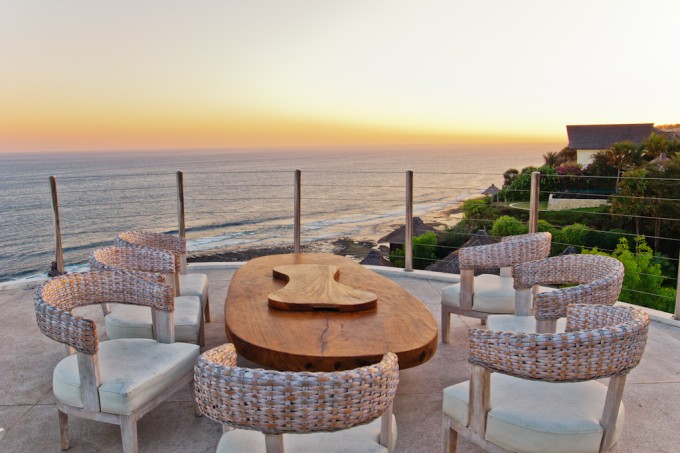 –
Enjoying .. Snap at 1.5 meter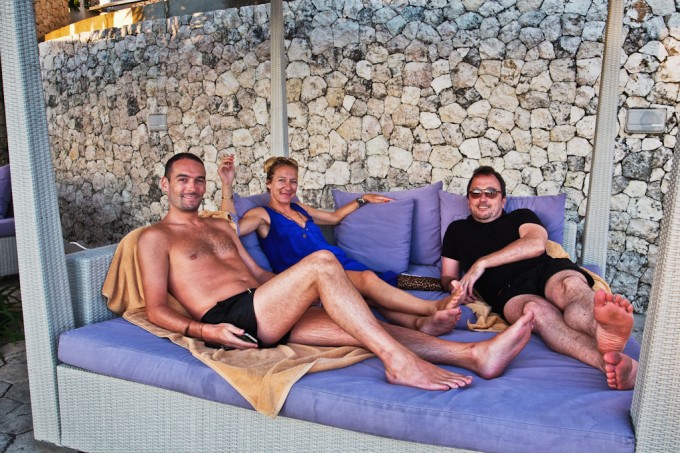 –
My table view.. Snap at infinity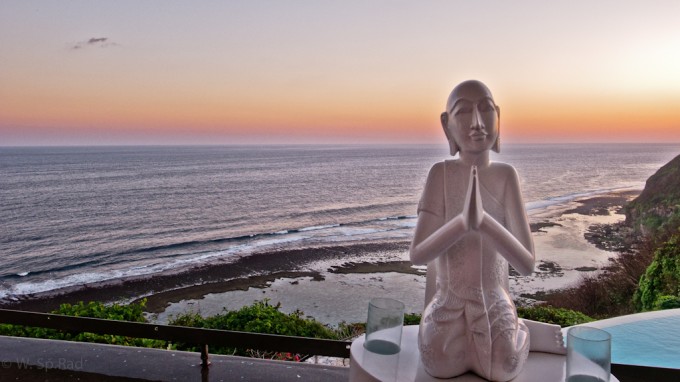 The next Day.. we have lunch at this great hotel called the Royal Pita Maha. It is highly recommended for the private villa and the best Spa in Bali. It is very harsh light and day.  I don't shoot much since we must climb down to valley and carrying a baby is out of the question for me. We simply had beverages at the top restaurant.
We then went for real lunch at Potato Head Seminyak.. Great place Good food and drink..also great people. The lighting here is a challenge for the small GRD 4 since it's midday with hot harsh lighting directly to the pool and beach.
Portraiture.. Snap 1.5 meter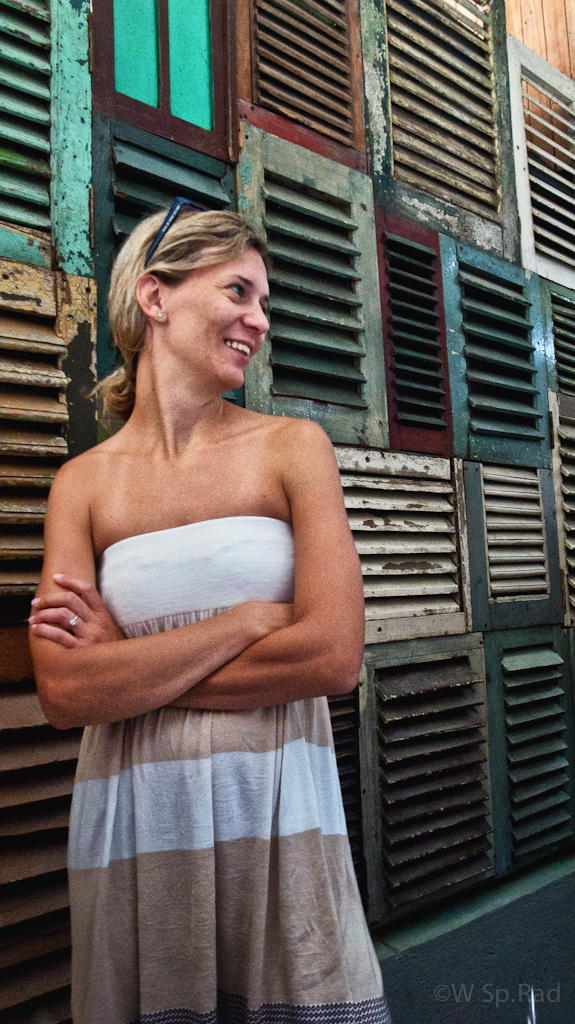 –
Ready To Swim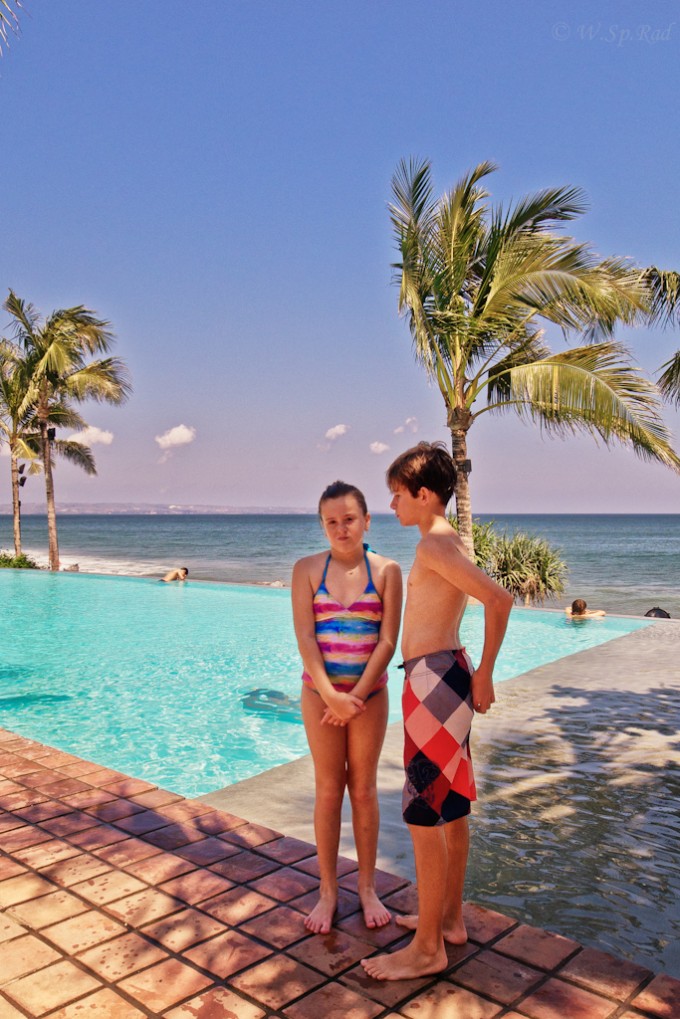 –
Click..We're In Love!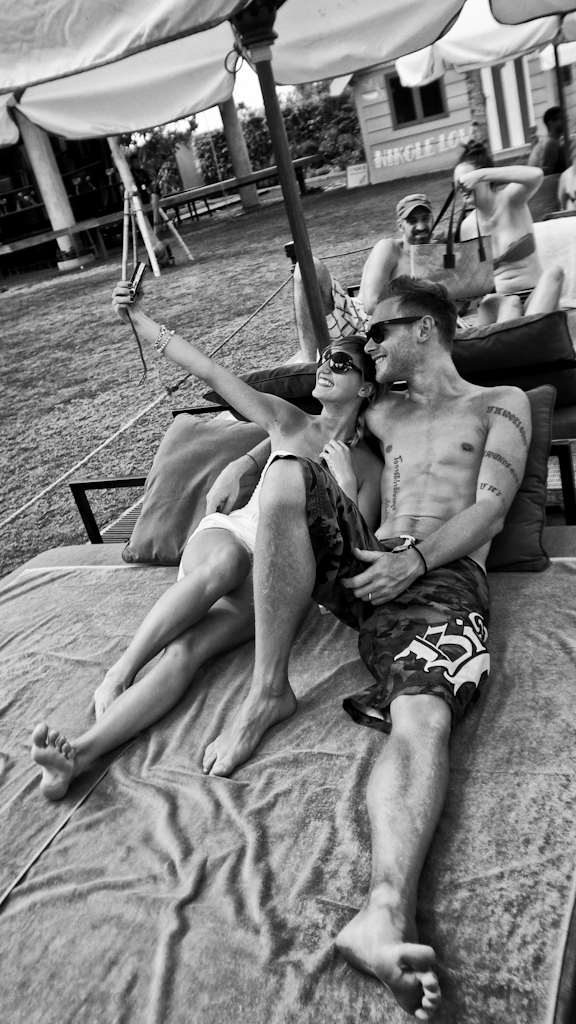 I love this little camera in spite of the many limitation of the camera but also the pure photographic tool function so here's my 4 days review list of the Ricoh GRD IV.
The cons go first..but I try to live with it
– Small Sensor.. that means.. cant pump it to high ISO .. iso 80 to 400 is very good.. ISO 400-800 is usable.. noise is visible but better if we use BW mode
– Lens is fixed in 28 mm.. So I must learn and reset my view coming from 50-100 mm shooter
– You can't do crazy bokeh (although I do it with 1 cm macro).. but the results wont come close to DSLR
– the wont wake up problems.. I had this hang Ricoh few times after the camera goes to sleep.. It simply wont turn on again.. Must plug out battery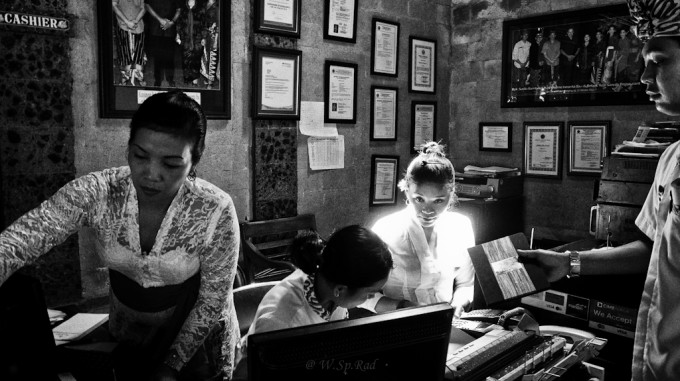 The Love of this Ricoh GRD …
– Simple straight forward operation with the front wheel and back wheel button.. allow me to use only 1 hand to do all
– Snap focusing, gosh this feature is so nice.. I almost shoot all my photos in snap focusing..
– Autofocus very fast (for a pocket).. almost get focus in blink of eye even in dark condition
– Auto white balance is the best in every camera I ever handle.. it spot on. From almost all the file, I never do anything to the white balance just right
– Skin tone.. gosh I am loving the skin tone … better than my funny color skin tone of Nex and GF2..
– the ergonomic and grip.. I am wearing it whole day.. not even a sore hand.. I could do many maneuver while shooting it
I get sore in my finger after using Nex5N + Leitz Cron 50 for 2 hours..
– Battery capacity.. well I can get +/- 430 shots per charge with all time stand by…
So will this Ricoh replace my Nex 5N + manual lenses or my Micro 4.3 with the great native lenses ??
Yes and No
Yes if I need to go discreetly, not attracting attention and can't take anything but a Hand phone sized Camera. Yes if I need to go to the street, the unsafe not friendly environment..
No for Its small sensor just wont give the Shallow DOF , the high ISO and all the big sensor do. No for the look I want from the Zeiss and Leitz lenses. No if I were a pixel peeper and crop fanatic (fortunately I am not)
I know this GRD will taken in my pocket everywhere I go… Just take it out and snap and you are good. I am loving this simple pocket camera as it simply fills my needs for a wide-angle good result fast pocketable photographic tool.
If this looks like a camera you would enjoy you can purchase this camera at B&H Photo Here. 
Sincerely
William Jusuf