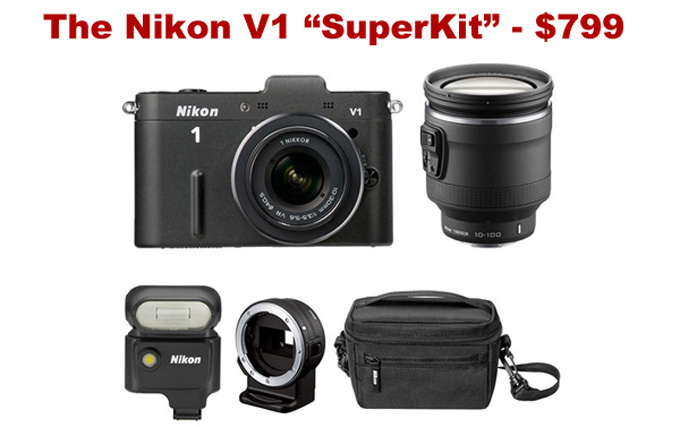 Last chance for the Nikon V1 closeout deals…
B&H Photo must have had loads of Nikon V1 stock as they have been clearing them out for the last couple of months now. Last time I wrote about this deal I purchased one myself to give to my Son as part of his Christmas gift. He now shoots the V1 and it has pretty much replaced his aging D2h 🙂
B&H has raised the price of the V1 and 10-30 combo from $299 to $349 but they have other specials as well, one of which is the "superkit" featuring the V1, 10-30, 10-100 Power Zoom (which sells for $749 on its own), the Nikon lens adapter, the external flash and a bag for $799. Yep, $799 for the entire kit including all of the extras. It was not that long ago that a Nikon V1 and 10-30 would set you back $850. Today you can get the camera, lens, power zoom, adapter, flash and bag for $799!
I know many of you took advantage of the $299 deal for the camera and one lens just like I did and now I am tempted to grab this "superkit" as it is giving so much for the money. One could buy this kit and sell it in pieces and make money it seems.
Let's see…
Sell V1 and 10-30 for $250
Sell 10-100 for $450
Sell adapter for $90
Sell Flash for $75
Sell bag for $20
If you took it all and sold it you would make just about $85 profit. Crazy!
The reason this post says "last chance" is because I heard it through the grapevine that there are not many of these left, and once they are gone they are gone. The Nikon V2 is out and going for $850 with just the 10-30 and from what many have been saying it is a small improvement over the V1 in the IQ dept. Nikon also recently released the 18.5 1.8 lens which you can read about HERE. Great lens for this system and under $200.
For anyone looking for a nicely built and made camera that puts out sharp detailed 10MP files with great color, the Nikon V1 is currently a steal. You can read my review HERE as well as Craig Litten's review HERE. Craig LOVES his V1 and will most likely have it with him shooting during our Daytona Bike Week workshop in March!
The 10-30 Kit for $349 is here