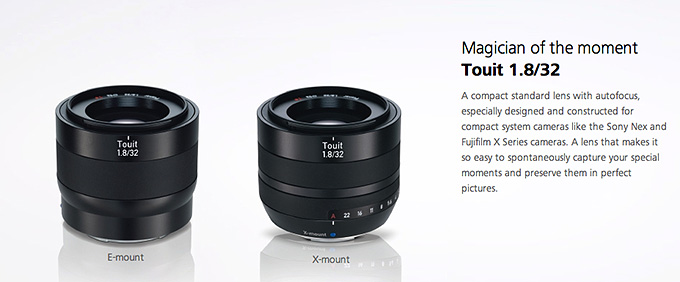 New Zeiss 12 f/2.8 Touit and 32 f/1.8 Touit lenses for Sony E and Fuji X mounts
You can now pre-order these at B&H Photo HERE
Woohoo! Finally, Zeiss has announced the release of brand new lenses for Sony E-Mount and Fuji X-Mount cameras and I have just gotten the invite to NYC to try them out this month in the flesh. Not sure I can make the event but I am thrilled to see Zeiss release some new lenses for these mirrorless systems, and what they are releasing appears to be very nice. A gorgeous 18mm equivalent wide-angle and a 50mm equivalent, both fast and both ZEISS quality! Mirrorless is maturing quite nicely 🙂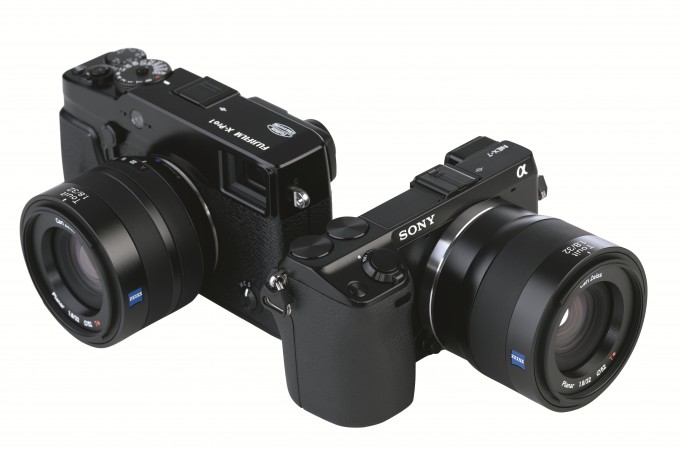 The Zeiss 32mm f/1.8 Lens for Sony E or Fuji X Mount. 
Price: $900
For those that want s super high quality fast 50 for your Sony or Fuji camera, here you go. Zeiss optics and design. Finally, some stellar lenses arrive for these capable cameras. Sure Fuji has their own 35 1.4 but I have a feeling that the Zeiss Touit 32mm 1.8 will surpass it in build, speed and quality. I am excited to review these and Zeiss will be sending me the lens to test SOON (within 2-3 weeks). Can't wait.
Press blurb:
"The best of two worlds. Just like a 50 mm lens in 35 mm photography, the Touit 1.8/32 offers the same angle of view as the human eye. However, optimised for use with APS-C format sensors, it is simultaneously a lens that is so light and compact that it can be taken along simply anywhere and everywhere you go. Whether you are shooting portraits, landscapes or spontaneous snapshots, you will never cease to be amazed by what a Touit 1.8/32 can tease out of your camera. It is quite simply the ideal companion for capturing perspectives and colour- and lighting moods in perfect pictures."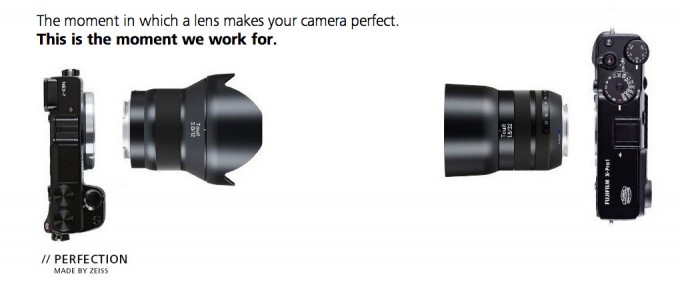 The Zeiss 12mm f/2.8 Touit
Price: $1250
The new 12mm 2.8 will be  a wide-angle for your mirrorless system. Available for your NEX or X, this is another Zeiss option that is VERY welcome in the Sony and Fuji world. This will be like an 18mm lens on your Sony or Fuji body, so a true Ultra Wide. Perfect for architecture or landscape.
Press Blurb:
"With an angle of view of 99 degrees, the Touit 2.8/12 wide-angle lens will soon become a firm favourite, particularly for landscapes and architectural photography. Its unique T* multicoating guarantees maximum transmission and outstanding absorption of extraneous light. The result: breathtaking image quality from edge to edge and corner to corner of the entire image field. What's more, all moving parts of the Touit 2.8/12, conceived specifically for Sony NEX and Fujifilm X Series cameras, are engineered for extreme precision and a long working life. And finally, its strong and rigid metal bayonet mount makes it an absolutely dependable companion for many years to come."