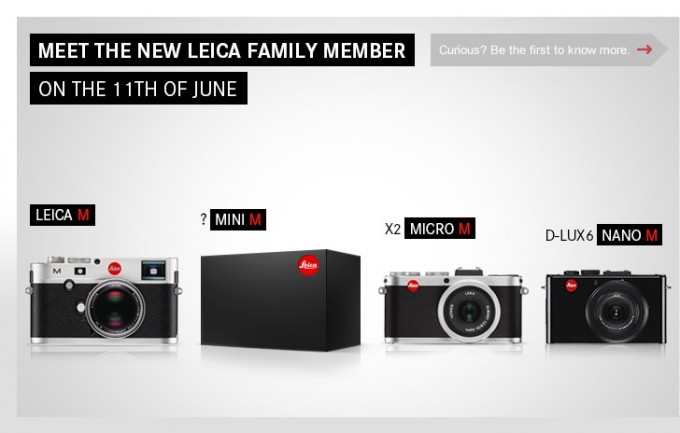 June 11th 2013: The new Leica will be revealed. A smaller M? A fixed lens RX1 competitor? An APS-C M mount?
Leica hit us with a surprise announcement today and it looks like it will be quite special and possibly something everyone has been waiting for. With their new  factory set to open soon it seems they have been hard at work getting ready to deliver something new for us to Salivate over.
The new "family member" will be announced on June 11th so stay tuned. 
From the looks of it, this will be a smaller IC camera (interchangeable lens). Just because they are calling it "The Mini M" does not mean it will take M lenses as they are dubbing the X2 and D-Lux 6 "M's" as well. They are placing this new one between the new M 240 and the X2 which they are dubbing "Micro".
I see this as one of three things:
A: It could be a "Mini M" that takes M lenses, sort of a dumbed down 240. Smaller and lighter on features. Priced at $3995 this would be a home run grand slam hit. But if that is the case, there would be mass cancellations of the M 240 orders, which they can not even keep up with. So this is not likely. 
B: It could also be an all new camera..Something like a new Full Frame Sony RX1 copy,  like a fixed lens M camera. Hmmmm. Id also say this would come in at around $4000. It would be pretty cool. 
C: It could also be something like a new "M inspired" APS-C or Micro 4/3 mount camera. With an APS-C using the M mount, it would compete with the Sony NEX series or Fuji X series, both of which have cut into Leica's sales in the past two years. So if Leica released a smaller body APS-C sensor M, it would also be quite the hit. $3500? This is MY guess. 
I guess we will all see on June 11th! hehehe.
Whatever it is, it is exciting to see Leica release something new!
I also believe it will be Made in Germany.  What do YOU think it is?
Vote in my Poll below!
[polldaddy poll=7124140]