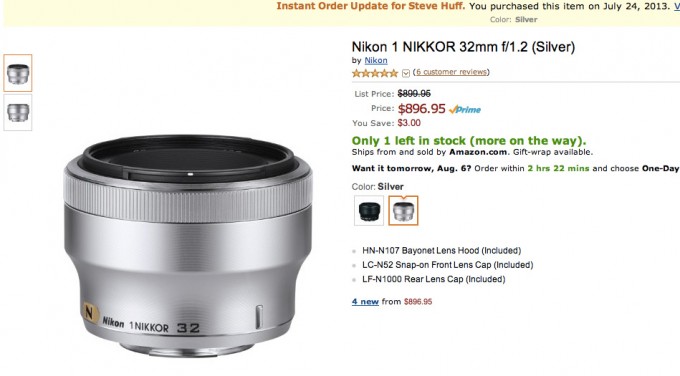 Last week there were 12 of the Nikon 32 1.2 lenses in stock in Silver at Amazon and now there is only ONE. The Black versions sold out very fast. As of today, there is only one left at Amazon in Silver and B&H Photo are sold out of the black and silver 100%. This lens is selling very well despite the Nikon 1 hate patrol's predictions 🙂
I bought this lens on 7/24 and am not disappointed in the slightest. In fact, my son and I left for a long road trip on Friday and all I brought was two Nikon V1's, the 6.7-13, the 18.5 1.8 and the 32 1.2. I also snuck in a Sony RX1R and RX100II 🙂 My son is shooting his V1 and 10, 18.5 and 30-110.
The V1 has been doing fantastic, and the 32 1.2 is my favorite lens. It really is the best lens for the 1 system, hands down. Size, build, feel, etc. All there and all gorgeous.
If anyone has been eyeballing it and thinking about it, there is one left. Act fast if you want it!
You can nab it HERE.