STREET PHOTOGRAPHY – MAKE SURE TO GET IT RIGHT
By Elie Bescont
Hey there, welcome! Please, have a seat, have a seat. Tea? Coffee? Nothing, you sure? That's your call, but you are really missing something here. Oh, speaking of which. I almost forgot why I invited you in my virtual living room (don't make a mess, by the way. I spent the entire afternoon cleaning after a Guns'n'Roses private concert). Well, we are here to discuss a little bit about street photography. Yeah, sorry, we will talk about funnier stuff later. But still, my friends, this is gonna be cool.
I'd like to take you with me on a tour around the entire process of street photography. Before, during and after the so-called 'decisive moment'. We will first discuss about the philosophy of the whole thing. What is street photography? I'll give you a hint right away: it has nothing to do with the Google car. I'm sorry to disappoint some of you, but Google Street View is NOT street photography at all. Yes, the Google car takes photographs in the streets, but I must insist, it has nothing to do with it. After talking a little bit about the philosophy, I will take you to the gear department, where you will choose your favorite lens (yes, I'm talking about the lens) and then the camera. We will then discuss about the right place (or the field) for street photography, I will give you some hints to help you taking good pictures (yes, it may sound a little presumptuous, since I'm an awful photographer). Last but not least, I will talk about post-processing, how to market your work, and the reason why you should join or create a photography collective and the right way to do it. You may not agree with me about some details, and feel free to give me your view on the subject. I'm talking about 'the right way', bla bla bla, but I do this to hook you up a little bit. This is art, dudes, there is no right way, but you may like to read my advice.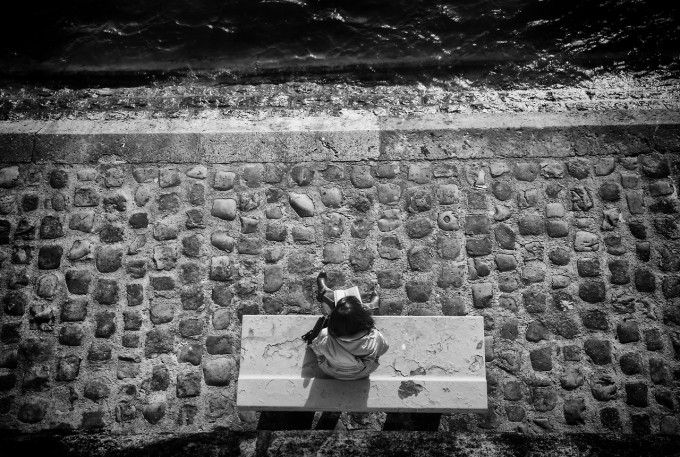 THE PHILOSOPHY
'Street photography has nothing to do with the Google car, right?
Calm down, bro. You should really have a tea or something. You'd speak less with something hot in your mouth. Haha I see you coming with your comments about 'something hot in your mouth'. Well, please don't. And stop asking stupid questions, I was about to answer that one anyway.
According to Wikipedia, street photography is 'a genre of photography that features subjects in candid situations within public places and does not necessitate the presence of a street or even the urban environment. 'Street' simply refers to a place where human activity can be seen, a place to observe and capture social interaction. The subject can even be absent of any people and can be that of object or environment where an object projects a human character or an environment is decidedly human.'
[ad#Adsense Blog Sq Embed Image]
But, we can read something even more interesting on Wikipedia: 'Framing and timing are key aspects of the craft, with the aim of creating images at a decisive moment or poignant moment. Alternatively, the street photographer may seek a more prosaic depiction of the scene, as a form of social documentary.'
Street photography has indeed nothing to do with Google Street View, since framing and timing are 'key aspects of the craft'. I insist on this particular point because I've been browsing the internet lately, and eight times out of ten, when people exhibit their 'street photography' work, framing and timing are simply not involved. Sometimes, it looks like the person just pointed a camera in a random direction in the street and pushed the button. Sorry to disappoint you but you are not doing street photography here. And there is a very simple explanation: you got the street photography philosophy WRONG. Street photography has not that much to do with the streets, but has a lot to do with photography. Just by reading the description in Wikipedia, we learn that it does NOT necessitate the presence of a street or even the urban environment. Also, it does NOT necessitate the presence of human beings. BUT, on the other hand, framing and timing are key. Please, don't think about it the other way around.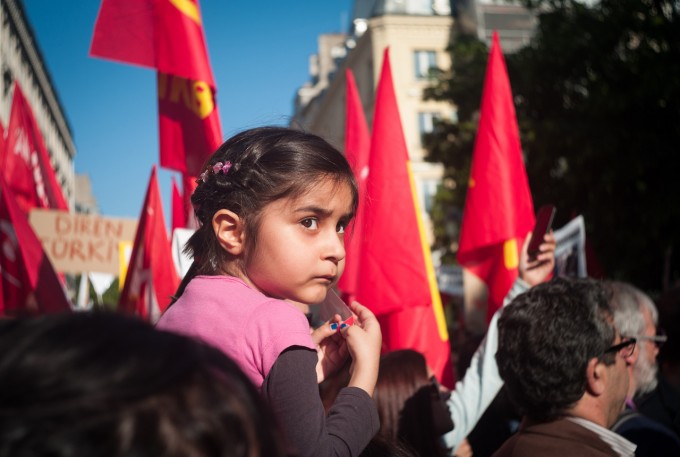 THE GEAR
Please, don't shoot me.
This is the sensitive part of the article. 'My camera is better than yours, bla bla bla…'
Well, you know what? Talking about image rendering, the camera is nothing. It has very less to do with it. The character of an image mainly depends on the character of the LENS used.
'Aha! You are fucked, Leica users! Stop arguing about how your EXPENSIVE cameras are great, because what really counts is th… Wait… What?!'
Yes, what really counts is the lens… Talking about the character of the pictures, of course (and everybody knows how GREAT and EXPENSIVE Leica lenses are). Choosing a camera is really about the shooting experience itself… And what lens you can put on the body. There are plenty of great lens manufacturers out there like Zeiss, Leica, Canon (and their f/0.95 TV lens) and so on. Since this article deals with street photography, I will mainly talk about the shooting experience itself – hence, the camera. But keep in mind that it's the character of the lens which defines the overall rendering of an image.
This said, it you feel comfortable with any camera and if you have no problem at all going on the streets unnoticed with any camera, don't chose a camera. Chose a lens, and then pick up a body on which you can mount this piece of glass you want.
I'm done talking about image rendering and how it's important to choose a lens first if it's what really counts for you. I promise. I just want to make sure everybody gets it because I'm desperate to see camera reviews taken very seriously when there is no mention of the lens used anywhere.
There are some points to take in account when choosing a new camera. First of all, you have to compare how many pixels the sensor can offer. I'm joking, I'm joking! Put that gun back on the table, please. Any film camera is great, and any digital camera which can offer the same equivalent definition is great too. There are a lot of cameras that offer millions of useless extra-pixels and the amount of pixel is not, in 2013, a good point to take in account when choosing a new camera, UNLESS you really need this print to cover the entire wall of my virtual living room which doesn't even have limits.
Henri Cartier-Bresson once said: 'sharpness is a bourgeois concept'. Well this is WRONG. Sharpness is not a bourgeois concept, not any more. There are some (a few) very rich photographers out there, and they didn't get rich by taking sharp pictures. Everyone can take sharp images today with virtually any camera. Sharpness is a poor concept (haha, Henri, you owe me that beer, finally). Remember, Henri was French and us French, we talk like that. He could have just said 'dudes, sharpness is not what really matters, yaknow', but he prefered to say 'sharpness is a bourgeois concept LMAO LOL'. Damn he was so French. Love you Henri, sorry for the trouble. May you rest in peace.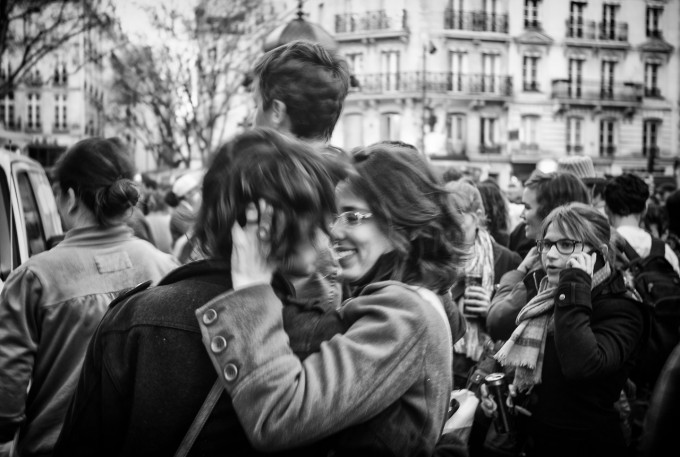 The question you need to answer is: what kind of shooting experience you like? But even before that, do you want to shoot film or digital? You should think about it. The shooting process is the same with film and digital cameras (except the new professional DSLR's. 'BUTTONS. BUTTONS EVERYWHERE'). Here, I have a Canon AE1-Program SLR film camera and a Leica M8 digital camera, and they basically work the same way. Well, one is an SLR and the other is a rangefinder but take an M7 and an M8. They are very similar. The main differences between film and digital have nothing to do with the shooting experience. Yes, you don't push the button that often if you shoot film because film is expensive bla bla bla. Hey, dude, it depends. I've seen six-year old digital cameras for sale with less than 3000 clics. The main differences are elsewhere. Do you want to keep a collection of boxes containing negative film or do you want these boxes to contain SD cards? Do you scan your negatives? Yes? Then you have digital files full of pixels that have nothing to do with film but you still pay for it. Film is great for its nice organic grainy look, no matter the size of the 'print'. Well, you know the characteristics of each. Then, what kind of shooting experience you like? Do you like DSLR's? Rangefinders? Both? That is an important question. I saw people on the internet wondering if they should get a Nikon D800 or a Leica M9. No sane people should ask such questions. You know, orange and apples…
I don't think there is a perfect camera for street photography, or for anything else. The perfect camera is the one that suits you the best. So, try a lot of them, and take the one you feel best with. This said, I'd like to give you a little advice: if you are a street photographer, forget that Hasselblad that weights about three tons, you will understand why soon enough.
THE FIELD
The topic here is the field. Places that are relevant for street photography. Remember, our dear friend Wiki told us about candid situations within public places, but also that street photography does not necessitate the presence of a street or even the urban environment. So, a lot of places are relevant. I would just forget about private properties, but that's all, really. A forest is a public place, for instance. Never thought about shooting in a forest? Don't shoot animals, of course, shoot people… Holy crap! What am I talking about?! Please, feel free to replace 'shoot' by 'take pictures' if I didn't make myself clear.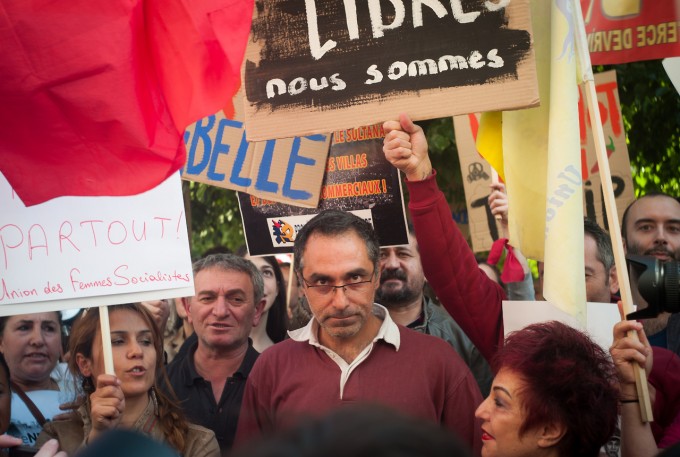 Isn't it great? You can go virtually anywhere and keep doing what you like the most: street photography. Remember, the place is not that important. Focus on your subject and the situation you want to isolate, and push the button at the right moment.
THE ACTION
'If your pictures aren't good enough, you aren't close enough' – Robert Capa.
What really counts here is the scene or your subject. You might be looking for a nice scene to capture, or for an interesting subject.
An interesting subject, to me, is someone who is either very typical or who is the complete opposite. Capturing someone who looks completely French with Notre Dame in the background is interesting, for instance. But you could also wait for this woman in niqab to pass by to release the shutter. To make myself clear, look for contrasts or similarities. Things that match or unmatch get along very well.
An interesting scene is basically the same. contrast or similarities. Typical or atypical. A little girl smiling, amused by a clown is good. But capturing a man in suit and tie having fun with gangsta-looking people (bling-bling chains, baggy jeans and all) would be nice too. Public places are where people met, and these interactions are interesting.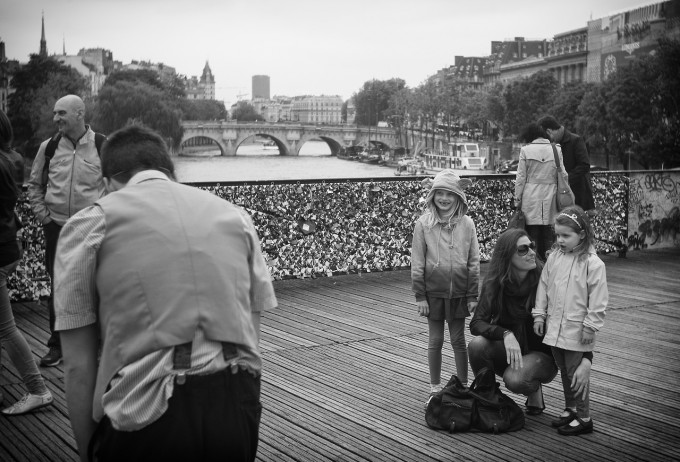 When the scene or subject is found, the next step is to find a nice way to capture it. I will not teach you how to frame because nothing in the world is easier than that. Just isolate your subjects but also take a look at the background. Do you want to cut the top of this tree, there, in the background? You know, you should crouch a little bit, so you will get the top of the tree inside the frame, this would look better… Well, you got my point. Just try to please your eyes with a nice geometry. Then, think about the aperture. If you have only one subject to photograph, you might want to shoot around f/2 to isolate him/her. If you are capturing a scene that takes more place, you'd prefer to shoot around f/4. Again, just try to please your eyes and don't be afraid to get close. This is not Vietnam. Be gentle, smile and take these pictures.
POST-PROCESSING
First of all, if you shoot digital, you have to be okay with that. Post-processing is not an ugly blasphemy that completely transforms your pictures. It's just a way to enhance them a little bit. Take a look at Lightroom, Capture One, Camera Raw and Photoshop and use the software that really suits you. Here again, the magic formula works: try to please your eyes. But also remember that the way you process your images will never suit to everyone. There will always be someone to tell you that 'yeah, the picture looks good but the treatment would be better like this, like that'. Well, hi Dick. Can I call you Dick? Thanks for the advice bro. Have a nice day!
Your post-processing will never please everyone, so try to be happy with it and say 'thank you' and 'have a nice day' to Dick whenever he gives you a good advice. Experience things, have fun and when it look good, bam. Export the file.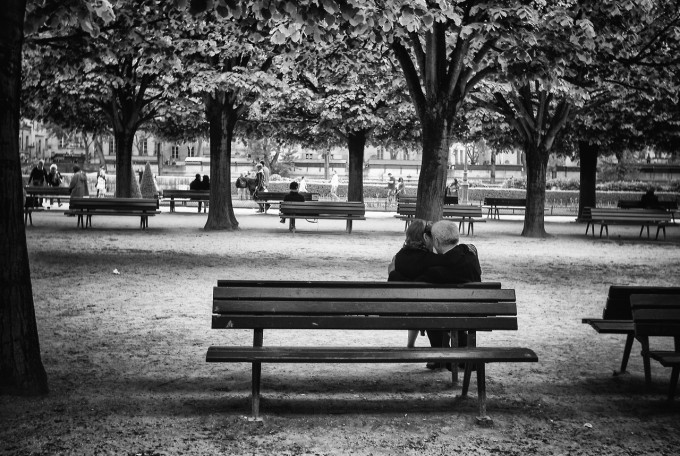 MARKETING
That's it, you took a lot of pictures and some of them are pretty decent. Post-processed files look awesome, but what are you gonna do with it? You probably want to show your work to people on the internet, right? Take a look at Flickr, 500px and Tumblr, creating a Facebook page isn't a bad idea either. But there is a better way to expose your work. I've seen a lot of people out there taking pictures only to show them to other photographers. A page like 'Dick Dickinson Street Photography' will certainly catch people who already know, like and do street photography, but that's not what you want. You want a catchy name for anyone. Also, if one day you want to try something else like shooting in a studio or whatever, your title will be wrong. Thus, you should prefer something like 'Dick Dickinson Photography'. Or you can see you work as a project and find a name for it. For instance, my page is called 'Digital Fragrance Photography'. I'm not saying that you shouldn't chose a name suck as 'Dick Dickinson Street Photography', I'm saying that chosing a name that is catchy for anyone (and not only street photography aficionados) may make things easier for you when it comes to marketing. Of course, you can gather thousands of followers with a 'street photography' name, and I have a good example: Yanidel Street Photography. Of course, he has thousands of followers but Yanick is more than a photographer. He's a street photography guru. Are you? I'm not.
UNITE
Are you still here? If so you are heroes, my friends. You deserve a medal. This is the last part of this utterly boring article. Last part, yes, but not the least. What I have to say now is: if you want to give your pictures more visibility, you should really join or create a photography collective. Why? Because once united, you are not alone anymore. Imagine five, ten, twenty people sharing the same project and working together to give more visibility to their work. A lot of things become a little easier. Besides, it creates a lot of new problems too so be ready to face them, but it's basically a good thing to work things out together.
Okay, pal. I'll create a collective. But with who? And how should it be named? Can I have some coffee?'
Damn you. I asked you at the very beginning if you wanted some tea or coffee, you said no. And now we reach the end, you want coffee. If you didn't only exist in my head, I'd kick your ass… Well, not exactly but I would certainly snap your nose. Hum. You can ask anyone to join, but let me give you some advice, again. You should choose people you get along well with, for logic reasons you understand. You should choose people who you'd call talented, still for logic reasons you understand. And, also very important, you should choose people who do something different from you. In a street photography only collective, everyone are competitors and this is quite stupid. Get along with studio photographers, fine art photographers, landscape photographers or whatever. A good collective is a collective where everyone does something different from each other. Why? For several reasons. As you all do something different, you are not direct competitors and the collective can work very well without putting anyone aside. Also, as everyone does something different from each other, everyone will bring a different public and this is good for everyone. How should you name it? Something simple and appealing, for sure. Think about our buddy Henri Cartier-Bresson. He wanted to create something huge, and he called it 'Magnum' that means 'huge' in Latin. It's simple, appealing and huge. I'd consider something like 'Digital Fragrance' myself. Wanna join?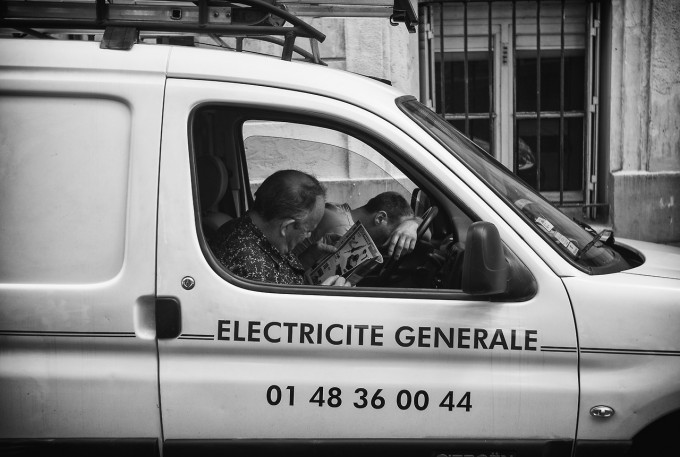 'No more energy'
That's all. I said everything I wanted to say. It's quite a long article but I hope you enjoyed it. I hope it gave you some ideas and please, if you don't agree with me, feel free to share you views and to call me 'Dick'. I don't mind.
Take care of yourselves,
Elie
https://www.facebook.com/DigitalFragrancePhotography
http://www.flickr.com/photos/92813485@N05/