The new Fuji X-A1 – Minus X-Trans Sensor. Good or Bad?
My thoughts, though you may not like them 🙂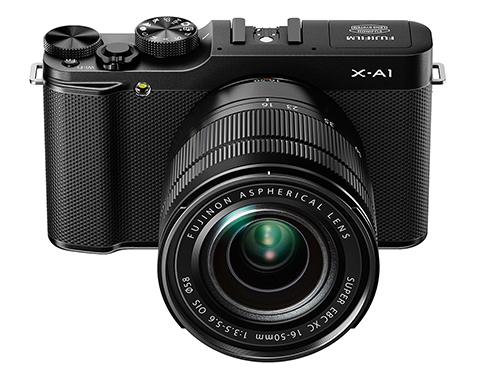 So yes, I am aware this camera was announced days ago but I had to sit down and think about this one for a couple of days because my 1st impression of it was "Man, Fuji are pumping out lower end bodies pretty quickly, and they are all lacking in something compared to the original X bodies..THE EVF and OVF"!
I tried out an X-M1 a couple of weeks back. I liked it for what it is, a TINY "X20 sized" APS-C Fuji X  body that delivered that Fuji look and image quality. The issue I had was that I found with most lenses attached it was awfully unbalanced and odd to shoot with. Bottom line: For me, it was too small to be an IC camera with larger lenses. Yep, it was sort of point and shoot style with big lenses. It also offered the usual X-Trans look to the images that so many love and adore but at the price, and after using it, I realized it was nothing I would buy for my own use. Just too many other options out there that I like better. I would take an X-E1 before the X-M1 but I am one of the few who are not 100% on the X-Trans sensor. I have been hoping for a year that Fuji would release something with a sensor that is NOT an X-Trans sensor.
Well, now they have in the new X-A1. Yippee!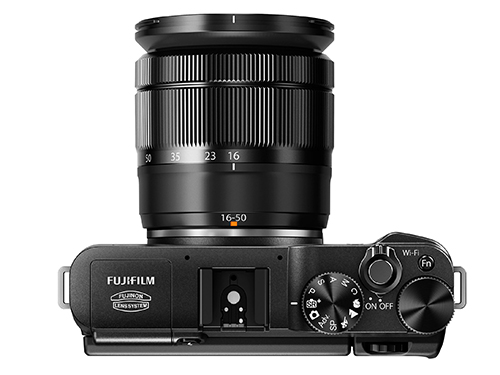 The X-A1: It look small-ish, it looks nice and modern, and for me, this would be the Fuji IC camera I would buy..if it had an EVF or OVF or even the X100 combo VF! Hey, it even comes in my all time favorite color! BLUE. So what is the deal? Fuji became popular and made headlines DUE TO THE FACT that they were making cool looking and beautiful cameras WITH built-in viewfinders that delivered superb IQ. They do not sell or even offer a wonky external VF because their X cameras always had one in it!
Now they are releasing bodies MINUS the VF when so many of us PREFER using one! I understand they want to offer a basic camera but adding in an EVF would increase sales regardless. It would NEVER hurt.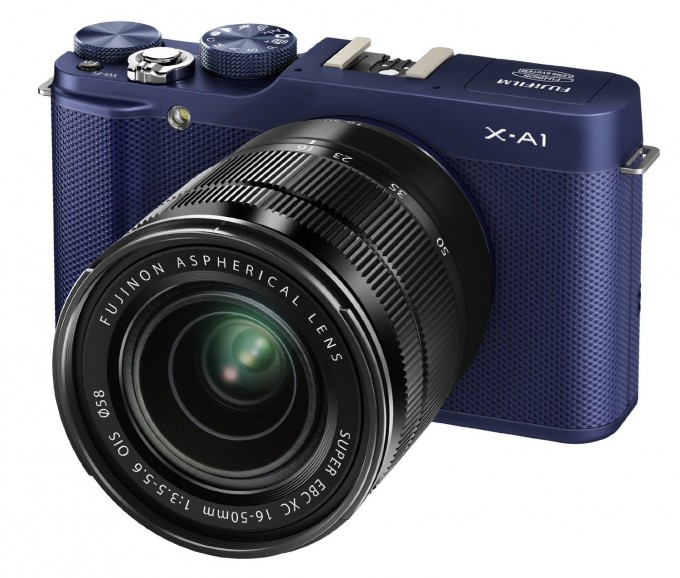 I can only guess that an X-Pro 2 or X-E1 is on the way and that those will have an EVF, but I am sure those will use X-Trans. I am interested to test this X-A1 just to see how the sensor performs. My guess is that I will prefer it to the other X bodies in that area. I am also hoping the AF is quicker than the previous X bodies.
My fave Fuji currently is the X100s though I prefer the IQ of the X100 the speed and refinements in the X100s put it up at #1 for me in the Fuji world. 
When I see the blue body of the X-A1  it reminds me so much of the early Sony NEX cameras when they offered them in all sorts of cool colors. It's a gimmick really, to appeal to those who like a splash of color in their camera. When looking at the X-A1 I am not a fan of the new finish of the body, to me it looks a bit "carbon fiber" but in a fake sort of way. But this guy comes in at $599 WITH kit lens, so it is priced right. It is a sweet spot price.
So the good news is that Fuji released an APS-C for those of us who dislike the X-Trans. Me, I am a fan of the original sensor in the X100. I found it to be lacking in no area whatsoever. Rich beautiful ORGANIC files. To me, the X-Trans lacks the "Organic" and I have tried and tried and tried to love them but unless you have perfect light, for me, they always fall flat in comparison to other cameras and sensors. If you have magical light, they are tough to beat by anything.  Anytime I say this I get attacked, but I will never quiet my thoughts here, as I always say what I feel. My opinion my not be yours, remember that.
If this X-A1 had an EVF or VF of some sort, I would be pretty excited about it. Fuji is pumping out some nice glass and are gaining big time steam in the mirrorless battles going on between Sony, Olympus and Fuji (the three main players in Mirrorless).
When I look at a camera like the Olympus E-M1 I say "Wow, Olympus nailed it. This has everything I could have ever wanted in a small mirrorless body, and all the glass I could ever need". Olympus has the build, the speed, the accuracy and the lenses. The E-M1 feels like a pro camera but it is the size of the OM-D with grip. It is a serious tool, and some of those M 4/3 lenses are GORGEOUS. Next to full frame, I am a Micro 4/3 fan no question about it. I have seen files from Micro 4/3 that look, feel and appear better than many APS-C images from any manufacturer. Add in the amazing usability, speed, performance and the fact that the E-M1 is like an extension of your hand and brain when in use and you have a combo that is quite special.
Fuji has a couple of great lenses, but many lack in AF speed, in build and a few other areas (when compared to others). So while I still think that the Fuji X cameras are still not fully matured I do like that they are offering options like the X-A1 and I look forward to see what they come up with next for the enthusiast or pro. I will give the X-a1 a go soon. So yes, it is a GOOD thing IMO. When these are full matured cameras I expect them to be jaw droppingly amazing because there is much more to a camera besides high ISO or overall IQ. It has to have the entire package.
I will say it again. Any semi serious camera you buy today will give you amazing results. I have been very impressed lately with the Samsung NX300 and 30 f/2 lens. That little camera nails the White Balance every time where my Leica has all kinds of trouble doing the same. If the NX300 had an EVF it would be in my top 2 for APS-C mirrorless. It has a solid nice build, attention to details, is fast, has an OLED touch screen display, swivel LCD and impressive IQ. All at a $650 price point with lens. It does not have the "entire package" because it lacks an EVF but it is still a great camera.
There are so many cameras today, we are all lucky to have such a selection and let me tell you, there is much more on the way in the future and I will be here to write about them and use them ALL.
Steve
You can pre-order the Fuji X-A1 at Amazon HERE
.
—
Fuji Press Release on the X-A1
New X-A1 offers entry into the premium X-Series while delivering outstanding image quality, modern design, sharp 3" tilting LCD screen and wireless image transfer
Valhalla, N.Y., September 17, 2013 – FUJIFILM North America Corporation today announced the new FUJIFILM X-A1 compact system camera (CSC), the fourth interchangeable lens system camera introduced within the award-winning FUJIFILM X-Series. The ultra-light X-A1 gives consumers an affordable entry point into the X-Series line of digital cameras and delivers outstanding image quality using its large 16.3 Megapixel APS-C CMOS sensor, easy operation and wireless image transfer for quick photo sharing.
The FUJIFILM X-A1 kit will ship with the FUJINON XC16-50mm (24-76mm)*1 F3.5-5.6 OIS zoom lens. The XC16-50mm is a versatile lens that is ideal for a wide range of photographic subjects, including clear low-light scenes, beautiful portraits and vivid landscapes. The lens consists of 12 all glass elements in 10 groups including 3 aspherical elements and 1 ED element. The lens features seven round-edged aperture blades, which offer 17 stops in 1/3 EV increments for precise aperture control.
"The lightweight X-A1 and versatile XC16-50mm lens combination gives consumers extraordinary value and the opportunity to experience the outstanding image quality that the X-Series is known for," said Manny Almeida, senior vice president and general manager, FUJIFILM North America Corporation. "Together with a high definition tilting screen and wireless image transfer, consumers of all skill levels can capture truly memorable images that can also be shared on Facebook and Twitter quickly and easily."
Large 16.3 Megapixel APS-C sensor and EXR Processor II
The FUJIFILM X-A1 uses an APS-C sensor and powerful EXR Processor II that captures rich tones, breath-taking dynamic range and stunning low-light images using its extended ISO range of up to 25600. With the X-A1, users can set the sensor sensitivity from ISO200 to as high as ISO6400 in 1/3 step increments, to obtain remarkably clear images even when shooting indoors and at night.
Together with the EXR Processor II, the X-A1 also gives customers fantastic speed with a start-up time of 0.5 seconds*2, a shutter time lag of 0.05 seconds and a maximum burst speed of 5.6 frames per second (max. 30 frames*3).
Compact performance and advanced features
The X-A1 CSC combines advanced features in a go-anywhere design. The X-A1 weighs just 11.6oz*4 and is about a third of the size of a traditional DSLR body. With a slim profile of 1.3" at its trimmest point, the X-A1 is easily carried anywhere.
The X-A1 also features a 3" tilting high resolution LCD screen with 920,000 dots for easy image viewing and framing at various angles. The 3" LCD monitor tilts at variable vertical angles, facilitating both low-angle and high-angle shots whether on or off a tripod.
The X-A1 uses a built-in high precision flash, with the guide number 7*5, and Super Intelligent Flash technology that uses scene recognition and automatically controls flash strength to reduce highlight clipping.
Easy Image Transfer with WiFi® button
The X-A1 includes a WiFi button that lets users transfer high quality photos and movies*6 to social media sites for easy sharing from the camera to smartphones, tablets and computers.
To connect the X-A1 to a smartphone or tablet, users can download the free dedicated "FUJIFILM Camera Application" to their iPhone™ / iPad™ or Android™ smartphone or tablet device to transfer up to 30 pictures at a time from the X-A1. The app also lets users download movies, expanding the range of options available for enjoying pictures taken with the camera.
Intuitive design and easy operation
The X-A1 has its key operation buttons and dials positioned on the right side of the camera's rear panel for easy use and quick picture taking. The Mode Dial for selecting the optimum setting for each scene gives access to the Advanced SR Auto function, which automatically recognizes each scene and selects the best settings for sharp and clear images.
The Advanced Filter function and Film Simulation modes give users a range of creative filters and film effects to apply and achieve unique and artistic looks.
FUJINON XC50-230mm (76-350mm) F4.5-6.7 OIS