"Down The Drain" 
The Future Is In The Past – The Leica Monochrom and Photogravure
Max Marinucci Photography
Fine Art Photography
Silver Gelatin and Photogravure
South Salem, NY
As a photographer and printer, I've always seen the advent of digital photography as a mixed blessing. The gain in speed, convenience, immediacy, offered by digital photography, also meant the gradual loss of film and everything related to it (photographic paper, chemicals) and, more importantly, the loss of learned skills and knowledge that are needed to produce truly hand-made prints. I have, of course, continued to use film for most of my work and honed my skills producing quality silver gelatin prints, in a world when a photographer feels like he is constantly swimming against the digital current. Kodak is no longer a driving force and so many manufacturers have disappeared or stopped making photographic product, with Ilford being the only reliable and consistent source as of today. Over the past year, while still dedicated to film photography and silver gelatin, I've rediscovered what is the most venerable, and in my opinion most beautiful of photographic processes: photogravure. A venerable process, and a 19th century invention, it was indeed how photography came to life, on paper, at the dawn of it all. On the camera front, as a devoted Leica user, I've continued with my trusty M3 and later film incarnations as the M4, M6, M7 and MP, until finally breaking down and acquiring a Monochrom upon release. There was no denying that the allure of a no fuss, great Leica camera that captures images in black and white only was too much to bear but, as my personality dictates, everything has to have a clear purpose. I am not an inkjet printer and I see no purpose in spending a good chunk of hard-earned cash on a camera to simply post digital snapshots on social networks or photography related websites, in a vacuum, with a purely digital workflow. As a photographer, artist and a printer, how do I justify the investment and, better yet, how do I bring the amazingly detailed images that the Monochrom is able to record, to life, on paper? Marrying our historic photographic past to the latest in technology, in a seamless way, and one that offers the viewer, collector, buyer, a tangible product that is not mass-produced but it is a handmade work of art, seemed the one and only way for me.
The Leica Monochrom and Photogravure: the future is in the past.
"The Old Man By The Window"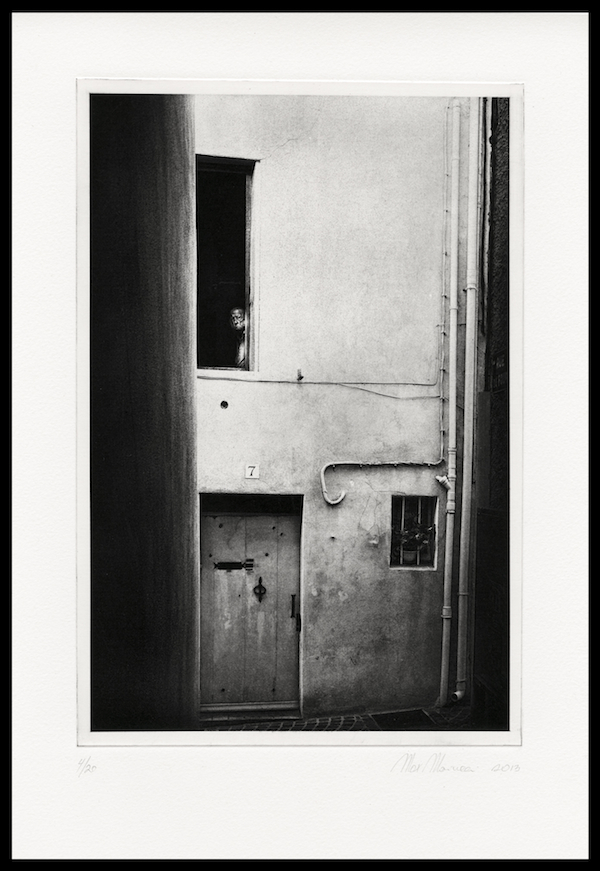 Because of technological advances within the printing industry, and pioneers such as Jon Cone of Piezography, Roy Harrington of QTR, and Mark Nelson of Precision Digital Negatives (and few others) today it is possible to print absolutely flawless digital positives to use for the photogravure process. Of course, that doesn't make this amazing process any easier, as it still involves the same numerous (and full of pitfalls) steps as it did one hundred years ago, but one only needs to admire in person the incredible prints born from Leica Monochrom images and onto fine art papers, hand-made with beautiful inks, to realize how special this is. I firmly believe that for a fine art photographer and printer, who is willing to let go of the constant film versus digital battles and discussions, these can be exciting times, if only one is willing to learn and push the boundaries a bit. For my own work it has now come to a point when shooting film with the ultimate goal of making photogravure plates and prints is almost not worth it. Of course, medium and large format film still offer many possibilities but, at the end of the day, film still has to be scanned and that will always be the weakest link (and probably weaker as we go on, as film scanners are barely in production). While results can be more than acceptable with 35mm, and I will still continue on this path on occasion, the amount of detail and the possibilities available with the Leica Monochrom and photogravure are truly exciting and special.
"Porte, Cassis"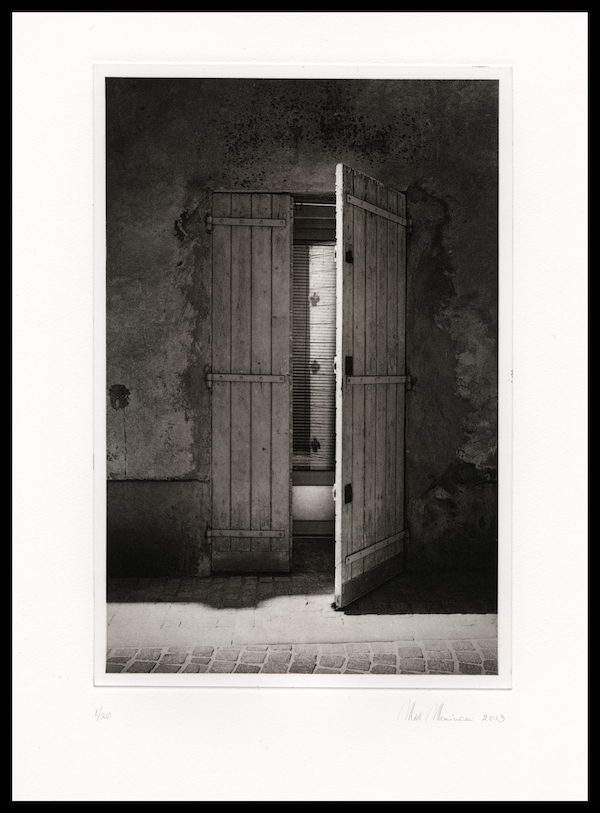 For the novice who may be wondering why go through the trouble of using such a cumbersome and antiquated process to produce a print, I'd like to again outline a few important points: obviously, for as beautiful as the best inkjet prints may be, there are no particular skills required and no "hands on" aspect. If one enjoys actually "making" something, an inkjet print gives no satisfaction. Then there is the aspect of the print itself. With inkjet, we have ink (and a crappy one in most cases), sitting on top of the paper. With photogravure etchings, the image is IN the paper. What does that mean? Well, an etching on copper is basically peaks and valleys. The valleys are the deep crevices, which hold more ink and create the deep shadows and blacks, and the peaks will hold much less and create the highlights in print. Of course, we have everything in between, for a true full range of tones. What this does is actually creating a relief on paper. The images have a structure and depth that one cannot replicate with an inkjet printer, or with any other process.
"Strength and Grace"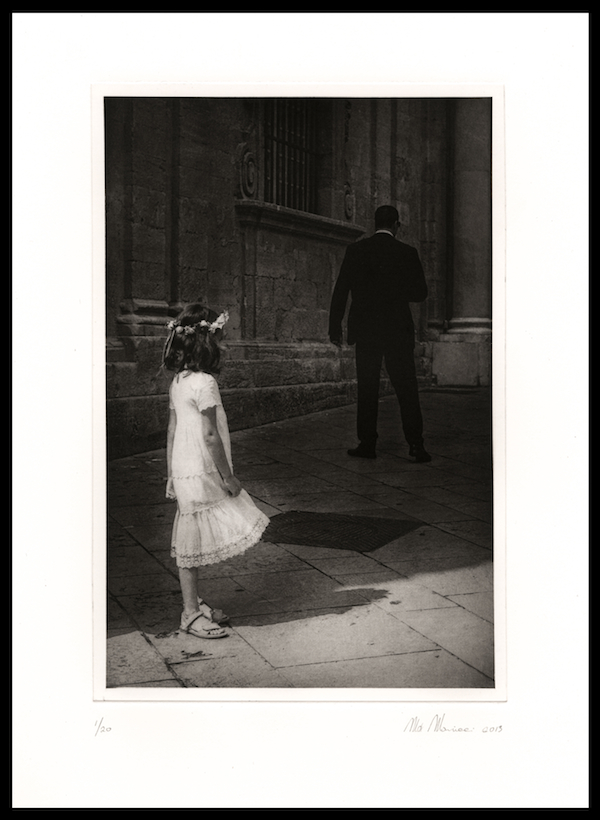 The Prints:
All prints are in editions of 20, with image size 12×8 for standard 35mm format and 8×8 for square crops. Printed on Magnani Revere or Somerset papers, using Graphic Chemicals, Charbonnelle, and Izote etching inks. Of course archival qualities far exceed those of inkjet prints and even silver gelatin. Every print is hand made by me, and hand pulled using a manual etching press. Aside from the original digital file and the production of a "positive" on clear film, the process is fully analog.
A word about the Photogravure process:
Please do note that when I say photogravure, I mean, "copper-plate photogravure". There is another printing process that uses pre-sensitized "polymer" plates and a few "artists" have gotten into the habit of calling it simply "photogravure". It is NOT the same thing! Copper plate photogravure, is an etching process. A gelatin resist that is first sensitized in potassium dichromate is exposed (using first an aquatint screen or rosin dust), then applied to a sheet of mirror finish copper, developed and finally "etched" in a series of ferric chloride acid baths. The Photo-Polymer process is NOT an etching process and it does not require chemicals in any of its steps. It is much easier to master and prints can be absolutely beautiful but…IT IS NOT "PHOTOGRAVURE".