Look at what is Under My Tree!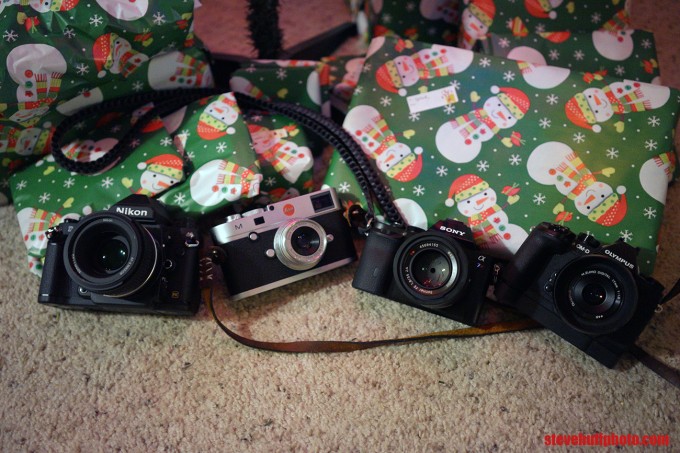 Ho Ho Ho! Man, am I a lucky guy or what? I realized that I currently have 4 of the hottest, if not THE hottest and most desired digital cameras out there right now!
The Nikon Df, the Leica M 240, the Sony A7r and the Olympus E-M1.
I just had to take a quick shot of them as one of these is my pick for Camera of the Year 2013. Which one will it be? Hmmmm..
Also, The Nikon Df just arrived to me today and my 1st impressions?
It is much lighter than I expected. The Nikon Df with 50 1.8 is lighter than my M 240 Body alone.

It is easy to manual focus

IQ seems the same as the D4

The camera is smaller than I thought it would be, but still fat.

Shutter is nice and smooth, more quiet than the A7 for sure.

IQ with the 50 1.8 kit lens is SOFT. This lens sharpens up by 2.2/2.5

Smaller battery than D700, D800, etc but Nikon claims 1400 shots.

Dials and buttons feel more on the cheap side than rock solid side. 

Low light? Superb but the RX1 may beat it in this area..or similar. 

It is unique and I love the manual controls. After 10 minutes I learned them all quite easily. 

Love the design and look. But the E-M1 feels better in my hand. 

VS the A7? The Df is $1000 more for the body but offers many more lenses, faster AF, better high ISO/Low light, quieter operation and an overall faster feel. But it is a DSLR and NOT a mirrorless, so lenses are larger. The Nikon is made in Japan as well. Overall the Sony offers more bang for the buck but lacks in the lenses. 
I will be starting to shoot it tomorrow and will post my full review in the next 2-3 weeks. I will do my 1st look video on Friday or Saturday and compare the black and silver side by side. I will also be testing a trio of 50's..the kit 1.8, the 50 1.2 AIS and the new 58 1.4, which looks spectacular.
Stay tuned!
Steve