The new Sony NEX? The Alpha 5000 Arrives!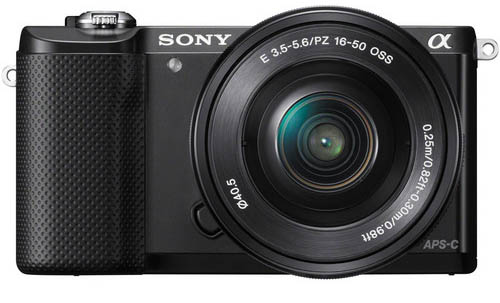 With CES here many manufacturers are announcing new cameras, lenses and gadgets this week, so this is always fun. Last year was the Fuji X100s, this year is the Fuji X100s black 🙂
While I did NOT make it to CES this year due to the fact that I was just in a car accident and my car is in the shop for the next 30-45 days (I am fine as the airbags did their job well and yes, I would have driven as Vegas is a 4 hour drive for me). Even so, I do not feel like I lost out too much as the new cameras at CES are usually "in-betweens". The big announcements are usually just that..BIG announcements (as with the Olympus E-M1 and Sony A7) so I did not expect HUGE news from CES in regards to camera releases.
Nope, not many "super exciting" things being released IMO besides the new Fuji 56 1.2 lens, the black X100s, Panasonic Nocticron F/1.2 lens and now the new Sony A5000 which is being touted as the worlds smallest interchangeable lens camera WITH WiFi capability 🙂 The new Alpha A 5000 looks very similar..as in..it looks just like a NEX body but it is now called an Alpha A instead of a NEX. It is an E-Mount so will use all of the current and past E mount lenses. So if you want a basic "NEX" like upgrade, the A5000 will do the trick, and at a great price. I expect it to be very NEX like with the Alpha and A7 menus.
With a 16-50 Kit Zoom the A5000 comes in at under $600. You can pre-order at B&H Photo or Amazon. 
FEATURES:
20.1 Mp Exmor APS HD CMOS Sensor and BIONZ X Image Processor
The 20.1 Mp APS-C-sized Exmor APS HD CMOS sensor and BIONZ X image processor work together to produce high-resolution, well-detailed imagery with minimal noise and notable low-light quality and sensitivity to ISO 16000. The processor also contributes to providing a wealth of speed throughout the camera system, including a fast 25-point contrast-detection AF system, top continuous shooting rate of 3.5 fps, and full HD 1080i/p video recording in multiple frame rates.
Full HD Video Recording
Full HD 1080i/p video recording is supported at both 60 and 24 fps frame rates to produce high-resolution movies with a smooth, cinematic look. Videos are recorded using the high-quality AVCHD codec and a built-in stereo microphone records sound in the Dolby Digital AC-3 format. Additionally, 1440 x 1080p, 1280 x 720p, and 640 x 480p formats are also supported in the Internet-friendly MP4 format.
Built-In Wi-Fi Connectivity
Built-in Wi-Fi connectivity enables the A5000 to instantly share imagery to mobile devices for direct sharing online to social networking, via email, and to cloud storage sites. NFC (Near Field Communication) is also supported, which allows for one-touch connection between the camera and compatible mobile devices; no complex set-up is required.
Tilting LCD Monitor
For live view monitoring, image playback and review, and menu navigation, a 3.0″ 460.8k-dot touchscreen LCD monitor is integrated into the camera body and features a 180° tilting design to promote easier use from low angles as well as in front of the camera.
Sony 16-50mm f/3.5-5.6 OSS Retractable Zoom Lens
The included 16-50mm f/3.5-5.6 OSS Retractable Zoom Lens provides a 35mm-equivalent focal length range of 24-75mm, covering wide-angle to portrait-length perspectives to suit working in a wide variety of situations. It features Optical SteadyShot image stabilization to help minimize the appearance of camera shake by up to four shutter speed steps to greatly benefit working in low-light conditions and with greater zoom magnifications. One extra-low dispersion element and four aspherical elements are integrated into the optical construction to help reduce chromatic aberrations as well as increase clarity, sharpness, and contrast and the Power Zoom electronically-driven zoom mechanism brings greater efficiency to controlling the zoom position of the lens.
Other Camera Features
A built-in pop-up flash is available to provide additional illumination when working in dim lighting.
Auto Object Framing is an intelligent shooting mode that can automatically analyze the scene and subjects within it and determine an aesthetically-pleasing composition. The subsequent imagery will be cropped according to subject matter, resulting in a well-balanced composition that utilizes Face Detection and Tracking Focus to ensure high image quality and sharpness.
Picture Effect modes allow you to apply creative settings and emphasize certain facets of individual images for a richer, more aesthetic picture quality. Posterization (Color/B&W), Pop Color, Retro Photo, Partial Color (R/G/B/Y), High Contrast Monochrome, Toy Camera, Soft High-Key, Soft Focus, HDR Painting, Rich-Tone Monochrome, Miniature, Watercolor, and Illustration modes are available.
The Photo Creativity feature provides quick access to Picture Effects as well as dedicated controls for adjusting Background Defocus, Brightness, Color, and Vividness. Additionally, these effects can be combined for nearly limitless adjustment options
Superior Auto mode is an intelligent automated setting that can quickly identify the current shooting environment and adjust crucial camera settings to deliver optimized results. This mode also utilizes Auto HDR and Hand-held Twilight modes, which employ image compositing techniques to better handle difficult lighting conditions.
Anti-Motion Blur automatically corrects for subject movement in order to deliver clean, sharp imagery in low-light conditions. This is accomplished by recording six sequential frames and compositing portions of each image to ensure overall sharpness.
Hand-held Twilight Mode automatically composites details from six sequentially-recorded images in order to attain higher overall image sharpness when working in low-light conditions.
Face Detection/Smile Shutter can detect and base focus, white balance, and exposure settings on recognized faces. This technology also enables the shutter to be released, based on three sensitivity levels, when a smile is detected in the frame.
Creative Style settings provide control over how the camera processes images based on six different predetermined styles: Standard, Vivid, Portrait, Landscape, Sunset, and B&W. Within these settings, contrast, saturation, and sharpness can also be adjusted depending on personal preference.
The Sony E-mount affords compatibility with an extensive number of lenses and lens adapters.
Convenient USB charging allows you to charge the included lithium-ion battery in-camera via USB connection from either an AC outlet or PC source.
The Stamina battery power allows up to approximately 420 shots to be taken on a single charge. The InfoLITHIUM batteries also enable you to see the remaining percentage of battery power left.
PlayMemories Home software is pre-installed on the camera for automatic downloading to a PC when connected to offer support for viewing, organizing, editing, retouching, printing, and sharing imagery.