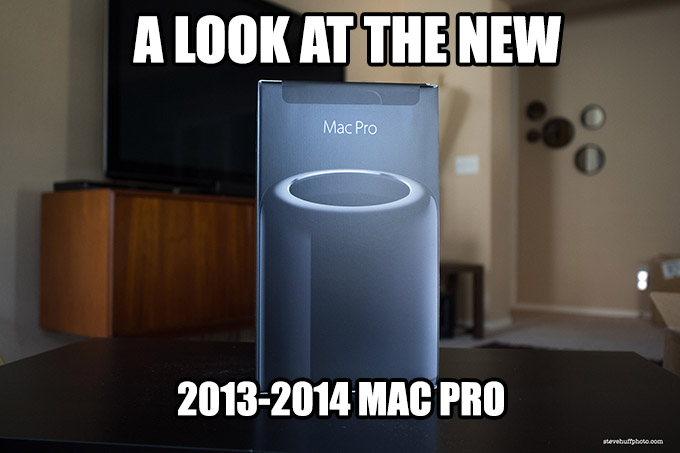 A look at the new Apple Mac Pro 2014
I love Apple products. I know many who read these pages do, but I also know many readers here do not use Apple products. In any case, yesterday I received a brand spankin' new Mac Pro powerhouse from B&H Photo in THIS exact configuration. (Happens to be in stock right now). I have been using Apple computers since the 90's going back to the G3 tower, G4 tower, G4 cube, and everything in between from the bubble colored iMacs to the folding clam shell iBooks.
I switched to Apple after many frustrating years of using Windows  – drivers, viruses, crashes were not my thing and ever since switching to Apple I have had none of those issues…ever. Call me lucky but whenever I upgrade my Mac I have no issues..it just works. Lately though it seems some of have been complaining with issues related to the latest version of OSX, Mavericks. So I hope Apple scan stay on track and continue to deliver the user experience we Apple lovers have come to expect.
In any case, this Mac Pro came in to  my house and I actually waited 24 hours to open it because I wanted to do a video of the opening and 1st look..and I just did not have the time yesterday. So finally..just today, Jan 23rd I cracked it open, took a look, hooked it up to my display for a quick spin and gave my 1st look report in the video below:
 My unboxing and very 1st look at the new Mac Pro. This one is for power users for sure!
 For those who crave speed..
I really do not review computers..ever. But this is not really a "review". Instead it is a first impression report and overall look at the new machine just to share my enthusiasm for this product. Just as I do not do tech reviews of cameras I do not do tech reviews of computers. I feel too many people take too much time worrying and stressing over little details when they should be using the equipment and getting the most from it. With that said, the new Mac Pro is the fastest mac ever when used with Pro apps such as Final Cut Pro, Adobe Photoshop, etc.
If you need speed, the new Mac Pro is the beast you want. Editing 4K video? The Mac Pro is the one you NEED. Editing huge 37Mp RAW files? The new Mac Pro will shave some time and frustration off of your day. Yes, it is all about the user experience and from unboxing this piece of art to hooking it up, it was up and running within 2 minutes. Easy Squeezy.  The boot up time is insanely fast due to the PCIe flash-based storage that is said to be 10X faster than a 7200 RPM SATA Hard Drive. Yes, that is FAST.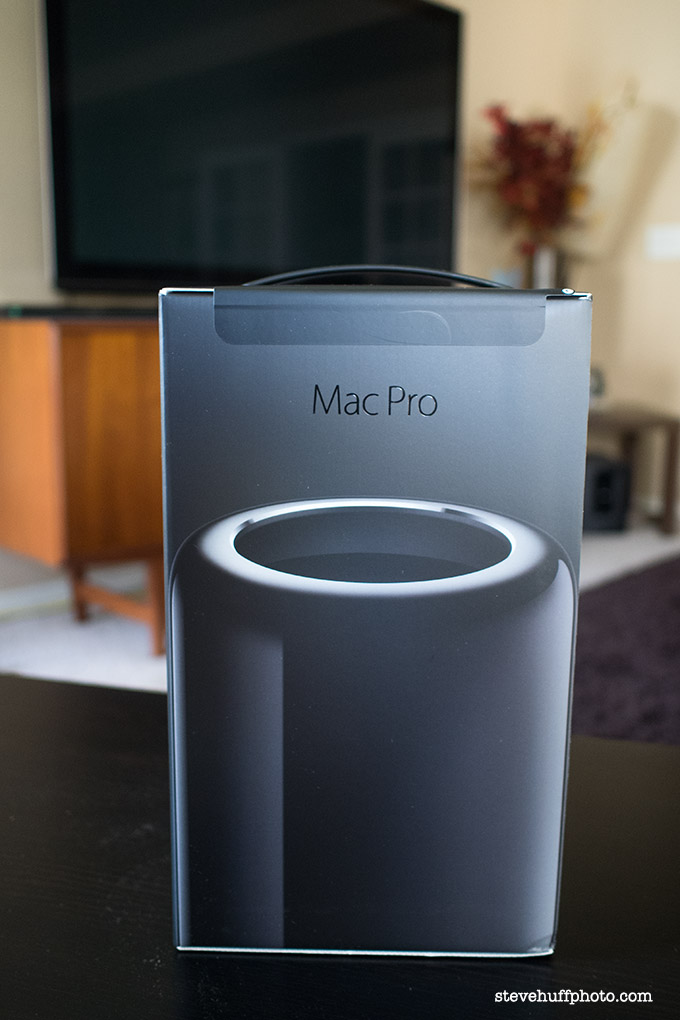 The Design 
The new Mac Pro is really indeed a work of art. The Aluminum shell fits over the guts and easily slides off with a flick of the unlock switch. The back lights up when you touch or move the computer so you can see what you are doing. I found this to be a nice little touch and it can really help if you are in a dark office and needing connection ports.
Speaking of ports..how about 6 Thunderbolt 2 ports? 4 USB 3 ports? HDMI? Speaker and Headphone? It's all here, in one convenient location on the back.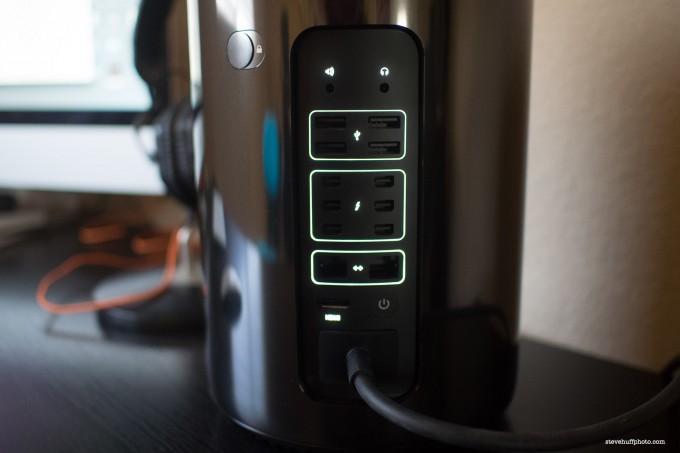 Take off the shell and you see the guts and the brains of the Mac Pro…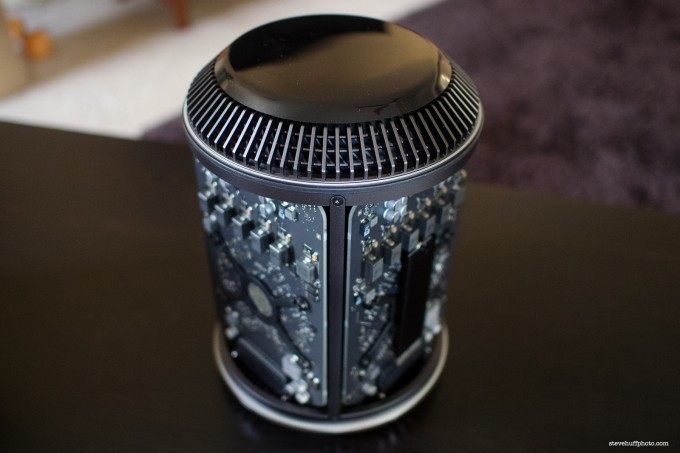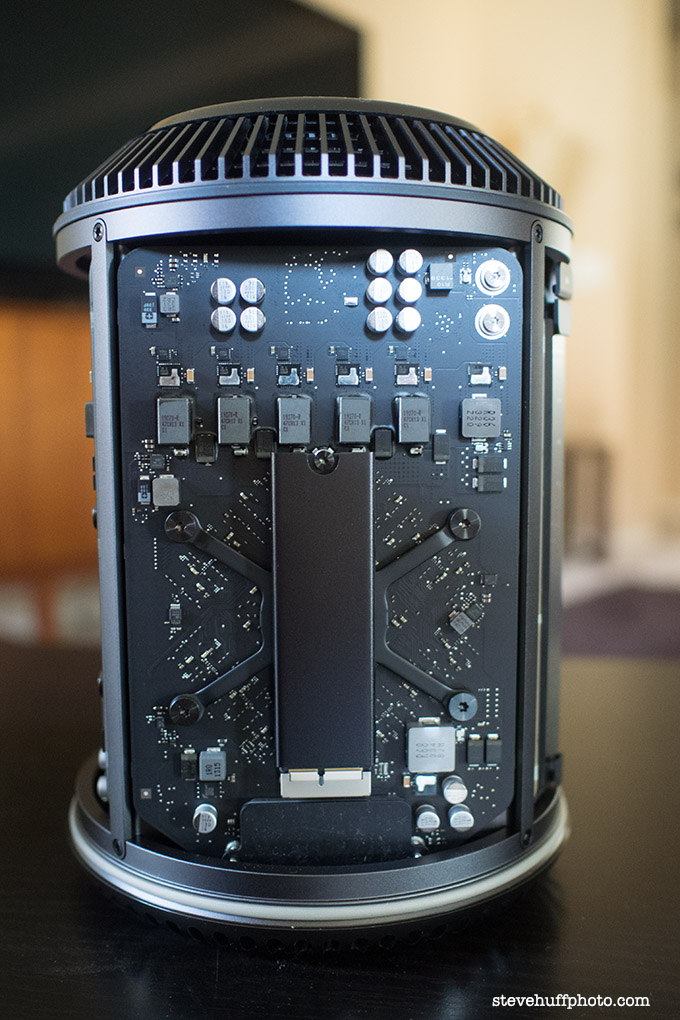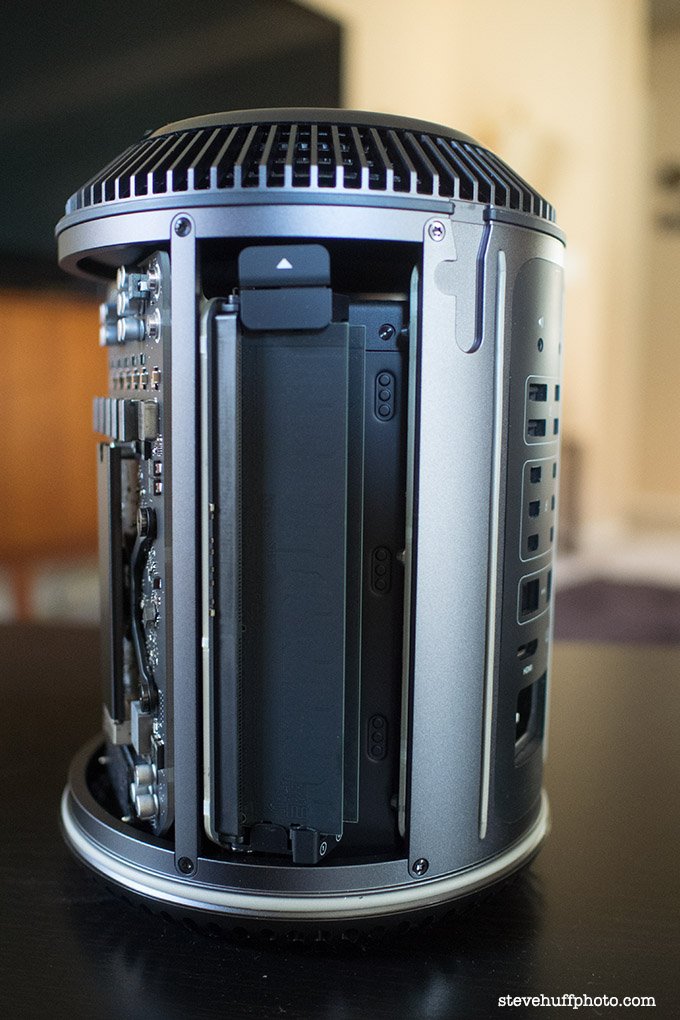 But Beware..you may be seeing a speed DOWNGRADE!
HOW SO? How could this be? The fastest Mac ever built..no way there could be a speed decrease!
My main office machine is a loaded up iMac 27″ (latest). It has a 3.5 Ghz i7 QUAD-CORE processor and 32Gb ram (there are times when my system is using 28 of that 32 at one time) and I have 13 Terrabyte of external storage hooked up with a 3TB fusion drive inside the computer. It is fast. VERY fast. I mainly do three things on my computer. The 1st is Photoshop and Lightroom. I use Photoshop quite a bit for my reviews and Lightroom for my personal photo collection. My iMac is very fast when doing photo work. The Mac Pro was even faster. Secondly, I use plain old basic iMovie on a weekly basis for Youtube videos and personal projects. I love it. Simple, easy, and plenty for my needs. It blazes on my iMac. When I imported a video and edited it on the Mac Pro (the video above at the top) – exporting the video took about 3-4X longer than it does on my iMac. When I researched this I found other reviews say that if you use PRO apps/softare then the Mac Pro will be blazingly fast..beating any iMac that challenges it. Use apps like Ilife apps (iMovie, iPhoto, etc0 and it will be SLOWER!
Since my iMac is pimped out the Mac Pro is 100% overkill for my needs. Will it come in handy for Photo work? YES, and it will last a long time. If I upgrade to Final Cut for video editing then I will see a speed and performance boost, so this would be the thing to do to take advantage of this power.
The bottom line is that this is one hell of a computer. It look futuristic, sleek, comes in at 11lbs and is quiet, cool and nothing I threw at it even made it warm up. Putting your hand over the top will let you feel the gentle breeze of the silent fan that cools the machine down. It is a genius design and also TINY when compared to the huge and hulking old Mac Pro. It is the best and most powerful Mac ever. If you are in to power then you will not be disappointed.
The one I show here comes in at $4k. Add a display and you can be yup to $5k in a hurry. If that is too much then I also highly recommend the iMac I use. You can see that one HERE. 
Where to Buy
To order or check out more specs on this Mac Pro, click over to B&H Photo HERE.  ALSO REMEMBER that this one is pretty low in specs. You can spend almost $10k for one of these bad boys if you want it super pimped out and ready to rock and roll for many many years down the road! If you did not see the video at the top of the page be sure to take a look!
Thanks!
Steve
This Mac Pro: Details…
Six-Core Intel Xeon E5 Performance
This Mac Pro features a 3.5 GHz Intel Xeon E5 processor with six cores of processing power on a single die. The processor can also be overclocked up to 3.9 GHz. And with 12MB of L3 cache, 40 GB/s of PCI Express Gen 3 bandwidth, and 256-bit-wide floating-point instructions, you'll never be at a loss for speed
Dual AMD FirePro D500 Graphics Cards
Traditionally, professional computers have relied primarily on the CPU for their computing power. But as GPU performance has dramatically increased, software developers have begun to leverage that power in their apps. With the Mac Pro, Apple engineered an even more powerful GPU architecture. Not only does it feature a state-of-the-art AMD FirePro workstation-class GPU – it features two of them. And each is available with 3GB of dedicated VRAM and 1526 stream processors. With 4.4 teraflops of computing power between the two, you'll be able to do things like seamlessly edit full-resolution 4K video while simultaneously rendering effects in the background – and still have enough power to connect up to three high-resolution 4K displays
Memory
Every component in the Mac Pro is optimized for performance. That includes a four-channel DDR3 memory controller running at 1866 MHz. It supports 16GB of memory and delivers up to 60 GB/s of memory bandwidth, which means you can fly through even the most computer-intensive tasks in no time. And since it's ECC memory, your render job, video export, or simulation won't be stopped by transient memory errors
Design
Apple reorganized the architecture of the internal components as well as the entire enclosure of the Mac Pro. Its unique cylinder design is made with refined impact extrusion technologies for effective material use and a polished aluminum enclosure. It stands at just 9.9 inches tall with a diameter of just 6.6 inches, allowing you to place it on your desk
Storage
The Mac Pro has next-generation PCIe-based flash storage, which is up to 2.4 times faster than the fastest SATA-based solid-state drive and up to 10 times faster than a 7200-rpm SATA hard drive. Most flash storage systems connect via SATA buses designed for slower spinning hard drives. But Apple designed the Mac Pro around new PCIe-based flash controller technology to deliver the fastest solid-state drives available standard in a desktop computer. So you'll have 256GB of storage that will let you boot up, launch apps, and even open massive files almost instantly
Thermal Core
Rather than using multiple heat sinks and fans to cool the processor and graphics cards, Apple built everything around a single piece of extruded aluminum designed to maximize airflow as well as thermal capacity. It works by conducting heat away from the CPU and GPUs and distributing that heat uniformly across the core. That way, if one processor isn't working as hard as the others, the extra thermal capacity can be shared efficiently among them
Fan
Instead of adding extra fans, Apple engineered a single, larger fan that pulls air upward through a bottom intake. As air passes vertically through the center of the device, it absorbs heat and carries it out the top. By minimizing air resistance throughout the system, Apple was able to design a fan with backward-curved impeller blades that runs at fewer revolutions per minute, draws air more efficiently as it spins, and creates considerably less noise
Expansion
Designed with built-in Thunderbolt 2, USB 3.0, Gigabit Ethernet, and HDMI 1.4 ports, the Mac Pro provides flexible, high-performance expansion. And it has everything you need to build a workstation completely customized to what you need and how you work
Thunderbolt 2
Thunderbolt 2 combines PCI Express and DisplayPort into one high-speed, versatile I/O technology. Thunderbolt 2 delivers twice the throughput, providing up to 20 Gb/s of bandwidth to each external device. So you're more than ready for the next generation of high-performance peripherals, without being limited by the number of expansion slots inside your computer. You can connect massive amounts of storage, add a PCI expansion chassis, and work with the latest external displays – including 4K desktop displays and peripheral devices capable of broadcast monitoring in 4K. And since each Thunderbolt 2 port allows you to daisy-chain up to six peripherals, you can go all out by plugging in up to 36 external devices via Thunderbolt 2 alone
I/O Connections
The Mac Pro equips you with all kinds of connections for all kinds of peripherals. USB 3.0 gives you the versatility to hook up dozens of different types of external devices. Two Gigabit Ethernet ports let you connect to multiple networks. And an HDMI 1.4 port provides support for the high-definition televisions, projectors, and displays, including Ultra HD TVs. As you rotate Mac Pro to plug in a device, it senses the movement and automatically illuminates the I/O panel. So you can easily see the ports you need when you need them
Wireless
Access your network over three-stream 802.11ac Wi-Fi for high-speed wireless connectivity. For all your other wireless connections, the Mac Pro includes Bluetooth 4.0. It's the easiest way to connect your keyboard, mouse, and other wireless devices without having to physically attach anything