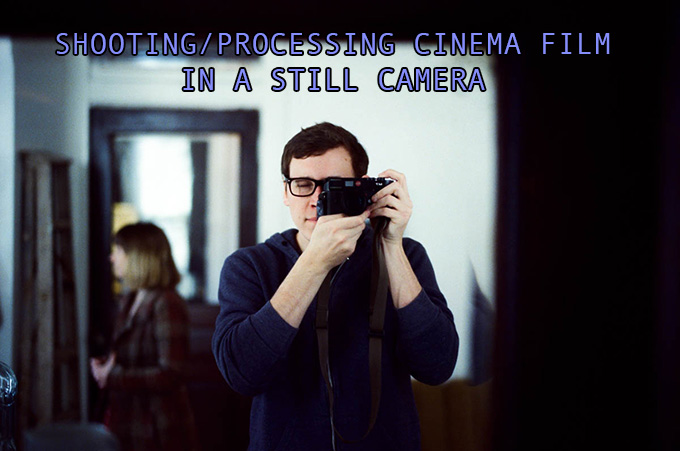 Shooting & Processing Cinema Film in a Still Camera
by Brett Price
Hey Steve,
Thought I'd write up a quick little article on a recent set of photos I took. I've submitted several posts before outlining several photography related experiences with different equipment/techniques I've been playing around with, a lot of the fun in photography for me is the ongoing discovery of new techniques, equipment or processes. The latest addition would be my experience shooting motion picture film in a still camera. There's a lot to do with something like this so Its not exactly something someone can just pick up and do but I figure that this article could be a first step to many who might be interested.
**See Brett's other posts HERE – HERE – HERE and HERE**
First off, All of the shots below were rolled, shot, developed/processed and scanned in an at home process and were all taken with Kodak Vision 3 500t film. This is a fabulously versatile film that used a great deal in modern cinematography. This is the same film that you can also purchase online, called CINESTILL FILM that has had a special process to make it capable of being developed at a traditional film lab. (more on that later).
One of the reasons I wanted to play around with this film is because well, I still shoot a lot of film, and the choices for films are becoming more and more limited today for still photography. I still feel like cinema film has a place for a while until most of the more seasoned DPs give it up and its relatively more affordable to shoot considering how much more of it you can buy. You mainly just have to have the infrastructure to take it from beginning to end to make that work, something I have developed over the years. Another reason, like I mentioned is the cost. I purchased a 400ft roll of kodak film online for about 100 dollars. That's enough color film to make over 100 rolls. That is a dollar a roll, not too bad. It's also a film thats really not available in still format. Most still films are daylight balanced, which can be troublesome if you shoot it under any type of tungsten light. I've never really understood why films were made that way, with no high-speed stocks available for that type of light. It's quite easy to take a high-speed film and add a warming filter to it to shoot outdoors if needed. Its pretty difficult to take a daylight film and shoot indoors, as the filters remove a great deal of light, and then you have to shoot it in a place where typically there isn't a great deal of light.
But oh well. It's a fantastic film. All of these shots were taken outdoors or by open windows without a filter so this is the look you can get when you shoot it outside. It's very blue but able to be balanced nicely in the scanning process. It's also a very versatile film if it's all you shoot as all it really needs to shoot outside is a warming filter. I shoot a lot at night and in urban environments so this film really fits my daily Leica carry.
The first step is getting it into shootable cassettes. Bulk loading is pretty common with b&w film, as you can still buy 100ft rolls of it. All you need is to separate out about 100ft from the 400ft roll and load it into a bulk loader and then into the film cassettes. Pretty easy.
One of the reasons everyone hasn't picked up on this film yet is the fact that it comes rolled with a layer on the film called REMJET. Remjet is a layer on the back of the film that is typically removed in the films native process but the C-41 process does not account for. You can't just shoot this film and take it to a lab for development. Not only will the film ruin the lab's chemistry, it will come out with a layer of soft black gook on the back. The CINESTILL film that is available for purchase has this layer pre-removed so the film can be developed in any lab, hence why its caught on with a lot of 35mm film shooters.
All of these shots were home developed and not taken from a lab. I actually used waste lab chemistry because I work at a lab but the same process can be done with any home c-41 kit. The biggest unknown for a lot of people, even me, was how easy or difficult it is to remove the Remjet layer after processing the film. There's a lot of stuff online that goes into detail about how difficult or easy it is but nothing very specific of helpful. I actually found this to be super easy. The film comes out after processing almost totally opaque, if you touch the back of it you'll get an inky black residue on your fingers, it comes off quite easily but the issue is you don't really want to get it on the emulsion side. All I did was wet a microfiber cloth, grab the film from the top, and essentially squeegee it from top to bottom. This took off the rem jet perfectly. All that's left is to restabilize the film so you don't get water spots from the wet cloth.
I have access to a lab scanner so these were pretty straight forward to scan in but the process of scanning can be done after development like any other film. Also pretty straightforward.
I really like the characteristics of this film. I'll probably pick up a roll of Kodak 250D (daylight) as well and then i feel like all my bases would be covered for shooting color 35mm. It's a super versatile film and the process isn't nearly as scary as many people make it seem. I would highly suggest checking out the CINESTILL website for side by side examples as to why this film is so nice. They lay it out between some more popular films like Portra and Fuji Pro, and the results are pretty easy to see.
Anyway, I post a great deal to various websites ill list below, please check them out for more shots. Hope you all like my photos with this film and my write-up on it as well. Happy shooting.
Brett Price
Instagram: Brettprice
Tumblr: Brettprice.tumblr.com
Website: www.iambrettprice.com
Flickr: www.flickr.com/photos/brettprice