The Panasonic Leica Nocticron 42.5 f/1.2 Lens Review & Comparison
By Steve Huff
BUY THE NOCTICRON AT AMAZON HERE
BUY THE NOCTICRON AT B&H PHOTO HERE
Hey hey! It is review time again and I have been a busy man shooting this Panasonic/Leica Nocticron lens for the past two weeks and let me tell ya, it is a serious lens my friends. It is large, it is expensive, and it is FAST with an f/1.2 aperture for those "NOCTurnal" moments.
Panasonic decided to create a "statement lens" to show that Micro 4/3 users can have some fun with shallow DOF, subject isolation and 3 Dimensional POP just as much as the APS-C guys 🙂 The only problem is that they must have forgotten that Olympus has the 45 1.8 Lens that one can now buy for $350 or so. Yep, almost the same focal length and almost as fast in the aperture department for about $1100+ less. Oops.
But is it really an Oops? I do not think so because this Nocticron is so so so good that it beats the 45 1.8 in most ways (besides size and weight and cost). Is this Panasonic jewel $1100 better? No, but the Nocticron is a lens for those who want the best of the best..the unique draw and style, a taste of a real Noctilux and yes, the LEICA name.
Indoors, a coffee shop..I raised the Panasonic GX7, aimed, and fired. F/1.2 wide open and sharp as a tac. This Nocticron offers it all. Color, contrast, sharpness, gorgeous bokeh, build and more. Click the image below for a larger and much better view. 
It seems that some think that Leica makes this lens. They do not. It also seems that some feel Leica supplies the glass for this lens. They do not. This is a made in Japan Panasonic lens made by Panasonic. Panasonic has a deal with Leica where they use the Leica name on certain lenses because Leica helped with the design. So in reality, Leica did help with the design but the construction is all Panasonic, made in Japan.
So does the LEICA name on the front of the lens mean that this lens at least has some of that Leica mojo and magic? Previous lenses from Panasonic with the Leica name included the now legendary 25 1.4, which has been considered as the best Micro 4/3 lens available when you want that Leica look and quality. There is also been the older 45 2.8 Macro, which was astounding in the IQ department though slow to focus. Panasonic also recently announced the new 15mm f 1.7 with the Leica name and that one looks like a 100% winner at $599. A 30mm equivalent with a fast 1.7 aperture. Yummy.
After using this lens extensively I would say that YES, it does indeed have a little of that Leica look, feel and rendering..or as I call it "MoJo". I will go a bit farther and say that this is an overall better lens that the old Leica F/1 Noctilux that sells for $6500 or so used.
Olympus E-M1 with Panasonic Nocticron at f/1.2 – IMO, nothing beats Olympus colors.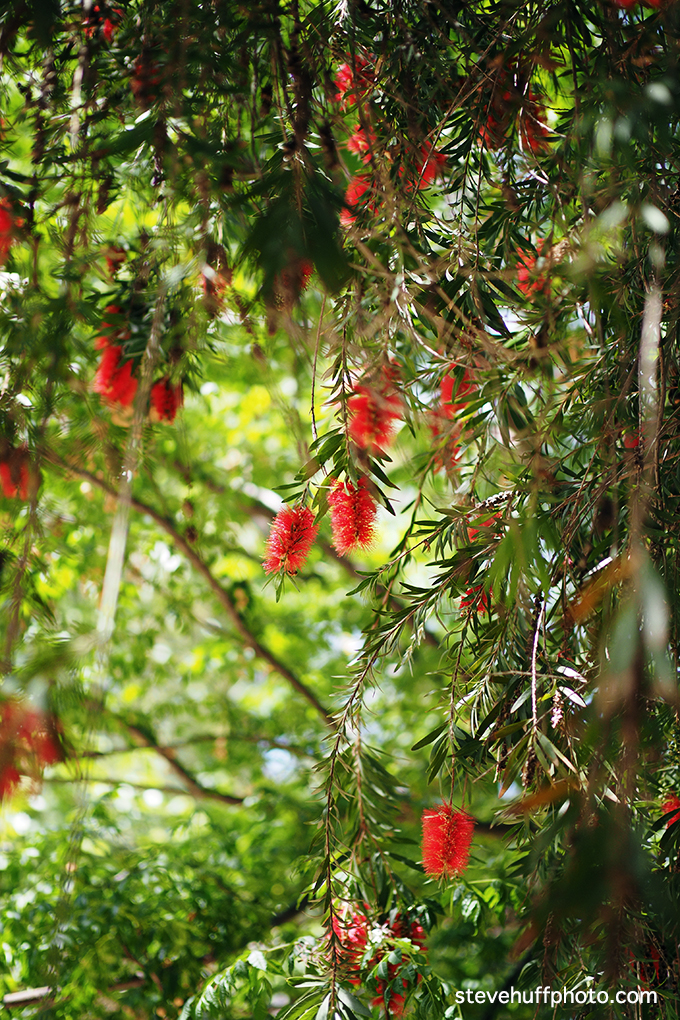 So if we look at pricing..the "PanaLeica" 25mm 1.4 is around $529. The 45 2.8 comes in at $719. The new 17 1.7 will be $599.
So why is this Nocticron nearly $1600?
Well, the real answer is because it is a costly design AND an amazing performing lens and as I said earlier, a Statement piece from Panasonic. Panasonic will not sell loads of these due to the cost and the fact that it is really a specialty lens. So they can not spend millions to design and create it only to sell it for $500! Even the old 45 2.8 is $720, for an f/2.8! This Nocticron is not or in any way a $500 lens. In fact, when I first saw it and held it it reminded me of the real deal, the $11,000 Leica Noctilux f/0.95. It has the same design on the outside. In that regard it has some "Noctilux" character to it. The Leica is $11,000 for a 50mm f/0.95 and that lens is a tour de force of optical magic. Is it worth $11,000? No. But it sells well at that cost for Leica because there is nothing like it, at all. It is one of a kind and sharp even at 0.95 with a creamy Bokeh that melts into the frame.
The Panasonic is $1600, or $9400 less than the Leica Noctilux! While the Panasonic is NOT a Leica Noctilux it does indeed offer some of the flavor of that big money lens, for MUCH less money..MUCH less. I will state right up front that the Panasonic Nocticron has the best Bokeh I have seen next to the real deal. It competes and compares with the Leica Noctilux in this area 100%. The Bokeh is amazingly creamy, dreamy and NOT headache inducing like some lenses. Many exotic lenses fall short in this area..the out of focus background areas. Not this lens!
This is also the area where the 45 1.8 falls a bit short as the Bokeh can get busy and neurotic during certain scenes. The Panasonic has gorgeous Bokeh quality above and beyond any Micro 4/3 lens I have seen to date. In fact, I will call it the "Bokeh Master" of the Micro 4/3 world.
E-M1 and Nocticron at f/1.2 – click it for larger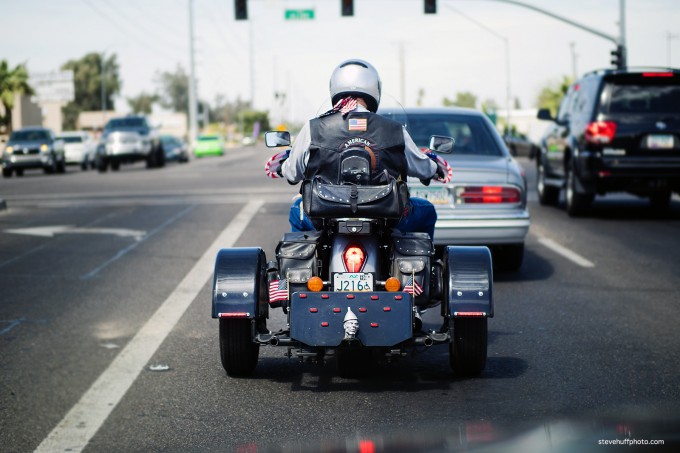 Is smooth and creamy background blur worth $1600? No, not really but in this review I will be taking a look at this lens as a whole from build, to O.I.S., to AF speed to sharpness at all apertures, bokeh and a comparison with the Olympus 45 1.8 and Voigtlander 42.5 f/0.95 (that comes in at $1000 but is manual focus only). Then I will decide if as a whole "is this lens worth $1600"?
I have used this lens exclusively for the past two weeks and what you will read below is my experience with it in all aspects. If you do not want to read the full review let me just say that after my time with the lens I bought one for myself from Amazon right HERE. Yep. I found it is just as special as the real Leica Noctilux (in a Micro 4/3 kind of way) and offered me more character, more pop, better contrast,  and much nicer Bokeh than the $350 Olympus (which I also own). I guess that answered my question of "is it worth it" pretty quickly! I will get more into why I bought one of these expensive lenses when I already own the $350 marvel in the conclusion of the review 🙂
The Nocticron Arrives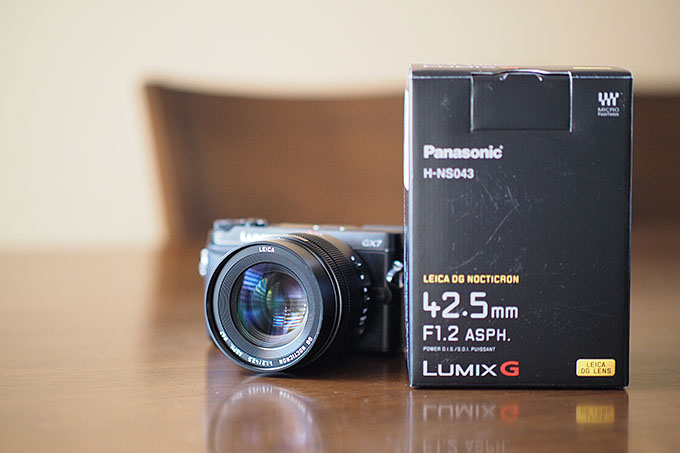 I originally rented this lens because I did not want to buy one to review it. I figured I would rent it for a week or two, use it, review it and say "Buy the Olympus 45" and be done with it. But as it went, I was wrong. When the lens rental arrived I pulled it out of a case only to say "wow, this LOOKs like the Noctilux"! It is not built like the Leica Noctilux, not even close…but it does resemble it. It is much lighter than the Noctilux as well. Still, this lens looks and feels mighty impressive for a Micro 4/3 lens. I instantly knew that this was the best built AF lens for the system, hands down. While all Olympus primes are built nicely and feel like little light jewels, this Panasonic is more of a brute..a serious light gathering machine..more importantly "An Artist's Tool".
Olympus E-M1 and Nocticron at 1.2 – ISO 12,800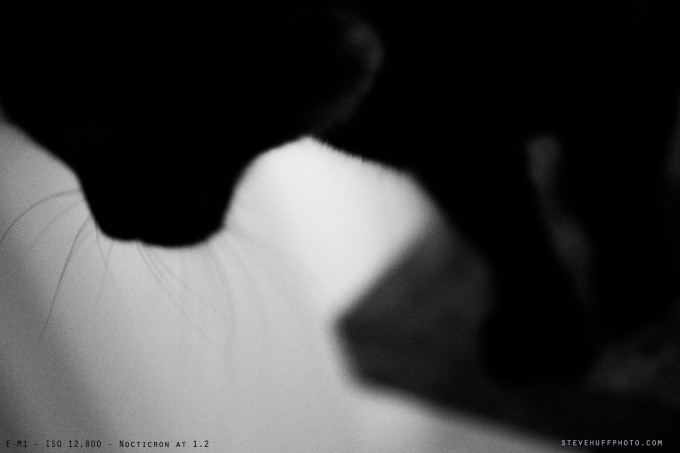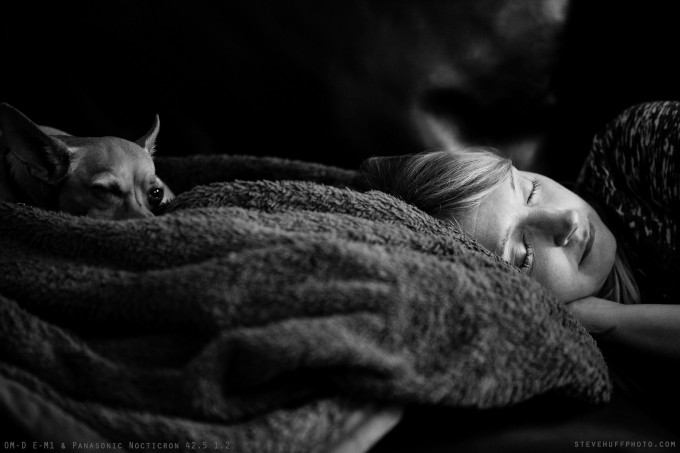 I say "An Artist's Tool" because this lens has that capability, that extra something that is lacking in most lenses to call it just that. The rendering when wide open, at the right distance from your subject gives you the 3Dimensional Pop (not as much as an f/1.2 lens in full frame) as well as the color and contrast characteristics of high end lenses. The Micro Contrast is also very good here, among the best I have seen with Micro 4/3 (Olympus 75 1.8) and the Bokeh is phenomenal.
But before I go on and on about the qualities of this lens, let me start by talking about the specs:
Focal Length 42.5mm – Comparable 35mm Focal Length: 85 mm (classic portrait lens)
Aperture Maximum: f/1.2 – 16.0 (starting at a super fast f/1.2 this gives us true light gathering of an f/1.2 lens, so for night this is #1 in M4/3)
Camera Mount Type Micro Four Thirds
Minimum Focus Distance 1.64′ (.5 m) (pretty close min focus, Leica Noctilus has a 1 meter min distance)
Elements/Groups 14/11 – (14 elements, 11 groups)
Diaphragm Blades 9 (for better and smoother Bokeh. The Fuji 56 1.2 has 7 blades)
Image Stabilization Yes – (built in O.I.S. which is what makes it so large)
Autofocus Yes
Filter Thread 67 mm
Weight 14.99 oz (425 g)  -(Leica Noctilux is 700 grams)
Additionally, there is an Extra-low Dispersion element that increases contrast and sharpness and an Ultra High Refractive Index element allows for a uniform look to the edges of the frame.
The above specs are impressive for this lens no doubt and one of the most controversial will be the f/1.2 aperture. Micro 4/3 hater and naysayers always are quick to point out that an f/1.2 lens in Micro 4/3 is like having an f/2.4 lens in full frame. Well, this is not true. FOR LIGHT GATHERING AND LOW LIGHT USE, this is a true F/1.2 lens. Period. For DEPTH OF FIELD it is more like a 90mm f/2.5 lens. Something like the $1800 Leica 90 f/2.5 Summarit but with a closer minimum focus distance and true f/1.2 light gathering ability and for less money. 🙂
The lens breakdown…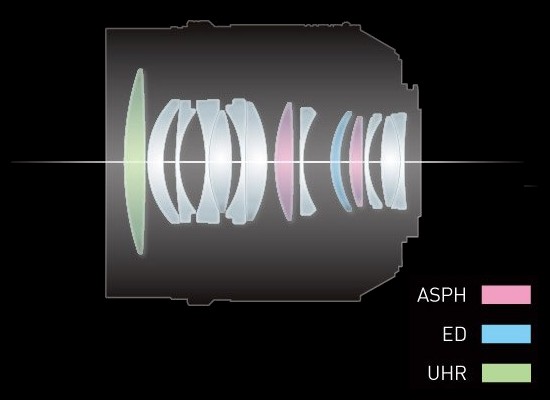 The key to this lens is that you are getting pure state of the art performance for your Micro 4/3 camera and yes, Micro 4/3 is a legitimate format that is used by pros, enthusiasts, amateurs and every day camera Joe's. The performance of the latest M 4/3 camera bodies (specifically from Olympus) is up there with any APS-C, and as I have reported about before, in some areas they are better. Cameras like the E-M1 are a whirlwind of performance in every way. I also feel, after using everything out there, that Micro 4/3 offers the BEST quality lenses for any mirror less camera system (besides Leica M). They are that good in build, speed, and IQ.
These Leica/Panasonic lenses take it up another notch when it comes to color, contrast, micro-contrast and overall IQ.
Was in my kitchen table at night, Brandon was in front of me and I called his name and fired. The E-M1 was at ISO 800, lens was at f/1.2. CLICK it for larger and sharper.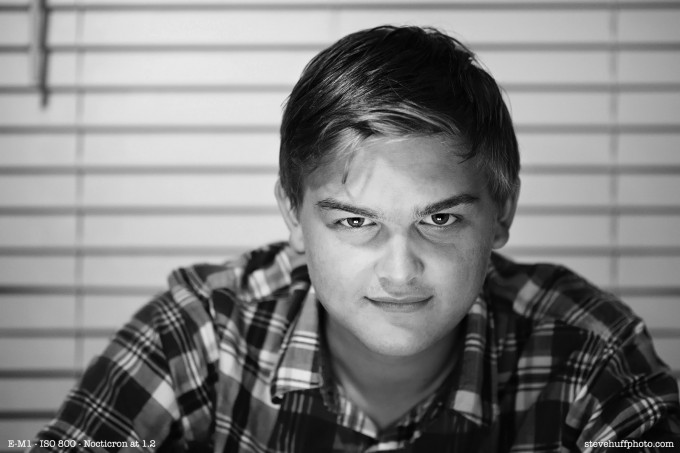 –
This lens will work for portraits..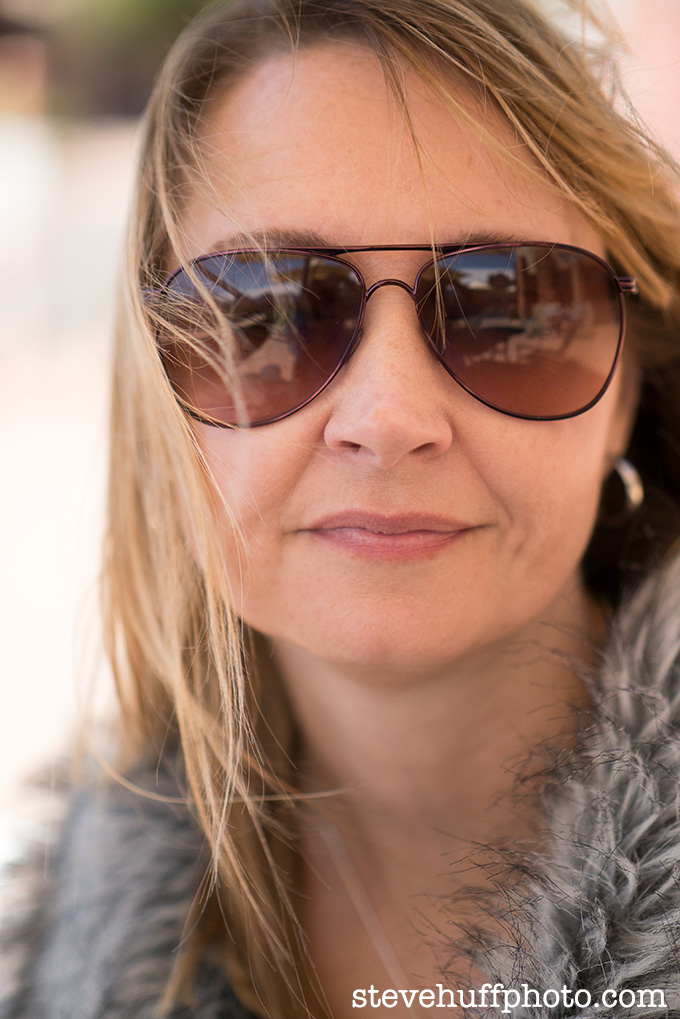 –
or even candid street moments..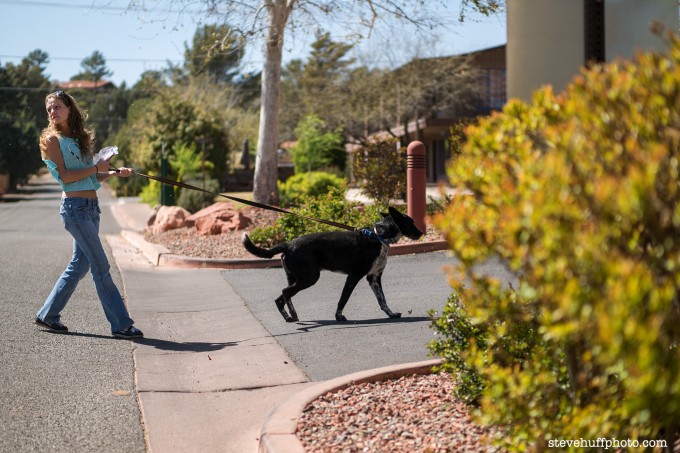 –
Bokeh is smooth and free of the nasties, even in a bokeh torture test condition like the one below  – click for larger. E-M1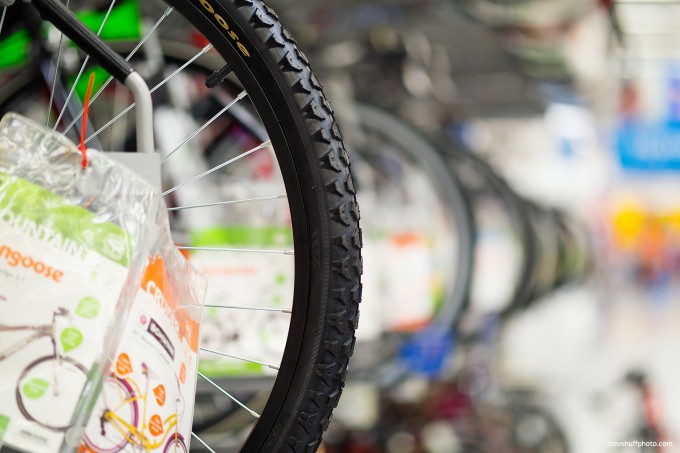 Yes this lens works well with Olympus or Panasonic bodies
This lens works with the Olympus Micro 4/3 bodies just as well as it does with the Panasonic bodies. Yes, I have been shooting a GX7 and E-M1 side by side and I get consistent results with the E-M1 in regards to color and lower noise. The GX7 files have SLIGHTLY more noise (RAW, without NR) even at base ISO and I prefer the color rendering, build, and quick menu of the Oly system. But the GX7 produces IQ almost the same as the E-M1 with some color differences but the build is of a lower standard with the Panasonic GX7 vs the E-P5 or E-M1.
It is a fact! The Olympus bodies are built so so well. The E-P5 feels like a solid brick of metal with quality switches and dials. The GX7 feels plastic with lower quality dials and levers.
But with that said, the lens works well on either camera and on Panasonic bodies you will be able to use the manual aperture dial. On Olympus bodies the Aperture ring is useless and can not be used so you just use the normal aperture thumb dial on the E-M1. It is a give and take I guess.
The manual aperture dial reminds me of quality Leica M glass, much like the real $11k Noctilux (which I have owned long term in the past).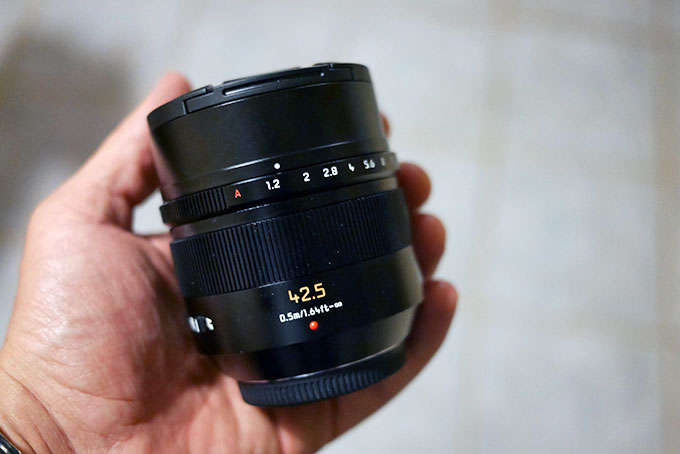 So wether you have an Olympus OM-D or PEN this lens works wonderfully. If you have a Panasonic you get the Aperture dial function.
Inside of a restaurant at f/1.2 – Olympus E-M1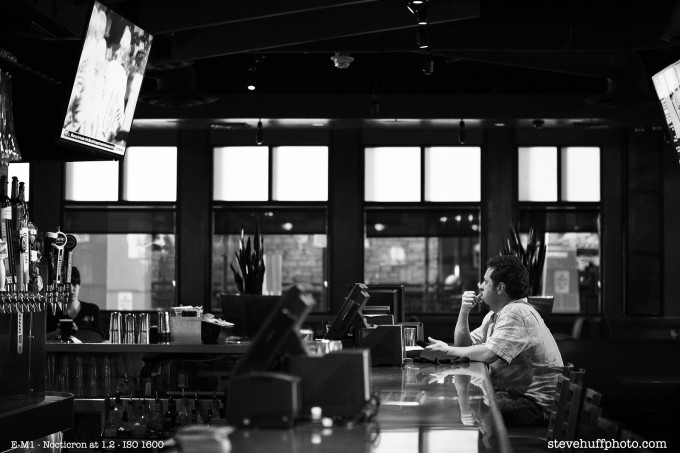 Built in OPTICAL IMAGE STABILISATION
The Panasonic Nocticron has O.I.S. built in, so for all of you Panasonic body shooters this is very important and useful. For Olympus shooters that have one of the 3 or 5 Axis IS bodies then you will want to use the in body 3 or 5 Axis over the lens O.I.S. as the Olympus IS system beats the lens O.I.S. hands down. I have said it before and I will say it again, there is NOTHING like the 5 Axis IS of the Olympus bodies, nothing. The few who put it down just do not shoot Olympus and prefer Panasonic but the real story is that the 5 and 3 Axis IS systems of the Olympus bodies is revolutionary and offers HUGE benefits, even for video use.
Below is a snippet where I tested the built in O.I.S. of the lens vs the Olympus E-M1's 5-Axis IS – same shutter speed but the 5Axis provided a clear image vs the lens OIS blur.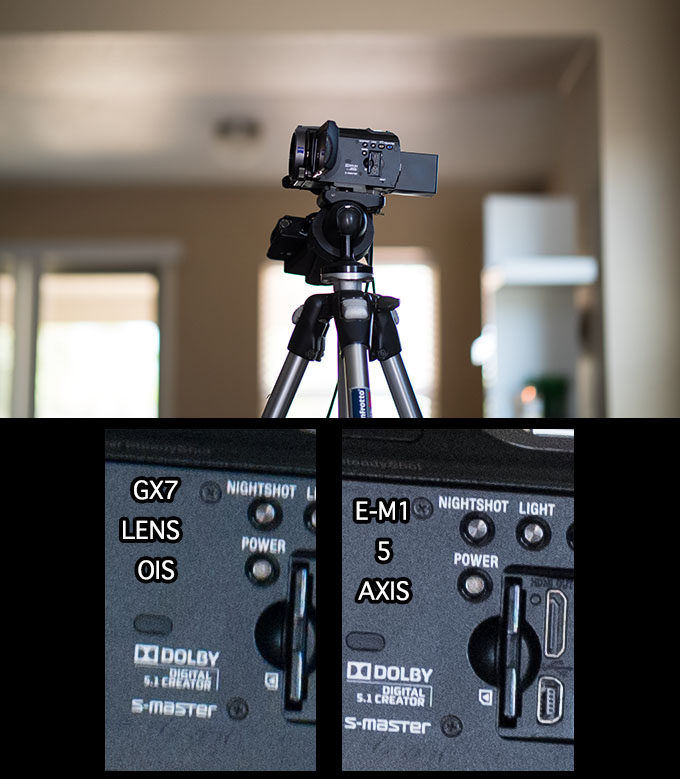 So having the OIS in the lens is good for those who shoot without a body that has the advanced IS built in. On the GX7 this is mandatory to have in a lens like this so it is good that Olympus packed it in, they really had no choice.
A Closer Look
Below is a comparison between the amazing little Olympus 45 1.8 that comes in at around $350 as well as the Voigtlander 42.5 f/0.95. It seems I had an issue focusing the Voigtlander on the Panasonic GX7 due to the small EVF. When the 42.5 Voigtlander is focused correctly it is razor sharp, even wide open, in the center of the frame. See my review HERE. 
1st up, YOU MUST click on the images below to see them correctly. 
The Nocticron is 1st at f/1.6, then the Olympus at 1.8 and then the Voigtlander (slightly mis-focused, sorry!)  The Olympus has more magnification going from 85mm to 90mm and is quite good for a $350 lens! The Olympus offers more of a "telephoto" look with more compression..flatter. The Nocticron offers a gentler more 3D rendering similar to a real Leica lens.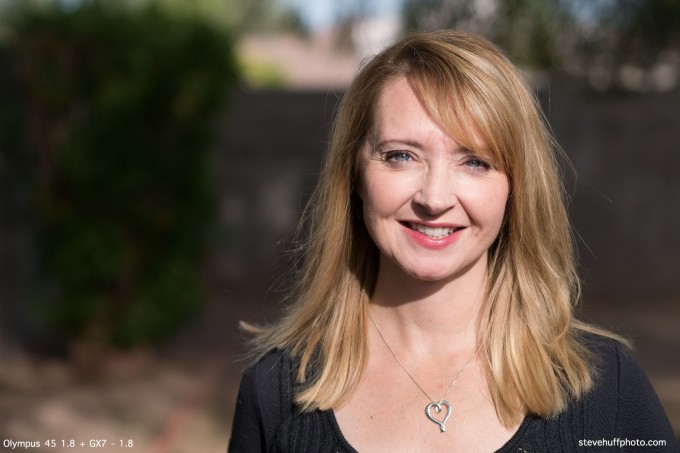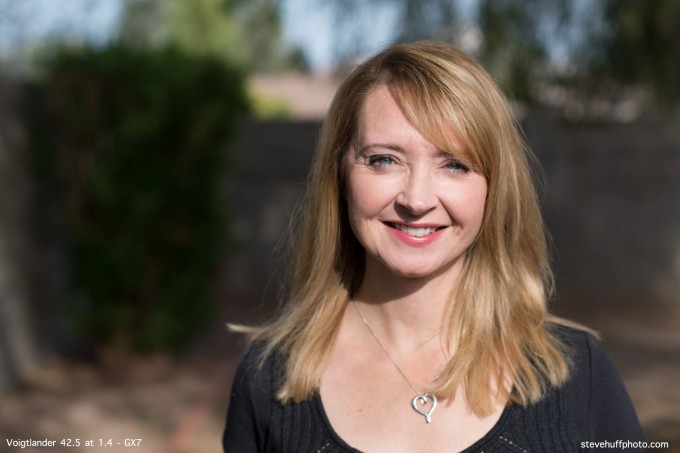 Below is a more visible example of the difference between the Nocticron rendering and the Olympus 45 1.8.
Click the images for correct and larger versions..
The 1st image below was shot with the Noctiron and GX7 at f/1.2, wide open. Here you can see the 3D pop between the subject and the background. There is a clear distinction between Debby and the background, with a superb fall off from in focus to out. This is the hallmark of a good lens IMO.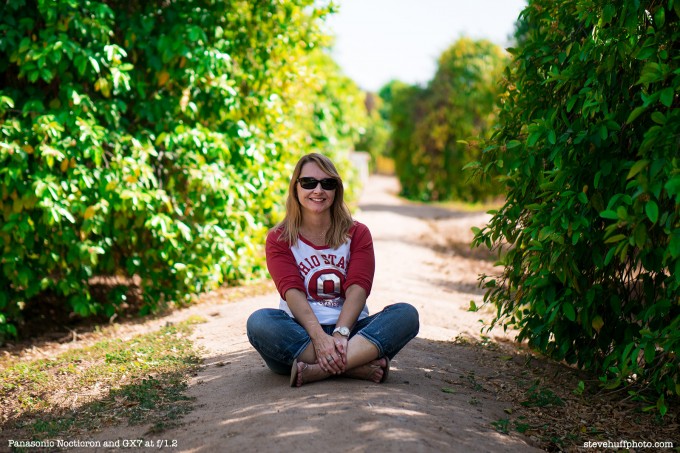 –
Below is the Olympus 45 1.8 and when you click and view this side by side with the Nocticron you can see the differences. To some, you may not even see it. To others it will be huge and to some it will be slight. The 45 rendered the image in a duller way from color to a flatter look. As good as the 45 1.8 is, it does not approach the Nocticron, which is one reason why the Noct is so expensive.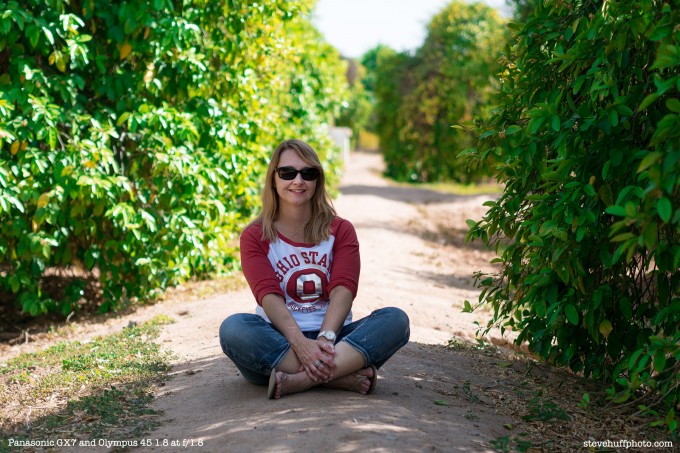 –
And now and image from over a year ago in the same spot taken with the Leica Noctilux at f/0.95 on an M 240. This is the most 3D of them all but it should be considering the combo of lens and body will run you about $18,000. 🙂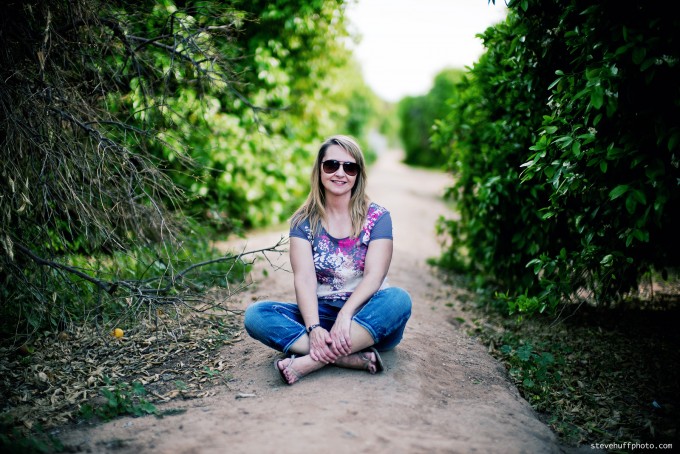 Full Size Files and a crop
I am finding the Nocticron to be sharp even wide open but at the same time it is not clinical in any way. It is more organic and flowing, much like the original F/1 Noctilux from Leica. It has a certain character to it wide open that I like, a lot. Below are two full size files, one wide open at f/1.2 and one that should have been f/4 but the EXIF reads at f/3.2
Thanks to "Baby" my little Chihuahua we rescued for being extremely still while modeling 🙂
1st up, wide open at f/1.2. Right click image and open in new tab or window for full size from RAW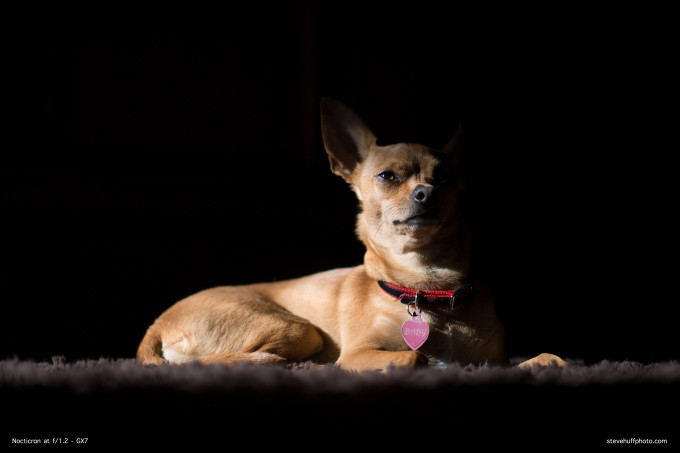 –
again, right click and open in new tab or window for full size at f/3.2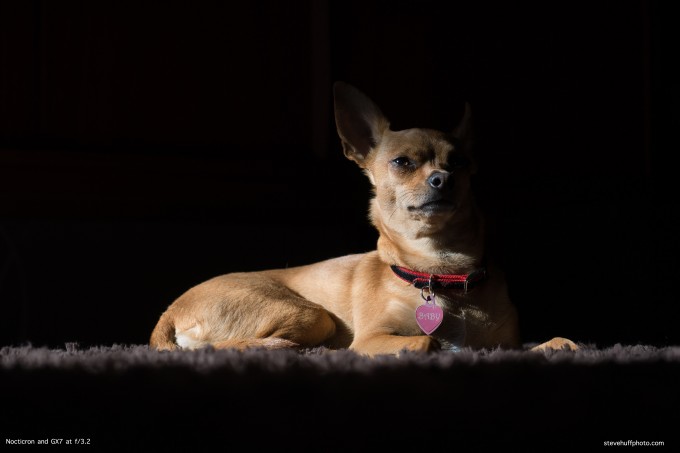 The lens is RAZOR sharp wide open and gets sharper as it is stopped down. I actually love the lens at f/4 as well as f/1.2. It is an all around great performer and for this focal length, the ultimate lens for Micro 4/3. HERE IS ONE MORE wide open at f/1.2 – look at the sharpness, color, detail and Bokeh. Amazing..
CLICK IT for larger and better version – the way it was meant to be seen..AMAZING detail at f/1.2, superb color and Bokeh. This was shot with the GX7. THIS simple test shot reveals why this lens is so special. Bokeh gets an A, sharpness gets an A+, color gets an A, 3D pop gets an A.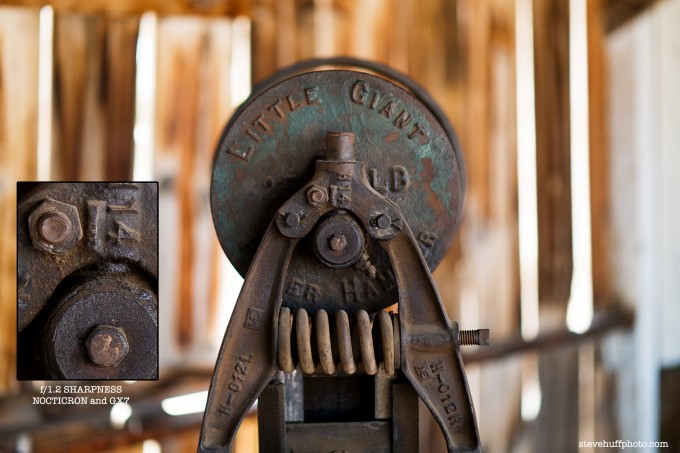 Distortions
While shooting this lens in real word scenarios I never saw any kind of distortion or had an issue with CA. I do not do scientific tests nor do I shoot white walls looking for vignetting, because if I do not see an issue while using the lens for what it was designed to do (take photos) then I do not see a problem. When shooting the Panasonic Nocticron I had no issues with Vignetting or Distortion. Period. The lens does have slight vignetting wide open though but so does the Noctilux f/1 and 0.95.
The one shot that slightly missed focus but this so reminds me of the Leica Noctilux F/1 Rendering! I love it.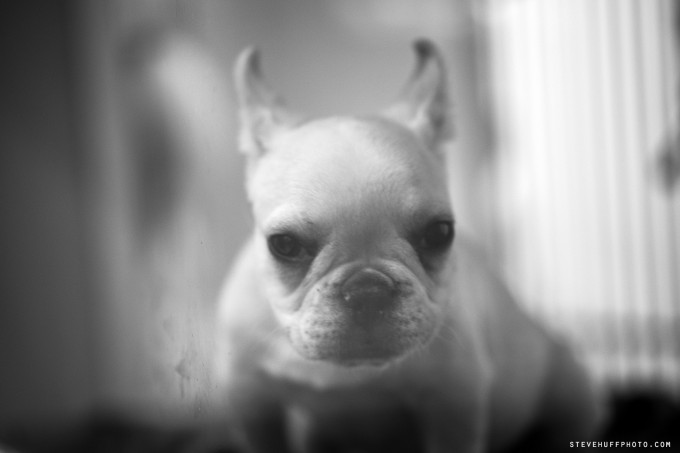 AF Speed
The Af speed of the lens is VERY quick in good light and slows down in low light but it always locks on and the only time it missed for me is in the above shot of the dog but I think it was trying to focus on the dirty glass instead of the dog, so maybe it did NOT miss. AF speed was a TAD faster on the E-M1 vs the GX7 but both were comparable.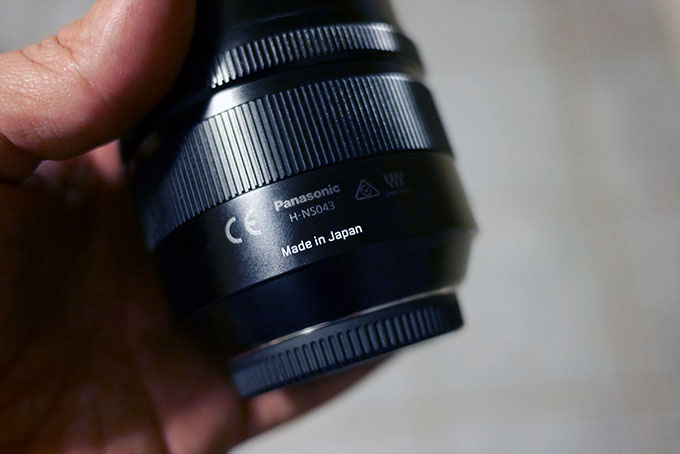 VIDEO USE
This lens SHOULD be a video shooters dream. I have yet to shoot video with this guy but plan on it soon and when I do I will post a sample video right here 🙂 So check back in a week or two!
Bottom Line Conclusion
So is this lens worth $1600? THAT is the question, especially when we have lenses like the Olympus 45 1.8 which is similar in focal length and slightly slower in aperture speed for $350. The Olympus is also MUCH smaller and MUCH lighter and slightly faster to AF. So wouldn't the Olympus be the "No Brainer" decision? Why yes, it would.
BUT! If you are like me, and DO notice those small differences such as contrast, color, bokeh quality and rendering then you might want to take a serious look at this Nocticron. The Panasonic/Leica lenses have all been SUPERB. The 25 1.4, the 45 2.8 and now the Nocticron all use a Leica design and in the case of this Nocticron, more exotic glass than a normal Panasonic lens. When good glass is used you can tell and this lens has a way of lighting up a scene just like a real Noctilux does.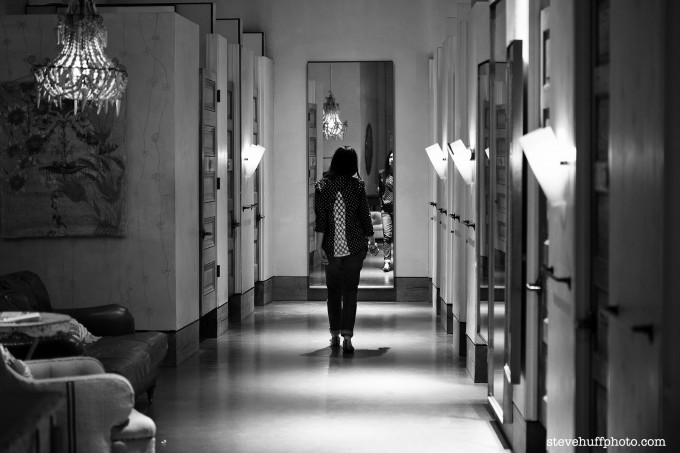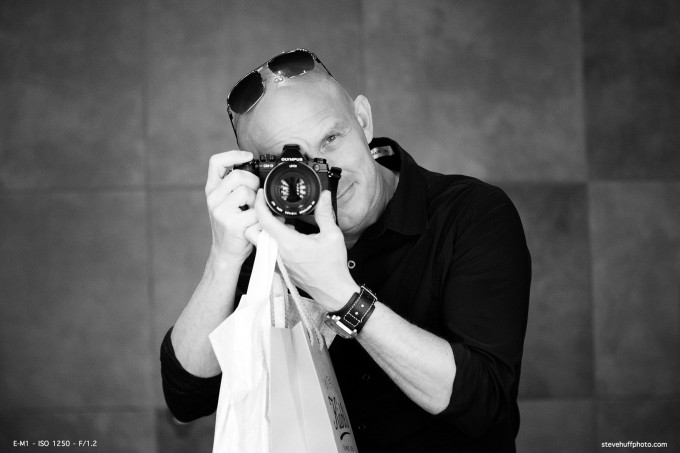 Sometimes a lens comes along that is special. This is one of those lenses. It has it all built into one monster shell, though it still comes in smaller in size and lighter in weight than a comparable full frame lens. Built in O.I.S., great sharpness and rendering at f/1.2 AND Auto Focus, something that the Voigtlander lenses are missing and those lenses can be tricky on a smaller EVF camera like the GX7. I am thrilled that Panasonic created this lens.
Many will argue that this is not an F/1.2 lens, but it is indeed a true f/1.2 aperture lens. I will repeat: THIS IS A TRUE 42.5MM f/1.2 LENS.
Yo will get f/1.2 light gathering capability. You will be able to shoot at f/1.2 in the dark and you will be using a true f/1.2 aperture with 1.2 light gathering ability. THIS is what an f/1.2 lens is made for..low light and in that regards the Nocticron is true to its name..NOCTURNAL.
The image below was shot on the E-M1 at ISO 10,000 at f/1.2. It was inside my house at night with barely ANY light at all. ZERO noise reduction. Reminds me of something that would have come out of the Leica Monochrom! Good lenses can make all of the difference in the world.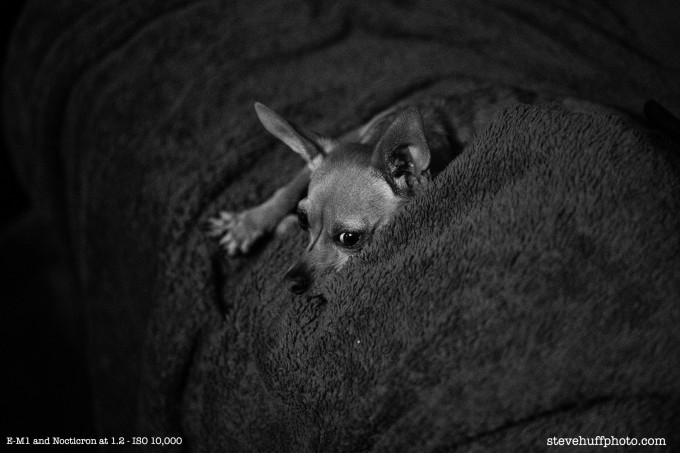 So if you shoot Micro 4/3, Olympus or Panasonic, and you want a fast portrait length prime that offers a bit of EVERYTHING such as fast aperture, delicious bokeh, amazing sharpness and detail/micro-contrast which also happens to shoot great video then PUT THIS LENS ON YOUR LIST. Yes, it is $1600 and yes it is expensive but this lens will hold value over the long-term, moreso than a standard M 4/3 lens.
Micro 4/3 has come a long long way since the early days and today it offers astounding IQ, fast speed, the best built mirror less bodies as well as the fastest and the best collection of glass out of any mirror less system. From wide to tele and macro, there is nothing that a Micro 4/3 system can not do. Olympus and Panasonic are rocking it big time and this lens just solidifies the fact that Micro 4/3 will NOT go away despite the doom and gloom of some large sensor fans. Many have asked me about the new Fuji 56 1.2, which is also a fast portrait prime for the X system. I have NOT tried the Fuji yet but HAVE handled it. The build of the Panasonic is better. I have seen numerous shots from the Fuji and they look gorgeous as well but no OIS in the lens OR body for Fuji. Also, the Bokeh from the Fuji is a little on the busy side in comparison.
If a man came up to me and said pick one and keep it..for free. Either a Fuji X-T1 and 56 1.2 or an Olympus PEN E-P5  with finder and the Nocticron, I would not hesitate for a nano-second. It would be the PEN and Nocticron. Easy choice for me. Still, Fuji is another company that seems to "get it" when it comes to releasing what many of us enthusiasts want. I say, keep 'em coming!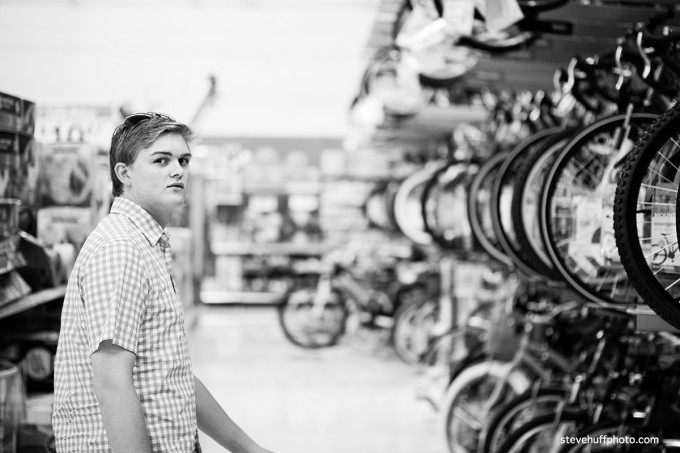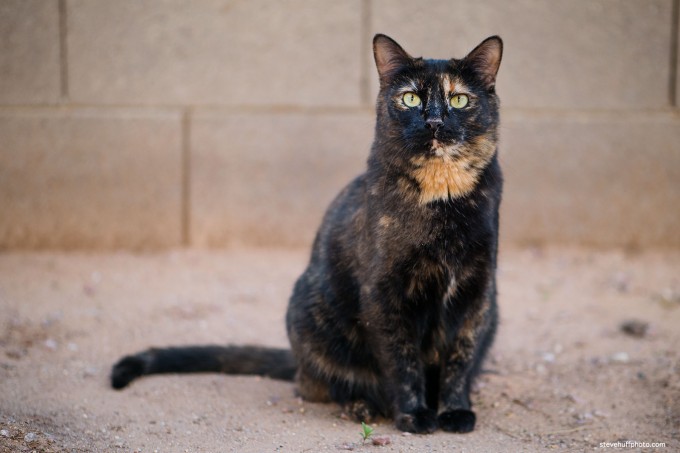 I feel that the Panasonic Nocticron 42.5 f/1.2 lens is the best built AF lens for the Micro 4/3 system. Period. It is also the fastest aperture AF prime for the system. It is a true "Noct" lens in its rendering and style and deserves to be up there with other well-known "Noct" lenses that cost MUCH more than this one does. For me, I had to own one so I bought one after shooting the review sample for 2 weeks, so that may say something right there.
In regards to the 45 1.8 which I also own, I bought the Noct as it inspires me more to go out and shoot with it. It offers am ore creamy and organic rendering over the 45 1.8, better color and contrast and is more of an Artists tool than a lens. I am a sucker for fast glass and I did not believe for a nanosecond that I would spurge and purchase this lens, but it is that good. It has more Leica than Panasonic it seems, and that is a good thing as you can not get a real Leica lens for less than a few grand new (50 Summilux f/1.4 is $4300). This is why I purchased one for myself.
So I highly recommend this lens for any and all Micro 4/3 shooters who WANT and DESIRE a lens such as this.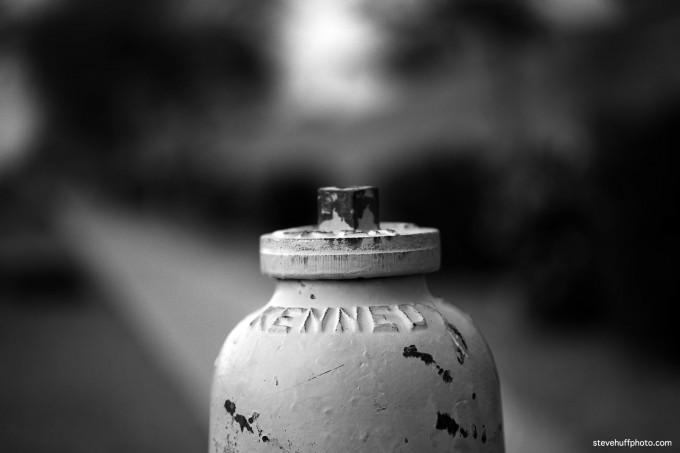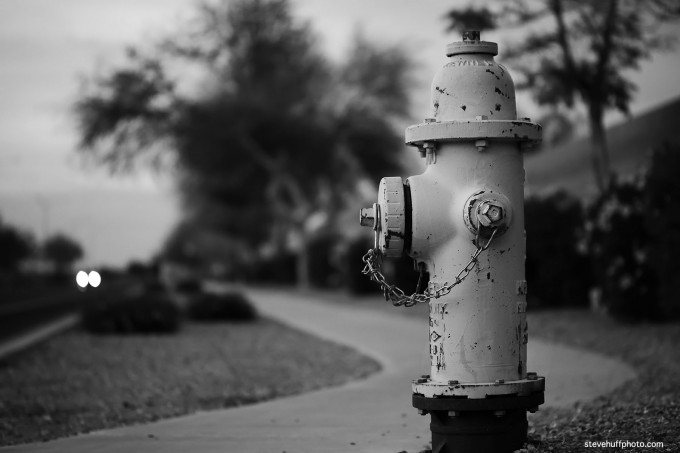 WHERE TO BUY THE NOCTICRON!
You can buy the Nocticron using the direct links below to Amazon or B&H Photo. Using these links will help me to keep this site going and costs you NOTHING extra so if this review helped your decision, I thank you for using the links below!
BUY THE NOCTICRON AT AMAZON HERE
BUY THE NOCTICRON AT B&H PHOTO HERE
More samples from the Nocticron!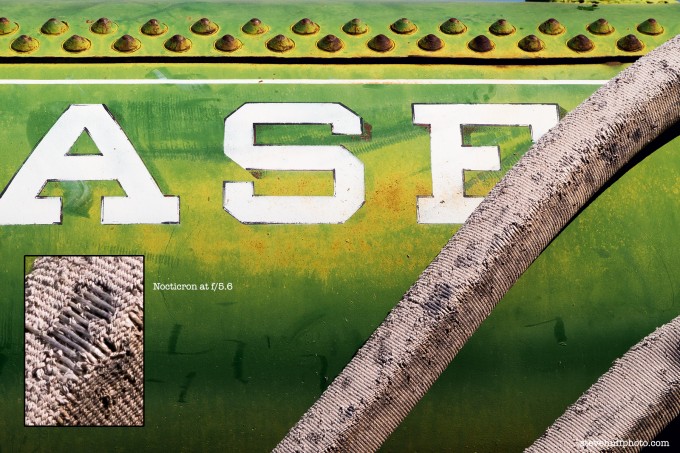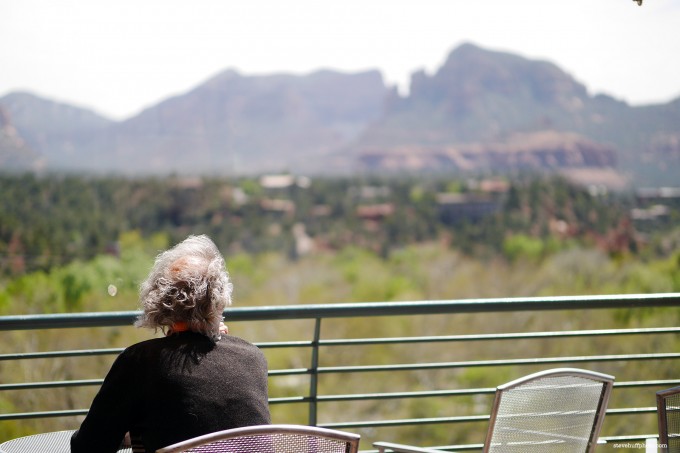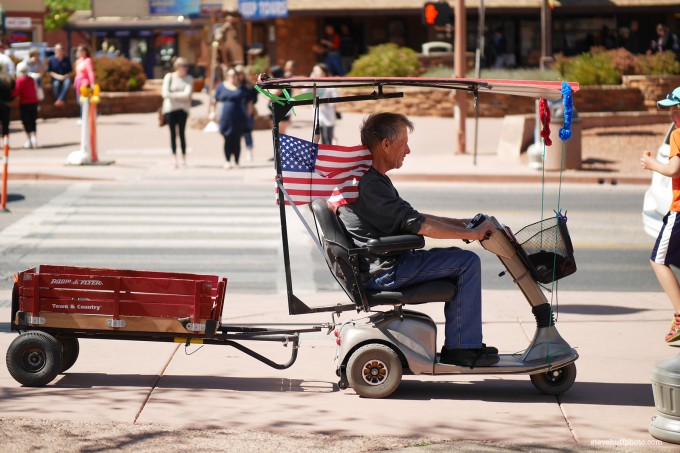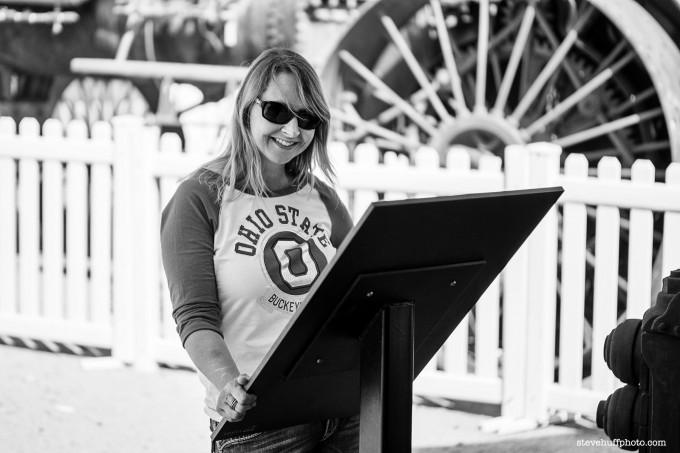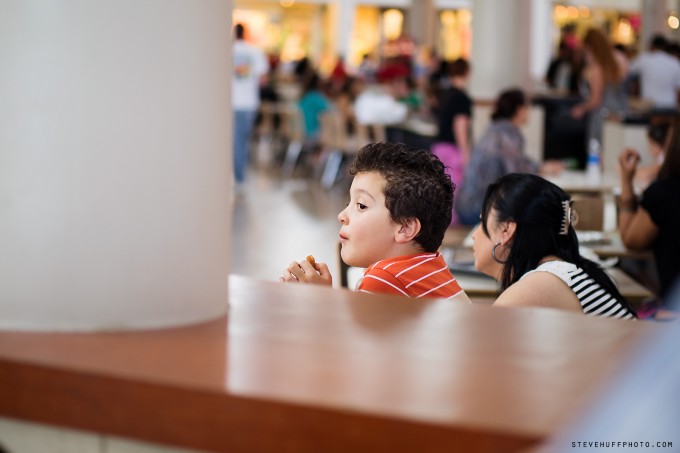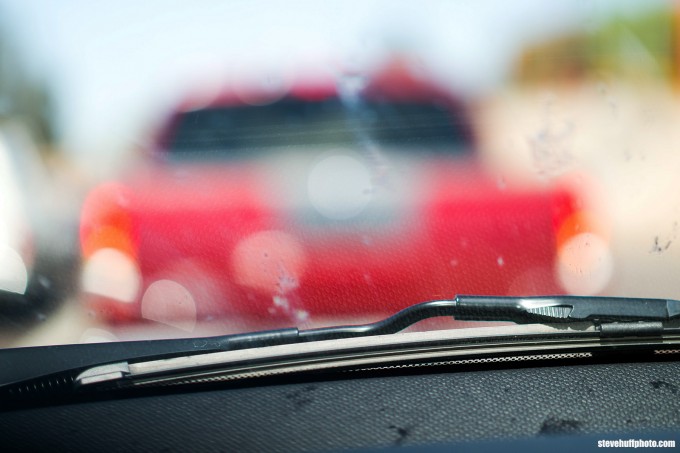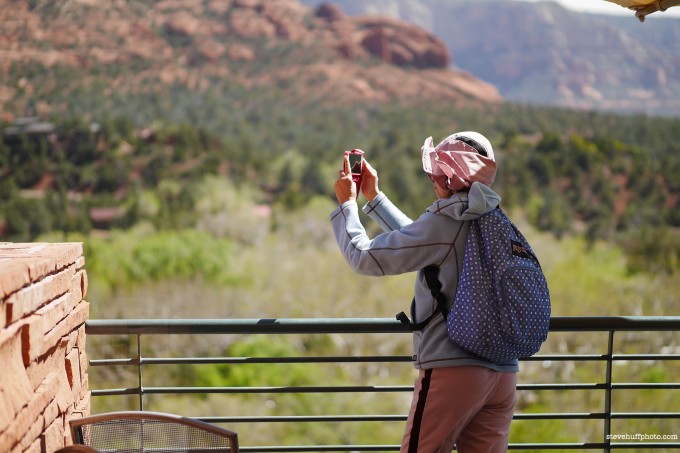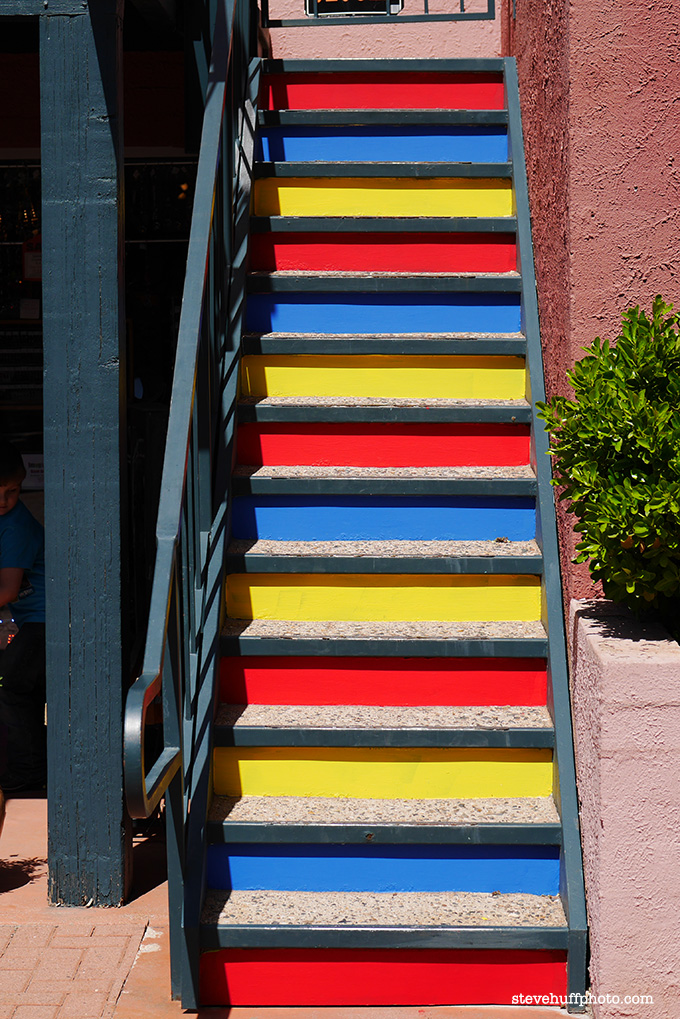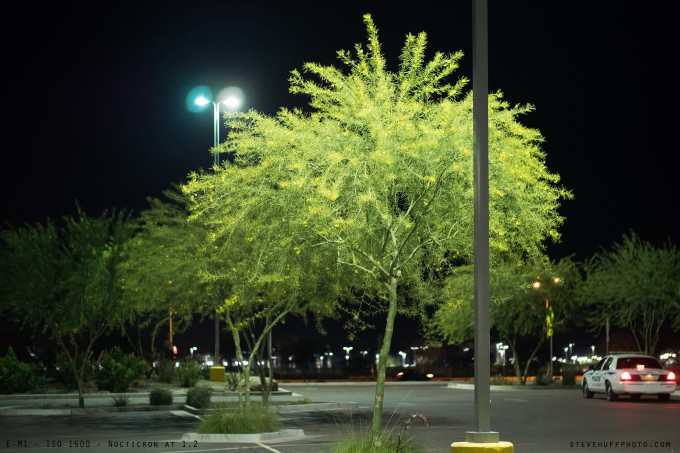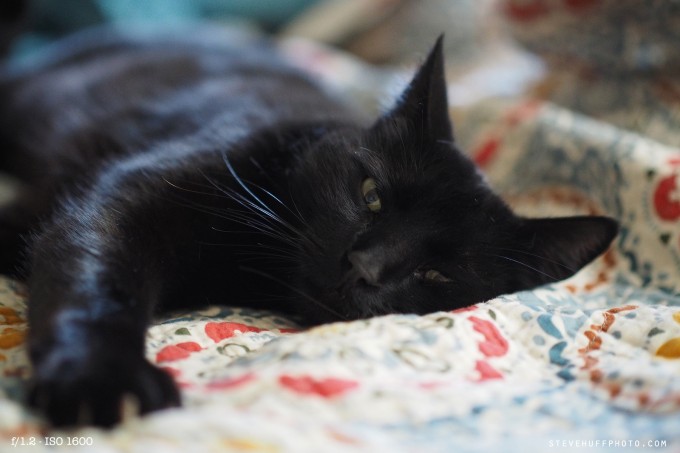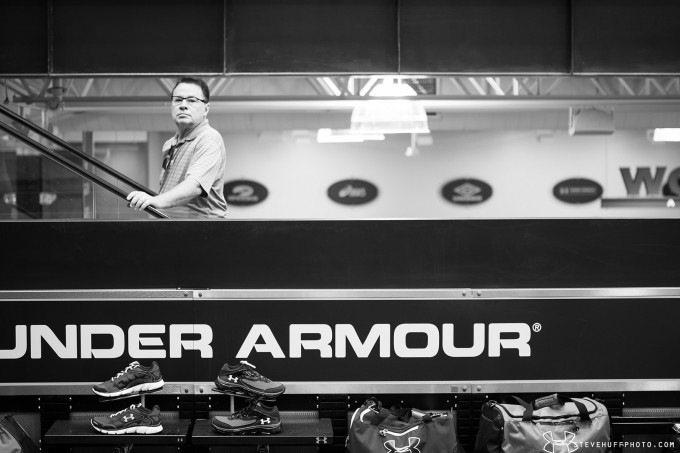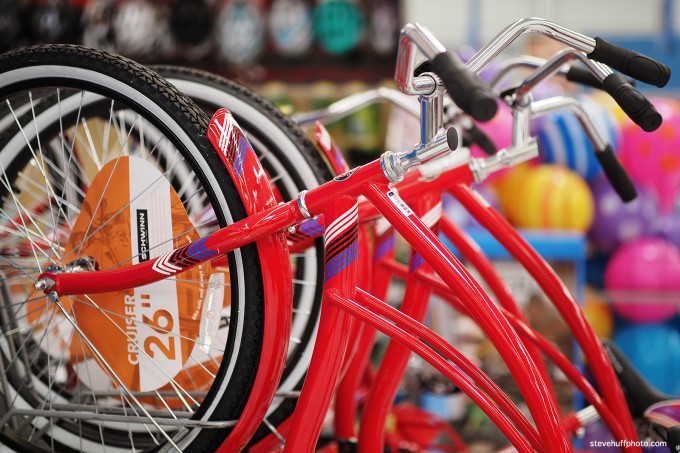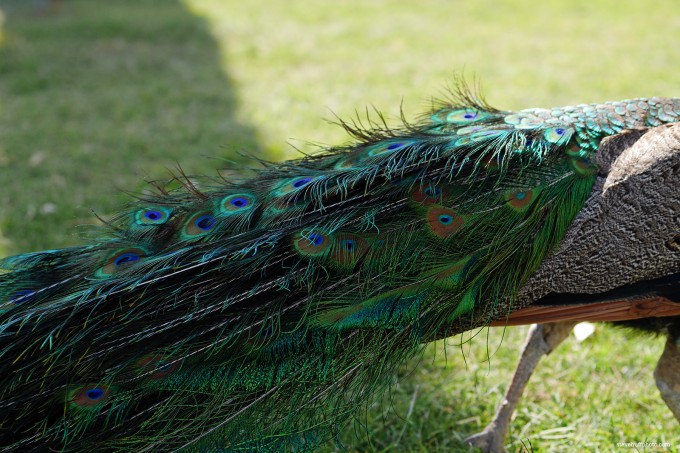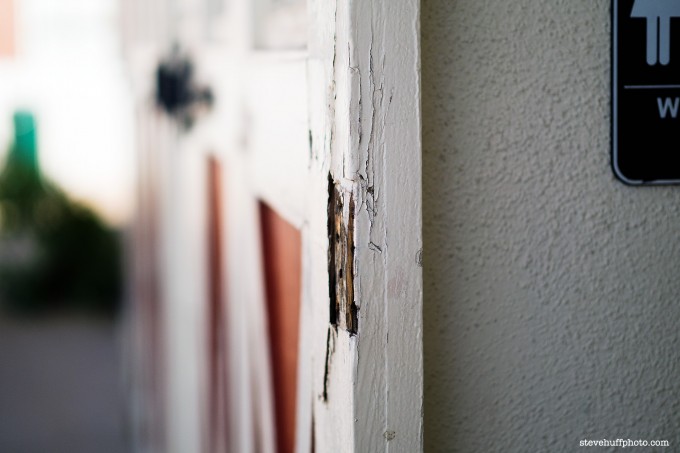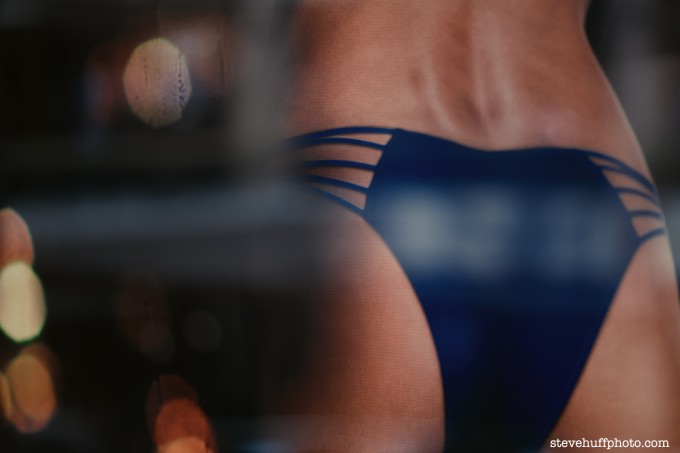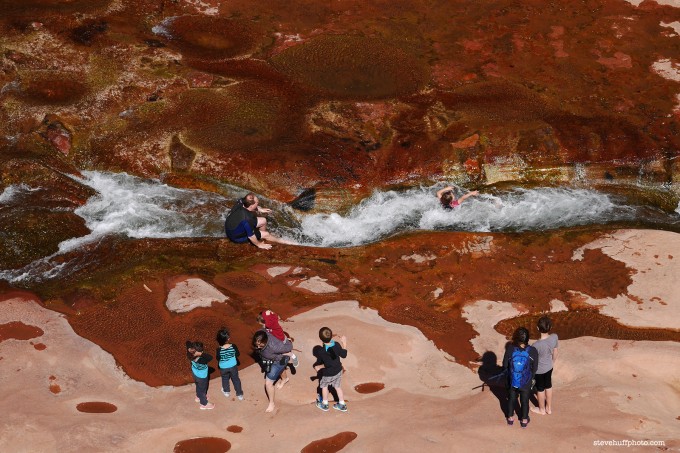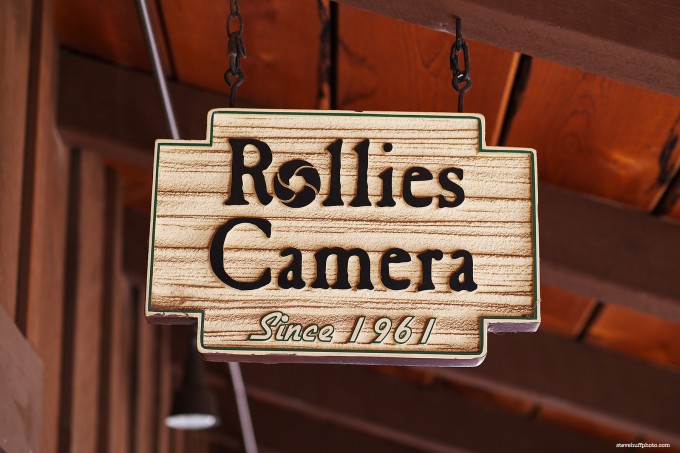 PLEASE! I NEED YOUR HELP TO KEEP THIS WEBSITE RUNNING, IT IS SO EASY AND FREEE for you to HELP OUT!
Hello to all! For the past 5 years I have been running this website and it has grown to beyond my wildest dreams. Some days this very website has over 200,000 visitors and because of this I need and use superfast web servers to host the site. Running this site costs quite a bit of cash every single month and on top of that, I work full-time 60+ hours a week on it each and every single day of the week (I received 200-300 emails a DAY). Because of this, I need YOUR help to cover my costs for this free information that is provided on a daily basis.
To help out it is simple. 
If you ever decide to make a purchase from B&H Photo or Amazon
, for ANYTHING, even diapers..you can help me without spending a penny to do so. If you use my links to make your purchase (when you click a link here and it takes you to B&H or Amazon, that is using my links as once there you can buy anything and I will get a teeny small credit) you will in turn be helping this site to keep on going and keep on growing.
Not only do I spend money on fast hosting but I also spend it on cameras to buy to review, lenses to review, bags to review, gas and travel, and a slew of other things. You would be amazed at what it costs me just to maintain this website. Many times I give away these items in contests to help give back you all of YOU.
So all I ask is that if you find the free info on this website useful AND you ever need to make a purchase at B&H Photo or Amazon, just use the links below. You can even bookmark the Amazon link and use it anytime you buy something. It costs you nothing extra but will provide me and this site with a dollar or two to keep on trucking along.
AMAZON LINK (you can bookmark this one)
B&H PHOTO LINK – Can also use my search bar on the right side or links within reviews, anytime.
You can also follow me on Facebook, Twitter, Google + or YouTube. 😉