The new Olympus SH-1 compact delivers style and performance for under $400
16MP, TRU PIC VII, 11.5 FPS, FAST AF, ISO 6400, 1080P 60FPS, 25-600 ZOOM, TOUCH SCREEN AND 5-AXIS IS!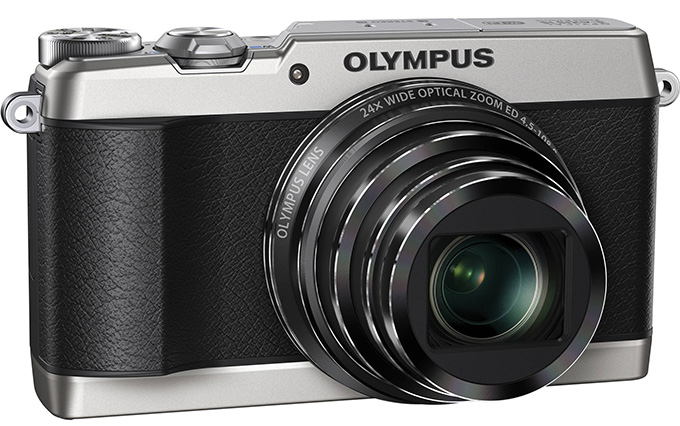 Available for Pre-Order in SILVER from B&H Photo
Available for Pre-Order in BLACK from B&H Photo
MAN, OLYMPUS IS ON A ROLL! This new SH-1 looks phenomenal and PRICED RIGHT. Look at all of the features packed into this compact beauty:
INFO:
The silver Olympus Stylus SH-1 Digital Camera is a sleek, PEN-styled point-and-shoot featuring a 16MP BSI CMOS sensor and TruePic VII image processor to produce high-resolution imagery with notable low-light sensitivity and quality. The combination of these two technologies form Olympus' iHS technology, which serves to realize fast performance throughout the camera system, including a full-resolution continuous shooting rate of 11.5 fps and the FAST AF system, while also maintaining low image noise with a native sensitivity of ISO 6400. The sensor and processor also support recording full HD 1080p movies at 60 fps as well as HD 720p movies at up to 120 fps.
Benefitting the imaging capabilities of the SH-1 is an expansive 24x zoom lens, which provides a 35mm-equivalent focal length range of 25-600mm. Counterbalancing this lens' long reach, as well as aiding this camera's use in low lighting, is an advanced 5-axis sensor-shift image stabilization system that corrects for angular, rotational, and translational types of camera blur.
For image monitoring and review, a 3.0″ 460k-dot touchscreen LCD is incorporated into the camera's design. Its touchscreen capabilities avail an intuitive means for navigating the menu system and for utilizing a host of camera features, including touch AF control, a built-in intervalometer, and adjustment of Live Guide settings, as well as for accessing the built-in Wi-Fi connectivity for seamless sharing of imagery to, and remote control from, a linked mobile device.
16MP BSI CMOS Sensor and TruePic VII Image Processor
A 16 megapixel 1/2.3″ backside-illuminated CMOS sensor and TruePic VII image processor work together to enable iHS (Intelligent High Speed) Technology, which benefits both the overall image quality and performance throughout the SH-1. The BSI design of the image sensor realizes notable sensitivity to ISO 6400 along with reduced noise levels to enhance image quality, especially in regard to working in difficult lighting conditions. Complementing the sensor's duties is an apt image processor, which benefits both the look and feel of imagery as well as enables a top full-resolution continuous shooting rate of 11.5 fps for working with fast-moving subjects. Furthermore, iHS technology also supports the use of the Intelligent Auto shooting mode, with accelerated scene recognition, as well as an enhanced FAST AF system.
24x Optical Zoom Lens and 5-Axis Image Stabilization
Incorporated into the compact body design is far-reaching 24x optical zoom lens, which provides a 35mm-equivalent focal length range of 25-600mm, covering wide-angle to telephoto perspectives. 2x Super Resolution Zoom and 4x digital zoom can also be utilized to effectively increase the zoom magnification for working with even more distant subjects.
Benefitting this lens' expansive zoom range is 5-axis sensor-shift image stabilization, which minimizes the appearance of yaw, pitch, roll, up and down, and left to right types of camera movement, to realize sharper imagery with slower shutter speeds, longer focal lengths, and during macro shooting. In addition to the 5-axis sensor-shift stabilization, a hybrid 5-axis electronic stabilization system can also be applied for further refinement.
Full HD Movie Recording
Full HD 1920 x 1080p video recording is supported at 60 fps, as well as high-speed 120 fps or 240 fps recording, for slow-motion playback, in the HD 1280 x 720 format or 432 x 324 format, respectively. Beyond straight movie capture, full-resolution photographs can be simultaneously recorded during filming and a dedicated Time-Lapse Movie mode automatically compresses up to 5 hours of interval shooting into a 20 second movie.
Body Design
The SH-1's PEN-inspired body design incorporates a large 3.0″ 460k-dot touchscreen LCD monitor to allow clear, bright live view monitoring, image playback, and intuitive menu navigation. The touchscreen functionality enables the ability to touch to focus and release the shutter as well as a simple means for navigating controls and settings.
Built-In Wi-Fi Connectivity
Built-in Wi-Fi connectivity enables seamless sharing of photos and movies from the camera to a linked mobile device for instant sharing online. Utilizing the Olympus Image Share app, you can also remotely control the camera from the smartphone or tablet, including the ability to zoom in or out, adjust exposure and focus, and release the shutter. Additionally, utilizing the location data from a mobile device, you can geotag your imagery for plotting to an interactive map.
Other Camera Features
A built-in electronic level gauge helps to ensure level horizons and plumb verticals when shooting.
Interval shooting allows you to choose between 1-99 frames, with 10 second to 1 hour intervals and up to a 60 minute timer, to create time lapse imagery of slowly moving subjects.
The manual exposure mode permits control over the shutter speed, aperture, and ISO settings, with the ability to check the results on the LCD prior to shooting.
The intuitive Live Guide settings allow direct adjustment over brightness, color saturation, and color tone settings using an intuitive slider system facilitated by the touchscreen monitor.
Face Detection AF, AF Tracking, Selective AF area (using the touchscreen interface), and AF Lock focus modes are available to suit working with a wide variety of subject types.
Photo Story is a creative mode allowing you to create a multi-perspective narrative within a single image, with multiple templates available to choose from.
Backlight HDR automatically combines multiple exposures within a single frame to realize an extended range of tones with greater shadow and highlight detail than a single exposure can record.
Hand-Held Starlight mode helps to create sharp, blur-free images of nighttime scenes without the use of a tripod.
A built-in Panorama mode allows you to create in-camera panoramic imagery, up to 360° across, by simply panning the camera about the scene.
11 different Art Filters can be applied to creatively enhance imagery: Pop Art, Soft Focus, Pale & Light Color, Grainy Film, Pin Hole, Diorama, Dramatic Tone, Fish Eye, Sparkle, Reflection, and Fragmented.
Three different Picture Modes can be applied to alter the overall quality of imagery: Vivid, Neutral, and Muted.
In-addition to the standard 2 second and 12 second self-timer delays, a custom self-timer can be set to record 1-10 pictures in a 1-3 second interval with a 1-30 second start timer.
In-camera image editing: Resize, Crop, Audio Clip (record 4 sec. audio clip for an image file), Red Eye Fix, Shadow Adjustment, Rotate Image, and e-Portrait (smoothes skin tone for viewing on an HDTV).
In-camera movie editing: In-Movie Image Capture (captures pictures from a movie file) and Movie Trimming (erase unwanted portions from a movie file).
Language support: English, French, Spanish, Brazilian Portuguese, European Portuguese, German, Italian, Russian, Czech, Dutch, Danish, Polish, Swedish, Norwegian, Finnish, Croatian, Slovenian, Hungarian, Greek, Slovak, Turkish, Latvian, Estonian, Lithuanian, Ukrainian, Serbian, Korean, Simple Chinese, Traditional Chinese, Thai, Arabic, Bulgarian, Romanian, Persian, Indonesian, Hebrew, Malay, Vietnamese, and Japanese.
Available for Pre-Order in SILVER from B&H Photo