The Real Digital FM3? Nikon Manual Lenses on the X-T1
by David Nash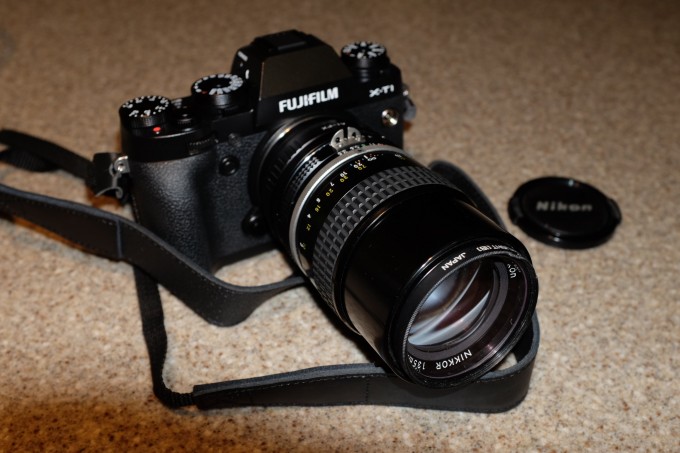 Hi Steve and readers.
Not being as young as many of you I still have a soft spot for small metal cameras with lots of dials (even if I don't actually turn them) – and a bundle of Nikon lenses including one or 2 old bought cheaply at our local camera shop (yes we still have one in a city of 500,000!). So like many I was desperate to get my hands on the Nikon Df – and I did. But I was a bit underwhelmed and when it had to be returned because of an AF fault I took a refund rather than a replacement.
With the money I got back I'm now the delighted owner of a Nikon 24mm 1.4 and, arriving yesterday, a Fuji X-T1. And it's definitely not going back…. But being a bit slow on the uptake I hadn't up till now thought about using Nikon manual lenses on Fuji X cameras (I had an X-E1) and immediately ordered a Nikon fit adapter that arrived this morning. So I spent a couple of hours this afternoon shivering my way round the streets of Edinburgh with my brand new X-T1 and a 135mm f.3.5 Nikon that I picked up for less than £100. As you'll see in the photo it's really quite small for a 200mm equivalent focal length – but very solid and well made and quite sharp (though not in the same league as the 90mm Elmarit which I will be trying out next).
Here are few photos of bits of some of our local buildings. What I really enjoyed about using the X-T1 with the manual lens was how well the focus peaking worked (in most circumstances) and how easy it is to magnify the focus area with the focus assist button. You need to focus at max aperture to get the best result but it's no hassle to stop the lens down a few clicks if you need some depth of field. But what I particularly like about using the X-T1 with a longer lens like is that if I turn the ISO dial to auto (yes I do actually use the dials a little) and the shutter speed to 180th of a second the camera will automatically change the ISO as I (manually) change the shutter. That way I can keep a high enough shutter speed and have complete control over the aperture. Smart! Oh, and I think you all know anyway that the Fuji sensor is rather good at high ISOs. And I did I remember to say the viewfinder is brilliant??
So – as many others seem to be saying – is this not what the Df should have been?
Thanks
David
www.davidnashphotos.co.uk